THE HISTORY OF ARGYLE
An original account of Plymouth Argyle Football Club from its earliest roots to the present day
This is a printed representation of one chapter of GoS's History of Argyle (www.greensonscreen.co.uk/argylehistorymenu.asp), provided for ease of reading and personal retention. Inevitably it lacks links to associated pages, including match and player records, and its layout has been simplified to allow page breaks. Note also that Greens on Screen's online History of Argyle will be updated and new material added from time to time.
COPYRIGHT: the strict conditions for use of this printed version are the same for the corresponding online page, as specified on that page.
1910: A PHOENIX FROM THE ASHES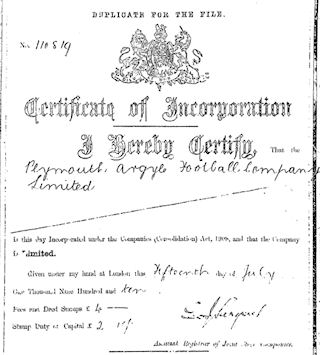 Plymouth Argyle Football Company Limited, incorporated on 14 July 1910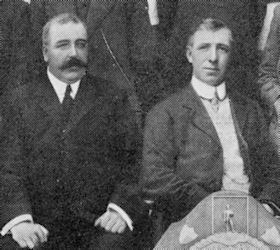 John Dawson Spooner Jnr (left) and Stanley Spooner (right)
Two Spooners who saved the club in 1910. The picture was taken in 1913, very shortly before Stanley's death.
Within weeks of the company's voluntary liquidation, triggered by its shareholders in May 1910, the Spooner family stepped in to save the ailing Argyle. The prospectus for a new company was issued, also called Plymouth Argyle Football Company Limited, with the public invited to become shareholders at five shillings (25p) per share. There was a modest early take-up, so the rescue of the club relied heavily on the injection of cash from the Spooner family. This was not exactly an act of altruism since there were clear commercial benefits of sponsorship and directorship of a football club, but it is hard to deny the significance of this injection to Argyle. The new company traded for 100 years, until it entered administration in March 2011.
Stanley Spooner, chairman of Devon County FA, became Argyle's new chairman, with his brother John Dawson Spooner (Jnr) and 12 others on the board. Stanley continued as chairman until his sudden death on 29th August 1913, the morning of his 41st birthday and just five days short of his fourth season in charge. John Dawson Spooner, a bachelor, went on to serve as a director until his death in April 1935. Another brother, Clarence Newby Spooner, played for Argyle in the 1890s; was president on the club from 1898-1903 when he was also the principal architect in the formation of Plymouth Argyle; was a director and at times chairman in the early professional years; served again on the board for 11 years after John Dawson's death in 1935 and then became president until his death in 1952. With over 50 years of substantial influence on the club, it is difficult to overstate the importance of the Spooner family in the history of Argyle.
Many will remember the Spooner's store on Royal Parade, still there today, but renamed in 1977 as one of the department stores in the Debenhams group. The Spooner business was well established by the 1860s, formed by Joseph James Spooner and continued on by his sons, John Dawson (Snr) and Joseph Snell, after their father's early death in 1861. By the end of the nineteenth century, John Dawson Spooner had built up a large and very successful department store, advertising themselves as house furnishers, drapers, milliners and cabinet makers. The store, which was adjacent to Chubb's Commercial Hotel where the Plymouth Argyle club was formed, was almost totally destroyed by fire in 1902. After eight years of trading from temporary premises, a new construction, on the same site, opened in November 1910 with John Dawson Spooner (Jnr) as company chairman. What a busy time this must have been for the Spooners; the relaunch of Argyle in the summer and then the culmination of years of reconstruction and the grand opening of their "new shopping palace" only a few months later. The reconstructed building was destroyed by enemy bombing in 1941, and once again, after many years of temporary premises, Spooner's re-opened in 1954, this time on the new Royal Parade.
BOB JACK'S RETURN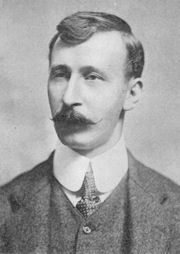 New manager Robert Jack
The new board approached the season with resolve but also a realistic appreciation of the task ahead, and as in the summer of 1903, there was a great deal to be done in readiness for the opening fixture. Amongst criticisms of the old board were that the directors had been reluctant to recruit northern and Scottish players, and that they had delayed bringing fresh players in until a new season was virtually upon them. The new club were forced to pay lower wages, especially during summer months, and there would have to be a stronger reliance on local players until finances improved.
Even before the new company had been registered and the board formed, the Spooners made the fundamental decision that a manager was essential in the world of professional football, and they immediately called on Robert Jack to resume his Argyle career, a popular move amongst the fans. Thus began the longest period of management stability in Argyle's history: 27 years (23 seasons) with Bob Jack in charge. Jack also registered as a player that season, although at 34 years old, he only played one more game for the club, a 6-1 defeat at Coventry in December 1910.
Jack arrived back in Plymouth on August 13th 1910, just three weeks before the start of the season. He immediately rose to the challenge, often working late into the night at the club's East Street office. Jack Sutcliffe, Tich Horne, Harry Wilcox, Billy Baker and Fred Burch were the first to commit themselves to new contracts, and they were soon followed by the majority of the previous season's team. After the end-of-season gloom, the news of Jack's return and the retention of the club's most popular players gave a lift to the club and its loyal following. At the same time the Football League and Southern League issued a set of new regulations. Players were permitted a say in their fees if they were transferred – one of the bones of contention in their threatened strike action of 1909 - and new powers were given to clubs to allow them to discipline players if they failed to maintain their physical condition. This was designed to re-assure spectators that players would treat seriously their obligation as professionals.
It was the club's intention to rely almost entirely on local players – thus giving a fillip to the game in the Westcountry. A target of three seasons was visualised for the policy to pay dividends. Billy Baker was such an example, having experienced just one full season in first class football after his time as a Cornwall County amateur. Despite this intention, the directors did bring in one or two outsiders, including Arthur Holden, a winger signed from Chelsea for "a considerable fee". He had previously played for Argyle until the end of the 1908-09 season and his contribution had been missed (he also returned to run a tobacconist shop in York Street, broadly located on the site of the present-day Sainsbury's in the Armada Centre). The reserve team continued to train on Tuesdays and Thursdays to provide an opportunity for younger, local players to improve, and gained an increasing reputation in the Plymouth and District League.
1910-15: SEASONS OF STABILITY
With a new board of directors and an experienced player-manager in charge, Argyle entered a period of stability and success. They finished 8th in 1910-11, with the team's performances in the second half of the season reaching championship quality. The strangest pair of results that year came against Coventry City: after the 6-1 defeat at Highfield Road in December, the Pilgrims turned the tables with a 6-0 home victory in April.
Progress continued in 1911-12 when Argyle matched their 1907-08 achievement by finishing second in the Southern League, oddly with Queens Park Rangers the champions on both occasions. The season had begun with the annual cry for a 'national league' and it was an increasingly accepted fact that the Southern League was no longer inferior to the Football League. Indeed, the Southern League representative side defeated the Football League XI by 3-2. Southern League attendances increased by an average of over 500 per game and its second division became increasingly established.
Argyle were undefeated at home that season, apart from the first match, which was against QPR. Two draws followed and then a run of 16 successive home victories across the rest of the season, which, when augmented by wins in the first three home games of the following campaign, forms the best home record in the club's history; 19 consecutive wins.
In their tenth season, Plymouth Argyle won their first major honour: Champions of the Southern League, 1912-13, finishing two points ahead of Swindon Town and West Ham. Swindon had been denied the presence of their outstanding player, Harold Fleming, for the first four months of the season. It was generally felt that the standard of play at that time was not improving, despite the game being faster and more open. However, the Argyle side was considered "well-balanced and enterprising", although not the best to have won the Southern League.
In the summer of 1912, 44-year-old Jack Robinson said his farewells to Plymouth, taking up a player-manager role at Southend. Fred Craig was brought in from Larkhill Thistle to provide competition for Tich Horne in goal, the start of 18 years at the club. Amongst the influential players that season was centre-forward Freddie Burch and inside-left Bertie Bowler. Burch was a Plymothian who had progressed through local football (Green Waves and Devon County), before signing for Argyle in 1904. He left for Reading in 1908 but returned a year later for a second spell. Bowler was a skillful inside-forward who had been a member of the famous Sherwood Foresters side that won the Army Cup in 1911 and 1912. Between them they scored 48 goals in the championship season, with Burch the first Plymouth Argyle player to hit the 30 mark. Argyle were also strong at the back, conceding only 36 goals in the 38 league games. In the FA Cup they beat Preston North End in the first round, only to be knocked out by Manchester United in the second.
Sadly, it was decided that the Charity Shield for that season would be played between two teams representing amateurs and professionals. The Shield's long history began in 1908 as a contest between the champions of the Football League and the Southern League, and it had been won in 1910 by Brighton and Hove Albion, Southern League champions. The change denied Argyle their only ever chance to contest the trophy, which would have been against Sunderland.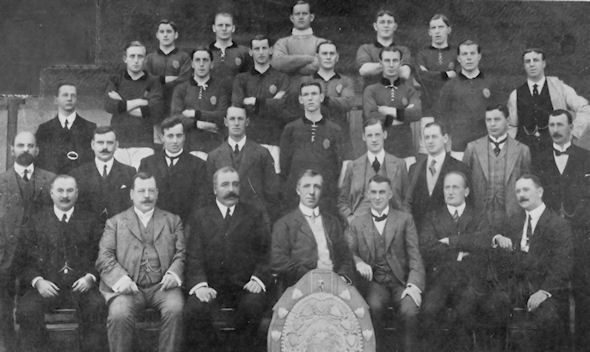 Plymouth Argyle Football Club - Southern League Champions, 1912-13
(back row):J. Kirkpatrick, J. Butler, W. Horne, S. Atterbury, W. Dixon.
(2nd row):J. Bell, H. Raymond, F. Burch, H. Wilcox, W. Baker, B. Bowler, T. Haynes.
(3rd row):B. S. Barrett, L. Crabb (above), E. Harvey, A. Rogers, W. Sage, J. McCormick, A. Ham, A. Manico, E. Kelland, R. Jack.
(front row):W. Olden, S. Quigley, J. D. Spooner, S. Spooner, A. Gard, B. Edmonds, A.J. Maunder.
The death of its chairman, Stanley Spooner, on the eve of the 1913-14 campaign must have cast a heavy shadow over the club and the feel-good factor generated by the championship triumph. Stanley Spooner has suffered from a heart complaint for many years, as described in the Western Morning News: "Mr. Spooner, although a young man - his death occurred by a sad coincidence upon the 41st anniversary of his birthday - had been in feeble, almost precarious health for a long time. About five years ago he developed the first serious symptoms of heart trouble, and was forced, whilst pursuing with mental energy and acumen his business affairs, to exercise great care lest he should aggravate his weakness."
Stanley Spooner's death came as a great shock, not only to family and friends, but also to sportsmen across the region. He was well known and much respected as a champion of association football and had had considerable influence on its development in Devon and Cornwall, so much so that on hearing the news, flags were flown at half-mast and black armbands worn at St James' Park for Exeter City's 'probables v possibles' pre-season trial.

Left: The Western Morning News on the opening day of the 1913-14 season.
Right: The Stanley Spooner Memorial Cup, a magnificent trophy donated by the Spooner family following Stanley's death "for annual competition between Plymouth Argyle and Exeter City, the match proceeds to be devoted to the funds of local hospitals and the encouragement of schoolboy football". Games were played between the two clubs until 1951, and it then became the trophy for the Devon Schools Championship from 1952 to 1996. The trophy is now displayed in Argyle's boardroom.
There was a large congregation at Mr Spooner's funeral at Emmanual Church, Mannamead. As well as family, friends and representatives from the Spooners' business, the service was attended by all of Argyle's directors, the manager and coaches, 14 players and various others from local football. Just two days later the season opened with a home game against Portsmouth, a 2-0 victory played out in a sombre atmosphere. Nevertheless, the success of the previous season generated record receipts of over £405 for the season opener. After great optimism for the 1913-14 campaign, goals proved much harder to come by and inconsistent results led to a 5th place finish. One notable period of this season was from 21st February to 28th March 1914, when Argyle drew six times in succession, a club record that still stands.
Moses Russell
The summer of 1914 saw the arrival of a true Argyle legend: Moses Russell, a 26-year-old left-back from Merthyr Town. The fee of £400, at that time a record for an Argyle full-back, was only paid after Bob Jack had travelled to Tredegar, the Welshman's hometown, to check his date of birth. Russell had endured rheumatic fever in his youth and had lost most of his hair, leaving many to doubt his age. He was quite a character; a robust defender who attracted derision from opposition supporters, in part because of his physical appearance but also as a result of his tenacious play. Russell had already won three caps for his country and went on to earn 20 more whilst at Home Park (a club record that lasted nearly 80 years) in an Argyle career of 400 appearances that stretched to 1930.
An application to join the Football League was being seriously considered when war intervened in August 1914. Unlike the Second World War in 1939, professional football continued across the country despite criticism from many quarters that sport had no place when, day after day, newspapers carried stories of wartime casualties. Lord Kitchener's famous 'Your Country Needs You' campaign was aimed at fit young men, and who better than professional sportmen. As a result, footballers across the country answered the call, including a number of first choice players at Home Park. The criticism of football was particularly prevalent locally because of the three towns' strong military tradition, and the newspapers dropped their reports of matches to accommodate page after page of names of the dead and injured. Argyle finished the 1914-15 season in 17th place, four places from the bottom, although for most clubs that season, the final placings were of little consequence.
At the close of the season, Home Park was left in the hands of Alfred Gard, a director of the club, and Bob Jack. No competitive football was played at the ground for four years, apart from occasional games between Armed Services' teams.
1914-18: ARGYLE AND THE GREAT WAR
War was declared in August 1914 after the Austro-Hungarian invasion of Serbia, followed by the German invasion of Belgium, Luxembourg and France, and a Russian attack against Germany. By the time of the ceasefire on 11th November 1918, more than 70 million military personnel, including 60 million Europeans, had been mobilised, of whom nine million were killed, not to mention an estimated one million dead horses. After the German march on Paris was brought to a halt, the Western Front settled into a static battle of attrition with a trench line that changed little until 1917.
The recruitment drive in Britain was constant and, in order to encourage men to join up, Army Battalions were formed from local groups of 'pals'. Amongst these was the "Footballers' Battalion", the 17th Service Battalion of the Middlesex Regiment, formed under the initiative of William Johnson-Hicks, MP for Brentford, in December 1914. This had limited initial success and, whereas Wasps and Saracens declared that 98% of their players had joined the 'Rugby Battalion', it was announced that the 11 Lancashire Football League clubs had managed only 40 recruits between them. However, by 30th November 1914, 11 players from Argyle had joined. Recruitment gathered apace and, of the country's 5,000 professional footballers, 2,000 served their country and about 600 are believed to have died.
By the end of the War on 11th November 1918, one of Argyle's 1914-15 team and six past players had been killed, and several others injured. The Western Morning News of 20th December 1920 recorded details of the players who died, although two, Evelyn Lintott and William Cox, were missing from the list. Two wreaths were placed on the Cenotaph in Whitehall to commemorate those Argyle players who gave their lives. The wreaths, which were similar in design, were composed of arum lilies, chrysanthemums and narcissi. Green and white ribbons, the county colours, were displayed on the Devon wreath, while the other was tied with the ribbons of green and black, the favours of Plymouth Argyle. Septimus Atterbury, Argyle's captain, laid his club's floral tribute, which bore the inscription:
From the directors, players and officials of Plymouth Argyle Football Club in respectful memory of the late Sergt W J Baker DCM, Petty Officer Alfred S Baker RN, Sergt William Sutherland, Sergt Norman A Wood and Pte Stanley Reed, players of the club, who gave their lives in the Great War.
William 'Billy' Baker, Evelyn Lintott and Norman Wood were killed in the Battle of the Somme. On 1st July 1916, the British Army endured the bloodiest day in its history, suffering 57,470 casualties, including 19,240 dead on the first day of the Battle. Most of the casualties occurred in the first hour of the attack. The entire Somme offensive cost the British Army almost a half a million men.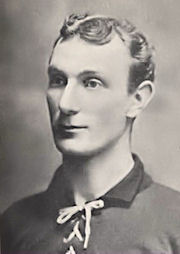 William 'Billy' Baker
Billy Baker was the only 'current' player who didn't make it home.
Billy Baker was a wing-half who had made 202 appearances between 1909 and his final game on 1st May 1915. He joined Argyle from Green Waves in 1909 and established himself at left-half in the team that won the Southern League title in 1912-13. The contemporary view was that he "loves the strenuous game, but clean withal and never-tiring." He joined the famous 17th Middlesex Regiment and served on the Somme, becoming a sergeant. He lost his life in Serre on 22nd October 1916, aged 33. Awarded the Military Medal (MM), he is commemorated in the Sucrerie military cemetery at Colincamps.
Evelyn Lintott trained as a teacher and continued to teach throughout his playing days until he became a leading amateur footballer, gaining England amateur caps, including one for his part in a 15-0 defeat of France. He played two games at left-half as an amateur for Argyle in 1906-07 before leaving for Queens Park Rangers, where he became a full international, winning three caps. He became a professional so that he could be sold to Bradford City for £1,000 in 1908, although he always had extensive private means. He took an Army commission in 1914 and became a Lieutenant in the 15th Battalion West Yorkshire Regiment ('The Leeds Pals'). Sadly he died in action on 1st July 1916, the first day of the Battle of the Somme. His body was not found and his name is recorded with 75,000 others on the Thiepval Memorial.
Stanley Reed was a well known Devon cricketer who also played three games for Argyle in 1913-14. He joined the 11th Devonshire Regiment in December 1915 and became a lance-corporal, but sadly was killed at a training battle camp at Wareham, Dorset before joining the front line. A grenade he was about to throw exploded in his left hand on 21st April 1916 from which he received severe head injuries and died instantly, aged 21.
William Sutherland, who played one game for Argyle in 1911, was killed on August 26th 1914 during the Battle of Le Cateau, just four days after the British Army first encountered the enemy. Bill Cox scored 5 goals in 14 games in the 1904-05 season, before moving on to Leicester Fosse. Norman Wood joined Argyle from Crystal Palace in 1910 and played 14 times before moving on to Croydon Common. Alfred Baker (not to be confused with Billy) was almost certainly a reserve team player.
Many Argyle players - past, present and future - saw action and survived the war, including:
--- James 'Jimmy' McCormick, who played 268 times for Argyle between 1907 and 1915. He became a Sergeant in the 17th Middlesex (1st Footballers') Regiment but was badly injured and was captured at Waterlot Farm, Guillemont on the Somme on 8 August 1916. He became a prisoner-of-war until he was repatriated in November, 1918, returning to play another 37 times for Argyle in the 1919-20 season. He eventually emigrated to Canada and is featured in the book '"When The Whistle Blows".
--- Bertie Bowler, who made 186 appearances for the Pilgrims between 1911 and 1923. Bob Jack picked up Bowler when he was playing for the Army Battalion, 'The Sherwood Foresters'. He scored 18 goals during his second season for Argyle and played several times for the Southern League representative side. He returned to the Sherwood Foresters during the war but came back to Argyle afterwards.
--- Sam Davis, who had made two appearances in 1914-15 and another two in the first season after the war, rose through the ranks to become a captain.
--- John 'Jack' Cock, from Hayle, who signed as a professional for Huddersfield Town in 1914 and then joined the Army, rising to the rank of Sergeant Major. He won the Distinguished Conduct Medal and then the Military Medal for gallantry whilst serving in France in 1916. He was reported as 'missing in action' but returned to play for Huddersfield and England in the 1919 Victory International, signing for Chelsea later that year and Everton in 1923. He joined Argyle in 1925, playing 92 games in two seasons, scoring a remarkable 74 goals. He also starred in several films and was a well known music hall singer.
--- Fred Titmuss, who served with the Lancashire Fusiliers where he played for the Army team. In 1918 he joined Southampton, having been spotted playing for an Army representative side, and transferred to Argyle in 1926 as a left-back for a fee of £1,750. After 177 games for the Pilgrims, he moved to St Austell in 1932.
1919-20: THE SOUTHERN LEAGUE RESUMES
Professional football resumed in 1919, but Plymouth Argyle faced major hurdles in its attempt to be ready in time. The club had played no football at Home Park for four years, apart from two friendly matches against Exeter on Good Friday and Easter Monday, 1919 (both lost, but played before large crowds). The ground had been used by the RN Barracks and United Services sides and by several rugby teams in the war years, and Alfred Gard had worked hard to ensure that the ground was safeguarded for Argyle's return.
Most of the team had rejoined the club, but the War had had a major impact on the club's finances, with a loss of nearly £3,430 at the end of the 1914-15 season and then ongoing expenses and no income over the war years. An appeal was made to the Plymouth public and further shares were issued at five shillings (25p) each, and as a result, over £1,000 was raised. Although it was only a half of what was hoped, the new funds allowed essential repairs to be made to the ground and covered the cost of new kit and equipment - anticipated to be around £200 - and the payment of wages during the August training month. Also, the club's lease of Home Park had expired, but thanks to the generosity of the landowner, Lord St. Levan, a new arrangement was agreed.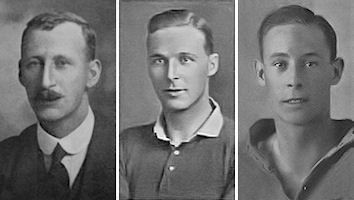 The Jack Family
Manager Bob Jack with sons David (centre) and Rollo (right).
Bob Jack was once again at the helm, the start of 18 years of continuous leadership, and two of his sons, David and Rollo, started their careers with Argyle that year. They were both later transferred to Bolton Wanderers – David in 1920 and Rollo in 1923. David Jack, then nineteen, made his first appearance for Argyle in 1919. Whilst with Bolton he scored the first goal in a Wembley FA Cup Final, the so-called 'White Horse Final', and so became the first player to score at Wembley. After helping Bolton to win the FA Cup again three years later, he went on to join Arsenal in 1928, where he won three League Championship medals and his third FA Cup winners' medal. He also played nine times for England, captaining his country four times. In his book, published in 1934, David Jack reflected on his footballing roots as a schoolboy in Plymouth, when he set up his own "Argyle Juniors" by "pilfering old footballs, worn-out jerseys, knickers, and stockings, from the Plymouth Argyle Club". Bob Jack's second son, Rollo, also had a successful career with Bolton and then Leyton Orient. A third son, Donald, made only reserve appearances for Argyle but also went on to play for Bolton.
Most 1914-15 players were persuaded to re-sign, including Horne, Craig, Russell, Atterbury and others. Several new players were brought in, including Logan of Cowdenbeath and Dickinson, both of whom had played during the war for RN Barracks. Several younger players began to make a name for themselves during that season – Logan, Dickinson and David Jack in particular. At the end, a number of players left the club, including Davis and Bott for Newport and James McCormack, who went farming in Canada. Harry Wilcox retired and became a publican at the Nottingham Hotel on Mutley Plain. Goalkeeper Tich Horne had still not recovered from an illness contracted on war service abroad.
Argyle finished fifth that season, with Portsmouth winning the league. They also experienced another good cup run that year, defeating Reading and Barnsley before losing 3-1 to cup finalists Huddersfield Town on a slushy and treacherous pitch after a heavy snow storm. David Jack was Argyle's star player, scoring five goals in that cup run. A record profit of £2,824 was announced at the end of the 1919-20 season, partly due to an increase in admission charges. Prices were 1s (5p) for adults and 5d (2p) for boys in the ground and 2s/3s (10p/15p) in the stand. Ground season tickets were £1 and the grandstand £2/£3. There had been a considerable increase in regular attendances, with over £21,500 taken in gate money, of which over £4,000 went in entertainment tax. The overall profit on the season was £2,824, allowing the directors the clear the outstanding debt of the war years.
1919-20 was the Argyle first team's last season in the Southern League. Southern League sides were generally considered less well-off than those of the English (Football) League, but were jealously regarded nevertheless. Neither body recognised the transfer of players between the leagues, but it had become increasingly clear that a merger was inevitable. In 1920 the respective governing bodies agreed that a new Third Division of the Football League would be formed by most of the teams in the Southern League First Division, with a consequential restructuring of the latter, augmented by an influx of Football League Reserve sides. Incidentally, Argyle's Reserves were elected to the Southern League in 1921, and were champions in the first of their 19 seasons.
So ended another chapter in Argyle's history; 13 seasons of professional football in the top tier of competition for clubs in the South of England, including one campaign as champions and two as runners-up. A new era of progress and success lay ahead. How astonished must Messrs Grose, Pethybridge and other pioneers - still in their fifties - have been to see their Argyle take its place on the national stage.