THE HISTORY OF ARGYLE
An original account of Plymouth Argyle Football Club from its earliest roots to the present day
This is a printed representation of one chapter of GoS's History of Argyle (www.greensonscreen.co.uk/argylehistorymenu.asp), provided for ease of reading and personal retention. Inevitably it lacks links to associated pages, including match and player records, and its layout has been simplified to allow page breaks. Note also that Greens on Screen's online History of Argyle will be updated and new material added from time to time.
COPYRIGHT: the strict conditions for use of this printed version are the same for the corresponding online page, as specified on that page.
FROM GOOD TIMES TO THE EDGE OF WAR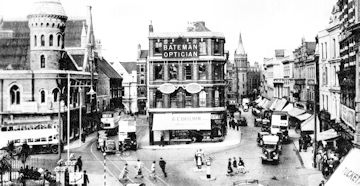 Busy Plymouth streets in 1939
Plymouth was a bustling if somewhat congested city in the 1930s, developing as it did from the 'Three Towns' of Plymouth, Devonport and Stonehouse, which were incorporated as one town in 1914 and granted city status in 1928. It had large cinemas, a music hall as well as a number of sporting venues and its large Central Park, which opened in 1931. The foreshore of The Hoe had been rebuilt and opened in 1935. The policy of re-armament contributed significantly to the economic growth of the city, especially after the lean years of the depression at the start of the decade. Employment in the Dockyard grew from 10,000 in 1920 to 18,000 by the outbreak of war, and unemployment - which had reached 10,000 in the early 1930s - had fallen to under 5,000. Nevertheless, problems persisted: average earnings were at least £1 below the national average and overcrowding in the housing stock was nearly 20% above average.
At Home Park, the 1930s had seen unprecedented success for Plymouth Argyle. Promoted at the start of the decade, the Pilgrims reached fourth in the second tier of English football in 1931-32 with players like Harry Roberts, Norman Mackay, Jack Leslie and Sammy Black, brought together under the excellent leadership of manager Bob Jack. Argyle remained in the Second Division throughout the decade and again reached the top five in 1936-37. Many would say this was a golden era for the club and its growing reputation spread far and wide, despite its far-westerly location. There was strong feeling, not only locally, that Jack Leslie's colour alone stood between him and an England cap, and goal-scoring winger Sammy Black would certainly have played for Scotland had his time not coincided with the famous Alan Morton. Attendances at Home Park were regularly over 20,000, with twelve above 30,000 and three above 40,000.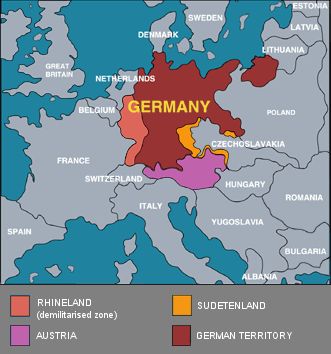 Europe between the World Wars
Sadly, all good things come to an end. Famous names grew old, including Robert Jack, who retired in 1938 after 31 years' association with the club as a player and then manager. However, the greatest influence on the mood at Home Park, as it was for all clubs, was the rapidly growing tension in Europe. Adolf Hitler's rise to power and the establishment of the Nazi State in 1933 triggered a prolonged and progressive policy of aggression against the terms on the Treaty of Versailles, which set down the conditions for Germany at the end of the First World War. With the horrors of the Great War still vivid, Britain and other countries adopted a policy of 'appeasement', which developed from a belief that some countries, especially Germany, had been unfairly treated in the Versailles peace settlement. If their grievances could be settled by diplomacy and negotiation, it would avoid the need for renewed aggression. In 1935, Plymouth Sutton MP Nancy Astor – famously the first woman to take a seat in the House of Commons – proposed a reduction in strength of the RAF and spoke of 'making concessions to the German government'.
Hitler's actions included the march of German troops into the Rhineland (a demilitarised area between Germany and France) in 1936 and the unopposed takeover of Austria in March 1938. There was enormous tension in Britain in the summer of 1938 when Germany threatened to invade the Sudetenland (a German-speaking region on the border with Czechoslovakia) and war seemed imminent. The 1938-39 season began but by the middle of September 1938, few expected it to survive the coming weeks. The Munich Agreement at the end of the month traded the Sudetenland for the promise of peace in Europe, and Britain's Prime Minister Neville Chamberlain returned home waving his famous 'peace in our time' document. The immediate crisis had passed and the football season was able to continue to completion, although when Hitler invaded the rest of Czechoslovakia in March 1939, it was clear that Britain's policy of appeasement had failed.
Europe was on the cusp of a devastating conflict, bringing back terrible memories of just 20 years before. Such concerns permeated the national game: on April 8th, Bolton Wanderers played at home to Sunderland and before the game, Harry Goslin, Bolton's captain, told the crowd that after the match the Bolton team would make their way to the local Territorial Army hall to sign up. "We are facing a national emergency", he said. "But this danger can be met, if everybody keeps a cool head, and knows what to do. This is something you can't leave to the other fellow, everybody has a share to do."
In contrast, local historian Arthur L. Clamp reflected in his book 'Blitz of Plymouth 1940-44' that Plymouth had "rather complacently regarded itself as so far removed from the seat of hostilities as to be comparatively safe from air attacks. While the warring nations were still sparring across the Franco-German Frontier, the conflict seemed to be a long way from Plymouth; at any rate such long distance attacks as might be contemplated would have to run a gauntlet of several hundreds of miles."
Clamp added: "All the same, Plymouth took elementary precautions such as were commonly being applied, but not in the wildest of imaginations was it visualised that the city would suffer devastation as it did, that its citizens would be called upon to show endurance and courage which was to arouse the admiration and sympathy of the world, that one of the grimmest chapters to her long history was to be written, that she would endure all the agony of a front line city."
1939-1940: THE ABANDONED DIVISION TWO SEASON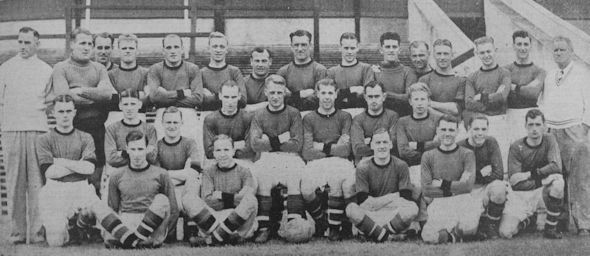 The 1939-40 team photo, taken in July 1939.
Back Row: Harper (Trainer), Halliwell, Rae, Kirkwood, Murray, Ainsworth, Thomas, Glover, Warhurst, Middleton, Dugnolle, Lane, Hurst, E. Smith, Day (Assistant Trainer).
Middle row: Dixon, Weston, Stuttard, Sargeant, McDonald, Jones, Lewis, Olver.
Front row: Clark, Archer, Gorman, Dyer, Parnaby, Silk.
The prospect of war apart, the summer of 1939 was in many ways like any other, albeit with a bigger than normal clear-out of players. Many of the previous season's team, including long-servers Harry Cann and Jack Vidler, had been released; others returned to endure the toils of pre-season training and almost a full team of new faces were introduced, notably Pat Glover, a Welsh international and free-scoring forward from Grimsby Town. Accompanying Glover from Grimsby was Cyril Lewis, who holds the dubious distinction of being the only first-team player in the club's history to have never played in a completed competition (his only game in green was in a season that did not reach its expected end).
Argyle started the season with a playing staff of 32. Interestingly, a review of the squad listing shows key differences in the stature of players compared with modern times. The tallest was Glover at 6'1" and only he and Jimmy Rae were over 6 ft. Ten were less than 5'8", Jimmy Smith was only 5'3" and three weighed under ten stones.
Manager Jack Tresadern issued a summer rallying cry to season-ticket holders: "Our players have reported for training in preparation for a season which I hope will prove to be the most successful in the history of Plymouth Argyle", at a time when Germany's frightening aggression was only 450 miles away.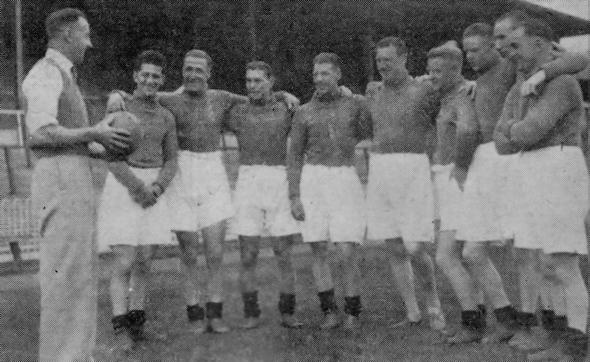 Trainer Bill Harper welcomes nine newcomers to Home Park at the start of pre-season training.
From left to right: Harper, Middleton, Halliwell, Miller, Jones, Glover, McDonald, Warhurst, Sargeant and Lewis.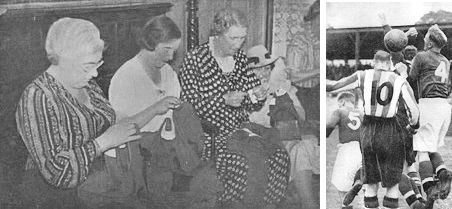 Some of the nine members of the women's section of the Supporters' Club, who spent three hours sewing numbers 2 to 11 onto four sets of shirts, and action from the pre-season Jubilee Fund match against Exeter, when numbers were worn for the first time.
In a pre-season Jubilee Fund friendly on August 19th against Exeter City at St James' Park, Charles Sergeant (an outside-right from Stockport) and Cyril Lewis scored for Argyle in a 2-1 win. 'Exonian' observed that Argyle had adopted a different style of football in that game, with greater directness and forcefulness than in the passing game of Bob Jack. It was felt that Pat Glover had injected a new demeanour amongst the forwards and he had already scored a hat-trick for the 'probables' in the pre-season practice match on August 12th. However, it was also felt that the new Argyle were playing with less 'polish'. Whatever the truth, it was Glover who rose to head the ball down to Sergeant for the winning goal ten minutes from the end. Incidentally, an FA rule had been passed that summer which required players to wear numbers, and the ladies of the Supporters' Club volunteered to sew them on the club shirts.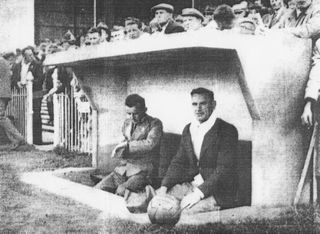 A new 'shelter' erected for home and visiting trainers. The style clearly shows why they were called dug-outs.
The opening Football League games for its 92 clubs took place on August 26th 1939 and despite the country's worries, were watched by over 600,000 spectators. At Home Park, Argyle took on West Ham United but lost 3-1 in front of a crowd of over 18,000, with West Ham's Hubbard scoring twice, once in each half, whilst Charles Sargeant netted for Argyle. West Ham were lucky to benefit from two defensive errors and new signing Matt Middleton did not have a happy game in goal, allowing a back-pass to slip through his hands for Hubbard to score with ease. Apart from Harry Lane on the right wing, Argyle had an entirely new forward line on view, but only Sargeant showed any pace and Glover was insignificant. Incidentally, Harry Medhurst played in goal for West Ham – his son Norman later became Argyle's and more famously England's physiotherapist. The paper commented that "a heavy defeat at home, following such a busy time in the transfer market during the close season with its promise of brighter things to come, is a bitter disappointment". This led to Pilgrim's headline "Display against West Ham too bad to be true". It was felt that the biggest failings were in attack led by Glover but he was well-marked by West Ham's Walker. Incidentally the reserves lost at Colchester United, reigning Southern League champions, on the same day, 3-1.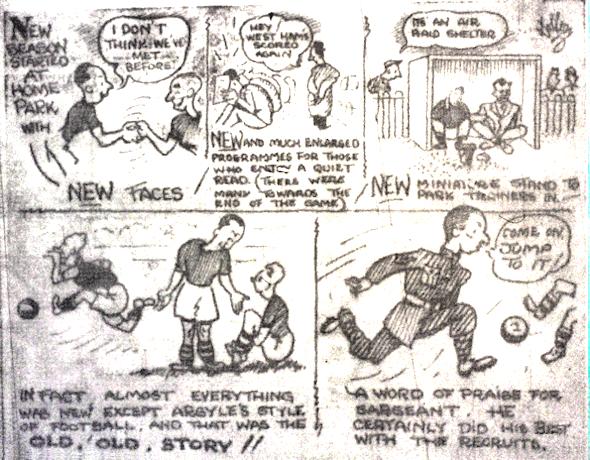 The Evening Herald's cartoonist's impression of the first game of the season.
The second league match was played just two days later on the Monday evening: a 2-0 win away at Millwall. Argyle made four changes, with full-back Sam Kirkwood moving to centre-half. Millwall probably had the best of the game and were reported as having had ten shots to each of Argyle's one, but they failed to get the ball into the net. Argyle went one up on 35 minutes when Sargeant cut in from the right onto a through pass from Jackie Smith. They went 2-0 up with a shot from Harry Lane when the ball ran loose from a bunch of players. Glover proved a giant in physique but, otherwise, only the defence stood out – especially Middleton who 'played a blinder'. Interestingly, the newspaper report of the game announced a move by the Belgian Government to mediate in favour of a peaceful solution to the conflict.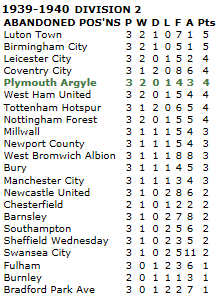 The third game of the season took place on Saturday 2nd September and resulted in another win. There was heavy rain at Hillsborough on the second Saturday of the season and Sheffield Wednesday found the back of the net early on, but were thankfully judged offside. Neither goalkeeper was stretched but Glover headed the only goal from a corner in the 19th minute. Arthur Lewis made his debut for Argyle and Jack Dugnolle replaced Bill Archer in the half-back line. Glover's goal was described as "brilliant" and overall Argyle were much more aggressive, despite having only arrived in Sheffield at 11 pm the night before, on the day that Germany invaded Poland.
On Sunday 3rd September 1939, having not received a response to its ultimatum, Britain (and France) declared war on Germany. An immediate effect was a ban on the assembly of crowds and an order to close places of entertainment. Three days later an emergency meeting of the Football League Management Committee effectively ended the League competition. The 1939-40 Football League season had lasted just eight days, with Argyle ending in 5th place in the second tier. Home Park would not see a conventional league game for seven years.
AUTUMN 1939 - FOOTBALL FACES UP TO WAR
The swift decision to end the 1939-40 Football League season was probably influenced by memories of the First World War, when the football authorities allowed the league and cup competitions to continue until the end of the 1914-15 season, some nine months after the outbreak of war. The professional game was heavily criticised that season for being irresponsible and unpatriotic, with a typical reaction coming from the Bishop of Chelmsford, described in a newspaper report in December 1914: "The Bishop, in an address on Duty, spoke of the magnificent response that had been made to the call to duty from the King. All must play their part. They must not let their brothers go to the front and themselves remain indifferent. He felt that the cry against professional football at the present time was right. He could not understand men who had any feeling, any respect for their country, men in the prime of life, taking large salaries at a time like this for kicking a ball about. It seemed to him something incongruous and unworthy".
In stark contrast, the Athletic News responded angrily: "The whole agitation is nothing less than an attempt by the ruling classes to stop the recreation on one day in the week of the masses ... What do they care for the poor man's sport? The poor are giving their lives for this country in thousands. In many cases they have nothing else ... These should, according to a small clique of virulent snobs, be deprived of the one distraction that they have had for over thirty years."
Although the passionate arguments of 25 years before would have been fresh in many minds, the new threat from the air was more likely the reason for the immediate banning of large crowds, and football had little choice but to abandon the conventional season. On Thursday 7th September 1939, four days after the outbreak of war, the Football League announced the suspension of all professional contracts between players and clubs. This was devastating news for thousands of footballers up and down the land; like many thousands of others, the war had put them out of a job. For those with wives and families to support, there were few options but to enlist or find work in an essential occupation. For Argyle's players, support for the war effort within Devonport Dockyard was an obvious attraction and many found employment there.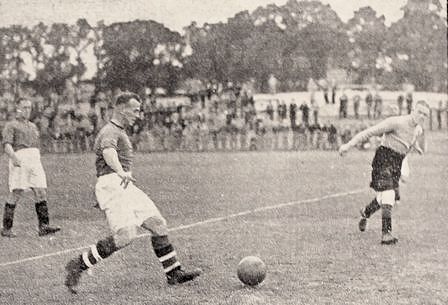 The third of four goals scored by centre-forward Dave Thomas in Argyle's 7-1 win over Bristol City.
Despite the termination of professional contracts and an end to conventional competitions, football was allowed to continue in the form of local friendlies. A limit of 8,000 was imposed on attendances, later raised to 15,000, and a 30/- maximum appearance wage was set (£1.50, equivalent to £88 in 2014). Players would be free to play for any club "within reasonable distance of their home". As a result, Argyle continued in September 1939 with five friendly games over the following few weeks, against Torquay United (twice), Bristol City (twice) and Cardiff City. Argyle won three and drew two of these games, including 7-1 and 5-1 wins over Bristol. In each, Argyle were able to field relatively strong sides. In the first match, against Torquay, Argyle were unclear as to who would play right up to the last minute, mainly because of availability. Prices were set at reserve team level: six old pence (6d), one shilling (1/-) and 'one and six' (1/6). [One shilling was equivalent to 5p, and allowing for inflation, would be worth about £3 in 2014.] The kick-off was at 3.15pm and a big proportion of the crowd were soldiers as well as the usual sailors, who saw Torquay take an early lead but Argyle come back to win 3-2 with goals from Archer, Glover and Sergeant. The Argyle team was: Middleton; Silk, Rae; Gorman, Kirkwood, Dugnolle; Archer, Thomas, Glover, Smith, Sergeant – in other words more or less a full side. In the next game Bristol City found difficulty in raising a side and, to add to their problems, their train was delayed by nearly two hours, so the match began 25 minutes late. Dave Thomas scored four of the seven Argyle goals in that game and the City side was captained by Jack Vidler, who had played his final game for Argyle just seven months before after ten years with the club, and who by then was working in Avonmouth. That success was repeated in Bristol a week later and this time it was Archer's turn to score a hat-trick. Cliff Britton of Everton and Jack Milsom of Manchester City guested for The Robins. The game at Cardiff ended in a 1-1 draw with Jimmy Rae having to step in to don the keeper's gloves, making several notable saves. The last of these friendlies was played at Plainmoor in front of a crowd of about 2,000. Argyle were forced to make three changes and drew the game 2-2.
On 9th September the Western Evening Herald announced that clubs between Bristol and Plymouth had met to consider the formation of a Western Area competition. Bristol City, Bristol Rovers and Torquay United were initially interested, but Argyle's hopes seemed dashed when the Football League announced its plans for regional tournaments 12 days later, including the condition that no club would travel more than 50 miles to play a game. However, only a few days later, after consulting the Home Office, the Football League relaxed the travel rule to allow teams to play each other providing that journeys were completed on the day. By early October the league structure was finalised, with competitions to begin on October 21st. Argyle were to play in the south-west section with seven other sides: Bristol City, Bristol Rovers, Cardiff City, Newport County, Swansea Town, Swindon Town and Torquay United, with clubs playing each other four times, twice at home and twice away. There were seven other regional leagues established with 82 teams taking part; the only clubs to decline were Aston Villa, Derby County, Exeter City, Gateshead, Ipswich Town and Sunderland. Manager Jack Tresadern was less than impressed by the arrangements, saying that he had hoped for 12 clubs and suggested that Birmingham clubs be included in the south-western section. "The composition of the sections is very satisfactory, except for the western clubs," he said. "All the other prominent clubs have been looked after but Argyle." Argyle's directors explained that they needed an average attendance of 5,000 to break-even – otherwise they would have to fund the club from their own pockets. Servicemen were to be admitted for half price and Air Raid Notices were posted at Home Park indicating that spectators should leave for the exits on the sound of the siren – but that the game would continue! Supporters were advised they should proceed home or to the nearest shelter.
Jack Tresadern made a request for Football League players in or near the city to come forward. Johnny McNeil, who had left for Leyton Orient, returned to work in Devonport Dockyard and obtained permission to play for Argyle, and at the same time, Argyle gave permission for four of their players to play for other clubs. In November 1939 it came as little surprise when Jack Tresadern, who had reached the rank of Captain in his earlier Army career, was called up to serve in an Anti-Aircraft Battery, so Rollo Jack was appointed acting manager. A former player and Bob Jack's middle son, Rollo had been assistant secretary and was also working as a clerk for the City Council. On 11th November 1939, Pat Glover appeared for Wales, scoring once against England in a 1-1 draw. This caused him to be sacked from the Police Force since he had declared himself sick in order to play. He left Plymouth to take up employment in a motor-works near Derby, where he was given permission to play for Notts County, but he returned after three weeks because of his wife's health – and he once again became available to Argyle. Brentford gave Len Townsend permission to play for Argyle, and William Fellowes, who had left in 1933, was called at the last minute from his home in Tavistock to play at Torquay United in January - the coach even made a detour to pick him up. Johnny McNeil and Fred Mitcheson were by then playing for Royal Naval (RN) Torpedo Department and were only intermittently available.
1939-1940: THE SOUTH WEST REGIONAL LEAGUE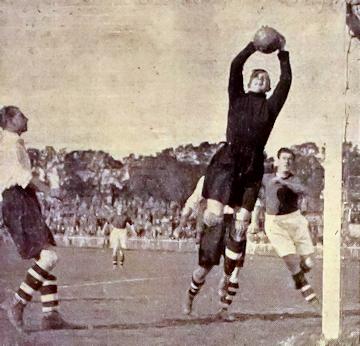 Torquay's 'keeper had a busy afternoon on the first day of the South West Regional League.
The South West Regional League opened on October 21st. Having drawn with Torquay United in a friendly the week before, Argyle were at home to the Gulls on the opening day, in front of a crowd of just under 3,000. Torquay were assisted by Albert Clarke of Blackburn and other players from Exeter City. Argyle were 3-0 up at the interval with goals from Sergeant, Smith and Archer and finally won the game 4-0 with Sergeant scoring the fourth right at the end. Sergeant was outstanding and Middleton had made several good saves. They followed this with a 6-0 victory over Bristol City, again in front of around 3,000 spectators, although they did not open the scoring until just before half-time, with Glover scoring a hat-trick. Argyle lost the next game at Cardiff but then went on to gain four successive wins, including a 3-0 win over Swansea Town who were forced to field an entirely teenage forward line. In that sequence of wins, the victory over Bristol Rovers had actually occurred at Ashton Gate. Gates improved to exceed 4,000 and football in the city looked to be on the up. However, they lost 5-2 away at Torquay on December 9th 1939 with Torquay's Fred Brown netting a hat-trick, including two in the first ten minutes. On December 23rd they gained revenge over Cardiff with a 6-2 win. Unfortunately this was the last game for centre-half Sam Kirkwood, who returned to his sister's business in Belfast and marked his departure by unfortunately opening the game's scoring with an own-goal. This win cemented Argyle's position at the top of the league.
Argyle beat RN Torpedo Department 5-1 at Home Park on the morning of Christmas Day 1939, one of a series of friendly games that helped to fill out the season. On Boxing Day they drew 1-1 with Torquay but then lost 1-0 at Swansea before slipping off the top of the league on January 6th 1940 when they lost 2-0 at Swindon, who took over at the top of the table. Argyle then had difficulty in fielding a side against Bristol Rovers on January 13th, but in the end they managed to find eleven men, although at one point it seemed that Rollo Jack would have to play himself. Rae went off injured and they finished the game with ten men, but still won 2-0. The game against Newport County was postponed on January 30th and Argyle then lost again to Torquay at Plainmoor. Trainer Bill Harper gave another excellent display in goal as Argyle dropped to third in the table.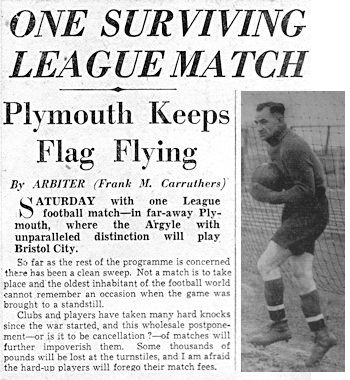 Left: Newspaper headlines on the day that a blanket of snow covered the country. Right: Trainer Bill Harper, in goal that day and the oldest player in the Football League at that time.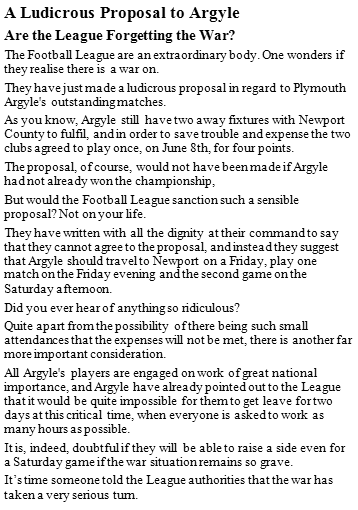 A transcript of Pilgrim's column in The Western Independent (26 May 1940).
On February 3rd 1940 Argyle had a remarkable 10-3 victory at home to Bristol City, who were hard-pushed to raise a side. This was the only professional game played that day because of widespread snow, and the attendance fell to 1,500 although one paper reported the crowd as a mere 896. Both teams borrowed players for the game and Argyle included Len Townsend from Brentford and trainer Bill Harper, who at 43, had retaken his place in goal after Matt Middleton's return to Sunderland. City took a surprise lead but Bill Olver equalised and then Jackie Smith scored a quick hat-trick and went on to net four in total as Argyle ran away with it.
Although it became increasingly difficult to raise sides, Argyle went back to the top of the table with a 3-1 win at home to Swansea Town on February 17th, even though they had to lend two players to the visitors. They then defeated their closest rivals Swindon Town 4-2, with the visitors again having to borrow two players because of an influenza epidemic, one of whom was Ellis Stuttard. On March 16th Argyle played a friendly against United Services, winning 9-1 with Townsend scoring three and both Smith and Sergeant netting two each. They followed this game with a 3-0 win against RN Torpedo Department on Good Friday, who had Ray Bowden leading their attack. (RN Torpedo Department then went on to beat the Royal Marines on Easter Monday in a remarkable game which ended 12-5 to RN Torpedo Department.)
Argyle's success continued with another defeat of Bristol City at Ashton Gate, this time 4-3. They continued with wins against both Cardiff City and Swansea Town, which left them with a four point lead at the top of the table. Argyle also beat a Services XI 7-1 with Townsend starring and then lost in the first leg of the FA War Cup to Bournemouth 1-0, although they did everything but score and had two goals disallowed, before then losing the second leg 4-1 a week later.
On May 4th Argyle again played RN Torpedo Department but this time lost 4-2. This was a remarkable game because eight of the Torpedo side were ex-Argyle players, including Sammy Black, who was playing his first game for over a year. Reports suggest that he played well but, just after half-time tempers became frayed and the referee had to caution both teams. In the final minute, Argyle's Jack Hodge broke his leg. In the next game Sammy Black was called up to play for Argyle at Swindon but in the event he was not required.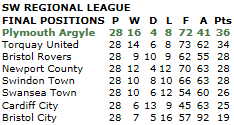 Argyle finished the season with two defeats, both away at Newport County on Friday 7th and Saturday 8th June. In a season when each team played each other four times (twice home and away), Argyle's fixtures at Newport had both been postponed earlier in the season and were the last of the league to be played. As they had already secured the top spot, Argyle asked that one game be played for four points (it was two points for a win in those days). By then virtually every Argyle player had been called up for National Service or was working long hours in the Dockyard, so two separate fixtures would have been both pointless and contrary to the war effort. But much to the club's dismay, the Football League refused and so both games were played in Newport on successive days. Argyle had to borrow Billy Williams of Lovell's Athletic – the work's team of the Newport toffee factory – at outside left. They lost the first game on Friday evening 6-3 and the second, on Saturday afternoon, 5-2, although the score was level at half-time. Despite ending the season with two heavy defeats, Argyle finished on top of the league with 13 wins at home and 3 away in their 28 games. They had a total of 36 points, two more than Torquay and eight more than Bristol Rovers. Bristol City were bottom with just seven wins. Over the season, 22 players were used, plus another 6 on loan. Only George Silk was ever-present but five others made over twenty appearances.
WAR COMES TO PLYMOUTH
Sometimes called 'the phoney war', the first nine months of the conflict had little impact on the people of Plymouth, although events at sea touched many families in the city. Nevertheless, preparations were being made: sandbags and other barricades appeared on the street, sirens were installed to give warning of air raids, and anti-aircraft batteries and public shelters built. To support the people of Plymouth, civil defence forces were recruited and trained, including wardens, special constables, fire-fighters, nurses and first aiders. But these measures apart, life seemed close to normal and many wondered if it was all really necessary.
The answer came soon after the fall of France in May 1940. The Luftwaffe, the German airforce, took control of airfields along the coast of northern France and suddenly Plymouth was exposed to front-line danger. For the people of the city, the grim reality of war was real and on its doorstep.
The first enemy bombs were dropped on Plymouth by a single aircraft on Saturday, 6th July 1940, and destroyed a block of eight houses in Swilly Road in what is now North Prospect, killing a man, woman and boy. The event heralded nearly four years of terror for the people of Plymouth. The sirens sounded 602 times in those 1,395 days, but thankfully the majority were false alarms. However, they were a warning that enemy aircraft were near, so whether real of not, the fear they struck must have been considerable. Bombs were dropped on the city on 59 occasions, killing 1,179 civilians and injuring 3,269 others (the actual figures were almost certainly much higher because the number of Armed Services casualties in the city was never released). Between July 1940 and April 1944, 3,754 houses were destroyed in the city's residential areas and 68,345 suffered significant damage, not to mention the heart of the city, from Drake's Circus to The Octagon, which was all-but flattened.
That first bomb, on Swilly Road, came just four Saturdays after the end of the 1939-40 season. The second attack came the following afternoon, on streets in the Cattedown area, and five more were killed but thankfully many more found shelter. These relatively light raids continued at short intervals over July and August 1940, and must have had a significant impact on Argyle's decision about its future. On July 14th, chairman Sir Clifford Tozer and acting secretary-manager Rollo Jack issued a statement to the effect that Argyle would "probably not compete next season" although they would look at whether or not there were enough teams in easy travelling distance and whether or not a representative side could be formed.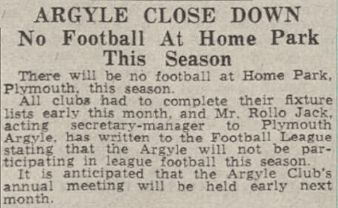 The Western Morning News on August 16th, 1940
Two weeks later, at its annual meeting, the Football League announced that the 1940-41 season would comprise two divisions, North and South. The payment to players would remain at 30 shillings per match with no bonus, and the admission charge would be one shilling but men of the forces would be admitted at half price. At least 60 of the League's 88 clubs were expected to take part, with those in "defence areas" permitted to play their matches on the grounds of other clubs if they wished. Each participating club was expected to arrange its own fixtures with as many in their division as was feasible, and recognising that the number of games per club would inevitably vary, the league tables would be arranged by goal average. Clubs were required to submit their fixtures by the middle of August to allow the season to start on August 31st. Although 70 clubs - 36 in the North and 34 in the south - signed up for the season, the excessive travelling requirements and the lack of availability of Home Park forced Sir Clifford Tozer to announce on 16th August that Plymouth Argyle would not participate. Plymouth Argyle's 37 years of professional football were at an end - for the time being at least.
[Looking back, it is striking to read the newspaper reports of Argyle's closure and the reasons given. Doubts about Home Park's availability and the long distances involved, yet no mention of bombs falling on the city - an astonishing reflection of the courage and stoicism of the day.]
Home Park's availability had been impacted by the war effort. Earlier in the summer, a national initiative was launched to encourage young men to improve their fitness in readiness for call-up to the Services. The 'Fitness for Service' campaign was backed by the Government and supported by the Football Association, who made arrangements for the free use of football grounds. The scheme was launched in early July, and expanded to encourage all ages to take part, recognising that roles other than military service would be vital in the following months and years. Home Park was opened up to the public on Saturday afternoons and Monday, Wednesday and Friday evenings, and whilst led by Army PT instructors, the sessions were designed to be fun and interesting.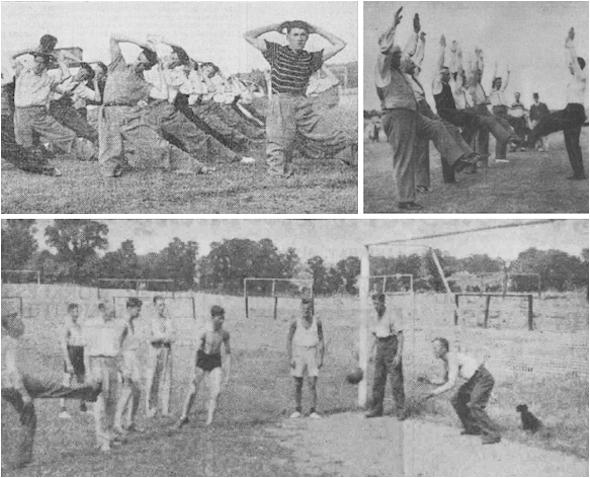 Men, young and old, signed up at Home Park for the 'Fitness for Service' campaign
At the annual meeting of shareholders in late September 1940, the club's chairman said that nearly all the players were by then employed on work of national importance, and he went on to praise their efforts in winning the South West Regional League and their cooperation "at times at financial loss to themselves". Sir Clifford added that those who had bought season tickets for the 1939-40 season would be issued new tickets, free of charge, when football returned to normal.
Despite the club's closure, this was not the end of wartime football at Home Park. The ground was made available to the Services and Dockyard sides, who played a series of games over the autumn and winter of 1940-41. Prominent amongst those sides was RN Torpedo Depot, who included many ex-League players amongst their number, including Len Rich, Raymond Bowden, Fred Mitcheson, Jack Hodge, George Stanbury, Johnny McNeil, Tommy Ryan and Sammy Black (all Argyle), as well as Jack Angus (Exeter) and Alf Reed (Watford).
THE BLITZ OF PLYMOUTH
Plymouth had suffered 25 days of bombing raids in the second six months of 1940, building up to the worst by far (at that stage) on 14th January 1941, when the 256th siren alert signalled a nightmare across the city. The actions of 25 aircraft killed 26 civilians, injured 117, demolished or seriously damaged some 460 houses and for the first time, large areas of the city were deprived of gas and electricity. But if that was hell, it was nothing to the devastation that came in five nights of March and April.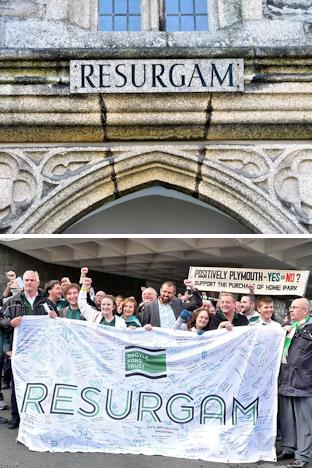 Above: The permanent 'Resurgam', mounted over St Andrews' North Door during reconstruction.
Below: Argyle Fans' Trust's banner during the turbulent months of 2011.
On March 20th 1941, their Majesties King George VI and Queen Elizabeth (known to us later as The Queen Mother) paid their first visit to Plymouth to see the damage and boost morale. Only two hours after their departure on the royal train came the first of two successive nights that tore the heart out of the city. In those 48 hours, 336 men, women and children (of the civil population) were killed, including 14 babies and 3 nurses in the City Hospital when the maternity unit was hit. Amongst many other well known landmarks, Spooners' Department Store - whose owners had been so significant in the history of the club - was ablaze from ground floor to roof; Charles Church became the monument we know today; and the roof of Plymouth's Mother Church, St Andrew's, was totally destroyed. The following morning, the headmistress of Western College Preparatory School, Miss Margaret Smith, asked a carpenter to construct a board painted with the word 'Resurgam', meaning 'I will rise again'. Reflecting the Christian hope of new life, the simple sign was placed over the St Andrew's North Door and became the watchword of the years of reconstruction that followed, as well as living on today as a powerful symbol of the spirit of Plymouth. In Plymouth Argyle's post-war history too, the word has had special significance.
With some 20,000 properties destroyed or damaged in those two nights, there was an urgent need to store over 100 tons of furniture. A large part, including between 50 and 100 pianos, was taken to Home Park and the relative safety of its stands. Little did they know.
Another devastating series of raids came a month later, on the three nights of 22-24 April. All parts of the city were affected, but in particular, Devonport. On the middle night, incendiary and high explosive bombs rained down for six hours and this time, Home Park's 11-year-old grandstand was hit. It was the fire from incendiary devices that did most damage, fuelled by the furniture below and fanned by a stiff breeze. The fire-fighting forces, ill-equipped and stretched to the limit across the city, were simply unable to cope and the raging flames ran their course.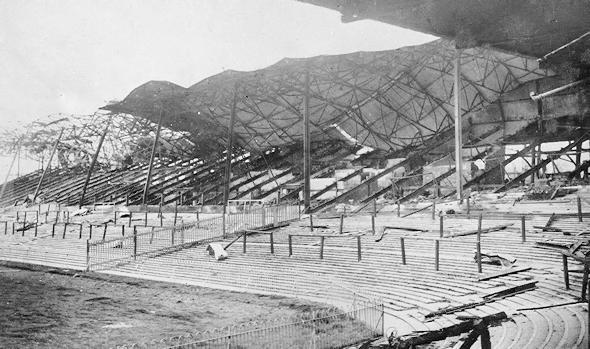 The devastation on Home Park's south side after the night of Wednesday, 23rd April 1941.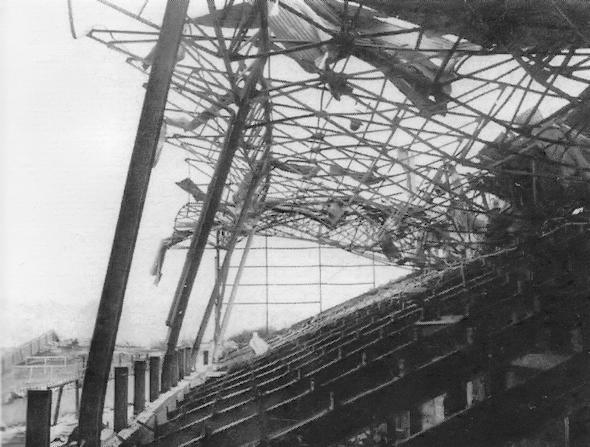 Evidence that the damage was caused in the main by incendiary bombs rather than high explosives: the steel structure remained largely intact, whilst everything around it was destroyed.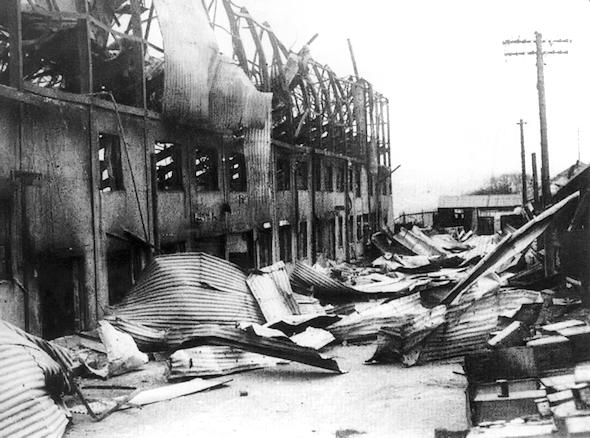 At the rear, the corrugated iron cladding twisted by the heat, although it is interesting to see that some telegraph poles survived.
It is hard to be certain about the extent of the damage around the ground. The grandstand, built in 1930 and extended two years later, was effectively destroyed, but photos taken later show that the structure at the Devonport end of the pitch was unaffected. The Spooner or Flowerpot stand, the small structure at the west end of what we now call the Lyndhurst, appears in photos of the 1939-40 season but not when football restarted after the war, so it seems likely that it did not survive the attack. As for other parts of Home Park, it is very difficult to find any contemporaneous accounts of the damage, no doubt because the destruction at Home Park paled into insignificance compared with the centre of the city. There are many publications, usually written decades later, that describe the extent of the damage, but they are not always consistent. The pitch, for instance, is referred to by one as "miraculously the playing pitch was almost unmarked" but by another as "the large craters in the playing surface were filled with rubble from other bomb damaged sites". The former is almost certainly the case because matches were played once again at Home Park, despite the devastation on its southern side, just a few months later.
LIFE GOES ON
The Spring of 1941 was a defining time in Plymouth's long history; in what seemed like a moment, the famous face of the old town was gone. The scenes of devastation were beyond description, yet the spirit of Plymouth remained unbroken; each day men and women brushed the tiredness and sweat from their faces and set about the task of re-establishing their daily routines. Many thousands, mainly those who had lost their homes, left for the relative safety of the surrounding towns and villages, whilst thousands more made the nightly trek to the surrounding countryside, returning each morning to their places of work. But in the main, Plymouth's people took each hard knock with a courage that aroused world-wide admiration.
With the centre so ruthlessly destroyed, business flowed to the Mutley and Mannamead districts. Firms re-established wherever they could, even in private houses, and Mutley Plain became a vital shopping hub. Help was rushed from all parts of the country, with offers from all over the world. A communal cooking centre was set up on the outskirts of the city, capable of producing 50,000 meals in 24 hours. Hot meals were taken by lorry to four feeding centres around the inner city and 3,000 meals were served daily between 12 noon and 2 pm.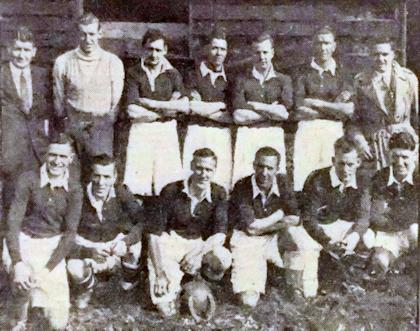 The ex-Argyle line-up for the charity match against Plymouth City. Back row: Titmuss, Wright, Silk, Court, Rich, Hellier. Front row: Duke, Sloan, Gorman, Deacon, Black, Mitcheson.
Despite the Luftwaffe's best efforts, it wasn't long before Home Park was back in use too. In September 1941, only five months after the grandstand was destroyed, former-player Fred Titmuss organised a friendly match at Home Park between an ex-Argyle XI and Plymouth City, in aid of the Plymouth Air Raid Relief Fund. A crowd of 1,200 attended on Saturday 20th September to see a 3-3 draw. Plymouth City was a newly-formed local side (Plymouth United was another) who regularly arranged charity fixtures with civil and forces sides. Whilst Plymouth United often played at Millbay Park, Plymouth City, of which Lord Astor was president, based itself at Home Park and over the following three years raised more than £700 for worthwhile causes (around £30,000 in today's terms - an impressive sum considering the hardships of the day).
The early hours of Wednesday, 12th May 1943 saw perhaps the most poignant moment in the club's history. In those quiet hours and with a backdrop of utter destruction, caretaker manager Rollo Jack scattered his father's ashes over the pitch at Home Park (there is more about Bob Jack's passing in chapter 15). One of the professional club's pioneering players and then its manager for an astonishing 29 years, Robert Jack truly loved the club and his resting place could not have been more fitting. But after decades of success under his leadership, the desolate setting that morning must have added considerably to the family and club's grief.
In September 1943 Sir Clifford Tozer met with his fellow directors to discuss a proposal from called-up manager Jack Tresadern. No doubt inspired by the achievement of Plymouth City and Plymouth United, or perhaps envious, Tresadern suggested that a team should be brought together under the Argyle name to compete with other war-time sides in the area. The proposal was rejected because, as Sir Clifford explained, the name 'Plymouth Argyle' should be kept for a team of pre-war standard. On wider matters, there was little cheer: members of the board were guarantors of a large bank overdraft; the grandstand was in ruins, the terraces were overgrown with weeds, and the Home Park lease was in abeyance. However, the board expressed a clear resolve to re-establish the club, as soon as was practicable, and would endeavour to build up a team which would uphold the club's traditions in whatever competition might emerge after the war. To that end they appealed to Argyle supporters in all parts of the world to look out for promising players and advise the directors of their finds.
1944-45: PLYMOUTH ARGYLE RISES AGAIN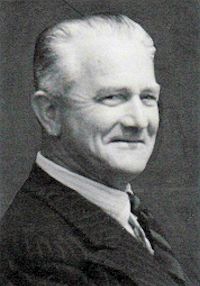 Jack Tresadern
Twelve months later, on 22 September 1944, the Western Morning News reported that Plymouth Argyle's board had agreed to take immediate steps to re-form the club and establish a team on the pitch at the earliest opportunity. Although seven months were still to pass before the end of the war in Europe, the chairman announced that Jack Tresadern, by then 54, had been reappointed as manager and had been given the immediate task of blending a team of amateurs with seasoned professionals to gain experience before traditional League football began again. Steps were also being taken to find a suitable ground, but the directors recognised that Home Park must be the club's headquarters when adequate dressing rooms and covered stands and terracing for 50,000 spectators could be established. The reason for the immediate need of a home venue was that the club's lease on Home Park had lapsed, and since 1940 the City Council had rented the ground for matches to local clubs, and in particular to Plymouth City, on condition that any profit must be donated to charity.
Just five days later, Mr E. A. Scott, chairman of Plymouth City FC, announced that his committee had agreed to amalgamate with Plymouth Argyle and to hand over all players, equipment and finances to help the Pilgrims get started again. From the following Saturday, the City players would wear the green and black of Argyle and would continue their Plymouth and District (P&D) League fixtures as Plymouth Argyle. In response, manager Jack Tresadern praised the City club, saying: "You have given Argyle a wonderful chance." At a dinner a few weeks later, Argyle's chairman accepted more generosity from Mr Scott, a cheque for £80, and once again expressed the club's gratitude. At the dinner was Alderman R.R. Oke, who stressed how important Plymouth Argyle FC was to the city as a whole, and went on to suggest that the club might call itself Plymouth City in future. Thankfully, his idea fell on deaf ears.
Whether it was a wonderful gesture that came as a complete surprise, or an expected move that came from a club that was merely holding the fort, is difficult to judge. Either way, the effect was that Plymouth Argyle could hit the ground running and, perhaps most significant of all, Plymouth City's demise meant that Argyle could once again play at its traditional home. The City club had secured its use of Home Park on a rental basis, and on October 18th, the Plymouth Parks Committee decided to recommend to the Council the application from Argyle to use Home Park on alternate Saturdays for the rest of the 1944-45 season. The club also asked that the requirement that all profits from matches must go to charity should be waived. The Parks Committee also recommended that the club should be granted a new lease when it resumed at a national level, with Argyle requesting that the Corporation should undertake to rebuild the stands, seats and accommodation that had been destroyed.
Argyle's first match for over four years, albeit at a local level, came on 30th September 1944, an 8-2 win over RN Barracks in front of a large crowd at Callington. The team that day included two Argyle stalwarts, Jimmy Rae and Archie Gorman, who between them had made 560 appearances for the Pilgrims during the 1930s. The full line-up was: Hambly, Rae, Tugwell, Hill, Bungay, Gorman, Butler, Coombes, McMahon, Dyer and Wotton. The Pilgrims' first match at Home Park since May 1940 came a week later: a 3-2 victory over Astor Institute in the P&D Combination League. Over 1,200 spectators witnessed that landmark game, which raised £30 for the National Union of Journalists' Widows and Orphans Fund.
As well as the P&D games, Argyle played 12 friendly matches, including a 6-0 win against the US Army Medics. But they did not win them all; amongst the defeats was a 5-1 drubbing by Plymouth Garrison, who had many league professionals in their side. Of three games against Exeter City, Argyle won one (5-1), drew one (2-2) and lost the other (1-5).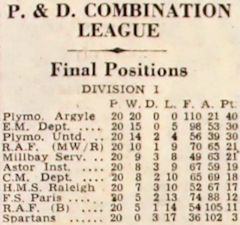 The P&D League's final table for 1944-45
As the local season progressed, Argyle established themselves as a successful side and eventually won the P&D League by ten clear points, winning all twenty games and scoring 110 goals whilst conceding only 21. These wins included a 15-1 defeat of the unfortunate Spartans and a 10-1 defeat of RAF (MW/R). The trophy was presented by the Mayor at Millbay Park in May 1945. They were also runners-up in both the Devon Senior Cup and the P&D League Cup, losing to the Royal Marines and Plymouth United respectively, although the side was weakened by clashes with Western League Cup games in the final weeks of the season. Many players had to be used because of uncertainty over general availability, including a number of local amateurs from other clubs as well as a smattering of Football League professionals stationed in the area.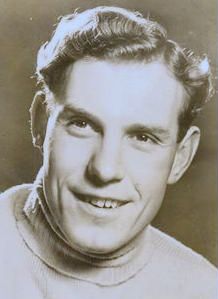 Bobby Brown, a guest from Scottish amateur club Queen's Park, who went on to become manager of Scotland.
On 22nd February 1945 the Plymouth Argyle AGM took place, chaired by Sir Clifford Tozer, who announced that the club had applied to play in the Football League West Cup, a competition that was known in the newspapers by various names, including the Western League Cup, the League West Cup, the League Cup West, the West Regional Cup and the Western Section Cup. The competition was devised two years before, played in the final two months of the season and based on a league format with the top two teams playing for the cup. The other clubs involved, from the South West and South Wales, were Aberaman Athletic, Bath City, Bristol City, Lovell's Athletic and Swansea Town, who were all played twice except for Bristol City. Cardiff City were also involved, but Argyle's two games against them were never played. The competition proved to be much more challenging; Argyle were defeated 5-1 and 3-1 in their matches against Bath City - the eventual winners - who included Blackpool and England inside-left Stan Mortensen in their side. Overall, the Pilgrims played nine games in the Football League West Cup, winning four, losing four and drawing one. Ron Brown was top scorer with six goals. The line-up against Lovell's Athletic on April 28th was typical for this competition, a selection from: Bobby Brown, Roberts (another goalkeeper), George Silk, Jimmy Rae, Sid Rundle, Bill Adams, Bill Whittaker, Avery (possibly Fred, who played for Torquay in the early 30s), Jackie Smith, Ron Brown, James Prescott, Ambrose Came, Alfred Loft, Luke Tinkler, Bill Smith and Dave Thomas. In this and many other games that season, Queen's Park and Scottish international Bobby Brown guested in goal. Brown went on to become a (Glasgow) Rangers legend and later the Scotland national side's first full-time manager.

In desperate need of accommodation, Jack Tresadern posted an advert in March 1945 in the Wanted column of the Western Morning News. ('Secretary' was Jack Tresadern, the secretary-manager.)
Also announced at the AGM was the club's application to join the western section of the Football League for the 1945-46 season, along with Swindon Town. However, as it turned out, the Football League had more ambitious plans. On 7th May 1945, a week after Adolf Hitler's suicide and on the same day as Germany's unconditional surrender, the Football League held a special general meeting at which they recognised that a transitional season would be required before a return to the conventional League structure. The result was that for the 1945-46 season, the First and Second Divisions of 1939-40 would be reorganised into two divisions, north and south, with the prospect of Argyle meeting the likes of Arsenal, Chelsea and Spurs.
The 1944-45 season ended with two friendlies against Cardiff City at the end of May, which Argyle lost 2-1 at home but drew 2-2 away. These and the League Cup West games were a good test for Argyle because Cardiff, Bristol City and Swansea had all played in regional competitions throughout the war years.
WAR SERVICE BY ARGYLE PLAYERS
The story of the football club during the years of the Second World War would not be complete without an account of players who served their country. If you have information that we can add to this list, please let us know.
Soon after the outbreak of the war in 1939, many of the club's players had found other jobs, including coach Bill Harper, who had taken charge of the recreation ground at RNE Keyham. Bill Olver had joined the RAF, Bill Hurst the Navy, Pat Glover the Police and ten of the team obtained jobs in Devonport Dockyard. Sam Kirkwood returned to his native Belfast and many others went home initially before playing their part in the war effort. It is interesting to note how many of those who joined up had their careers in football seriously curtailed by their war service.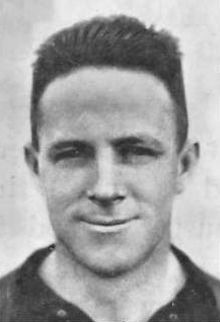 John Demellweek, war hero
In terms of war service, perhaps most noteworthy was John Demellweek, a 20-year-old from Turnchapel who made 34 appearances for the club between 1927-28 and then 1931-35, having returned from a spell with Southend United. He played for Argyle first as an amateur and then, after serving in the Royal Navy, as a professional. He re-joined the Navy in 1939 and was one of the crew of the obsolete destroyer HMS Campbeltown which was part of the 'suicide' squad which charged the lock gates of St Nazaire in March 1942 – known as Operation Chariot and sometimes termed "the greatest raid of all". The intention was to block the entrance to the harbour and prevent ships, in particular the Tirpitz, from using it by ramming the bow of the Campbeltown, packed with explosives, into the dock gates. Following Operation Chariot, five crew members were awarded the Victoria Cross. The action resulted in 169 men being killed and 214 taken prisoner, including Demellweek. The crew's getaway craft had been sunk by shellfire and Demellweek was picked up by a German trawler and taken to Stalag 133 near Rennes and then on to Germany, where he was held as a Prisoner of War (PoW) for three and a half years before returning to Plymouth in May 1945.
Paddy Ratcliffe, who made 246 appearances for Argyle was another with distinguished service. He volunteered for the RAF as an Air Gunner and was shot down in flames over Essen, receiving shrapnel wounds to his leg. He was captured and spent two years as a PoW. Charles Sergeant, who had made 31 appearances for the club and who had starred in the 1939-40 team was another PoW.
Several Argyle players also represented their Service at football during the war, including Eric Bryant, Neil Dougall (who played with Stanley Matthews and Stanley Mortensen), Alex Dyer, Ted Jelly and Luke Tinkler.
| | | |
| --- | --- | --- |
| Walter Ainsworth | 1938-39 | Played for RAF in Australia |
| William (Bill) Archer | 1938-40 | Served in UK as RAF PT Instructor |
| Gordon Astall | 1948-53 | Joined Royal Marines towards the end of the war |
| Sammy Black | 1924-38 | Joined RAF then RNAD in Plymouth |
| Len Boyd | 1946-1949 | RN - Malta |
| Jimmy Clark | 1937-40 | Pilot Officer in RAF, went to South Africa |
| John Demellweek | 1927-35 | Navy PoW having taken part in the heroic St Nazaire action |
| Stan Dixon | 1940 & 1945-50 | Sergeant in RAF, becoming a PTI at RAF Holmsley South near Christchurch in Hants |
| Neil Dougall | 1949-1958 | Joined RAF and played for their representative side and Scotland in unofficial war-time internationals |
| Jack Dugnolle | 1939-40 & 1945-56 | Worked in the Dockyard |
| Alex Dyer | 1937-39 & 1945-47 | Sergeant in Royal Artillery, stationed in Scotland, played for Army representative sides |
| Archie Gorman | 1931-40 & 1945-46 | Worked in Dockyard |
| Pat Glover | 1939-40 | Police War Reserve - dismissed because lied about illness to play for Wales against England |
| Bill Harper | 1931-40 | Blacksmith in Rosyth Dockyard |
| Bill Hurst | 1940 & 1946-47 | Army - drafted abroad |
| Len Jones | 1939 & 1945-49 | Worked for Marconi on their war work in Essex |
| Harry Lane | 1938-39 | Engaged in war work in Cannock, Staffs |
| Johnny McNeil | 1934-39 & 1940 | Worked in the Dockyard |
| Willie MacDonald | 1939-40 | Returned to Glasgow on war work |
| Matt Middleton | 1939-40 & 1945-46 | Called back to coal mines in Sunderland |
| Alf Miller | 1939-47 | Sergeant in the Royal Artillery |
| Bill Olver | 1938-40 & 1945 | Broke a leg and was discharged from RAF |
| Tom Parnaby | 1939-40 | With Royal Marines in Far East |
| Jimmy Rae | 1932-40 & 1945 | Police War Reserve in Plymouth |
| Paddy Ratcliffe | 1947-56 | RAF Air Gunner, PoW having been shot down over Germany |
| Bob Royston | 1939 &1945-47 | PT Instructor for Army at Aldershot |
| Charles Sergeant | 1939-40 | Repatriated PoW having served in North Africa |
| Bill Shortt | 1945-56 | Army, stationed at Crownhill |
| George Silk | 1937-40 & 1945-51 | Worked in Dockyard from 1939 |
| Ernie Smith | 1938-39 & 1945-46 | War work in Chesterfield |
| Jackie Smith | 1935-40 & 1946 | Sergeant in Royal Artillery |
| George Stanbury | 1927-32 | Naval Battery |
| Ellis Stuttard | 1939-40 & 1945-47 | Sergeant in RAF, went to Germany with Occupation Army |
| Luke Tinkler | 1945-48 | Royal Navy representative side |
| Frank Warhurst | 1945 | Worked in Bristol on aircraft construction |
| Roger Worton | | RAF – rumoured to have been shot down over Germany |
| George Wright | 1938-40 & 1945-47 | Civil Defence worker |