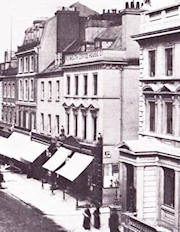 THE HISTORY OF ARGYLE
Greens on Screen's History of Argyle is an original, comprehensive and thoroughly researched account of Plymouth Argyle Football Club from its earliest roots to 1957 (so far). It is an ongoing project and will be reviewed and improved from time to time. If you can contribute, either by improving existing content or by adding your own research, please Get in Touch.
Special thanks to the chapter authors; you can find out more about them here: Authors
Important copyright conditions: The chapters listed below are licensed under a Creative Commons Licence. You may read, copy and/or share the work as long as (a) it is not altered, transformed or built upon; (b) it is not used for commercial purposes without express permission and (c) the work is attributed to the named author and this website (www.greensonscreen.co.uk).
And the picture opposite? The Borough Arms Coffee Tavern at 35, Bedford Street, Plymouth, where it all began.
Greens on Screen is run as a service to fellow supporters, in all good faith, without commercial or private gain. I have no wish to abuse copyright regulations and apologise unreservedly if this occurs. If you own any of the material used on this site, and object to its inclusion, please get in touch using the 'Contact Us' button at the top of each page. Search facility powered by JRank Search Engine. Hover facility courtesy of Milonic. UK time at page load: 23 January 2022, 09:09.