THE HISTORY OF ARGYLE
An original account of Plymouth Argyle Football Club from its earliest roots to the present day
This is a printed representation of one chapter of GoS's History of Argyle (www.greensonscreen.co.uk/argylehistorymenu.asp), provided for ease of reading and personal retention. Inevitably it lacks links to associated pages, including match and player records, and its layout has been simplified to allow page breaks. Note also that Greens on Screen's online History of Argyle will be updated and new material added from time to time.
COPYRIGHT: the strict conditions for use of this printed version are the same for the corresponding online page, as specified on that page.
ARGYLE ENTER THE FOOTBALL LEAGUE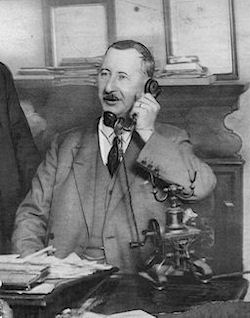 Robert Jack at the helm
A wonderful photo of Bob Jack, secretary-manager for the club's first 17 seasons in the Football League.
Thirty-four years after the Western Daily Mercury published a notice that announced the formation of the Argyle Football Club (Association), Plymouth Argyle took its place in the country's senior competition, the English Football League. The League's new Third Division consisted of teams previously in the Southern League, but the name lasted just one year; the following season it became the Third Division South when 20 clubs from up-country formed the Third Division North.
Meanwhile the Southern League continued as a combination of new sides and reserve teams from the Football League, including Argyle's second string, who were elected in 1921. This was a major step for the club; for the first time the Reserves were tested against up-and-coming talent from across the south of England rather than the confines of the Plymouth & District League. Indeed, Argyle Reserves went on to win the Western Section of the Southern League in 1921-22, 1925-26, 1928-29 and 1933-34, and they won the Southern League Cup in 1932-33, beating Folkestone Town 6-3 on aggregate in the final. They retained the cup against Tunbridge Wells Rangers the following season and won it again in 1935-36.
Argyle's board of directors comprised Mr E. Elliott Square, Mr J. D. Spooner, Mr A. Gard, Mr B. Edmonds, Mr E. Harvey, Mr W. Olden, Mr G. Cook, Mr H. Papps and Mr W. Wakeling. Chaired by Mr Elliot Square, the board decided on improved wages and increased admission prices to suit the club's new status. The maximum weekly wage was raised to nine guineas (£9.45p, equivalent to £384 in 2012) with a bonus of £2 for a win and £1 for a draw. The minimum cost of admission rose from 1/- to 1/3d. (5 to 6p, equivalent to £2.40 in 2012).
1920-21: ARGYLE'S FIRST FOOTBALL LEAGUE SEASON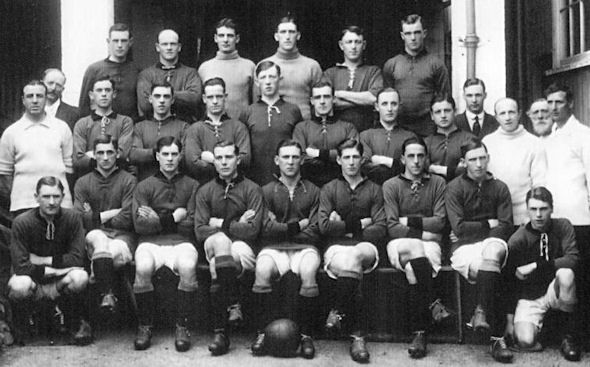 Plymouth Argyle, 1920-21
Back row: George Frost, Moses Russell, W.Cook, Fred Craig, Septimus Atterbury, Jimmy Heeps.
Middle row: T.Haynes, J.Horton, R.Perrett, Fred Cosgrove, Billy Kellock, Jack Hill, Jimmy Logan, Billy Forbes, G.Cook, David Jack, A.Wheaton, W.Hayes, J.Banks.
Front row: Jimmy Dickinson, Jimmy Kirkpatrick, Tommy Gallogley, Bertie Bowler, George Sheffield, Cecil Eastwood, Harry Raymond, Will Dixon, Joe Little.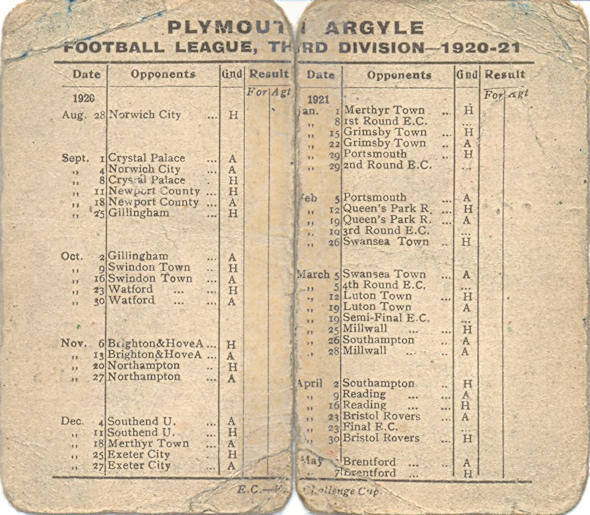 Argyle's first Football League fixture card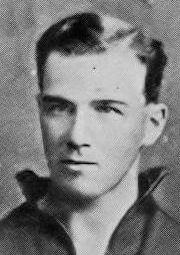 Jimmy Heeps
Plymouth Argyle's first game in the Football League was a 1-1 draw with Norwich City at Home Park in front of 17,356 expectant fans. Argyle's goal that day was scored by a young Scot, Jimmy Heeps, but his place in Argyle's history was not achieved without controversy. In the build-up to taking a first half lead, a corner taken by Jimmy Kirkpatrick was aimed towards Heeps who hit the underside of the crossbar from close range. It appeared the ball had crossed the line and there were prolonged appeals. Some reports suggest that the net had rippled but the referee was adamant with his decision to award a second corner. This time the ball was played short to Arthur Dixon, and his low delivery caused confusion in the Canaries' penalty area. Heeps pounced to score with his head - for definite this time - Argyle's first League goal.
The large crowd hoped that Argyle would open their League campaign with a win but it was not to be. The Pilgrims were the older, more experienced side and should have won comfortably, but the hard, sun-baked ground did not help. Norwich goalkeeper Skermer made several excellent saves, including one from David Jack, and then on 70 minutes the visitors made the most of a rare opportunity to equalise when Fred Craig appeared to be deceived by the flight of the ball.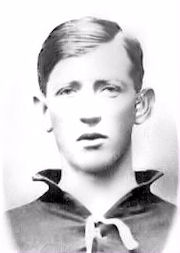 Jack Hill
Ten days later, Jack Hill made his debut for the club. Predictably nicknamed 'Ginger' because of his shock of red hair, the 23-year-old from Durham made a considerable impact at Home Park, playing over a century of games in the following three seasons before he was lured away by Burnley, and then Newcastle, both First Division giants. His step-up to the top flight came as no surprise, nor did his 11 caps for England, including 8 as captain. The 6' 3" centre-half is widely regarded as one of the outstanding players in the club's history.
Argyle had to wait until their fifth match for their first Football League win, a fiercely contested game against Newport County at Home Park in mid-September, in which the home side were forced to field four reserves because of a long casualty list, but still managed a 5-1 victory.
The Pilgrims drew 21 of their 42 matches that season, and the habit extended into the third round of the FA Cup against Chelsea, which needed three games to settle. The first attempt, a 0-0 scoreline at Home Park, attracted a record attendance of 27,749 at Home Park, with crowds queuing more than four hours before kick-off. The first replay, also goalless, was played in front of nearly 60,000 at Stamford Bridge, including Sir Arthur Shirley Benn, MP for Plymouth Drake. The Pilgrims were finally defeated by the odd goal in three at Ashton Gate, Bristol, before a midweek gate of over 26,000, with several thousands travelling from Plymouth. Over 110,000 saw Argyle match their top-flight opponents in five hours of football, with Chelsea lucky to go through to the next round.
Argyle finished their first Football League season in 11th place, with an excellent defensive record of 34 goals conceded in the 42 games thanks in particular to the towering Jack Hill and the tenacity of Moses Russell, famous for his sliding tackles and bald head. Argyle's problem that season was at the other end of the field. Without the two 'B's, Burch and Bowler, who had been regular goalscorers before the war, Bob Jack's side managed only 35 league goals that season; less than one a game. Top scorer was Harry Raymond, who managed only seven. Raymond had been with the club since 1908 but he was not the longest serving player; that distinction went to Septimus Atterbury, who had signed in 1907 and played in 30 matches in 1920-21, his last season as a player.
1921-27: ALWAYS THE BRIDESMAID
It is well documented that Plymouth Argyle finished as runners-up in six successive seasons in the 1920s. Only one team was promoted from the Third Division South in those days, with another from its northern counterpart, but year after year the top spot and promotion eluded the Pilgrims.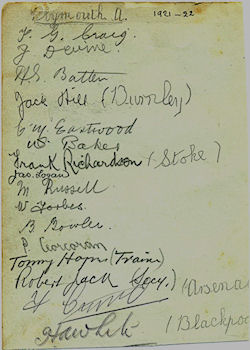 An autograph hunter's collection for the 1921-22 season
The sequence began in 1921-22 when Argyle finished level on points with Southampton, who were promoted on goal average. After a flying start, Argyle only lost twice before Christmas and just five times before the last game of the season at Queens Park Rangers, where they needed a point to ensure promotion. Having beaten QPR 4-0 at Home Park the week before, optimism was high but the afternoon ended in a 2-0 defeat and a gloomy journey home. The highlight of the year was without doubt Frank Richardson's tally of 31 goals in 41 starts. Richardson was one of a trio of players signed from Barking Town in the summer of 1921, Jack Leslie and Alf Rowe being the others. Unlike his colleagues from East London, the centre-forward made an immediate impact, including three in his first game for the club, thus becoming Argyle's first player to score a hat-trick in the Football League. Argyle were undefeated at home that season, scoring 43 at Home Park and conceding just four.
As an interesting aside, perusal of the players' data shows how much heights have increased. In 1922 only Jack Hill was over 6' (6'2"); two players were 5'11" and all the rest of the staff (29) were between 5'7" and 5'10".
With just one defeat and four goals conceded in their first ten games of 1922-23, hopes were high that the previous season's heartache would not be repeated. Although he was unable to reproduce the form of his first season, Frank Richardson's overall record for the club - a remarkable 42 goals in 67 games - was enough to attract interest from other clubs and he left for Stoke before the season's end, although not without forming another club record: the first player to score a hat-trick in the FA Cup when he scored all four in the win at home to Bradford Park Avenue in February 1923. Newcomer Jack Fowler, who went on to play for Wales alongside Argyle's Moses Russell, was the season's top scorer with 17 goals in just 22 appearances, including a hat-trick against Exeter City in the 5-1 win at home in March. Once again Argyle were undefeated on home soil, scoring 47 times at Home Park and conceding just six, but lost 12 times on their travels, leaving them six points short of champions Bristol City.
The 1922-23 season was particularly memorable because it culminated in the famous 1923 'White Horse' Cup Final – the first at Wembley. This game featured David Jack at inside-right for Bolton Wanderers, one of the three footballing sons of Argyle's manager Bob Jack, who, in the second minute, scored the first ever Wembley goal. Also significant in the game was the appearance of Jack Tresadern for West Ham United, later to become Argyle manager. Argyle themselves beat Notts County away 1-0 in an FA Cup first round replay; Gallogley scored the goal which the Notts players claimed was offside and the Argyle defence held out despite a constant onslaught. They went on to beat Bradford City 4-1 in the second round, thanks to Richardson, but lost at West Ham in the third.
In the summer of 1922 the Board of Directors expressed concern that an impending recession would reduce attendances, especially because of the level of discharges from the Dockyard, and decided to drop the first-team players' wages by 18% to £8 a week during the season and £6 per week out of season, rates that remained unchanged until 1945. Because wages were so limited, benefit matches were very important to players. Amongst the beneficiaries in 1922-23 were Moses Russell (2-1 against a Wales XI), Tommy Gallogley (2-1 against Bristol City) and Bob Jack (3-0 against Bolton, who sent their full first team, including his son David).
The 1923-24 season began with a 2-1 home defeat by Portsmouth, remarkably the first reverse at Home Park for almost two and a half years, and it turned out to be Pompey's turn to pip Argyle to the title in this, the third runners-up season. Welshman Jack Fowler scored 14 goals in the last 14 matches but it was new-boy Percy Cherrett who finished top scorer with 27 goals in 40 games. In contrast with the season before, the Pilgrims' away form was particularly good: 10 wins on the road put them amongst the very best in the whole of the League.
By 1924-25 rumours were rife that the club did not want promotion because of its potential effects on costs and the loss of revenue from being a previously successful side, although this was strongly denied by the Board. "The idea is simply ridiculous, and as soon as supporters realise this the better it will be for the club", said the club's handbook at the start of the season. Nevertheless, close calls in the three preceding seasons and the three that followed only served to fuel the rumour.
Argyle were easily the division's highest goalscorers in the 1924-25 campaign, with Sammy Black in his debut season and Jack Leslie quickly establishing their legendary left-wing partnership and scoring 27 goals between them. The defence was solid too, with Fred Craig ever-present in goal. The side scored seven goals twice that year (against Brentford and Bristol City) and ended the season with a 6-0 win at home to Southend United. The excitement must have been extraordinary; after their last game of the 1924-25 season, Argyle found themselves at the top of the division. However, Swansea Town beat Exeter to win their game in hand and Argyle lost out once again.
The story continued in 1925-26; this time it was Reading's turn to take the title, once again by just one point. The season began with one of the team in Australia: Bertie Batten's consistent form for the Pilgrims had led to his selection for the FA Tour of Australia in the summer of 1925. Down under he set a new record for goals scored by an English player on a Colonial tour, featuring in 25 of the 26 matches played and netting 45 times. This form brought him to the attention of Everton and, after a delayed start to the season because of the return voyage from Australia, he was sold to the Goodison Park club.
Argyle had another exceptional campaign. They scored seven goals against Aberdare and Bournemouth and six against Southend, Crystal Palace and Norwich, and in all amassed 107 goals in their 42 league matches, but they also conceded 67. Including one cup game, the season's goal total was actually 108, which remains the highest in the club's history. This feast of scoring was probably attributable to a revision of the offside law: from the start of this season, only two not three defenders were required behind the ball, a change that encouraged more attacking play but not the 'kick and rush' approach that some had feared. Fred Craig was ever-present for the third year running, but it was Jack Cock who stole the headlines, scoring 32 goals in his first full season with the club.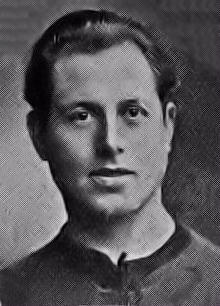 Jack Cock
Cock was a Cornishman who was born in Hayle in 1893. He signed as a professional with Huddersfield Town in 1914, but the outbreak of the First World War put his career on hold. He was awarded the military medal for bravery after he was wounded in the conflict, and at one time he was reported to have been killed in action. After the war he re-joined Huddersfield and won his first full cap for England, scoring in a Victory international against Wales. Cock then spent three years with Chelsea, earning two more England caps, before moving on to Everton. It was considered a huge coup when Bob Jack persuaded Cock to join Argyle in 1925. His supreme fitness enabled him to put pressure on defenders for the full 90 minutes and he scored goals for fun. His tally of 74 goals from 92 starts remains the best goals per game ratio in Argyle's history. After less than three seasons at Home Park, he was sold to Millwall, where he continued his remarkable scoring record until the end of his professional career four years later. He went on to manage Millwall for four years in the 1940s.
One of Argyle's most dramatic matches in the 1920s was played at Home Park in September 1925 when they came back from a 0-2 deficit against Aberdare Athletic to win 7-2, scoring four second-half goals within eight minutes and moving to the top of the table. It was the first of two dramatic games against Aberdare; the following season Argyle gained an away victory by six goals to five on a pitch that had been churned up following a snow storm. This time they were forced to end the game hanging on to their slender lead. Also in 1925-6, Argyle drew 5-5 away at Crystal Palace. They dominated the first half and went 4-2 ahead but allowed Palace to recover. With just minutes to go, Palace were 5-4 ahead but Sammy Black emerged from a crowd of players to equalise with the last kick of the match.
Just eight days after the last game of the 1925-26 season, Plymothians witnessed what must be the most extraordinary match ever played at Home Park. Britain was in the grip of an unprecedented General Strike; nine days of protest, unrest and civil disobedience that swept through towns and cities across the nation. On Saturday 8th May, the Western Evening Herald reported a serious disturbance, bordering on a riot, as thousands gathered to protest. The following day, the Herald published a "Special Sunday Strike Edition" that described the events:
"Scenes of violent disorder broke the hitherto peaceful course of the strike at Plymouth yesterday, and several persons were arrested. Following the partial resumption of the tramway service, angry crowds of strikers gathered in Old Town-street and Drake-circus, attacks being made on the cars at mid-day and later in the afternoon, when a vast multitude of people congested the thoroughfare. Throughout the extraordinary scenes the behaviour of the police was admirable. With discreet suggestions and sound advice they seemed to have a wonderful influence on the crowd, but shortly before four o'clock when there was a mob of over 20,000 and one of the demonstrators persistently kept a red flag flying, the attitude of the crowd became decidedly dangerous."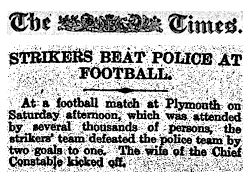 May 8th, 1926 - a bizarre afternoon in Plymouth that made the national newspapers.
"Unique indeed was the football match at Home Park, Plymouth, yesterday afternoon. The famous enclosure of the Argyle Club was the scene of a game between teams representing the strikers and the Plymouth Police. Residents in the usually tranquil parts of Mutley and Peverell were awakened from their afternoon quietude by the sound of tramping feet and echoing cheers. What was the invasion? they asked, and were quite reassured when they found it to be only the march of the strikers to Home Park for their football match with the Plymouth Police team. Motor and other vehicles were unable to proceed, so dense was the mass as it slowly wended its way through the broad highways, but everyone seemed to enter into the spirit of the march, which was carried out in a most orderly manner. Over a thousand persons had already assembled at the Argyle ground when the main body of demonstrators arrived, and the grand-stand was quite full. Each side had a good cheer as they took the field, to be followed by Mrs. H. H. Sanders, who was accompanied by the Chief Constable. After preliminary handshakes had been exchanged, the Chief Constable's wife kicked off, and as she returned to the edge of the enclosure she was accorded hearty cheers, which Mr. Sanders acknowledged."
It was a remarkable day in Plymouth's history. As for the game, the strikers won 2-1.
An exceptional photo of the strikers and police teams. Unfortunately we don't know which is which, but perhaps their greater height suggests that the police are in stripes.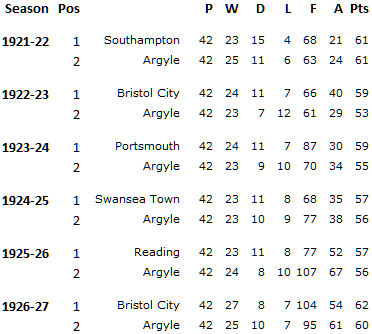 The fight for promotion, 1921-27
The last of the famous runners-up seasons, 1926-27, began with a debate about the club's colours, with the superstitious arguing that no club has won the championship in green. There was a suggestion to change from the traditional green and black to royal blue, but thankfully the proposal fell on deaf ears. Bristol City were promoted that season, despite Jack Cock's 32 goals in the League and another in the Cup, a total that remains the highest scored by an Argyle player in one season. Again, Argyle were unbeaten at home but were never as convincing away. The large number of unemployed again hit attendances but the club resisted offers for its better players. In the summer of 1926 Bob Jack continued to look at Scottish players and signed Tom Grozier from Glencairn. Russell and Titmuss proved excellent fullbacks and McKenzie was a stalwart at centre half. This time it was the attack that caused questions to be asked, despite Cock's record-breaking season. Matthews, Forbes, Cock, Leslie and Black were emerging as a strong unit but there were few alternatives. Ray Bowden from Looe was identified as an up-and-coming prospect; the 17-year-old made his debut near the end of the season, although it was another two years before the Cornishman managed a regular place in the side, eventually becoming the first to progress through the Argyle ranks and go on to full international honours.
SOUTH AMERICAN INTERLUDE
Three years earlier, in the summer of 1924, Argyle undertook a pioneering tour of South America, sailing on the RMSP Avon and playing nine games in Uruguay and Argentina. Manager Bob Jack, trainer Tommy Haynes and 18 players were accompanied by F.W. Reeve, a well known Football League referee, and W. Wakeling, who represented the board of directors. Owing to a delay in the original negotiations, the touring party did not arrive at Buenos Aires until mid-June, but were accorded a great welcome from the considerable Anglo-Argentine community when they stepped ashore.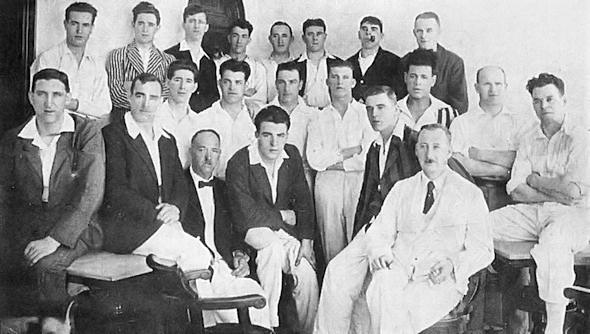 On board RMSP Avon, Bob Jack and his team en route to South America
The Pilgrims spent five weeks on Latin American soil, winning three, drawing three and losing three. The first game was in Buenos Aires against Argentinian side Portenos on June 22nd; Percy Cherrett scored the only goal in a 1-0 win. Amongst the other fixtures were two games against Argentina's Rosario club (0-0 and 1-2) and a match against the Barreas club from Buenos Aires (1-0). In Montevideo they beat a Uruguay XI by 4-0 with goals from Smith (2), Leslie and Logan.
The most eventful game was against Boca Juniors, when Moses Russell almost provoked a diplomatic incident. The home side scored the opening goal, which sparked a pitch invasion with the Boca supporters parading their heroes shoulder-high and forcing the Argyle side to seek sanctuary in the dressing room. Eventually the game restarted, but a penalty for Argyle, awarded by Fred Reeve, sparked another mass invasion and another dash for the dressing rooms. Fearing for their safety, Patsy Corcoran agreed to take the spot-kick and miss, but when play resumed, Moses Russell, who had heard the plan, pushed Corcoran aside and blasted the ball into the net. Cue another invasion, which caused the game to be abandoned.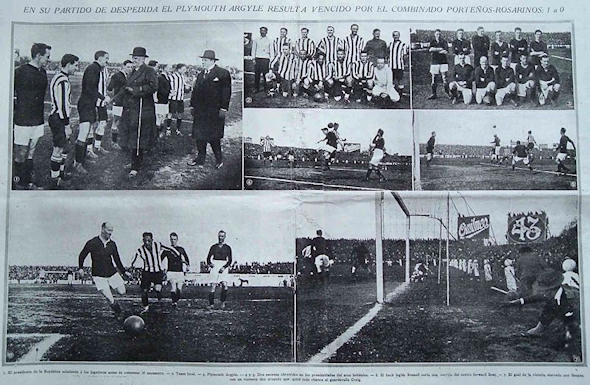 Pictures in an Argentinian magazine that showed scenes from Argyle's final tour match against a combined Portenos-Rosarinos side, recorded in official records as 'Argentinos', which Argyle lost 1-0. Greeting the teams, top-left, is 'El Presidente de la Republica'.
At the end of the tour, the Argentine press praised the Argyle team and, in particular, Moses Russell. The Standard of Buenos Aires said: "The visit of Plymouth will be best remembered by the outstanding personality and genius of Moses Russell. His effective style, precise judgement, accurate and timely clearances, powerful kicking and no less useful work with his head ... one of the most wonderful backs and one of the brainiest players ever seen on the football field." Praise indeed, especially considering the near riot in La Boca! Bob Jack declared that the standard of South American football was higher than he had anticipated and was equal to Third Division standard at home.
Following their last fixture (on July 20th) the team set sail for home, arriving in Southampton on 11th August, less than three weeks before the start of the new season. Back at home, some were concerned that the strains of the tour would have an adverse effect on the campaign ahead, the fourth runners-up season. Of course there is no way of knowing if it did.
THE FOUNDATION OF THE SUPPORTERS' CLUB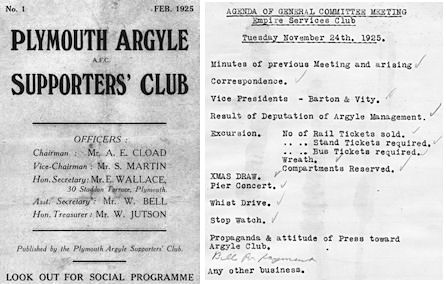 Left: An original leaflet. Right: An early committee meeting agenda.
On Thursday 22nd January 1925, the Plymouth Argyle Supporters' Club was formed at a meeting at the Kirton Hall, Park Street. There were initial doubts, even suspicion, regarding the motives of the supporters and the benefits for the football club, but these were soon dispelled and after a great deal of hard work, PASC quickly raised much needed money for away travel and new signings, as well as significant contributions to ground improvements over the following years, to which the 'Penny on the Ball' competition was devoted. Archie Cload, a well known local fishmonger, was the first chairman and 'To Help Not Hinder' became their motto. Among the original members was W.E. Jutson who later took over the 'Green and Black' Club. Other figures were Edgar Wallace, Bert Cole and C. H. Wragg, with Jack Parsons becoming auditor. A four-page newsletter was produced the following month, which included the Supporters Club's objectives, and on the back were some 'don'ts', which included: "Don't entice a player to foul another player"; "Don't use bad language for the match"; "Don't only applaud your own players for good play; give credit to visiting players also"; and "Don't stay away from the match because our team may perhaps be having a bad spell". Sound advice indeed!
THE STARS OF THE TWENTIES

The top fives between 1920 and 1930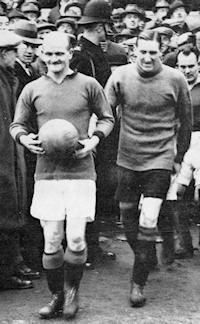 Moses Russell and Fred Craig
Of the 79 players who lined up for Argyle in the 1920s, so many names live on today, but the top two appearance-makers and goalscorers deserve special mention.
Moses Russell, a Merthyr Town defender, made his debut for Wales against Scotland in March 1912 and went on to win two further caps before joining Argyle. Several League clubs had passed on him because his appearance made him look much older than he was, but Robert Jack travelled to his birthplace to obtain a copy of his birth certificate before signing him for a club record fee of £400 in May 1914. Russell later revealed that his baldness was caused by suffering from rheumatic fever as a child. During his first season at Home Park he played at full-back, centre-half and left-half but the outbreak of war put his career on hold. His muscular style and unique look often made him a target for fans at away grounds but he was nevertheless a sound and effective defender. Despite being just 5' 8" tall he was a superb header of the ball, but it was his determined tackling and uncompromising approach that made him the player he was. Russell won 20 further Welsh caps as an Argyle player, which remained a club record for nearly 80 years. All of his caps came during the Home Championships, which Wales won three times during his time in the side. When football resumed after the war he played at right-back, forming an excellent partnership with Septimus Atterbury. When Atterbury retired he switched to left-back, where he spent the next five seasons. The arrival of Fred Titmuss saw Russell return to the right-back position, where he remained a fixture in the first-team, as well as captain of the side, until the 1929-30 campaign. He played his last game for Argyle in 1930, at the age of 41, having made his final international appearance in November 1928. He continued as landlord of the Patna Hotel in Patna Place, now just off North Road West, which he took over in 1925.
Goalkeeper Fred Craig had been in the Argyle goal since 1912 and was a regular penalty taker, scoring 5 in 467 appearances, despite a period of war service. He was born in Larkhall, near Glasgow, in 1893 and signed for Argyle in 1912. He played for Motherwell and Hamilton during the First World War but returned to Argyle in 1919. At 6'0" tall he was an agile shot stopper and dealt effectively with crosses. He gained a reputation for slipping into the toilet at half-time for a cigarette, although this seems surprising in an age when smoking was considered quite a healthy habit. His penalty exploits are well documented but the most famous was probably against Newport in January 1927 when, as the Western Morning News put it, he took the penalty with such vigour that the ball went through the back of the net. Overall he made 467 appearances, 42% of which were clean sheets, and conceded 468 goals, almost exactly one per match. He eventually left for Barrow at the age of 37. His only challenge in goal came from 21 year-old George Stanbury, a Devon County player born in Torpoint, who featured in 26 league games in 1927-28, more than Craig that season. Craig captained the Argyle side for much of the 1929-30 promotion-winning season.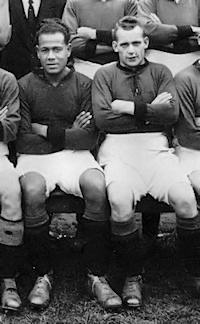 Jack Leslie and Sammy Black
Jack Leslie was one of the first black players to make a name for himself in English football. He was born in Canning Town in 1901 and joined Argyle in 1921 from Barking. He played only 14 matches in his first two seasons and scored just three goals, but with the arrival of Sammy Black (and his increasing age and experience) Leslie then began to establish himself as an all-time great. He was primarily an inside-left with Sammy playing outside him on the wing, but he was also a creditable centre-half. He could pass and shoot and his goals became invaluable, and oddly he often scored twice in a match. In the end he scored 137 goals in 401 games, with his last game against Fulham on 29th December 1934 when he managed to score a final goal. He ran a pub in Cornwall until he retired to Barking, first as a boilermaker but then in the boot room at West Ham where he looked after players like Geoff Hurst and Bobby Moore. He also did some scouting for Argyle in the 1960s. In later life he spoke of the racism he experienced as a young player, including taunts from players designed to put him off his game. 'Darkie' was a common epithet. Apparently he came close to an England call-up until some selectors became aware of his colour and chose Billy Walker of Aston Villa in his place. He died in 1988, aged 87.
Perhaps Sammy Black was the most famous Argyle player of all. He was tiny (5'6") with size four boots but formed a wonderful partnership with Jack Leslie. He remains the club's all-time record goal scorer with 182 goals in 491 games between 1924 and 1938, including double figures in every one of his first ten seasons with the club. He was born in Motherwell and joined from Kirkintilloch Rob Roy. He would certainly have gone on to gain caps for Scotland had he not remained in the shadow of the famous Alan Morton at outside-left. He scored in his debut against Brentford on August 6th 1924 when the team won 7-1. He was predominantly left footed but could use his right foot as well. Probably his greatest asset was his shooting, even from the narrowest of angles and he hated to head the ball. No lesser a man than Michael Foot described him as the "best player Argyle has ever had". Towards the end of his career there were increasing rumours that he would leave the club and there were several campaigns to keep him, terminating in a "Sammy must not go" campaign in 1937-38. In the event he stayed until 1938 when a succession of injuries restricted his appearances to ten that season. He played his last game against Swansea Town on 29th January 1938 and he moved to Queens Park Rangers but retired after only five matches. What a pity he could not have remained a one-club man. He returned to Plymouth during the war and worked for the Royal Naval Armaments depot at Ernesettle – mainly underground. He was awarded the Imperial Service Medal in 1966 and he died in 1977 at the age of 72. The famous quote about him was in response to the question: "Would Sammy Black have done as well in the Argyle side of the nineties?" The forthcoming answer was: "he would have got into that side even when he died at the age of 72!"
1927-29: PAST THEIR PEAK?
Argyle's travelling demands were reduced in the summer of 1927 because Torquay United were elected to the Football League in place of Aberdare. Expectations were naturally high after six seasons as runners-up, but Argyle finished third at the end of the 1927-28 campaign, 12 points behind champions Millwall for whom Jack Cock had signed in the November. Cries about 'not wanting promotion' were raised again, no doubt fuelled by the Cock transfer, but these were again denied by the directors who argued that increased attendances would more than offset the increased cost of travelling in the higher division, which would necessitate long journeys north. Meanwhile, there had to be careful control of spending and no new players were forthcoming, whereas many of Argyle's rivals had added fresh blood.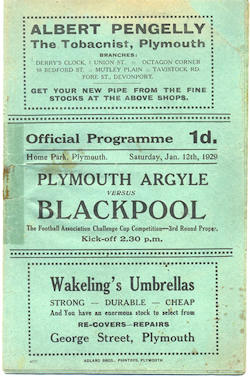 In 1928-29 Argyle slipped by one more place – to fourth behind Charlton, Crystal Palace and Northampton, although there were only two points separating promoted Charlton and sixth placed Queens Park Rangers, and had Argyle won just one more game they would have gone up. At the other end of the table, Torquay United finished in last place that season and had to be re-elected to retain their League status. The season was particularly notable as Raymond Bowden's first as a regular in the side. He scored 22 times that year and was ably assisted by Leslie and Black, who scored 35 between them. Bowden hailed from Looe and was an outstanding prospect at centre forward. Bob Jack had seen him score ten goals for Looe against Tavistock in a local game and immediately signed him. He went on to score 85 in 153 matches for Argyle, before signing for Herbert Chapman's Arsenal and going on to play in the famous Arsenal side that supplied the entire England forward line.
The 1928-29 season also produced an excellent cup victory over Blackpool, notable because of Sammy Black's memorable hat-trick. After earlier round victories away to Yeovil and Brentford, the visit of the Seasiders drew a crowd of over 30,000 to Home Park, but even though the Second Division side included famous names, Black was heavily marked. As a consequence, Argyle developed most of their play down the right, which freed him to score two first-half goals and a late third, inspiring the newspaper headline: "Blackpool Out-Blacked". The fourth round, unchartered territory for the club, brought another Second Division side, Bradford (Park Avenue) to Home Park, but ended in a 1-0 defeat. By all accounts, the Pilgrims had numerous chances but no luck in front of 33,050, a Home Park record.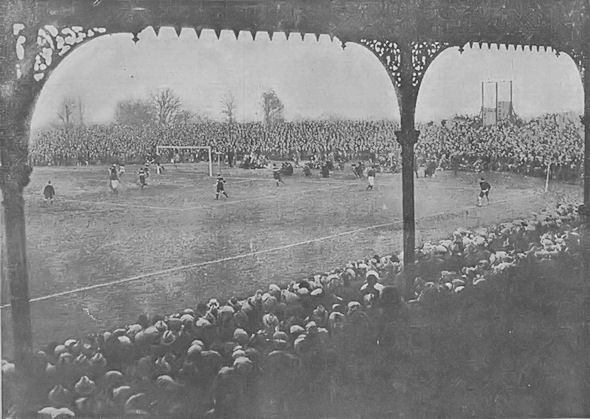 An interesting view from the original grandstand, courtesy of The Western Morning News and Mercury's report of the 4th round FA Cup tie against Bradford (Park Avenue), in front of a record Home Park crowd of 33,050.
Incidentally, earlier in the season Plymouth was granted City status. Fourteen years before, the three towns of Plymouth, Devonport and Stonehouse had been united as the Borough of Plymouth.
1929-30: PROMOTION!
After a decade of near misses, the Pilgrims finally triumphed in the last season of the twenties, Argyle's first promotion since the formation of the amateur club. This time there was little doubt: undefeated at home; undefeated on their travels until a single goal reverse at Coventry on Christmas Day; an extraordinary 30 wins in their 42 league games; and a record points total for the division. The first half of the season was unprecedented: 21 games without defeat still stands as the longest sequence within a season, and allowing for the undefeated games in the previous April and May, the sequence of 25 undefeated games also remains a current record. Perhaps the most surprising result of the season was a 5-2 defeat at Luton in mid-March 1930, having beaten the Hatters 6-1 at Home Park earlier in the campaign, but that result only acted as a spark. Nine successive victories followed in the March and April, another record that still stands today.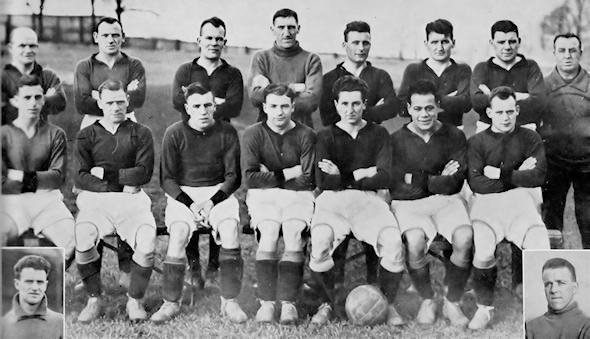 The triumphant team of 1929-30, Argyle's first promotion-winning side
Back row: Moses Russell, Harry Bland, Norman MacKay, Fred Craig, Fred McKenzie, Fred Titmus, Alex Hardie, Tommy Haynes (trainer).
Front row: Alf Matthews, Tommy Grozier, Frank Sloan, Jack Vidler, Ray Bowden, Jack Leslie, Sammy Black.
Insets: Harry Cann, Jack Pullen.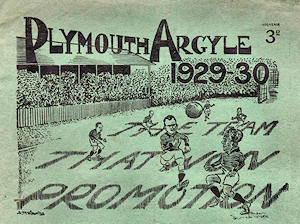 A booklet published to commemorate the title-winning season
Promotion was achieved by a pool of just 21 players, three of whom had been with the club since it joined the League in 1920. Top scorer was Sammy Black with 21 goals, and rising star Ray Bowden scored 18, including a hat-trick against Exeter. Jack Vidler and Tommy Grozier also scored in double figures, with Vidler bagging two hat-tricks and four against Norwich, and Grozier also hitting four, against Crystal Palace. By his standards Jack Leslie had a quiet season, scoring just eight, as did Frank Sloan, who later became trainer, with Jack Pullen netting six. Moses Russell continued to be a stalwart defender, having made his Argyle debut in 1914; he had reached his forties but still turned out in seven matches. Fullback Fred Cosgrove was the other survivor of the 1920 side, although he made only two appearances. Harry Bland made most team appearances (40), and other regulars were Norman Mackay, Fred McKenzie, Alf Matthews and Alec Hardie.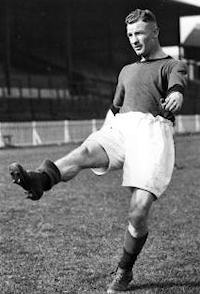 Jack Vidler, pictured in the 1930s
An extraordinary team spirit was exemplified by Jack Vidler, a young soldier who turned to professional football the season before. He scored the first goal at home to Norwich City on the Easter Saturday, but was then carried off with concussion after a bad clash. He remained in the dressing room, barely conscious, until after the interval, when he insisted on coming on again to help his ten team-mates. He then scored three more goals, four in the afternoon's 4-1 victory.
Second Division football was assured two days later with a 2-0 victory at Newport, with three games remaining. Some 50,000 had been at matches at Home Park that Easter, willing their side over the line. When the news came from Newport, there was jubilation in the city. The Lord Mayor greeted the side at North Road Station that evening, along with thousands outside and hundreds who swarmed the platform. Countless letters and telegrams landed on Bob Jack's desk that week, including one from Brentford's manager, Argyle's closest rivals that season, who wrote: "I have been instructed by my Board to write to you to convey the heartiest congratulations to you, your directors, and your players on having won the League championship. We, the Brentford club, naturally are a little disappointed at our being so near and yet so far, but we have the consolation of knowing that the best team in the League have won the honour, and we all do most sincerely congratulate you."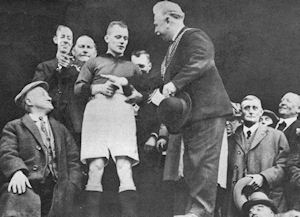 A rather bashful Sammy Black receives cheques from the Mayor of Plymouth.
The final game of the season on Saturday May 3rd included a giant pasty, which was carried onto the pitch on a stretcher and presented to captain Fred Titmus. A Home Park crowd of over 23,000 saw Harry Cann, Harry Bland, Fred Titmuss, Fred McKenzie, John Pullen, Billy Fellowes, Tommy Grozier, Frank Sloan, Jack Vidler, Jack Leslie and Sammy Black beat Watford 2-1. At the end of the game, thousands of excited fans invaded the pitch as the players made a dash for the dressing rooms. There then followed a presentation to Sammy Black, the idol of the Argyle crowd; it being his turn for a 'benefit' match. From a platform in front of the stand, the Mayor (Alderman J. Churchward) presented Black with a cheque from A.C. Ballard, who two years later became club president, for £50 and a second cheque for £100 from the Supporters' Club. The Mayor then handed Bob Jack a cheque for £120 from the Supporters' Club for the Players' Retention Fund. That evening the Supporters' Club organised a tour of the main city streets, to the delight of thousands of cheering fans, followed by a celebration dinner at the Duke of Cornwall Hotel.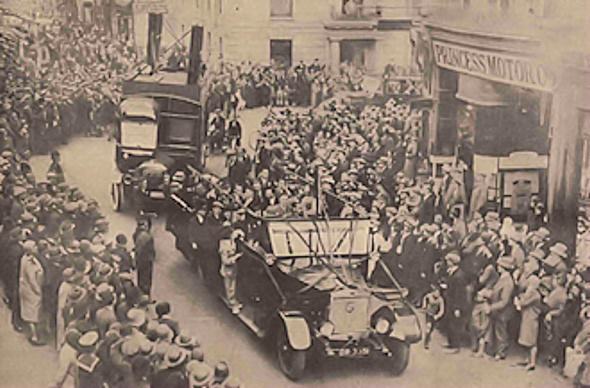 The celebration tour of city streets after the final game of the season
So, a fitting end to wonderful decade. During the six seasons as runners up, Argyle missed promotion once by a fraction of a goal-average, twice by a single point, and twice by two points. During the ten seasons in the League's third tier, the club had paid more in win bonuses than almost any other Football League club – over £7,000. Every season brought success, but how frustrating it must have been for the ultimate prize to have evaded them for so long. Over those ten years, Argyle won more matches, scored more goals and lost fewer games than any other professional club in the country. Records were broken, some of which still stand, and no more so than at Home Park. In 1922, home fans enjoyed 16 consecutive victories from January 28th to November 4th, and in the two seasons between 1921 and 1923, they saw no defeats. Over the whole decade they endured just 13 reverses at home, with four seasons free from defeat. But it was the four seasons that led to promotion that were the most remarkable for home fans - 66 wins and just 3 defeats; 226 goals scored and just 58 conceded. A ratio of nearly four goals to one at Home Park, spread over four years. Just imagine that.