THE HISTORY OF ARGYLE
An original account of Plymouth Argyle Football Club from its earliest roots to the present day
This is a printed representation of one chapter of GoS's History of Argyle (www.greensonscreen.co.uk/argylehistorymenu.asp), provided for ease of reading and personal retention. Inevitably it lacks links to associated pages, including match and player records, and its layout has been simplified to allow page breaks. Note also that Greens on Screen's online History of Argyle will be updated and new material added from time to time.
COPYRIGHT: the strict conditions for use of this printed version are the same for the corresponding online page, as specified on that page.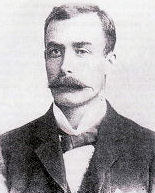 Frank Brettell, Plymouth Argyle's first manager
THE PLYMOUTH ARGYLE STORY BEGINS
After 15 eventful seasons, the story of the Argyle Football Club ended on 30th April 1903 when the famous 'Argyle' name was handed to its professional successor. The 'Devon double', champions of the Devon League First Division and winners of the Devon Senior Cup, was a fitting finale for the pioneers, but there was little time to celebrate, or reflect. Those who had carried the amateur club through its turbulent times were now at the forefront of Argyle's ambitious plans, with the Spooner family - and in particular, Clarence Spooner - the principal architects. Many of Argyle FC's players were destined to continue in the Devon League with Plymouth Argyle Reserves, but the First XI had much bigger targets in mind. By the end of May, the Board of Directors, led by its chairman, Lieutenant Frederick Hugh Windrum, together with Argyle's influential new manager, Frank Brettell, had secured a place in the Southern League's First Division, and a fortnight later, the club's Western League position was also confirmed.
THE EARLY YEARS OF THE SOUTHERN LEAGUE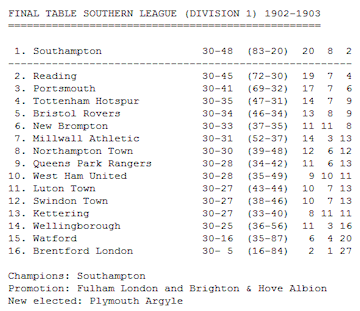 Southern League 1902-93
The last Southern League table before Argyle's admission.
Stats format: Played-Points (For-Against) Wins Draws Losses
Courtesy of www.rsssf.com
In the latter years of the 19th century, professional football (and professional sport in general) was slow to develop in the south of England. Professionalism was sanctioned by the Football Association as early as 1885, but when the Football League was founded in 1888 it was based entirely in the North and Midlands, with the county Football Associations in the South being firmly opposed to the professional game. Woolwich Arsenal (nowadays Arsenal) were one of the prime motivators behind an attempt to set up a league to mirror the northern and midlands-based Football League. However, the venture failed in March 1890 in the face of opposition from the London Football Association, with the influential Mr N. L. Jackson the main critic. A year later, Woolwich Arsenal caused a stir by adopting professionalism at their AGM and as a result found themselves expelled by the London FA and were refused entry from all cup competitions in the South. This left them with no alternative but to play friendly games against professional clubs from the Midlands and North, which confirmed their opinion that a league in the South was badly needed. They made another attempt in 1892, which again failed, and as a consequence, Woolwich Arsenal joined the Football League in 1893 as its only representative south of Birmingham.
It was late 1893 when the next attempt was made, this time by Millwall Athletic officials. A year later the Southern League was formed, in two divisions, with founder members including Millwall, Reading, Luton Town, Swindon Town and Southampton St Mary's. Woolwich Arsenal wanted to enter their reserve side but the other clubs decided that this "was an audacious proposal and one not to be entertained". By the 1900-1901 season, the First Division included Millwall, Southampton, Reading, Portsmouth, Tottenham Hotspur and West Ham United. With wage and freedom-of-movement restrictions implemented by the Football League between 1893 and 1901, several of England's best players moved to the Southern League and standards steadily improved, so much so that Tottenham Hotspur won the FA Cup final in 1902 and Southampton reached the final in 1900 and 1902.
In 1908 Tottenham Hotspur joined the Football League and were replaced in the Southern League by Exeter City – thus establishing a long tradition of Devon derbies. Argyle themselves went on to win the Southern League title in 1912-13. At the end of the 1919-20 season, the majority of the Southern Leagues First Division teams moved to the new Third Division of the Football League, including Plymouth Argyle, with Argyle's reserves taking a Southern League place a year later.
THE EARLY YEARS OF THE WESTERN LEAGUE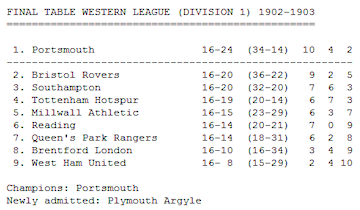 Western League 1902-93
The last Western League table before Argyle's admission.
Stats format: Played-Points (For-Against) Wins Draws Losses
Courtesy of www.rsssf.com
The Western League was formed in 1892 and was known as the Bristol and District League until 1895, although it included teams from Swindon, Trowbridge and Gloucester. Warmley were the first league champions. In 1887 a professional division was formed which included Bristol City, Swindon Town and Reading. In 1900 the league was extended to include Tottenham Hotspur, Portsmouth, Millwall and Queens Park Rangers. The Western League was generally considered as the reserve division of the Southern League with matches played in midweek, usually on Wednesdays. However, in Argyle's case, the same players mainly played for both league sides. From season 1905-06 there was an agreement that all Western League fixtures would be completed by the end of January but the ruling made little difference to Argyle's player selection and the same players continued to play for both elevens. Indeed, in that season only 21 players featured for the club in all of its 57 fixtures. The first division of the league was divided into two sections in 1906 and Argyle finished as runners up in section B, behind West Ham who went on to beat Fulham in a play-off between sections A and B, at Stamford Bridge. Argyle then proceeded to float between sections A and B until the end of 1909. In 1909-10 the league reverted to a shadow of what it had become. A number of Welsh teams joined, including Ton Pentre, Treharris, Merthyr and Aberdare, and Argyle left the competition, returning in 1925 with their third team.
FORMING THE TEAM
The transformation from Argyle FC to Plymouth Argyle FC, effectively from 1st May 1903, must have been an enormous challenge in those summer months. The effort required to convert a local league club to the national stage is hard to imagine, but with experienced Manager Frank Brettell at the helm, the club was in excellent hands. His urgent task was to recruit a new playing staff because it was thought that only the likes of Archie Wheaton and Sid Wyatt from the existing Argyle team would be able to compete in the First Division of the Southern League.
Robert Jack from Glossop (a Football League club at that time) and Jack Fitchett from Manchester United were the first to sign. A total of 15 players joined the club in the following weeks, names that will forever be associated with Plymouth Argyle Football Club - Jack Robinson from Southampton, Andrew Clark from East Fife, Bob Dalrymple from Hearts, Jack Peddie and Johnny Banks from Manchester United, Charlie Clark from Everton, Billy Leech from Stoke, Jack Picken from Bolton, Charlie Hare from Aston Villa, Wattie Anderson and Herbert Winterhalder from Woolwich Arsenal, Harry Digweed of Portsmouth and Archie Goodall from Derby.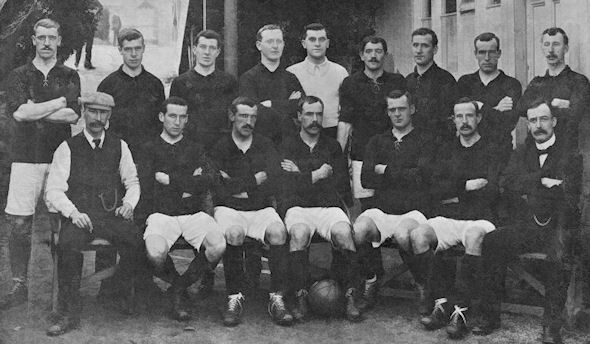 Plymouth Argyle's players for 1903-04
Back row: Wattie Anderson, Herbert Winterhalder, Charlie Clark, Jack Fitchett, Jack Robinson, Andy Clark, Johnny Banks, Jack Picken, Robert Jack.
Front row: Tommy Cleghorn (trainer), Bob Dalrymple, Billy Leech, Archie Goodall, Jack Peddie, Harry Digweed, Frank Brettell (manager).
There was some discussion at the time about the signing of so many good players by the club. Brettell referred to them as 'captures' but the Football League used the word 'poached'. One peculiar story surrounds Plymouth Argyle's first captain, Archie Goodall, who left suddenly in November 1903, with stories suggesting that he appealed to the Football Association over the validity of his own transfer. Reports describe Goodall as 'rumbustuous' and 'cussed' and there is no doubt he was quite a character. As well as engineering his sudden departure from Home Park, there are many stories of ill-discipline. Whilst with Derby he is said to have refused to play extra time in a United Counties League Cup Final, claiming that his contract only required him to play for 90 minutes. Just before the 1899 FA Cup Final he was suspended for "insubordination and inattention to training". He later toured Europe and America with a strongman act, 'walking' around a giant metal hoop.
Later in the season came William Horne, a goalkeeper from Saltash club Essa. Affectionally known as 'Tich' because of his six feet one inch height, Horne had had military experience of 'shots' and boasted that he never stopped one - or attempted to - whilst serving in South Africa with the Duke of Cornwall's Light Infantry. But Tich was a fine 'keeper, albeit often as a back-up, and went on to notch up 240 appearances in two spells over the following 12 years.
ROBERT JACK AND THE ONE THAT GOT AWAY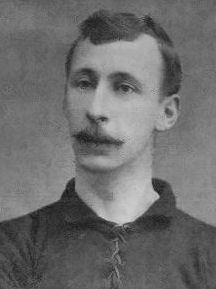 Robert Jack
In his final months as Argyle's manager, Bob Jack told the story, 35 years later, of the day he signed for the club. In the Football Herald he wrote:
"Frank Brettell always kept in touch with me after he left Bolton, and although I had rejected his invitations to join the 'Spurs and Pompey, I was not surprised when my old friend and confrere, Jack Fitchett, now the popular and esteemed manager of the Palace Theatre, Plymouth, brought me word near the end of April, 1903, that Frank wanted me for the newly formed Plymouth Argyle. I was then playing for Glossop of Division II of the Football League, a fractured leg having closed my career with Bolton Wanderers two years earlier, the first of which was spent with Preston North End. Glossop had quite a smart team in that last season of mine in the North. Herbert Burgess, right-back, was a perfect pocket Hercules. ... I strongly recommended him to my old club, Bolton Wanderers, as the best back in England ... but they turned Herbert down as too short.
"My next endeavour to place Burgess came on the closing day of the season. Glossop were on the way home from a match at Gainsborough, and we players were informed on the train that we were being retained for the following season with the instruction that we change at Dinting Junction and go through to Glossop and sign the necessary forms that night. None of us had received any previous notice which according to the rule, must be in writing before the finish of the season. We were all 'free' if we kept our seats on the train instead of changing at Dinting, and a few of us resided in Manchester and district. I could not resist the temptation to let Herbert Burgess into my secret that I was bound for the new club, Plymouth Argyle, and he immediately expressed his desire to go with me. We stayed on the train.
"I passed the information to Mr John Spooner and the Argyle manager when I signed for Plymouth on the Monday morning. They were delighted at the unexpected opportunity of capturing a player whose reputation had been lauded for months before. I was commissioned to fetch Burgess to the hotel, which I did an hour or so later, only to find that Frank Brettell had left, through an urgent message, for Liverpool to fix up Charlie Clark. Mr. Spooner had remained at the hotel, but unfortunately without any F.A. forms. It was a case of waiting on the manager's return from his Clark mission. We hung about for hours until Herbert decided he would go home for an hour or two. Mr Spooner's persuasive efforts and my own to hold the player at the hotel did not succeed. Burgess found Manchester City directors at his address, and the damage was done. He signed for the City, and, incidentally, gained every international honour for England the following season. Hard luck for Argyle!"
JACK ROBINSON, ARGYLE'S FIRST INTERNATIONAL GOALKEEPER
The cream of the new Argyle crop was probably goalkeeper John William 'Jack' Robinson. Born in 1870, Robinson played for Derby County for much of his early career, including third base for Derby at baseball. A local industrialist, Sir Francis Ley, had fallen in love with the sport of baseball on a visit to the USA and set up an English league in 1890. The original four teams were all based on football teams - Derby County, Preston North End, Aston Villa and Stoke. Ley also gave the use of a sports field attached to his Derby factory, The Baseball Ground.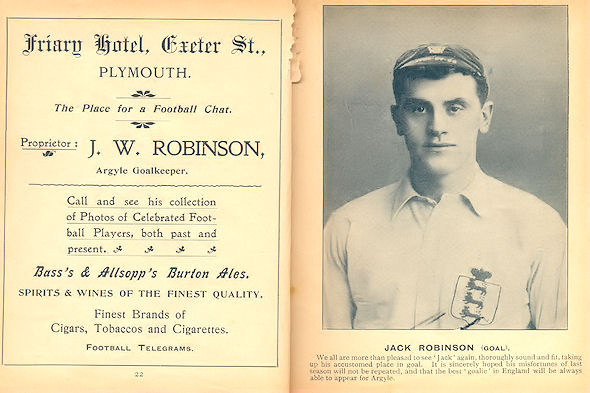 John 'Jack' Robinson and associated advert in the 1904-05 handbook
Throughout his footballing career, Robinson was renowned for introducing modern goalkeeping techniques and training methods to the game, and was said to be one of the first to dive full length to make a save. Robinson played 163 times for Derby and helped them finish as runners-up in the First Division in 1895-96. He also won the first of eleven England caps whilst with the club. In 1897 he joined New Brighton Tower, but stayed for just one season before moving to Southampton. Over the following five years he made more than 100 appearances and helped the Saints win the Southern League three times, also reaching two FA Cup Finals. Indeed, in 1903 Southampton were the Southern League champions, and although Robinson was by then in his thirties, his quality and experience made him an outstanding capture for the club.
1903-04: THE FIRST MATCHES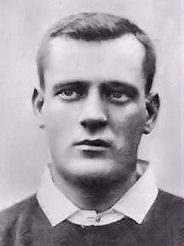 Centre-forward Jack Peddie, scorer of Argyle's first goal
Plymouth Argyle's first game, and victory, was a Western League fixture against West Ham United at The Memorial Grounds in East London on Tuesday, 1st September 1903. The Argyle team, accompanied by Lieutenant Windrum, R.F. Davis and Stanley Spooner, made the trip from Plymouth on the Monday and stayed overnight at the Hummums Hotel, Covent Garden. On Monday night the players were taken to the Alhambra Theatre and on Tuesday morning, Lieutenant Windrum led the team around the Tower of London. The day was intensely hot, one of the hottest of the summer, so it was welcome news to the players that that kick-off time was 5.30 pm. By then a pleasant breeze had sprung up but it was still warm work for both sides. The following day's Western Evening Herald described the historic moment: "The representatives of the debutant club had a rousing reception on entering the field, headed by Captain Archie Goodall, in their green jerseys with black collars, and white knickers. The men looked, and indeed were, in the best of condition." The only goal of the game came on the half-hour mark: "At length Peddie got off from a kick by Dalrymple, and beating the back in pace, drew out the keeper, and amid cheers shot the first goal for Argyle with a daisy cutter." Argyle held firm in the second half with some resolute defending and in the closing stages, which were played in semi-darkness, nearly scored again. The Herald's reporter, 'Referee', summed up the performance: "There was no mistaking the seriousness with which Argyle entered on their first game. From the outset it was evident they were imbued with grim determination to win if possible. They showed that when their combination is polished up by association with each other in a few more games, they will be a team which no opponents will be able to hold cheaply. The material is there for a good side and with strong reserves, prospects seem more hopeful than ever."
The first Southern League match, and Plymouth Argyle's first game at Home Park, was played four days later when Peddie scored again in a 2-0 win against Northampton, giving him two entries in the professional club's records: their first goalscorer and scorer of the first goal at Home Park. Argyle lined up with the same XI as played at West Ham, and in front of 4,438 spectators on a fine Friday afternoon, comfortably beat an established Southern League side.
The Herald's 'Referee' was, to say the least, excited by Argyle's successful start to the season: "The eyes of the Southern football world are upon Plymouth Argyle. It is safe to say that the new club has attracted more widespread attention than any other in the League. All the papers contain references to it, everybody is speaking about it, and the vast army of footballers stands agape at the striking form with which the new-born organisation has commenced its career. Words cannot do justice to the feelings of pleasure, wonderment, and rivalry which have been aroused in different quarters by the results of the first two matches which Argyle have played. Those clubs which supported the introduction of Argyle to the ranks of the Southern League first division must be delighted that their confidence has not been displaced. Argyle have performed beyond all reasonable expectations, they have justified their friends, and confounded their critics. The chorus of praise which has greeted their initial efforts. show how keenly they are being watched. When a new club springs up, and commences with such a flourish of trumpets as Argyle, it is a good thing for all clubs in the League, because the debutant combination becomes popular, and draws large gates wherever it goes."
SCRAP IRON AND DANDIES
The newly-formed club was rather unflatteringly nicknamed 'Scrap Iron' by local sceptics, and also 'The Old Crocks Brigade', because many of the new players were regarded as Football League rejects who had seen better days. The unkind description was soon forgotten though, as Argyle continued their impressive start to the season. By the end of October, Argyle had beaten Portsmouth twice in the Western League, and amongst other successes in the Southern League, beat West Ham at home and Spurs and Southampton away. Perhaps their most impressive performance was the 5-3 victory at The Dell against Southampton, who were the current Southern League champions and who went on that season to win the League again. Argyle soon became known as 'The Dandies', a nickname apparently given to them by no lesser name than C.B. Fry, who had played for Southampton up to 1903. He regularly wrote articles in the national sporting press and was an international in both cricket and football, as well as being an accomplished sprinter and long jumper. He was impressed by the green and black uniform of the team which beat Southampton, and coined the name. Incidentally, the famous 'Pilgrims' nick-name emerged a few years later, in recognition of the town's association with the Pilgrim Fathers and 'The Dandies' faded into obscurity.
THE FIRST FA CUP CAMPAIGN
Programme
The club's first FA Cup tie was in the first qualifying round at home to Whiteheads on 31st October 1903, which Argyle won 7-0. They progressed through three further intermediate rounds to gain a plum draw in the first round proper, a home tie against the famous Sheffield Wednesday, who were the previous season's Football League Champions. Over 20,000 packed Home Park on Saturday 6th February 1904 to see an astonishing 2-2 draw, with Argyle's equaliser coming from a spectacular header from Jack Peddie in the last few minutes of the game. Just imagine the reaction of the crowd to what was almost certainly the most thrilling moment ever seen at Home Park. In the replay at Owlerton (the old name for Hillsborough) four days later, Argyle fought hard and were only beaten 2-0; two remarkable results against top-class opponents.
Near the end of his long association with the club, Bob Jack wrote in the Football Herald about his memories of his first season at Home Park. In particular, he had an amusing recollection of the FA Cup tie against The Wednesday:
"One match that first campaign I shall not forget - the Cup-tie at Home Park against Sheffield Wednesday. To give a little secret away; there were not many teetotallers in the football teams of that period as, I am pleased to say, there are today, but then, as now, the footballer who preferred a regular beverage of beer was the subject of more or less exaggerated gossip of his habits. With the big match in view it was decided to obviate as far as possible anything endangering Argyle's chances. Those players 'under suspicion' were pledged to good behaviour - no beer, no late hours, nor anything else detrimental to their well-being. I will not admit that I was one of the few who were promised extra wages to keep out of the public houses for the week, but you can take it from me that Mr. Spooner's idea was faithfully honoured.
"Not a penny was spent by a single player that week in the pubs or clubs. I do know, however, and Mr. Spooner will not object to my relating it, that not all of the team were teetotal, as he had intended, during the stipulated period. The pint of supper beer taken at their homes or 'digs' did not produce any ill-effects on those who broke the strict letter of the law."
THE TRAGIC STORY OF WATTIE ANDERSON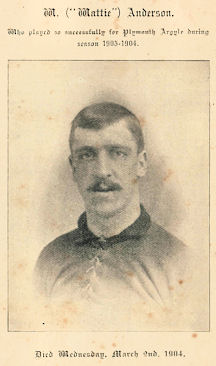 Walter George 'Wattie' Anderson
A page from a souvenir booklet issued in 1904 in aid of the Wattie Anderson Fund, effectively the club's first handbook.
Walter 'Wattie' Anderson was born in Middlesbrough in 1879 and played for Sheffield United and Woolwich Arsenal until he joined Argyle in the summer of 1903 at the age of 24. He was a powerfully-built inside-forward (5' 10'' tall - tall for a player in those years) who made his debut in Plymouth Argyle's inaugural fixture and then accumulated 38 appearances and 13 goals before tragedy struck.
Anderson travelled to London with the rest of the team to play a Southern League fixture at Fulham on Saturday, February 27th 1904 and a Western League game at Tottenham two days later. He was thought to be suffering from "a chill", but ignored advice from the doctor and played in the 1-0 defeat against Fulham, no doubt influenced by Argyle's significant injury list at that time. After the game, in which Wattie was reported to have played "splendidly", he felt indisposed and took to his bed. A doctor was called in and influenza was said to be the cause, but on the Sunday he seemed to improve and was thought to be only in need of careful nursing. On Monday 29th the team lost 5-1 at White Hart Lane and Anderson remained in the Hummums Hotel, Covent Garden when the rest of the team returned that night to Plymouth, although left-back Andy Clark stayed with him. As the Western Evening Herald put it: "Great friends were these two, and it was at Anderson's special request that Clark stayed behind to keep him company and assist in looking after his wants. His colleagues bade him 'Goodnight an a speedy recovery' as they left the sick-room on Monday night, little thinking that that was the last occasion on which they would see poor Wattie alive."
On the Wednesday he was admitted to the Metropolitan Asylums Board Hospital, Stockwell, in a serious condition. Reports suggested that the illness had developed into pneumonia, and his wife was at his bedside as complications set in. There he was diagnosed as suffering from enteric fever – an infection closely associated with typhoid and salmonella. This was an uncommon condition and there were only about 800 known cases each year, often associated with contaminated food. Wattie Anderson died in the early hours of Thursday, 3rd March 1904. Just a day later, manager Frank Brettell said that the cause of death was "brain disease", the term then used for an inflammation of the brain and what we would know as meningitis or encephalitis today. Whatever the true cause, it was felt that he must have contracted the disease/fever before he left Plymouth. Despite its early symptoms, Anderson turned out in the Fulham game, convinced that he had a "chill". His wife later became ill, but she recovered.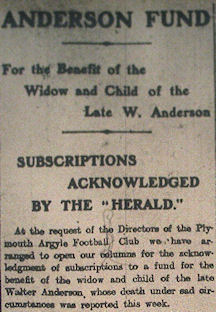 Clarence Spooner immediately left for London to take charge of the funeral arrangements, with the club paying all expenses. The funeral took place on the Saturday in Battersea, where he was buried. The club also set up a memorial fund to help Mrs Anderson and their baby daughter. The Board of Directors donated 15 guineas and the players £1 each, and with the help of the Western Evening Herald, the fund attracted donations from the wider public. Just a few weeks after his death, Plymouth Argyle published a booklet about the inaugural season, even though it had yet to end, dedicated to Wattie Anderson and to raise further funds for the surviving family. The booklet was effectively the first of a long line of club handbooks, published over the following 75 years.
Oddly there was little said about Anderson in the booklet brought out to commemorate him. The club somewhat redressed its omission by including the following in the 1904-05 handbook: "I cannot conclude without making a reference to one of last season's players, who rendered yeoman service to Argyle Club. I refer to Wattie Anderson, who has gone to that bourne from whence no traveller returns. He was a true comrade in every sense of the term, a player of undoubted ability, one who always had the interest and welfare of the Argyle Club at heart, and who, had he lived, was destined to receive his international cap. Never shall I forget the genial Wattie and long will his well-rendered 'Mary of Argyle' linger in my memory."
THE FIRST SEASON COMES TO AN END
After the optimism, excitement and early success, the 1903-04 season came to an end with much to ponder. After 18 wins in the 27 games before the new year, Argyle managed just two wins in 20 in the first three months of 1904, partly because of a string of injuries, but Wattie Anderson's death must have had an enormous effect in March. There was a reference to the season's injuries in the first handbook: "Unfortunately, our injuries all happened at once. First, Robinson was laid up, then Picken, and we had hardly got over these misfortunes when Peddie, Winterhalder, Digweed, Pinnell, Horne and Dalrymple were also hors-de-combat, and the climax was reached when, after the Tottenham match, we had just six men fit for duty." Despite the crop of injuries, Bob Jack appeared in all but one match and captain Charlie Clark missed only five.
A revival in April - six wins and no defeats in the final ten games - put an end to ten weeks without a win. After the club's first 50 league games, Argyle finished in a creditable ninth place in the Southern League and third in the Western League, not to mention a run of seven matches in their first FA Cup competition. It was quite a season, celebrated at the club's first banquet, held at the Royal Hotel on April 25th 1904.
1904-05: NEW FACES, MORE PROGRESS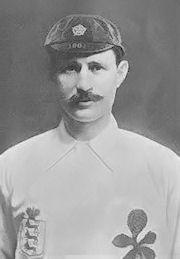 John 'Willie' Sutcliffe
During the close season Mr Brettell brought in Freddy Buck, a highly regarded forward from Liverpool and Jasper McLuckie for whom Aston Villa had paid Bury £400 in 1901. He also added Percy Saul (later to become a full-back for Liverpool), and Norman 'Jocky' Wright, an inside-left from Bolton, a former teammate of Bob Jack.
Brettell also managed to sign John 'Willie' Sutcliffe, possibly the most famous goalkeeper of all because he was a dual international at association and rugby football, having become especially famous for his performance in the 1894 FA Cup final, despite his side losing 4-1, when he played for Bolton Wanderers against Notts County. He won five caps for England with Bolton and Millwall Athletic as well as spending one season with Manchester United.
Sutcliffe was born at Shibden, near Halifax in 1868 and was educated at Eton where he played the Wall Game before joining Bradford Rugby Club and then Heckmondwike, where he won his one international rugby cap – in 1889 against New Zealand. He then switched codes and signed for Bolton Wanderers and won the first of his five international caps at football in 1893 against Wales. He was well into his thirties (37) when he joined Argyle in 1905 but he stayed for seven seasons and made 218 first team appearances, sharing the goalkeeping role with Tich Horne. Overall he kept 96 clean sheets before he finally retired in 1912, aged 44. He had actually started at Bolton as a centre-forward but soon converted to goal to make use of his rugby skills. During the First World War he managed Vitesse Arnhem but returned to Bradford as their trainer in 1919 and died there in 1947.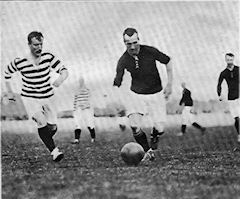 "A rush up the field by Plymouth"
An Argyle attack, from what looks to be inside-left Jack Picken, at QPR's new home, The Royal Agricultural Society Ground at Park Royal (from 'The Bystander', 14th Sep 1904).
Argyle's first game of their second Southern League season was a 2-1 defeat by Queens Park Rangers at their new Royal Agricultural Society Ground at Park Royal, in front of nearly 15,000 spectators. In the following two months there were impressive 5-0 wins over Millwall and Wellingborough, and two more big scores in the Western League, 6-1 at home to Brentford and 5-0 at home to Tottenham. Still known as 'The Dandies', Argyle finished fourth in the Southern League that season, and had they not suffered three successive away defeats in the November/December, they would have been just one point behind the eventual champions, Bristol Rovers. During the final ten games, Argyle won eight, drew one and lost one, winning six in a row in April. Their final points total of 41 was just seven short of the champions.
Argyle also managed two highly creditable draws with Newcastle United in the FA Cup, before losing the second replay 0-2 at the Woolwich Arsenal's Manor Ground in Plumstead. For the second season, Argyle had held their own against one of the best teams in the country, but this time twice, with the first attempt in front of 28,000 Geordies at St James' Park. Newcastle went on to lose in the final to Aston Villa but were winners of the English League. Argyle won the Western League that year, with Brentford runners-up and Southampton finishing third. They also beat West Bromwich Albion (12th Nov), Brentford (26 Apr) and Preston North End (29 Apr) in friendly games.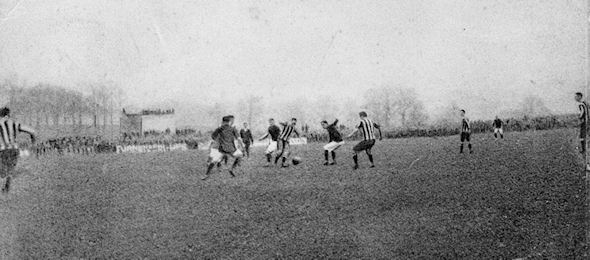 FA Cup First Round Replay at home to Newcastle United
Having drawn 1-1 on February 4th 1905 in front of over 28,000 at St James' Park, Argyle managed a repeat score in this replay on February 8th, watched by 17,641 at Home Park.
THE CONTINUING RUGBY THREAT
Although the playing side was in reasonable shape, the next few years saw continuing financial difficulties. The problems stemmed from falling attendances, especially attributed to the draw of two rugby teams in the city - Plymouth RFC and Devonport Albion. Rugby players like Dobbs, Gilbert, Peters, Vivyan and Jago began to represent England as well as Devon, and fans were increasing drawn to The Rectory and South Devon Place. An attempt to introduce Northern Union Rugby (Rugby League) in 1912 led to an exhibition match between Huddersfield and Oldham at South Devon Place in front of 8,000 spectators. This, in turn, led to the disbanding of Plymouth RFC until they joined with Devonport Albion in 1915. In the initial years of professional football the Spooner brothers had been required to put in considerable sums of money to keep the club afloat.
1905-07: ECONOMIC REALITIES SET IN
Despite success on the pitch in its second season, there had not been harmony within the club. At its end, Frank Brettell stood down as manager and Lieut. Windrum resigned his position as chairman of directors. Brettell was quoted as having said: "... of all the baby clubs I have had the honour to launch upon the football world, I take great pride in the advent and development of the youngest one. Plymouth Argyle FC was my last protιgι, and will remain so, and I hope to see it one day take the foremost honour of the game by winning the English Cup".
Clarence Spooner succeeded Lieut. Windrum as chairman and, at the age of 29, Robert Jack was appointed player-manager. Reflecting on the loss of the club's first manager, the new season's handbook said of his successor: "In his place there is a man who played first class football at the age of seventeen, who has years of good play left in him yet, who has been with the club since it launched forth on the professional sea, who is popular and genial, who knows a footballer when he sees him, who is in dead earnest, who is, however, new to the management of a team, and is really on probation."
Incidentally, there was also a rule change at the start of the 1905-06 campaign. Argyle's Sutcliffe and Horne faced a new challenge; the penalty rule now forced goalkeepers to remain on their goal-line until the kick was taken. 'Referee' of the Western Evening Herald commented: "I think that now all penalty kicks ought to be converted."
So, a look at the structure of Plymouth Argyle at the start of the 1905-06 season shows a number of familiar names – all of whom had contributed significantly to the foundation of the club. The chairman was Clarence Spooner and his brothers, Stanley and John, served as directors, with Bob Jack as manager. Perhaps it was inevitable in the circumstances, but the inexperienced player-manager's 'probation' lasted just that one season. After a bright start to the campaign, results fell away, although the team rallied towards the end to finish a creditable fifth in the Southern League, behind Fulham, Southampton, Portsmouth and Luton, and one place above Tottenham Hotspur. However, general disorganisation was seriously affecting the club's status and the lack of strong management was sorely felt. In the hope that the prestige of the club would be restored and the house put in order, Frank Brettell was invited to join the board, and he agreed.
An interesting sideline to that third season is the player list which highlights a physical comparison with today's professionals. Of the 20 players listed, only goalkeeper Sutcliffe was six feet tall (and only just), centre-half Clark and centre-forward Wilcox were only 5'10" and three players were only 5'6".
At the end of the 1905-06 season the Spooner brothers decided to cut their losses, although, with characteristic generosity, they paid up a bank overdraft of £4,000. Lieut. Windrum agreed to reconstruct the directorate and to act as chairman once again, with Clarence Spooner and Frank Brettell remaining as board members. However, finances remained a major concern. In the 1906-07 handbook, T. McCleod of the Western Morning News wrote of a third successive season without a shareholders' dividend, but he predicted a better future: "The Directors – there are several new gentlemen on the board – all townsmen – men who are determined to see the thing through, being confident that there is every prospect of the Argyle company being a financial success. This can only be brought about by the public according the club a full measure of support."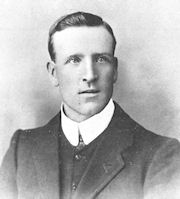 William Fullarton
Bob Jack left for Southend at the end of the 1905-06 season. The Essex club had just been elected to the Southern League Second Division, and Jack led them to promotion in his first season with them. He was succeeded at Home Park by William Fullarton, formerly a centre-half at Sunderland and Nottingham Forest. Forest's directors were not happy when they learnt of the 24-year-old's appointment and refused to release his registration as a player, but Davy, his brother, joined him at Home Park and played for most of the season.
Few of the 1905-06 players started the 1906-07 season. Ex-soldier Tich Horne, who had owed everything to Argyle after he was picked up from local side Essa, went to Fulham, only to return the following year. Both backs went – Andy Clark to Leeds City for "a substantial fee" and Saul to Liverpool, then in the first division. Three of the four half-backs had gone – Wilcox to Leicester Fosse (to return in 1908), Banks (Banko) returned to Leyton and Leech was off to Stoke City. Six other players went on their way, including, of course, Bob Jack to Southend.
With the decline in fortunes on the field, attendances inevitably dropped and the receipts for the 1906-07 season were the lowest since the club had entered the Southern League. Added to this was an increase in local enthusiasm for rugby – focusing on both Devonport Albion and Plymouth Rugby Clubs. Even before the season ended, there was a growing feeling that the club would not survive and even the directors made it clear that they had had enough. Before the end of the season a number of first choice players had left, leaving behind barely enough for the side to finish the season. Having finished a disappointing 15th and with no end in sight to their money worries, the board of Plymouth Argyle decided not only to dispense with Fullarton's services, but to do without a manager altogether. For the next three seasons, the team was run by a management committee.
ARGYLE'S FIRST FOREIGN OPPOSITION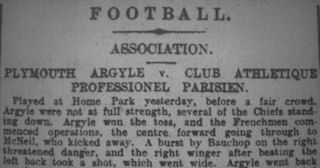 Tucked away in the record of results in 1906-07 is a friendly victory over the "Club Olympique Professional Parisien", then France's premier side, recorded as 8-2 on September 13th, 1905. This was Argyle's first recorded game against foreign opposition and there were reports in all three local newspapers. The French side wore green and white striped shirts and the crowd was about 3,000, perhaps less than expected but the weather was poor and the kick-off time had been put back to 5 pm. Argyle were not at full strength and the game does not appear to have been taken very seriously by the Argyle players and there was what the papers described as "an unnecessary amount of gallery play". Argyle reserve Leddington played for the visitors and was one of their best players. However, the crowd applauded the vastly inferior French side at every opportunity and the team were full of gratitude for the reception they received.
1907-10: MANAGEMENT BY COMMITTEE
By the start of the 1907-08 campaign there had been another re-structuring of Plymouth Argyle's board. R.F. Davis had become chairman and there were five other new directors, all local and each associated with the Argyle Athletic Club, which continued to promote cycling and athletics meetings at Home Park. In effect, they became a 'Committee of Management', taking responsibility for the team, including selection, as well as the club; an approach compatible with their amateur background. A public meeting with the theme 'Argyle or no Argyle' was held to address the future of the club, since a guaranteed sum of money had to be found. Subscription cards were issued and enough money was raised to begin the signing of players. The handbook of 1907-08 states: "It is too early to speak of the new management, but, if enthusiasm goes for anything, the Argyle club is bound to succeed. The gentlemen responsible for the carrying on of the club are by no means novices in the running of sporting organisations."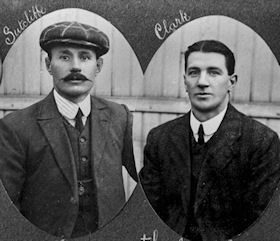 John Sutcliffe and Charlie Clark
Vital players who signed new contracts, despite reduced terms.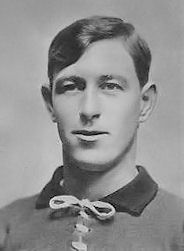 Septimus Atterbury
Atterbury served the club from his signing as a 17-year-old in 1907 until he retired in 1937.
Several existing players refused to accept the reduced terms offered, including George Smith, who the management would very much liked to have retained. However, others did, with John Willie Sutcliffe and Charlie Clark the first to re-sign. Tich Horne returned from Fulham to provide competition for the goalkeeping spot, and another 'old boy', William Cleminson, signed from Middlesbrough, although primarily for away games. Clemison returned to the club he had served in its pre-professional days, but as it turned out, didn't get a first-team game in his second spell.
Amongst a string of new recruits was 17-year-old Septimus Atterbury, who signed from Swindon and went on to play 361 times for Argyle, including 31 in the post-1920 Football League era, and then continued on as a trainer to complete a 30-year association with the club. Another new boy, Richard 'Dickie' Morris, joined from Grimsby Town. The inside-left was an established Welsh international and became Argyle's first player to be called up for his country whilst with the club, a 1-0 defeat for Wales against Ireland at Aberdare on 11th April, 1908.
It was described as a "serviceable" team. There had been no appointment of a manager and the directors took on responsibility for running the football side of the club as well as its financial affairs. George Rowlands was appointed as trainer; he had served in the same role with Plymouth Rugby Club. With so much change in the playing staff, prospects for the 1907-08 season were not considered good, but Argyle actually achieved considerable success on the pitch and finished the season as runners-up to Queens Park Rangers and well ahead of teams like Tottenham and West Ham. They won 19 and drew 11 of their 38 Southern League matches, and established a Southern League record by winning six in succession. In the handbook at the start of the following season, Observer of the Western Evening Herald wrote: "It was not a pleasant outlook, but the directors were men of business tact and ability, and time has proved that the confidence reposed in them was amply justified"
One match that season is of particular interest: on 12th October 1907, Argyle endured an extraordinarily long journey for a Southern League fixture at Bradford Park Avenue. Bradford's application to join the Football League had failed that summer, so bizarrely, they were accepted into the Southern League to fill a vacancy left by Fulham, whose own Football League application had succeeded. Park Avenue's reserve side played in the North Eastern League - clearly an arrangement that was unsustainable for the club - but a year later, its Football League application was accepted; no doubt welcome news for clubs in the far south.
By this time Argyle were becoming known as 'The Pilgrims' after periods as 'The Scrap Irons', and then 'The Dandies'. There were some disappointments but generally the performance of finishing second was regarded as phenomenal. They had won six matches in a row for the first time, placing them on top of the league, and only fell away late in the season as QPR went through a purple patch. It was unfortunate that a very strong defence was not matched by the much weaker attack. Needless to say, strengthening the forward line became a priority for the 1908-09 season. Wilcox (West Brom), Cook (Grimsby), Warburton (Swindon) and Hindmarsh (Watford) were brought in.
It is interesting to note the following in the 1908-09 handbook: "I should like, before concluding, to tender my congratulations to the Exeter City Football Club on their election to the Southern league. The team which will do duty for them is, generally speaking, of unknown quality, but Arthur Chadwick may be given every credit for knowing the men he has engaged. The Argyle officials have been most enthusiastic in assisting to get the new organisation successfully launched, and it is hoped that a spirit of friendly rivalry will always exist between the two clubs".
The success of the 1907-08 season did not continue. Argyle finished in mid-table in 1908-09, winning only 15 of their 40 games, although they lost several games by just the odd goal and suffered a number of injuries. Perhaps the most notable moments of the season were the matches against Exeter City. This was City's first season in the Southern League and they won the first-ever local encounter in November 1908, but Argyle took their revenge later in the season with a 4-0 win at Home Park and a 2-0 victory against The Grecians in the FA Cup, to progress to the 3rd round for the first time.
The third round tie against Football League Division Two's Derby County at The Baseball Ground on Saturday, February 20th, 1909 attracted 1,500 travelling fans from Plymouth. The match remained goalless until the dying seconds when a free-kick allowed Derby to scrape a narrow victory. Their goal gave rise to immediate controversy since few in the ground realised what the final result was. Apparently flags in the colours of the teams were raised, with the Derby flag on top.
Despite the comparative lack of success of the first team in 1908-09, the reserves finished on top of the Plymouth and District League (the old-style Devon League), playing 22 games and winning 16. They were also important in providing players for a very successful Devon County FA side.
ANOTHER TRAGIC DEATH; ARREST ON MANSLAUGHTER CHARGES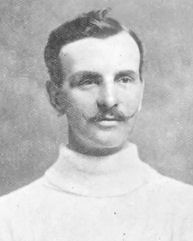 Nicholas Wallis
After Argyle's 1-0 defeat at Derby in the FA Cup, four members of staff joined supporters on the train for the return journey to Plymouth – including left-half Teddy McIntyre, trainer Nicholas Wallis and goalkeeper Tich Horne. McIntyre, who had joined from Fulham after a long career at Newcastle, got into an argument with Wallis over a game of cards and struck him on the jaw. Punches were then exchanged between McIntyre and Horne, who was hit over the head by a water bottle. When the train eventually arrived at Millbay, Wallis was still unconscious but he was attended to and his jaw was wired up at Doctor Lyth's nursing home. The directors held an enquiry, and suspended McIntyre for the rest of the season and exonerated the other players from blame. Perhaps in some shame, McIntyre returned to Newcastle to see out his suspension.
Nicholas Arthur Wallis was 31 years old, unmarried and in his first season as Argyle trainer. He was a quiet man with a reserved disposition, and said to be exceedingly popular amongst the players and officials. Sadly Wallis did not respond to treatment and his condition worsened. He died of septic pneumonia on the March 25th, 1909, just over a month after the incident on the train. The next day a warrant was issued for McIntyre's arrest and Plymouth police went to Newcastle to arrest him at his lodgings. They brought him back to Plymouth and he was charged with manslaughter and remanded on bail to appear at Devon Assizes on Wednesday, June 30, 1909. The case lasted just one day; McIntyre was found not guilty. Many Argyle players attended the trial and congratulated him on his acquittal. The court was fully satisfied that all involved were perfectly sober. It was considered that McIntyre did not pre-meditate the incident; it happened in a fit of temper. One witness who knew both men confirmed that "each was a pleasant, good-tempered fellow". McIntyre was exonerated, although he was clearly upset by the incident and suffered financially. He joined Portsmouth for the start of the next season, having made 78 appearances for Argyle, scoring just once.
1909-1910: PLYMOUTH ARGYLE FOOTBALL COMPANY LIMITED WOUND UP
As the first decade of the 20th century neared its end, professional football clubs across the country were struggling to make ends meet. Players' wages and transfer fees had increased, and near the start of the 1909-10 season, the Players' Union threatened strike action. Without a strong governing body, there was a fear that the game would degenerate if the players became its masters, and some even thought that the days of professional clubs were numbered. But perhaps the most influential factor that season was the bad weather in its winter months. With our modern all-covered stadia and readily available transport, it is easy to forget the impact that poor weather would have had on attendances in those early days, and the consequential effect on balance sheets.
Ike Evanson had been secured from West Bromwich Albion as centre-half to replace the indomitable Charlie Clark, who left for Crystal Palace, and there were two other new defenders – Stephen Fagan from Sheffield United and John Boyd from Bolton. John Wood, an inside-forward from Manchester City had played for the North v South in 1907 and David Griffiths from Bolton Wanderers had scored 23 goals for Third Lanark the season before. However, in spite of their close season captures, results did not improve and, again, Argyle finished the campaign in mid-table, winning just 16 of their 42 matches. The season began with a 1-0 defeat by Southampton and four teams scored four against them. They did, at least, manage a 6-0 win at home to Coventry and won their final game 3-0 against Southend.
Argyle were still without a conventional manager, and the result of indifferent form, rising costs and poor weather was a disastrous fall in the club's financial position. A change of leadership was clearly required after a season of ordeal, and it was even suggested that economies could be achieved by closer links with a rugby club. Matters came to a head in May 1910 at the shareholders' meeting, when losses of £6,000 were announced and a liquidator was appointed. Plymouth Argyle Football Company Limited, formed in 1903, was wound up, but thanks to its old benefactors, the Spooner Family, a new company emerged over those summer months. In August 1910, 'Observer' in the Western Evening Herald wrote:
"The old company dies, but phoenix like from its ashes will rise anew, and, let us hope, triumphant Argyle that, with a touch of the old form, will draw it's thousands in place of the miserable handfuls that surrounded the enclosure last season.
"I feel that the supporters are much to blame for the condition of the club. They are too much of the 'fair weather brand'. Properly managed - I am not going to make comparisons - the club should pay its way. The ground is certainly rather far out, but it is unequalled as a playing pitch. Although the suggestion of an amalgamation with the Rectory Company was worth considering, I am afraid, however, that Amateur Rugby and Professional Soccer, like oil and water, will not mix."