THE HISTORY
OF ARGYLE
An original, comprehensive and thoroughly researched account of Plymouth Argyle Football Club from its earliest roots to the present day.
Important copyright conditions:
This chapter is licenced under a Creative Commons Licence. Attribution must include the Author (Roger Walters) and this site's address (www.greensonscreen.co.uk) and must be displayed prominently, in close proximity to any associated material, and be implemented with strict regard to the licence conditions.
Parts too small for comfortable reading? Most browsers allow you to zoom. Try Ctrl+ (hold down the Ctrl key, then press the + key, without Shift).
Ctrl- reduces the size.
Have you new material to offer? Please get in touch by writing to Steve using the 'Contact Us' button at the top-right of the page.
Photos used on this page: Greens on Screen is run as a service to fellow supporters, in all good faith, without commercial or private gain. I have no wish to abuse copyright regulations and apologise unreservedly if this occurs. If you own any of the material used on this page, and object to its inclusion, please get in touch using the 'Contact Us' button at the top-right of the page.
THE HISTORY OF ARGYLE
An original account of Plymouth Argyle Football Club from its earliest roots to the present day
This is a printed representation of one chapter of GoS's History of Argyle (www.greensonscreen.co.uk/argylehistorymenu.asp), provided for ease of reading and personal retention. Inevitably it lacks links to associated pages, including match and player records, and its layout has been simplified to allow page breaks. Note also that Greens on Screen's online History of Argyle will be updated and new material added from time to time.
COPYRIGHT: the strict conditions for use of this printed version are the same for the corresponding online page, as specified on that page.
ARGYLE FC POSTSCRIPT
A lasting memory of one of over 500 who played for the Argyle Football Club and an enduring reminder of Plymouth Argyle's roots.
Author: Roger Walters [about the authors]
Version: 1.0
Date: 25 Aug 2011
IN MEMORY OF AN ARGYLE FOOTBALL CLUB PLAYER: DORT PASCHO, 1899-1900

Window at Hooe St. John Church dedicated in 1933 to Matthias Dorton Willing Pascho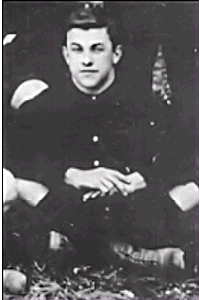 Matthias Dorton Willing Pascho 1878-1932
Dort Pascho made just 11 appearances for Argyle FC, scoring 2 goals. He was not a prominent member of the club, though his Argyle record is considerably more than many of the 500 players fielded by Argyle from 1886 to 1903. He was a local man whose keen interest and dedication to the local game was rewarded after his untimely death with a wonderful tribute. The beautiful stained-glass window at Hooe St. John Church is a lasting reminder of Dort and a forgotten football past.
He was born and lived his whole life in Turnchapel, the son of a Trinity Pilot. Dort was very proud of his roots and loved to stand above his village and survey the scene over the Plym and Sound. He and his brother 'J. J.' helped found the Turnchapel Football Club in 1894, and they won the Devon Junior Cup in the 1896-97 season.
The club folded, so Dort moved to Plymstock based club, Lifton. He first played for the County in 1898-99 before joining Argyle for the 1899-00 season. Injury restricted his appearances but he did receive a medal, as Argyle became winners of the Devon Senior League. In 1902, he revived Turnchapel FC. As their passionate Secretary, he was warned of his conduct towards referees at matches by the Devon FA. He held the Club Chairman position for many years.
In 1920, he was elected Honorary Treasurer of the Devon FA. After ten years service, Dort received a medal in appreciation of his work. His premature death in 1932, at the age of 54, was mourned by the many that knew and respected a popular man. St. Johnís Church, Hooe, was filled to capacity for his funeral. He is buried here.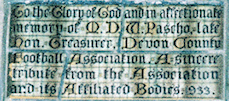 The Devon Football Association and its various Clubs contributed to installing the stained glass window in the Church as a fitting memorial to the sterling work Dort had carried out on their behalf. The inscription says "To the Glory of God and in affectionate memory of M. D. W. Pascho, late hon. Treasurer, Devon County Football Association. A sincere tribute from the Association and its Affiliated Bodies 1933". The Pascho family know of, and are still proud of Dortís Argyle connection.
BIBLIOGRAPHY FOR THIS POSTSCRIPT AND THE PRE-1903 CHAPTERS
Click here for a full list of references.