Some of the information in GoS-DB differs from other records. Where anomalies have been found, the data has been verified using original newspaper reports to ensure a very high degree of accuracy.
Retrieving data


First time here?
GoS-DB provides a vast array of facts and figures from Argyle's history. If this is your first visit, the Getting Started page is a useful place to begin.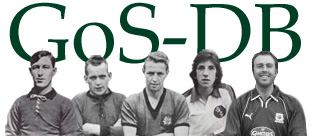 Greens on Screen's history pages are underpinned by GoS-DB, a relational database of over 100,000 facts and stats from 1903 to Saturday 27 November, 2021.
or select one of these reports ...
Any ideas? If you can think of a useful addition
to this list, please use the Contact Us link.
We are very confident that GoS-DB is as least as accurate as other Argyle-related resources, and in many cases corrects long-standing mistakes. Please use 'Contact Us' if you can make it even better.
Retrieving data