What's it all about?
GoS-DB is a comprehensive collection of facts and figures for every first-team match and player since Plymouth Argyle became a professional football club in 1903, together with a series of web pages to present the information.
Based on the raw content inherited from the Semper Viridis website, the technology behind GoS-DB means that a lot more is now possible, and Greens on Screen's history pages make the most of the database's capabilities. [For the technically minded, it's a fully relational design using MS SQL Server 2008.]
Every match and player is included, but the database will grow as more information about them is captured and stored. Version 1, made available in September 2009, took six months to develop, but that's just the start. New data items will be added as time allows (e.g. photos, player descriptions, match reports) and, with your ideas, new reports developed.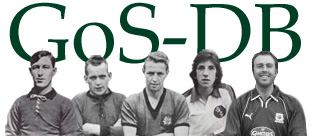 GETTING STARTED
I'd be the first to agree that GoS-DB isn't for everyone. For some it'll be little short of hell on earth; for others I hope it's a useful place to to find some answers. For one or two it might even be a place of endless fun. If that's the case, it'll have all been worth it.
How can you help?
I can't stress enough how much we value ideas, suggestions and most important of all, criticism. Please use the Contact Us button (above) to get in touch, especially if:
the stats and explanations are confusing

you spot any form of error, from a simple spelling mistake to a complete failure to display

you disagree with any of the facts provided

you have a suggestion to improve what's there or an idea for a new display
How can I help?
If you have a special interest in Argyle's playing history, perhaps as a journalist or author, and would like a bespoke report to address an area of research, please get in touch. I'll do my best to help.