Back to

Austria 2004

Tour Home
Austria 2004: Fans Page
Tour recollections and photo's from Neil Carhart, Steve Riggs and Alastair McCulloch
Al's Austrian Tour Diary 2004
FRIDAY 16th
The squad and official party travel fly out to Obertraun today, but for most fans it's a last day at work before setting off on their long journey to Austria.
SATURDAY 17th
The 6.40am Ryanair flight from Stansted to Salzburg is turned Green by fans from the North Devon Greens, Leeds Greens and PASALB. Many are a little bedraggled at such an early hour but all are keen to start their week in the sun. Other fans have made their way to Austria on different routes though all travelling Pilgrims head to the picturesque ground of Bad Aussee for the first of three scheduled games.
After pre-match cultural activities (mainly getting acquainted to Zipfer) the Green Army make themselves well and truly heard in the Scandinavian looking main stand which is just a year old. The chant of "Henry of the Westcountry" is soon echoing around the Alps and becomes an instant tour favourite amongst the fans, but not everyone catches on immediately. The recipient of the ditty, Mickey Evans, lives up to his 'Trigger' nickname by taking an age to realise the repeatedly sung tune is aimed in his direction - his acknowledgement finally allowing the hoarse Argyle fans to recover. Fortunately our Player of the Season has appeared without last summer's mullet haircut, so no further breath needs to be wasted questioning his hairdresser!
Those who visited Austria last year are concerned that there might be a repeat of that tour, when Argyle managed just one fortunate goal in three games. Those fears are soon forgotten as Argyle smash four unanswered goals past the local Austrian side - Marino Keith legitimately scores after earlier claiming what is clearly an own goal, with Steven Milne and the impressive Keith Lasley adding gloss to the scoreline.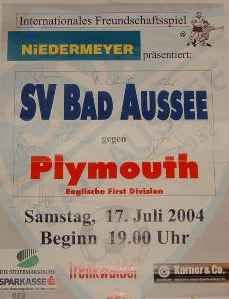 Advertising poster from Bad Aussee

SUNDAY 18th
After all their exertions yesterday, the Green Army are understandly slow to rise. Many are staying in Obertraun on the banks of the giant Halstattersee lake and pop down to the beach for a relaxing day. Among them are the 5 strong Powell family from Braunton - parents Phil & Julia and teenager Matthew are on their first Austrian tour, but Matt's elder siblings Andy and Clare are showing them the ropes after experiencing the Salzkammergut region last summer.
MONDAY 19th
Today is Argyle fan Annie Banbury's 21st birthday and her fellow Pilgrims help make it a day to remember. After training, cheered on by the rest of the squad, Luke McCormick and Peter Gilbert present her with a bottle of Champagne bought for her by fellow fans. Then in the evening, manager Bobby Williamson and Chairman Paul Stapleton attend a birthday dinner held in her honour and present the lucky North Devon Green with a birthday card signed by the squad (with one dressing room wag adding amourous comments and a phone number to Luke's message)
TUESDAY 20th
Hotelier Darron Day (whose family move from Kent to Austria was featured in a Channel 4 documentary earlier this year) arranges a coach to take the Obertraun based fans over the mountains to Eben im Pongau, where Argyle renew rivalries with German side SV Wacker Burghausen. In last year's meeting in Pettenbach, Paul Connolly was dismissed and the German team's excitable number 8 Younga incurred the wrath of Graham Coughlan and the Argyle fans. All three watch from the sidelines this year as Wacker take a 3-0 half-time lead over a disappointing Argyle.
Bobby Williamson clearly delivers a roasting at the interval and only some very questionable refereeing denies the Pilgrims a draw. David Friio pulls a goal back before the Greens have two legitmate looking goals ruled out. Hasney Aljofree's stunning direct free kick is chalked off due to the award being retrospectively called indirect (a mini-video later proves the referee's arm was never raised) and Milne has another strike ruled out. Bobby's winning run as manager ends at 8 games and though we didn't know it at the time, this was the last time Ian Stonebridge was stripped for an Argyle game (albeit as an unused sub). Best of luck at Wycombe, Stoney, and thanks for the memories!
WEDNESDAY 21st
Although many fans visit the Ice Caves and the amazing Dachsteinhohlen mountains, the highlight of the day is an evening of skittles organised in Obertraun's Kegelbahn by the Mushy Peas (a skittles team of Argyle fans based in North Devon). Six teams take part, including one from Argyle. Mickey Evans, Luke McCormick, Bobby Williamson and Pauls Wotton, Connolly & Stapleton are unable to repeat last season's on-pitch triumphs and fall embarrassingly at the first hurdle with Trigger winning what looks like a dunce's hat for having the lowest individual score of the evening.
The Leeds Greens are incapable of finding 6 people able to throw a ball and are relieved to find an addition has showed up. Romain Larrieu anchors their team to the final and is thanked by having "Romain is a Leeds Green" chanted at him all night - and most of this coming season, no doubt! The competition organisers recover from an early evening defeat to end the Larrieu/Leeds fairytale in the final before hoisting aloft a massive trophy borrowed from the Kegelbahn.
THURSDAY 22nd
The scenic lakeside village of Halstatt is the destination for some Pilgrims today, with highlights being the trip up the railway to the Salt Mines and a panoramic view of Obertraun, the Halstattersee and surrounding mountains.
Stoke City are also touring Austria and have an evening game in Irdning against AS Roma, who field most of their big names apart from Francesco Totti. Many touring Argyle fans attend the game and see the Italian giants triumph 2-0 with goals from Mexes and D'Agostino. The general verdict is that Stoke offer nothing that should terrify Argyle - though pre-season games can be misleading!
FRIDAY 23rd
The final planned tour game becomes the penultimate game as the club announce a Saturday fixture in Wels. The ground at Bad Goisern is just 15km from Obertraun and Mark, a touring Pilgrim who lives in Munich, takes the opportunity to cycle to an Argyle game. As usual with games in Austria, the scenery provides a stunning backdrop for the football but this is no consolation to the Argyle players who are frustrated by the woodwork in their attempts to equalise a goal sloppily conceded early on. A second goal comes on a breakaway but Argyle are far from outclassed by top-flight Czech side Ceske Budejovice.
Exiled Janner Andy Lannie has travelled from Denmark to follow this and other games on the tour - he proudly sports a traditional Austrian hat (in dark green, of course!) but is outdone by "Moley's Mum". Despite being one of the oldest fans on tour, the mother of Devonport Ender Andy Mole leads much of the chanting in the second half - almost outsinging 'Loud' Rich (the fan with LOUD on the back of his shirt who is, well, very loud)
SATURDAY 24th
The hastily arranged game in Wels means fans are forced to change their travel plans and the Open Day in Obertraun sadly becomes unfeasible.
Those who take part in a pre-match kickaround return to the bar with ankles intact but they report worryingly large holes in the pitch. Soon after the Argyle team arrive the heavens open and we are caught in a tremendous thunderstorm. The Blau Weiss Linz fans light flares in the stand as their team warm up on the terracing, but the playing surface is soon flooded and there is unfortunately no option but to cancel the game.
Steve Riggs, owner of the giant reversible "PLYMOUTH ARGYLE FC" and "DIV 2 CHAMPIONS 04" flag, paid £44 excess baggage to get his creation to Austria and realises in horror that the rain has soaked his banner, sending the likely return flight bill to exorbitant levels. Fortunately a night's drying draped twice around a Salzburg Youth Hostel brings the fee back down to a manageable level.
SUNDAY 25th
Most Argyle fans are on the morning flight back to Stansted and trudge back to work on the Monday, though recently engaged Pilgrims Clare and Stuart continue travelling around Europe for another week before returning to Devon in time for the Southampton game.
All touring fans have had a fantastic time. A pre-season escape with Argyle is fast becoming the must-make summer break for many footsoldiers of the Green Army.

Neil Carhart's Photos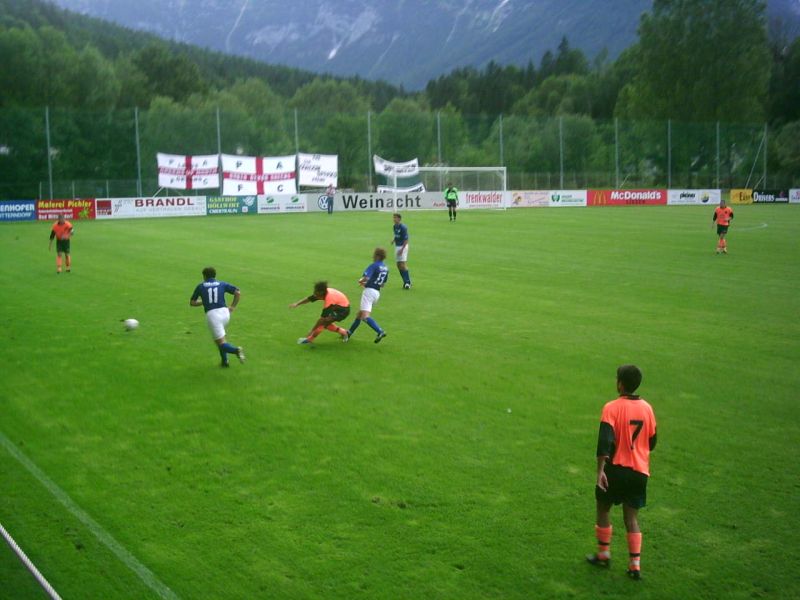 Action from Bad Aussee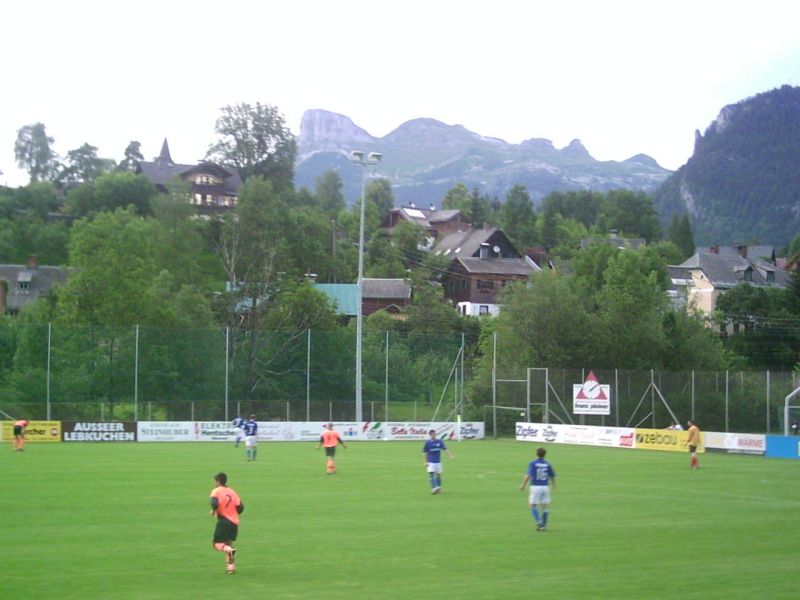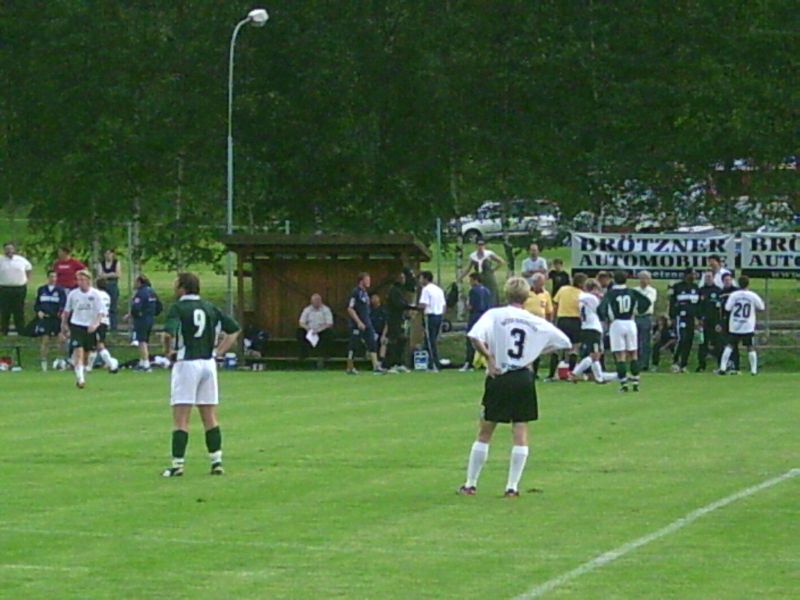 Tempers flare on the touchline at Eben-im-Pongau