Back to

Austria 2003

Tour Home
Austria 2003: Western Morning News (Rupert Metcalf)
SCENE IS SET FOR NEW CAMPAIGN

It has been a welcome tradition, since Paul Sturrock arrived at Plymouth Argyle, for the Pilgrims to embark on pre-season tours. It is a practice that should not be taken for granted, for the Scot's predecessors as manager rarely did likewise. Normal practice was a few away days at welcoming but limited, in terms of the suitability of the opposition, local venues like Bodmin and Liskeard, plus a couple of home friendlies against higher-division League clubs. Such schedules served a purpose up to a point, but they rarely did much to boost team spirit. Sturrock has changed all that. The Argyle players are now used to spending a week together far from home in July. Bonding is the buzz word. The results have been clear to see in the past two seasons, as the Pilgrims have put together two of their best campaigns in recent memory. Plymouth's pre-season destinations these past three summers have also been notable for their scenic qualities.
The Tayside region of Scotland, the Pilgrims' home from home in 2001 and 2002, is an under-appreciated delight. But the quiet charm of Edzell, where the club were based in those two years, has been eclipsed by the majestic grandeur of the Salzkammergut, the Austrian lake district. Even 12 hours of non-stop travelling did not prevent players, coaches and fans alike marvelling at the dazzling blue lakes and the steep and rugged mountains visible almost throughout the last leg of the trek yesterday morning, the coach journey from Salzburg airport to the Pilgrims' training camp beneath towering crags at the small lakeside resort of Obertraun. The long voyage had begun as darkness fell on Monday night, when the travelling party had gathered at Home Park prior to boarding the two coaches which took them to Stansted Airport. As well as the players and the coaching staff, three directors have made the trip - chairman Paul Stapleton, Phill Gill and Robert Dennerly - and there are 12 supporters who have each paid about £1,250 for the privilege of joining the official group.
The players and some of the fans were on one coach, the directors, coaches, media and the rest of the fans on the other. As the night drew on Sturrock treated the occupants of the second coach to some video entertainment - not "Braveheart", his choice in previous years, because of the number of Englishmen gleefully slaughtered by Scots, but Will Smith in "Ali". After two stops, at Gordano and South Mimms services, the coaches arrived at Stansted airport just after 4am yesterday, two-and-a-half hours before the departure of the Ryanair flight to Salzburg. Already in line waiting for the check-in to open were two Yorkshire-based Argyle fans, Neil Carhart and Paul Luxton, who had driven through the night from Leeds. The two intrepid members of the Green Army were equipped with tents for their expeditions to remote Austrian campgrounds - Carhart's was not quite dry following the Glastonbury festival three weeks previously - and they also had in their luggage the "Leeds Greens" flag, which has seen service at England's recent internationals at Sunderland and Middlesbrough. A handful of other Argyle fans travelling independently were on the same flight as the official party, which was met at Salzburg airport by one of the tour organisers, Willi Lackner, a former professional footballer, who guided the Pilgrims' two luxury coaches to Obertraun. Sturrock's men are staying at Bundesport und Freizeitrzentrum Obertraun, an Austrian government-run sports training centre which boasts facilities that far outclass those that Argyle had at their disposal in Scotland for the last two years. Everton and Dundee United were guests here last week, Fulham's youth academy are here now.
After a tour of the centre, lunch and a rest, Argyle went to work on the training pitch that has been reserved for them all week, at 4.30pm yesterday afternoon. A varied session lasting almost two hours started with some light jogging and then some short sprints before the players did their first serious shape work of the summer. With the pitch split into two zones, Sturrock supervised the left flank and Kevin Summerfield the right side. Time and time again the players practised moving the ball from back to front quickly down each wing, learning how to relate to one another and how to turn the manager's theories into reality. It was fascinating to watch. Later the squad split into two teams for a practice match using half the pitch, and they finished off with a dip in the river that runs past the centre to ease any tight limbs. Hard work in beautiful surroundings. It promises to be a tour to remember.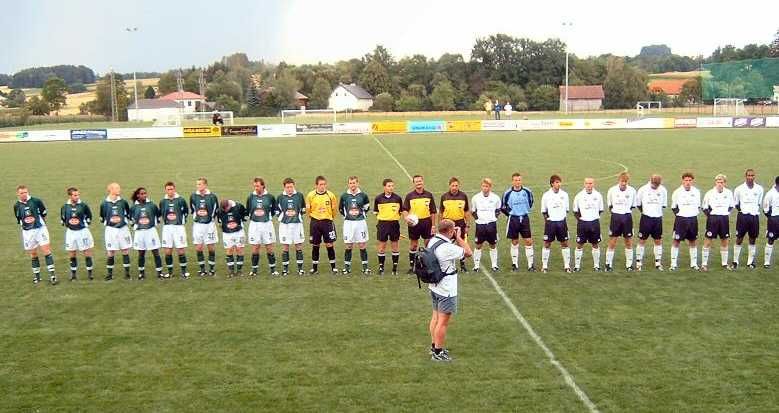 Argyle and Wacker Burghausen line up for the national anthems

TRAINING THE KEY FOR ARGYLE
Despite a journey from Home Park to the Austrian lakeside resort of Obertraun that took over 12 hours, Paul Sturrock put his players through a tough two-hour training session last night to prove that Plymouth Argyle's ambitious pre-season tour is by no means a holiday. The Pilgrims' manager put his players to work on the practice pitch about five hours after their arrival at Obertraun's sports training centre as he prepared for tonight's opening tour match against the German side Wacker Burghausen. However, injury problems mean that he will not be able to name a side for the fixture at Pettenbach until shortly before kick-off. "I can't really name a team for tomorrow yet," Sturrock said last night, "for the simple reason that I don't know yet."Striker Nathan Lowndes is suffering from shin splints but his biggest concern is central defender Hasney Aljofree."Hasney got an ankle injury in last week's St Blazey friendly," the manager explained. "It was going down OK but it's blown up again because of the plane trip. If he doesn't make tomorrow's game I'm hoping he'll be able to play on Saturday."Aljofree's injury is causing Sturrock mild concern because he only has two regular centre-backs, Graham Coughlan and Paul Wotton, on tour. But he said: "Paul Connolly's played centre-half, Peter Gilbert's played centre-half, and I'm toying with the idea of giving Lee Hodges a wee run there. And, as I've said, the results are immaterial, what matters is taking the basic content of training into the matches."
Tonight's opponents, Wacker Burghausen, play in Germany's Bundesliga 2, the equivalent of England's First Division. The game (5pm BST) is being played about 50 miles from Obertraun at the ground of the Austrian non-League side Union Sparkasse Pettenbach. Key players for Wacker include the Republic of Congo international striker Mahete Molango, the Brazilian midfielder Everaldo and the former Bayern Munich goalkeeper Uwe Gospodarek. "We're led to believe that they've played six or seven pre-season games," Sturrock said. "It's going to be a very difficult game."It is the training done this week, rather than the results secured, that matters most to Sturrock. "The facilities here are fantastic and the scenery is different class," he said. "So far we've picked the right spot."


TEN-MAN ARGYLE SUFFER DEFEAT

Wacker Burghausen 1, Plymouth Argyle 0
Plymouth Argyle's opening match of their pre-season tour to Austria ended in a narrow defeat to Wacker Burghausen and the Pilgrims also had a man sent off when Paul Connolly saw red for two rash fouls. For this game against the German Bundesliga outfit in the small Austrian town of Pettenbach, Paul Sturrock chose to make full use of his squad. The Argyle manager rested a number of senior players with Saturday's mini-tournament in nearby Schwanenstadt in mind, but there was still plenty of experience on the pitch. There were also plenty of Argyle fans inside Union Pettenbach's stadium, surrounded by fields on the edge of town. Well over 100 members of the Green Army, in a crowd of about 300, were loudly cheering on their team, and they easily outnumbered the supporters from Burghausen, which is only just over the German border.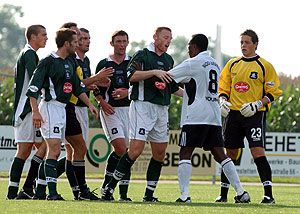 Graham Coughlan and Macchambes Younga-Mouhani square up

After the teams had lined up for the British and German national anthems, Wacker were the first to attack but the action was soon at the other end. Kay Wehner, the Germans' goalkeeper, was obliged to make smart saves inside the first three minutes from both Mickey Evans and Nathan Lowndes. Wacker were making good use of the flanks, though, and from one cross their centre-forward Stefan Reisinger put a header just wide. However, Argyle were putting together some decent moves and Evans put Jason Bent through for a shot which was saved by Wehner. The Germans' Brazilian left-winger Everaldo was giving Argyle's right-back Connolly a stern test as Wacker, who are only one division below the likes of Bayern Munich and Borussia Dortmund in the Bundesliga, grew in confidence and they took the lead after 29 minutes. A long kick from Wehner sent Macchambes Younga-Mouhani surging through the centre of the Pilgrims' defence and the striker easily clipped the ball past Luke McCormick, who had advanced off his line but then stopped. The young goalkeeper came to Argyle's rescue eight minutes later, however, when a ricochet left Reisinger with a clear chance, but McCormick saved at the forward's feet.
The temperamental Younga-Mouhani was making his mark in more ways than one. He sparked a brief scuffle which involved most of the two teams and was then fouled from behind by Graham Coughlan, before angering the Argyle fans with a crude gesture towards them. Wacker made nine changes at the interval and they soon had the advantage of an extra man as Connolly, booked in the first half for a foul, slid in on substitute Youssef Mokhtari. The defender looked crestfallen as he trudged off after the red card was shown. Argyle promptly replaced winger David Beresford with full-back David Worrell as they were obliged to switch to a 4-3-2 formation. The Germans, who had been on top for the last third of the first half, continued to look a classy outfit despite their much-changed line-up. The Pilgrims still had their moments, though, and Lowndes sent a shot just wide. Then, in the 54th minute, from a driven Paul Wotton free-kick, Evans had a back-header saved by goalkeeper Uwe Gospodarek. Blair Sturrock, playing his first friendly of the summer, and Tony Capaldi were given a taste of the action, with Lowndes and Brian McGlinchey making way. However, most of the possession was being enjoyed by the men from Burghausen, and McCormick was forced to dive to save a fierce shot from Ronald Schmidt. Capaldi pushed forward when Argyle had possession to give the men in green more of a threat in attack, but their breaks were becoming infrequent as Wacker were allowed to keep the ball for long spells. With their numerical disadvantage the Pilgrims were having to cover a lot of ground, and Jason Bent, also wearing green for the first time since last term, was working hard in midfield. With five minutes to go McCormick was called into action again, diving to his right to beat away a fierce shot from the dangerous Mokhtari. In the end the result was a fair one on the night, but Argyle were far from outclassed against capable opponents whose pre-season preparations are much further advanced than Argyle's.
Plymouth Argyle (4-4-2): L McCormick; P Connolly, P Wotton, G Coughlan, L Hodges; D Beresford (D Worrell 49), P Adams, J Bent, B McGlinchey (T Capaldi 71); M Evans, N Lowndes (B Sturrock 71).
Wacker Burghausen (4-4-2): K Wehner (U Gospodarek h-t); F Berger (M Forkel h-t), M Orum, S Fruhbeis (M Stark h-t), R Schmidt; M Oslislo (S Schmidt h-t), T Broich (B Hjertl h-t), D Rosin (R Bonimeier h-t), Everaldo (Y Mokhtari h-t); S Reisinger (M Molango h-t), M Younga-Mouhani (Z Grzybowski h-t).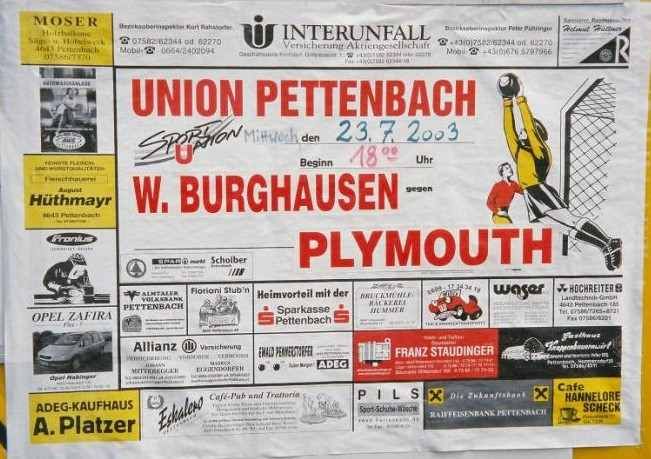 Advertising poster for Argyle v Wacker

LEARNING CURVE
Plymouth Argyle failed to make a winning start to their tour of Austria last night, but manager Paul Sturrock was not too dismayed by the night's events in Pettenbach. The Pilgrims were beaten 1-0 by the impressive German Second Division outfit Wacker Burghausen and they also had to play much of the second half with ten men after young defender Paul Connolly was sent-off for two rash challenges. The Argyle manager was displeased by Connolly's lack of composure and by defensive deficiencies which led to the loss of a goal - and by the pitch at the ground of Austrian non-League club Union Pettenbach."I was disappointed with the grass being so long," Sturrock said. "It really spoiled any idea that our winger David Beresford would be any use to us. He couldn't contribute to the game as much as we expected.But I was very pleased with the first 25 minutes. I thought we had three excellent chances. Their goalkeeper made a couple of great saves in the first ten minutes but then we were caught out by a long ball down the middle and that's unusual for us. Our goalkeeper understands that his positioning wasn't the best and that it cost us a goal," Sturrock added. "And after that the second half was totally ruined for us by a rush of blood by another young kid. He'll have to learn very, very quickly that that kind of thing won't be tolerated."
The manager took some comfort from the game, however. "I'm reasonably pleased, but I'm a wee bit disappointed we didn't score a goal. I thought we looked comfortable and our organisation and tactics worked very well in the first half, but in the second half (because of the sending off) we can't make a judgement." No one worked harder in the Argyle cause than their veteran centre-forward. "I thought Mickey Evans played very, very well," Sturrock declared. "A lot of people have come out with positives. Jason Bent did well too and his fitness level looked good, and Luke make some good saves." The manager made it clear, however, that McCormick has to stop costing the side goals by mistiming his advances off his line - and he also expects Connolly to learn from the mistakes that led to his early departure. "You can't condone stupidity like that," Sturrock added. "It was nonsensical. If he doesn't learn from that his career's going to be very, very short."

STURROCK TAKES TIME OUT TO ORGANISE ENTERTAINMENT
After a dramatic thunderstorm late on Tuesday evening, when almost continuous sheet lightning lit up the peaks of the Dachstein mountain range which tower over Plymouth Argyle's training camp, conditions were calmer when the players were put to work on the practice pitch yesterday morning. An hour after breakfast, the Pilgrims' squad began a 90-minute training session at 10.15am. The usual jog to warm up began proceedings, with every player taking part except defender Hasney Aljofree, whose ankle complaint had improved overnight but not to the extent that he could take any part in training or last night's match against Wacker Burghausen. It was sunny and hot, but with a breeze to provide some relief. After the warm-up the players were split into two groups, one in each half of the pitch, with the back four picked for last night's match working with players not selected to start in one group, and the midfield and forwards that started against the Germans in the other group. Then it was time for an early lunch - when another thunderstorm hit Obertraun - which was followed by a rest period for the players before the mid-afternoon departure for yesterday's match. The training session was watched by most of the fans who have travelled with the tour party to Austria. For them the privilege of close-quarters access to the players at work is clearly a treat.
Pilgrims' manager Paul Sturrock supervised the training session, but not before he had taken the time to chat to the supporters. He promised - or maybe threatened might be a better word - them some evening entertainment in the days to come. On the previous two years' tours to Scotland, Sturrock had taken great delight in organising bizarre sporting challenges for the fans, media and directors such as sliding on tea trays down the stairs of the team hotel, and racing small motor scooters up and down the main street of the quiet (until that night) town of Edzell. There are no facilities for repeat performances of those two activities here, but the sight of a set of hurdles on the running track that surrounds the training pitch sparked Sturrock's imagination. "We'll jump over those hurdles," he promised, "and then we'll limbo dance underneath them." We had been warned...Gary Hayward and Joanna Higginson, a young couple from Windsor, were among the fans listening with maybe some trepidation to the manager's plans. Unlike Joanna, Gary is not from Plymouth and supported Liverpool in his younger days, but since meeting Joanna he has been converted to the Argyle cause."To stay with the players for a week, and see the way they train, is a great experience," Gary said. "And the location, the set-up here, is ideal." Joanna added: "You get to see the players' personalities, which is very interesting."
Another supporter with the official party is Tony Pearce, a retired banker from Elburton, Plymouth. "I started watching Argyle when I was ten or 11-years-old, so we're taking about the 1951-52 season," he said. "The team was the same every week. I can remember it now: Shortt, Ratcliffe, Jones, Dougall, Chisholm, Porteous, Astall, Dews, Tadman, Rattray, Govan. There was no segregation then, so we used to get gates of 25-30,000 every week." It was a different era - and Tony's career choice brought him into contact with the club. "In '56," he continued, "I started work with what was then the National Provincial Bank, who were bankers to Plymouth Argyle. The bank had to pick up the money from the club after every Saturday game, first team and reserve games. In those days we could tell that, if we picked up £2,800, that would work out at a 28,000 gate." Tony's career with his bank, which became the National Westminster Bank, took him around the Westcountry but now that he has retired and is back in Plymouth he has invested in a season-ticket at Home Park. This is the first time he has seen the Pilgrims play abroad, however."I've been to Austria maybe 20 times in 20 years," he said. "It's my favourite country, and when I heard the team were going to go to Austria I thought it was too good a chance to miss."It's great," Tony added. "For the players, training in surroundings like this must be wonderful."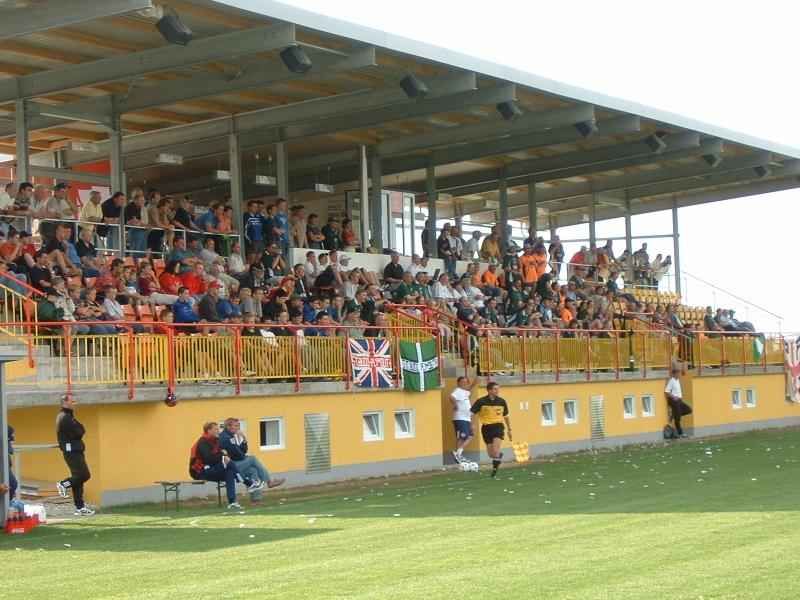 The stand at Pettanbach stadium

PILGRIMS' SONS DO THE CLUB PROUD AT TABLE TENNIS
After Wednesday's 1-0 defeat to Wacker Burghausen, there was nothing too strenuous about yesterday morning's training session at Plymouth Argyle's pre-season base beneath the mountains here in Austria. The whole squad began the session, as they have done every day, with some steady jogging. Then the players that were used in Wednesday's opening match of the tour made use of the camp's outdoor swimming pool while the rest of the squad put in some crossing and finishing practice on the training pitch. David Friio, Tony Capaldi, Marino Keith and the fit-again Hasney Aljofree all displayed their shooting skills, but it was Ian Stonebridge who earned a burst of cheering and applause from the watching fans with a superb overhead kick which found the corner of the net.
The squad got together again for some weights work in the sports centre's well-equipped gymnasium. Then it was time for lunch, after which the players rested in their rooms prior to the day's second training session at 5pm. That gave everyone else attached to the tour time to reflect on Wednesday's defeat to Wacker. It was far from an embarrassing loss, because Argyle were beaten by a very capable German Second Division side. There was also the encouraging news to digest that the Burghausen coach had reportedly said that the Pilgrims were a better team - more organised, fitter - than the Scottish Premier League outfit Dundee United, with whom Wacker had drawn 1-1 last week. Another aspect of Wednesday which impressed all within the tour party was the number of Argyle fans who had found their way to the match venue, the small Austrian town of Pettenbach. It was estimated that between 150 and 200 members of the "Green Army" were in attendance, and their presence certainly swelled the coffers of what was said to be the only open bar in the town centre during the afternoon.
As the 6pm kick-off time approached the fans marched across open countryside to the edge-of-town stadium and draped their flags across a fence behind one goal. The colours of the Leeds and North Devon Greens were proudly hoisted, along with a new flag paying homage to BBC Radio Devon's Gordon Sparks, who is something of a cult figure for the supporters and who was sharing match-announcer duties at Pettenbach. Predictably the bar at the top of the non-League club's stand - the only spectator accommodation - did brisk business. The fans were in good voice despite Argyle's defeat, and some swapped colours after the game with a few of the small number of Wacker fans who had made the short journey across the border from Burghausen.
Among the fans who have enjoyed the tour so far are four teenagers who are staying here at Obertraun with the team. Oliver Stapleton, Tom Dennerly and Terry Gill are all the sons of club directors, and they have been joined by James Ellis. They are the same age as the lads from Fulham's youth academy, who are also staying here, and the young players from the Premiership club proved no match for the Pilgrims' fans at one sporting activity. "Tom and I played a table tennis doubles match against two of the Fulham lads," explained Oliver Stapleton, the son of Argyle chairman Paul Stapleton. "We beat them 2-1, which was pleasing." One of the defeated Fulham pairing was the highly-rated striker Liam Rosenior, the son of Torquay United's manager Leroy Rosenior. "We played them both at singles as well, and beat them again," Tom Dennerly added. Stapleton Jnr has also been in action on the tennis court, where he took on his father on Wednesday morning. "We drew 6-6," Oliver said. "He was beating me 5-2 and then I got back to 6-6 and he wanted to call it a day!" All four of the teenagers, along with Terry's father Phill Gill and some of the Plymouth media, will also be involved in a football tournament tomorrow morning against pub sides from Obertraun village, and in a game on Sunday against Argyle fans staying outside the training camp.

NO TASK TOO BIG OR SMALL FOR LACKNER
Plymouth Argyle's pre-season stay at their Alpine training camp would have been a much more daunting prospect without the constant and reassuring presence of Willi Lackner, a former professional footballer for whom no task on behalf of the Pilgrims has been too small or difficult. Lackner, who has played and coached football for a living in Austria and the United States and has also worked as a school teacher here in his Austrian homeland, is the local representative of the Libero sports agency, the company which organised the tour. He was at Salzburg airport to meet the Argyle party early on Tuesday morning and he has been looking after everyone on the trip ever since. When food needs bringing to the table at meal times, Willi does it. When the players want mountain bikes to ride or tennis racquets to wield, Willi finds some. When the media men need help with communications problems at Argyle's match venues, Willi comes to the rescue. He has also been an essential part of the Pilgrims' coaching team here in Obertraun. With the club's goalkeeping coach Geoff Crudgington not joining the trip to Austria, Lackner has been looking after Argyle's two custodians, Romain Larrieu and Luke McCormick.
Lackner's route to the role of goalkeeping coach was a circuitous one, for he started out as a midfielder in his playing days. "I played for Admira Wacker in Innsbruck," the 48-year-old said yesterday, "but I suffered a bad ankle ligament injury when I was 21. I did not play for one and a half years, and then I went to play for Toronto Blizzard in the North American Soccer League in the late 70s. I played against Franz Beckenbauer and the Peruvian, Teofilio Cubillas. I did not play against Pele, but I have a signed shirt of his. It was a fine experience. I came back to Europe and played for a while in the Netherlands. As I got older I moved back and back, and I finished up as a sweeper. For my last seven years as a player I was in non-League football here with Hallstatt [near Obertraun]. I played until I was 42." When his days on the pitch were winding down, Lackner became involved in the Austrian government-run sports training centre where are Argyle are based this week, and which has been a popular summer destination for football clubs for a number of years. "I was just hanging around watching training one day," he said, "when a coach asked me if I could do some work with his goalkeepers. I enjoyed it, so I studied it a little bit more. I watched the goalkeeping coaches of every club that came here and I did some training courses."
He learned his new trade so well that he had three years as the goalkeeping coach at the top-flight German club TSV 1860 Munich, but the distance from home was too great and now he restricts his coaching classes to the Obertraun camp. Larrieu and McCormick have been given a tough but varied training routine by Lackner. Rolling under hurdles, jumping over the same hurdles with the feet together with what look like bunny hops, the two 'keepers have done it all, and they have received plenty of technical advice too. "Romain and Luke are very talented players," said Lackner. "Of course there has to be a number one and a number two, but Plymouth can be happy to have two goalkeepers of their class. "Romain, of course, is more experienced - and he is very, very ambitious. I think his future is up to him. He could become a great goalkeeper. Plymouth can only hope that they are promoted soon, because I think he is a goalkeeper of another class."


TWO GAMES OF ONE HALF FOR ARGYLE
Plymouth Argyle returned to the training field at their Austrian sports camp yesterday after Wednesday's 1-0 defeat to the German Second Division club Wacker Burghausen and stepped up the work rate as they prepared for tomorrow's mini-tournament in Schwanenstadt. The Pilgrims will face two opponents tomorrow but will only play 90 minutes of football. They will play 45 minutes against the hosts, Austrian non-League outfit SC Schwanenstadt, and then another 45 against top-flight Romanians, FC Petrolul Astra Ploiesti. Every player who did not feature against Wacker in Pettenbach on Wednesday can expect a game tomorrow. "Obviously there are certain players who didn't play the other night who will have to play on Saturday," said Pilgrims' manager Paul Sturrock yesterday, who added that he will not change his team between the two half-matches.
The Argyle squad were on the training pitch here in Obertraun for a total of almost four hours yesterday. A morning session from 10am to noon was followed by an afternoon work-out that lasted from 5pm until almost 7pm. The variety as well as the amount of the work was also evident, especially when the entire squad were together for the evening session, which consisted of stretching exercises, short sprints and, when the balls were brought out, some extended tactical work on the shape of the team. "Anybody who watched the training today would see that a bit of thought had gone into it," Sturrock declared. "We're working all week on things that will benefit the team all season." Bearing in mind the trip to Schwanenstadt, today's work-outs will be less taxing. "The training sessions will be slightly less strenuous tomorrow because we have a game on Saturday," he added. The only slight problem for Sturrock is that his squad are still picking up minor injuries. Hasney Aljofree was back in full training after an ankle problem but Graham Coughlan and David Norris both sat out training yesterday. Norris has had wee niggling injuries right through pre-season," Sturrock said. "Coughlan will be fine, though. He was rested today because he got a severely bruised heel in Wednesday's game."

PILGRIMS FACE TWO TEAMS
After two days of hard training mixed with relaxation on their Austrian pre-season tour, Plymouth Argyle are back in business on the pitch and taking on foreign opposition again today. Wednesday's 1-0 defeat to Wacker Burghausen was disappointing but not a disaster, considering the quality of the German Second Division side. However, the Pilgrims would like to taste victory at today's mini-tournament in Schwanenstadt, a town about 50 miles north of Argyle's base in the mountains at Obertraun. Argyle have 90 minutes of match practice today but face two different teams. At 4.30pm local time (3.30pm BST) they will take on hosts SC Schwanenstadt in a 45-minute game, and then at 5.30pm they have a game of the same duration against Romanian First Division FC Petrolul Astra Ploiesti. "Most of the players who did not play on Wednesday will be involved," said Argyle manager Paul Sturrock, "but there are a couple of positions that I'm still mulling over in my mind. I'll make a final decision on the team tomorrow morning."


STAPLETON TAKES STOCK OF PROGRESS MADE BY PILGRIMS
After spending four days in the fantastic surroundings of Obertraun with the Pilgrims' players, Plymouth Argyle's chairman Paul Stapleton is in no doubt that bringing the team to Europe for their pre-season tour has been a huge success so far. There may be some critics back home who will wonder whether the expense was worthwhile and ask if the money involved would have been better used on a new player, but Argyle chairman Stapleton is sure that the cost of the tour will be cash well spent. "Let's get the facts straight, for a start," he said last night. "The cost of the tour would only cover the wages of a top-class player for about a week. We're here because it's essential to bond together the players, the management, everybody, really. And we've brought along some fans who are helping towards the cost of the trip and they're having a great time as well." The chairman added: "We had two years in Scotland but it was time for a change. Everyone I've spoken to here has said that they are really enjoying it. The players like living together and they have all the sporting facilities they need here. The training pitches are first-class. They're a good bunch of lads and they've got this great team spirit, which is what has happened to Plymouth Argyle over the last two years."
This week in Austria, Argyle have been savouring facilities that are more commonly used by the likes of Everton and top-flight European clubs. Even the little details of the trip have suggested that the Pilgrims are now operating at a higher level. No one present could recall the team lining up for national anthems before a game, which is what happened prior to Wednesday's friendly against the German side Wacker Burghausen. Stapleton has not forgotten that Argyle have not too distant memories of life in loftier company. "We all remember those days in the old Second Division when we competed with the likes of Leeds, Newcastle and Blackburn," he said. "We were there with them but we've slipped down the ladder. Now it's time for us to try to get back up there again. We've watched the players training and we can see the camaraderie. We've seen what they do in training and thought: 'I wonder if that would ever work in a game? And then, as happened on Wednesday, we saw things they did in training being used in a game."
The chairman is guardedly optimistic about the Pilgrims' prospects of upward progress when the League campaign starts next month. "I'm like every other fan who wants the team to do better than last year" he said. "If we're sixth then we're in the play-offs, if we're higher than sixth then who knows? But I'm also a realist because I know there are a number of good teams in this league, and the fans have to understand that as well. My expectations and aspirations, though, are to be challenging in this league." Stapleton added: "Looking at the squad, we've got 21 players here and Martin Phillips back at home. All 22 of them can play in the first team. That's so different to a few years ago, when Kevin Hodges was the manager and he had to put himself and lads with no League experience on the bench for a game. That's how far we've come."

SIGHTSEEING TRIP DOES NOT SPARE PLAYERS FROM TRAINING
Ever since their arrival at their Austrian training camp on Tuesday morning, the Plymouth Argyle tour party have been gazing up at the rugged mountains which overlook their base here in Obertraun. Yesterday it was time to scale those heights. The players and the rest of the tour party did not have to indulge in any mountaineering, however. Instead they took a trip on the Dachstein cable car that ascends in two stages from Obertraun village to the 2,109 metre summit of Krippenstein. It is one of the peaks in the Dachstein range which towers over Argyle's training centre, and it is a mountain with a sombre history. A cross commemorates a tragedy that happened on Good Friday 1954, when a hiking party of ten schoolchildren and three teachers from the German town of Heilbronn lost their way and died in a snow-storm. Now, thanks to the cable car, the mountain is a much safer place to visit, and the Pilgrims' party enjoyed the stunning views from the top yesterday. North, and a long way down, was Lake Hallstatt and Obertraun. South, and a long way up, was the biggest peak in the range, the 2,985m Hoher Dachstein, with two huge glaciers on its flanks. Some of the group also took the chance to visit the Dachstein caves, where they saw some spectacular ice formations.
For the players, though, the afternoon excursion was not at the expense of a training session. "They're not getting a break," Argyle manager Paul Sturrock said during yesterday's morning session. "They're training again as soon as they get back. But it will give them something different to do instead of hanging around in their rooms all afternoon." As well as the cable-car trip, the non-playing members of the tour party were taking advantage of the excellent facilities available at the sports centre by holding a table-tennis tournament. Despite a heavily bandaged thigh protecting an injury sustained during football practice, Argyle chairman Paul Stapleton reached the final. However, he was no match for his son Oliver, 19, who won the event with a 21-15 victory. The same group will also be taking part in a football tournament this morning in Obertraun village, where they will be trying to uphold the reputation of club and country in three 30-minute matches against teams from bars in the village. Perhaps appropriately, the village pitch is adjacent to a circus. The players representing Argyle will be some of the fans who have travelled with the team plus members of the media and two club directors, Phill Gill and Stapleton Snr. The latter was claiming yesterday that his injury was making his participation in the football "doubtful", but his table-tennis performance suggested that his fitness is not too impaired.
The same players will be augmented by Argyle's physiotherapist Paul Maxwell - once a reserve-team defender for the Pilgrims - and their defensive coach John Blackley for a match tomorrow afternoon against a side drawn from the Argyle fans who have travelled to Austria but are not staying with the club at their training camp. The Argyle manager is not, it seems, expecting much in the way of quality football tomorrow afternoon. "It will be a good game to play in, but not a good game to watch," Sturrock said. And he will not be joining his fellow former Scottish international Blackley on the pitch. "I don't play with bad players," he growled. The presence of a number of Scots and Irishmen in the Argyle tour party is historically appropriate, because the Lake Hallstatt region which includes Obertraun was occupied by Celtic tribes in the first millennium BC. As one fan said when the Pilgrims arrived with Graham Coughlan and Marino Keith to the fore: "They're back."

GREEN AROUND THE GILLS FANS DO THE CLUB PROUD IN OBERTRAUN
After a Friday night quiz game at an Obertraun hotel hosted by BBC Radio Devon's Gordon Sparks, doing his best Bruce Forsyth impersonations, there was an early start on Saturday morning for some of Plymouth Argyle's tour party here in Austria. Some of the fans who have joined the official club trip, along with some of the media representatives, had volunteered to represent club and country in a football tournament in Obertraun village. Playing against teams from villages from around the Lake Hallstatt area, they won two and lost three of the five 20-minute matches they played. Watched by Argyle manager Paul Sturrock, who had cycled to the village pitch from the sports training centre, and managed by the club chairman Paul Stapleton, the team did not let themselves down against some quality non-League players. Stapleton's fellow director Phill Gill, who had just about dried out after being thrown into the training camp swimming pool by the Argyle players on Friday night, also claimed the best goal of the tournament with a fierce shot from 20 yards into the top corner.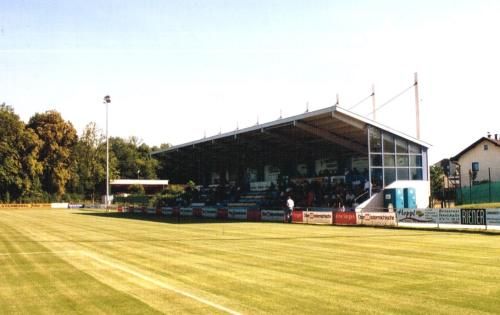 Schwan Stadion, Schwanenstadt

Then it was off to Schwanenstadt, 50 miles from Obertraun, for the serious business of the day: Argyle's two 45-minute games against Austrian and Romanian opposition. All the Argyle players were welcomed by around 150 Argyle fans when they warmed up, with Michael Evans earning a special mention. The big centre-forward now sports a Mexican-style moustache and a long-at-the-back hairstyle that could soon develop into a mullet. The fans greeted him with a "dodgy haircut" chant which was followed, much to the amusement of Evans' fellow substitutes, with: "Does your mother cut your hair?" Among the ranks of the Green Army were three London-based fans, Dan King, Toby Jones and John Lloyd. "We flew into Salzburg on Tuesday evening and took a turn around the city centre that night," Lloyd said. "Then we had a great time in Pettenbach on Wednesday watching Argyle. Everyone there was so friendly." Also making their presence felt in Schwanenstadt were the North Devon Greens, a group of ten lads and lasses who are here sporting their own tour T-shirts. They kept themselves amused during Argyle's game against the Romanians from Ploiesti by doing a conga behind one goal, and then disrupted BBC Radio Devon's coverage of the match by kneeling and bowing in front of commentator Sparks, who was for once rendered briefly speechless. Then duty called, and the North Devon lads were called away to play football against some fans from South Devon on Schwanenstadt's training pitch as the rest of the Green Army enjoyed a barbecue laid on by the host club.
As for the Argyle players, they and the rest of the official tour party enjoyed a night out in Salzburg on Saturday. That meant a late start to activities yesterday, when the club hosted an open day at Obertraun for all the Pilgrims' fans in Austria. On another scorching hot afternoon, the players were put through a public training session after a football match between Austria Argyle, a team of supporters staying with the club here in the sports training centre, and Green Army, a side made up of fans based elsewhere. Boosted by the talents of the Argyle coaches Kevin Summerfield and John Blackley (a former Scotland international) and physiotherapist Paul Maxwell, once a professional with the Pilgrims, Austria Argyle were too good for Green Army, who were augmented by a young Estonian footballer staying at Obertraun. Goals from Maxwell - a lucky long-range effort, according to the other side - director Gill and fan James Ellis gave Austria Argyle a 3-0 win. Asked for his post-match reaction, the ashen-faced Green Army player-manager Alastair McCulloch could only say: "No comment."


ARGYLE SUFFER IN AUSTRIAN HEAT
Plymouth Argyle and their hosts SC Schwan Schwanenstad from the Austrian Regionalliga kicked off Saturday's mini-tournament with a 45-minute match played under conditions that the Pilgrims will rarely, if ever, encounter in this season's Second Division campaign. The fact that neither side could break the deadlock was hardly a surprise, given the fact that the game was played in unforgiving sunshine and with a temperature of 32C. Both sides were clearly feeling the heat before the half-hour mark and scoring chances were few and far between throughout the 45 minutes. Midfielder David Norris, fit again after a thigh strain, had Argyle's first shot on target after six minutes but it did not trouble Schwanenstadt's goalkeeper, Wolfgang Wimmer. There was a moment of comedy after 15 minutes when the home side's striker Hubert Moseneder was penalised for a foul on Jason Bent. The referee initially showed a red card then, amid some embarrassment, realised his mistake and dug out a yellow - but not before Moseneder had reacted with horror upon seeing red. The Austrian part-timers were content to sit back and invite the Pilgrims to do most of the running - easier said than done in such punishing conditions. Ian Stonebridge set up Tony Capaldi for a shot that was deflected wide and Paul Connolly was off target with a header from a Capaldi free-kick as Argyle strived in vain for their first goal on tour. The nearest Schwanenstadt came to a goal was after 28 minutes when Moseneder broke through on the left wing and stroked the ball from an angle past Romain Larrieu. Peter Gilbert came to the rescue, though, with a superb sliding clearance off the line which kept the scoresheet blank at the end of the first of the three games of the tournament. There was a return to action on Saturday for central defender Hasney Aljofree, who had not played since injuring his ankle in the Pilgrims' first friendly at St Blazey.
Plymouth Argyle (4-4-2): R Larrieu; P Connolly, P Wotton, H Aljofree, P Gilbert; D Norris, J Bent, D Friio, T Capaldi; M Keith, I Stonebridge.
SC Schwan Schwanenstadt (4-4-2): W Wimmer; J Feichtinger, A Feichtinger (K Russ 43), P Roszavolgyi, K Irndorfner; J Brandstatter, H Stromberger, Y Alkan, G Struber; M Bleyer, H Moseneder.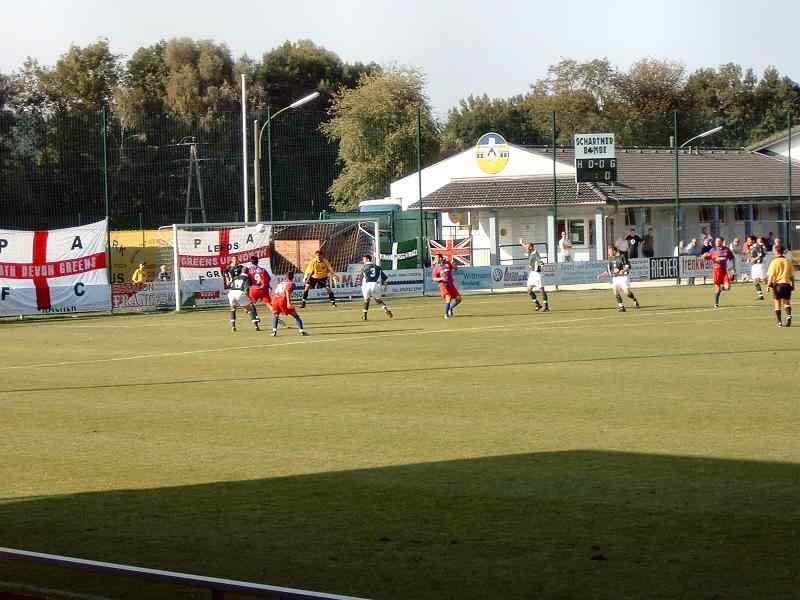 Action from Argyle v Petrolul Astra Ploiesti

Argyle found out the hard way on Saturday that the newly formed Petrolul Astra Ploiesti are likely to be a force in the Romanian league this season after a 1-0 defeat. After a break of 15 minutes following their draw with the host club, Argyle were back in action in their second 45-minute match of the Schwanenstadt tournament with just one change in their side. Graham Coughlan replaced Paul Wotton to play alongside Aljofree at the heart of the back four. It was soon evident that Ploiesti are an extremely accomplished side who on the day were a different class to the Pilgrims. Formed this summer following a merger of First Division Astra and Petrolul, who were promoted to Romania's top flight last term, they are expected to challenge for a UEFA Cup place this season. Utilising a wing-back formation and moving the ball around the pitch at speed with slick short passes, they rarely let Argyle have much in the way of possession. They also had the benefit of being fresh, while the Pilgrims were in effect playing their second half of the afternoon. Ploiesti were also not shy about dishing out some rough stuff, and one tackle from behind that left Ian Stonebridge on the deck in some pain angered the Argyle players.
But the Romanians were playing football too and Cornel Mihart sent a header just over the crossbar from a sixth-minute free-kick as the pressure built up. The Romanians' right-sided midfielder Cristian Craciun was evidently the best player on the pitch and most of Ploiesti's moves involved him. In the tenth minute his clever play set up Marius Pastor for a drive that went just wide. Giani Negoita struck a shot over the bar after good play by Mihai Dascalescu in the 17th minute, but it was not all one-way traffic and a minute later Coughlan was off target with a header from a David Friio free-kick. In the 20th minute, though, Argyle fell behind when Dascalescu was put through to beat Romain Larrieu with a low shot. The French 'keeper was being kept busy and two minutes later he tipped a shot from Pastor over the bar. The hot conditions prompted Argyle manager Paul Sturrock to make three substitutions, with Lee Hodges, Steve Adams and Blair Sturrock all joining the fray. Sturrock might have equalised within five minutes, but from Friio's pass he shot straight at the Ploiesti 'keeper Florin Olteanu. That was Argyle's last chance and they were indebted to Larrieu for a fantastic save to keep the margin of defeat to one goal. In the last minute Negoita's long-range shot from wide on the left took a deflection off Connolly, which forced the Frenchman to change direction. Yet he still reached the ball to claw it out of the top corner. Despite the discouraging results in the games played so far in Austria, Aljofree is convinced that the tour has been a good idea. "It's been brilliant. Everything about it has been different class. The team spirit and the training have been great and even if the results haven't been good this will benefit us in the long run."
Plymouth Argyle (4-4-2): R Larrieu; P Connolly, G Coughlan, H Aljofree, P Gilbert (L Hodges 28); D Norris, J Bent (S Adams 28), D Friio, T Capaldi; M Keith, I Stonebridge (B Sturrock 28).
FC Petrolul Astra Ploiesti (3-5-2): F Olteanu; L Dobre, D Petroesc, C Toporan; C Craciun, C Mihart, D Todoran, M Pastor, G Negoita; M Dascalescu, D Costescu.

ARGYLE HAVE WORK TO DO
Paul Sturrock has admitted that Plymouth Argyle still have plenty of work to do before they are ready to start the Nationwide League campaign. The Pilgrims play the final match of their pre-season tour at the Austrian amateur side Bad Ischl this afternoon. They fly home from Salzburg tomorrow before meeting Premiership Charlton at Home Park on Wednesday evening. On Saturday, Argyle finished as joint runners-up in the Schwanenstadt tournament after drawing 0-0 with their Austrian non-League hosts in the first of two 45-minute matches and then going down 1-0 to the classy Romanian side Petrolul Astra Ploiesti in the second. Ploiesti won the tournament by beating Schwanenstadt 1-0 with their reserves. The Argyle manager said: "It was good that certain players got their second game in the pre-season build-up. But it showed you that our sharpness is not there. "The other two teams, who start their seasons next weekend, were so far ahead of us it was frightening," the Argyle manager added. "We've not worked on set-pieces or done any finishing as a unit yet. We've done striker finishing but not finishing as a team on the training ground. We're a good two weeks away in terms of sharpness. There were also things, team-wise as a unit, that I was very disappointed in. We didn't play as a unit as I expected. The game got very long and there was no support for our front players, who I thought did very well. Marino and Ian were very lively in the first match."
It was an extremely hot afternoon in Upper Austria on Saturday and Sturrock said that the weather had not helped Argyle to play their normal game. "The sun and the amount of training we've done were both factors. It was very hot in the first game. We're a high-tempo team who like to close things down. It's still early days for us." The Pilgrims conclude their tour today when they play the Austrian non-League team Bad Ischl (not, as originally reported, Bad Aussee, who could not fulfill the fixture). Full-back David Worrell will play part of the game after missing Saturday's action with an ankle injury. Midfielder David Norris is also set to start after recovering from a thigh injury in time to play on Saturday, but Sturrock will not finalise his team until today. However, he is likely to rest a number of the likely starters against Charlton.


DIVERSIONARY TACTICS FOR TRAVELLING PARTY
After-dark diversions are few and far between in rural Obertraun, where Plymouth Argyle have spent the last week, so the Pilgrims' players were perhaps glad of the chance to take part in a quiz session on Sunday night. The word game which had baffled some of the non-playing tour party the previous week was no problem to the team led by Ian Stonebridge, who ran out winners on the night. The following morning, though, it was back to business on the training pitch on the last day of the club's pre-season tour to Austria. Those not involved in last night's match at Bad Ischl were given a diet of fitness work under physiotherapist Paul Maxwell, while the players on duty were put through a session of finishing and passing practice by coaches Kevin Summerfield and John Blackley. Then, after lunch and a rest for the players, it was off to the old spa town of Bad Ischl, a short lakeside drive away, for last night's friendly. The part-timers' ground was compact and attractive, squeezed in between the town's railway station and the fast-flowing River Traun. But the surprise for the Argyle players was the narrow pitch - only about 65 yards, according to manager Paul Sturrock.
The travelling Argyle fans were down in number compared to the previous tour games. There were 30 to 40 supporters present in a crowd of about 100. They were in good voice, though, with the ten-strong North Devon Greens contingent leading the singing. One chant, "There's Only One Gus Honeybun", has probably never been heard in the Austrian Lake District before. The same surely applies to "Ooh Aah Ambrosia." There were occasional delays to the match because, it seemed, the host club's supply of balls seemed to amount to two. This threatened to become a serious problem when one hefty clearance landed in the river. A man with a net on a long pole was dispatched into the surging water but to no avail, as the ball quickly vanished downstream. The shock of conceding the opener to the part-timers only briefly reduced the noise levels, and David Beresford's equaliser was greeted with acclaim - and some relief. After the game the Argyle fans joined forces with some local youngsters to cross the pitch in a long, staggering conga. The last sight before boarding the team coach was the North Devon Greens dancing and singing in the dressing room the players had just vacated. For the fans, the tour had been one long party .

MAXWELL HAS A PART TO PLAY
It has been very evident on Plymouth Argyle's pre-season tour of Austria that the club's physiotherapist, Paul Maxwell, is a key member of the Pilgrims' coaching and training set-up. Maxwell is responsible for the supervision of much of the club's training sessions, looking after the fitness work while manager Paul Sturrock and coaches Kevin Summerfield and John Blackley take care of tactical matters. He is also at the forefront of introducing new methods of sports fitness training to the club. For Maxwell, then, the chance to work in the advanced professional environment of the Austrian government-run sports training centre here at Obertraun has been one to savour. "You've got the initial benefit of the climate and the altitude that we're at, but as far as the facilities are concerned everything is here for us," he said. "We've got the gymnasium, which we haven't had in our previous two pre-seasons in Scotland. The lads thrive on it. I've taken the players into the gym through this week and they've absolutely loved it. "We've got the pitches right next to where we're staying, and there are warm-up areas. There's a pool and there's also a fresh-water lake which is ideal for after training to cool their limbs down." Maxwell added: "Everything's here - it's a perfect world for me. These are ideal surroundings. We'll move these back to Plymouth if we can."
The sort of training that Argyle do now is very different to the work being done a decade or two ago. "We started the type of work we're doing now the first pre-season Paul Sturrock was here as manager, when we went away to Edzell," Maxwell explained. "The sort of work we do with stretching, the way we warm up, the way we warm down, that all started two years ago. We've developed it from there. It's a slow process. Sometimes when new methods come in you try and do everything right away and that's when you get injuries. What we're doing is a progression. We're using a technique called Olympic weights now, which develops the power without making them big and muscular and which keeps the speed. We're just introducing this weights work now and having the facilities here has helped us do that. It's given me a chance to teach the players the techniques and give them an idea of where we're looking to go. It will take six months, a year to two years before they're doing it properly, but at least we're making progress. We're already looking sharp in training and you can see the benefits of what we're doing. I can only see it getting better, especially when the stadium at Home Park is finished and we have our own gymnasium and fitness area."
Maxwell has completed a two-year fitness trainers' award under the auspices of the Football Association, whose ideas he is now putting into practice. He is now playing a increasing part in running the fitness side of the squad's training sessions. "For a lot of physios the priority is the treatment of injured players, but here Paul Sturrock has let me have the input to do the fitness side of training as well. He lets me have full range, I love it." On Sunday we saw Maxwell the player, rather than Maxwell the physio, in action when he took part - and scored - for a tour party team in a football match against a fans' team during the club's open day. "I'd love to be a player again now," he said. It was a reminder of his days as a player at Argyle in the early 1990s, when he came through the club's youth scheme and was a reserve-team centre-half when David Kemp was manager. He had a year as full-time professional, but suffered when Peter Shilton arrived as manager. "I never played in front of him, that was the disappointing thing. I think I was one of 16 players he got rid of in the summer of 1992."
Maxwell had trials at Bristol City, Scarborough and Burnley without making a Football League appearance and was then given a chance by the Conference club Slough Town, who were managed by Kemp. "If I look back, maybe that was the wrong move. Maybe I should have stayed in the professional game. I lost my head a little bit and didn't do myself any favours. I then started floating around with Weymouth, Dorchester and local clubs in Devon and Cornwall. "That was when I started getting into the physio side. A friend of mine, the Torquay physio Damien Davey [the son of the former Argyle player Steve Davey], got me into it. I did a home-study sports therapy course, which took me about three-and-a-half years. "Once I qualified, John Sharp, the physio at Aberdeen, became my mentor. I spent a period of time up there with him, then went to Millwall as assistant physio for just over two years. Then the job at Argyle became vacant when Norman Medhurst left. Kevin Hodges was the manager and he gave me the opportunity, which I'll always be grateful for." Maxwell feared, though, that his new job back in Plymouth might have been short-lived when Sturrock arrived. However, Argyle's new boss had worked with Sharp during his time at Dundee United and had faith in Sharp's protege. "The gaffer's been great with me and we've got a good working relationship. Hopefully the benefits are going to show in the team."

PILGRIMS FINISH ON A LOW POINT
Plymouth Argyle ended their pre-season tour of Austria on a disappointing note last night when they failed to beat a team who would struggle to finish in the top six of the Carlsberg South Western League. After failing to hit the net in their earlier outings on tour, Argyle had been hoping to put that right quickly against the weakest team they faced in Austria. SV Bad Ischl play in the Zweite Landesliga, the second level of the Upper Austrian state league. Perhaps aware of their limitations, the hosts packed their defence from the kick-off on their narrow pitch, with their two wing-backs swiftly withdrawn to form a five-man defence.
Argyle had most of the possession and created a large number of chances, but failed to take any until after they had embarrassingly fallen behind to their part-time opponents. When Argyle were on target with their goal attempts, they were frustrated by Bad Ischl's schoolboy goalkeeper. The 17-year-old Alfred Fellner has been well educated by his club's coach Friedl Koncilia, who played in goal for Austria at the 1978 World Cup finals, and he made a string of superb saves. Fellner first came to Bad Ischl's rescue when he kept out a fine David Norris header from a Michael Evans cross. David Beresford was lively on the flanks and his cross set up Nathan Lowndes for a header which was well saved by the busy teenager. Lowndes headed straight at Fellner from close range following a Brian McGlinchey cross. Beresford, who had started on the right flank, was switched to the left of the attack before half-time as Argyle changed to 4-3-3.
Soon after the break Fellner was back in the thick of things as he saved a McGlinchey shot at the second attempt. Luke McCormick in the Argyle goal was almost a spectator, but he was beaten in the 55th minute when the hosts shocked the Pilgrims by taking the lead. Andrej Jarschinsky knocked in the ball in from the right, David Svarovsky took a swing at it but the last touch went to Christian Stangl, who deflected the Bad Ischl captain's shot past the helpless McCormick. Fellner was eventually beaten in unfortunate circumstances in the 64th minute. Lowndes found space on the right flank and crossed to Beresford, who lost the ball but then had a stroke of luck as Roland Sams's clearance struck him and rebounded into the net. Both Argyle forwards had looked offside in the attack. Fellner promptly made perhaps his best save of the night to keep out a Lowndes shot before Argyle ran out of ideas in the heavy rain. Paul Sturrock was not a happy man after the match. "I was very disappointed by the shape of the team and the leadership qualities shown by some experienced players," the Pilgrims' manager said. "The challenge was given to certain players in terms of the work they had to do, and they haven't risen to it. "The other team were there to stop us from playing and we didn't adapt to that kind of scenario. We got another game under our belts, that was the only good thing about the night."
SV Bad Ischl (4-5-1): A Fellner; E Radacher, C Stangl, H Haunschmid, R Sams, A Laimer; A Medera (B Hillebrand 75), A Satzinger, D Swarovsky, A Jarschinsky; G Schneider (P Adamec 70).
Plymouth Argyle (4-4-2): L McCormick; D Worrell, P Connolly, H Aljofree, P Gilbert (B Sturrock 68); D Beresford, D Norris, S Adams, B McGlinchey; M Evans, N Lowndes.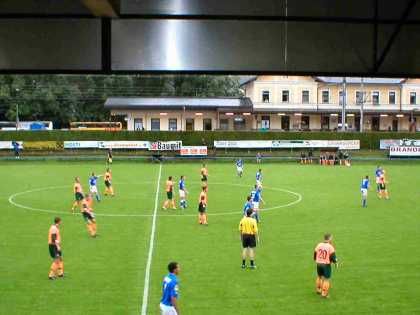 Action from Bad Ischl, with the railway station in the background

TOUR EFFORT WILL PROVE CRUCIAL
At first glance - looking only at the match results - Plymouth Argyle's ambitious pre-season tour to Austria, which ended yesterday, could be deemed something of a failure. No wins, and only one fluke goal scored against the weakest of the four opponents faced in three games. But the Pilgrims' manager Paul Sturrock emphasised before the trip that training, rather than match practice, was the priority, so it would surely be misguided or mischievous to ignore that edict and proclaim the tour a flop. The facts are that at the National Sport and Recreation Centre in Obertraun, the Austrian government-run establishment which was the Second Division club's base for a week, the Pilgrims found a training environment which was far superior to almost anything available in England or Scotland, where Argyle spent time in 2001 and 2002. The Pilgrims were put through one or two high-intensity training sessions every day as a key part of their build-up to the new Nationwide League campaign, which starts on Saturday week.
"The tour has been a great success," said Sturrock yesterday. "We got a lot of work done in fantastic conditions, with nothing getting in the way of the players' concentration." However, there were some aspects of the tour that were not to the manager's satisfaction. "We had one game too many," Sturrock added. "In the first game [a 1-0 defeat to the German Bundesliga Two side Wacker Burghausen at Pettenbach a week ago] the grass was too long and Paul Connolly got sent off." The second game featured two opponents at Schwanenstadt last Saturday: the Austrian non-League hosts in the first half (which ended 0-0) and the elite Romanians from Ploiesti in the second, which Argyle lost 1-0. "The problem was the sweltering heat," said Sturrock. "Then we had to play a real quality side after we'd had 45 minutes." The game too far was Monday's 1-1 draw at the lowly Upper Austrian state league part-timers Bad Ischl. "We turned up last night to see a pitch that was so narrow I wouldn't let my Under-17s play on it," said the Pilgrims' manager.
Despite such difficulties, plus the significant problem of meeting European teams with alien styles of play, Sturrock added: "I'm relatively pleased with the way it went, and I think the trip will be a big benefit in the weeks to come." A return visit next summer - maybe one day and one game fewer - is a distinct possibility, but the manager cautioned: "The first three months of the season will affect that decision. We'll see how that unfolds." For the Pilgrims' captain Paul Wotton, the tour was definitely worth the effort - and it was superior to the last two summers in Tayside. "We got some sun on our faces and the training conditions were a million times better than in Scotland," he said. "We got some really worthwhile training and some good bonding done. It was a very worthwhile exercise." The defender agreed that the match results had been a minus point, but he added: "You play football to win and unfortunately we didn't win, but it's all about what happens at home to Grimsby on August 9." That first League game, and all those that follow, will deliver the real verdict on the tour.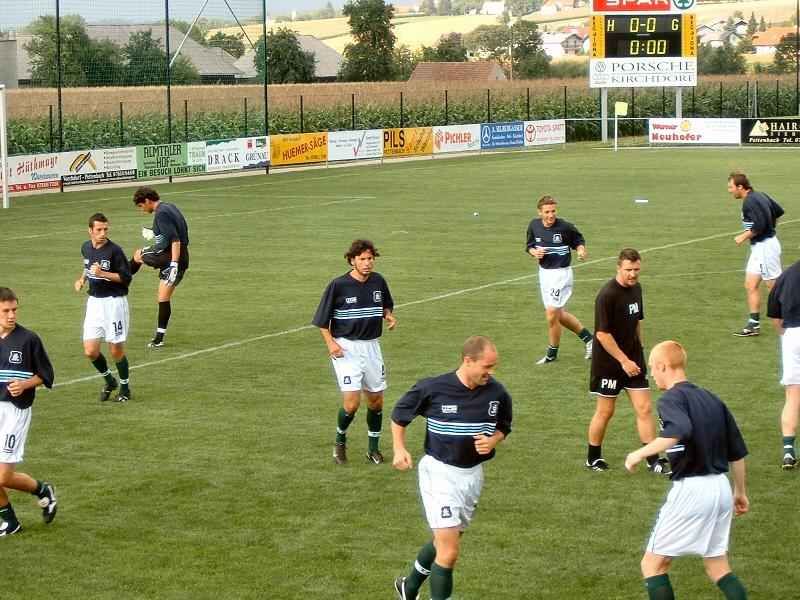 Paul Maxwell leads a pre-match warm-up