Back to

Austria 2003

Tour Home
Austria 2003: Evening Herald (Chris Errington)
PILGRIMS INTO EUROPE AFTER 13-YEAR BREAK
July 22
10pm: Two coaches leave Home Park for Argyle's first overseas tour in 13 years, since David Kemp's squad made the trip to Sweden in 1990. On the first bus are the 21 players, with the management, media and supporters on the second one. Both coaches have been stocked with sandwiches and savoury snack food by club sponsors Ginsters.
12.05pm: A 30-minute stop at a near-deserted Gordano Service Station near Bristol. Austria seems a long way away. Among the Argyle squad is midfielder Jason Bent, who returned to Plymouth on Sunday afternoon after playing for Canada in the CONCACAF Gold Cup in the USA. Unsurprisingly, he is feeling the effects of jet-lag.
3.00am: A 25-minute stop at South Mimms Service Station, on the M25 north of London.
4.13am: Arrive at London Stansted Airport. There is a 45-minute wait before the check-in commences for Ryanair's flight FR304 to Salzburg. Sturrock hands out the players' passports. Plymouth-born striker Mickey Evans has an Irish one. He was capped once by the Republic when he was at Southampton.
6.10am: Boarding for flight FR304 starts. Sturrock and Argyle director Phill Gill are delayed because they have to deflate 20 footballs before they can be taken onto the plane otherwise they could have exploded in mid-air.
6.55am: Take-off. The Boeing 737 jet soars over Essex and the North Kent coast before crossing the English Channel to mainland Europe.
8.18am (9.18am local time): Touchdown at Salzburg Airport after an 83-minute flight. The sky is blue and the temperature is already soaring.
9.55am: Two coaches leave Salzburg Airport to take the Argyle party to their Alpine training camp in Obertraun.
11.20am: Twelve hours and 20 minutes after leaving Plymouth, the Pilgrims reach their final destination, the Bundessport und Freizeitrzentrum, set in the shadow of the towering Dachstein Mountains and on the shores of beautiful Lake Hallstatt.
11.30am: The tour party are taken on a guided tour of the training camp, which is at an altitude of 400 metres above sea level. The players are shown the accommodation blocks and all the sports facilities on offer. Their rooms were only vacated two hours earlier by players and staff from Scottish Premier League club Dundee United, who had stayed at Obertraun for five days.
12.45pm: Lunch. To start with there is pumpkin cream soup or consomme with pancake strips. The main course is fillet of pork on a skewer, salmon steak or a meat and tomato sauce with pasta and broccoli. For dessert is home-made ice crean, fresh fruit or almond cake. A very promising start.
1.30pm: The players return to their rooms to sleep before the late afternoon training session.
4.40pm: Defender Hasney Aljofree is the only player to sit out training because of an ankle injury which was aggravated by the flight to Austria. The temperature is still in the 80s as physiotherapist Paul Maxwell takes the warm-up. The Argyle squad jog around the running track outside Obertraun's 'pitch two' before he supervises a series of stretching exercises - in the shade provided by some trees. Sturrock and assistant manager Kevin Summerfield each work with a group of nine players while goalkeepers Romain Larrieu and Luke McCormick get some specialist coaching from Willy Lackner, who works for the tour company who have planned the trip.
6.20pm: The training session comes to an end with a short practice match between the squad members.
7.15pm: The evening meal is held in the large dining hall. White cabbage meat pie is a popular choice for the main course with the apple strudel and cherries a particularly appetising dessert.
8pm: The players return to their rooms at the end of a long day, just as a fierce thunder storm breaks out.

NO LACK OF PRACTICE FOR ARGYLE KEEPERS AT AUSTRIAN BASE
Goalkeepers Romain Larrieu and Luke McCormick were given a tough introduction to Argyle's training camp in Obertraun. Only hours after arriving in the Alpine village, the pair were put through a strenuous 90-minute work-out by Austrian coach Willy Lackner. Larrieu and McCormick had to carry out several exercises to sharpen their agility and reactions. Lackner, 48, works for the tour company who have planned the Pilgrims' trip to Austria and often acts as a coach when clubs visit Obertraun. He was a defender in his playing days but started to specialise in goalkeeper coaching in the early 1990s. "VfB Stuttgart were training here and I was just watching them one day when one of their coaches asked me to take the goalkeeping exercises," he explained.
"That first year I found it a little crazy but after that I started to learn and watch all sorts of goalkeeping exercises." Lackner worked with SV Wacker Burghausen - Argyle's opponents tonight - and Dundee United when they stayed at Obertraun recently. But he was not called upon during Everton's visit last week because the Merseysides have their own goalkeepers' coach, former England shot-stopper Chris Woods. Lackner was pleased with the efforts of Larrieu and McCormick yesterday afternoon. "They worked really hard and did well," he said
HASNEY TO SIT IT OUT
Defender Hasney Aljofree was set to sit out Plymouth Argyle's opening match of their Austrian pre-season tour tonight because of the recurrence of an ankle injury. The Pilgrims are playing German second division side SV Wacker Burghausen in Pettenbach (5pm BST), 50 miles north-east of their training camp in Obertraun. Aljofree picked up the ankle injury in the 1-0 victory over Cornish part-timers St Blazey last Tuesday but it had been on the mend. That was until it flared up after the Argyle squad flew from London Stansted to Salzburg, close to the German border, yesterday. The 25-year-old did not take part in the afternoon training session and had his left ankle heavily strapped, although the injury was not thought to be too serious. Burghausen are regarded as one of the most up-and-coming clubs in Germany and will pose a severe test for the English tourists. They have two German under-21 internationals in their squad - midfielders Roland Bonimeier and Thomas Brioch. Argyle manager Paul Sturrock was hoping Aljofree would be fit to play in the three-team tournament in Schwanenstadt on Saturday. Sturrock said: "I'm a wee bit worried that Hasney has taken a knock which might over-extend some of my central defenders. We are going to have to think long and hard about how we cover them, for the simple reason we can't have them playing all the games. Hasney had a swollen ankle from St Blazey which was going down, but he has gone on the plane and it has just blown up big-time again. We are hoping if he doesn't make tonight then he might make Saturday. That would be the important thing." Sturrock admitted if he needed to ease the load on centre-backs Graham Coughlan and Paul Wotton he could try out Paul Connolly, Peter Gilbert or even Lee Hodges in that position. "I have toyed with the idea of giving Hodgie a wee run there, just to have a look at him at centre-half," said the Pilgrims' boss. "And, as I have said before, the results are immaterial. It's about the basic content of training we are taking into games and hoping we familiarise ourselves with each other."
Burghausen finished 10th in Germany's Bundesliga 2 last season despite having an inexperienced squad. They denied FC Cologne the league title on the final day of the campaign when they beat them to allow Freiburg to clinch the championship. Burghausen have signed several players during the summer, including 20-year-old striker Maheta Molango from Spanish club Atletico Madrid. They start their Bundesliga 2 season on Sunday week and have already played six warm-up matches. The most recent was a 1-1 draw against Dundee United last Thursday, when the Scottish Premier League club needed an 88th-minute equaliser. Sturrock said: "They have already played several times so it's going to be a very difficult game but we are all looking forward to it. "The facilities at our training camp are fantastic and the scenery is just different class so, so far, we have picked the right spot."
Nathan Lowndes has a shin splints problem and might not be risked against Burghausen but Blair Sturrock has made a good improvement from his groin injury. It had been feared the 21-year-old striker would not take part in any of the games on the trip to Austria. But his father said: "Blair has come back and is looking lively. That's a wee bonus because it means our strikers will not get over-taxed. "I was worried if we had Nathan and Blair out, we would have the same problem as with the defence."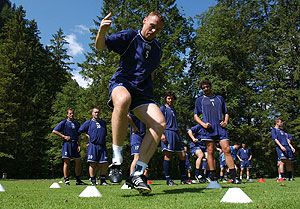 Graham Coughlan training early in the tour

ARGYLE PLAYERS ENJOY THE CALM AFTER BIG STORM
July 23rd
After the fierce thunderstorm and torrential rain last night, there is a much fresher feel at Argyle's training camp. Mist is hanging over the mighty Dachstein Mountains.
9am: Breakfast. There is the usual choice of toast, fruit and cereals, as well as sliced ham, cheese and bread.
10.15am: Training on Obertraun's 'pitch two'. By now the mist has cleared and the temperature is starting to soar. Defender Hasney Aljofree's swollen ankle is "a lot better" and he hopes to take part in training tomorrow. Argyle manager Paul Sturrock tells the players the starting line-up for tonight's game against SV Wacker Burghausen. Fulham's youth academy squad are also staying at Argyle's training camp. One of their coaches watches the training session. Argyle assistant boss Kevin Summerfield and defensive coach John Blackley work with the players who will be on duty tonight and the rest practice crossing and finishing with Sturrock. While they are doing that, one of Austria's top athletes is running around the track outside 'pitch two.' He is preparing for the 3,000 metres steeplechase at the World Championships in Paris next month. Defender Lee Hodges is the only Argyle player in a royal blue training top, with the rest of his team-mates in navy blue shirts. "They all got it wrong," he explained, none too convincingly. "How foolish must they feel?"
11.30am: Tonight's team are allowed to return to their rooms but those not in the starting line-up stay on for another half-an-hour.
12.45pm:Lunch. Broccoli soup or salad for starters. The main courses include roast leg of lamb, noodles filled with tomato and mozzarella and a vegetable sauce with spaghetti. For dessert there is cottage cheese strudel, semolina pudding or fruit.
3.00pm: A pre-match meal for all the players after spending the afternoon asleep in their rooms.
3.30pm: Depart for the opening game of the Austrian tour against Bundesliga 2 club SV Wacker Burghausen.
5.00pm: Arrive at the home ground of Union Pettenbach, who play in Landesliga 1, one of Austria's regional leagues. There is one small covered stand with a refreshment kiosk but the other three sides are open.
5.10pm: Sturrock has a conversation with Burghausen head coach Rudi Bommer in the centre of the pitch while both teams warm-up for the match. Many Argyle supporters are already inside the ground and some have hung a giant green and white 'Plymouth Argyle FC' flag on the netting behind one of the goals.
5.55pm: BBC Radio Devon's Argyle commentator, Gordon Sparks, reads out the Argyle team over the PA system, to the cheers of the travelling 'Green Army.'
6.00pm: The two sides emerge from the dressing rooms and line up in front of the stand. The British and German national anthems are played.
6.04pm: Kick-off. Argyle are wearing their new TFG Sports green and white strip while Burghausen are in the traditional German national team colours of white and black.
7.50pm: Full-time. Burghausen beat Argyle 1-0 with a 30th-minute goal from striker Mouhani Younga.
9.45pm: The Argyle squad return to their base at Obertraun and are soon in the dining hall for an evening meal.


PILGRIMS TAKE WACK BUT WIN BURG PRAISE
Argyle may have lost the opening game of their Austrian pre-season tour but Burghausen coach Rudi Bommer still sang their praises. The German Bundesliga second division side drew 1-1 with Dundee United last week but Bommer was more impressed by Argyle. He thought the Pilgrims were fitter, younger and much better tactically than the Scottish Premier League club. Bommer added it was the perfect way for Burghausen to end their pre-season preparations. It was their seventh warm-up match before the start of their league campaign on Sunday week, when they are at home to TSV Alemannia Aachen. Burghausen are used to British opposition because they have played Preston North End and Stoke City (twice) in pre-season friendlies over the last two years. For Argyle, though, it was a step into the unknown and, despite the 48th-minute dismissal of defender Paul Connolly, they gave a good account of themselves.
Anglo-German clashes on the football pitch are usually lively affairs and this one was no exception. Connolly was booked in the 28th minute for a tackle on striker Mouhani Younga, who scored the only goal of the game two minutes later. Younga was later involved in an off-the-ball incident with Pilgrims' centre-back Graham Coughlan.
There was some pushing and shoving between the pair before players from both sides rushed to the scene, although calm was soon restored. Worse was to follow for Connolly five minutes after half-time when his rash, sliding challenge on Youssef Mokhtari resulted in a red card. Argyle still created a couple of good chances after Connolly's sending-off but they could not grab an equaliser. Manager Paul Sturrock had insisted before the game he was more concerned about the team's performance rather than the result. So he must have been thrilled with the contribution of Jason Bent, on his return from international duty with Canada in the Gold Cup. He played alongside Steve Adams in central midfield and was very influential, with his passing and strong running as well as his ball-winning. Strikers Mickey Evans and Nathan Lowndes also stretched the Burghausen defence, especially in the first half. Both of them had scoring opportunities in the opening four minutes but goalkeeper Kay Wehner made two smart saves. In an eventful start to the match, Burghausen striker Stefan Reisinger headed narrowly wide from only six yards and Bent's low shot was pushed away for a corner by Wehner.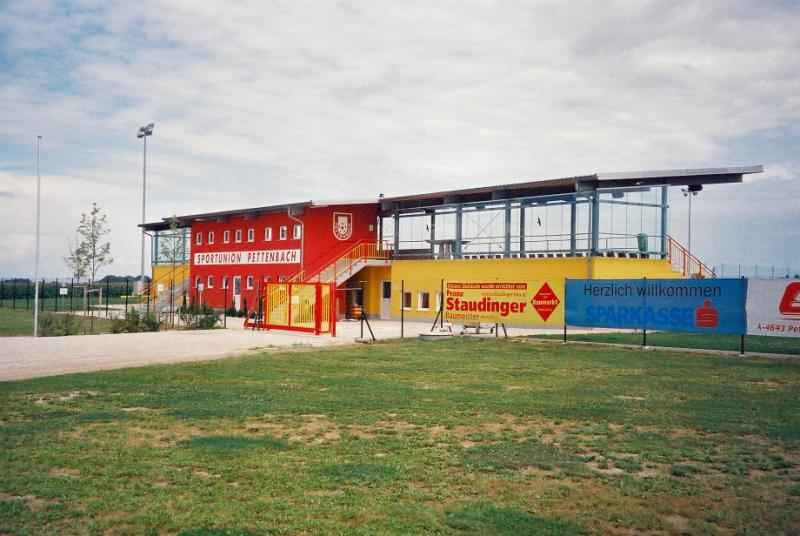 Pettenbach Stadium

Argyle goalkeeper Luke McCormick had not been seriously troubled until the half-hour, when the Germans took the lead. A long clearance from Wehner was not cut out by the Pilgrims' defence and Younga broke clear of skipper Paul Wotton. McCormick hesitated for a split second as he came off his line and the skilful but temperamental Burghausen striker lifted the ball over him and into the net. Wotton chased back but he could not get to the ball before it crossed the line. Sturrock was forced into a substitution after Connolly's dismissal, with winger David Beresford replaced by David Worrell, who slotted into the vacant right-back role. Initially, he continued with Evans and Lowndes up front and the Pilgrims almost drew level in the 54th minute. Evans met an inswinging free-kick from Wotton with a glancing header but Uwe Gospodarek - one of nine half-time substitutes used by Burghausen - swooped low to his left to keep the ball out. Gradually, the Germans started to take control and McCormick made fine saves from Polish striker Zbigniew Grzybowski, defender Ronald Schmidt and Moroccan midfielder Mokhtari.
Sturrock decided to try to stem the tide by playing Evans on his own in attack with Lowndes moving into midfield.
The Argyle boss then made a double change, with Tony Capaldi and Blair Sturrock sent on for Lowndes and Brian McGlinchey, and after that Burghausen were not so threatening. There was even a chance for the Pilgrims to equalise in stoppage time but a flick-on from Evans was fired wide by Sturrock.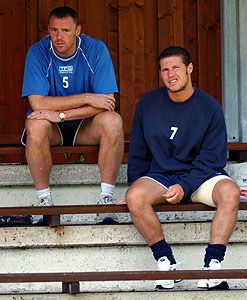 Coughlan and Norris sit out training due to injury

CONNOLLY SEES RED
Rookie defender Paul Connolly could be banned for the first match of the Nationwide League season after he was sent-off in Plymouth Argyle's 1-0 defeat by SV Wacker Burghausen last night. Argyle's opening game of their Austrian pre-season tour in Pettenbach was marred by the 48th-minute dismissal of Connolly for a second bookable offence. The first-year professional was ordered off after a rash, mistimed tackle on Burghausen substitute Youssef Mokhtari. Even though it was only a friendly, the sending-off is almost certain to lead to a one-match suspension. Under the rules of FIFA, football's world governing body, Connolly will have to serve that ban in a league fixture. That would be on the opening day of the new season against Grimsby Town at Home Park.
Burghausen, who play in Germany's Bundesliga 2, beat the English tourists with a 30th-minute goal from striker Mouhani Younga. Sturrock described Connolly's challenge on Mokhtari as "a rush of blood" and warned he must learn his lesson. Argyle midfielder Jason Bent, who spent one season in German football with FSV Zwickau, was confident the 19-year-old would put the disappointment of the red card behind him."Unless you know you are going to win that ball straight away, you can't just throw yourself into a challenge like that," said the Canadian international." He's a good player and he has got good people around him so I'm sure he will bounce back. I think if he had an opportunity to address the situation again he would do it differently. He was just over the halfway line but it's a learning experience." Sturrock substituted winger David Beresford for regular right-back David Worrell in a tactical move after Connolly was sent-off. "He will have to learn very quickly that kind of thing will not be tolerated,"said the Pilgrims' boss. "What he has done is change the object of the exercise. At the beginning, it was to get as much out of the game as possible and see shape and organisation, going forward and defensively. We finished up doing more shape and organisation defensively than we did going forward." He added: "We can't condone stupidity like that, it's just nonsensical. If he doesn't learn from that his career is going to be very short."
Sturrock also blamed the inexperience of goalkeeper Luke McCormick - the understudy to Romain Larrieu - for Burghausen's winning goal. The 19-year-old hesitated for a split second when coming off his line and that allowed Younga to flick the ball over him and into the net. "It's a strange thing for us to lose a goal down the middle," admitted Sturrock. "I have had a chat with Luke about it and he understands his positioning wasn't the best. It made it easy for the attacker to score. The central defence started it all off but Luke made a run and then stopped," he continued."Wottsie thought he was coming and stopped. There are too many times Luke has cost me a goal like that and it's something he's going to have to learn." There were several plus points for Sturrock, however. "I was very pleased with the first 25 minutes," he said. "We had three excellent chances early on and the goalie made two great saves. I thought Mickey Evans had a very good game and ran the line well. A lot of people have come out with some positives." Argyle are next in action on Saturday when they compete in a three-team tournament in Schwanenstadt.

PILGRIMS PRACTISE SHOOTING AFTER BURG DEFEAT
July 24th
8.45am: Breakfast. Goalkeeper Romain Larrieu reads a copy of the special Alpine edition of fanzine 'Rub of the Greens', which he has been shown by the Argyle chairman's son, Oliver Stapleton. Some of the players are complaining of horsefly bites, which they have picked up over the last couple of days.
9.00am: Captain Paul Wotton and striker Mickey Evans borrow a couple of mountain bikes to ride around the Obertraun sports training camp.
10.20am: It is another warm, sunny morning, Manager Paul Sturrock, assistant boss Kevin Summerfield and physio Paul Maxwell discuss the plans for training. Defender Hasney Alojfree trains for the first time since the squad arrived in Austria. He has recovered from a swollen ankle. However, centre-back Graham Coughlan (heel) and midfielder David Norris (thigh) sit out the session. Most of those who played in the 1-0 defeat by SV Wacker Burghausen the previous night have a gentle 30-minute work-out before going to the outdoor heated swimming pool. Nine players remain behind - Aljofree, Tony Capaldi, Paul Connolly, David Friio, Peter Gilbert, Marino Keith, Romain Larrieu, Luke McCormick and Ian Stonebridge. Larrieu is put through his paces by Austrian goalkeeping coach Willy Lackner. Sturrock watches from the sidelines as Summerfield and defensive coach John Blackley take charge of the other eight.
11.45am: The session ends with shooting practice, the first time Argyle have done that since pre-season training started two-and-a-half weeks ago. The nine players then follow their team-mates to the swimming pool, but not before Gilbert and Keith have to collect all the balls after both having an 'off' morning. "Gilly, you know there's a circus in town," shouts Sturrock to the loan signing from Birmingham City. Larrieu is sweating is profusely but has enjoyed his session with Lackner. "Germans and Austrians have a good reputation for goalkeeping coaches," he says.
12.30pm: All the Argyle players are in the impressive weights room, working under the supervision of Maxwell.
1.00pm: Lunch. The menu includes potato cream soup for starters followed by boiled rump with spinach and sauted potatoes, pancake filled with vegetables and corn or zucchini filled with meat.
1.30pm: The players return to their rooms to rest before the afternoon training session on 'pitch two.'
5.15pm: Coughlan and Norris also sit out the second session on the day. It is cooler and much windier than at any time in the week. Sturrock has spent the afternoon watching the latest leg of the Tour de France on television in his room. Maxwell takes the players for the first 40 minutes of the session. He starts with a warm-up and then moves on to speed and agility drills.
6.00pm: Argyle chairman Paul Stapleton wanders across to 'pitch two' with a heavy strapping on his left leg. He is suffering from a thigh strain after playing tennis with his son at lunchtime. While Maxwell is checking Stapleton over, Sturrock comments: "He's looking to see if there's a muscle in there." The quartet of David Worrell, Wotton, Aljofree and Gilbert have to defend against waves of attack, under the close scrutiny and tutelage of Blackley. One brilliant reflex save from Larrieu prompts a spontaneous burst of applause from the Argyle supporters who are part of the official tour party. While this is going on, Norris gently jogs around the running track with Maxwell.
6.50pm: The session finishes and the players are sent to take a walk in the river across the road from the sports training camp. Coughlan borrows a mountain bike for a short ride.
7.20pm: Dinner. Sturrock tells his squad they can "have a couple of beers" in the sports bar next to the dining hall before having an early night.


ALPINE AIR TASTES FINE TO STAPLETON
Chairman Paul Stapleton has been enjoying his first pre-season tour with Argyle. Stapleton was not with the squad when they travelled to Edzell, in northern Scotland, over the past two years. He is convinced the Pilgrims' Austrian adventure will be very beneficial for the players. "I know Paul Sturrock is a great believer in coming away for team bonding," he said. "I think in the last two years it has been very successful as far as the season is concerned. By coming to Austria it's something different for the players. It's not the same routine. We are surrounded by mountains and it's just amazing. It's almost like a picture postcard and they have got to be impressed by that. Paul Wotton told me he couldn't get used to the idea of Plymouth Argyle going abroad." Middlesbrough stayed at the Obertraun sports training camp last summer while Everton and Dundee United have been there this summer. "The big stars from the Premiership come here and use the facilities," said Stapleton. "If it's good enough for Everton it's good enough for us. I think it shows we have come a long way as a club, but you have always got to be conscious of cost. This will cost us some money to come here but, at the end of the day, if it aids our season then you are going to get increased revenue from gates, merchandise and everything else." He continued: "Hopefully this investment proves beneficial. In the past it was 'look, we haven't got any money, you are not going anywhere - Cornwall is about as far as you will go and you will drive your cars down there. We have to be sensible as a board but Paul Sturrock came to us and asked if we could do something different this year. John Blackley and Hasney (Aljofree) have both been here before and they said it was fantastic."
The state-owned sports training camp, a former army barracks, used to be restricted to only Austrians. But when it was partly-privatised five years ago it was opened up to foreign visitors. "The facilities are excellent and the training pitch is better than most of those we played on in the Football League last season," said Stapleton. "The players are really enjoying training in such good conditions. We had some rain on the first day but the pitch was perfect. They will not get blisters from this pitch or anything else, which they might do in England if it's a very dry period. The actual accommodation is good. It's not a like a luxurious hotel or anything, but it has all the facilities you need. There is a running track around the training pitch. There are tennis courts and all sorts of other activities." Stapleton has also been impressed with the catering at the Obertraun sports training camp. "Sometimes you have one good thing, say the training pitch, but the accommodation or food is not so good," he said. "Here it all looks to be excellent. I have got to say, looking at the players in training, they are quite fit already. I think they were probably fit when they came back for pre-season."

NO SCHWANEN ABOUT IN TRI-TOURNAMENT
SC Schwanenstadt, the host club of tomorrow's three-team tournament, play in the Regionalliga Mitte - one of three Austrian regional leagues. They are coached by 45-year-old Helmut Nussbaumer and finished third in the table last season. Schwanenstadt played Everton last Friday, while the Merseysiders were staying at the Obertraun sports training camp. Everton won 4-1 with goals from Tomasz Radzinski, Steve Watson and Italian trialist Patrice Pascucci, plus an own goal from defender Josef Feichtinger. Striker Radim Tichy got on the scoresheet for the home team. The friendly attracted a crowd of 1,200 inside the 5,000-capacity Schwan Stadion.
Schwanenstadt - Swan City in English - is a small town in Upper Austria. It is 389 metres above sea level and has a population of 4,500. Argyle will also face newly-renewed Romanian club FC Petrolul Astra Ploiesti. FC Petrolul have merged with SC Astra Ploiesti after they hit severe financial problems. Astra Ploiesti finished ninth out of 16 teams in Romania's Divizia A last season. Coach Florin Marin took over as coach in October 2002 when they were bottom of the table with one win and four points from seven games and comfortably led them to mid-table safety. Astra Ploiesti lost to Dinamo Bucharest in the two-legged semi-finals of the Romanian Cup. They won 2-1 at home but then lost 3-1 after extra-time in the return match. Dinamo scored in the 86th minute to take the semi-final into extra-time and got the decisive goal in the 120th minute. They went on to beat city rivals National Bucharest 1-0 in the final.

IT'S NO-GO FOR NORRIS
Plymouth Argyle are expected to compete in a three-team tournament in Schwanenstadt tomorrow without injured midfielder David Norris. Norris sat out the 1-0 defeat by SV Wacker Burghausen on Wednesday and missed both training sessions at the Pilgrims' training camp in Austria yesterday. The 22-year-old has been troubled by a series of niggling injuries in pre-season, the latest being a thigh strain. Defender Hasney Aljofree has recovered from a swollen ankle, however, and will play in tomorrow's two 45-minute matches. Argyle open the tournament against host club SC Schwanenstadt at 4.30pm local time (3.30pm). They then take on FC Petrolul Astra Ploiesti, from Romania's Divizia A, an hour later. Manager Paul Sturrock will choose the same side for both games. Schwanenstadt and Astra Ploiesti will play the third match at 6.30pm.
Sturrock could make as many as nine changes to the team from the one which started against Burghausen, but Norris is extremely unlikely to be one of them. "Chuck is a problem and we aren't sure if he will be ready for tomorrow," said Sturrock. "He has just had wee niggling injuries right through the pre-season. He had missed four or five days before we played Tiverton last week and it showed in the game." Defender Graham Coughlan also sat out both training sessions yesterday with a bruised heel but Sturrock was confident he would be fit for tomorrow. Sturrock added: "Near enough all of them who didn't play the other night will be involved tomorrow. It's a squad game rather than a team game at the minute."
The three-team tournament may be a new experience for most of the Argyle squad, but not defender Lee Hodges. He was a 19-year-old at Tottenham Hotspur when he played in a similar event at White Hart Lane. Real Madrid and Inter Milan, two of European football's biggest clubs, took part in the tournament, along with Spurs. Tottenham played both of them in 45-minute matches but failed to win either match. "I had just come back from my loan spell at Plymouth," recalled Hodges. "They played most of the first team but had a few kids in as well. I think I played about 10 minutes against Real Madrid and the full 45 against Inter Milan. It was an incredible experience for me to be playing against some people I had seen in the World Cup. It was a really good tournament." Inter Milan's team included goalkeeper Walter Zenga, midfielder Nicola Berti and striker Salvatore 'Toto' Schillaci, all Italian internationals. Tottenham lost to Real Madrid and then drew with Inter Milan before losing in a sudden-death penalty shoot-out. Hodges missed the decisive spot kick when he had his shot saved by Zenga. "I remember it was on Sky as well so it wasn't a very nice feeling - it was the last one I missed though," he said. Hodges does not know what to expect from Schwanenstadt and Astra Ploiesti. "It will be tough and they will probably be quicker and sharper than us but it's all good experience and getting geared up for the start of the league." Hodges has enjoyed Argyle's stay at the Obertraun sports training camp since they arrived on Monday. "The complex is unbelievable," he said. "We are training once or twice a day and it can only do you good to play against teams you have never played before."

LIFE'S A BEACH FOR ARGYLE'S FRENCH DUO
25th July
5.45am: Fulham's youth team academy squad leave the Obertraun sports training camp, waking up several of the Argyle tour party in the process.
8.45am: Assistant boss Kevin Summerfield is one of the first in the dining hall for breakfast. He is soon off to the training pitch where he works on some passing drills with midfielder Steve Adams before the first training session of the day.
9.15am: Skipper Paul Wotton cycles off to the supermarket in Obertraun village to get in some supplies for Mickey Evans and himself. "I'm rooming with Trigger, which is a long week, I can tell you," he says.
10.00am: Low cloud covers the Dachstein Mountains as physio Paul Maxwell takes the players for their warm-up. Defender Graham Coughlan and midfielder David Norris, who sat out training on Thursday, are both running around the outside of the pitch. Their team-mates carry out a series of sprinting exercises, with the players divided into two teams to add a competitive edge.
11am: Manager Paul Sturrock takes charge of a nine-a-side practice match. "Remember the things we have worked on over the last couple of days," he says. Coughlan and Norris do not take part, which suggests they are unlikely to play for Argyle in the three-team tournament against SC Schwanenstadt and FC Petrolul Astra Ploiesti tomorrow.
11.15am: Striker Marino Keith is slow to get up after a crunching, high tackle from midfielder David Friio.
11.25am: Sturrock calls a halt to the practice match and the players spend another 20 minutes working in small groups before returning to their rooms.
12.30pm: Lunch. The menu includes courgette soup for starters, seafood paella or venison for the main course and tiramasu for dessert.
1.30pm: Argyle's tour host (and part-time goalkeeping coach) Willy Lackner takes a group of players and supporters on a cable car trip to the top of 2,109-metre high Krippenstein. The players who reach the summit of one of the highest peaks in the Dachstein Mountains are Romain Larrieu, Hasney Aljofree, Graham Coughlan, Peter Gilbert, Lee Hodges, David Worrell, Steve Adams, David Beresford, Brian McGlinchey, David Norris, Marino Keith, Nathan Lowndes, Ian Stonebridge and Blair Sturrock. The cable car station is a short walk from the training camp. There is a stop at 1,300-metres before the steep, at times almost horizontal, journey is completed. From there, it takes 10 minutes to walk to the top of Krippenstein. There are only occasional wisps of cloud to spoil an otherwise breathviewing view of Lake Hallstatt, Obertraun and the surrounding area. In the opposite direction is the snow-covered Hoher Dachstein, at 2,985-metres the highest mountain in the Dachstein range.
4.05pm: The Argyle party start the descent from Krippenstein and in 25 minutes are back at their training camp
5.30pm: It is hot and sunny and the Pilgrims' squad are expecting another tough training session. Instead they are told by Sturrock they will be playing beach volleyball. Not surprisingly, that news goes down very well. The final sees Paul Connolly, Mickey Evans, David Friio, Romain Larrieu and Paul Wotton take on Peter Gilbert, Brian McGlinchey, Marino Keith, Paul Maxwell and Ian Stonebridge. Friio and Larrieu played volleyball when they were young in France and it shows as they impress. Their team ends up 10-4 winners, although there was an early scare for them as they trailed 3-1 in the early stages. Sturrock then orders all the players to take a dip in the heated outdoor swimming before sitting down to their evening meal at 7pm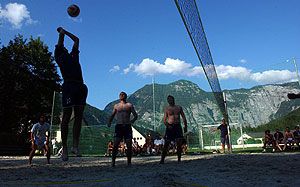 Beach volleyball proves popular with the squad

BENT READY FOR ACTION
Plymouth Argyle midfielder Jason Bent is ready and raring for the start of the new Nationwide League season despite a summer interrupted by international duty with Canada. Bent was in their squad for the CONCACAF Gold Cup in the United States earlier this month. He won his 30th cap for Canada in the surprise 1-0 win over Costa Rica but was ruled out of the 2-0 defeat by Cuba because of blistered feet. The Canadians failed to reach the quarter-finals so Bent was able to travel to Argyle's pre-season training camp in Austria with the rest of his team-mates. Despite his hectic schedule, the 26-year-old former Colorado Rapids midfielder insisted he was not feeling any fatigue. "I got some time off straight after the end of last season," said Bent. "I took a good five-and-a-half weeks out and got my rest there. The Gold Cup started off well. We beat Costa Rica, who are the 18th-ranked team in the world and a very good side. It was good to beat them but against Cuba we had nobody to blame but ourselves. We had loads of chances in that game but two bad mental lapses cost us. Even if we had scored a goal that would have put us through to the quarters against the US. And had we won or drawn we would have topped our group and played El Salvador, with a decent chance of getting to the semi-finals. Overall, it was a good experience for me and it was nice to put on the shirt again because I hadn't played for Canada since the previous Gold Cup at the start of 2002."
Bent played his first game of pre-season in Argyle's 1-0 defeat by German Bundesliga 2 side SV Wacker Burghausen on Wednesday. The match was marred by the 48th-minute red card shown to defender Paul Connolly for a second bookable offence. "I felt okay and my fitness held up," said Bent. "I was getting tired towards the end but the boys had to work really hard after the sending-off to keep our shape." Meanwhile, skipper Paul Wotton believes Argyle's training camp in the Austrian village of Obertraun has already been an outstanding success. "It's fantastic here and the lads love it," he said. "We have been to Edzell (in Scotland) the last two years but with all due respect this is unbelievable. The training is brilliant, the pitches are superb, we have had great weather and the scenery is magnificent, as I'm sure people will have seen with Dave Rowntree's pictures in the Herald back home. It's good for team spirit for the lads to be together for a week and it's nice to get some sun on your face when you are training. "It hasn't been ridiculous heat but it's warm and, like I say, the training facilities are second to none. We are all really enjoying it." Wotton believes the fact Argyle have travelled to Austria for a training camp shows the progression of the club under manager Paul Sturrock and the present board of directors. "It feels like you are playing for a proper club now, whereas before it just wasn't like that," said Wotton.

FIT OF THE NIGGLES
Midfielder David Norris is hoping to put some niggling injuries behind him with the new Nationwide League season now less than two weeks away. The 22-year-old admitted it was frustrating to have picked up hamstring and thigh strains in recent weeks. But he was encouraged to have completed both 45-minute matches for Argyle in a three-team tournament in Schwanenstadt, Upper Austria, on Saturday. The Pilgrims drew 0-0 with host club SC Schwan Schwanenstedt and then lost 1-0 to Romania's FC Petrolul Astra Ploiesti. Norris sat out two days training last week with a thigh strain, but passed a fitness test on Saturday morning. He will probably play in the last game of the tour, against Austrian part-timers Bad Ischl tonight (5pm BST), as he tries to improve his match sharpness. Norris said: "I was tired for the last 25 minutes, but to get through it and get a game under my belt is good on a personal note. I think I was a little sloppy a couple of times near the end but, hopefully, with a few more games my sharpness will come. I was pleased to come through it with no effects from the injury. I haven't had a pre-season like this before. I had a slight hamstring and then a thigh strain and I'm not used to things like that. Even though they have only been for a couple of days each they have set me back a little bit."
Argyle struggled to cope with the scorching heat in Schwanenstadt as the temperature topped 30 degrees. Their performances in both matches were below-par, but the weather was a mitigating factor. "It was incredibly hot," said Norris. "We aren't used to these conditions and maybe the other teams are more used to it than us." The former Bolton midfielder was disappointed Argyle failed to beat Austrian regional league side Schwanenstadt. "I think we were the better team although we only created a couple of chances," he said. "We definitely should have beaten them. The heat had an effect because there is only so much you can do in these conditions but we should still have won." Norris admitted. Astra Ploiesti, who won the tournament after beating Schwanenstadt 1-0 in the final game, had been a class apart from Argyle. There was no disgrace in that, though, because they are tipped to finish in the top four of Romania's Divizia A this season. "They were really sharp," said Norris. "They were a better team and it was just up to us to put the work in, close them down and got our shape right. They were playing one-twos all the time when they were getting forward. The sharpness and the movement wasn't what we are used to back home."
The game against Bad Ischl tonight gives Argyle the chance to get their first win on tour after losing 1-0 to German Bundesliga 2 club SV Wacker Burghausen last Wednesday. The Pilgrims will then return to Plymouth in the early hours of tomorrow before playing Charlton Athletic at Home Park on Wednesday. Norris and the rest of his team-mates have enjoyed their time at the Obertraun sports training camp. "Even if the results haven't gone our way we have got the games under our belts and it has been really good for team bonding," he said. "The lads have all had a good time together and the facilities have been fantastic. I have enjoyed it." Winger David Beresford, midfielder Brian McGlinchey and strikers Mickey Evans and Nathan Lowndes are all expected to start against Bad Ischl and defender David Worrell, who sat out the three-team tournament with an ankle injury, could play.

THE PARTY TENT IS OPEN, PLEASE STAY TO DRINK BEER
8.45am: It is sunny and already very warm as the Argyle players have breakfast at the Obertraun sports training camp.
9.00am: A group of supporters and media on the official tour party take part in a nine-a-side football tournament against five local Austrian teams in Obertraun - Ernis Beisl, Gmunden, Hollwirt, Polreich and Steiter Hof. Each game is played over 20 minutes and Plymouth make a promising start, winning two of their opening three matches, but then losing the last two. Argyle chairman Paul Stapleton is the team manager while Paul Sturrock comes along to lend his support for a couple of the games. The squad was: Andy Pearce, Steve Hill, Ollie Stapleton, James Ellis, Terry Gill, Tom Dennerly, Chris Errington, Phill Gill, Roberto Fattori, Dave Rowntree.
10am: The Argyle players have a light training session before the three-team tournament in Schwanenstadt this afternoon. Midfielder David Norris passes a fitness test after a thigh strain, but David Worrell will not be risked because of an ankle injury he suffered in training yesterday.
1.00pm: The Argyle squad have a pre-match meal before leaving for the 50-mile trip to Schwanenstadt.
4.00pm: The heat is fierce as the Pilgrims carry out their warm-up in the thin sliver of shade from the main stand at the Schwan Stadion.
4.32pm: The temperature is 32 degrees centigrade as the first game gets under way. There are around 150 Argyle supporters, mainly sat in the shade of the main stand.
5.35pm: After drawing 0-0 against their Austrian hosts, Argyle return to the pitch following a 15-minute break to take on Romania's FC Petrolul Astra Ploiesti.
6.23pm: The second match of the tournament ends in a 1-0 defeat for the English tourists. Sturrock takes his players into the far corner of the training ground next to the main pitch and is clearly unhappy. The voice over the public address system tells the supporters: "The party tent is open, please stay a little longer and drink some beer with us." Not surprisingly, many of the fans take up the offer.
7.15pm: Astra Ploiesti win the tournament by beating Schwanenstadt 1-0 with a completely different team to the one that played against Argyle. Food has been provided for the Pilgrims' players in the smart clubhouse. Just below the ceiling hangs a green and white Argyle scarf, which has been donated by one of the visiting supporters.
7.40pm: The Argyle squad board the team bus and travel to Salzburg, where they enjoy a relaxing night out on a balmy summer's evening. After their night out in the scenic city of Salzburg the Argyle players are given the morning off.
12.30pm: Lunch. The temperature has already soared past 30 degrees centigrade again.
2.15pm: Argyle throw open the gates to their Obertraun sports training camp to supporters who have been staying in Austria during the tour. There is a 20-minute each-way football match between an Argyle XI and the 'Green Army.' It is played in stifling heat and the Argyle XI includes assistant manager Kevin Summerfield - with knotted hankerchief on his head - defensive coach and former Scottish international John Blackley and physio Paul Maxwell. The Argyle XI win 2-0 with goals from Maxwell and Argyle director Phil Gill.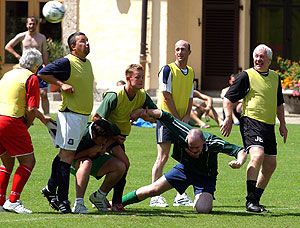 The Argyle XI 'warm-up'

3.00pm: It is time for the professionals to be put through their paces but as it is so hot the open training session does not last long. The players do some stretching exercises and sprinting drills but manager Paul Sturrock is anxious not to over-work them after the three-team tournament in Schwanenstadt yesterday.
4.00pm: The Argyle squad have the rest of the afternoon off. Defender Peter Gilbert and midfielder Tony Capaldi play tennis while others take a dip in the swimming pool and cycle around on one of the mountain bikes at the training camp.
7.00pm: Dinner. After a busy period of training and games it has been a more relaxed day. But there is still one more match to be played, tomorrow night, before the Pilgrims return to Plymouth.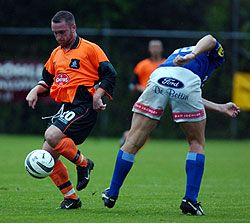 Action from Bad Ischl and a debut for the new away kit

BAD NIGHT FOR GREENS
Only a fluke goal from winger David Beresford saved Plymouth Argyle from an embarrassing defeat by Austrian part-timers SV Brandl Bau Bad Ischl last night. An attempted clearance from defender Roland Sams in the 65th minute hit Beresford on the shins and the ball bounced tamely into the net. Argyle manager Paul Sturrock kept his players out on the rain-soaked pitch for several minutes as he made his thoughts clear to them. Sturrock was also the last one out of the away dressing room but, even so, he could not contain his anger. "There are certain players out there who know what the story is and what they need to do and there seems to be no change," he said. "That's the annoying thing because if they don't do it, they will not play. If I was in a scenario where I knew I had to do A, B, C, D to get a game I would do that. As it is, they aren't doing it. I just look at them and say to myself 'what's the story here.' It's very strange."
Bad Ischl, who play four divisions below the top flight of Austrian football, punished Argyle for some poor finishing by taking a surprise 56th minute lead. Defender Christian Stangl grabbed the goal for the Austrians, who were playing British opposition for the first time. Sturrock said: "We had experienced players out there who didn't contribute to what was needed to win that game, and we obviously missed too many chances as well. It was a tight pitch and when you have got 11 bodies behind the ball when your back four has got it it's very difficult. That's no excuse. I was very disappointed with the shape of the team and the leadership qualities shown by some of the experienced players."
All nine of Argyle's unused substitutes are expected to start the Pilgrims' next pre-season game against Charlton Athletic at Home Park tomorrow but Sturrock insisted that despite last night's shambolic display, it did not mean they were certain to play in the opening Nationwide League game of the season on August 9. "It doesn't mean anything," said the Argyle boss. "I was disappointed with three or four of their performances on Saturday." Argyle returned to Plymouth today having failed to win any of the four games on tour but Sturrock was not too concerned about that. They lost 1-0 to SV Wacker Burghausen and FC Petrolul Astra Ploiesti and drew 0-0 with SC Schwan Schwanenstadt before meeting Bad Ischl. "It has been a hard week and we have done a lot of work in training, which will benefit us as the season goes by," said Sturrock. "What disappoints me about this game is that this team were there to stop us from playing and we didn't adapt to that kind of scenario. Our young players were very naive. They didn't read the situation and adapt to what was needed." He added: "We have played a team that has played near enough 3-6-1 against us, and the one still got goal side of the ball. Our back four haven't adapted to that and not really contributed to going forward enough." Sturrock admitted the narrow pitch, which was only 65 yards wide, had caused Argyle particular problems as Bad Ischl packed their defence from start to finish. "I have never witnessed a pitch like that in my life," said the former Scottish international striker.


ALFRED THE HERO IN ARGYLE'S BAD NIGHT
Seventeen-year-old goalkeeper Alfred Fellner was the hero for Bad Ischl as the Austrian part-timers held out for a draw against Argyle last night. Fellner made a series of outstanding saves to thwart the Pilgrims, who were playing the final game of their pre-season tour. But Argyle were also guilty of some woeful finishing in front of goal, which only reflected their shambolic performance. Bad Ischl, who play four levels below the top flight of Austrian football, tried to frustrate the English tourists from the start. They only played with one striker and packed the rest of the team behind the ball whenever Argyle were in possession. That tactic proved especially difficult to overcome because the pitch was only 65 yards wide. Even so, Argyle created more than enough chances to have won the game comfortably and ended the tour on a high note. In the end, they were probably relieved to walk away with a 1-1 draw after conceding a 56th-minute goal from defender Christian Stangl.
Argyle manager Paul Sturrock made seven changes to the side which started the three-team tournament in Schwanenstadt on Saturday. The only survivors were defenders Hasney Aljofree, Paul Connolly and the on-loan Peter Gilbert, as well as midfielder David Norris. Connolly slotted into central defence with Aljofree because Paul Wotton and Graham Coughlan were saved for tomorrow's home pre-season clash with Charlton Athletic. Right-back David Worrell returned after an ankle injury, which was one of the few plus points of the evening. Argyle totally dominated the first half and even though Bad Ischl packed their defence they still allowed the visitors countless chances. Fortunately for them, Fellner has obviously learned a lot from their coach, former Austrian international goalkeeper Friedl Koncilia. He was first called to the rescue in the 14th minute when a pinpoint cross from Mickey Evans found Norris but his firm header was superbly parried away by the schoolboy shot-stopper. Fellner made another excellent stop eight minutes later, this time from Evans' strike partner Nathan Lowndes. He met a left-wing cross from David Beresford but his firm header was kept out by the Bad Ischl keeper. Beresford and Gilbert both had shots over the bar before Lowndes wasted a clear-cut chance in the 31st minute. Midfielder Brian McGlinchey made a good overlapping run and his cross found Lowndes unmarked but he could only head the ball straight at Fellner. There were further opportunities for McGlinchey and Evans before half-time but they could not hit the target.
Argyle switched to a 4-3-3 system at the start of the second period with Beresford pushed into the attack, leaving McGlinchey, Norris and Steve Adams in midfield. McGlinchey saw a deflected shot saved by Fellner two minutes after the interval before Argyle keeper Luke McCormick was tested for the first time. Wing-back Alex Laimer got behind the Pilgrims' defence but McCormick charged off his line and made a good block. However, Bad Ischl found a way past McCormick in the 56th minute when Stangl applied the finishing touch after a mis-hit shot from their Czech skipper David Svarovsky. Even the home players seemed surprised to have taken the lead against the Nationwide League Division Two club. Norris and Aljofree both should have done better with shots which flew over the bar and Fellner turned away a powerful strike from McGlinchey. Argyle finally got the first goal of their Austrian tour in the 65th minute but there was more than an element of good fortune to it. Bad Ischl's appeals for offside were in vain as Lowndes raced clear down the right wing and squared the ball to Beresford. He took the ball around Fellner but by the time he had done that one of the home team recovered to make a sliding tackle on the winger. Defender Roland Sams tried to clear his lines but the ball ricocheted off Beresford and into the net. Fellner's best save of the match came within a minute of the equaliser. Lowndes' fierce drive was destined for the top left corner until the keeper clawed it away at the last moment. Gilbert was substituted for Blair Sturrock in the 68th minute, with McGlinchey filling the vacated left-back role. Sturrock was moved into the attack with Evans and Lowndes and Beresford into midfield but the changes did not much of an effect. Argyle were repeatedly trapped by Bad Ischl's offside trap and only had one more chance to get a second goal. Norris's low angled shot in the 85th minute was fumbled by Fellner - his one mistake of the game - but no-one in a tangerine shirt was following up and the ball dribbled out for a corner.


'SIR' SPARKSY FALLS SILENT AS GREEN ARMY TROOPS PAY THEIR OWN TRIBUTE
It is not often Gordon Sparks is lost for words - but he was when he arrived for Argyle's opening game of their pre-season tour in Austria. BBC Radio Devon's Argyle commentator was greeted by the sight of a large banner behind one of the goals which read 'The Sir Gordon Sparks Stand'. "What can I say, it's an honour," said the lifelong Pilgrims' fan. "Apparently, they are going to take it to all the away games next season but they thought they would give it a debut in Pettenbach." Sparks was cheered by the boisterous travelling 'Green Army' when he read out the teams over the public address system before the game against SV Wacker Burghausen last Wednesday. "All I can put it down to is what I believe to be the very good local brew," he said. "Sadly, I couldn't taste it because I was driving but it seemed to go down well. "It was good to see all the fans in good humour even though Argyle were beaten."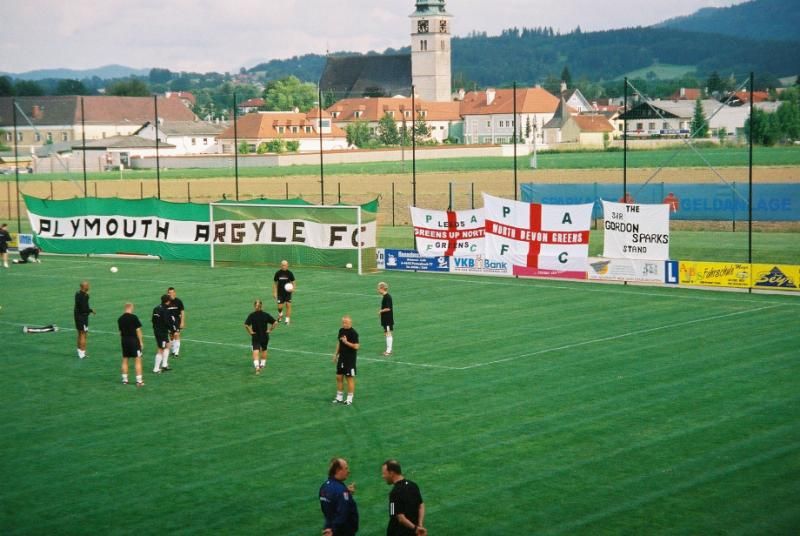 Flags on Tour: Steve Riggs' monster, Leeds Greens, North Devon Greens and the 'Gordon Sparks Stand' flag

AUF WIEDERSEHEN TO AUSTRIAN ADVENTURE
6.00am: The Argyle squad meet up for breakfast in the dining hall. There is a choice of cereals, boiled or scrambled eggs, thinly sliced cheese and ham and as much toast as they can eat.
6.40am: Two coaches leave the Obertraun sports training camp, Argyle's home for the last eight days. One is for the players and the other for the management, media and the supporters who paid to travel with the tour party. Willy Lackner, the Pilgrims' genial tour host and goalkeeping coach for the week, sends them off with the message: "Hope to see you again," he says
7.58am: Arrive at Salzburg International Airport. After checking in and collecting their boarding passes some of the players buy reading material for the flight home. Goalkeeper Romain Larrieu gets a copy of L'Equipe, the French daily sports paper. While they are waiting to move into the departure lounge, the fans have their pictures taken with their favourite players.
9.00am: The players buy gifts from the duty free shop as they wait for boarding. Defensive coach John Blackley spots a bargain, a bottle of Plymouth Gin.
9.59am: Ryanair's flight FR305 to London Stansted. As the plane starts to climb the stadium of Austrian Bundesliga club SV Salzburg comes into view. The Boeing 737-800 takes a route above Frankfurt in Germany and Bruges in Belgium before crossing the English Channel and passing over Clacton-on-Sea.
10.30am (BST): Touch down at London Stansted after a 91-minute flight. Within half-an-hour the plane will be off to Pisa in Italy. While goalkeeper Luke McCormick is waiting for his luggage his mischievious team-mates play a prank on him. They put the sticky labels from their bags onto the back of his tracksuit top and it is several minutes before he realises.
11.35am: Two Target Travel coaches are waiting in the pick-up area of the airport. Drivers Malcolm and Wayne help load all the bags and equipment.
1.56pm: A 40-minute stop-off at Leigh Delamere Service Station on the M4. Manager Paul Sturrock has a pot of tea and a coffee and walnut cake as he talks to the media about tomorrow's game against Charlton Athletic at Home Park.
2.35pm: Before they continue their journey home, Sturrock tells the Argyle squad to report for a "light loosener" at 10am in the morning. However, they will be given Thursday off and will have an afternoon training session on Friday so they can recharge their batteries after the Austrian tour.
5.05pm: The Argyle squad return to Home Park, 12 hours after setting off from Obertraun. Many of the players have their families waiting for them.