Back to

Austria 2008

Tour Home
Austria 2008: Western Morning News
STURROCK PUTS EMPHASIS ON TEAM TACTICS
21st July
Paul Sturrock is a regular customer at Obertraun National Sports and Recreation Centre – and he hopes that the Pilgrims will reap the benefit of their third visit to this spectacular corner of Austria. With Sturrock at the helm, Argyle's first pre-season training camp at Obertraun took place in July 2003. They returned the following summer with Bobby Williamson in charge, in a trip which had been set up by Sturrock prior to his departure for Southampton. In 2005, the Swedish town of Holmsund was Argyle's summer destination. Ian Holloway took the Pilgrims to Loipersdorf in 2006 and last year. With Sturrock back as boss, Obertraun has greeted the Coca-Cola Championship club once again this year. Sturrock has also brought Dundee United, Southampton and Swindon Town to this Austrian government-run sports training camp. Nestling beneath towering mountains and alongside Lake Hallstatt, Obertraun is a popular destination for clubs from across Europe. Chelsea's Academy squad have been sharing the premises with the Pilgrims this weekend. Notts County and Motherwell were here last week. Before them, Preston North End, Coventry City and Dunfermline Athletic were in residence. Clubs from Slovenia and Cyprus have also been paying guests this year. For Sturrock, Obertraun is an ideal pre-season venue. The Scotsman said: "It has everything you need. It has a swimming pool, tennis, table-tennis, a weights room and a sauna, nice facilities, the food is good and the training pitches are good. That says it all."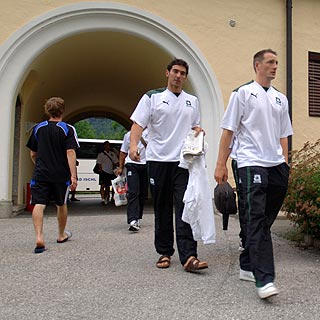 Romain Larrieu and David McNamee arriving at Obertraun

Argyle arrived at Obertraun mid-evening on Saturday, following their flight from Birmingham to Salzburg. Yesterday's work began with a weights session in the on-site gymnasium, followed by an 11am training session in which the squad did their warm-up routine, some sprint work and then took part in a practice game which lasted for about 45 minutes, with a break in the middle for tactical adjustments to be made. The emphasis on team shape and tactics has not always been evident at this stage of previous pre-season tours. Sturrock explained: "We're having to do it, because some of the new players haven't really done this kind of work before. It's important we don't get caught out." Only Mat Doumbe and Jamie Mackie, who are nursing minor injuries, sat out the practice game. Forward Mackie did not take a full part in training because of a groin strain, while central defender Doumbe, who has not featured in any of the Pilgrims' three pre-season games so far due to a hamstring injury, worked separately from the rest of the squad as he seeks a return to fitness. Doumbe's fellow centre-half Krisztian Timar did take a full part in training yesterday – and even stayed on for extra heading practice with coach John Blackley at the end of the morning session. The Hungarian international has made an encouragingly quick recovery from the fractured forehead he suffered on the final day of last season.
Without Mackie and Doumbe, the Pilgrims had the convenient number of 22 players to use in their practice game. Trialist Leandre Griffit was involved, as were first-year professionals Shane White and Damien McCrory plus central defender Ben Gerring – the only apprentice to make the trip. Summer recruit Karl Duguid was used in central midfield, rather than at right-back. "He played there today, and I'm going to have a look at him at left-back as well," Sturrock explained. "Gary Sawyer is carrying a tight hamstring at the moment." After the morning session, the players were treated to a dip in the cold waters of the River Traun, which runs through the sports centre, to refresh their leg muscles. They returned to their training pitch at 5pm for their second session of the day – with the accompaniment of thunder rolling over the mountains, lightning and a downpour which eventually curtailed the session.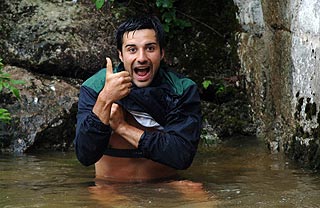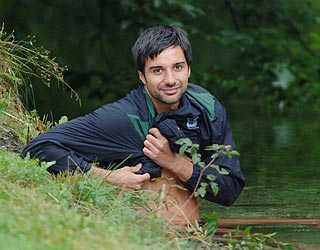 Rory Fallon enjoying the River Traun's refreshing waters

Argyle are playing German Bundesliga Two side Greuther Furth in Bischofshofen tomorrow afternoon in their first friendly of the week, but they will have to seek new opponents for their second match of the tour. 1FC Nuremberg, who are also members of the second tier of Germany's Bundesliga, have announced that their scheduled fixture against the Pilgrims in Kaprun on Friday has been cancelled. Unless they can be persuaded to reverse that decision, the tour organisers will have to find another team – possibly one of the Romanian clubs based in the area – for Argyle to play. That is likely to involve a change of venue.
GRIFFIT GETS CHANCE TO IMPRESS
21st July
Argyle's latest trialist is Leandre Griffit – a player who is well known to Paul Sturrock. The Frenchman arrived here in Austria yesterday to join the club on the first full day of their training camp at Obertraun – and for a reunion with Paul Sturrock. Like his compatriot Yoann Folly, Griffit was a Southampton player when Sturrock left Plymouth to become manager of the Hampshire club in the spring of 2004. In his time at St Mary's Stadium, the 24-year-old right-winger made nine first-team appearances for the Saints. Griffit also had brief loan spells with Leeds United and Rotherham United before leaving Southampton in 2005 to join Swedish club IF Elfsborg. He was borrowed by another Swedish side, IFK Norrkoping, last year, and is now available on a free transfer. Yesterday, Griffit trained with Folly and the rest of the Argyle squad on a sultry, thundery day at Obertraun. He has satisfied Sturrock that he is fit enough to play in tomorrow's friendly against German second-tier club Greuther Furth at Bischofshofen. "We're going to play him on Tuesday," Sturrock revealed yesterday. "We had to look at him in training to make sure that he's fit to play." The Scotsman also disclosed that one other trialist, whom he declined to name, might be involved tomorrow.
STURROCK KEEPS TABS ON TRIALISTS
22nd July
Argyle could field as many as four trialists in tonight's tour match against Greuther Furth in Austria – which has had its venue changed for a fourth time. Heavy rain had put the match in doubt, and the organisers of Argyle's pre-season training camp had to struggle last night to find a pitch fit to play on. The game will now go ahead at 6pm in Leogang. The club were keen to stage the contest, as they have brought in players from across Europe whom they are eager to assess. Former Southampton winger Leandre Griffit has been with the Pilgrims since they arrived at their training camp in Obertraun on Saturday evening. The Frenchman is set to play against the German outfit this evening, and he could be joined by up to three other foreign players. "Potentially, there could be three trialists in the game, plus the boy Griffit," said Argyle manager Paul Sturrock yesterday. Central midfielder Nebojsa Kovacevic, a 30-year-old who plays for Slovenian club ND Gorica, turned up in Obertraun yesterday afternoon. After a five-hour drive, he was excused duty in the Pilgrims' last training session of the day, but he will have a work-out with the squad this morning and will play tonight. Flavien Belson, a 21-year-old French midfielder who is on the fringes of the first-team squad at French top-flight club Metz, also arrived last night. He will also feature, while a German central defender could also be involved.
The rest of Argyle's side will feature some of the younger members of Argyle's tour squad, such as defenders Shane White and Ben Gerring, midfielder Damien McCrory, winger Dan Smith and striker Ashley Barnes. "A lot of the young players will play," the Pilgrims' chief added. Experienced central defender Mat Doumbe is due to have his first taste of match action in the pre-season programme, after recovering from a hamstring strain. Forward Jamie Mackie, who has been bothered by groin and calf strains since scoring two goals in last Friday's 2-2 draw at Kidderminster Harriers, may be given a rest this evening, however. "Jamie has had a bit of a tight calf, and we'll be cautious with him," Sturrock said. "Mat will play his first game of the season. We'll give him 45 minutes and see how he does."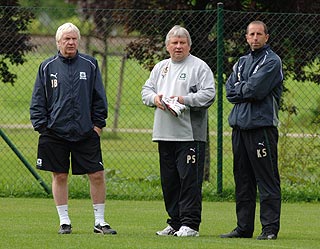 Sloop, Luggy and Summers, the management team

Greuther Furth, who are based in a suburb of Nuremberg, finished in sixth place in Bundesliga Two – Germany's equivalent of the Coca-Cola Championship – last season. They are nicknamed the Cloverleaves, and they have had plenty of luck in front of goal so far in their pre-season programme. Furth have played seven friendlies against amateur opposition, and in those games they have scored 74 goals and have conceded none. Their biggest win was a 15-0 romp against Vorwarts Roslau. The venue for tonight's match has been altered because of a waterlogged pitch at Bischofshofen, where the game was due to be played. It will now take place at Steinberg Stadium in Leogang, the location of the German club's training camp. It is a two-hour journey from Obertraun, in a westerly direction. Leogang was the chosen venue when the fixture was originally announced by Furth, but since then Laufen, in Germany, and Bischofshofen have been listed as locations. Now it is back to Leogang, in a sequence of events which has not made life easy for the Argyle supporters who have followed the team to Austria.
Those fans, and the Pilgrims themselves, are still waiting to find out where and against whom their second tour fixture will be played. German club 1FC Nuremberg were due to play Argyle at their training base at Kaprun on Friday evening, but they cancelled the game at the weekend. Replacement opponents are still being sought. Kenny Moyes of Libero, the Glasgow-based agency which has organised Argyle's visit to Austria, was with the Pilgrims at Obertraun yesterday to help them sort out their increasingly problematic tour fixture schedule. As well as supervising Argyle's activities in Austria, Sturrock is also maintaining the pursuit of transfer targets in England. Coventry City's out-of-favour Scotland international centre-forward Kevin Kyle is understood to be a player he is taking an interest in. The 27-year-old spent six years with Sunderland before joining the Sky Blues in 2006. He spent the second half of last season on loan to Wolverhampton Wanderers.
TIMAR STAYS WITH ARGYLE
23rd July
Argyle have taken steps to keep one of their best remaining players at Home Park by agreeing a contract extension with Krisztian Timar. The popular 28-year-old, who was the Coca-Cola Championship club's player of the year in 2007-08, has agreed to stay with the Pilgrims until the summer of 2011, with the option of an extra year to follow. "I'm very pleased," was Paul Sturrock's reaction to the news of Timar's contract extension, which was announced during the club's week-long training camp in Austria. "He's a very important player to us and it's very good to have this sorted out at this stage of the pre-season. I know how popular Krisztian is with our supporters, and they will be delighted he has shown this commitment to the club. He came on in leaps and bounds last season, and is a vastly improved player to the one who arrived at Home Park a year and a half ago. The good thing is that I feel there is more to come from him, even more that he can add to his game, which is very pleasing." Timar missed last night's friendly against Greuther Furth in Laufen, Germany. He suffered a groin injury in training on Monday evening, but should be fit by the end of the week. He would not have been selected for yesterday's match even if had not hurt himself, as the Pilgrims rested several senior players against the German second-tier side.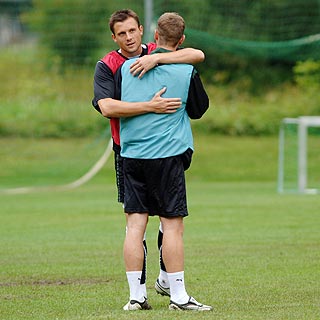 Krisztian Timar, possibly being congratulated on his new contract
PILGRIMS LOOK TO MCCRORY
23rd July
Argyle preserved their unbeaten pre-season record in battling fashion last night by gaining a 1-1 draw with accomplished German outfit Greuther Furth. Republic of Ireland youth international midfielder Damien McCrory scored a late equaliser to earn a draw for the Pilgrims, who fielded a makeshift side full of trialists and youngsters. The Germans had gone ahead in the first half with a deflected goal, and posed plenty of problems for Plymouth. Argyle stuck to their task, however, and were rewarded when substitute McCrory, who is one of their first-year professionals, converted a low cross from right-back David McNamee.
Last night's friendly was played in Laufen, just across the Austrian border in south-east Germany, after the second venue switch in as many days. On Monday the game had been shifted from the Austrian town of Bischofshofen to nearby Leogang, where Furth's training camp is located, due to a waterlogged pitch at Bischofshofen. Further heavy rain yesterday morning meant that the match was moved again, and it took place at the home of Bavarian amateur team SV Laufen 1927. Several of the Pilgrims' senior players stayed at the Coca-Cola Championship club's training camp at Obertraun, Austria, rather than endure the four-hour round-trip.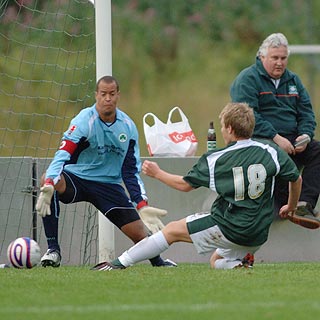 Damien McCrory scoring against Greuther Furth

Argyle's team was a mixture of trialists, youngsters and a few senior men. Goalkeeper Romain Larrieu playing behind a back four of McNamee, first-year professional Shane White, Mat Doumbe and Jim Paterson. While Doumbe was given his first game of the pre-season period, after recovering from a hamstring injury, Ben Gerring was an unlucky absentee. The tall central defender, who is the only Home Park apprentice to make the tour, had been all set to play last night until he twisted a knee in an awkward landing near the end of Monday's final training session. He was heavily bandaged yesterday morning, and took no part in training.
The Argyle team were instructed to use the 4-3-3 formation which has been a regular feature of practice sessions here, and three trialists were included. Former Southampton winger Leandre Griffit, 24, played on the right side of the attack while 30-year-old Slovenian midfielder Nebojsa Kovacevic, who plays in his homeland for ND Gorica, was on the right side of midfield. The holding midfielder was Flavien Belson, a tall 21-year-old Frenchman who is on the books of French top-flight club Metz. His compatriot Yoann Folly was used on the left of midfield, while Rory Fallon was the central striker and Dan Smith the left-sided attacker. They formed an unfamiliar and untested Pilgrims' line-up, who had been given one brief training session together yesterday morning to prepare for last night's test. They were up against a decent German Bundesliga Two side who had scored 74 goals in their seven previous friendlies so far this summer, albeit against amateur opposition.
Furth's pre-season preparations are further advanced than those of the Pilgrims, and they had no strangers in their side, so it was no surprise that they looked like the more cohesive unit for much of the game. Griffit sent a shot wide when the Pilgrims created an early half-chance, but the English outfit were doing more defending than attacking for much of the first half. Larrieu looked in confident form, with plenty of safe handling on display, and he safely gathered a free-kick from Furth captain Daniel Felgenhauer. The Frenchman was beaten in the 39th minute, however. A shot from Croatian midfielder Ivo Ilicevic took a deflection which sent it out of the Frenchman's reach, and Furth were ahead. McNamee led the charge in response, by surging upfield and letting fly with a shot which was, in contrast, deflected straight at goalkeeper Stephan Loboue. At the other end, Furth's Brazilian striker Cidimar Rodrigues da Silva found space behind Argyle's defence and came up with a shot which was palmed away for a corner by Larrieu.
While the Germans replaced almost their entire side with substitutes at the interval, Argyle's only change saw Folly swap roles with Belson and take on the midfield holding job. The Pilgrims' first threatening effort in the second half came from Kovacevic, who accepted a lay-off from Fallon and fired a dipping 25-yard shot just too high. Furth were less effective after the break, and, when they did stage a break, Stefan Reisinger was halted by a superb tackle from the commanding Doumbe. Argyle's leveller arrived in the 77th minute. McNamee reached the byline in one of his attacking thrusts, cut inside and pulled back the ball for McCrory to jab it home from close range. The Irish youngster had replaced Smith 15 minutes beforehand. Ashley Barnes and Yala Bolasie took over from Fallon and Griffit soon after the equaliser, but a winner did not arrive. Argyle will be back at the same ground at the end of the week for a newly arranged second and final fixture of their tour. The Pilgrims take on Romanian second-tier club Petrolul Ploiesti at 4pm on Friday at Laufen. This fixture replaces the friendly against 1FC Nuremberg on the same day which was cancelled last weekend.
STURROCK TRIES OUT TRIALISTS
23rd July
Paul Sturrock checked out his last trialists of the summer in last night's friendly against Greuther Furth. The Pilgrims gained a 1-1 draw against the German Bundesliga Two side with two trialists from France, Leandre Griffit and Flavien Belson, and a Slovenian by the name of Nebojsa Kovacevic in their side. They were the latest in a long line of trialists who have performed on the Pilgrims' behalf in this summer's pre-season friendly programme, as the Devon club aim to top up their depleted first-team squad in time for the start of the Coca-Cola Championship programme. From now on, however, Sturrock is adhering to a different policy. Rather than bring in a steady supply of trialists in his team's remaining friendlies, the Argyle boss will bide his time and will augment his playing resources with carefully considered signings as and when they become available. After last night's game, the Scotsman said: "Up to this game, I was committed to look at any players who were recommended to me. They will be the last trialists that we see, however, unless somebody turns up who slaps me in the face. Now I have to bring some players who will go straight into the first team. The nuggets [unknown players of the appropriate quality] are drying up. There are several players who I've had watched several times lately who come into the right category."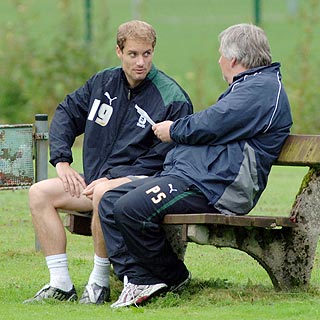 Marcel Seip and Paul Sturrock

As for his verdicts on Kovacevic, Belson and Griffit, Sturrock said: "I thought they gave us competent performances, but they are no better than the players I already have at the football club. They didn't let themselves down, but it was a difficult game tonight. With three trialists and two young boys playing, it was always going to be one of those nights. We were trying a new system as well, against a really good side. We didn't do much in the first half, but we tweaked things a wee bit at half-time and we looked a much better side in the second half. I was very pleased with the way the second half unfolded." Asked if any of the trialists were likely to stick around and play in Argyle's second fixture of their tour on Friday, Sturrock replied: "I don't know. We'll have to talk to them and see what they want to do."
Griffit, who played for Sturrock when the Scotsman was manager of Southampton, looked like the most promising trialist on display last night. Some of his wing play was of a decent standard. He is with Swedish club Elfsborg, while Belson plays in France for Nice and Kovacevic in Slovenia for Gorica. The tall Belson offered a physical presence in midfield but not a lot of quality on the ball, while Kovacevic was skilful but somewhat lightweight. They were outshone by Argyle's young Irish midfielder Damien McCrory, who came off the substitutes' bench to score last night's equaliser. "There of lot of names being bandied about of players who may be able to make names for themselves at this football club," Sturrock said, "but the boy McCrory has a real chance. He was so positive. I was excited with Yala Bolasie when he came on, as well. He gave it a wee bit of zest. Yoann Folly, when he went back into central midfield as the playmaker, looked a much better player. David McNamee had a very solid game as well, and Mat Doumbe did very well."
STURROCK FOCUSES ON TACTICS
24th July
Paul Sturrock and his coaching staff will be talking tactics for the rest of the week at their training camp here in Austria. The Pilgrims will be based at Obertraun until tomorrow, when they depart for Salzburg. They have a newly arranged friendly fixture against Romanian team Petrolul Ploiesti at the German town of Laufen, near Salzburg, tomorrow afternoon, and then they fly back to England from Salzburg on Saturday. Argyle's other friendly during their week in central Europe was played on Tuesday, when they drew 1-1 with German Bundesliga Two outfit Greuther Furth at Laufen. Sturrock rested several of the Pilgrims' senior players, and sent out a side well stocked with trialists and youngsters. Rather than deploy the familiar 4-4-2 shape which has normally been the Plymouth way of doing things, Tuesday's team lined up in 4-3-3 formation. Yesterday's training session made it obvious that tomorrow's side will adhere to the same style, but it remains a work in progress rather than the finished article. "I've got two days of training and two days to have discussions with my staff about this system," Sturrock said. "I'd like to see if we can tweak it a wee bit more and refine it a wee bit more."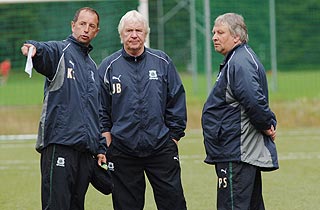 Discussing tactics, the Argyle management team

The 4-3-3 formation, or variations of it, is becoming increasingly popular. The way the Pilgrims have used it, the system comprises a back four, one holding and two attacking midfielders, plus a centre-forward and two wide attackers. The 4-4-2 system seems to be going out of fashion, and was rarely seen during the recent European Championship finals. "We seem to go through phases," Sturrock said in Obertraun yesterday. "We had the 3-5-2 scenario for a while, and then we had the diamond midfield (4-1-2-1-2). I honestly believe you have to look at your players and see what system suits your players," the Scotsman added. "That's why I've had a look at another system, just to see if we have the players who can handle it." The 4-3-3 shape places considerable responsibility on two key players, the central striker and the deep-lying central midfielder. Asked to describe the qualities the centre-forward needs to have, the Argyle boss replied: "The boy Jan Koller, who plays for the Czech Republic, is ideal, or you need a very cute linkage player. Somebody who can take the ball, hold it, and feed it to the team." That is the sort of job Mickey Evans used to for the Pilgrims in Sturrock's first spell in charge. "It's good to have pace either side of that player, and somebody who is prepared to run beyond him," the Scotsman added. "You can simplify everybody's game, because they all have a certain job to do."
On Tuesday, Rory Fallon was Argyle's central striker, with Dan Smith and trialist Leandre Griffit as the wide attackers. Tomorrow it should be Steve MacLean's turn to be the middle man, with Jason Puncheon and Jamie Mackie or Jermaine Easter on the wings. Whether Fallon or MacLean will fit the bill in the long run as the centre-forward in that system remains to be seen. Sturrock may well be keen to bring another striker to the club to fill that specific role. The other key position is that of the central midfield player and, again, reinforcement in that area is likely. "He is probably the most important player in the whole system," Sturrock said. "He has to go on the ball and make some passes." Karl Duguid will have the role tomorrow, after trialist Flavien Belson and (after the break) Yoann Folly had taken it in turns to do the job on Tuesday. The Argyle boss said: "In the first half, we just lumped it to Rory. In the second half, Yoann got more of the ball and we were able to link up with our wingers. They're key players in the system too. It's a system that people like playing, and it means that your back four is left very solid." The formation also has flexibility. "It's very adaptable, because you can play two central midfielders and one off the front," Sturrock explained. "4-2-1-3 instead of 4-1-2-3. You can change between the two very quickly."
Sturrock's squad will put into practice what they have been working on in training when they cross the German border again tomorrow to tackle their Romanian opponents. "I'm pleased that the venue will be Laufen again, because it's a nice pitch there," Sturrock said. "It doesn't look as if it takes too much water." The search for dry pitches has been a hard task this week. The venue of Tuesday's game was changed twice in two days because of waterlogged ground, after some severe weather in the locality. There has been heavy and prolonged rainfall. Obertraun's grass pitches were out of bounds yesterday, which meant that the Pilgrims and the sports centre's other current guests, Italian Serie C side AC Montichiari, made use of the site's high-quality artificial pitch for their training sessions. Two of the three trialists used by Argyle in Tuesday's game left Obertraun yesterday. Slovenian midfielder Nebojsa Kovacevic drove home to Gorica, while Belson was ferried into Salzburg to catch a train. His fellow Frenchman Griffit is still with the Pilgrims, but only because it suits his travel plans. He is not expected to feature in tomorrow's friendly.
TIMAR SET FOR ARGYLE START
25th July
This afternoon, Krisztian Timar could make his first appearance for Plymouth Argyle since he suffered a serious injury in the closing moments of the final fixture of the 2007-08 campaign. The Hungarian international central defender suffered a fractured forehead at Wolverhampton Wanderers at the beginning of May, and he has spent the summer recuperating from the major operation which repaired the damage. He has not taken part in any of the Pilgrims' pre-season friendlies so far, but that could change today. The 28-year-old suffered a groin strain during a training session here in Obertraun, Austria, on Monday evening, and he did not make the journey to the German town of Laufen for the following day's 1-1 draw with German club Greuther Furth. He might be included in Argyle's squad, however, for this afternoon's return to Laufen to take on Romanian outfit Petrolul Ploiesti.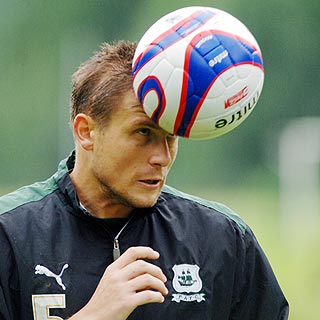 Krisztian Timar proving his fitness

Timar underwent a strenuous fitness test on Wednesday morning to assess his recovery from his groin strain. That went well, and yesterday he was kept busy with heading practice while wearing protective headgear. After talks with his staff, Argyle manager Paul Sturrock will decide today if the Hungarian is to play any part against the Romanians. "Today has been the first time he has used his new mask, and it has been the first time he has headed the ball properly," the Scotsman said yesterday. "It all depends on him," Sturrock added. "We'll let him decide. We're also worried he might be coming back from his groin strain too early. If he doesn't play, Mat Doumbe will play."
As well as Timar, Steve MacLean, Chris Clark, Jermaine Easter, Jason Puncheon, Marcel Seip, Gary Sawyer, Jamie Mackie, Luke Summerfield and goalkeeper Graham Stack were excused duty on Tuesday. They will be involved against Ploiesti, and Sturrock will once again use the 4-3-3 formation which he deployed against Furth. "We're going to have another look," the Argyle boss said. "It's very adaptable, because we can quite easily go to 4-4-2 if we need to. But there's no point in working on the shape all week if we're not going to have a look at it. The next two or three games will determine if we're going to stick with it." MacLean is likely to take over from Rory Fallon, who is nursing a groin injury and did not train yesterday, as the central striker. "Steve has played up there on his own in the past, but normally he has played with a big boy," added Sturrock, who had MacLean in his squad when he was manager of Sheffield Wednesday.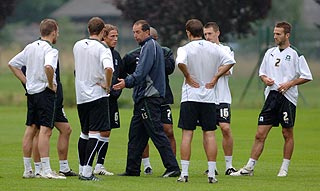 Kevin Summerfield leading a training session


After becoming Argyle's record purchase when he was bought from Cardiff City for £500,000 in January, MacLean was often used in between the attacking front-line and the midfield. Sturrock feels that a change of role this term might be beneficial for his compatriot. "We asked him to do a job last year that, I think, seeped him of confidence around the goal," the Argyle boss said. "Steve lives off scoring goals, and there were aspects of his game which disappointed me last season. But he's looking much better now, much more like himself." Petrolul Ploiesti finished third in Division 2A – the equivalent of the Championship – in the Romanian League last season. In July 2003, when Sturrock first brought the Pilgrims to Obertraun, Argyle lost 1-0 to Astra Ploiesti in a 45-minute contest. Astra are now called CSM Ploiesti, and are in the same division as their city rivals. Romanian teams have a reputation in Austria for being feisty pre-season opponents. They also tend to display excellent technique, as Sturrock found out when he brought Swindon Town to Obertraun this time last year. "We played Jiul Petrosani and they gave us a real tussle," he said. "They kept the ball very well. I don't envisage this team being any different. It will be a difficult game for us." As well as taking care of business in Austria, Sturrock has been pursuing his transfer targets while he has been abroad. No deals have been done, however, and the Pilgrims have been unable to add to their squad this week. "I'm very disappointed about that," the Scotsman admitted. "Frustrated is probably a better word. We've been so close, yet so far. I'd love to have a minimum of two players in by the Dundee United game. When I get back on Monday, it will be a case of all guns blazing to try and get that done."
MACLEAN AND SUMMERFIELD LEAD ARGYLE
26th July
Argyle did not know who they were playing in their final fixture of their expedition into Europe this summer until they arrived in the German town of Laufen for yesterday's friendly, but that did not prevent them putting in a hard-working display which secured a 2-0 win against Romanian opposition. When they left their training camp at Obertraun, Austria, yesterday lunchtime, the Pilgrims thought they were preparing for a match against Romanian second-tier side Petrolul Ploiesti. When they arrived in Laufen, just across the border from Salzburg, they found out that they were facing a Romanian team called FC Unirea. Initially, Argyle thought they were up against a Romanian top-flight team sponsored by Unirea. Instead, their opponents turned out to be Unirea Alba Iulia, who play in Romania's third tier, Division 2B. After all the problems they have faced in fixing up two games during their week-long training camp in Austria, the Pilgrims were not bothered by the different opponents. After all, when they left England a week ago, they were under the impression that they were going to tackle German side 1FC Nuremberg last night. That fixture was cancelled by the Germans last weekend, and Argyle had to be quick off the mark to arrange a replacement game. Their first tour game did not go to plan, either. They drew 1-1 with German team Greuther Furth at Laufen on Tuesday – after two venue changes in as many days. Then, the problem had been waterlogged pitches in Austria. Yesterday, after a week of wet weather, the sun came out at last and the Pilgrims had to play in what seemed like a heat wave, after the cool conditions they had been used to at Obertraun.
The hot sunshine made it hard work for the two sets of players in a game which was not played at any great pace, but which featured some composed passing football from both sides. Steve MacLean and Luke Summerfield scored Argyle's goals, which arrived in a three-minute spell midway through the second half. The Pilgrims, who were good value for their win, were led out on to the field by a man who was making a welcome reappearance in their side. Krisztian Timar wore the captain's armband and a padded headband to protect the forehead he fractured in the final game of the 2007-08 Coca-Cola Championship season. Yesterday's encounter was the Hungarian international's return to action. David McNamee, at right-back, was the only Plymouth player who was picked to start against the Romanians as well as the Germans in Tuesday's stalemate. All the players who were rested that night were given a game yesterday, and Argyle manager Paul Sturrock stuck with the 4-3-3 formation he has been honing all week in training and against Furth. Karl Duguid filled the key role of midfield playmaker, with Chris Clark and Summerfield alongside him. MacLean was the central striker, with Jamie Mackie and Jason Puncheon on the flanks in attack.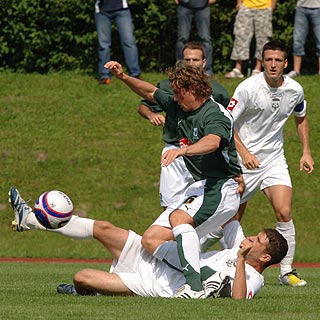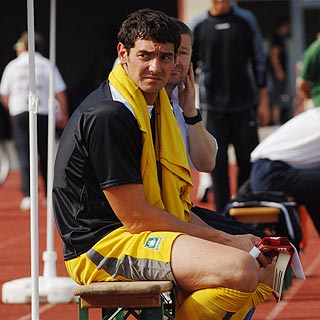 Chris Clark in action against Unirea Alba Iulia, whilst Romain Larrieu watched from the bench

The Pilgrims have been adept at keeping the ball on the ground in their pre-season friendlies so far and in training in Austria, and yesterday they did the same again. They were passing the ball around smoothly and were good to watch but, against a team with an effective offside trap, penetration proved elusive for a while. Argyle did put the ball in Unirea's net midway through the first half. Mackie beat two defenders in a surge down the left wing and his low cross reached Summerfield, who shot home but was puzzlingly thwarted by an offside flag. A couple of minutes later, MacLean was wrestled to the ground by Andrei Poverlovici, an abrasive central defender, on the edge of the penalty area. Summerfield's free-kick was comfortably saved by goalkeeper Gabriel Rotaru. Later in the first half, Summerfield fired a 20-yard shot too high when he latched on to another Mackie cross. At the other end, Argyle keeper Graham Stack was not given much to do. Unirea were a neat and tidy team when they were going forward, but they tended to run of steam when they reached the danger area. When the Romanians did spring into life, Marius Foro rattled the crossbar with a fine strike from long range in the 40th minute. Then Stack was called into action when he tipped away a header from Razvan Dalbea. Mackie, with a header, and Puncheon, with a shot, had further unsuccessful goal attempts on Argyle's behalf near the end of the first half.
In the second period Argyle made little headway until they made a couple of substitutions and switched to a 4-4-2 shape on the hour mark. Jermaine Easter took over from Puncheon, while Mat Doumbe replaced Timar, who had coped well on his comeback. Six minutes later, Summerfield's pass found Easter in space on the left flank, and the Wales striker's cross was fired home by the onrushing MacLean to put the Pilgrims in front. Two minutes later, Argyle struck again. Mihai Lasc, one of two substitute keepers used by the Romanians in the second half, could not hold on to a cross from left-back Gary Sawyer when he was put under pressure by MacLean, and Summerfield seized on the loose ball and drilled it into the net. Game over, as Unirea lost the fluency they had shown in the first half after changing their entire team during the second period. Argyle return home to England today, and will be back in friendly action at Yeovil Town on Tuesday. Then, at least, they will know who they are playing.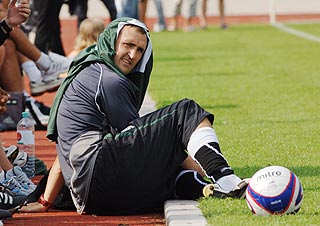 Paul Maxwell taking precautions as Argyle play Unirea at Laufen



PILGRIMS END TOUR WITH WEARY WIN
26th July
Paul Sturrock was satisfied with the way his team stuck to their task in yesterday's 2-0 win over Romanian outfit Unirea Alba Iulia. After gaining a 1-1 draw with German club Greuther Furth at Laufen on Tuesday, the Pilgrims coped well with hot conditions and saw off opponents of a decent standard with second-half goals from Steve MacLean and Luke Summerfield. "We looked leg-weary right from the start of the game," Sturrock admitted. "I think the heat caught us out big-time. Had it been wet, I think you would have seen a sharper team. But, at the end of the day, a win is a win. We looked competent, and I was relatively pleased. The work-out was needed."
Argyle used the 4-3-3 formation they have been working on all week for two thirds of the game, but had switched to a more familiar 4-4-2 shape by the time they had scored their two goals. Sturrock said: "The [4-3-3] system looks as if it might work if we can just put some other personnel in some of the positions, but we changed it and that's when we got the goals. That sometimes happens when you change the system. You can catch out the opposition, and we were lucky enough to do that. We had several other chances as well but, to be fair, they had some too."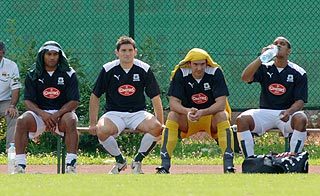 The Argyle bench watching the Unirea game

Argyle's skipper yesterday was Hungarian international Krisztian Timar, who was having his first taste of match action since fracturing his forehead at the end of last season. He wore a protective headband throughout the game. "I thought Krisztian was solid enough," Sturrock said, "but I think he's going to need a whole lot more games before he's up to it." When he was asked if Timar had a realistic chance of starting the Championship campaign in two weeks' time, Sturrock replied: "If you ask Krisztian, he'll say yes, but at the end of the day it will be a decision we'll take based on how he develops from now. This headband makes him head the ball in a funny way. It catches the edges, but he only has to have it on for two weeks."
STURROCK PLEASED WITH TEAM SPIRIT
28th July
Argyle have been converts to the idea of venturing away from the Westcountry for pre-season tours since the year 2001, when they were members of the Football League's bottom division. Times have changed since then, and the Pilgrims have risen two levels to the Coca-Cola Championship. They go to Austria rather than to Scotland for their summer training camps, and they play good teams from all over Europe in tour friendlies rather than Albion Rovers. The principle remains the same, though. While the sort of training they do on their tours could be done in and around Plymouth, the sense of togetherness which such trips generate cannot be created so easily if the Pilgrims' players are going to their own homes each night after work. A week away, with the squad working, eating and socialising together, works wonders when it comes to building team spirit. That's the plan, anyway. The goal is the creation of the sort of bonds which turn a group of players into an effective unit, all pulling in the same direction when times are hard on the pitch.
This summer, Argyle have needed that sort of gelling process more than ever. The tour party which returned home from Salzburg at the weekend after a week at the Obertraun National Sports Centre in Austria contained no fewer than ten players who had joined the Pilgrims since the turn of the year. There is a new and evolving squad at Home Park. The past year has seen the departure of a number of stalwart servants, and fresh faces have arrived to take their places. On the evidence of what has been seen in Austria this past week, the sort of team spirit which has helped the Pilgrims to make considerable progress in the current decade remains more or less intact. There was no sign of disharmony in the camp. The players trained with smiles on their faces, even though the work schedule was gruelling, and away from the practice pitches they stuck together – to the pleasure of Argyle manager Paul Sturrock. The Scotsman said: "The team spirit has been fine. They're a bunch of hard-working people, and they seem to be friendly together. We still have to get a couple of loud-mouths in, but hopefully we'll get there."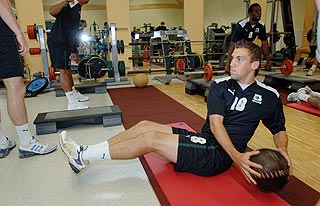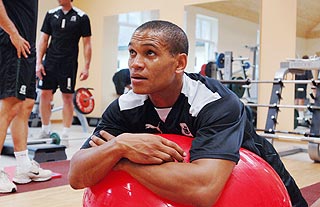 Gary Sawyer and Mat Doumbe putting in the hard work in the gym at Obertraun


It is true that the sort of vocal leadership provided by Paul Wotton and Lilian Nalis has been missed by some, but there are confident characters in this new crop of Pilgrims who can help to fill the gaps. Karl Duguid and, in particular, Graham Stack are heard as well as seen on the training ground and in matches. For most of last week in Austria, the work on the training ground was geared towards tactics and team shape, rather than fitness. The fitness work was mostly done in Obertraun's gymnasium in early-morning work-outs prior to the training sessions on the Sports Centre's good-quality pitches. It was a wet week at Obertraun, which started with a thunderstorm which curtailed training on their first full day in camp and continued with periods of prolonged and heavy rain. The Sports Centre's artificial pitch came to the rescue when grass was out of bounds, however, and Sturrock was not sorry to miss out on a heat wave. "The weather meant that we trained better," the Argyle manager said. "There was a bit more zip to us because of the weather."
There were two outdoor training sessions most days, as well as the gym work, and the Pilgrims were asked to learn a system which is new to most of them. The 4-3-3 formation, featuring one central striker and two wide attackers, is not one that Argyle have made much use of in recent years. The Devon team finished their second tour friendly, last Friday's 2-0 win over Romanian outfit Unirea Alba Iulia in the German town of Laufen, with their more familiar 4-4-2 shape put into place, but they started the game – and last Tuesday's 1-1 draw with German club Greuther Furth in Laufen – with 4-3-3 as their formation. The system showed promise, but there is room for improvement, as Sturrock admitted. "This week has been the first time we've played this system. It's not going to happen overnight," the Argyle boss said.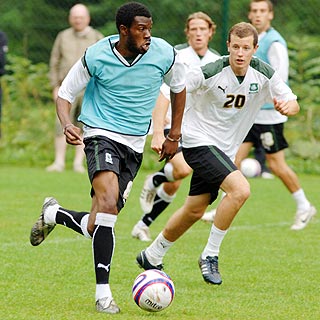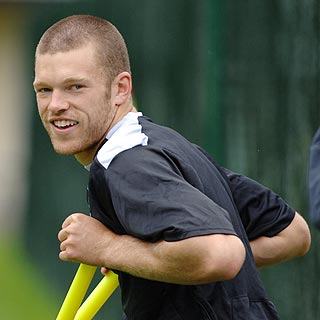 Yoann Folly, Luke Summerfield and Jamie Mackie during training sessions early in the tour

It may be the case that Sturrock will switch back to 4-4-2 from time to time, as he did in the last third of Friday's friendly, but make more regular use of 4-3-3 when he has brought new personnel to the club. In particular, the sort of centre-forward capable of making the most of the 4-3-3 formation may well be on the Argyle manager's shopping list. Central midfielders are also a big priority in the transfer market for the Pilgrims, but former Colchester United captain Duguid did his chances of first-team status in that position no harm with a good performance in the key play-making role against Unirea. "There were lots of plus-points to take out of Friday's game," Sturrock insisted. "We did pass the bell well, and I thought Karl Duguid looked very competent." The Pilgrims returned to Home Park at about midnight on Saturday, after their flight from Salzburg. Duguid and the rest of the squad will be back in training in Plymouth today to prepare for tomorrow's friendly at Yeovil Town and for Wednesday's game at Truro City. Home Park will have its first sight of Sturrock's new-look side next Saturday, when Dundee United – the only club the Argyle manager played for – come to Devon.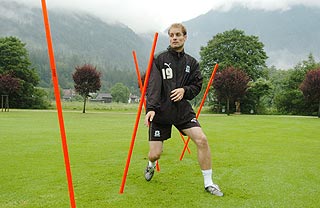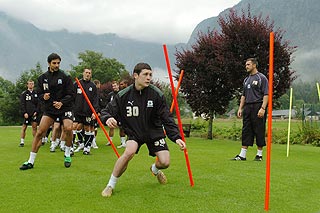 Marcel Seip, Dan Smith and Rory Fallon training with the Dachstein mountains in the background