Back to

Austria 2008

Tour Home
Austria 2008: Official Site
HERE AT LAST
19th July
The Argyle squad have arrived in Obertraun ahead of their pre-season tour of Austria. After a journey involving problems with flights, bags and traffic, the team arrived at around 7.00pm local time. Almost as soon as the team were off the coach, they were ushered into the dining room for a supper of spaghetti bolognaise.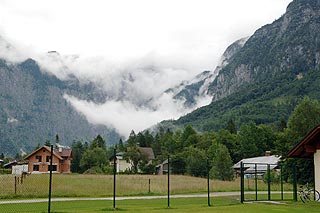 The Obertraun training complex is nestled in the Dachstein mountains

After the game at Kidderminster finished on Friday evening, the team returned to their hotel in Walsall. Then this morning they trained in two groups on a local school field before embarking on their travels to Austria. Assistant Manager Kevin Summerfield, a veteran of previous Obertraun tours, reflected on the day's proceedings. He said: "It was a really long day. It is only half an hour to Birmingham airport (from the hotel) but we had some problems with various items of kit and things and we didn't get through to departures for two hours. Then the flight was delayed for 45 minutes which didn't help. But to be fair, when we got here we had a decent bus journey and the weather is decent. The lads arrived and went straight in to have something to eat. The conditions of Obertraun look as impeccable as ever and we're looking forward to a good weeks work." Tomorrow, the squad will alight from bed at 8.00am for breakfast before taking part in an intensive training session involving weights and then ball work. After a brief break for lunch at 1.00pm, the players will resume their work out until 5.00pm.


NUREMBERG CLAIM MATCH IS OFF
20th July
According to FC Nuremberg's official website, Argyle's match against the German team on Friday has been cancelled. The Argyle party in Austria have not had confirmation but understand that there may be a problem with the fixture. If the cancellation is correct, it has been suggested that a match may be arranged against one of the many Romanian teams currently training in Austria.
MAX POWER
20th July
Argyle physio Paul Maxwell is optimistic ahead of the new season. Maxie has been working closely with the players throughout the summer and into pre-season to ensure that they are ready for the first competitive game at home to Wolves on August 9. After taking the players in a gym session on Sunday morning, Maxie revealed that he is pleased to be back in Obertraun and confident that the players' fitness will be key cog on their road to success this season. He said: "It's great out here with the altitude and the facilities. We've come back out here and it's the final sort of stage, where they've done the majority of their hard work. It's a lot of ball work now and so its just a case of getting them sharp for that first game. We've been doing the fitness obviously right through. They even had a program through the summer. Then since we've come back we've been putting the circuits on, focussing core stability work - trying to get their bodies used to the early morning starts. It was a really, really hard work today, we combined everything together, got everybody in there together to try and get a bit of spirit going but to be fair to them they were absolutely awesome this morning. To start a week away like that can only be good and if they are professional in what they do then that brings them together as well. They are all looking quite sharp, they all worked hard throughout the close season so from my point of view, it's looking good. We've just got to keep it up right until that first game. Let's hope it's the same for the rest of the trip."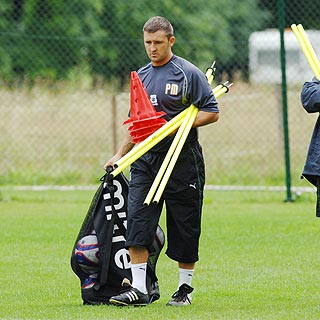 Paul Maxwell organising training on the first day on tour

Although the preliminary aim of the pre-season tour is to put the finishing touches on fitness and touch, Maxie also stressed the importance of a good team spirit especially amongst the newer members of the team. He said: "A lot of the lads have gone, new lads are here and they seem great but if you can get the spirit of the team right then you are half way there really. They can have a laugh but as long as they know they are here to work and they work hard for that hour then I think that brings them a lot closer"
OBERTRAUN DAY ONE
20th July
Argyle's first full day in Austria has been one of fun, fitness and thunder-storms. The day started bright and early at eight o'clock when the players were summoned to breakfast. The typical footballers breakfast consisted of cereal, toast and the option of egg. Then at 9.30am, they were expected to report to physio Paul Maxwell in the gym for a series of muscular and cardiovascular activities. There was much banter amongst the players as six unnamed players, walked in at 9.29.59, just in time to meet the deadline. They had stopped off for a quick game of table-tennis next door! However, the players began their own unofficial warm-ups last night with a Nintendo Wii competition that lasted well into the night. From the noise, we think that Jason Puncheon was overall champion.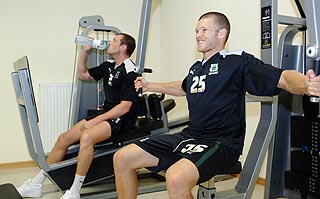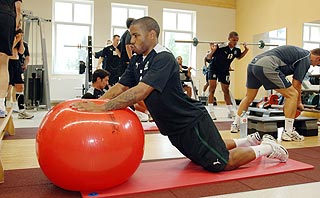 Jamie Mackie and Jason Puncheon in the gym

In the gym, the squad was split into two groups to suit different activities. On the circuit, which they repeated constantly for a good hour, all parts of the body were worked as Maxie insisted on a good pace. The players worked amazingly hard. When the Beast of Budapest, Kriztian Timar starts to struggle with weight exercises, you know that things must be moving at a decent rate. When the gym session had finished, the players were allowed a quick breather before going out onto the grass for some ball work. After a brief re-warm up, the players embarked on a full 11-a-side match before retiring for lunch. Some of the most promising things to come out of the session was the performance of the new signings. Graham Stack was commanding his defence well, Puncheon and McNamee made some fantastic runs towards goal whilst Karl Duguid looked assured as he commanded the midfield in front of him.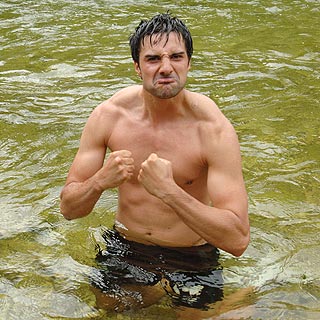 Rory Fallon cooling off in the River Traun

Some of the players waded into the river on their way back to their rooms to cool their muscles off. Rory Fallon however had other ideas, stripped off and jumped in head first, much to the hilarity of his team-mates. At 5.00pm they were off out again, this time to do an hour of running exercises before tea. After another wee stretch off, the squad was divided into two groups. One group did an attacking exercise whilst the other focussed on passing. The training session then descended in to chaos with the outbreak of a terrific thunder storm. The amount of water that fell from the sky was unbelievable and those us of lucky enough to find cover underneath the club house awning were subjected to some of Maxie's best gags. To be frank, we weren't sure where we were better off.
HEARTBEAT
21st July
Argyle Sport Scientist Scott Russell attached heart monitors to the Argyle squad as they trained on Sunday morning. From the data collected, Scott can compare the fitness of individual players at different stages of the season using an advanced piece of software called Polar Precision Performance. Scott explained: "Obviously at this stage at the season it is important to monitor fitness. We had tests at the end of last season and they got a fitness program for the off-season and we tested them at Marjon when they first came back. It's not like one player versus another or anything, so the results are purely individual. We measure their maximum heart rates and every time they go out and do a training session we get a percentage of their maximum heart rate for specific drills and then we analyse it on the laptop afterwards. You can compare their results with a similar drill, whether it's the day before or 12 months before. It can be anything - ball skills, a shooting drill etc. You can even break it down into positional stuff. You can then find out about strikers and what sort of fitness they are doing, short sharp stuff or whatever you want to have a look at."


LOOK OUT LEANDRE
21st July
Argyle are trialing French winger Leandre Griffit. The former Southampton man is in Austria training with the squad and has been wearing number 22. Griffit began his career at French side Amiens SC before moving to Southampton in 2003. However, he made only eight appearances for the Solent-based side before going out on-loan to Leeds and then to Rotherham. Griffit was then transferred to Swedish side Elfsborg in 2006 before a loan spell at IFK Norrköping last season. Luggy obviously sees the pre-season tour of Austria as an ideal place to run the rule over Leandre. He said: "Leandre is here for the game against Greuther Furth on Tuesday. He has been playing in Sweden and he was under me at Southampton. He was an exciting youngster who seemed to have lost his way a wee bit and I just want to have a look at him. He's going to play on Tuesday night, probably the whole 90 minutes."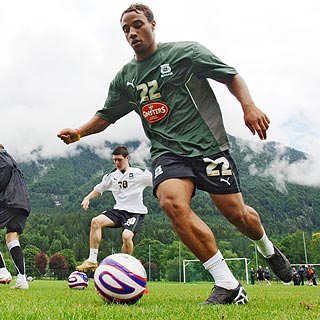 Leandre Griffit
GREUTHER FURTH VENUE CHANGE
21st July
Argyle's game on Tuesday against Greuther Furth, the German Bundesliga 2 side, has been moved due to a water-logged pitch at Bischofshofen. Confirmation of the new venue will be made later Monday afternoon but the two locations being considered are within a reasonable distance of Bischofshofen, although further from the team's training camp at Obertraun.
TWO IN ...
21st July
Paul Sturrock is set to bring in two unnamed trialists for his side's fixture against Greuther Furth on Tuesday night. The trialists, both of whom are central midfielders, joined the squad in Austria on Monday afternoon, trained with the team in the evening and are expected join other trialist Leandre Griffits in the starting 11 on Tuesday. Luggy also said that he hoped to bring in some of the younger players into the team in order to run the rule over them in a game situation before the new season begins next month. He said: "It's going to be a younger team with a few trialists against a team that's supposed to be flying and are amongst the favourites to win promotion. Leandre Griffits is already here, he's a winger but the other two trialists are central midfield players and I am very hopeful they will adapt and we might get a couple of decent players out of it. Both are based on the continent and I'm going to have a look at them. Lala Bolaise will also get his first run out."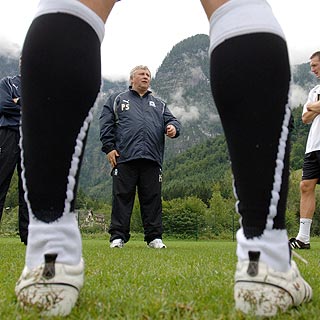 Paul Sturrock leading a training session

As well as the trialists here in Austria at the moment, Luggy also revealed that he is working very hard to try and bring a few more new faces to the club. He explained: "I've got so many fingers in pies at the moment that I'm forgetting their names - I can't spell some of them either! I'm always on the phone, haggling with agents, haggling with clubs and I'm still very committed to bringing three or four players to the football club. How long the time span is, is the difficult one. I don't want to be rushed because then you make mistakes but I don't want to have a gun held to my head either so it's a slow, slow process."
Argyle have now been in Austria for 48 hours and so far, Luggy is pleased with the work accomplished. He said: "I'm happy that the fitness of the players is getting better and I'm happy that injury levels have not been too severe. The weight training sessions seem to be going very well and the last three days, the ball work has gone very well so I was quite pleased with that and the energy levels of the player has been good. Although the opposition for Friday's match is still unclear, Luggy even revealed he knew who he was thinking of playing. Sturrock said: "We've done a lot of work on the training ground and there is a lot of changes I would like to make so the settled team will go out on Friday with the work we've done in the week."
OBERTRAUN DAY TWO
21st July
Argyle's second full day in Austria saw games get called off and then called on again, maybe, a heavy training regime and better weather! The players were back in the gym to start the day, as they have every day since returning from their closed season break. Weights and core work in groups were again the focus before they headed to the training pitches for some ball work. Things kicked off with a shoot-out competition, using a huge red fitness ball and then a catch competition with an American football and mini footballs. An 11-a-side match followed with Luggy stopping the match on several occasions to give advice and to swap the positions around. It seems that drama follows Argyle physio Paul Maxwell around. At the end of the session he had most of the first team squad, the media team and some of the travelling Green Army scrabbling around on the floor looking for his missing contact lens, which evaded discovery.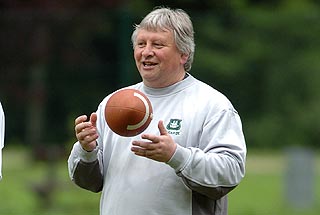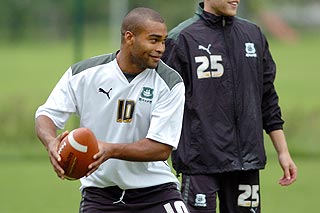 Paul Sturrock and Jermaine Easter using an American Football during training

As lunch approached we learnt that the game on Tuesday against Greuther Furth was in doubt as the pitch at Bischofhofen was waterlogged and a desperate search for a new venue was continuing and the previously cancelled match against FC Nuremberg maybe back on again, watch this space. Luggy was far from impressed. Lunch was next on the agenda where the players had the choice of the usual high-carbohydrate foods of pasta, rice and fish. After a three hour rest, the squad reported for training again at 5.00pm where they were joined by an unnamed trialist. The squad was split into four groups to play small sided games on a round robin basis. After each small sided match Paul Maxwell put the players through a cycle of fitness routines, with the ball and without, before the teams again challenged each other on the field of play.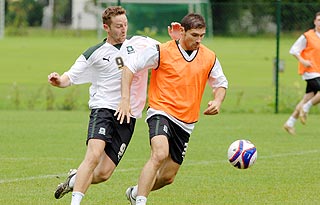 Steve MacLean and Jim Patterson during one of the practice matches

At dinner we were finally given confirmation of the venue for Tuesday's match against Greuther Furth, Leogang where the Russian squad based themselves for the Euro Championships. A relief for everybody, not least the playing staff who can now begin to prepare appropriately. Tomorrow's schedule will be a lot less intense as the players prepare for their opening match of the tour with a light training session in the morning and then a pre-match snack before the journey to Leogang.
YOU'RE HAVING A LAUFEN
22nd July
Argyle's Tuesday night friendly with Greuther Furth has been moved again - this time to Laufen in Germany. The match was originally due to be played In Bischofshofsen, but was switched to Leogang last night after heavy rain-fall. However, it seems that Leogang has suffered the same fate and the match will now be played just over the German border in Laufen. Fans travelling from Salzburg are advised to take the 156 north towards the German border. You will then run into Laufen it is also just two station stops by rail from Salzburg. The football ground is on your left as you enter the town. This match was originally scheduled to be played at this venue.


HELLO, OLD FRIENDS
22nd July
Our second game of this summer's pre-season trip to Austria will now be against Romanian side Petrolul Ploiesti. The match will be staged at the same venue as Tuesday's game against Greuther Furth - Laufen, in Germany - and will kick off at 4pm local time, 3pm in England. The game turns back the clock five years, when we last played Ploiesti (then Petrolul Astra Ploiesti) on a previous visit to Obertruan. The Romanians beat us by the game's only goal in a match which was played over 45 minutes as part of a three-team Blitz Tournier also involving Austrian host side Schwan Schwanenstadt. The matches were played in temperatures in excess of 90 degrees, forcing spectators to take shelter in the stadium's only covered stand. After the match, Argyle manager Paul Sturrock revealed that four of his players were dehydrated. Luggy estimated that Ploiesti were "at least of lower half Premiership standard. They were a different class to us. They taught us a lesson." However, they have been through troubled times since and have been relegated from the Romanian top flight, although they failed to regain their place by a single point two seasons ago. Earlier in the 2003 Blitz Tournier, Argyle had drawn 0-0 with Schwanenstadt, who Ploiesti beat, also 1-0, to win the competition.
ARGYLE 1 FURTH 1
23rd July
After all the hassle regarding the venue for this game, Argyle finally lined up against a side who in seven pre-season friendlies had netted 74 goals without reply. But it wasn't to be the same today, as Argyle, having found themselves behind just before half-time to a deflected shot from Ivo Ilicevic, scored a 1-1 draw thanks to the youthful enthusiasm of Damien McCrory. Luggy, as promised, named a young side featuring all three trialists and some of the younger players from the squad. In addition to this, he utilised the 4-3-3 system that had been run in the previous two days training and selected the two trialists to accompany Yoann Folly in midfield with Dan Smith and Leandre Griffit flanking Rory Fallon up top. In defence stood the young Shane White with Argyle's most experienced player, Matt Doumbe. Jim Paterson and David McNamee slotted in at left and right back respectively.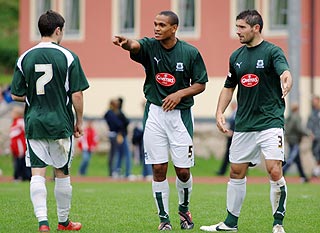 Dan Smith, Mat Doumbe and Jim Patterson during the Furth game

The game burst straight into action as from the kick off, Trailist B made a darting run down the right hand side, crossed, but found it nodded away by 6'5" Furth centre-back Marion Biliskov. Argyle then had another fast break. Yoann Folly collected the ball in the centre circle, switched to Dan Smith who delivered a fantastic cross that was knocked over the cross bar-by the scrambling Furth defender. For the next few minutes, the Pilgrims found themselves under the kosh and would have fallen behind had it not been for smart clearances from Matt Doumbe and Shane White. The German side continued to push and were only threatened by the occasional run from youngster Dan Smith. But then, as there looked to be no danger, Ivo Ilevic's curling shot from 25 yards took a wicked deflection off Doumbe to leave Larrieu wrong-footed and with no chance. 1-0 Furth. Both teams traded innocuous chances and Jim Paterson had a Dan Smith free-kick nodded over the bar before the referee bought the first half to a close.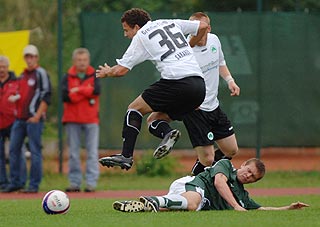 Shane White in action against Greuther Furth

When the teams re-emerged, Furth had made no fewer than nine changes to their side and their apparent lack of cohesion almost cost them immediately as Dan Smith found his attempt to lower the deficit sail narrowly over the bar. Despite a slight lull in the game, the Green Army would not be quietened and remain in strong voice throughout the game. On the half hour mark, Dan Smith was replaced by Damien McCrory who on several occasions showed his potential with darting runs down the left wing. Again, both sides created half chances before Furth had a golden opportunity to make it 2-0. As Stefan Reisinger found himself clear through, it seemed just a matter of seconds before the net rippled. Then, as if out of nowhere came Matt Doumbe who slid in with a brilliantly executed tackle to clear the danger. Then came the equaliser and it was, fittingly, from the young Damien McCrory. David McNamee burst powerfully into the box and laid the ball across to McCrory who bravely put his body on the line to tap in from two yards. 1-1. After that there were few other chances as both teams looked to consolidate the draw but all in all it was an impressive performance from the young Pilgrims, many of whom proved that they have what it takes should they be called upon this coming season.
YOUTHFUL ENTHUSIASM
23rd July
Paul Sturrock was very pleased with the performance of his young side as they drew 1-1 with Greuther Furth on Tuesday night. The Pilgrims found themselves behind just before half time thanks to a deflected shot from Ivo Ilicevic but drew level mid-way through the second half through substitute Damien McCrory. The team, which featured three trialists, found cohesion hard to come by in the first half but Luggy hailed their ability to find their feet after half-time. He said: "Obviously we had trialists and two or three young boys and the trouble was that nobody knew each other first half. The shape wasn't right and there was no understanding but in the second half we played very well and we got in the right areas of the pitch, and, to be fair, we could have maybe scored a couple more. It was a deflected goal. Other than that I think Ro Larrieu only had one other save in the first half but we're playing a system now where we're giving a wee bit extra thought to it. Now we've seen it live in battle conditions we can plan ahead."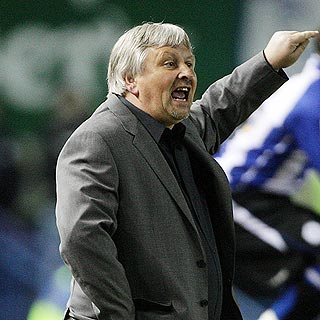 Luggy watching his side take on Greuther Furth


Luggy was also full of praise for Argyle's German opposition who he thinks will be very successful this season. "Furth were very organised. They are going to win a lot of games with the way they play their game. They are very fit team, they pressed for the ball when we had it and when they had it they were very sharp." Meanwhile, Argyle will play Romanian side Petrolul Ploesti in Laufen at 4.00pm on Friday. Luggy said: "The work we'll do now Wednesday, Thursday, Friday morning will be for the other team because I've got the other ten boys who want to play. It gives me an outlet for training now because I've seen the system live the way we want it to play and it gives me a wee chance to change things in the week."
OBERTRAUN DAY THREE
23rd July
Although we thought it had been sorted out yesterday, when the players arrived for breakfast this morning we learnt that the venue for the game against Furth had changed...again, and that we would now have to travel to Laufen in Germany. This meant that it would take another 30 minutes to get there and that the team would have less time on the training ground before departing. So no time was wasted and Luggy and his team took the players through a gentle warm-up before the squad was split between today's line-up and the others. Whilst Sloop and Summers took those not selected to face Furth over for some light passing drills, Luggy spent 30 minutes with the team explaining the importance of different moves for the match.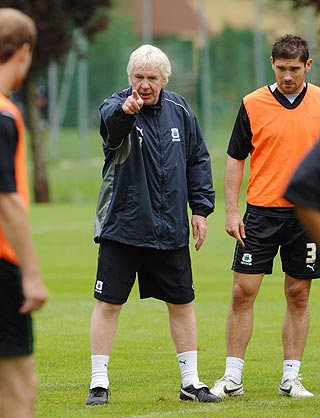 John Blackley gets his point across during training

It was again more high-carbs for lunch. I can tell you that by the end of this week, this reporter is going to be about three stone heavier on the flight home. Half of the squad then set off for Laufen, whilst the other half had the afternoon off to pursue private interests. When somebody suggested that they might like to visit the local town of Halstatt for its history and culture, Karl Duguid looked less than impressed. When the players arrived at the pitch in Laufen, there was a small problem - no marked lines. Not the organised Germans we all know and love. So, in record time, a groundsman came out with his machine and lined the pitch freehanded in 10 minutes flat. If only Roy Castle were around.
As the Green Army began to take position around the pitch with their flags and specially designed tour t-shirts, the game that mother nature had tried so hard to cancel finally arrived. The Pilgrims found themselves behind just before half time thanks to a deflected shot from Ivo Ilicevic but drew level mid-way through the second half through substitute Damien McCrory. Some felt Argyle might have done enough to win it but Furth held on for a share of the spoils. At half time, the tour organisers confirmed that we would play Petrolul Ploiesti on Friday, in Laufen. This came as a great relief to Luggy as it is then that he wishes to try out his strongest side. On the players arrival back in Obertraun they were met with a supper of toast and fruit before departing to bed. Those who played today will have light training tomorrow whilst those who didn't will be subjected to the usual no-nonsense, hard graft.
YOUNG HOPES
23rd July
Whilst pre-season tours may be old-hat for some of Argyle's senior professionals, it's a whole new experience for first year professionals Shane White and Damien McCrory and second year apprentice, Ben Gerring. Despite the relative novelty of thier first tour, the trio know that this season will be an important one in their overall development as footballers.Damien McCrory did no harm to his reputation last night as he came off the bench to bag Argyle's equaliser in the 1-1 draw against Furth. He said: "I was pleased when I came on and very pleased to get the equaliser. It was a run down the right wing, David McNamee got on the end of the ball and got a low driven cross and I was lucky enough to tap it in so I was really pleased." Despite his young age, Limerick born McCrory has had international experience with the Republic of Ireland under-18's and has no qualms on his aspirations for this season. He said: "I was away with the under-18's in Germany and we played them twice in two friendlies and I started them both so hopefully I'll be in the under-19s squad for this season. I want to make my debut this season. To come on off the bench, make a few appearances and if I train hard, it should all go well."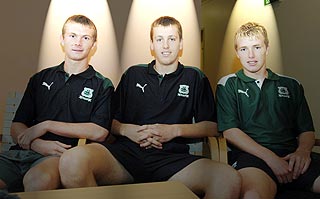 Shane White, Ben Gerring and Damien McCrory

Fellow apprentice Shane White also played yesterday, partnering Mat Doumbe in central defence for the full 90 minutes. Shane said: "I was very pleased with my overall performance, there are still bits of my game I could improve on but I think I did okay. White was duly awarded the Young Player of the Year award having captained the Argyle Youth cup side to a very respectable quarter final last season and believes it was the team spirit that got them so far. He said: "We had a good team really with a good bunch of lads who got on well and just took it onto the pitch. We unfortunately got beaten by Manchester City in the quarter finals." Like Damien, White knows exactly what he wants from this season. "I just want try to and break into the first team as quickly as possible, and just take it from there," he said.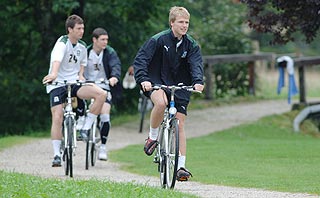 Damien McCrory making use of the facilities at Obertraun


Meanwhile, 6'5" centre back Ben Gerring was not scheduled to come on the tour until last week. "I was shocked to say the least," said Gerring of this inclusion in the travelling party. "With the amount of centre halves they had, I didn't think they would take any from the youth team. But I think it was a day before [the squad left for Austria] I was called into the gaffer's office and I was over the moon to find out." Despite impressing in Argyle 1-1 with Weston-super-Mare last week, Gerring did not feature against Furth having picked up an injury in training. He said: "I took a knock on the knee, training game down at harpers, landed awkwardly and took it into the Austria trip and its got worse ever since. It got to the stage on Monday where we just had to knock it on the head. So now it's just about recovering, 7-10 days and hopefully I'll see a bit more of pre-season."
OBERTRAUN DAY FOUR
24th July
After the Furth match, this morning's regime was a little less intense. The players reported for breakfast at 9.00am as usual but the weather meant that they could not go out to train until 11am. However, the players who played last night had no such work and trudged off for a light jog before going to the weights room for some re-generation exercises. Meanwhile, the others went down to the rubber-crumb pitch for some attack v defence drills. Firstly, one team of six took on another team of six on a narrowed pitch. Each team had a striker and could not score until the ball had been fed into his feet. There was then a crossing drill in which the defenders had to clear the ball as soon as they can and sink them into small goals on the half way line.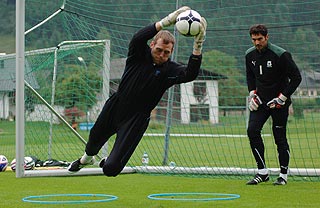 Graham Stack and Romain Larrieu training

The players were then entitled to their one and only afternoon off of the entire tour. Graham Stack led a group of lads into Salzburg on the train whilst some of the younger members of the squad choose to stay on the complex and play on the video games they had bought with them. We gather it is still nice weather back home in Plymouth? Well, if it is, then we don't like you because it has rained here again. Mercifully, the forecast is good for the next few days so please keep your fingers crossed for us. Few players will report back for tea but will certainly be expected bright and early tomorrow morning.
TOUR SYSTEM
24th July
As Argyle's Tour of Austria 2008 enters the last few days, manager Paul Sturrock reflected on the positive aspects of the trip. Although the weather in Austria has been far from ideal, Luggy thought that the positives had far out-weighted the negatives. He said: "We came with the idea of having a look at a system. We have developed that system. We now want to put it into practice when we go back just to see how we do with it. The boys are looking far sharper than when we first turned up, there is an edge to them now, they are looking quite strong and their fitness levels are high, so they are all pluses for the trip. The only minus is that the weather has curtailed the trips and activities we had planned in terms of team bonding but we will just have to do that when we get home."
Argyle face Romanian outfit Petrolul Ploesti on Friday in their second game but Luggy was giving nothing away regarding who he might play. He said: "I have got to make a decision on certain individual players just to see them in the system but it is food for thought now, so I will take a couple of hours to have a look at it. Rory has tweaked his groin and Romain is not feeling the best either in his thigh area and calf, so we'll take them out and rest them. Krizstian has trained today, so I'm very hopeful that we'll play a bit-part in the game on Friday. If not he will defiantly play on Tuesday against Yeovil." Luggy also revealed that there will be no more trialists and that he has officially decided not to follow up his interest in trialists A & B from Tuesday night. He said: "I think there was a few agents who in the past have recommended a decent standard of player and I have given them the opportunity to bring in some of those players. One or two we played the other night were no better than what we have at this football club and the only way you can improve your squad is by bringing in better. "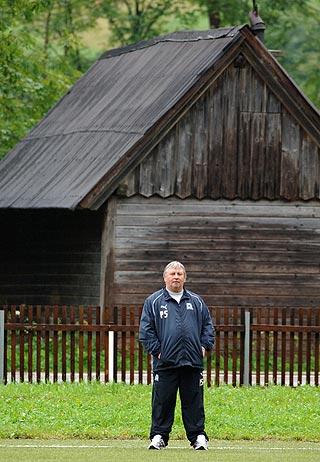 Paul Sturrock keeping a close eye on things
OBERTRAUN DAY FIVE
24th July
After yesterday's afternoon off, the players reported refreshed and energetic ahead of the days training. That didn't last long. After a session in the gym, the players were out on the training ground for some serious hard-graft. After an extensive warm-up in which Maxie pushed them to the limit, the attacking and defending players again pealed off and focussed on specialist activities. Whilst yesterday the attacking players concentrated on playing the ball to feet, today they focussed on switching the ball to the wings. Jason Puncheon and Jamie Mackie stood coned off on each side waiting to receive a pass to knock into the area. Meanwhile, the defenders concentrated on defending set-pieces. Balls were placed all around the pitch and then fired into the air for them to deal with. Then for the last 20 minutes, there was a full 11-a-side match in which Luggy experimented with the team that is expected to play tomorrow. They worked incredibly hard; so hard in fact that when they came back for lunch, many of them hit the hay for an hour or two straight after their meal.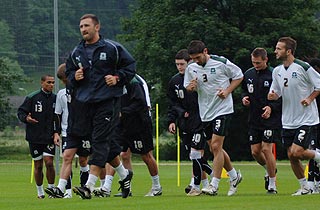 Paul Maxwell's extensive warm-up

In the second session, they were again 'beasted' by Maxie who insisted on an a-cappella karaoke session whilst they stretched. Karl Duguid provided a splendid version of Cat Steven's 'Father and Son' whilst Dan Smith's 'I Would Do Anything For Love' left a bit to be desired. The laughing and joking soon died away as the squad moved into an attack v defence drill that focussed on crossing. This evening, the squad, management and staff have been invited to the local skittle alley to take on the travelling members of the Green Army. The victors (which will definitely be us), shall be named in tomorrow's update. Oh, and it rained here again. Shock
WILLIE'S WARM-UP
24th July
If you'd have gone down to the training ground today, you'd have been sure of a big surprise. For the shouting and hollering coming from the goalkeeper's training session (and probably heard halfway across Austria) was not coming from Geoff Crudgington, but from Austrian native Willie Lackner. Willie works here at Obertraun assisting the organisation of the club's tour but tries his hand at goalkeeping coaching when called upon. He has been covering for Crudgy who has returned to Plymouth to attend a family wedding. Some of Willie's eccentric coaching methods included shouting very loudly as he pinged shots at all areas of the goal, playing football volleyball as well as game based exercises.
Willie played as a sweeper for FC Wacker Innsbruck and has coached the Argyle keepers on their previous visits to Austria. Keeper Romain Larrieu said it certainly was different training with Willie. He said: "We really enjoyed it. All of his drills are done with the game in mind. You've got one, two, sometimes three balls and you have to improvise because it was really good fun. I haven't spoken to Stacky but I could tell that he was enjoying it. I couldn't train like that everyday, though!" Willie said: "I love doing it. I have never been a goalkeeper myself but once when 1860 Munich and Stuttgart were here there was one goalkeeper coach sick so they asked me if I could do it. The first few times I was just shooting at them and then I enjoyed it and then I learnt a little bit from each team who came."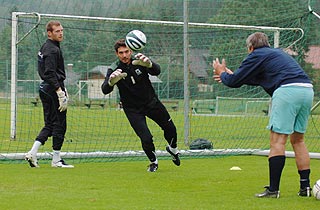 Graham Stack and Romain Larrieu working with Willie Lackner
ALL CHANGE...AGAIN
25th July
There has been a last-minute change of opponents for Argyle in the final game of their week-long pre-season visit to Austria. Romanian second-tier side Unirea Alba Iulia have replaced scheduled oppostion Petrolul Ploiesti, who were themselves a late change from original match, for Friday afternoon's match. Unirea Alba Iulia, are from Alba County, near Transylvania, and founded in 1924. They are now playing in Liga II Serie II. The match kicks off at 3pm our time in the German town of Laufen.
ARGYLE 2 FC UNIREA 0
25th July
Argyle continued their unbeaten pre-season run with a routine 2-0 win over Romanian League 2 side FC Unirea Alba Iulia in Laufen. Although originally due to play Petrolul Ploesti, Argyle arrived at the ground in Germany to find Unirea warming up in the baking German sunshine. Second-half goals from Steve MacLean and then Luke Summerfield were enough to seal it for the touring party although they could have possibly scored a few more. In a much changed line up from Tuesday's draw with Greuther Furth, manager Paul Sturrock opted for Graham Stack between the sticks, with Marcel Seip and Krisztian Timar, who wore the captain's armband, forming a solid partnership in the centre of defence. David McNamee kept his place in the team but Jim Paterson had to make do with a place on the bench and was replaced by Gary Sawyer. Meanwhile, Chris Clark, Karl Duguid and Luke Summerfield powered the engine room with Jason Puncheon, Steve MacLean and Jamie Mackie up top.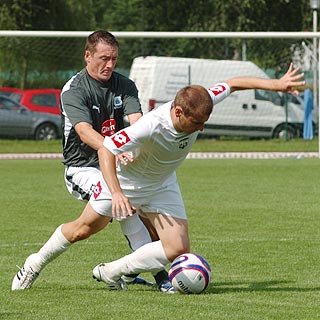 David McNamee in action against Unirea

After a pedestrian start with both sides happy to knock the ball around the defence, the game suddenly burst into life as Jamie Mackie received the ball on the left hand side, made a mazy run towards the box and delivered a deflected cross that ended up at the feet of Luke Summerfield. Summers reacted instantly and smashed the ball home only to find it ruled out (heavens knows why) for offside. Then just two minutes later, a carbon copy of that move materialised again but this time Summerfield fired just over. Although Unirea struggled to create many openings, they almost got lucky five minutes before half time when Marius Foro fired a stinging shot against the crossbar from 20 yards out.
In the second half, Argyle really shifted up a gear and the introduction of Jermaine Easter had an immediate effect as he battled for 50-50 ball in the far corner, before turning and squaring to Steve MacLean from whom it would have been harder to miss. Then just two minutes later, Summerfield was rewarded for his first-half attempts as he latched on to a loose ball to fire in from the edge of the area. The Pilgrims had further opportunities to increase their lead but found their efforts thwarted by the Romanian defence. Nevertheless, Argyle continued to control the game until the final whistle to ensure that they go into Tuesday night's game at Yeovil unbeaten.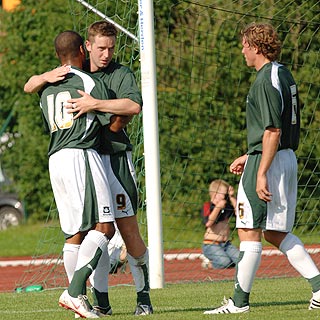 Jermaine Easter and Chris Clark help Steve MacLean celebrate his goal against Unirea
BEDDING DOWN
25th July
Paul Sturrock was pleased with his side's 2-0 win over Romanian opponents FC Unirea Alba Iulia on Friday afternoon. Steve MacLean and Luke Summerfield were on target for the Pilgrims as they brought the curtain down on a successful pre-season tour in Austria. The trip has been a chance for Luggy and his team to try out and then execute different playing systems in the friendlies and overall, he felt that the team had done well. He said: "They are bedding down that new system and i think that they thought it out as they went along. It was a difficult game with the weather; it's been very different in the training sessions. A lot of them didn't play in the first game so they looked a bit leg weary in the game - they left that zip on the training ground and I was looking for that sharpness. But overall, it was a good result."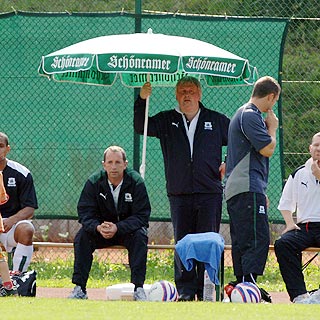 Kevin Summerfield and Paul Sturrock watching Argyle take on Unirea Alba Iulia

Luggy had previously hinted that Friday's team was going to be made up of some of the more experienced players in the squad. It was therefore somewhat surprising to see Damien McCrory's name amongst the subs. The Limerick born teenager featured as a second-half substitute against Greuther Furth on Tuesday and went on to score Argyle's equalising goal. Sturrock said that he was definitely keeping an eye on young McCrory. He said: "Well he scored a goal and at the end of the day you've got to give him the confidence of not dropping him out again. I feel that he's got attributes that will be of great benefits to the team. He's not quite ready for that step yet but we'll be giving him bits and pieces to try and make sure he becomes a good player."
Damien McCrory in action against Unirea

Argyle's next outing will be at Yeovil Town next Tuesday. Luggy said that he hopes to name a strong side and that he wasn't ruling out featuring new players. He said: "I've got to try and get a settled team now to get them ready for the start of the season but I will be very much looking to name a strongish team. There will be no trialists because they've slapped me in the face a bit but there might be if we buy. We are interested in a whole load of players but getting them is a whole different kettle of fish." Meanwhile, striker Steve MacLean was pleased with the part he played in Friday's win. The former Cardiff City hit-man opened the scoring for Argyle after latching on to a well placed Jermaine Easter cross. He said: "It was nice to get a goal but first and foremost it was a good 90 minutes for the team. I thought we played some good stuff and I hope it goes well for the start of the season. Hopefully next season the team can do well and we can better our finish last year but on a personal note, I really want to do well, help the team do well and get a few goals along the way."

OBERTRAUN DAY SIX
25th July
And so Argyle's Austrian tour comes to an end and finally, we had some nice weather. They boys had a light breakfast and then headed straight out onto the training ground for some technical work. The team that was selected for the match in the afternoon were taken aside by Luggy and worked through different plays. Meanwhile, the other lads took part in some set piece practice. But the most impressive thing seen all week by far was Maxie putting Ashley Barnes, Yala Bolasie, Dan Smith and Shane White through their paces. Doctor Paul Giles had set out 10 cones, each at ten metres apart which the lads had to run to, run back and then run to the next one. What Maxie didn't tell them was that they had to do it FIVE times. You could see that strain on their faces as each time they pushed themselves to make that last shuttle run. It was tiring just watching them.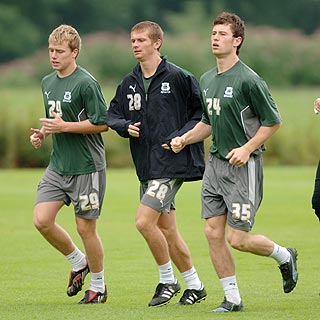 Damien McCrory, Shane White and Ashley Barnes training on the final day of the tour

When the players returned from training they packed up their bags and went for a lunch of the usual high-carb dishes. Then it was a fond farewell to Obertraun as the players departed for Laufen for the game against what we thought was going to be Petrolul Ploiesti. We were wrong. When we arrived, the players warming up on the pitch were wearing tracksuits with FC Unirea Alba Iulia on the back. When we asked why they weren't Ploiesti, we just received puzzled expressions. At least we had someone to play. Argyle won the match 2-0 with goals coming courtesy of Steve MacLean and Luke Summerfield. It was a decent performance, and undoubtedly made all the more sweeter by the arrival of summer.
As soon as the Green Army saw that first square foot of blue sky above us, there was a collective sigh of relief and they soon got into good voice. One particular highlight of the match was the over-theatrical manner in which the Romanian players went down after a tackle. To put it simply; it was embarrassing. Some of the gymnasts in this summer's Olympic Games would have been proud of one particular player's roll. After the match, the team headed for their hotel in Salzburg and duly set about changing into 'civvies' ready for the evening. It was finally nice to have some non-footballer food and we were even treated to cherry chocolate cake - luxury. So it's goodbye from Austria and from Salzburg - so long, farewell, auf weidersen, goodbye!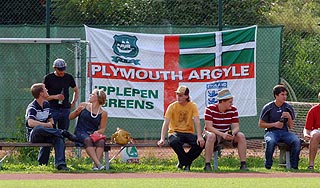 The Green Army at Laufen for the Unirea game