Back to

Austria 2008

Tour Home
Austria 2008: Evening Herald
PILGRIMS TOUR DIARY
21st July
Argyle arrived at their training camp in Austria at 8.30pm local time on Saturday. They had set off from Home Park early on Friday morning, with their first destination the Village Hotel in Walsall. The Pilgrims' squad stayed there before the pre-season friendly against Kidderminster Harriers in the evening. They returned there after the 2-2 draw at Aggborough, in which Jamie Mackie scored both of their goals. Argyle flew from Birmingham to Salzburg on Saturday afternoon and were then taken by coach to the National Sports and Recreation Centre, at Obertraun.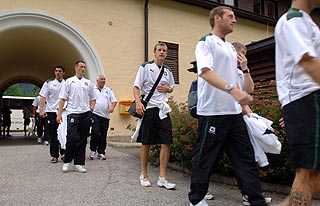 The Argyle squad arriving at Obertraun

Obertraun is a small village set on the shores of Lake Hallstatt, and surrounded by the Dachstein Mountains. On arriving at their training base, the players went to the restaurant for their evening meal. Chelsea's academy squad, nearing the end of a 10-day stay, had eaten there earlier on. After heavy overnight rain, and with the clouds still engulfing the mountains, the players visited the centre's gymnasium. They worked for 60 minutes on the weights, supervised by physio Paul Maxwell. Argyle later had two training sessions on one of the centre's four, full-sized, grass football pitches. The first one started at 11.15am and involved an 11-a-side match played over two, 20-minute periods. The teams were:
White shirts (4-3-3): Romain Larrieu; David McNamee, Krisztian Timar, Marcel Seip, Gary Sawyer; Luke Summerfield, Karl Duguid, Chris Clark; Jermaine Easter, Steve MacLean, Jason Puncheon.
Orange bibs (4-4-2): Graham Stack; Dan Smith, Ben Gerring, Shane White, Jim Paterson, Leandre Griffit, Yoann Folly, Damien McCrory, Yala Bolasie; Ashley Barnes, Rory Fallon.
The competitive game gave manager Paul Sturrock a first chance to run the rule over French trialist Leandre Griffit. It was also encouraging to see Krisztian Timar playing – and heading the ball – after his serious injury at the end of last season. But two of the Pilgrims' squad – Mathias Doumbe and Jamie Mackie – did not take part. Doumbe has not played in any of Argyle's three pre-season friendlies because of a hamstring injury. Mackie sat out the session with a sore groin, although that was purely precautionary and he completed a series of laps of the pitch while the practice match was played. The final score was 2-0 to the white shirts, with Clark and Easter on target for them. There was one change at half-time, though, with Paterson and Sawyer swapping sides at left-back. The second training session began at 4.45pm, but Sturrock had to cut it short, just before 6pm, because of torrential rain and thunder. There will be a similar schedule today before the Pilgrims play German Bundesliga 2 club Greuther Furth tomorrow night.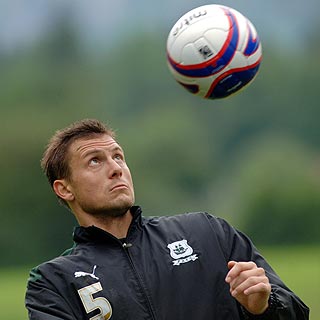 Krisztian Timar back in action
GRIFFIT JOINS GREENS ON TOUR
21st July
Paul Sturrock hopes to add new recruits to his Plymouth Argyle squad while they are at their training camp in Austria this week. Sturrock is aiming to step up his pursuit of a couple of transfer targets, even though he is away from his Home Park office. Two trialists are also set to play for the Pilgrims in the pre-season friendly against German club Greuther Furth tomorrow. One of them is former France under-21 international midfielder Leandre Griffit, who trained with Argyle in Obertraun yesterday. Griffit, 24, was at Southampton during Sturrock's short spell as Saints' boss in 2004. However, Sturrock's interest in Sunderland centre-back Russell Anderson, who had a loan spell at Argyle last season, has ended. It is thought the transfer fee and wages for Anderson were prohibitive for the Pilgrims. The 29-year-old Scotland international is now being linked with a move to Glasgow Rangers.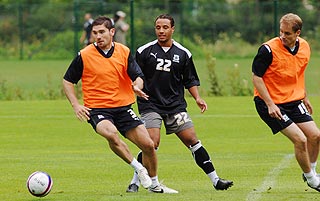 Leandre Griffit with Jim Paterson and Marcel Seip in training

Sturrock remains in the market for a centre-back, as well as one – possibly two – central midfielders and a striker. Asked about his transfer activity, Sturrock replied: "It's all on-going. We are trying to pressurise a couple of football clubs and agents into making decisions. "We would like them to be here this week and we will work away at that." Sturrock would not reveal the identity of the second trialist who could play against Greuther Furth in Bischofshofen tomorrow. But Griffit, who has been playing in Sweden for top flight club IF Elfsborg, is someone Sturrock knows well. Sturrock said: "We are going to play him on Tuesday. I had to look at him yesterday to make sure he was okay fitness-wise." Griffit was loaned out by Southampton to Leeds, as well as Rotherham, in 2005. He was signed by Southampton from French club Amiens in July 2003 but played only eight games for Saints – scoring two goals.
Argyle's game against German club FC Nuremberg in Kaprun on Friday has been cancelled. Argyle and their tour organisers are now trying to arrange a fixture against alternative opposition for the same evening.
GREENS GET SET TO FACE GERMAN CONSISTENCY IN TONIGHT'S MATCH
22nd July
Argyle will face one of the most consistent clubs in Germany's Bundesliga 2 of recent seasons when they play Greuther Furth tonight. The Cloverleaves, as they are nicknamed, have finished in fifth position every year since 2000/01 with only two exceptions. The first was in 2003/04 when they were ninth and the second was when they came sixth last season. Under new head coach Benno Mohlmann, who was appointed at the end of May, Greuther Furth have easily won each of their seven pre-season friendlies so far. They have all been against German regional league opposition, the first a 13-0 thrashing of DJK Ebnath on June 28. In doing so, Greuther Furth have scored 74 goals and have yet to concede even one. The last outing was on Friday, when they beat TSV Kornburg 8-0. Aleksandar Kotuljac scored a hat-trick in that game, while his Brazilian strike partner Cidimar Rodrigues da Silva was also on target. Greuther Furth are also at an Austrian training camp in Leogang, which is to the west of Obertraun. They are set to play the first of three games against Greek opposition there on Saturday, when they meet AEK Athens. Greuther Furth will then face Aris Salonika in Innsbruck next Monday before playing a home game against Panionios at the 15,000-capacity Playmobil-Stadion on August 2.
PILGRIMS TOUR DIARY
22nd July
Jamie Mackie had to wait until yesterday afternoon before taking part in his first full training session of Argyle's pre-season tour to Austria. The 22-year-old had been suffering from a sore calf since his eye-catching display in the 2-2 draw at Kidderminster Harriers last Friday. So, purely as a precaution, Mackie did not play in a practice match played over two 20-minute periods on Sunday. While his team-mates were locked in battle, the former Exeter City striker ran around the outside of the pitch at a decent pace. As he passed me on one occasion, I congratulated him on his two goals against Kidderminster. The first one, in particular, was a superbly executed diving header after a cross from left-back Jim Paterson. Mackie's response to my compliment was revealing. "That's what I need to do if I want to get in the team this season," he said, looking over his shoulder, as he carried on running.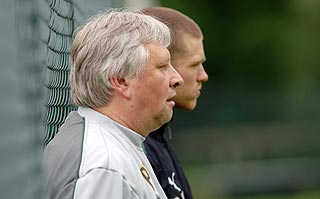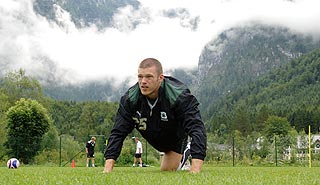 Paul Sturrock and Jamie Mackie watching training, and Mackie after being cleared to take part


Mackie was involved in the warm-up before Argyle's training session yesterday morning – as he had been on Sunday. He then took part in a shooting drill with strikers Jermaine Easter and Steve MacLean, as they put new goalkeeper Graham Stack to the test on an adjacent pitch. But, to be on the safe side, Mackie stood on the sidelines when the squad split into two groups for a game. The second training session of the day was at 5pm and, this time, Mackie played a full part. When Mackie signed for Argyle in a £145,000 transfer from Exeter in January, manager Paul Sturrock described him as a 'development' player. He memorably scored two goals on his debut, when he came on as a late substitute in a 3-0 home win against Barnsley in February. Mackie was also on target in a 2-2 draw against Preston North End in April. He showed signs of promise as he made 13 appearances, including four starts, before the end of the 2007/08 Championship campaign. Mackie seems to have made further progress this pre-season, with decent displays against Tiverton Town, Weston-super-Mare and Kidderminster. It was not only his two goals at Kidderminster which stood out, but his sheer energy and enthusiasm. Mackie strikes you as someone who wants to make an impact in football – and fast. He will certainly become a fans' favourite if he translate his pre-season performances into the Championship this term. Judging by his comment to me yesterday, Mackie is completely focused on that aim. He knows he will need to listen to learn, but seems eager to do so. So there has to be a good chance of him being in the starting line-up for Argyle's season-opener against Wolverhampton Wanderers at Home Park on August 9.
Having seen Argyle's training session's yesterday morning, I can reveal striker Steve MacLean is also a decent goalkeeper. Argyle's club record signing pulled on a pair of gloves as the Pilgrims' squad met up for their morning session. The players tried some shots at goal before starting their warm-up and MacLean pulled off some good saves. The light-hearted start to the session continued, with MacLean taking a penalty against goalkeeper Romain Larrieu with a large – and I mean large – red inflatable ball. The former Cardiff City striker strode up and smacked it unerringly into the top of the net, to the cheers of his team-mates.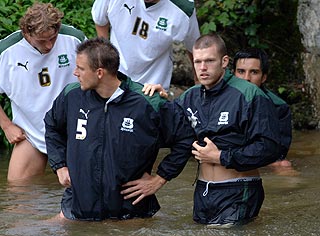 The players cooling off in the River Traun after a training session

Argyle brought 30 footballs over to Austria with them and they are the responsibility of Bill Kilroy. Recently-retired Bill is an avid Argyle supporter who has become a familiar figure around the Harper's Park training ground. He has even become known as BBC – for balls, bibs and cones. Bill has made the trip to Obertraun and he has been trying to keep track of all 30 footballs. It is not an easy task, especially when the players split into more than one group. And it is further complicated by the fact that there is a fast-flowing stream beside the training pitch Argyle have been using. When the Pilgrims finished their training session on Sunday afternoon – which was cut short by torrential rain – they were two footballs short. One of them was last seen by Bill floating down the stream and on to Lake Hallstatt. But, showing admirable devotion to duty, Bill found the other one in some long grass the following morning. Someone who lives on the shores of Lake Hallstatt is probably the new owner of a Mitre football, though.


SLOVENIAN SET TO FEATURE FOR ARGYLE
22nd July
Slovenian midfielder Nebojsa Kovacevic is one of two new trialists to have arrived at Argyle's training camp in Austria. Kovacevic, 30, is currently under contract to ND Gorica, who were champions of his country's national league from 2004 to 2006. The second new trialist is another midfielder, Flavien Belson, from French top flight club Metz. Kovacevic played for ND Gorica in their opening game of the new Slovenian season, a 2-2 draw at home to Interblock on Sunday. The centre midfielder then travelled by car to Austria yesterday. Kovacevic eventually arrived in Obertraun after a five-hour trip and, consequently, was too late for Argyle's afternoon training. He did watch some of it, and was set to take part in this morning's session. Belson, 22, made six appearances for Metz in Le Championnat last season. He has come through their youth ranks and has two years remaining on his contract.
Kovacevic and Belson will play for the Pilgrims in their latest pre-season friendly tonight. It will be against German Bundesliga 2 club Greuther Furth. The game was supposed to be played in Bischofshofen, which is midway between Obertraun and Greuther Furth's training camp in Leogang. But the pitch at Bischofshofen has been waterlogged by torrential rain over the past two days. So the fixture has now been moved to Leogang, which is more than 70 miles from Obertraun. The Steinbergstadion was used as a training base by Russia before the Euro 2008 finals in Austria.
Argyle will include at least three trialists, and possibly four, against Greuther Furth as manager Paul Sturrock continues his attempts to add to his squad. In addition to Kovacevic and Belson, former France under-21 international Leandre Griffit has been training with the Pilgrims for the last two days. Griffit, 24, was at Southampton during Sturrock's short spell as Saints' boss in 2004. It is thought the fourth trialist could be a German centre-back. He could be needed because defenders Krisztian Timar and Ben Gerring dropped out of training yesterday afternoon because of groin and knee injuries respectively. Sturrock intends to send out a relatively inexperienced side against Greuther Furth, plus the trialists. It could include first-year professionals Damien McCrory and Shane White and 19-year-old striker Ashley Barnes. Centre-back Mathias Doumbe will also get his first run-out of pre-season. He is expected to play for 45 minutes after sitting out the previous three warm-up matches with a hamstring injury.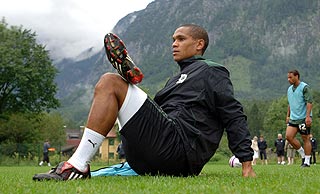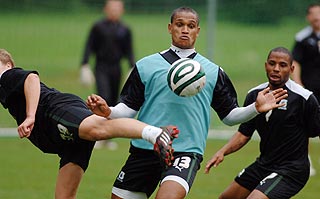 Mat Doumbe stretching, and testing, his hamstring

Sturrock will pick a stronger starting line-up for the second game of their tour to Austria on Friday. Argyle had been scheduled to play against another Bundesliga 2 club, FC Nuremberg, in Kaprun that evening. But that fixture has been cancelled at Nuremberg's request. Glasgow-based sports tour company Libero are now trying to arrange new opponents and a new venue for Argyle so they can play, as planned, on Friday. Sturrock expects Greuther Furth, who came fifth in Bundesliga 2 last term, to be a good side. He said: "This lot are favourites for promotion this season so it's going to be a difficult game. We are going to have a very young team, but they will not let us down."
PILGRIMS TOUR DIARY
23rd July
Another day in Austria, another day of steady rain. That has been the story so far of Argyle's pre-season training camp in Austria this week. Yesterday morning was no exception as the Pilgrims prepared for their friendly against Greuther Furth last night. Defenders Krisztian Timar (groin) and Ben Gerring (knee) did not take part in the training session because of injuries. Timar is expected to return to training within the next couple of days, though. After the rest of the squad completed their warm-up, manager Paul Sturrock spent 20 minutes talking tactics with the side he had picked to play Greuther Furth. They included three foreign trialists – French pair Flavien Belson and Leandre Griffit and Slovenian midfielder Nebojsa Kovacevic. Griffit, who is currently with Swedish club IF Elfsborg, has been training with the Pilgrims since Sunday. But Belson and Kovacevic only arrived in Obertraun on Monday afternoon and yesterday morning was their first session with Argyle. Sturrock explained to the players the 'shape' he wanted from them for the game against Greuther Furth. Kovacevic speaks some English so he seemed to understand Sturrock's instructions. But Belson does not, so Argyle's French defender Mathias Doumbe translated for him.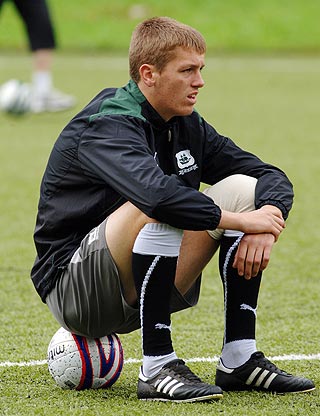 Ben Gerring, sitting out the training session

While Sturrock was busy on one pitch, another 11 players went with coaches Kevin Summerfield and John Blackley to the opposite one. Goalkeepers Romain Larrieu and Graham Stack took it in turns to face shooting practice. Firing the footballs at them were Chris Clark, Karl Duguid, Jermaine Easter, Jamie Mackie, Steve MacLean, Jason Puncheon, Gary Sawyer, Marcel Seip and Luke Summerfield. None of those nine players were going to play any part in Argyle's game against Greuther Furth. As it was being played in the German border town of Laufen, some distance away from Obertraun, Sturrock did not see the point of sending all of his squad there. They stayed at the Pilgrims' training camp while the rest of the players made the trip. The plan is for those nine players to get run-outs in another game on Friday. Weather-permitting, that will be against Romanian outfit Petrolul Ploiesti, which is also set to be played at Laufen.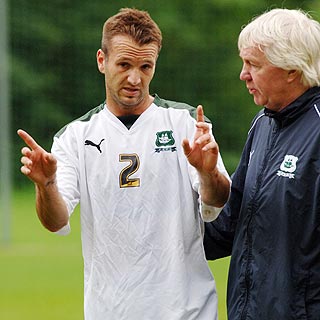 Karl Duguid and John Blackley

Club doctor Paul Giles went for an unplanned paddle in a stream next to Argyle's training ground yesterday morning. Giles – uncharacteristically for him, it has to be said – sliced a football over a fence and into the water. 'The Doc' blamed it on a bad bounce on the concrete path in front of the changing room. With the ball stuck in the middle of the stream, Giles had to take off his shoes and socks and go for a paddle to retrieve it. Rain started to fall heavily soon afterwards, so he was not the only one who was wet!
STACK'S MAKING HIS PRESENCE FELT
23rd July
Goalkeeper Graham Stack seems sure to be one of the most vocal players in the Plymouth Argyle dressing room this season. Even in practice matches at training, Stack can be heard constantly talking, usually words of encouragement or advice. Although one of five summer signings made by Pilgrims' boss Paul Sturrock, he has soon settled into the squad. Stack, 26, was signed on a two-year contract by Sturrock after he was released by Reading at the end of last season. He said: "It's a quiet dressing room – one of the quietest I have been in, to be honest. I would like to think I might liven things up in there. Maybe in time, once we get to know each other, I think that might change."
Argyle's training camp in Obertraun, Austria, this week gives the players – new and old – the opportunity to spend time together. Stack said: "It gives us the opportunity to become closer as a group. Every successful side I have been involved with – when we got promoted at Reading and when we won the league at Arsenal – had a great team spirit. The players were all pushing in the same direction and helping each other. I went to Austria with Arsenal, funny enough, and it was a great training exercise, but we did everything together. We went out to eat, we went on walks, we had quizzes and we went swimming."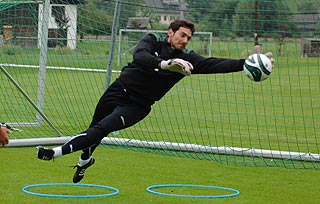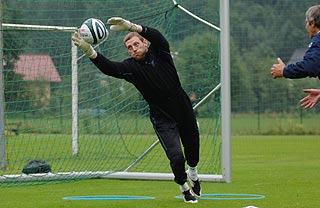 Romain Larrieu and Graham Stack training


One of the main problems Argyle managers have always faced is persuading players to move to Plymouth from other parts of the country. It is widely perceived within football circles to be out on a limb. But Stack, who was born in Hampstead, London, had no issues about moving to the South West. "No, not at all," he said. "It's a lovely place. Listen, I'm a city lad. I was born and bred in London and have spent most of my life there, but I have travelled as well. I spent a year in Belgium on loan (at Beveren), I spent a year at Leeds and I spent a year at Wolves. At the end of the day, my family and my football career are the most important things to me. But, regardless of where it is, I'm always prepared to do the travelling because it's my livelihood. I want to get on in football and I want to go as far as I can. If that means I have got to make a sacrifice by leaving London and playing elsewhere, that's something I'm prepared to do." He added: "Plymouth is a lovely place with nice people. It's very laid back. I have got a little girl and I'm sure she will have a great time down there. I'm looking forward to it."
Stack will compete with Romain Larrieu to become Argyle's first-choice keeper this season. He said: "They are an ambitious club with plans to develop the stadium and to bring players in. I think they have improved their league position every year for the last few years. So little things like that stood out for me, the gaffer has got a good record and I knew a few of the lads here. There were a lot of positives to it and it was just a matter of getting it done as quickly as possible to get me in here and to start training. Since I have been here, it has been a pleasure. There is a good bunch of lads and a good work ethic."


ARGYLE STAY UNBEATEN FOLLOWING FURTH DRAW
23rd July
Greuther Furth...1 Plymouth Argyle...1
A makeshift Argyle side battled out a draw against German Bundesliga 2 club Greuther Furth last night. Substitute Damien McCrory scored an equaliser in the 77th minute as the Pilgrims stayed unbeaten after four pre-season friendlies. McCrory, a first-year professional, converted a low cross from right-back David McNamee. The former Republic of Ireland under-18 international had taken over from winger Dan Smith only 15 minutes earlier. Argyle manager Paul Sturrock picked a team that included three trialists. They were centre midfield pair Flavien Belson and Nebojsa Kovacevic, plus winger Leandre Griffit. Shane White, another of Argyle's first-year professionals, also started. He was partnered in central defence by Mathias Doumbe, who had an outstanding game on his return from a hamstring injury. Doumbe had been forced to sit out the Pilgrims' other pre-season friendlies.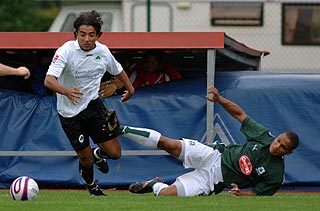 Mat Doumbe in action against Greuther Furth

The match was moved to Laufen, in south-east Germany, yesterday morning because pitches in Bischofshofen and Leogang were waterlogged. Leogang has been Furth's training base this week. Despite the short notice of the game in Laufen, around 30 Argyle supporters were in attendance. The pitch itself was marked out two hours before kick-off. It took only 10 minutes but some of the lines were, to be honest, a little on the wavy side. However, the pitch was perfectly playable, unlike any of those close to Argyle's training camp. Furth's head coach is Benno Mohlmann and he was introduced to Sturrock before the game. The pair had met before – on a football pitch. Sturrock and Mohlmann were in opposition when Dundee United defeated Werder Bremen in a UEFA Cup tie in 1987. Furth had won all of their previous seven pre-season friendlies. Those games had been against German lower league opposition, but their record of scoring 74 goals and conceding none was impressive.
Argyle played a 4-3-3 formation with striker Rory Fallon flanked by Griffit and Smith on either side of him. Belson played the holding role in central midfield, behind Kovacevic and Yoann Folly. The latter pair were involved in the build up to the first chance of the friendly in the ninth minute. It ended with Smith putting in an excellent cross to the far post which Furth centre-back Martin Meichelbeck headed behind for a corner. Meichelbeck had been under pressure from Fallon and he collided with the post, which saw him needing treatment. Griffit fired wide soon afterwards, following a neat flick from Kovacevic, as Argyle made a positive start. But, gradually, Furth began to dominate and they had a lot of possession. Defender Daniel Felgenhauer had a free-kick saved by Romain Larrieu before Furth took the lead in the 39th minute. Croatian midfielder Ivo Illicevic beat Larrieu with a deflected shot from 20 yards out. Furth's Brazilian-born striker Cidimar could have doubled their lead only three minutes later. Cidimar dashed behind the Pilgrims' defence and held off the challenge of Doumbe, but his angled drive was pushed away for a corner by Larrieu. Then, on the stroke of half-time, Argyle left-back Jim Paterson went close with a glancing header from a free-kick taken by Smith.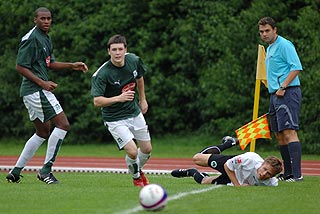 Dan Smith during the Greuther Furth game

Furth made nine substitutions at half-time, but Sturrock stuck with the same side for the restart. However, he swapped around the positions of Belson and Folly. Larrieu saved a fierce 20-yard shot from striker Stefan Reisinger and midfielder Sami Allagui headed narrowly wide from a corner. The slow tempo of the match seemed to suit Furth, and Doumbe had to make a superb recovery tackle when Reisinger broke clear in the 73rd minute. By now, McCrory was on for Smith and when McNamee sent a low cross into the six-yard area there was the substitute to slide the ball into the net. Fallon and Griffit were then replaced by Ashley Barnes and Yala Bolasie, respectively, for the closing stages of the game. Neither side could grab another goal as the match ended in a creditable draw for Argyle. As for Argyle's three trialists, Kovacevic was undoubtedly talented and skilful on the ball, but perhaps too attack-minded. Belson struggled in the midfield holding role but did better in a more advanced role after half-time. And while Griffit showed some good touches on the ball, his crossing was too erratic for him to really impress.
TIMAR'S BEST YET TO COME – LUGGY
23rd July
Paul Sturrock believes the best is yet to come from Krisztian Timar. Timar has agreed a new three-year contract with the Championship club, as revealed yesterday morning. The Hungarian international centre-back is set to sign all the paperwork when the Pilgrims return from their pre-season training camp in Austria. His decision to stay at Home Park comes after his compatriot, midfield ace Peter Halmosi, completed a £2 million transfer from Argyle to Hull City last week. Timar's new contract includes an option for a fourth year in the 2011/12 season. Sturrock said: "I'm very pleased. It shows you he's enjoying his time with us, and I think there is still more improvement in the player to come. I think it will definitely be a benefit he's settled in his mind that he's going to be a Plymouth Argyle player." Timar's existing deal with the Pilgrims was set to end next June, when he could have departed on a Bosman transfer. And he could have even started talking to potential new clubs from January 1 onwards. But Argyle have been in negotiations with Timar all summer over a new contract and fans will be thrilled the 2007/08 player-of-the-year is staying put. Sturrock said: "I think there are certain things positionally he can improve on, such as him attacking the ball in other people's areas. "It's just wee things that we can sort out with him."
Timar has not played for Argyle in pre-season after an operation to repair multiple fractures to his skull in May, but he is close to a comeback. When he does return to action he could be a candidate to become Argyle's new captain. There is a vacancy after the departures of Paul Wotton and Lilian Nalis at the end of last season. Karl Duguid and Jim Paterson have both had spells as the Pilgrims' skipper during pre-season. Sturrock said: "There are one or two other players I want to bring to the football club who could do that job. It might be early August before I make my decision. There are a few candidates."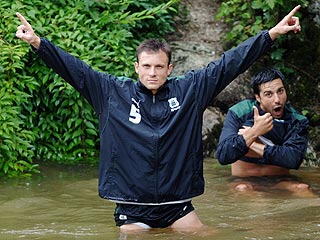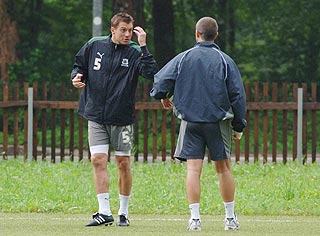 Krisztian Timar enjoying a dip with Rory Fallon, and telling Paul Maxwell that his head is just fine

Sturrock seems unlikely to pursue any interest in three trialists who played for Argyle in their 1-1 draw against Greuther Furth in Laufen, Germany, last night. The trio were centre midfielders Flavien Belson and Nebojsa Kovacevic, and winger Leandre Griffit. Sturrock said: "I thought they had competent performances but they are not better than the players at the football club. "I was committed up to this game to looking at any players that were recommended to me. They will be the last trialists, unless something comes out and slaps me in the face. The wee nuggets are drying up in this day and age, and now I have got to try to bring some players to the football club who will go straight into my first team." A series of foreign trialists have played for Argyle during pre-season. They include Slovakian goalkeeper Lubos Hajduch and Argentine midfielder Fernando Screpis. Sturrock said: "You are just hoping one of them can trigger off and fit in." Meanwhile, Argyle have arranged to play Romanian club Petrolul Ploiesti in Laufen on Friday at 4pm
PILGRIMS TOUR DIARY
24th July
In addition to four grass pitches, the National Sports and Recreation Centre in Obertraun has a full-size, synthetic playing surface. Argyle made the most of that yesterday, as they kept to their training schedule despite the cold and rain. At 9.30am the rain was falling as hard as it had done at any stage this week. There seemed no way the Pilgrims would be able to complete their planned morning training session. Sure enough, the four grass pitches were waterlogged and only suited to water polo. But a top-class artificial 'rubber-crumb' pitch was laid at the Pilgrims' training base last year and yesterday it proved its worth. Argyle had to wait until 11.15am to get on it because Italian Serie C2 side AC Montichiari were there from 10 o'clock. However, despite the deluge of rain over recent days, the synthetic pitch was perfectly playable. Not only that, but, unlike many artificial pitches, the bounce of the ball was true and consistent. How Argyle could do with something similar during those long, rain-soaked months during a Plymouth winter.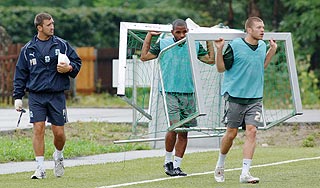 Paul Maxwell, Jason Puncheon and Jamie Mackie preparing for a training session

A total of 14 players took part in the session, with injured duo Krisztian Timar (groin) and Ben Gerring (knee) on the sidelines. Seven others, who had all started the 1-1 draw against Greuther Furth the previous night, were allowed some time off by manager Paul Sturrock. Unexpectedly, the dark, rain-filled clouds lifted – albeit temporarily – and it remained dry for the 90-minute session. The cable car to the top of the Hoher Dachstein mountain came into view for one of few times since Argyle arrived in Obertraun. After lunch, the torrential rain returned, so it was as well the players had already been given the rest of the day off to relax. Needless to say, the swimming pool and sun loungers next to Argyle's accommodation block were not needed.
Spare a thought for Argyle trialist Nebojsa Kovacevic. The 30-year-old midfielder drove for five hours from Gorica in Slovenia to the Pilgrims' training camp on Monday. Part of the reason it took so long was because Kovacevic mistakenly went to Obertauern first, which is south-west of Obertraun. Kovacevic was too late to take part in training on Monday afternoon and there was only a short session the next morning. He then played in the 1-1 draw against Furth later in the day. Kovacevic showed some good skill on the ball during a 90-minute run-out, but manager Paul Sturrock decided not to pursue his interest in him. So, on Wednesday morning, with the rain falling relentlessly, the ND Gorica midfielder was faced with the long return trip home. He did all that for the chance to play as a trialist for Argyle with the possibility of earning a contract at an English club.
The weather in Austria this week has been simply appalling. And while the locals insist it is unusual for it to be so wet, Argyle assistant manager Kevin Summerfield has had past experience of it. Summerfield said: "When we were here for a week with Southampton in 2004 we only got on the pitches for two days. It was that bad." Austrian international midfielder Jurgen Saumel could have been with Argyle in Obertraun this week. The 23-year-old visited Home Park for transfer talks with manager Paul Sturrock two weeks ago. But Saumel did not agree a deal with Argyle and, on Tuesday, he signed a three-year contract with Italian Serie A club Torino.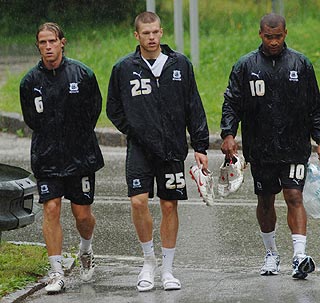 Chris Clark, Jamie Mackie and Jermaine Easter experiencing some of the weeks awful weather
GOALKEEPER LARRIEU A VETERAN OF OBERTRAUN
24th July
Argyle are holding a pre-season training camp in Obertraun, Austria, for the third time in six years and the only player to have made the trip on each occasion is goalkeeper Romain Larrieu. The French shot-stopper was part of the Argyle squads that visited Obertraun in 2003 and 2004. Larrieu found those trips hugely beneficial, and it is the same again this time.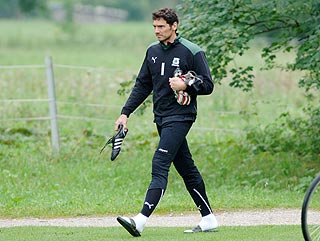 Romain Larrieu - delighted to be back at Obertraun

Argyle are currently sharing the National Sports and Recreation Centre with Italian lower league club AC Montichiari. Groups of Austrian children are also on summer sports camps as well. Larrieu declared: "It's a really brilliant place because you are walking distance from the football pitch, the gym – everything. It's a great place to work, plus it's very quiet so there is nothing else to think about apart from football, which is good as well." While the facilities at Obertraun are excellent, the same cannot be said for the weather this week. Since Argyle arrived on Saturday evening, there has been near constant rain. Dark clouds have hung over the surrounding Dachstein Mountains, and it has been cool as well. One training session on Sunday afternoon had to be cut short because the training pitch became waterlogged. But Larrieu, who signed a two-year contract with Argyle at the end of last season, has no complaints about the conditions. He said: "You don't mind that when you are working hard. We get enough rain in England as it is, but when the sun is out here it gets really, really hot, so it's not a problem if there are a few clouds. I think Sloop stopped the session on Sunday because he'd had enough of the rain, which is saying something for a Scotsman!" Larrieu and his French compatriot Mathias Doumbe are the only two members of the current Pilgrims' squad who visited Obertraun in 2004. He said: "I think the higher you go up the league, you find the playing staff turns over more quickly. It's true for every club, it's not just us. People don't stay about for too long if they are not playing and they have got an opportunity to go somewhere else. But I think we are working as hard as we did the last time we were here, and we have a completely different team."
STURROCK HAS HIGH HOPES FOR MCCRORY
24th July
Paul Sturrock has high hopes for first-year professional Damien McCrory. The 18-year-old scored the Pilgrims' equaliser in the 1-1 draw against German Bundesliga 2 club Greuther Furth in Laufen on Tuesday and Sturrock was impressed with the left-sided midfielder after he came on as a 62nd minute substitute for Dan Smith, another of the club's teenage talents. "There is a lot of talk about other players who are going to make their name at this football club, but, I tell you what, he has got a real chance," said Sturrock. "He was so positive in the way he went about his work in that game. There were a few tired legs out there because it was a hard, hard day for them on Monday." That involved a visit to the gym to work on the weights before two training sessions, one at 11am and the other at 5pm. The second one lasted two hours and, not surprisingly, the players felt fatigued by the end of it.
Sturrock used new signing Yala Bolasie as a late substitute against Furth, and he also caught the eye of the Pilgrims' boss. "I was excited with Yala when he came on," said Sturrock. "I thought he did very well. He gives you a wee bit of zest." Sturrock was also pleased with the performances of full-backs David McNamee and Jim Paterson – who captained the side – and central defender Mathias Doumbe. The plan had been to play Doumbe for only 45 minutes as he returned to action after a hamstring problem. But with centre-backs Krisztian Timar (groin) and Ben Gerring (knee) both injured, Doumbe played the whole match. He came through with flying colours and made one superb goal-saving tackle shortly before McCrory equalised. Sturrock said: "I thought Mat did very well in the circumstances." Argyle will return to Laufen, which is across the Austrian border in south-east Germany, for another pre-season friendly tomorrow. Weather permitting, they are scheduled to play against Romanian club Petrolul Ploiesti (4pm local time, 3pm BST). Although the facilities at Laufen were spartan, to say the least, Sturrock had no complaints about the playing surface. He said: "I'm pleased we are playing there again. It's a nice pitch."
LUGGY PLANS LATE TRANSFER BLITZ
25th July
Paul Sturrock has spoken of his frustration at failing to add any new signings to his squad this week. Although the Pilgrims have been away at a pre-season training camp in Austria, Sturrock has still been busy trying to complete transfers. So far, none of them have come to fruition, and the start of the campaign is only a fortnight away. But Sturrock hopes to have at least two more recruits by the time Argyle play Dundee United in their penultimate pre-season friendly at Home Park next Saturday.
Argyle will play their latest pre-season friendly this afternoon, when they meet Romanian club Petrolul Ploiesti. The game will take place in Laufen, which is across the Austrian border in south-east Germany. That was the venue for Argyle's 1-1 draw with German Bundesliga 2 club Greuther Furth on Tuesday. Goalkeeper Romain Larrieu and striker Rory Fallon will sit out the game today because of groin injuries and defender Ben Gerring, one of the club's second-year apprentices, is still sidelined by a sore knee. However, centre-back Krisztian Timar could make his first appearance this pre-season. The 28-year-old has not played for Argyle since suffering multiple fractures to his skull in the 1-0 defeat at Wolves in May. Should he get a run-out against Ploiesti, Timar will have to wear a head guard as a precaution. Sturrock said: "Yesterday was the first time he had actually headed a ball properly. He definitely looked tentative, but I will let the medical staff decide on him. He has had a groin strain as well, so maybe it could be too early for him to play."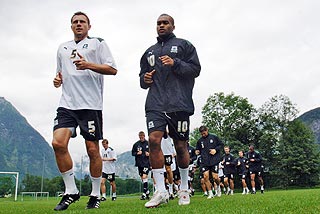 Krisztian Timar and Jermaine Easter during a warm-up session

Mathias Doumbe will be at centre-back with Marcel Seip if Timar is not included. Argyle will try the 4-3-3 system which Sturrock has been experimenting with this week, both in training and against Furth. "I think the next two games, maybe three, will determine if we are going to stick with it or not," said Sturrock. Steve MacLean is set to be the central striker against Ploiesti, flanked by two out of three from Jermaine Easter, Jamie Mackie and Jason Puncheon. Sturrock expects the Romanian second division side to provide strong opposition for Argyle. He said: "Last pre-season, when I was at Swindon, we played Jiul Petrosani and it was a real tussle. They kept the ball very well, and I don't envisage this lot playing any differently."


ARGYLE'S OPPONENTS CHANGE AGAIN
25th July
Argyle have changed opponents yet again for their final tour match in Austria. They will play Romanian second-division outfit FC Unirea Alba Iulia In Laufen this afternoon. The Pilgrims had been expecting to face, Petrolul Ploiesti, who also play in Romania's second-tier and who had been lined up to replace FC Nuremberg, at the venue, which is just across the border in south-east Germany.
PILGRIMS TOUR DIARY
25th July
Having seen all of Argyle's training sessions in Austria this week, here are some of the things I have learned.
1) The trip has highlighted the fact that this is a vastly different squad compared to 12 months ago. Only seven of the 23 players in Obertraun were at Argyle's pre-season training camp in Loipersdorf last July. For the record, they are: Ashley Barnes, Mathias Doumbe, Rory Fallon, Gary Sawyer, Luke Summerfield, Marcel Seip and Krisztian Timar. With so many new recruits arriving at the club, either in the January transfer window or this summer, this week has been particularly important. The players have been together 24/7 since leaving last Friday for the pre-season game at Kidderminster Harriers. It has given them all the chance to get to know each other. Argyle will be competing against clubs in the Championship this season with much bigger budgets, so team spirit will be crucial for them. In that respect, despite all the rain in Obertraun, the trip has served a very useful purpose.
2) There is no obvious leader among the players at the moment after the departure of Paul Wotton and Lilian Nalis at the end of last season. The most vocal, though, are left-back Jim Paterson and two of Argyle's summer signings, former Colchester United captain Karl Duguid and goalkeeper Graham Stack. Manager Paul Sturrock has admitted he will not make a decision on who will be the Pilgrims' new skipper until shortly before the start of the season. If he gets his way, the new captain might be someone who will be arriving at Home Park in the next week or two.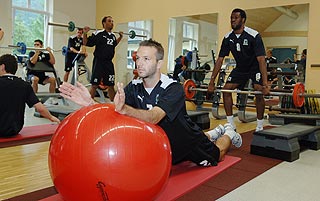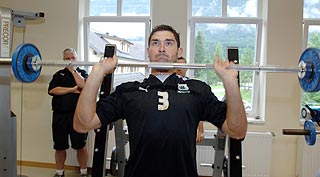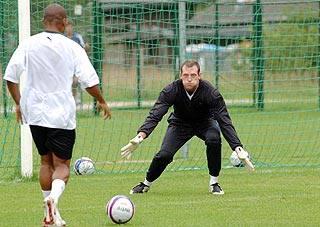 Vocal leaders Karl Duguid, Jim Paterson and Graham Stack


3) This training camp has been no holiday for the Argyle squad. Take Monday, for example. After breakfast, the players spent an hour in the gym working on weights. They then had a two-hour training session before lunch. After a chance to rest in the afternoon, the Pilgrims' squad were back out for another two hours from 5pm.
4) The battle to be Argyle's first choice goalkeeper between Romain Larrieu and Graham Stack is going to be very closely-contested. Larrieu has been given the all-clear after treatment for cancer and, with that weight now off his mind, he can concentrate totally on football. But Stack has made it clear he has not come to the Pilgrims to be the understudy to Larrieu. My early observations of the former Arsenal shot-stopper are he kicks the ball with accuracy and distance, and uses his legs a lot to make saves.
5) Paul Sturrock knows centre midfield is a glaring weakness in his squad. The Pilgrims' boss hopes to add one, maybe two, players in that position, but it could take until the transfer window shuts at the end of August. Five foreign trialists have played in the last two pre-season games – against Kidderminster and Greuther Furth – and three of them have been central midfielders. Fernando Screpis was clearly the best of that trio, but Sturrock has not pursued any interest in him. Flavien Belson and Nebojsa Kovacevic did not interest Sturrock either. The Argyle manager is also on the lookout for a tall centre-back, a wide midfield player and a striker in the mould of Mickey Evans.
6) The need for a 'new' Mickey Evans has taken on added importance with Paul Sturrock's decision to try playing a 4-3-3 formation instead of 4-4-2. Argyle have worked on the system in training, as well as in the 1-1 draw against Greuther Furth on Tuesday. Sturrock has pointed out that 4-3-3, or close variations to it, is becoming increasingly common.
7) Summer signing Jason Puncheon could be one of those 'wee nuggets' that Paul Sturrock often talks about. Puncheon cost £250,000 from League Two club Barnet and has shown in training this week why the Pilgrims' boss snapped him up. He is clearly confident in his own ability without being arrogant, has strength and pace when in possession and watch out opposition goalkeepers when he gets the ball on his left foot. It really flies.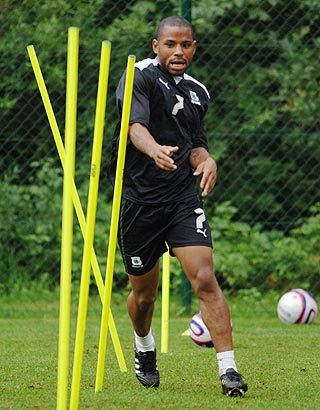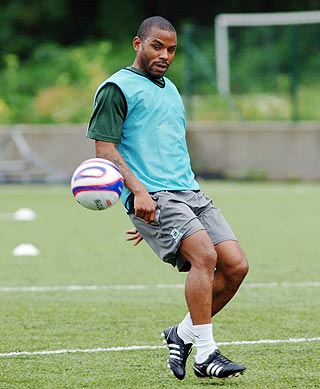 Jason Puncheon hard at work during two of the weeks training sessions

8) Defender Krisztian Timar still hopes to be fit for Argyle's Championship opener against Wolves at Home Park on Saturday, August 9. Timar has made an impressive recovery from the serious head injury he suffered in May. Although forced to sit out training for a couple of days this week with a slight groin strain, the Hungarian centre-back seems in good physical condition.
9) And finally. . . It can rain a lot in Austria in the summer!
PILGRIMS TOUR DIARY
26th July
Considering all the rain that has fallen this week, Argyle's training programme has been remarkably unaffected. Eight of their nine sessions have taken place on two pitches across the road from the National Sports and Recreation Centre in Obertraun. They obviously have excellent drainage because they have rarely been waterlogged. Argyle had to have one training session on the centre's synthetic pitch on Wednesday morning. But that is a high-quality 'rubber crumb' playing surface and everyone was suitably impressed by it. The Argyle squad have had to walk over a wooden bridge, which spans the River Traun, to get to training most days. At the start of this week, the water was flowing gently towards Lake Hallstatt. Now, though, swelled by the recent rainfall you could try surfing down the river, such is the force of it. There is also a stream between the two pitches Argyle have been using. Whenever any players have had twisted ankles, or such like, they have been sent to put their feet in the freezing water. Midfielder Yoann Folly had to do that at the end of training yesterday morning. Club doctor Paul Giles was stood on the bank above the stream and as manager Paul Sturrock passed by he inquired about Folly. "He has just turned an ankle," replied Giles. "Well, he won't be feeling anything now," said Sturrock.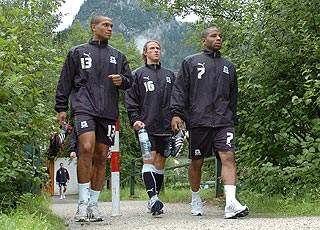 Mat Doumbe, Chris Clark and Jason Puncheon walking to a training session


Argyle goalkeeping coach Geoff Crudgington returned to Plymouth on Thursday to attend a family wedding. So the task of taking shot-stoppers Romain Larrieu and Graham Stack for training fell to Willi Lackner. Lackner, a former professional footballer, has been Argyle's tour host in Obertraun and has sorted out all of the Pilgrims' requirements. In his playing career, Lackner was a midfielder for Innsbruck-based Admira Wacker. He also had a spell with Toronto Blizzard in the North American Soccer League in the 1970s. Lackner later became a goalkeeping coach and spent three seasons with German club TSV 1860 Munich. He worked with Larrieu on Argyle's previous two visits to Obertraun in 2003 and 2004. Asked how Larrieu and Stack had got on in training, Lackner replied: "They were better than good. They were outstanding."
It has been a gruelling week for the Argyle squad, but at least the players have two days off now before returning to training in Plymouth on Monday. Paul Sturrock plans to send a strong side to face League One club Yeovil Town at Huish Park on Tuesday. A less experienced side will be on duty when the Pilgrims travel to Southern League club Truro City the following night.
PILGRIMS END TOUR WITH TWO-GOAL WIN
26th July
Plymouth Argyle...2 FC Unirea Alba Iulia...0
Striker Steve MacLean and midfielder Luke Summerfield were on target as Argyle beat Romanian Second Division club FC Unirea Alba Iulia yesterday. MacLean opened the scoring for the Pilgrims in the 66th minute of the pre-season friendly, which was played in Laufen, south-east Germany. Summerfield then doubled their lead only two minutes later. Argyle had been led to believe before the game they would be playing another Romanian second division club, FC Petrolul Ploiesti. But shortly after they arrived in Laufen, Alba Iulia's team coach pulled up. Initially, there was some confusion about the standard of the opposition, as there is a club called FC Unirea in Romania's top division, Liga 1. They are coached by former Chelsea and Romania defender Dan Petrescu. But it was discovered that Alba Iulia had actually finished fifth in Liga 2 last season.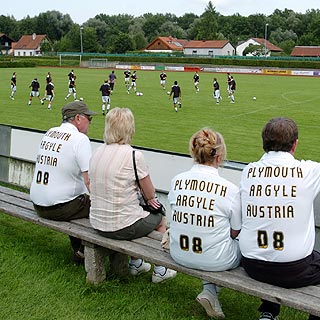 The Green Army watching Argyle preparing to take on Unirea Alba Iulia at Laufen

Argyle were playing in Laufen for the second time in three days. They had drawn 1-1 against German Bundesliga 2 club Greuther Furth on Tuesday. So they again made the one-and-a-half hour coach trip from their pre-season training camp in Obertraun, Austria. This time, the Argyle squad did not have to return to Obertraun, however. Instead, they stayed in the nearby Austrian city of Salzburg last night before flying back to England today. For almost all of the week, the Pilgrims had trained in cold and wet weather. But there was hot sunshine in Laufen when their clash against Alba Iulia kicked off at 4pm local time.

Argyle, captained by centre-back Krisztian Timar, thought they had taken the lead in the 17th minute. Jamie Mackie made a weaving run into the penalty area and then rolled the ball inside to Summerfield. His shot went under the body of goalkeeper Gabriel Rotaru, but one of the assistant referees had spotted an offside. Summerfield then had a weak free-kick easily saved after MacLean had been dragged down by Alba Iulia's Marius Foro. Chances were few and far between for both sides, until a late spurt close to half-time. First, Summerfield sent a sidefoot shot over the crossbar after some more magic from Mackie. Then, at the other end, Foro thumped a 25-yard drive against the bar. Alba Iulia threatened again in the 41st minute as Foro's free-kick was glanced towards goal by Razvan Dalbea and Graham Stack made a fine sprawling save. Mackie had an attacking role wide on the left in a 4-3-3 formation, which Argyle have been working on in training this week. He was causing the Romanian side all sorts of trouble with his pace and was unlucky not to score in the 45th minute. Right-back David McNamee supplied a pinpoint cross for Mackie, but his close range header was too high.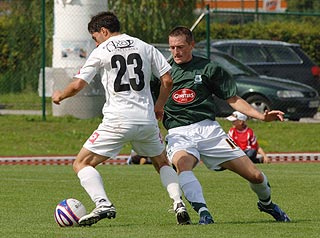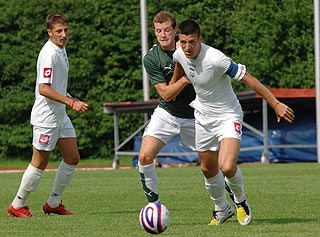 David McNamee and Luke Summerfield in action against Unirea Alba Iulia

Timar, in his first match of pre-season, completed 60 minutes before he made way for Mathias Doumbe. Jason Puncheon, who was troubled by a sore back, was then replaced by striker Jermaine Easter. That saw manager Paul Sturrock change systems to 4-4-2, with MacLean in behind Easter, and it soon paid off. Easter beat Alba Iulia's offside trap in the 66th minute as he raced after a pass from Summerfield. The Wales international then picked out MacLean with a low cross into the six-yard area and the striker slotted home. It was 2-0 two minutes later, when Summerfield was in the right place at the right time. Left-back Gary Sawyer's high cross into the penalty area was weakly punched away by Alba Iulia's substitute 'keeper Mihai Lasc. The ball dropped to Summerfield and the midfielder swept the ball into the net with the minimum of fuss. Stack was rarely tested in the second half by the Romanians, who made a total of 12 substitutions during the contest. Lasc was replaced by Mali-born shot-stopper Yousouf Traore only 16 minutes after taking over from Rotaru. It was a miserable outing for Lasc, who conceded both of Argyle's goals while he was on the pitch. In addition, Alba Iulia substituted all 10 of their outfield players. Mackie was booked for a tackle on Brazilian defender Elder David in the 78th minute and, for a while, tempers started to fray. Some of the antics of the Romanians when they were tackled were theatrical to say the least. First-year professional Damien McCrory came on for Mackie in the 84th minute as the Pilgrims ended their pre-season tour on a winning note.
PILGRIMS TOUR DIARY
26th July
Krisztian Timar has cleared the first hurdle on the road to recovery from a serious head injury. Timar played for the first 60 minutes as the Pilgrims beat Romanian Second Division side FC Unirea Alba Iulia 2-0 in a friendly in south-east Germany yesterday. It was his first match since he was involved in a sickening aerial collision in Argyle's final game of last season, a 1-0 defeat at Wolves on May 4. Timar had to have an operation to repair multiple fractures to his skull. The Hungarian international has been training with the Pilgrims since the start of pre-season in early July. Timar practised his heading with defensive coach John Blackley in training on Thursday afternoon. And the 28-year-old was given the green light to play against Alba Iulia by the club's medical staff provided he wore a headguard, which he did.
Timar, who captained Argyle, was replaced by Mathias Doumbe for the last 30 minutes. Argyle manager Paul Sturrock said: "I thought Krisztian was solid enough, but I think he's going to need a whole load more games before he's up to speed. Timar now has now two weeks to get ready for the start of the 2008/09 Championship campaign. The Pilgrims will take on Wolves at Home Park on Saturday, August 9. Sturrock said: "If you ask Krisztian, he will say he will be ready for the first game of the season. But, at the end of the day, it will be a decision on how he develops from now. This thing he has on makes him head the ball funny because it catches the edges."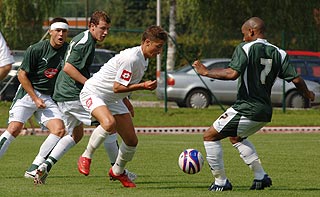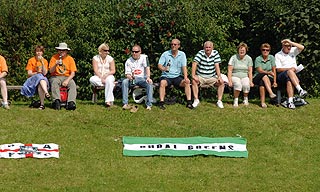 Krisztian Timar, Luke Summerfield and Jason Puncheon taking on Unirea, as the Green Army look on

Sturrock called Argyle's victory over Alba Iulia a 'competent' performance. Striker Steve MacLean gave them the lead in the 66th minute and it was soon followed by a second goal from midfielder Luke Summerfield. Argyle's pre-season training camp in Austria this week has been plagued by persistent rain but on the last day before they returned to Plymouth, there was strong sunshine in Laufen, which is on the German border with Austria. Sturrock said: "We looked leg weary, right from the start of the game. I think the heat caught us out big-time. I don't think they expected that. Had it been raining, I think you would have seen a sharper team. Some of the ones that need that sharpness didn't have that. But a win is a win and we were competent."
Argyle have experimented with a 4-3-3 formation in training this week. And they tried it out for the second time in match conditions against Alba Iulia, after the 1-1 draw against Greuther Furth in Laufen on Tuesday. Sturrock said: "It looks as if it might work if we can just put other personnel in some of the positions." However, it was only when striker Jermaine Easter came on as a substitute in the 61st minute and Argyle went 4-4-2 that they grabbed both of their goals. Sturrock said: "That sometimes happens when you do a system change. You catch the opposition out." Easter was sent on for Jason Puncheon, who was suffering from a back strain. Sturrock said: "I took him off as a precaution, but he has got to get to the pace of the game the way we want to play it. "He's having to jump two leagues (from Barnet to Argyle) so it's not going to happen overnight for him." Striker Rory Fallon has been sidelined by a groin injury and is unlikely to feature in either of the away games against Yeovil Town and Truro City next week.