Back to

Tour Home
SWEDISH TOUR 1990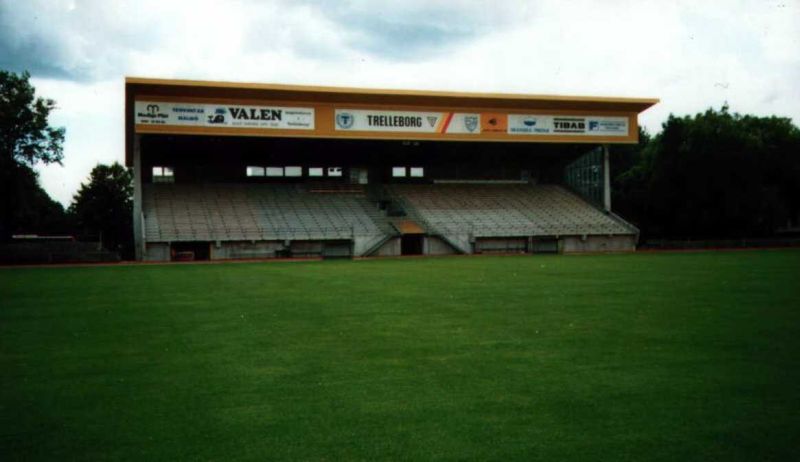 The main stand at Trelleborg The main stand at Tvaaker

ARGYLE IN SWEDEN
This article was written by John Coker and first appeared in Rub of the Greens in September 1990.
19/07/90
Argyle in Europe and an assorted collection of PASALB's prepare to travel by various routes to Sweden in search of blondes, 'cheap' beer and encouragement for the forthcoming season - sadly only one of these was to be found in plentiful supply. The advance guard of Blackler, Coker, Metcalf and Scowcroft met at the Heathrow terminal 1 bar and after some delay we downed our final drink on English soil for a week. We arrived on time at Gothenburg and had our first sighting of a blonde Swede - on the Hertz car rental desk. Rupert negotiated a generous rate, and hired a Volvo 740 as well, and then we set off for town (after a minor hiccup trying to work out how to get the car in gear). Our first impression of Sweden was how slow the speed limit is - 55mph on motorways. Rupert soon decides to ignore that! After finding our hotel and depositing the car we started the most difficult part of the tour - hunt a pub! On the first night we got lucky - a real pub, subdued lighting and a few hardened drunks. PASALB naturally at home, although at £4 a drink no one rushed to buy a round!
20/07/90
A day to sight see in Gothenburg and naturally the first place to visit was the Ullevi - the football ground. By chance there was a youth tournament taking place, there were even ladies matches where the smell of liniment was replaced by something much more pleasant. At 6pm we are due to meet other PASALB's at the station. Neil Bavington was the first to arrive and volunteered to buy a round - £20 for five halves gave him quite a shock! Keith Roe, a PASALB living on one of the islands in the bay, then arrived closely followed by John Williams and his attractive (non blonde) Swedish girlfriend. The group went off to a bar recommended by Keith and drank bottled beers from every part of the world. A good night was had by all - the most far-flung out of town social yet! Sadly Keith was unable to attend any of the matches.
21/07/90
Saturday, and the serious business starts here. We have a pleasant day driving along the coast before arriving at Tvaaker an hour before kick off. The game was in a public park and the first person we see is Lewis Ridge - well we couldn't have a first team game without Lewis. Another PASALB, Steve Nicholson, and his father, Joe, have also made it. David Kemp comes over to chat to us. Some Arsenal fans are also there and they give Rhys a great reception. The match starts in front of about 300 fans in beautiful sunshine. Tony takes about 90 seconds to question the officials' eyesight - clearly still in form after his trip to Italy (the linesmen were useless there too - diplomatic Ed) - and the local team take only a minute longer to expose Argyle's rustiness at the back and take the lead. Within half an hour they've gone 2-0 up and things look bleak. A smartly worked goal from King just before half time and an improved second half performance with further goals from King and Byrne give the Greens a victory. Morgan impressed but the same could not be said for two other new boys, Turner and Carr (who was at fault for the second goal). Afterwards we spent a long time waiting for Rupert to get through to the 'Sunday Independent' with his match report. Tony negotiated for a match poster as a souvenir while some of us tried to show off our abilities on the pitch in case Kempy was watching. Neil gave a pretty good impression of Greg Campbell (the name has been changed to protect the innocent - judicious Ed). We stayed that night in Halmstad, where the team was based. As usual bars were few and far between. There were queues to get into the two main bars and we met some of the players also looking for an empty bar. As usual PASALB instincts did not let us down and we found a superb bar with a gorgeous blonde barmaid (I'll say - she undercharged me £6 for my round - contented Ed) and a couple of genuine Swedish drunks - complete with beer guts - a rare sighting of this endangered species!
22/07/90
A quiet day travelling to Malmo. Had an enjoyable lunch at a small fishing port before reaching Malmo. There we met more PASALB's, Keith Bernhardt and Alistair Black, before going off to watch Malmo play Osters in a Swedish League game, which finished 1-1 and was largely a bore. The Argyle players were even more unfortunate, seeing a goal less game at Halmstad.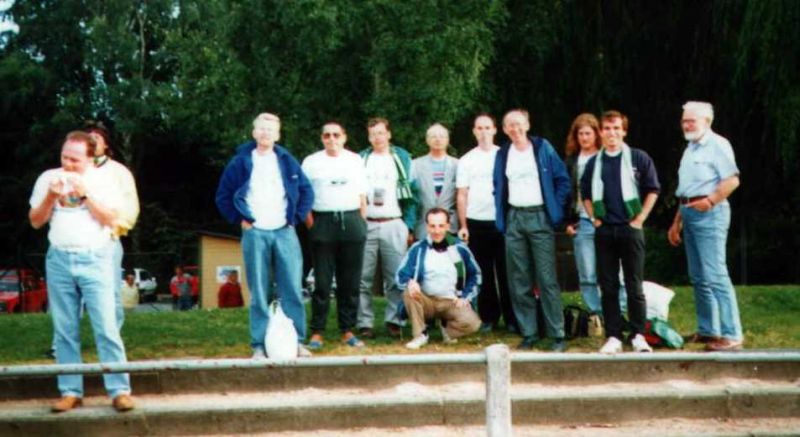 The Green Army at Trelleborg!
23/07/90
The final PASALB joined our befuddled group today - the almost legendary Steve Magner. Trelleborg was next on the itinerary - an industrial port on Sweden's south coast. Not much to say about the place or the game, a 0-0 draw. Dreadful probably sums both up. The local paper likened Argyle's performance to that of a 'suppository' (no comment - careful Ed)! Argyle had three players out with injury - maybe some PASALB's could have done better. We met "the only fan from Plymouth", Andy Moles, who got a lot of publicity in the Herald, but we knew it was rubbish as we had already met Joe Nicholson.
24/07/90
A day trip to Copenhagen - cheap beer and two breweries. The hydrofoils were full so we switched to a Polish built ferry and arrived in Denmark by 11am. We then faced possibly the most difficult decision of the trip, whether to visit the Carlsberg or the Tuborg brewery. We chose the former because John Williams (who had returned to England) wanted an authentic Carlsberg glass. The tour was interesting, as was the tour guide (a Danish blonde just for a change) but the best part was the tasting session at the end. Strangely our table ended up with more empties than all the others!! Went to the Idraetspark, the Danish National stadium, which was astonishing. Wooden terracing and few safety barriers - it would never be allowed in England.
25/07/90
The penultimate day of the tour and Argyle faced what, on paper, was their hardest match - against Lund. We arrived in Lund after a short tour of a nature reserve to find Messrs. Black and Magner flagrantly breaking the law! Their crime was drinking cans of beer on a bench in the city square. (Un)fortunately they weren't apprehended, (you can never find a policeman when you want one - even in Sweden). Argyle played well, which was a welcome surprise. Owen Pickard scored an easy hat-trick and the lads won 3-1. Lund, who included a former Swedish international (Thomas Sjoberg - smart arse Ed), were very poor but at least we started to look like a team. The first half was played in heavy rain and it was so dark we could hardly see the pitch. During the game we befriended some Malmo supporters and gave them copies of "Pasty News". Their knowledge of English football was amazing although they were disappointed to learn that Tommy Tynan had left us (they're not the only ones - worried Ed). Finished our last night spending all our remaining beer money (which wasn't much - bankrupt Ed) and staggered home at 2am.
26/07/90
Home - and not before time. Tony is definitely worse for wear and Steve (Magner) is no better. Soon it's time to say tearful goodbyes to Sven - our faithful Volvo. The plane stops off at Aarhus in Denmark so Tony has to sit through two take-offs and two landings despite his delicate health. Still, he survived - just!
SUMMARY
A great tour and much more interesting than Cornwall and North Devon but next year can we go somewhere where the beer is cheaper? In years to come if anyone asks if Argyle were ever in Europe I can say; "Yes, I know 'cos I was there - and we were unbeaten too".

ARGYLE'S KING OF TRUMPS
The following match report and article first appeared in the Sunday Independent and are re-produced by kind permission of the author, Rupert Metcalf (far left, stuffing face, picture above).
TVAAKER 2 ARGYLE 3
Plymouth Argyle overcame a rusty start to open their tour of Sweden with a 3-2 victory over their Fourth Division opposition yesterday. After falling two goals behind to the part-timers early in the game, two goals from Adam King and one from David Byrne gave Argyle, a hard-earned win in front of a crown of about 300 sweltering in the summer sunshine.
Argyle Manager, David Kemp was pleased with the afternoon's proceedings – if not with every aspect of the performance. 'We've only been training for four days, and this sort of exercise allows us to put into practice our work on the training pitch. The pitch was perfect and the opposition was a good standard and they caused us a few problems. 'Some things didn't go to plan, but we can put that right as our training continues.'
Argyle had fallen behind in the third minute when goalkeeper Dave Walter allowed the ball to slip from his grasp and Hakan Nilsson scored from close range. Steve Morgan was prominent on the left flank as Argyle tried to recover from their early set back, but they found it hard to create any clear chances and their attack frequently fell foul of the offside trap. In the 27th minute, Nilsson again strolled through the middle of the Argyle defence to put the Swedish side two goals ahead by lifting the ball over Walter. Stunned by the second reverse, Argyle began to build some attacking momentum as half time approached. In the 35th minute Mark Fiore broke free down the left but his low cross was hit just wide by Owen Pickard. Five minutes later, Argyle found a way through. Fiore's cross to the far post was headed down by newcomer Robbie Turner, King calmly picked his spot to reduce the deficit.
After the interval Argyle's first chance arrived in the 52nd minute when Pickard eluded the clutches of the offside trap and sped down the left. Turner miskicked his cross and the ball broke for Byrne, on at half time for King, who could only find the side netting. Two minutes later Byrne made amends. A Pickard shot was bravely blocked by keeper Peter Stjernberg, and Byrne tucked home the rebound to equalise.
The threat from the Swedes faded as they tired during the second period, and Argyle assumed control without creating any more clear chances until the final 15 minutes, when both Pickard and Byrne missed simple openings. Three minutes from the end however, Pickard cut inside from the left and presented King – back on the pitch as a substitution for Andy Morrison – with the opportunity to drive the winner high into the net.
Argyle : Walter, Brown, Marker, Carr, Morgan, King, Morrison, Hodges, Pickard, Turner, Fiore. Subs-Wilmot, Salman, Burrows, Byrne, King, Thomas, Robinson.
TWO EXPOSURE?
Rupert Metcalf looks back on the Pilgrims' European adventure:

Plymouth Argyle returned home from their three-match tour of southern Sweden with a record two wins and a draw – but the results were of little importance. The main purpose of the trip was, of course, to allow an Argyle first-team squad containing no fewer than eight players brought to the club by Manager David Kemp to weld into a unit – and to acclimatise to the Kemp football philosophy.
'Route One' is the name of the game – but the direct style of play that Kemp brought to the club from Wimbledon doesn't work unless the manager has a team who are all committed to the cause.
It was evident that Kemp inherited some players who weren't happy with the long ball game when he took over in March. Now those players have mostly left the club, or languish on the transfer list as the outcasts of Home Park. First match of the tour was at Tvaaker, a Fourth Division club in a small village near Varberg, a coastal town some 45 miles north of the team's base Halmstad.
Reasons
Kemp explained that one of the reasons for touring in Sweden – the country where he gained his first managerial experience – was to take advantage of the excellent training and playing facilities. Certainly the Tvaaker pitch was far better than anything Argyle could expect to find at an English non-League club. The match also attracted the biggest crowd of the tour. English football is widely televised and is very popular in Scandinavia – and the visit of an English Second Division club was clearly a big event in this rural corner of south-west Sweden. At the other two grounds visited, in Trelleborg and in Lund, where the opposition was provided by more senior teams, the attendees were nearer the 200 mark, compared to the 300 plus basking in the sun at the Tvaaker's Ovrevri ground.
Kemp had predicted that the Tvaaker team would be of Western League standard, but the Fourth Division outfit borrowed five players from two local Second Division sides, Varberg and Falkenberg.
Haken Nilsson from Falkenberg promptly scored twice to embarrass Dave Walter before two goals from Adam King and one from David Byrne earned Argyle a win they just about deserved.
Walter, in fact, played all but 45 minutes of the tour after Rhys Wilmot damaged a nerve in his back in training.
The match at Trelleborg, a quiet ferry port on Sweden's south coast, was a drab goal-less draw against the town's Third Division side, IFK Trelleborg, strengthened by a couple of guest players from First Division team Trelleborg FF, with whom they share a stadium. The local side were well organised defensively but had little to offer up front – and the same applied to Argyle, who gave by far their least impressive performance of the tour.
They made amends, though, two days later with an intensive attacking performance in Lund, an elegant university town near Malmo. They beat Second Division side Lunds BK 3-1 with Owen Pickard claiming an excellent hat-trick. Pickard looks set to be in Argyle's starting line-up when the Second Division campaign commences – alongside the tall target man Robbie Turner. The Kemp style of play is centred around the long, high ball out of defence. Turner naturally wins plenty of high balls, and by the end of the tour was beginning to find team-mates with his flick-ons. His 'deputy', Paul Robinson, the similarly-tall summer capture from Scarborough, is a more mobile player and has genuine potential, although he clearly still has some rough edges to be refined. Steve Morgan, the new left-back from Blackpool, is a fast, aggressive player who defends well and is keen to attack – he could become a real crowd favourite.
Argyle were not without support in Sweden, with 15 supporters (mostly from the London branch) making the trip – of whom six saw all three games. Their main complaint was not the standard of football but the price of beer – around £6 a pint! Argyle were just one of many English clubs to make a pre-season tour of Sweden, and the Plymouth followers were joined by Arsenal supporters at Tvaaker and Chelsea fans at Lund.
Both supporters and the Argyle party were less than impressed with the quality of Swedish League football. The players saw a 0-0 Premier Division draw between Halmstad and Djurgardens while some of the fans watched a 1-1 stalemate between Malmo, the current Champions, and Osters.
Sweden, of course, lost all three matches in the World Cup, and the national manager Olle Nordin has just been sacked. All the best players have been sold abroad – and it shows in the domestic league, which is neat but unimaginative – football played largely without passion.
There will be plenty of passion at Newcastle next month when the League season kicks off – and if Argyle are better prepared for the battles to come as a result of this trip, then it will have been a worthwhile investment….and at least we – the supporters – can claim that we have watched our team in Europe!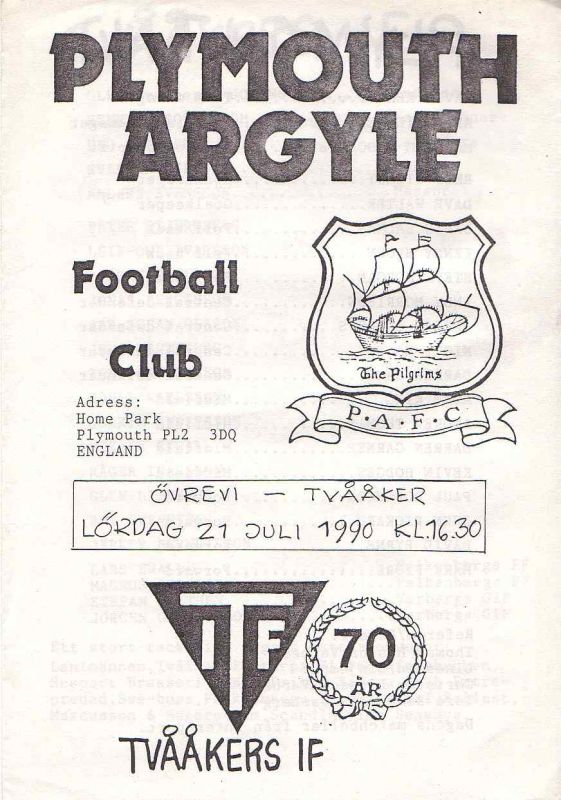 The only programme available on tour was at the first match against Tvaakers.

STEVE NICHOLSONS SWEDISH MEMORIES
I suppose the longest distance I have travelled to watch Argyle was on the pre season tour of Sweden in 1990. I was determined to get there, and I talked my dad into coming too. Having discovered that Sweden was prohibitively expensive, I booked us flights to and accommodation in Copenhagen. From there we could "easily" get to the three matches in the Malmo area - a short boat trip from Copenhagen. Day one almost put us off for the whole week. The train from Copenhagen boarded the boat - yes the train went onto the boat - and then headed north. The nearest station to Tvaakker was Varberg - unfortunately this meant a £30 taxi ride each way to see the match! Worth it though as Argyle came back from 2-0 down to win 3-2. The next match was much easier to get to as we got the boat to Malmo and the bus to Trelleborg. Had a chat with David Kemp in the town before watching a fairly poor match which ended 0-0. The final game was in Lund - a suburb of Malmo and again easy to find. Argyle's best performance of the tour - and an easy hat-trick for Owen Pickard (who?) - as we win 3-1. A week in Sweden. Travelling to Argyle by plane, boat, train and bus. A total cost of about £350 - which was a lot in 1990.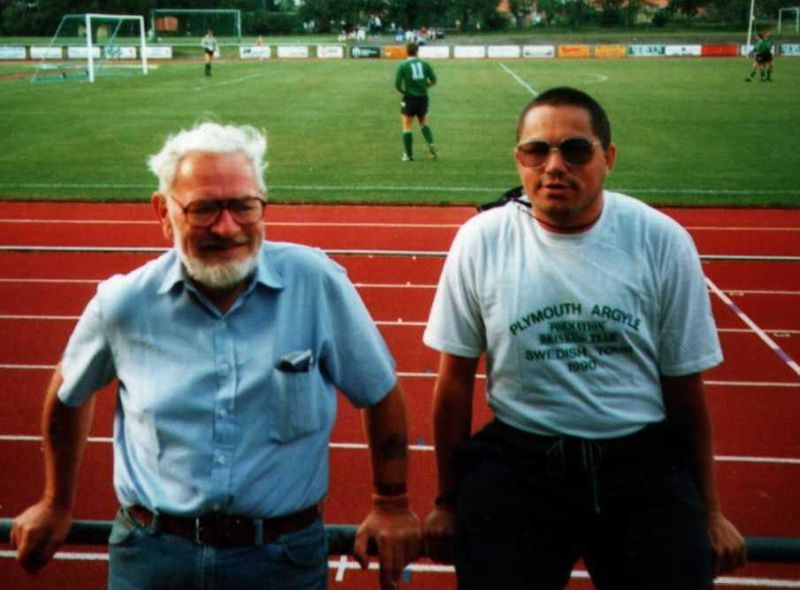 Steve Nicholson and his father Joe prior to the Trelleborg game.

SWEDEN TRIP WAS SUCCESS FOR PILGRIMS
It may only have been just over a decade ago, but English football in 1990 was a very different world. It was the era before the Premiership and Sky Sports, and it was a time when players' shorts really were short. Crystal Palace would finish the 1990-91 season third in the top flight behind Arsenal and Liverpool, Torquay United shared the bottom division with the soon-to-expire Maidstone United and Aldershot - and Plymouth Argyle were holding their own in the second tier of the English game. In the summer of 1990 the Pilgrims were managed by David Kemp, a man recently described by the former Sports Editor of this newspaper as "under-appreciated and ahead of his time". His job, whatever may have been said by or about him at the time, was to keep Argyle in the Second Division - in the days when it really was the second division and not, as now, the third tier masquerading under another name. Argyle were competing against clubs like Newcastle United, West Ham and Sheffield Wednesday on unequal terms. Compared to that trio and other wealthy outfits, Kemp had minimal resources at his disposal. Staying up was the name of the game, and team spirit was crucial.
Kemp's goal in that summer of 1990 was to turn the assortment of players he had recruited in his four months in charge into a team. A European tour was a bold idea (Argyle had not crossed the English Channel since a three-game trip to the Netherlands and West Germany in August 1967), but Kemp was familiar with Sweden, having gained his first coaching experience there, and he knew the sporting facilities were excellent. Watched by a hardy band of 15 travelling fans, whose biggest complaint was the exorbitant price of beer, Argyle's first game was against Tvaaker, a Fourth Division team based near Gothenburg. The hosts were boosted by five players borrowed from neighbouring Second Division clubs, but Plymouth still ran out 3-2 winners, with two goals from former West Ham midfielder Adam King and one from David Byrne. Two days later Argyle journeyed to a ferry port on Sweden's southern coast and secured a 0-0 draw at IFK Trelleborg, a Third Division side with two First Division guest players. Then, in their final tour fixture, the Pilgrims achieved the best result of the trip when they gained a 3-1 victory at Second Division Lund, based near Malmo. The Argyle hero that night was Owen Pickard, who hit a fine hat-trick. It was enough to earn the Barnstaple-born 19-year-old a place alongside the craggy target man Robbie Turner when the League campaign commenced at Newcastle the following month, but he never secured a regular berth in the Pilgrims' starting line-up and, after a couple of seasons with Hereford United, has been playing non-League football since 1994.
Another North Devon man who grasped his chance on the trip was Dave Walter, the farmer-turned-goalkeeper who started every game in Sweden because of a back injury sustained by Rhys Wilmot. Kemp also took one trialist on tour: Sheffield United centre-half Darren Carr. He was not offered a contract, and his biggest contribution to Argyle's history remains his challenge on Bruce Grobbelaar which sparked the infamous "Battle of Saltergate" at Chesterfield in 1997. Steve Morgan, an aggressive left-back recruited from Blackpool, made a better impression on tour and proved to be a good signing. The tactics Kemp introduced were based on long balls aimed at Turner or his understudy Paul Robinson. It was not a pretty policy but it worked - Argyle survived in the Second Division in 1990-91.
*this article was written by Rupert Metcalf and first appeared in the Western Morning News

TOUR RESULTS
| | | | | |
| --- | --- | --- | --- | --- |
| Date | Opposition | Score | Scorers | Team |
| July 21st | Tvaaker IF | 3-2 | King 2, Byrne | Walter, Brown, Morgan, Marker, Carr, Hodges, King, Pickard, Turner, Morrison, Fiore. Subs - Wilmot, Salman, Burrows, Thomas, Byrne, Robinson, King |
| July 23rd | Trelleborg | 0-0 | | Walter, Salman, Morgan, Marker, Burrows, Hodges, Byrne, Robinson, Turner, King, Fiore. Subs - Brown, Carr, Pickard |
| July 25th | Lund | 3-1 | Pickard 3 | Walter, Brown, Morgan, Marker, Burrows, Morrison, Byrne, King, Turner, Thomas, Pickard. Subs - Salman, Carr, Fiore, Hodges, Robinson |