Back to

Sweden 2005

Tour Home
Sweden 2005: Evening Herald (Chris Errington)
ARGYLE WAITING ON BOJAN FITNESS
July 18
Argyle boss Bobby Williamson is hopeful summer signing Bojan Djordjic will feature in the club's tour of Sweden, despite picking up an injury in training last week. The 23-year-old former Manchester United and Glasgow Rangers winger missed Saturday's 1-1 draw with Torquay United at Plainmoor. And Djordjic, born in Serbia but now a Swedish passport holder and former under-21 international, is also set to sit out the first two games of this week's tour to his adopted home land, against Betsele IF tomorrow and Thursday's match with Umea FC. But he will receive treatment from physio Paul Maxwell at Argyle's training camp in Holmsund this week and could return against IFK Holmsund on Saturday.
Williamson said: "Bojan got a knock in training the other day but it's not as serious as we first thought. Hopefully, when the week goes on he will be able to take part in one of the games. He will not be training with us but he will be working hard to try to keep the fitness levels up. He has worked very hard up until now and it's a shame he picked up this injury." Williamson would not reveal what damage Djordjic had done. "It was just a knock. You start getting the balls out in training and it gets competitive. That's where you pick up injuries and that's what has happened. It's only in the last couple of days where we have started stepping it up a bit and getting physical contact in the five-a-sides and full-sides. It's just a blow to the player because we are getting close to the season starting. He has done all his hard work and now he has got to sit it out, but, hopefully, it will not be for too long," added the boss.
The Argyle squad left Home Park at 7am yesterday for a coach trip to London Heathrow. From there, they flew to the Swedish capital Stockholm and then caught an internal flight to Umea, which is about 15 kilometres from Holmsund. The Pilgrims arrived at the Vasterbacken Hotel and Conference Centre shortly after 9pm local time and had a late evening meal at 10pm. First-year professionals Ryan Dickson and Luke Summerfield were included in the tour party, but not 20-year-old midfielder Marcus Martin. The experienced Lee Hodges also stayed behind to continue his rehabilitation programme after a long-term back injury. Bobby Williamson said: "The tour is all about fitness basically, but it will give us time to work on a lot of things and different styles of play. We prefer playing with a back four but we will probably work on playing with a back five as well. We will get in two training sessions per day, apart from the days when we are playing games, when we will have one." With many of the Argyle squad arriving at Home Park inside the last 12 months, the tour to Sweden will also be a valuable team-bonding exercise. Williamson said: "It gives everybody the chance to get to know each other better, especially the four or five guys who have come into the club over the summer. I think it's an important time of year."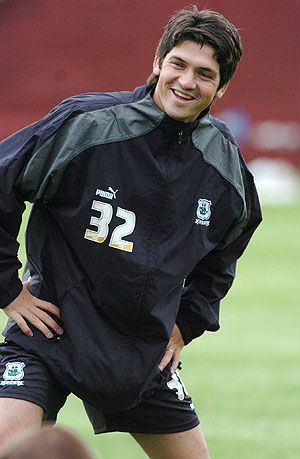 Bojan Djordjic in training

DJORDJIC MEETS SWEDISH PRESS
July 19
Argyle's former Sweden under-21 international Bojan Djordjic met the media from his own country at a press conference at the Pilgrims' training camp. Reporters from the two local newspapers - Vasterbottens Kuriren and Vasterbottens Folkblad - put questions to Djordjic in Swedish. A camera crew from national television company TV4 were also there to meet the former Manchester United and Rangers winger, as well as a reporter from the local radio station. Argyle manager Bobby Williamson was interviewed in English about the club's pre-season tour to Sweden and the prospects for the forthcoming campaign. Also at the press conference were club officials from Umea FC and IFK Holmsund, two of Argyle's opponents this week. Williamson and Argyle director Damon Lenszner were officially welcomed to Holmsund by IFK chairman Ralph Hober and board member Anders Forsberg. Umea were represented by their sporting directors Hokan Backstrom and Gunnar Eriksson
TIRED ARGYLE PLAYERS AND STAFF REACH CAMP AFTER 14-HOUR TRIP
It took the Argyle squad nearly 14 hours to reach their training camp in north-east Sweden after setting off from Home Park at 7am on Sunday. Three of the players - Rufus Brevett, Bjarni Gudjonsson and Scott Taylor - met the rest of their team-mates at London Heathrow. Their Scandinavian Airlines flight to Stockholm's Arlanda airport was nearly two-and-a-half hours in duration. They flew above north London and East Anglia - with a clear view of Norwich City's Carrow Road home ground - before crossing the North Sea. Their route then took them over Holland and Denmark and then Sweden. There was a lengthy wait before their connecting one-hour flight to Umea so the Argyle squad had a meal at Arlanda airport to pass the time. The tour party included manager Bobby Williamson, first team coach Jocky Scott and physio Paul Maxwell. Also on the trip are goalkeeping coach Geoff Crudgington, club doctor Paul Giles, kit man Ian 'Jacko' Pearce and director Damon Lenszner, and his son Tom.
Argyle are one of four English clubs on tour in Sweden this week. Aston Villa, Reading and West Ham United have also made the trip across, but they are staying in the south of the country. The Scandinavian Airlines flight to Umea took the Pilgrims' squad over the eastern coast of Sweden. After landing at the small Umea airport they were taken by coach to the Vasterbacken Hotel and Conference Centre, which is 15 kilometres away in Holmsund. It was 9.50pm local time when they finally arrived at their destination.
The hotel overlooks the River Ume, which winds 150 miles from the mountains in the far north of Sweden to the seaside port of Holmsund. There are regular four-hour ferry crossings to Vasa in Finland, on the other side of the Gulf of Bothnia, and there are many freight depots close to the harbour. After checking into their rooms, the Argyle players had a dinner of cold beef, potato and salad in the restaurant. Jocky Scott informed them their training kit could be collected from the main foyer before they wearily made their way to their beds.
HOLM SWEET HOME FOR PILGRIMS' PLAYERS
Argyle will be training at the home ground of IFK Holmsund this week and the squad made their first visit there yesterday morning. It is only 400 metres from the Vasterbacken Hotel and Conference Centre, so it is just a short walk away. Kamratvallen (translated as Friend's Ground) has one entrance with four turnstiles, which is adorned with bunting in IFK's club colours of white and blue. With vast swathes of north-east Sweden covered by forests, it is no surprise the main stand is a timber construction. There are no seats - only rows of wooden benches - with two decent-sized dressing rooms beneath where the supporters sit. On the opposite side of the lush green pitch is open terracing, again made from timber. There is also a smart wooden clubhouse in one of the corners of Kamratvallen, where football has been played since 1923. With Argyle as their guests, IFK have British and Swedish flags flying from posts above the open terracing. Overlooking the ground are a cement factory and a paper recycling plant, while the main entrance to the port (confusingly called Umea even though it is in Holmsund) is nearby.
There is heavy snow in Holmsund throughout the winter and into the spring with temperatures plummeting below freezing. IFK cannot usually play at Kamratvallen until mid-to-late May because of the severe weather and, as the Swedish league season starts in late April, they have to use artificial pitches nine miles away in Umea. One of the most famous footballers to play at Kamratvallen is tough-tackling midfielder Vinnie Jones. Jones spent the 1986 Swedish season on loan to Holmsund from then First Division club Wimbledon, where he was a young professional, and played 29 times. Perhaps surprisingly, considering his later reputation as a 'hard man', he was only shown the yellow card twice. Shortly after returning from Sweden, Jones made his debut for Wimbledon against Manchester United and scored the only goal of the game in a 1-0 win.
Argyle will be taking part in a three-team tournament this week with IFK and Umea FC. The opening game is between the two Swedish sides at Kamratvallen tonight, while the Pilgrims are playing Betsele IF to the north-west of Umea. Argyle will then meet Umea in the second match of the tournament on Thursday. Umea are not using their Gammliavallen home ground because it has an artificial pitch so the fixture has been moved to their city rivals Umedalens IF. The final match of the tournament will see Argyle take on IFK on Saturday.
Holmsund only has a population of 9,000 but organisers are hoping the rare opportunity to see an English professional club will draw a 1,000-plus crowd. A joint ticket for all three games in the Plymouth Argyle Cup costs 100 Swedish kronor (about £7.30). Argyle's first training session at Kamratvallen started at 10am under clear blue skies, with the temperature already at 26 degrees centigrade. Some curious locals stopped to take a closer look at the Pilgrims' squad as they carried out a series of stretching and jogging exercises under the supervision of physio Paul Maxwell. After two hours, the players returned to their hotel for lunch but they were back at Kamratvallen shortly after two o'clock, by which time the temperature had risen to close to 30 degrees. Romain Larrieu and Luke McCormick had a half-hour session with goalkeepers' coach Geoff Crudgington on an adjacent pitch. After another two hours out in the hot sunshine, which included playing a series of small-sided matches, it was time for the players to call it a day.
PILGRIMS SET TO SIGN MENDES
Portuguese defender Nuno Mendes was today set to sign a contract with Plymouth Argyle. The 27-year-old has joined the Pilgrims on their tour of Sweden after spending two weeks with them in pre-season training. Mendes is a free agent after leaving Portuguese club Santa Clara. He is expected to make his first appearance for Argyle in the opening game of their Swedish tour, against Betsele IF tonight. Argyle have been in the market for a commanding centre-back after Graham Coughlan was sold to Sheffield Wednesday for £125,000 - and 6ft 4in Mendes fits that description. He has played for seven clubs in Portugal, as well as Racing Club Strasbourg in France.
Also set to play tonight is a striker from an Eastern European club, who has linked up with Argyle on their tour of Sweden as a trialist, although manager Bobby Williamson is keeping his identity under wraps. Meanwhile, former Swedish under-21 international Bojan Djordjic will have to wait a little longer before he makes his first appearance for Argyle. The 23-year-old suffered a knee injury in training last week and did not play in the Pilgrims' opening pre-season friendly, the 1-1 draw away to Torquay United on Saturday. Djordjic has also been ruled out tonight, but he has resumed light training under the supervision of physio Paul Maxwell and could be involved in the game against Umea FC on Thursday. Williamson said: "Bojan is not looking too bad. He's running quite freely and wants to get back into it." The Argyle squad had two training sessions in a hot and sunny Holmsund yesterday, the first at 10am and the second at 2pm. Both lasted for two hours and as temperatures soared to close to 30 degrees it was not easy for them. Williamson said: "The conditions have been difficult. It has been extremely warm and it has certainly sapped the players' energy. There have been a lot of mosquitoes flying around as well, and some of the players are suffering from hay fever. We have just got to work through that and get the training sessions and the three games under our belt to get us into good shape for the start of the season." Williamson added: "The players dehydrate quickly and they have to take a lot of water on board. Even in a warm-up they get a sweat on and it's not easy working in these conditions but they are getting through it, and credit to them." Betsele IF are the leaders of one of the 12 regionalised Third Divisions in Sweden at the mid-season break. They have played 11 league games and have an impressive record of six wins, four draws and only one defeat.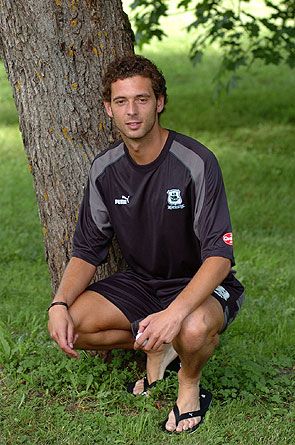 Nuno Mendes

BETSELE'S CHUKWUMA MEETS HIS HERO WEST
July 20
Argyle's visit to play Betsele IF on Tuesday was extra special for one of the home team's players. Midfielder Pascal Chukwuma was born in Nigeria but now lives in the Swedish province of Lapland, in which the small village of Betsele is located. So he was thrilled to get the chance to meet one of his football heroes - Argyle defender Taribo West. West played for Nigeria at the 2000 Olympic Games in Sydney, when they won the gold medal, as well as the 2002 World Cup finals in Japan and South Korea. Chukwuma spent several minutes talking to West after Argyle's 9-0 win against Betsele. The broad smile on his face as the pair went their separate ways told how much the 23-year-old had enjoyed meeting his hero.

TRIALIST TEEVER NETS AS ARGYLE ROUT BETSELE IF
Estonian international striker Ingemar Teever scored one of the goals as Argyle started their three-match tour of Sweden with a one-sided victory last night. Teever has spent two days on trial with the Pilgrims' squad at their training camp in Holmsund. The 22-year-old plays for Estonian league leaders FC TVMK Tallinn, although he only has a short time remaining on his contract with them. Teever scored for TVMK in their 1-1 draw at home to Finnish club MyPa in the UEFA Cup first qualifying round last Thursday. Argyle manager Bobby Williamson paired Teever with Scott Taylor from the start as the Pilgrims outclassed Betsele, who are top-of-the-table in Sweden's Division Three North. Portuguese defender Nuno Mendes also made his first appearance for Argyle after signing a one-year contract earlier in the day. He played the whole match at centre-back, alongside former Nigerian international Taribo West in the first half and Mathias Doumbe after the interval.
Argyle travelled 150 kilometres north-east from Holmsund into Lapland for the game against Betsele. The lakeside pitch had long, lush grass so it was not conducive to playing passing football, but the Pilgrims made the best of it. Argyle were forced to defend three early corners but they opened the scoring from their first attack in the fourth minute. Bjarni Gudjonsson rolled the ball inside to Hungarian midfielder Akos Buzsaky and he curled a shot over goalkeeper Henrik Ringbro from 20 yards. Right-back Anthony Barness had a header cleared off the line by Betsele's Simon Gustafsson before Teever made it 2-0 in the 11th minute. He skipped past a couple of challenges inside the penalty area and then poked the ball into the net from close range. Gudjonsson added Argyle's third goal only seven minutes later when a cross from left-back Peter Gilbert was crashed into the roof of the net by the Icelandic international midfielder from 20 yards.
The Pilgrims continued to create good scoring chances, but Betsele had one of their own in the 38th minute. Bustling Sierra Leone-born striker Morris Lewis cut inside Nuno Mendes but his fierce shot was superbly parried away by Luke McCormick, who had been untroubled until then. Buzsaky grabbed his second goal, and Argyle's fourth, two minutes later with a low, left-foot shot from a narrow angle. The Pilgrims made three substitutions at half-time, with Barness, West and Taylor replaced by Paul Connolly, Doumbe and Nick Chadwick respectively. Then, early in the second period, 17-year-old Luke Summerfield came on for Gudjonsson, who was suffering from a slight thigh strain. There were 13 Argyle supporters among a crowd of around 300 and they did not have to wait much longer for their team's fifth goal. It came in the 59th minute when skipper Paul Wotton headed the ball into the penalty area and Chadwick challenged Betsele's substitute goalkeeper Gorgen Persson. No foul was awarded against the former Everton striker and he hooked the ball into the net while Persson was left in a heap on the ground. Persson eventually had to be taken off four minutes later because of his injury, with Ringbro going back between the posts.
Argyle went 6-0 up in the 74th minute when Summerfield's right-wing cross was swept home by Chadwick, who was unmarked in the centre of the goalmouth. Teever forced Betsele into a defensive mix-up when he chased after a long cause and Ringbro was sent-off for handling the ball outside the penalty area. With Persson injured, midfielder Fredrik Lindstrom took over from Ringbro and, from the resulting free-kick, Wotton smashed an unstoppable shot into the net off the underside of the crossbar. Argyle added a further two goals in stoppage time, the first coming when midfielder Tony Capaldi cleverly chipped the stand-in keeper. Then, in the final seconds, Betsele gave away possession and Summerfield punished them with a spectacular 40-yard left-foot lob over Lindstrom. Argyle will play the second game of their pre-season tour against Umea FC tomorrow. Umea play in one of the six regionalised Second Divisions in Sweden and should prove stronger opposition for the Pilgrims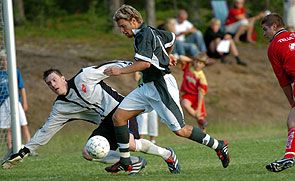 Akos Buzsaky in action against Betsele

LENSZNER ENJOYING HIS FOOTBALLING INSIGHT
July 21
Argyle director Damon Lenszner is enjoying an eye-opening trip with the Pilgrims' squad on their pre-season tour to Sweden. Lenszner has been impressed with the amount of work put in by the players as they prepare for the start of the 2005/06 Championship campaign next month. He also paid tribute to the professionalism of manager Bobby Williamson, and all of his coaching staff, for ensuring all of the squad are in tip-top condition.
Lenszner, 45, was appointed to the Argyle board of directors in February and this is the first time he has been away with the club on a pre-season tour. He told Herald Sport: "I'm amazed at the amount of work that does go on. I have every admiration for the professionalism of Bobby, Jocky (Scott), Maxie (Paul Maxwell) and Crudgie (Geoff Crudgington). "They all do a superb job. I think most fans see them just standing on the touchline shouting orders on a Saturday afternoon, but the graft they put in during the week is just phenomenal. What happens on the training field is entirely down to Bobby and his team. What we, as a board, do off the field is support Bobby in the decisions he makes. If he identifies a player, we will do what we can to bring him into the club. It's a sales job to bring people to Plymouth but, as has been proved, once we get them down we can show them what we have got to offer and the ambition the club has got. Normally, we get our man." Lenszner continued: "Bobby was saying earlier that pre-season is a hard slog for the players. They come back from a few weeks off and it's really hard work for them to get back into match shape. I think just the change of scenery does them good. You can be at Harper's Park doing the slog, but if you can get away it's a good team-bonding exercise first and foremost. Also, the work can be put in, in different surroundings and I think a change is as good as a rest for the players, the same as anybody else."
Lenszner admitted he had been on 'a very steep learning curve' since moving into the Home Park boardroom. He said: "Having looked behind the scenes and seen the amount of work that actually goes into running the football club, as well as a football team, it's just incredible. I'm really enjoying it and I know there is a lot more to learn, but it has certainly been a great first few months. It has been an experience - I wouldn't have missed for the world. Off the field, there is still a long away for the club to come. We are still trying to catch up with what the team have done on the field to make us a Championship club off it. Michael Dunford (Argyle's chief executive) has done an absolutely superb job since he came to us in January. He has added to the professionalism of how the club is run. I just think things are looking good for the club to go onwards and upwards over the next three to four years."
Lenszner, managing director of the Pacific Staff recruitment company, believes Argyle should aim to finish in the middle third of the Championship this season. The Pilgrims were 17th last term, only three points clear of the relegation positions. Lenszner said: "We have sat down with Bobby and put down the parameters of what we are looking for as a board. I think most fans would be in agreement that we should be aiming for that middle eight, from ninth down to 16th. You never know, if we win the last six games of the season it could push us in the back door of the play-offs, but we don't want to be in any relegation trouble. There are a big couple of years coming up, with phase two happening, so we can't afford to let things slip. We are going to be well clear of that relegation zone. We are looking for mid-table and we want to be better than we were last season, both in position and points." Although Lenszner is in the Argyle tour party, he insisted Williamson would make all the decisions while they were in Sweden. "The manager is in charge. I just do what I can when the expense bills come in," he said.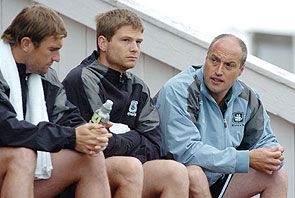 Damon Lenszner with Paul Wotton and Bjarni Gudjonsson during a break in training

SURVIVOR LASLEY STILL EXCITED BY CHALLENGE
Scottish midfielder Keith Lasley was one of five new signings when Argyle went on their pre-season tour to Obertraun in Austria last summer. Now, 12 months later, he and French defender Mathias Doumbe are the only survivors from those players. Striker Stevie Crawford and midfielder Lee Makel were the first to leave, moving to Dundee United and Dunfermline Athletic, respectively, back in January. Then, last month, striker Steven Milne also returned to Scotland when he signed for St Johnstone. Although Lasley has struggled to hold down a regular first team spot in his first season at Home Park, he has no regrets about his move from Motherwell. He believes the Championship is, as a whole, stronger than the Scottish Premier League and is enjoying the challenge.
Lasley, speaking at the Pilgrims' training camp in Holmsund, told Herald Sport: "Some of the clubs are bigger than others but it's a good standard all round and you don't get an easy game, no matter who you are playing. We found that out last season when we went to some of the so-called smaller teams in the league and got really tough games. It's exciting because you want to play at the highest level you can and it's a good standard. With the size of the club, it definitely should have the ambition to go even higher. People from home ask me what the Championship is like and I would say, overall, it's better than the SPL. Obviously, in Scotland you have got the big two (Celtic and Rangers) and they are a higher standard than the Championship. There are the top two and then you have the rest, whereas in the Championship you get a steady level. It could be even stronger this season with Crystal Palace, Norwich City and Southampton relegated from the Premiership and with Luton Town, Hull City and Sheffield Wednesday promoted from League One." Lasley said: "Every week, it's whoever is up for it the most, and whoever plays well on the day, that usually comes out on top. You look the fixtures and there are not a lot you can pick out and say 'that's an easy three points'. It's a very competitive league."
HUNGRY PILGRIMS ENJOY VARIED MENU
The kitchen staff at the Vasterbacken Hotel and Conference Centre have come up with a varied menu for the Argyle squad this week. Breakfast is between 8-9am each day, with the players tucking into cereals, fruit and toast. There has also been thinly-sliced cheese and cold meats.
MONDAY
Lunch: Meatballs with pasta Dinner: Salsa chicken with rice
TUESDAY
Lunch: Pasta with bacon and broccoli in a gratin sauce Dinner: Barbecue after the game against Betsele IF
WEDNESDAY
Lunch: A mix of meat and potatoes served with egg and red beans Dinner: Salmon served with potatoes and coleslaw
THURSDAY
Lunch: Smoke-cured loin of pork with rice Dinner: Baked potatoes with chicken (before the game against Umea FC)
FRIDAY
Lunch: Meat sauce with pasta Dinner: Mexican restuarant meal
SATURDAY
Lunch: House casserole with rice Dinner: Barbecue party after the game against IFK Holmsund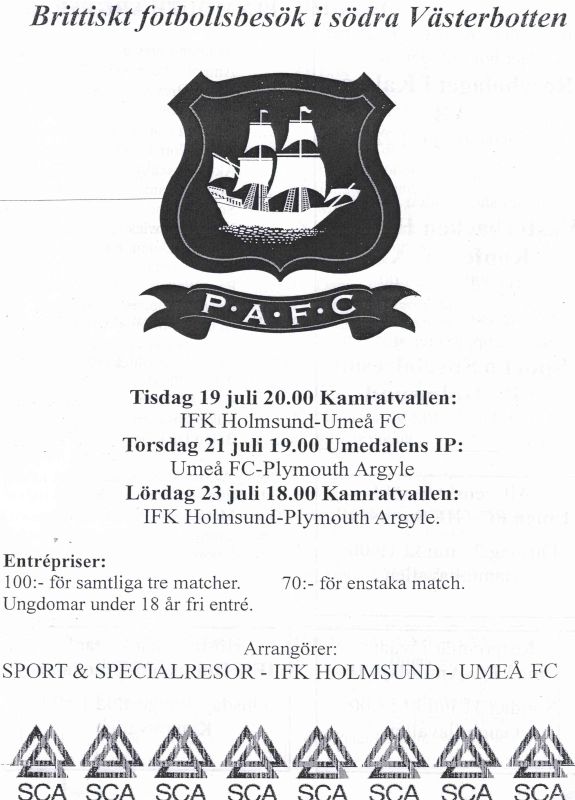 The Swedish programme for the 'Plymouth Argyle Cup'

DJORDJIC SET FOR DEBUT
Bojan Djordjic will get his first run-out for Argyle tonight when they play Umea FC in the second game of their tour to Sweden. Djordjic has returned to training after sitting out the Pilgrims' first two pre-season friendlies because of a knee injury. Manager Bobby Williamson is convinced the short lay-off will not have been too damaging to the fitness levels of the former Manchester United and Rangers winger. He said: "Bojan has had a couple of sessions now and he's looking good so he should feature tonight. We need them all playing. If you miss out in pre-season it's very difficult to play catch-up, but Bojan has not been out terribly long. Games are coming thick and fast, to be fair. We have got four in the space of 10 days. We are doing a lot of game situations in training and, hopefully, that will tick us over nicely for the start of the season," added the Pilgrims' boss.
Estonian international striker Ingemar Teever will get another chance to impress Williamson against Umea. The 22-year-old has been training with Argyle in Holmsund this week and scored one of the goals in the 9-0 rout of Betsele IF on Tuesday. Teever will then return to his club side, Estonian league leaders FC TVMK Tallinn, tomorrow before they play at the weekend. The arrival of Teever on trial has shown that Williamson is searching for another goalscorer to join Mickey Evans, Nick Chadwick and Scott Taylor. He said: "It's quite frustrating when people keep going on about strikers because it's demeaning to the ones we have already got at the club, and I will not dwell on that. It's not just about getting a striker who can score goals. Anybody in the team can score goals. I don't think we should lose sight of the fact we can contribute from other areas of the team. As long as we have got a strong backbone, I feel that will help us in our desire to do better this season." Williamson continued: "It would be great if we could get in a striker to contribute a few more goals. But who's to say the three guys we have got are not going to contribute, and we have got midfield players who are offensively minded as well."
Argyle will only have to make a short 15-kilometre trip to play Umea, who play in one of the six regionalised second divisions in Sweden. Umea are third out of 12 teams in the northern section, with five wins and four draws from 11 games at their mid-season break. They will not be playing Argyle at their home ground, Gammliavallen, because it has an artificial pitch. Instead, the match will be at nearby Umedalens IF. Tonight's clash is the second out of three games in the Plymouth Argyle Cup. Umea sent their youth team to play IFK Holmsund on Tuesday and were beaten 3-0 as they saved their senior side for the visit of the Pilgrims. Argyle will take on IFK in the final match of the mini-tournament on Saturday, before returning to Plymouth the following day.
ANOTHER SWEDE EXPERIENCE FOR BREVETT
Argyle left-back Rufus Brevett is spending his second successive pre-season in Sweden. The 35-year-old was in the West Ham United squad when they visited Scandinavia last summer, although they stayed 200 kilometres south of Holmsund. West Ham did travel to the north-east of Sweden for one match, though, when they defeated Umea FC 5-0. Brevett could get the chance to play against Umea again, because they will be Argyle's opponents in their second tour match tonight. West Ham played Umea at their Gammliavallen home ground, where there is an artificial pitch. Argyle, however, will take on the Swedish Division Two North club at nearby Umedalens IF so they can play on a grass surface. Brevett said: "I don't really remember much about the match, but the plastic pitch sticks in the mind. It was my first game back after a year out with a broken foot so it was not the best pitch for me to play on, but it went okay."
Brevett had previously spent pre-seasons in Sweden with Queens Park Rangers and Fulham. He said: "It was a long trip here on Sunday and it takes a lot out of you as well. We did a little warm-up yesterday morning and then something more strenuous in the afternoon. I think we are all looking forward to the games and, hopefully, the training will have calmed down. The first two weeks of pre-season has been all hard running and conditioning work, so we have not really seen that much of the ball. We have got three games in the week so training shouldn't be so hard because of that, but you don't know." Brevett has been one of six summer signings made by Argyle manager Bobby Williamson and he has not had any problems fitting in. He said: "There are a lot of new faces, but I think everyone has settled in quite well. It's a great set of lads here and, obviously, that helps."
NOT JUST ANY BOOTS FOR TARIBO
Not every footballer has their own brand of football boots - but then Taribo West is not any ordinary player. Argyle's former Inter Milan defender has been wearing black boots with the initials TW in a white logo during training at IFK Holmsund's home ground this week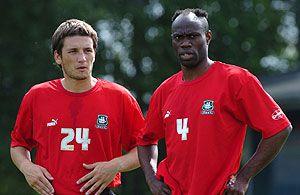 Peter Gilbert and Taribo West during training

GILBERT SET FOR FOXES SWITCH
Plymouth Argyle full-back Peter Gilbert could be on his way to Championship rivals Leicester City. The Foxes have been chasing the 21-year-old all summer and according to today's Leicester Mercury the two clubs have agreed a fee, with the Welsh Under-21 left-back set to make the switch to the Walkers Stadium within the next 48 hours. But this afternoon Argyle denied a fee had been agreed for Gilbert, who is currently in Sweden with the rest of the Pilgrims squad, although the club admitted Leicester had made a bid. "An offer has been received and rejected," said Argyle director Damon Lenzser, who is with the squad in Sweden. "He is an Argyle player and we want him to remain an Argyle player." But sources in Leicester claim the move will still go ahead, once a 'few technicalities' have been sorted out.
BOBBY'S EXPERIMENT PROVES UNSUCCESSFUL
July 22
Argyle manager Bobby Williamson admitted his experiment of playing with three centre-backs in the goal-less draw against Umea last night had not been a success. The Pilgrims struggled to come to terms with the new tactics in the second match of their pre-season tour to Sweden. New Portuguese signing Nuno Mendes was one of the three central defenders, along with Hasney Aljofree and Taribo West, while Rufus Brevett and Paul Connolly were the two wing-backs. Bojan Djordjic made his first appearance for Argyle in midfield, where he was partnered by Keith Lasley and David Norris.
Williamson has always preferred playing with four defenders but he is clearly considering his options before the start of the 2005/06 Championship season. He said: "We will need to do a bit of work on it I'm afraid, but I was pleased with the effort they put in. It was a game we could have won, although Romain did have a couple of decent saves. We had better chances I felt. Their goalkeeper had a really good save from Mickey in the second half."
Umea, who play in the third tier of league football in Sweden, are coached by former Crystal Palace striker Steve Galloway. And they provided Argyle with much stronger opposition than in their previous match. The Pilgrims thrashed Betsele IF 9-0 on Tuesday, but it was clear from the opening minutes last night that Umea would be a completely different proposition. They were a well-drilled, physically powerful team and it was a good work-out for Argyle. Williamson said: "The result was immaterial. We got more out of this than we did the other night. They are not a bad team. They had a lot of movement, good players and they were well organised. It was difficult, but that's what we are looking for. You have got to remember their season has started and they are a bit ahead of us when it comes to fitness. We are still chasing that just now."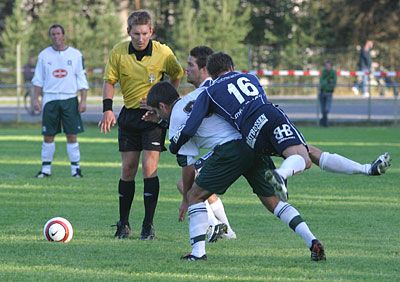 Action from Umea

Williamson was pleased with the performance of Djordjic, even though he played out of position in central midfield, rather than out wide. The former Swedish under-21 international had missed the previous two pre-season friendlies because of a knee injury. "Bo looks as if he could trouble teams in the last third of the pitch," said Williamson. "I was pleased he got 90 minutes under his belt and I think he will be a good acquisition for us." The match should have started at 7pm local time but it was delayed for nearly 20 minutes because of a mix-up over playing kit. Both teams turned up with their white away strips, which was complicated by the fact the game was not played at Umea's home ground, but at nearby Umedalens IF. A club official from Umea dashed across the city to collect their blue home shirts. Their players were set to start the game in red training tops until, seconds before kick-off, the replacement kit finally arrived.
Argyle took the lead after only four minutes against Betsele and they almost did the same last night. Norris had a fierce right-foot strike tipped over the crossbar by Petter Augustsson after a neat lay-off from Estonian international striker Ingemar Teever. It was Teever's second appearance as a trialist but he failed to shine and was substituted for Nick Chadwick at half-time. Teever was set to return to his club FC TVMK Tallinn, the Estonian league leaders, today and it seemed unlikely Williamson would pursue his interest in the 22-year-old. Evans was Argyle's captain for the night because Paul Wotton was not involved. He went close to scoring with a rising 20-yard shot which flew over the top in the 15th minute but, after an uncertain start, Umea started to impose themselves. Striker Magnus Fagerqvist had a one-on-one with Larrieu five minutes later but the Pilgrims' keeper made an excellent block. It continued to be a very even match until the interval as Argyle seemed unsure of their new formation and found it difficult to apply any sustained pressure.
Evans almost gave them the lead in the 65th minute when his powerful close range header from Djordjic's left-wing cross was superbly saved by Augustsson. Argyle were still not firing on all cylinders in the second half and Umea could have been celebrating an unexpected victory had it not been for Larrieu. Midfielder Daniel Fajers raced onto the end of a defence-splitting pass from Henrik Folkesson in the 77th minute. But Larrieu came to the rescue for the Pilgrims as he made a fine low save which sent the ball spinning out of play for a corner. Argyle will play the final game of their Swedish tour against IFK Holmsund tomorrow.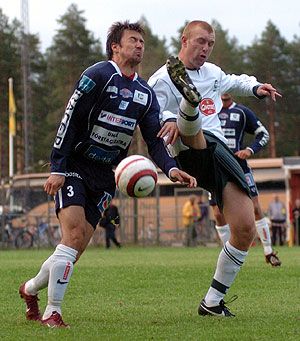 Nick Chadwick in action against Umea

ARGYLE FIGHT TO KEEP GILBERT
Defender Peter Gilbert is set to stay with Plymouth Argyle after three unsuccessful bids from Championship rivals Leicester City. Argyle chief executive Michael Dunford has firmly told Leicester not to waste their time making a fourth offer for the Wales Under-21 international. Leicester were prepared to pay an undisclosed six-figure sum for the promising left-back. Gilbert's former club, Birmingham City, would have been entitled to a 30 per cent sell-on as part of the deal that took him to Home Park in the summer of 2003. But Argyle do not need to sell any of their players to raise money and the 21-year-old is very much part of manager Bobby Williamson's plans.
Argyle director Damon Lenszner, who is with the squad on their pre-season tour to Sweden, admitted it had been very unsettling for Gilbert. Lenszner told Herald Sport: "We received an offer from Leicester and we have rejected it. Gilly has another 12 months on his contract and will remain an Argyle player. We value him more than they do and, as far as we are concerned, that's the end of the story." Behind the scenes, Argyle are seething that Leicester's interest in Gilbert became public. A report in the Leicester Mercury yesterday revealed City had been chasing Gilbert all summer and that an 'undisclosed fee' had been agreed between the two clubs. They claimed that Gilbert's move would go through within the next 48 hours, but that now seems highly unlikely.
Gilbert did not play for Argyle when they drew 0-0 against Umea FC in the second game of their pre-season tour to Sweden last night. The defender has sat out training for the last two days because of a foot injury he suffered in the 9-0 rout of Betsele IF on Tuesday. However, Williamson had not intended to play Gilbert against Umea even had he been fit. Gilbert completed all 90 minutes of the match at Betsele and the Pilgrims' boss always planned to play summer signing Rufus Brevett last night. The speculation about Gilbert has come at a particularly difficult time, with Argyle away on tour. Lenszner said: "We have got a great group of lads here and the mood is up and, obviously, it's disappointing something like this has happened. I personally hope that Gilly shows us in the next 12 months what we all believe his true potential is. He's an under-21 international, naturally left-footed and I think he has got a great future ahead of him. And I hope it's at Argyle."
Gilbert travelled with the Argyle squad to Umea last night and Lenszner spoke to him at half-time to tell him about the latest developments. Williamson said: "Peter Gilbert is a Plymouth Argyle player and, hopefully, he will still be a Plymouth Argyle player when the season starts. He has got another year left on his contract and we will see how things develop." Leicester manager Craig Levein had been hoping to complete the signing of Gilbert before City's pre-season friendly against Boston United on Sunday. Now Levein will have to look elsewhere as he tries to add a left-back to his squad at the Walkers Stadium. Gilbert played in both of Argyle's games against Leicester in the Championship last term, a 2-1 away defeat and the 0-0 draw at Home Park on the final day of the season. He has made a total of 84 league and cup appearances for the Pilgrims and scored two goals. Gilbert has played seven times for Wales at under-21 international level and was included in the senior squad for a training camp in San Sebastian, Spain, in May.
HOLMSUND THRILLED TO BE WELCOMING ARGYLE TO KAMRATVALLEN
Ifk Holmsund officials are thrilled about playing Argyle in a pre-season friendly at their Kamratvallen home ground tomorrow evening. They are hoping for a 1,000-plus attendance for the match, especially as Swedish star Bojan Djordjic is in the Pilgrims' squad. Holmsund only has a population of 9,000 and many residents are away on their annual summer holidays, but the chance to see Djordjic and former Nigeria international defender Taribo West is expected to prove popular.
IFK were founded in 1923 and the high point of their existence came in 1967, when they played for one season in Sweden's top league, the Allsvenskan. They have endured some leaner times in recent years, though, and are now playing in one of the 12 regionalised Third Divisions. Anders Forsberg, one of the IFK board members, told Herald Sport: "We are really pleased to welcome Plymouth Argyle to Holmsund. We are honoured to have an English Championship club here and, maybe, we have started something we can have in the future, too. I hope our facilities are good enough. We have worked a lot for this."
Forsberg admitted Argyle's summer signing of Djordjic, one of only two Swedes to have played for Manchester United, had been a timely one from IFK's point of view. "That was a gold egg for us," he said. "There has been a lot of interest from the Swedish media now. I'm sure this will put Holmsund, and also Umea FC, onto the national map. It's not only good for the football club, it's good for the community in Holmsund." He added: "If we could have 1,000 people on Saturday it would be really good. We hope for that, but we are also in the middle of the Swedish vacations, so all the people are not at home."
IFK are sixth out of 12 teams in Division Three Mellersta Norrland (mid-north) at their mid-season break. Forsberg said: "The A team started training on Monday night and the first match for the autumn is against Umedalens IF on August 3." The clash with Argyle this weekend will be one of their warm-up matches before then
BOBBY'S FULL OF PRAISE FOR JOCKY
Argyle manager Bobby Williamson has praised the contribution of first team coach Jocky Scott during the club's pre-season preparations. Scott has taken most of the training sessions in Sweden this week, with Williamson closely scrutinising the players. Williamson told Herald Sport: "Jocky is a good coach and we speak about things before we go out on the training ground. We put our ideas together and then he carries them out. It's probably better that one voice is heard, not two, so the players are not being confused and getting it wrong. There is no chance of mixed signals because we are singing from the same hymn sheet. That's the way it will be all the way through the season," added the Pilgrims' boss.
Scott had been the reserve team manager at Sunderland before Williamson added him to his backroom staff at Home Park last October. After the departure of Gerry McCabe last week, Scott has extra responsibility for the coaching. Williamson said: "You find at the higher levels you go, the less coaching you need to do because the players know the game. They know their strengths and weaknesses and they play to them. The top clubs don't have to coach so much. They go and play five-a-sides and generally just keep their fitness levels up. The further down you go the harder you have got to work, to try to get across your ideas and paint the picture for the players. I feel we have got a good coach in Jocky Scott who can paint the picture. It's up to the players to see and develop it. If they can't see and develop it, then maybe they should not be playing at this level. But I feel we have got players who do want to learn and want to progress as a team, and that's the most important thing."
With the signing of Portuguese defender Nuno Mendes this week, Argyle have a squad of 23 senior professionals and Williamson believes it is essential they are all kept involved as much as possible. He said: "We don't just work with the players, who we think are going to be in the team. We have got to work on everybody, and everybody has got to know the role they have got within that team. That's what we try to do. Once we get the ball and we are further up the field, I prefer players who can improvise and do things off the cuff. If we can coach it, then people can coach it to stop it happening, so we need players, who can think for themselves and do what's necessary in the last third. When we are not in the last third we want to make sure we don't give away the ball needlessly, and we are organised enough to know that if it does break down we have got bodies behind the ball to stop them creating."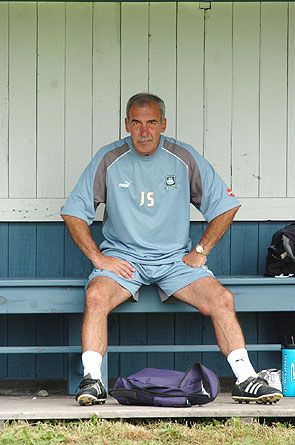 Jocky Scott

MAXIE AND THE DOC'S WHO'S WHO OF INJURIES
Plymouth Argyle's club doctor Paul Giles has been assisting Pilgrims' physio Paul Maxwell with the treatment of injuries during the pre-season tour to Sweden. It meant Giles was on the spot when Portuguese defender Nuno Mendes needed a medical before completing his move to the Pilgrims on Tuesday. Mendes was checked over by Giles and Maxwell in the medical room at Argyle's training base, the Vasterbacken Hotel and Conference Centre.
It is a standard procedure in professional football, but takes place behind the scenes, so Herald Sport asked Giles to reveal what it actually involved. He said: "A lot of clubs at this level, and certainly higher, will routinely do MRI scans of ankles and knees at least. So when you hear in the Press about someone failing a medical it's normally because they have done a MRI scan and there is a problem. Two examples are seeing signs of wear and tear in a knee or arthritis in an ankle. They are fairly typical problems with footballers. If you play until 30-32 virtually all of them will be showing signs of wear and tear." Giles continued:"When you are insuring players and spending a lot of money - over a million pounds - then you want to be absolutely sure about them. We have the advantage that we don't spend as much money as that on players so, up until now, we have not done MRI scans. The medical we do consists of getting a history from the player of what injuries they have had in the past. Certainly, if you are signing from clubs within Britain as well, you can get hold of their medical records. Every player has an FA file and you can look through that, to see what their problems were and what treatment they have had. We do a detailed examination of the joints. That is normally is done by both Maxie and myself and we look at range of movement, strength and the functional ability in ankles, knees, hips, groins, backs and necks. We also do a general medical, which I guess people would recognise from a pre-employment medical with any company. You are talking about taking the blood pressure, checking the heart and lung functions. All of that. It's really just a screening programme."
Giles explained the football authorities have special procedures in place to detect any heart problems. "The FA have got a screening programme where all apprentices now get an ultra-sound scan of the heart," said Giles, who has been Argyle's club doctor since February 2000. They are looking for the rare conditions where the heart is enlarged and has been responsible for sudden deaths of athletes in the past." The medical for Nuno Mendes was made easier because the 27-year-old former Portuguese under-21 international had been training with Argyle on a daily basis for a fortnight before signing. "You are going to get far more information, watching how people run around and how they are kicking the ball than you are in a snap-shot medical," added Giles
FIT AND READY FOR NEW SEASON
July 23
Plymouth Argyle manager Bobby Williamson believes his players are close to peak fitness with the start of the Championship season only a fortnight away. The Pilgrims' squad are nearing the end of a gruelling pre-season training camp in Holmsund, north-east Sweden. They have had eight training sessions in six days and also played two games, beating Betsele IF 9-0 and drawing 0-0 draw with Umea FC.
Tonight they play their final match in Sweden, against IFK Holmsund (6pm local time, 5pm BST), before flying back to England tomorrow. Williamson said: "There are one or two feeling the effects from the games and the training. We have been doing double sessions most days. We gave them the afternoon off yesterday to let the boys get rested up because we are playing tonight. We are travelling back on Sunday, which is a toll on its own, and we have got another game on Tuesday (against FC Bruges at Home Park)."
Williamson has been pleased with the way the training camp has gone, especially when the heat of the first couple of days relented to much cooler conditions. He said: "The players are looking good. I don't think we have got any complaints there. We are hoping we have got them as fit as we can get them. It's up to them now to be professional and look after themselves when they are not at the ground and they are not training. I'm sure they will do that." He continued: "In the early part of the week it was really hot, and that takes its toll. It's hard work for the players when it's like that, but the last few days have been a bit cooler and the mosquitoes have stayed away, thankfully, and we have got more quality done. It has been good and I think they have enjoyed it, although it is a training camp, not a holiday camp."
Willimson insisted the players would only get into tip-top physical condition once the Championship campaign starts on Saturday, August 6, when Argyle are away to Reading. He said: "There is certainly more to come. They will find their fitness as the season progresses. But it's important they get this hard work under their belts. That sets them up for the season. If you miss the pre-season you are playing catch-up. You never really do get your fitness after that because you want to be doing your best in the games so you ease off in the training."
Argyle have two home pre-season games next week, against FC Bruges on Tuesday and then Serbian side OFK Belgrade on Saturday. Williamson said: "They might be a bit more strenuous than I would desire. When you go into games against quality opposition and you don't come out of them so well then the fans get disillusioned. But we have got to test ourselves against the best. We did it last year against Portsmouth (when Argyle lost 5-0) and we learned our lesson. We worked them hard during the day and for 45 minutes they were fine but in the last 45 minutes they had blown a gasket. That was my fault for pushing the players, but it's all about what we are going to achieve during the season, not what's going to happen in pre-season matches. I think a lot of people went away from that game thinking 'it's going to be a long season' but it held us in good stead."
The Swedish pre-season tour has also given new Portuguese defender Nuno Mendes the chance to settle into the Argyle squad and play in the first two games. Williamson said: "Nuno has done okay. I'm sure he will be a good acquisition given time. There are parts of his game that could be worked on, but you are always trying to better the player and improve as individuals and in a team situation."



BOBBY ADMITS OPPOSITION ON SWEDISH TOUR WAS POOR
July 25
Manager Bobby Williamson admitted the standard of opposition on Argyle's pre-season tour to Sweden had not been strong enough. The Pilgrims were given a decent work-out by Umea FC, when they drew 0-0, but had easy wins over Betsele IF and IFK Holmsund. Williamson: "The better the teams we are up against the better we play. Unfortunately, when the standard gets dropped we take too many touches of the ball and it's not productive enough for my liking."
Scott Taylor scored twice and Nick Chadwick was also on target as Argyle coasted to victory on Saturday. Williamson said: "It's all about getting fitness levels up and I'm not really too fussed about the individual performances, but it's good to see strikers scoring goals. It gets them in the habit of putting the ball in the back of the net. If we can do that here then, hopefully, we can take it on to the next step."
Argyle have two more pre-season friendlies this week, starting with the visit of Belgian champions FC Bruges tomorrow. Williamson said: "We will go into that game and, hopefully, be prepared for it. That will be a good test for us. Bruges will keep the ball and get our guys running around. We will have a decent training session on the Tuesday and, hopefully, the game in the evening will get more out of us." Despite the standard of opposition, Williamson thought the tour had been a worthwhile exercise. He said: "We have got a few new players and it gives them the opportunity to get to know the rest of the lads better, and that's important."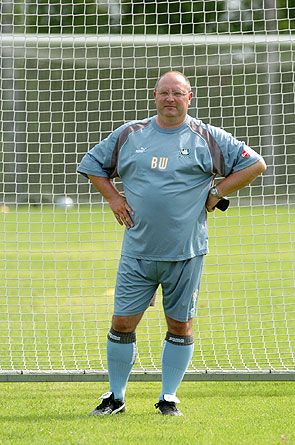 Bobby Williamson watching a training session

ARGYLE HOLM AND DRY AGAINST IFK
Manager Bobby Williamson will have learned very little as Argyle ended their three-match Swedish pre-season tour with another one-sided victory. Ifk Holmsund were better than Betsele IF, who the Pilgrims thrashed 9-0 in their opening game last Tuesday. But Argyle could still have reached double figures on Saturday had it not been for some excellent goalkeeping from Mladen Galambos, as well as some wasteful finishing. It was nowhere near as competitive as the 0-0 draw against Umea FC two days earlier.
Holmsund were comparable to a mid-table team in the Carlsberg South Western League and they were simply outclassed by Argyle. But at least they had the consolation of scoring a goal, unlike the Pilgrims' other two Swedish opponents. It came on the stroke of half-time when Christoffer Johansson powerfully headed home a free-kick from his strike partner Johan Nordell. By that stage, Argyle were leading 3-0 after goals from Nick Chadwick, Scott Taylor and Tony Capaldi.
Williamson had experimented with a 3-5-2 formation against Umea but he reverted to 4-4-2 for the friendly with Holmsund, who play in one of the 12 regionalised third divisions in Sweden. Bojan Djordjic started in the centre of midfield alongside Paul Wotton, with Tony Capaldi wide on the left and Bjarni Gudjonsson on the right. Gudjonsson was perhaps the pick of the Argyle squad during the Swedish tour and he tormented the Holmsund defence.
Argyle opened the scoring in the fifth minute when Chadwick headed home from close range after an angled cross from Djordjic. Taylor converted another easy chance to make it 2-0 three minutes later. Gudjonsson supplied a pinpoint right-wing cross and the former Blackpool striker was all alone as he steered the ball into the net from inside the six-yard area. Marcus Gavelin started the game as Holmsund's goalkeeper and he made good saves from Chadwick and centre-back Mathias Doumbe before a wrist injury forced his substitution in the 23rd minute. He was replaced by Galambos, who was soon involved in the action when he parried away a low shot from Gudjonsson. The Icelandic international had played a neat one-two with Taylor to race clear of the Holmsund defence but he could not find a way past Galambos.
Holmsund repeatedly gave away possession very carelessly and it was only a matter of time before Argyle added a third goal. It came in the 33rd minute when Capaldi fired a low left-foot shot into the bottom corner of the net after a cross from right-back Anthony Barness. Chadwick blasted the ball over from close range after a driven cross from left-back Rufus Brevett. Seconds later, Galambos showed superb reflexes as he dived low to his left to turn away a first-time shot from Chadwick. There was a crowd of around 300 at Kamratvallen and they saw the home team score in the 45th minute. It came from a disputed free-kick, with skipper Paul Wotton receiving a yellow card for protesting too long and loud about the decision of referee Jonathan Forsman. Nordell picked out Johansson and his firm header flew high into the net past Luke McCormick, who had been completely untroubled before that.
McCormick was replaced by Romain Larrieu at the start of the second half as Williamson made four substitutions. Capaldi, Chadwick and Wotton were also taken off, with Mickey Evans, Keith Lasley and David Norris coming off the bench. Lasley and Norris were the new central midfield pairing, with Djordjic moving out to the left-side to replace Capaldi. Argyle's fourth goal came in the 48th minute when Brevett collected a pass from Djordjic and his low cross was converted at the near post by Taylor. It was 5-1 three minutes later when Barness fired home at the third attempt after some weak defending from Holmsund inside their own penalty area.
The Swedish part-timers thought they had reduced the deficit in the 61st minute when a cross from Nordell was slotted past Larrieu by Johansson, but he was flagged offside. Galambos made good saves from Taylor and Norris as Argyle continued to dominate. Ryan Dickson made his first appearance of the Swedish tour as a 75th minute substitute for Brevett while another teenager, Luke Summerfield, replaced Taylor at the same time. That saw Argyle finish the match with a 4-3-3 formation, with Djordjic and Gudjonsson either side of Evans in attack. Galambos made another fine save from Gudjonsson before the Icelandic international blasted a rising shot narrowly over the crossbar in stoppage time. It was all too easy for the Pilgrims, who came out on top in the Plymouth Argyle Cup mini-tournament against Umea and Holmsund, although there was no trophy for them to collect. They now face a massive step-up in class when they play Belgian champions FC Bruges at Home Park tomorrow.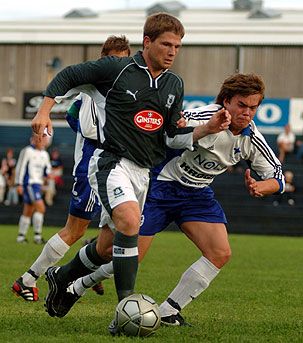 Bjarni Gudjonsson in action against Holmsund

LUKE RELISHING LARRIEU RIVALRY
Luke McCormick is relishing the prospect of renewing his goalkeeping rivalry with Romain Larrieu at Plymouth Argyle this season. The pair both played 23 matches in the Championship last term, although it was McCormick who ended the campaign in the first team. Argyle manager Bobby Williamson has already admitted that whoever impresses most out of the two keepers in pre-season will start the 2005/06 Championship campaign. Each of them had 45-minute run-outs when the Pilgrims ended their three-match tour to Sweden with a 5-1 win over IFK Holmsund on Saturday.
McCormick, 22 next month, has worked closely with Larrieu over recent years and they have become good friends on and off the pitch. Larrieu signed a new three-year contract with the Pilgrims in May, despite offers elsewhere, and McCormick was thrilled the French shot-stopper did so. McCormick said: "I was delighted he did end up staying. I have got a great relationship with Romain and it would have meant starting all over again. We have worked together for so long now and Romain has done a lot for me. He has helped me along the way and I have got nothing but the utmost respect for him, as a goalkeeper and as a person. I think the gaffer may have a headache again come the start of the season," added McCormick.
Three of Argyle's summer signings have been experienced defenders - Anthony Barness, Rufus Brevett and former Nigerian international Taribo West. McCormick believes that can only improve the strength of the Pilgrims' squad for the forthcoming campaign. He said: "The signings the gaffer have made have certainly brought a lot of experience into the team. What Taribo has done in the game speaks for itself really. The likes of Anthony Barness and Rufus Brevett have also played at the highest level. As a goalkeeper, it's good to have those sort of players in front of you. I think you saw that when Jason Dodd came on loan last season. He was very composed on the ball and I think these guys will be the same."
West is the most high-profile signing made by Williamson this summer, having played club football in the top divisions in England, Germany and Italy. McCormick said: "He's a real character in the dressing room and he likes to talk on the pitch. He likes to let you know that he's there as well, so I think he will be a very useful addition to us." The arrival of West followed soon after the departure of defender Graham Coughlan. The Irish centre-back, who collected two league title winners' medals with the Pilgrims, made a £125,000 move to Sheffield Wednesday. McCormick added: "With Cocko going, I think Taribo will be a good person to have around." Argyle have also completed the permanent signing of midfielder Akos Buzsaky over the summer, along with former Manchester United winger Bojan Djordjic. Buzsaky had a successful four-month loan spell with the Pilgrims from FC Porto last term. McCormick said: "He showed bits of what he could do last season. He's someone who can turn a game, and I think you need a player like that in your squad, especially at this level. Bojan has been at Manchester United and you don't play for the best club in the world for no reason. He has looked sharp in training as well. It will be tough competition for places but it's a good problem for the gaffer to have."
The Argyle squad returned to Plymouth last night and they will play their penultimate pre-season friendly against Belgian champions FC Bruges at Home Park tomorrow. Leicester City are continuing their determined pursuit of Argyle's Wales under-21 international left-back Peter Gilbert. But it will probably take an offer of around £200,000, as well as a substantial sell-on clause, to finally tempt the Pilgrims into selling Gilbert. Argyle had hoped Leicester would turn their attention elsewhere after rejecting three bids for the 21-year-old. But their Championship rivals remain very keen on signing Gilbert, who missed the last two matches of the Pilgrims' pre-season tour to Sweden because of a foot injury. Gilbert's former club, Birmingham City, will receive 30 per cent of the transfer fee should the defender leave Argyle.
SWEDE DREAMS IN THE LAND OF A BILLION TREES
By Owen Ryles
Sweden, land of... trees, trees and more trees. Famed as a land of the Vikings, forget Abba, Bjorn Borg, Volvos or IKEA, it's the seemingly unending forest of trees which define the landscape and memory of Sweden that I will retain. Venture outside of the major towns and cities, such as the capital Stockholm, and you are confronted by a wall of green - not a bad omen I grant you - that stretches for hundreds of miles.
Travelling with my father, Dave, we decided to hire a car and spend a day in Stockholm before driving to the north east of the country to the city of Umea (pronounced Ume-o). Our brief stay in the Swedish capital confirmed what a nice city it is, reminiscent in small ways of Venice as a city comprised of islands. That first night was spent on board a former Fjord cruise liner moored in one of the city's harbours, and provided a reminder of home, although not necessarily a pleasant one as the cabin's odour was more Torpoint ferry than Fjord!
Day two required an early, 7am start as we contemplated a near-400 mile trip from Stockholm to our base in Umea, having opted - perhaps unwisely as it might turn out - to drive up to the north rather than get an internal flight on the basis that it would be good to see some of the country's scenery on our travels up the east coast. However, I'm not sure we would have entirely agreed with that sentiment eight hours and eight million trees later as we reached our hotel. Far from a scenic-laden journey, it was an eight-hour tree fest on alternating single and dual carriageway roads teeming with slow moving lorries, caravans and trailers. So much for escaping the perils of a West Country summer!
Fortunately, the fine weather at home had prepared us for the scorching temperatures to be found in northern Sweden, but you had to feel a semblance of sympathy for the players who were training in high temperatures 15km down the road in Holmsund. After a meal and quiet drink - quiet being the operative word when a couple of drinks would set you back nye on a tenner - it was time for rest ahead of the trip to Lapland, and I never thought I would travel to Lapland to watch Argyle, for the tour's opening game against Betsele. Somewhat naively, we set off in mid-morning for the 90-mile drive to Lycksele a town near to Betsele, to have a look at what Lapland had to offer. If our journey the day before had seemed tedious, it was positively exciting compared to this as once again, trees were virtually our only companion, save for the odd small holding dotted along the way.
Pre-match entertainment - aside from an extraordinary collection of classic American cars being toured around the town - was pretty thin on the ground as we toured the shops and cafes of Lycksele, although legendary Argyle fan 'Loud' and his wife Carole got into the spirit of Lapland by tucking into some reindeer steaks. With kick-off nearing, it was off to Betsele to sample the big match build up, or so we thought. In Argyle's entire history, I would find it hard to believe that the first team has played in a smaller place. No shops to be seen, no pubs, nothing except the picturesque ground, ringed with trees --no surprise there - with the river peeking through in the background. It may not have been much, but we were honoured guests and the extremely friendly locals were amazed that 15 or so Argyle fans had actually travelled from England to watch the match. Their sincere questions centred on how long it would be before we were in the Premiership, not if, and upon sheer amazement that new signings Bojan Djordic and Taribo West were in town, well more like hamlet actually.
As the nine goals flew in on a beautiful sunny evening, you sensed that the game, but very limited, opposition were just happy to beaten by such 'big names', their fans surreally happy to watch Argyle's stars in action as though the Greens were really Real Madrid's 'Galacticos'. When the final whistle blew and tiny Betsele disappeared from view, you came away with the feeling that you had just witnessed the most important moment in the place's history - now I definitely never thought I would feel that as an Argyle fan.
On the Wednesday and Friday, non-match days, the chance was taken to wander around Umea. It is a pretty quiet city at this time of year as many Swedes venture off on their own holidays. With little urban development for a good 90 odd miles outside Umea's borders, it could be hard work finding entertainment, particularly when beer in bars is so expensive - hence Argyle fans finding themselves heading to unlikely destinations like the city's museums of history, image and sculpture to see reputedly the oldest ski in existence! Meanwhile, other fans took to the Baltic for a boat cruise or popped down for a look at the Argyle squad in training as the temperatures cooled to damp levels we would readily recognise back home.
Thursday's game against Umea - an away fixture for both teams -- at Umedalens' ground was for most fans little more than a 10-minute drive and was by far the most competitive of the games, although that was probably in large part due to Argyle lining up in an untried and unfamiliar 5-3-2 formation which they found hard to adjust to. A drab encounter in drab weather and a friendly, but too polite 'home' crowd, dampened the vocal offerings of the travelling Greens for much of the match, but it did offer a chance to see local hero Bojan Djordic in action for the first time. Oh yes, and we avoided defeat in a cup competition - the Plymouth Argyle Cup no less. With Umea losing to Holmsund in the first match of the three-team round robin competition, if we could beat the latter we would win a cup - if one ever existed!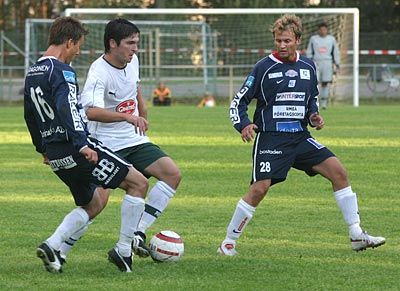 Bojan Djordjic in action against Umea

With the heat returning on the Saturday of the game against Holmsund, Argyle fans ventured to the port on the Baltic with one pub, a ferryport and a cement works open for business in the venue that had hosted the Greens' camp. Let's just say cup fever wasn't gripping the good folks of Holmsund ahead of the 'final', but the locals were again the epitome of friendliness and Taribo West, after scoffing a sneaky hot dog, was willing to pose for photographs and sign autographs at a ground which actually featured 'stands' on both sides. Now this was getting serious. But not serious enough that once the action out on the field was underway there was much danger of a cup upset. Once Argyle took an early lead, the result was never in doubt as the Greens cruised to victory, although the first opposition goal of the tour even raised a cheer from the travelling fans. With improved weather and more goals, those fans were again in better voice, with a bellowing 'Loud' acting as an impromptu 'guest summariser' on Argyle World. And he didn't even need a microphone.
The official part of the tour, with cup glory assured, was concluded somewhat bizarrely with the home fans in the 'popular' side of the ground saluting the travelling Green Army with a round of applause almost as loud as that which greeted the final whistle. There was no ascent up the 39 steps or lap of honour with the trophy, but I think most of the Argyle fans enjoyed the football and the light-hearted banter with good natured Swedes somewhat bemused that a Championship side would venture to the wilds of northern Sweden, let alone a hardy band of 15 or so fans.
It was not a trip about great sporting contests or entertaining the fans, not that players, officials and management were less than friendly and courteous. And it certainly wasn't a thrill-seekers paradise of sand, surf and sangria. It was decidedly more low-key than previous trips to Austria or Scotland. To make the most of the trip you certainly needed plenty of money to oil the wheels of social encounters in the city's bars or the determination to get out and about and find what was going on. Neither was it a holiday camp for the players, who would have been well aware within a day that they were here on business, bonding not boozing. With so many new players having arrived during the summer it must have helped them all to bond. The standard of opposition was poor, but that was not the point. Integrating the new boys and preparing for season 2005/6 were the twin aims.
Whether you were bored, bemused or satisfied with your own trip it was an interesting experience and made me realise that down in the far South West we aren't as isolated as we probably think we are. With August 6 rapidly approaching, we all soon find out if it was worth it