Back to

Tour Home
SCOTTISH TOUR 2001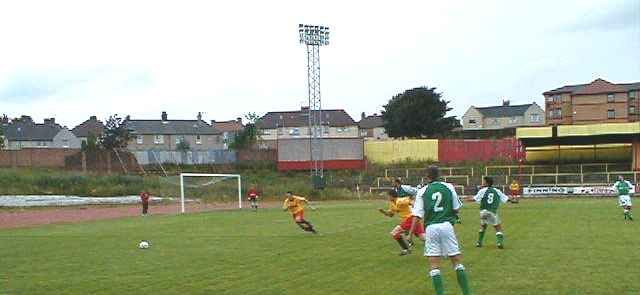 Argyle in action at Albion Rovers

SCOTLAND 2001
Argyle began a week-long pre-season tour of Scotland on Saturday July 21st with a match against Third Division Montrose. Trialists Roscoe D'Sane and Portuguese midfielder Miguel Reisinho were with the squad although neither new man started the first game as Sturrock selected a side clearly geared towards the upcoming Nationwide Third Division campaign.
The tour's itinerary might have included a trip to a whisky distillery, a night out in Sturrocks hame frae hame, Dundee, and plenty of golf, but the Argyle manager was determined his players would not mistake the break from Plymouth as a lads holiday. "Pre-season starts here", he declared. "For anyone wanting to play on the first Saturday of the season, these four games will be taken into consideration. We have a lot of new players who have come together relatively quickly and it is good to get away as a team. As far as I am concerned, that is as important as the games we will be playing. Good team-spirit is vital if you are going to be a successful team."
Argyle began the tour on a winning note with a 68th minute goal from Wills, who scored with his first touch after coming on as a substitute for Evers, leaving Sturrock to pick the bones out of a generally unsatisfactory display. He said: "The first half was very ordinary but, in the second half, we began to show a wee bit of what we are capable. I'm pleased to get a result. Too many times, Plymouth go away and lose, so it's nice to have a win for a change".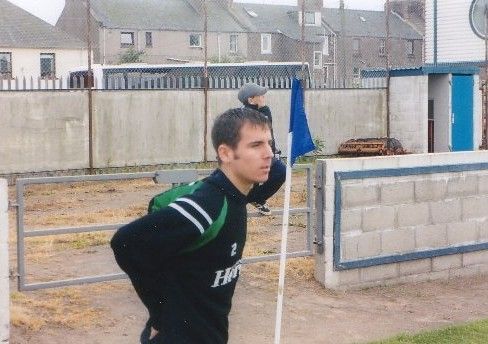 Goalscorer Kevin Wills at Montrose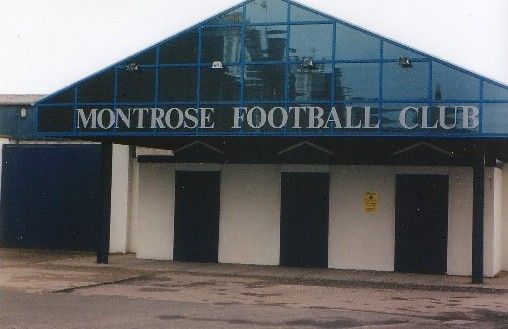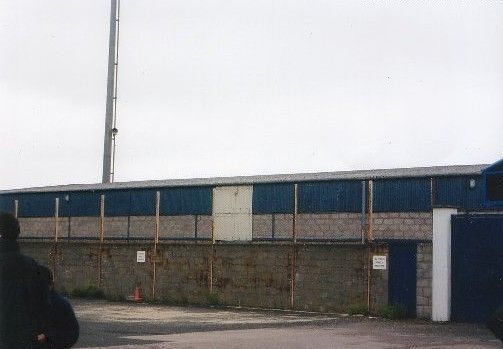 Outside Links Park, Montrose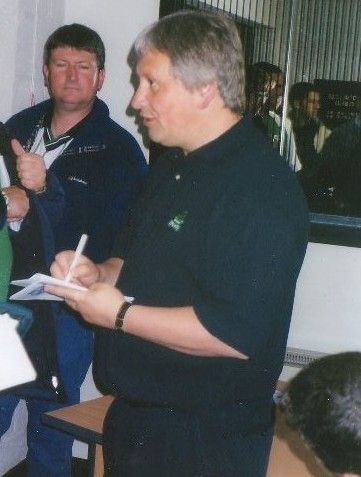 Luggy meeting some fans after the Montrose game

More than 170 Argyle fans had travelled to Links Park for the dawn of the new era, many independently but some as part of the official tour party, for which they had paid £700. Among their number was Phill Gill, for whom the trip was the start of a much bigger journey in his life, and some, like 21-year-old student Ian Sherwood, from Salcombe, had been allowed to join in training sessions.
The Pilgrims unbeaten start to their pre-season came to an end two days later on the coast at Methil, where they lost 1-0 at East Fife's Bayview Stadium. Midfielder James Allan scored the games only goal direct from a 20-yard free-kick. Among the fans was Lewis Ridge, from Farnborough, who had not missed an Argyle game for 15 years - even going to the Gambia for a friendly in the mid-1990's. He once walked from his home in Swindon to Home Park for a Boxing Day fixture.
Alan Kernaghan, the 34-year-old Republic of Ireland centre-back who Sturrock knew from their time together at St Johnstone, joined trialists D'Sane and Reisinho in trying to impress the Argyle manager. Kernaghan, who had top-class experience with Manchester City and Middlesbrough, had made 19 appearances for the Saints the previous season before being released and had suffered from pelvic injuries. "I have got to weigh things up", said Sturrock. "You have got to give the opportunity to his sort of quality". After weighing things up, he decided against pursuing his interest.
After a day off during which some Pilgrims supporters went to watch a friendly between Arbroath and Dundee United reserves in the vain hope of seeing Sturrocks son Blair - he was injured - Argyle hit their stride two days later when they comfortably beat Second Division Forfar 3-0 at Station Park. David Friio, Ian Stonebridge and Reisinho scored, with Stonebridge's 20-yarder from open play being the pick of the quality triple. "It augurs well", said Sturrock, "I am normally a hard man to please, but even I have to admit partial satisfaction after that display. I think we showed the hard work we have put in over the past week. Our fitness looked good and we have now got to put a sharpness to the players".
The Scottish jaunt was concluded with a 2-1 win against part-timers Albion Rovers, immediately after which the players hopped on the team bus for a 12-hour journey home. They were probably already feeling a little sore from a match in which late tackles, shirt-pulling and raised elbows were all evident, but two set-piece goals inside four minutes from centre-backs Heathcote and Coughlan earned the victory. Sturrock said "It wasn't a classic, but it was nice to finish the tour on a positive note".
After the tour Sturrock commented, "I don't think they'd ever had a real pre-season and they got it. I think it was a huge culture shock to them. We were off to Scotland and they must have thought they were getting a reprieve, but they were training morning and afternoon. Even on the days we had games, they were training in the morning".
"Pre-season puts a backbone of fitness into the players for the season. You have to keep topping it up every so often, but the general fitness is there. At the same time, you are working on tactics, which is why the Scotland tour was important, although I think maybe I gave them too much information. A lot of stuff - systems of play, tactics, how I wanted things done - had been put into some people in a very short space of time, all sorts of things they had never been used to doing. Team-spirit was definitely enhanced in Scotland. A lot of bonding went on between players, because they were in each others pockets the whole time. That's part of the psyche, because you've got a better chance of winning. No-one plays for the shirt anymore, they play for the wage packet and they play for their mates. That's what I tried to instil in them in Scotland. Also, they are cut off in Plymouth, which is a real benefit. They are training in the mornings and can't escape in the afternoons. So they will maybe play a bit of snooker, or golf, or go out for meals, are basically more friendly with each other. The chairman and directors, who are fans - and people forget that - wanted that closeness for everybody and that desire changed the mentality of the place. Everyone brightened up and the workers all changed here as well. The whole structure of the club, from chairman downwards, changed; it brought a breath of fresh air right through the whole club".
Kevin Summerfield said, "It was great to get away to Scotland, where everything was there for us, away from all the hassle. That was a massive week, because we got loads of work done. The players become yours; you were in total control. Morning to night, we knew where they were. With four games and training twice a day, every day, they had no time to be lazy and they were ready to train because they had nothing else to do".
"In Scotland, we were trying people and we never really got to any shape until the third game, when we had the team on the pitch that was basically going to be the team that started the season. The football was fantastic during that Forfar game. It was exactly what we'd been working on throughout the week; the set-pieces worked, everything. So we thought at least we knew where we were going and the players knew what we were looking for. It all worked exactly. I wrote in my notes: 'A glimpse of our true form, real quality' ".
*This excerpt re-produced from Paul Sturrocks Championship Diary with kind permission of Rick Cowdery.

Dave Pay's Scottish Diary
Day 1
Got to Bristol station in plenty of time, unlike the train. Nearly an hour late thanks to bridge problems at Par. Train was crowded and full of kids - not very good.
At Birmingham many of the kids get out, hooray, but a party of women going on a Hen Weekend get on. They are very loud and have a CD player blaring out mindless pap. My own CD player is broken, not good. Finally we get to Edinburgh, just in time to catch a train to Dundee, which is crowded as well. Reach Dundee 11.00 pm, but as the pub is open to midnight, time for a few drinks. Good!!
Meet Jim at the station and then meet Alistair, Chipper, Nick and Peggy at the pub. Good. Get to bed after four pints, but Jim wants food. Al and Chipper have gone to a club, so Jim and I hunt an open shop. We find a garage and get some grub. Not good as it's not healthy - but who cares
Day 2
Wake up early on Saturday. Find a supermarket and get some food in for breakfast. Croissants and cereal - healthy(ish) - Good. The others finally stir and after they are fed, we make our way to the station.
Other Argyle fans are there, including London and Northern branches, plus a few from Plymouth. We get the train to Montrose. The countryside looks grey, like the weather. The area gives off a sense of desolation, and I feel far from home. We reach Montrose, and find the town centre. It is rather small, and reminiscent of a village in rural England. You almost expect to hear the theme from 'Deliverance.'
We find a pub and have a quick pint, before making our way to the ground. This is rather small but neat, with a new stand down one side. We get into the Bon Accord Lounge, get tickets programmes and the chance for some food at decent prices. We also have a few drinks. Very Good!! After the game we have a drink before catching the train home. The weather has brightened up and the sea looks better, with hints of beaches in some places.
The locals on the train are confused by chants of "Green Army" and "We always win in Scotland", however, the shouts of "This train don't stop Camborne, Wednesdays", in a variety of West Country accents really confuses them.
Went out in Dundee, to a bar owned by Davie Dodds - a compatriot of Luggy. He makes sure we are looked after, although his club is full of old people on the pull - not very comfortable. I finally retire for the night, a touch drunk, and some of the others go off to meet the players. Apparently the best bit is Chipper being called 'Elvis' by Mickey Evans.

Day 3
As I am committed to bringing you all the news as quickly as possible, I had to get up relatively early on Sunday and hunt down Internet Access. I had been told that there was an internet cafe by the Dundee Utd ground, so off I set to Tannadice. On the way up I passed some Argyle supporters who had already been. The outside of Tannadice is impressive, although those that had a tour of the ground said that basically new stands were made by bolting seats onto the terraces. Two stands were built this way in 15 weeks - by Barrs Construction. Anyway my search was proving fruitless, and when I asked a local, he looked at me as if I had asked the way to the moon. He told me that they were in town. So I trudged back to the City Centre, found the Tourist Information, and they gave me two locations. One was in the Library - shut until Wednesday (!), the other in Debenhams. So I spent the afternoon uploading reports and checking out what else was going on.
In the evening the Argyle fans met up in the city centre. The bar we were in was providing karaoke, so some stayed, but we left. We found some quieter bars and had a few drinks. Bad
Day 4
Monday arrives, and the second match on the tour. The various Argyle fans staying in Dundee start to meet up at various places (all pubs!) throughout the day. Others are worse for wear - serves them right! Methil is not on the train route, and according to the PASALB guide, produced by Rupert Metcalf, there is no bus out of Methil either. Monday is a Bank Holiday, and that has not helped. Alan Minnithorpe of the Northern Greens has been efficient and has arranged a taxi back - well as it's for 15 of us, a mini-bus back. He then 'sets up a quick break' by arranging for the mini bus to pick us up in Kirkcaldy and take us to the game. After a couple of pints in Castaways, we troop off to the train station and catch the train to Kirkcaldy - we would prefer to go there as it's bigger than Markinch.
We arrive in Kirkcaldy, which is a pleasant town, and sample the hospitality in a few places. Unfortunately, one of those places is a JD Weatherspoons pub, and we are refused admission because of our colours ! Still if they don't want our money. After a brief visit to the Fish 'n' Chip Shop we get our mini-bus, the driver of which is an East Fife fan. At least we know he'll be there to pick us up!
Methil is very grimy and the fact that it has lost a lot of its industry is very evident. We are dropped off at a pub near the ground. It looks intimidating, but the few locals are friendly. When we arrive at the ground, right next to a disused power station, we see the truth. It has only got one side. A new 2,000 capacity stand, with track and a wall on the other three sides. I presume East Fife have no intention to progress up the leagues.
After the game we get our lift back, and decide against hanging around in Kirkcaldy. It's 45 minutes to Dundee and the instinct to stay with the familiar is dominating our thoughts. On the platform we look for positives from the game, and can find some. A bit down by the defeat, we think about the team, the players fitness and the team spirit. On arrival at Dundee, we have a quick pint in Davie Dodd's bar, and then it's time to retire.
Day 5
Tuesday arrives and a bad feeling, partly due to the defeat last night, partly because for some reason we were up until 3.00 am talking!! Topic - Argyle, of course. The weather is the best yet, with sunshine and little cloud. Again my first thought is to get a match report on-line, and off I trot. Actually my first thought is did my wife get the flowers I ordered, as today is our 3rd Wedding Anniversary. (See what I give up for the site!!) But this is a football website and such sentiment is out of place, or is it?? Anyway, the report was done, and again the various Argyle fans start to meet up. The plan is to go to Arbroath vs a Dundee Utd XI in the evening as Blair Sturrock could play.
I cannot believe that the Scottish Premier League starts this weekend - something to consider for Saturday is that Hearts are at neighbours Livingston on Saturday, so wearing Green in Edinburgh could be a bit dodgy . As Arbroath is not that far away there is time to have a look round Dundee and I am surprised at how big it actually is. First impressions were of a small place, but there is a lot to see. Like most cities these days there is a mix of new and old. Anyway, we set off for Arbroath, and as the train approaches we see the ground, and appreciate why they get problems with the tide! Shrewsbury has nothing on this place. We wander down to the ground, meet some other Argyle fans already in the pub across the road. I was told that as Arbroath are now in Div 1 they have to segregate the fans. I think this involves more than a different set of turnstiles, and a Steward asking where you are going. Could be some interesting times at Arbroath.
There are a few Orange shirts, and we stand with them. Sturrock is not playing - injured apparently, and the visistors consist of those on the fringes of the 1st team plus a couple returning from injury. The game is not bad but neither team have the cutting edge in front of goal. One of the DUFC subs is Sean Connolly, with whom we were linked. From what I saw he would be no different to Paul Wotton - very competitive and a fierce tackler. His distribution did seem better though. Some Argyle fans get bored quickly and disappear off to play pitch and putt. They return when they discover it was closed!!
After the game we return to Dundee, and again Davie Dodds profits from our stay. Some of the lads (no names, Alan M and John C!!) have discovered that there is a Polish Dancing club in Dundee (well something about Dancing and Poles....), so venture for a look. I am so glad I am married!! They are disappointed to find it's closed, so have a few more drinks. With a few Boys in Blue on the streets tonight, maybe not the best decision, but they survive.

Day 6
Wednesday arrived, and Argyle's third match on tour. We knew that there would be a strong team out tonight, so expectations were reasonably high. Once more various public houses saw the Greens start to congregate. Forfar was not on the rail routes so it was down to the buses to transport us. This meant that the sensible ones limited their drink as it's one thing to be on a train for 30 - 45 minutes, but another on the bus. This was felt by two of the party who had to get off the bus just outside Forfar, and were aggrieved to not be let back on. The rest of us reached Forfar, yet another hamlet that gave of overtones of isolation and strange practices.
Four of us made our way to the PASALB meeting pub, where we were delighted to see Somerset cricket were on the TV, and even more delighted to see them beating Kent. Once more the locals were very hospitable, although like most people we met they were amazed that we were undertaking such journeys to watch our team. One thing the pub could not provide was food, so we went off an a hunt, and finally found a pub which would serve food. It was worth the search - or was that because we had to search hard for it?
Afterwards we made our way to the ground, probably the best seen so far, and Argyle's performance was the best seen in a long while. (I know the standard of opposition could be questioned). In the club shop I was amazed to see that they had a map of Britain, showing where their supporters lived. Even more amazing was that they had a supporter (or supporters) in Truro!! After the game we had time for a last drink before the last bus, with everyone realising that staying on all journey would be a good idea. We all safely reached Dundee, and our party showed how much was being taken out of us as we retired straight away

Day 7
Thursday - our last full day in Dundee. The first of two football free days. We could go to Stirling Albion tonight, but we have to leave our digs by 10.00 am so we decide against it. Shame as there were 5 goals!! I find out there is a cheaper internet access, so after a stroll round Dundee, including a brief visit to the DUFC club shop for a badge purchase, I make my way there. The new Dundee Utd strip will not be out until October, and they are selling he away one with the message that it too changes in October. Shades of Argyle in the past there!
Anyway, after a marathon session on a PC, and a leisurely stroll in the sun - yes the weather is improving! - I make my way back to the digs. The four of us all are there after a while, and to pass time we play cards. I bet you all thought we would be living it up, with wine, women and song!! How wrong you are. Well, not quite as we decide to see Dundee out in style and decide to go clubbing - to the Mardi Gras. Even I can get in with my lack of style, and with Stella cheap tonight, it's a good way to say goodbye. We drink well, the single lads try their luck but fail, and eventually it's time to go home. On Saturday those that went to the same venue took an hour to find their way back - I appreciate why, as this part of Dundee is a warren. But we make it, and I am so glad I have already packed as sleep will be precious tonight
Match Reports
Argyle v Montrose
Paul Sturrock showed his intent by playing a virtually full strength side at Montose. There were also places on the bench for Reisinho and D'Sane. Montrose started the better and had the first pressure, with Larrieu called into action early, taking a cross from the home No 7. Soon Argyle found their rhythm and Beswetherick was trying to create down the left. However the game itself had no real pattern, and both sides were very scrappy. With the away fans outnumbering the home side 10 to 1, it was a very surreal atmosphere. Argyle started to get their game together, and Bessie was obstructed going down the right. The free kick flew across the goal without anyone getting a touch. Evans then ran through but scuffed his shot which went tamely to the keeper. Gritton then chasd a long ball, but the keeper cleared just in time. The home side showed their danger when both Larrieu and Bessie nearly gave the ball away under pressure from the home forwards. Overall though it was proving a frustrating time as the team were not gelling. Passes were going astray, no one was moving off the ball and the whole thing looked disjointed. The home side gained the confidence to start pressing, and Bessie had to head a dangerous cross behind. Argyle then defended desperately fo a while. One thing I noticed was that the Scottish players seemed to swear far more than their English counterparts! As the half drew to a close, it was Argyle who were the more dominant, with Adams setting up Evers, but his ball to Evans was over hit. A Wotton free kick was hit low, but with no real power. The half ended with Larrieu punching clear a home free kick.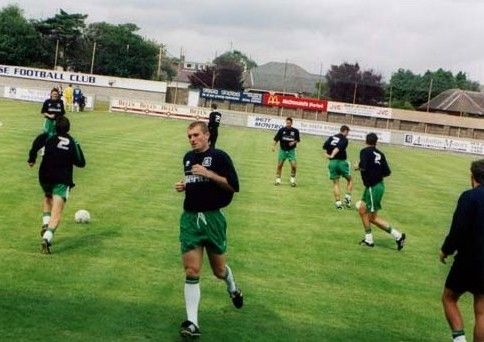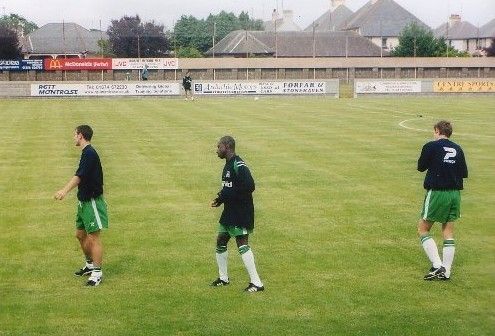 Paul Wotton Roscoe D'Sane
Warming up at Montrose
Graham Coughlan Roscoe D'Sane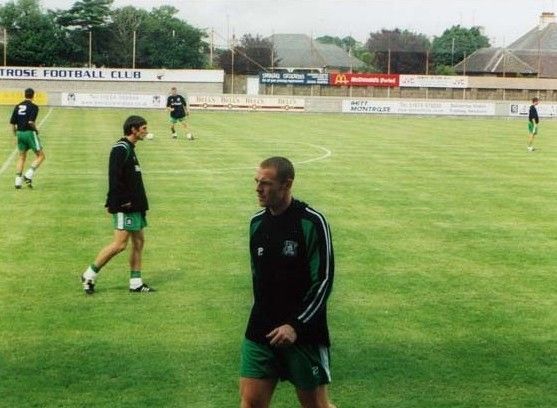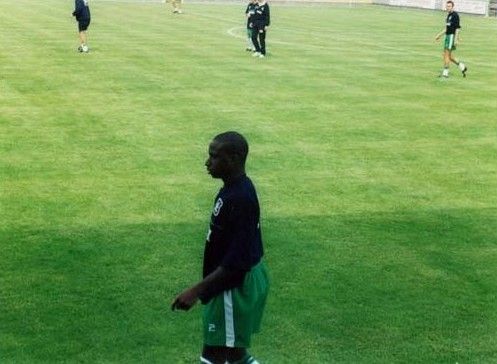 I don't know what Paul Sturrock said to the players at half time but it worked. They were far more determined from the start. Evans was the first to go through, being fouled on the edge of the area. The free kick though, was hit at the wall and the ball cleared early. Montrose pressed briefly, but Argyle dealt with any threat. Argyle started attacking again and Evans went for the ball but had his foot too high. Sturrock took the chance to take Gritton off and bring on D'Sane. D'Sane looked lively, fast, and wanted to get involved as much as possible. So much so that not long after coming on he was told to "keep your arms down by your side." Argyle now seemed to be dominating, maybe through better fitness, although the home side had made changes. A good passing move ended when Bessie was tripped. Wotton drove the free kick across the goal and a defender headed it behind. The corner was cleared to Evans, who turned and shot but the shot was weak. This caused a shout of "Mickey that was ....." but luckily I don't know from whom.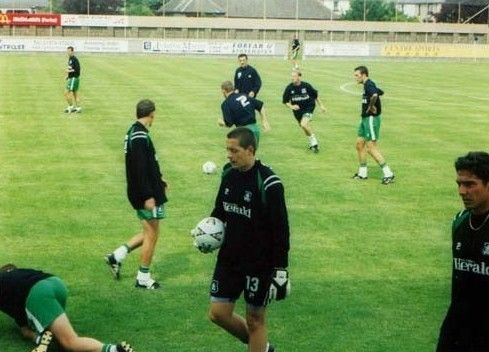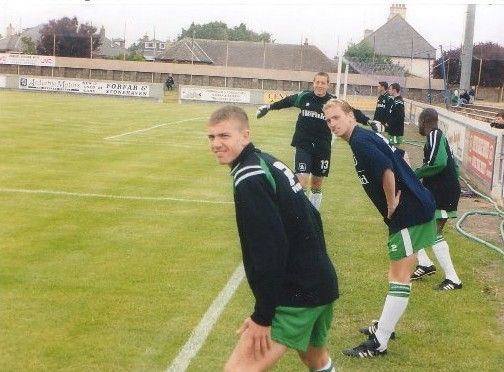 Luke McCormick Paul Connolly
More warming up at Montrose
Miguel Reisinho Ryan Trudgian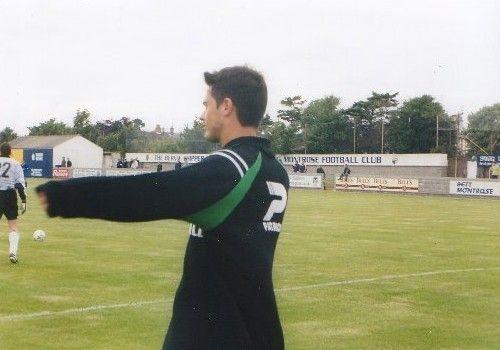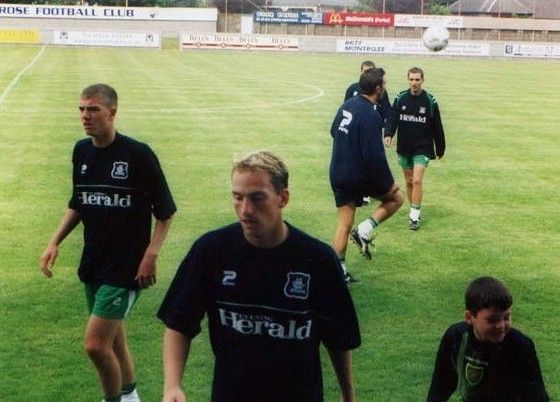 The game was becoming more open with both sides creating opportunities. However, tempers were also fraying and tackles were flying in. The ref seemed inconsistent with his decisions, which did not help matters. Wills came on for Evers, and the young player had an immediate effect. Phillips won the ball in the right, sent in a cross, D'Sane couldn't reach it, but Wills ran in at the far post to drive the ball home. Then D'Sane used his pace to get into the box, he drew the keeper, chipped the ball over him but a defender hacked it clear, just as Wills was going to make sure. Friio started to get into the game and had a run through the midfield, threading the ball for Wills but the keeper came out well to clear. Reisinho came on for Evans for the last 15 minutes. It was not long enough to really form an impression, but he certainly looked as if he had the ability to live up to his billing.
The last real moment came with Wotton chasing a ball back to the keeper, the keeper clearing it, the ball rebounding off Wotton's shin but hitting the bar and flying to safety. Overall not the best of perfomances, but for a first game the day after 12 hours on the coach, a win was welcome. Now for Methil...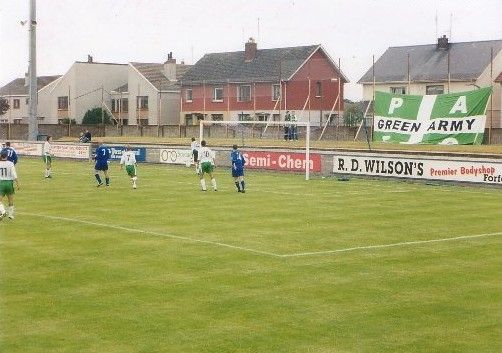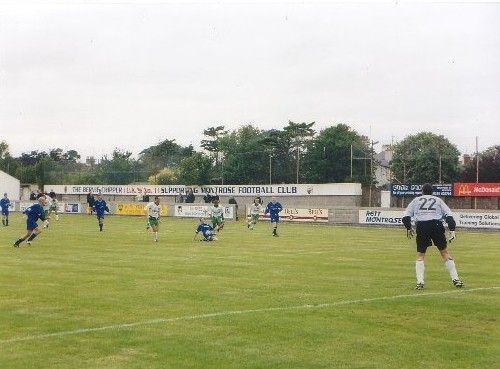 Action from Montrose
After the Montrose game Paul Sturrock admitted that the fixture was not ideal, coming after a 12 hour coach journey the day before. He was then asked if it was deliberate that the games were low key. He pointed out that once the players return they have to face Sunderland on the Tuesday - and that is hardly low key. He felt that he would be changing the team on Monday and Wednesday to give those that played today a rest and those that hadn't played a chance. However, David Worrell would not be able to feature in any of the games. In a bar later that evening, Kevn Summerfield agreed that those who had played for the first time had really felt shattered afterwards. When asked out the coming season, Sturrock said that we are in a difficult league to get out of, and with four strong teams coming down, it would be tougher this time. However, he has done his reshaping already, so we should be well prepared for the season, and we should have a good chance. He is hoping to have a couple of players in the pipeline - but gave no details - but said that any player he has signed permanently has benefitted the club. The players would be going out in Dundee that evening for some team bonding - as that was just as important as playing games. It would help the new players fit in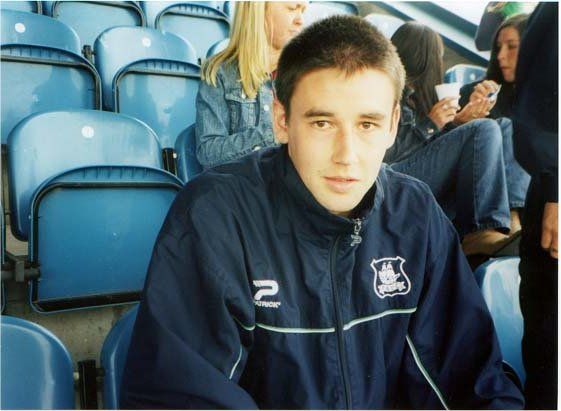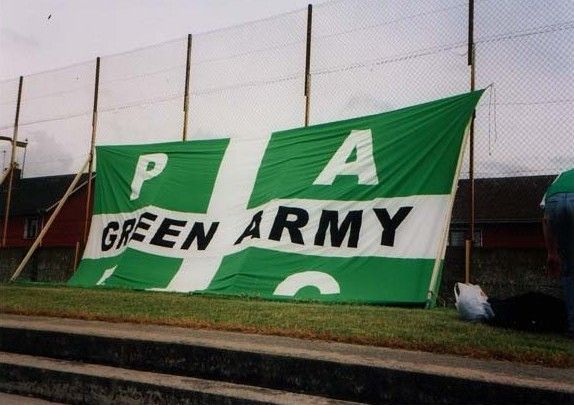 Stoney watching from the stand in Montrose and one of the P@SOTI flags

Argyle v East Fife
Argyle fielded a much changed team from Saturday, including Alan Kernaghan whom Sturrock is taking a look at. However, in the first half it did not seem to matter. The opening exchanges were even with McCormick the first keeper in action, taking a shot well. But Argyle showed their intent with McGlinchey and D'Sane combining well, but McGlinchey's shot was wide. The home fans were enraged early on when Ross Graham was put through, sliding the ball past McCormick into the net. However he was adjudged offside. Stonebridge flicked on a throw for D'Sane to go down the right flank, but the home keeper took the cross easily. The keeper then thwarted Stonebridge, after he muscled his way into the box, and D'Sane who let fly from the rebound. Friio got into the action after a long ball from Reisinho, but his header was weak. Stonebridge shot at the keeper and D'Sane was just wide as the visitors dominated. East Fife were dangerous on the break and Graham headed over when he should have at least hit the target. A home free kick saw the ball in Argyle's net, but again the referee's assistant had his flag raised. As the half wore on Argyle started to lose their way, although Stonebridge and D'Sane kept working well together - without creating any real chances. As the half drew to a close the home side had a few chances with McCormick performing well, or the defence clearing the danger. The only scare came when McCormick fluffed a Wotton back pass but Munro shot wide.
Argyle made a change during the interval, with Gritton replacing Kevin Wills and this saw D'Sane play just behind the front two. Stonebridge had the first chance but was surrounded by the home defence. Then the home side looked threatening with James Allan going through but shooting high and then Adams and D'Sane lost the ball between them and Graham beat McCormick to the ball into the box, but it went wide. Allan then took a free kick about 25 yards out. He hit the ball with pace and accuracy and it flew into the top corner of the goal, with McCormick unable to get near. Argyle tried to hit back and a strong run from Gritton saw him bring the ball back but McGlinchey's header was saved. A long ball from the home side saw Kernaghan just win it from McManus, and the ball was safely passed back to McCormick. Gritton played a 1-2 with Reisinho, but his shot was tame, and then Ovenstone in the home defence put in a sublime challenge to rob Stonebridge as Gritton tried to put him through. I was impressed with Ovenstone as he seemed to be everywhere as Argyle tried to find a way through. His tackling was spot on every time, and surely he deserves better than a ground with just one side. D'Sane wasted a good chance, knocking the ball over from a corner. Argyle changed things with Evers and Phillips replacing D'Sane and Resinho, quickly followed by Ryan Trudgian coming on for Stonebridge. McGlinchey went quickly down the left, his ball in was too high for Evers, but fell to Friio whose shot went well out of the ground. Argyle continued to press, and Evers hesitated when he had an opportunity to shoot. The home side defended well, restricting opportunities to a minimum, but Argyle didn't particularly look inventive enough to create anything. Adams and Phillips combined well on the right but the cross was headed away. The ball was worked back in by Evers, but Gritton's header was weak. The home side broke from the pressure but the No 12 wasted the chance by hitting the ball at Wotton when his team mate was unmarked, and through on goal. Trudgian had the best chance, turning well and hitting a drive just wide of the post. Generally though Argyle were guilty of wasting what they created. In the last 5 minutes Kernaghan misjudged a high ball, letting the No 12 in, but he scooped it high and wide. Despite the defeat, this was a useful workout as East Fife were reminiscent of a Third Division side. They hit the ball long, were big in attack and defence, and were very fitness orientated. However, it does show our weaknesses and these will need to be addressed before August 11th.
Argyle v Forfar Athletic
The opening was very lively with both sides looking to create chances. Argyle though seemed to be creating more, although the home keeper was not really troubled. The most spectacular chance came when Friio tried an overhead kick from a Phillips cross but failed to connect. The Frenchman then shot high and wide after some good passing play saw the ball knocked down to him. The home side had their first real opportunity, but again the shot was high as well as off target. Argyle continued to dominate and a cross saw Friio head the ball firmly against the home crossbar. This was followed by a Phillips run and shot, that again hit the bar. Surely Argyle had to score! Phillips again had a strong run followed by a shot that was just wide this time. Stonebridge won the ball in a tackle but his shot was blocked. Finally though, the goal came on 27 minutes. A corner to the far post was headed back by Heathcote and Friio drove the ball firmly into the net. Phillips, who was electric, then put in a cross that Stonebridge headed just wide. The home side showed their abilities with the No 9 picking up a loose ball but was well off target with his shot. The home keeper took a cross well with Evans looming large. The only worry I had was that McGlinchey was free on the left but the ball would go the other way. Was it something personal, or just that Phillips was on such good form? The away fans yelled for a penalty when it appeared that Stonebridge was pushed, but nothing was given. The half ended with Friio threading the ball through to Phillips, whose shot was turned round the post. The corner was hit short and Heathcote flicked on and Friio's header was deflected over. The whistle went before the second corner could be taken.Performance impressive.
The home side looked to attack from the off, and went straight down and won a corner. Argyle cleared the corner easily. Argyle then created their first opportunity of the second half. The ball was worked to Evans whose close range shot was well saved by the away keeper. The home side again won a corner, but once more the Argyle defence coped easily. The Argyle supporters again shouted for a penalty when a cross was handled by a defender, but again nothing was given. Phillips again ran through the defence, but his shot was wide. There was a scare for Argyle when Heathcote and Larrieu got tangled up and the the keeper hit the ball against an attacker. However the chance was wasted. The ball was quickly worked well down to the Forfar penalty area, Stonebridge was set up, he turned and sent a well struck drive into the far corner of the net. From a home corner Argyle broke quickly with that man Phillips racing clear, sending over a cross for Stonebridge, who hit it first time, but with no control and it was some of the Midland Greens who were in danger as the ball whistled past them. Argyle started to make changes with D'Sane replacing Stonebridge and Wills on for Friio. The home side were making changes too, and this took some of the tempo out of the game. The home keeper then made a superb finger tip save to deny Argyle a third, and then Rhesinho replaced Beswetherick, with McGlinchey dropping to left back. Wills had a good chance but hit his shot wide, with Evans screaming to be given the ball, and then Connolly came on for Wotton. The keeper then denied Phillips before D'Sane and Reisinho combined well on the right. D'Sane's shot was too weak though. Argyle wrapped up the victory with Reisinho going down the right, looking like he'd taken it too far, hitting the ball across and somehow it hit the far post and went in. So a good performance, with one or two little worries. Forfar, although worthy opposition were fairly poor up front. Having said that, the win will boost confidence, and that will be priceless come the start of the season.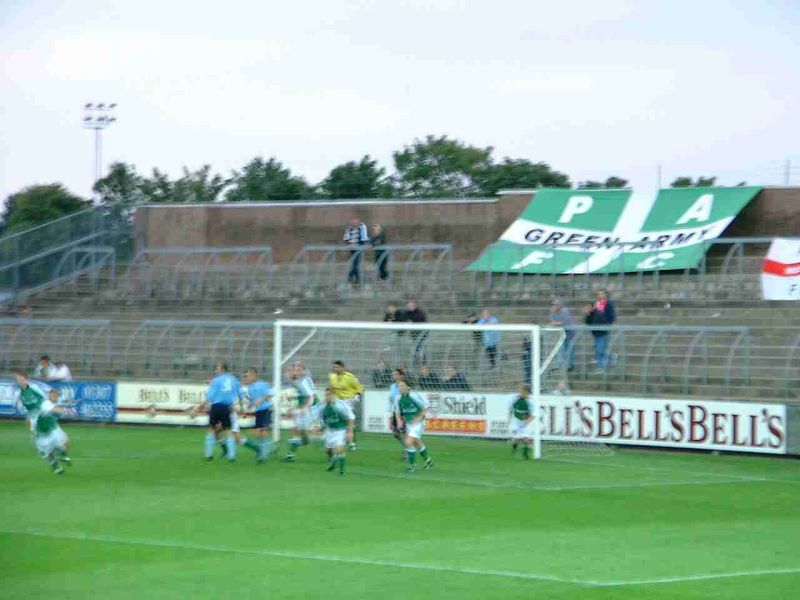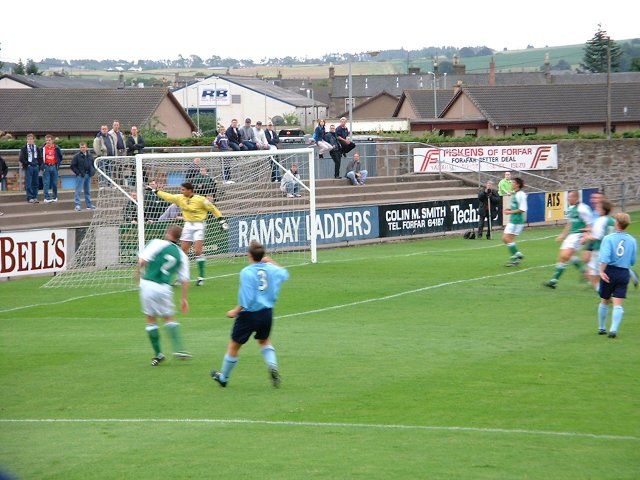 Action from Forfar

Argyle v Albion Rovers
An experimental Plymouth Argyle side took a while to settle into any kind of rhythm as they faced an Albion team looking to put one over their English visitors. Backed by a sizeable crowd of Argyle fans, the game got off to a lively opening, with both sides looking to land the first blow. Argyle were facing a lot of long ball pressure, but it was Argyle with the first opportunity as the home keeper made a hash of a throw and the ball fell to Gritton. The chance was wasted, but the home management team encouraged the keeper by yelling "Get it done right" at the top of their voices. The home side nearly broke the deadlock early on when a speculative free kick left McCormick standing and rattled the cross bar. The ball then had to be scrambled away from the goalmouth. Trudgian was fouled as Argyle attacked but the free kick was hit low and without much power at the keeper. With just under 15 minutes gone, the home side scored. Argyle lost possession on the right, Jered Stirling let fly and again McCormick was left standing. The goal was helped by a stiff breeze (probably unnoticed by the locals!).
Argyle looked to hit back quickly and a free kick was headed over by Heathcote. The home No 6, Chris Silvestro, received a lecture from the referee for disputing a push on Reisinho. Apparently his first sport is boxing. The resultant free kick was scrambled away from the home penalty area, and Reisinho took a knock and had to receive treatment. Argyle started to come under pressure, not helped by some poor passing. However they broke with McColligan feeding Gritton, whose snap shot was well turned round the post by the keeper. The corner was not cleared, and Heathcote pounced to prod the ball home on 33 minutes. Suddenly Argyle had their tails up, and Gritton won a good tackle, fed Wills and he won another corner. The corner was flicked on, Trudgian got a foot to it and the ball was blocked on the line, finally being put behind for another corner. This time the ball was not cleared and Coughlan appeared at the back post to sidefoot the ball into the net. Argyle had the best of the remaining 10 minutes, but the home defence somehow kept the ball out of the net, with the keeper performing well.


Argyle v Albion Rovers

Again the half started lively with the home team winning the first corner. This was cleared, but not very well, and the ball reached striker Charles McLean, whose shot was taken well by McCormick. One bright spot was that Connolly, D'Sane and Trudgian all seemed to combine well on the right, and Connolly sent a good ball for Trudgian to chase, but his pull back was behind the incoming Kevin Wills. Albion started to make substitutions and this damaged their rhythm, and gave Argyle the opportunity to regroup and keep solid at the back. The game also started to get niggly, again with the refereeing standard worse than we see even in Division Three. One of the biggest cheers of the half came with the referee getting sandwiched between two players challenging for the ball in the air, and he went tumbling. Coughlan went off to be replaced by Steve Adams, purely to protect Coughlan, who looked to have taken a knock. The home side started to get their game together, and two good chances were created from the left. However, the back four remained solid and dealt with the danger. They did occasionally look a little scrappy in defence, and Ryan McMullan was left free to shoot, but the ball was wide. Argyle had a chance when Heathcote flicked on a corner, but D'Sane could not make the most of the chance. Further home substitutions occurred, disrupting the game further, before the most contentious moment of the game. Albion were attacking, the ball was crossed in, a hand clearly punched the ball away from a crowd of players. The home team and fans appealed for a penalty, but the referee obviously left his specs at home. He was then given some travel advice, being told to "Get tae Falkirk.." - at least that's what it sounded like! This was the first game of the tour where Yellow Cards were produced. The home No 2 being the first, followed by one of the subs for dissent, and then Reisinho was cautioned for getting his own back on the fouls he constantly received. The game ended with the No 16 shooting at McCormick, and that was that.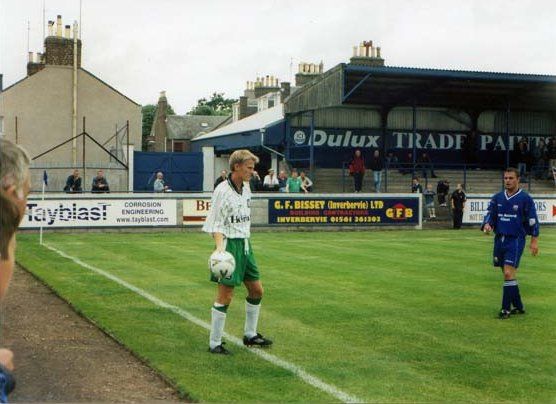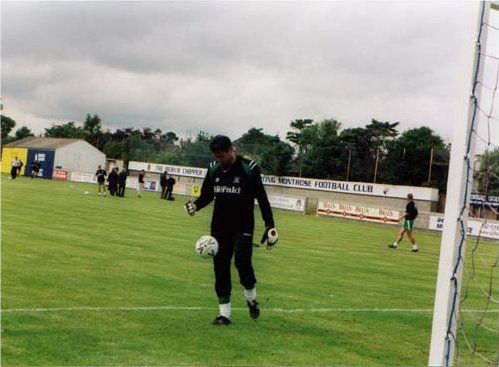 Buster Phillips, Romain Larrieu and John Beswetherick at Montrose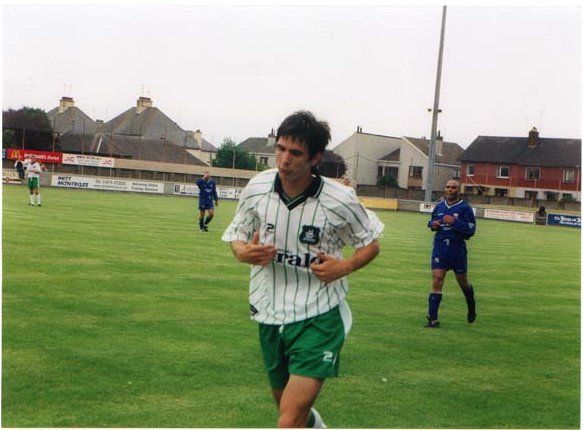 A Week in Scotland
by Peter Jones
On paper what a great idea. Hire an entire hotel for a week in July, arrange for training facilities and four matches against decent opposition - and invite along a group of supporters. But, as with all great adventures, no one really knew what it would be like.
Well, I'm pleased to report that the Argyle pre-season tour of Scotland was a huge success. It's been reported extensively elsewhere - notably by Chris Errington in the Evening Herald. So I won't go over the entire week again. Instead, I'd like to record for posterity my top ten highlights.
1. Three of the clubs we played were extremely friendly and welcoming. And Montrose and East Fife were absolutely astonished at the number of Argyle supporters who made the trip.
2. Argyle's 3-0 win against Forfar: one of the best performances away from home in a long time. It came after a couple of days hard work on the training ground. The locals were highly impressed - and quite right too.
3. Turning up for the Arbroath versus Dundee United fixture on the Tuesday night, and finding a good couple of dozen Argyle fans there, all hoping to get a glimpse of Blair Sturrock. (Sadly he was injured and therefore not playing.)
4. Learning how to play poker - albeit for miniscule stakes. Top Tip 1 - never, ever bet against Kevin Summerfield
5. The whisky tasting - in particular, having one of the malts described as having a nose that resembled 'hospital corridors'.
6. Jo Benwells football quiz. Especially the question which asked contestants to name all the club name suffixes in the English Premiership and Nationwide. Each and every one. Try it! You need to get 21.
7. The golf tournament, played on the hottest day of the week. Trying to putt with 3,000 midges all trying to get up your nose. Top Tip 2 - never, ever play golf against Kevin Summerfield.
8. The Rendezvous Bar in Dundee. A quiet sophisticated place where the local citizens go to chill out and relax quietly after a hard week.
9. Being called 'Jimmy' for the first time in my life. At the Rendezvous Bar, as it happens.
10. Finally, and seriously, the general spirit over the entire week. The players worked hard, yet were totally accessible to the fans - as were the management team. All in all, a tremendous atmosphere.
Should we do it again? Absolutely. And I'm first in the queue for a ticket.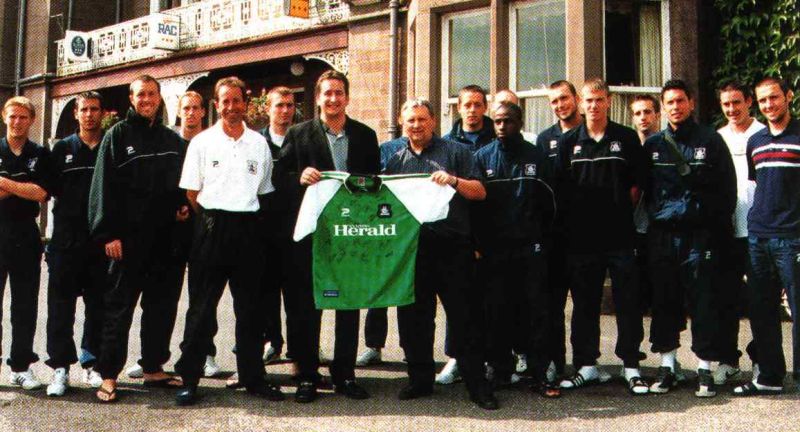 Paul Sturrock presents a signed Argyle shirt to Gordon Craik, manager of the Glenesk Hotel
in Edzell, where the team stayed for the nine days of the tour.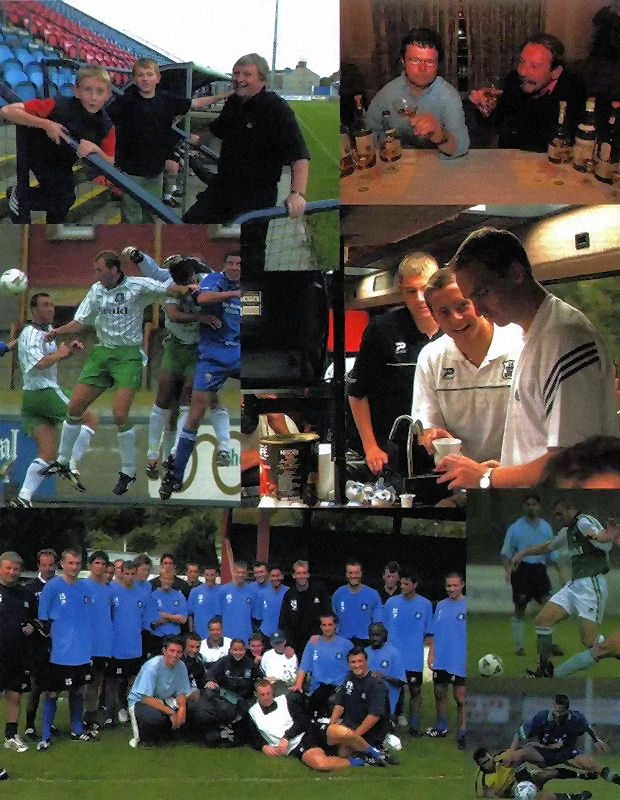 A montage of images that appeared in the Argyle programme

TOUR RESULTS
| | | | | | |
| --- | --- | --- | --- | --- | --- |
| Date | Opposition | Score | Scorers | Att. | Team |
| July 21st | Montrose | 1-0 | Wills | | Larrieu, Wotton, Beswetherick, Heathcote, Coughlan, Phillips, Friio, Adams, Evers, Evans, Gritton. Subs - D'Sane, Wills, Reisinho |
| July 23rd | East Fife | 0-1 | | 300 | McCormick, Adams, Beswetherick, Friio, Wotton, Kernaghan, Wills, Reisinho, D'Sane, Stonebridge, McGlinchey. Subs - Gritton, Phillips, Evers, Trudgian |
| July 25th | Forfar Athletic | 3-0 | Friio, Stonebridge, Reisinho | | Larrieu, Wotton, Beswetherick, Friio, Heathcote, Coughlan, Phillips, Adams, Evans, Stonebridge, McGlinchey. Subs - Wills, D'Sane, Reisinho, Connolly |
| July 28th | Albion Rovers | 2-1 | Heathcote, Coughlan | | McCormick, Connolly, McGlinchey, Wills, Heathcote, Coughlan, DíSane, Reisinho, Gritton, Trudgian, McColligan. Subs - Adams |

With thanks to Dave from Rub of the Greens for match reports and diary, and Peter Jones and Steve Hill for the content from the Argyle programme of 11/08/01.