Back to

Scotland 2009

Tour Home
Scotland 2009: Western Morning News
STURROCK GEARS UP FOR ARGYLE TOUR
18th July
Argyle yesterday set off for their forthcoming tour of Scotland with manager Paul Sturrock insisting he is content with the way his squad are preparing for the new Coca-Cola Championship campaign. The Pilgrims will check into their temporary base at Stirling University following today's pre-season friendly against Skelmersdale United, a fixture which has been arranged following the capture of Argyle striker George Donnelly last season. Sadly, Donnelly will not face his former employers this afternoon. The rookie frontman is set for at least a month out because of a hamstring injury. However, team-mate Craig Noone, another former Skelmersdale player, will be in Sturrock's plans. Yesterday, the Argyle boss expressed his disappointment at Donnelly's untimely blow. He said: "I'm disappointed for the boy because it was important for him to get a good pre-season under his belt. This injury is going to knock him back a wee bit." There was, however, good news on the injury front for the Scotsman. Goalkeeper Romain Larrieu and full-back David McNamee both boarded the coach yesterday and the manager is confident the duo will figure in this week's forthcoming fixtures. "Romain will travel and so will McNamee," said Sturrock. "It was just precautionary that we didn't play Romain the other night at Torquay. With McNamee, we're very hopeful he will be available for some of the games up there. Young Ryan Leonard will also be going with us because with McNamee having not been available, we had to put Chris Clark at full-back the other night. He is vying for a midfield spot, not a full-back spot, so I'd rather have an out-and-out full-back in the squad."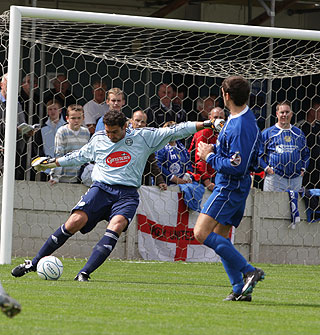 Romain, back in action at Skelmersdale

Sturrock is looking forward to returning to his native homeland and working further with his squad, which has been bolstered during the summer with the captures of midfielder Carl Fletcher and, just this week, striker Bradley Wright-Phillips. "We're on the build-up as far as the team is concerned," explained the manager. "It's vitally important we get shape and people understand the system. For the first half at Torquay the other night, there were two or three boys who still didn't get to grips with what we are looking for them to do. That I felt was the key to the first half. In the second half we had a bit more experience on the park and they basically knew exactly how to play the system. It went a lot better." Wednesday's 3-3 draw with Torquay United followed on from earlier pre-season victories over Truro City (2-0) and Plymouth Parkway (3-1). And, according to Sturrock, the way his side have performed so far – both on the training field and in matches – has been by and large to his satisfaction. "The players have adapted well to what we have asked them to do," he said. "They have also responded to the different training. Normally we go down the same route, but we've changed that quite a lot this year and I think the players have appreciated that."
For many Argyle players, a pre-season camp North of the border is also somewhat of a new experience, especially as the Pilgrims have based themselves in Austria and Sweden in recent years. "I just felt with Austria we've done it, seen it, got the t-shirt," added Sturrock. "I felt it was important we have a wee change of environment this year." Whatever the environment, the Argyle squad can expect a rigorous work out in the coming days ahead. Indeed, the first of those tests will be conducted this afternoon. Skelmersdale, Argyle's opponents today, play in the Division One North of the UniBond League. Effectively, they are one level below Truro City, whom the Pilgrims beat on Monday. After today's game, Argyle will head north for their training camp at the University of Stirling. Their first friendly in Scotland will be against Livingston on Monday. The financially stricken Scottish League First Division club cannot use their stadium at present – they lack a safety certificate at present – so the match will be played at non-League club Bathgate Thistle. They play at Creamery Park in Hardhill Road, Bathgate. Argyle will then take on Romanian champions Unirea Urziceni next Wednesday at Kelvinside Academy's Balgray Playing Fields in Chesterfield Avenue, north-west Glasgow. The match will be open to the public, and no admission fee will be charged. On the way back south from Scotland, the Pilgrims will take on League Two outfit Morecambe at Christie Park a week today. The Shrimpers are giving a trial to former Argyle striker Nick Chadwick.
Meanwhile, Sturrock was keeping tight-lipped over whether the Pilgrims would be following up on their interest in Icelandic trialist Kari Arnason. The 26-year-old midfielder played the second half against Truro, as well as featuring in a behind-closed-doors friendly. When quizzed yesterday on whether he would be making a move for the player. Sturrock replied: "I don't discuss anything like that." However, the boss has not ruled out making further signings before the start of the season. He added: "The biggest problem we have is we have to move players on. We can't keep bringing players in and not have anyone go out. It would be nice to get two out and maybe one in, but there are no magic wands in football."
FALLON AND PATERSON ON TARGET FOR ARGYLE
20th July
Argyle picked up their second pre-season victory on Saturday, when they stopped off on their way to this week's training camp in Scotland and gained a workmanlike 2-0 win over Skelmersdale United. Against non-League opposition of similar standard to Truro City, whom the Pilgrims beat by the same scoreline a week ago, Argyle kept a clean-sheet and scored a goal in each half. Rory Fallon and Jim Paterson were their marksmen. The result, as is always the case at this time of year, was less relevant than the physical benefits of the match. The Devon men looked weary at times, which was a by-product of Friday's very lengthy coach journey to Lancashire, but they are still well on their way to gaining the right level of match-fitness in time for the Coca-Cola Championship kick-off on August 8. That is what matters most.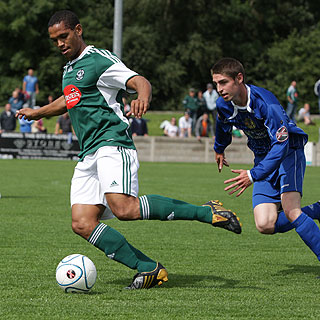 Mat Doumbe in his penultimate game for Argyle

For an hour of the contest, the Pilgrims persisted with the midfield 'diamond' formation which they had used at Truro and in last Wednesday's 3-3 draw at Torquay United, before they switched to a different system in the final third of the friendly. They also gave a first outing in a green shirt to new signing Bradley Wright-Phillips. The former Southampton striker was Fallon's partner in attack. Wright- Phillips is clearly not match-fit, but he has not lost the pace which is a major part of his game and he looked keen. It was a decent opening run-out. Steve MacLean tucked himself in behind the front two, while Luke Summerfield was at the base of the diamond. The wide midfielders were Karl Duguid – back from paternity leave to play his first friendly of the summer – and skipper-for- the-day Craig Noone. Mat Doumbe and Marcel Seip were at the heart of the back four, in between two teenage full-backs, Ryan Leonard and Damien McCrory. After missing last week's friendlies because of a leg strain, Romain Larrieu was back in goal. Noone wore the armband because he was playing against one of his previous teams. Plymouth's visit to the Skelmersdale and Ormskirk College Stadium – or, to give the ground its less clumsy non- sponsored name, Stormy Corner – had been a by-product of the transfer deal which took Argyle's other Skelmersdale old boy to Home Park last season. George Donnelly could not join Noone on the pitch, however. The striker's hamstring injury meant that his participation was limited to the pre-match coin-toss.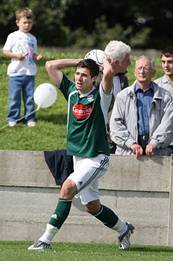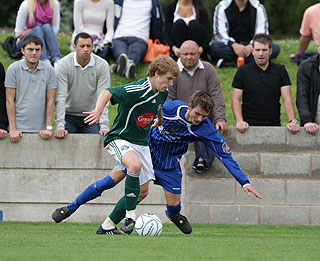 Ryan Leonard and Damien McCrory in action against Skelmersdale

Argyle created a flurry of chances in the opening ten minutes. Wright-Phillips had the first two attempts. He was thwarted by United goalkeeper Alan Fitzpatrick, who saved with his legs, and then the newcomer sent a lob just off target before setting up Noone to shoot wide.
Noone cut in from the left and let fly again, but was wayward once more. Skelmersdale, who were just pipped to the UniBond League Division One North title by Durham City last season, then had a brief good spell before Argyle returned to the attack, with Wright-Phillips and MacLean having shots blocked. A Plymouth goal looked imminent, and it arrived in the 17th minute. Noone's corner from the right was converted at the far post by Fallon, with a side-foot finish from about six yards. Argyle kept pressing. Noone was off target twice before the break, MacLean was denied again by the legs of Fitzpatrick, while Duguid could have done better with a couple of half-chances.
United should have made Plymouth, who did not make any half-time substitutions, pay for their profligacy four minutes after the interval. Summerfield sent a sloppy back-pass to Steve Burke, who slipped a short pass to fellow striker Chris Almond. With Larrieu out of position, an equaliser seemed inevitable, but Almond crashed his shot against the crossbar. At the other end, Wright-Phillips saw his last goal attempt of the game parried by Fitzpatrick. Argyle's new recruit was withdrawn just past the hour-mark, along with Leonard. Paterson and Chris Clark joined the fray, which meant a bit of a reshuffle. Duguid went to right-back, MacLean moved up front while Noone played wide on the left as, after what looked like some initial uncertainty, the Pilgrims switched to a 4-1-3-2 formation. The hosts, who had changed most of their team at the break, posed little threat from then on. Duguid had a header cleared off the line by Michael White before the visitors extended their lead in the 79th minute. Paterson – who has played well in pre-season, as has fellow Aberdeen target MacLean – picked his spot from about 20 yards with a low-left shot into the bottom corner of the net. Clark, MacLean – who is also a transfer target for Hearts, according to yesterday's Scottish media – and Seip all went close to adding further goals for Argyle, who set off for Stirling after the game. They will be back in action on Monday against Scottish League First Division side Livingston.
NOONE LOOKS FOR PLACE IN STARTING LINE-UP
20th July
Craig Noone did his best to make up for injured guest of honour George Donnelly this weekend. The Plymouth Argyle striker was meant to make a triumphant homecoming to Skelmersdale United, who sold him to the Pilgrims earlier this year. Saturday's friendly between the UniBond League team and the Coca-Cola Championship outfit was set up when Donnelly moved to Home Park, but a training-ground mishap spoiled his day. Donnelly damaged a hamstring right at the start of the Pilgrims' pre-season preparations, and may not be fit to play until September. In his absence, Noone, his former Skelmersdale team-mate, captained Argyle's side on Saturday and gave United's hardy supporters the chance to see at least one of their past favourites in action. Noone did not find the net in Argyle's 2-0 win – Rory Fallon and Jim Paterson were the scorers – but he posed a constant threat to his old club's defence and he enjoyed the time he spent back at Stormy Corner. The little winger would have been even happier if Donnelly had been on the pitch with him, instead of in the stand. "George was the reason we were here, but unfortunately he's out for four to six weeks," Noone said. "He was doing some sprinting in training, and unfortunately he pulled his hamstring. It was just one of those things."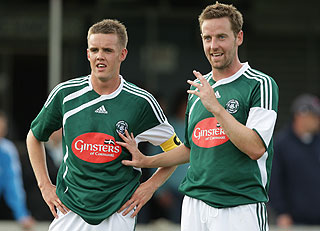 Craig Noone, with Steve MacLean, at Skelmersdale

Noone, who was signed from Southport last year, and Donnelly demonstrate the value of monitoring non-League talent. Argyle's chief scout Andy King, who is on the road to recovery after suffering a heart attack last month, brought them to the Pilgrims' attention.
After being released by Wrexham's youth set-up, Noone made good use of the non-League scene to work his way back into the Football League. The Liverpudlian explained: "I played for Skelmersdale, Burscough and Southport before I joined Argyle. I had one season in Skelmersdale's youth team and then I went through the reserve team and into the first team for a season." The 21-year-old met up with some old team-mates on Saturday. "It was good to see them again," added Noone, who came to Plymouth as an out-and-out winger but has moved "inside" to take up attacking midfield duties in the Pilgrims' pre-season friendlies this summer. It is a job – at the forefront of a midfield 'diamond' – which Paul Sturrock occasionally gave to Martin Phillips, another little winger, in his first spell at the helm at Home Park. Noone enjoys the role. "You get on the ball a lot more," he said. "It's good to try out different positions and not just be an out-and-out winger." His target this season, his second at Home Park, is a regular first-team place with the Pilgrims. If that proves to be elusive, then he knows that he may have to go out on loan to gain Football League experience. "I'm just going to work hard and see where that takes me," he said. "If I'm in the manager's plans that will be great. If not, I'll look to go out on loan if I can't get a game here."
STURROCK PLEASED WITH WRIGHT-PHILLIPS
20th July
Paul Sturrock was relieved that his players emerged unscathed from their 2-0 win at Skelmersdale United at the weekend. The Lancashire non-League club have installed a new pitch at their stadium this summer, and the Pilgrims' boss reckoned it was not even close to peak condition for Saturday's pre-season friendly against his team. The Scotsman declared: "That was probably the most difficult pitch I've ever asked a team to play on. People were going over on their ankles all the time. It was loose, and the length of the grass made it very hard to do any travelling with the ball. It's a brand new pitch, and it has not settled down properly. They need another month to get it to take. That made it a difficult game but, to be fair, the players all responded properly and were very professional in their approach," added Sturrock, who also revealed that his squad had to endure a draining coach journey from Plymouth to Warrington on Friday. "It was a nightmare," the Scotsman said. "It took us seven and a half hours, and you could see that in what transpired on the pitch. They looked a bit weary."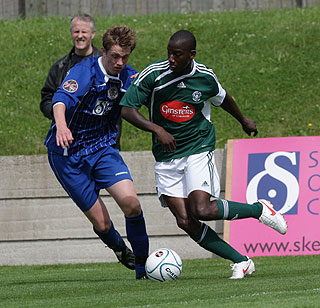 Wright-Phillips at Skelmersdale

Despite the effects of Friday's trek up country, Argyle were on top for most of Saturday's game. "We could have been about five up inside ten minutes," Sturrock admitted. "We looked comfortable on the ball, everyone wanted to take it, and we created an awful lot of chances in the first half. It was quite pleasing." Rory Fallon and Jim Paterson scored the goals for the Coca-Cola Championship club, who gave new recruit Bradley Wright-Phillips his first appearance in a Pilgrims' shirt. "I was very pleased with the boy Wright-Phillips," the Argyle boss added. "He showed a lot of good touches, and he got in the right areas. I'm looking forward to working with him." Goalkeeper Romain Larrieu was given his first game of the summer, after recovering from a leg strain, while midfield man Karl Duguid also made his first pre-season appearance, after returning from paternity leave. Jamie Mackie, Carl Fletcher, Chris Barker and David McNamee (who has not yet played a game this summer) all sat out Saturday's match due to various injuries, but Sturrock disclosed that they should all be available for selection for this evening's friendly against Livingston. The Scottish League First Division club's stadium is out of bounds, so the match will be played at Creamery Park, the home of West Lothian non-League side Bathgate Thistle. Livingston's intended adult admission charge for the friendly – £16 – has not gone down well with Argyle or their fans, and the Pilgrims are putting pressure on their hosts to reduce the price.
PILGRIMS CRASH TO PRE-SEASON DEFEAT
21st July


Argyle paid the price for failing to take their chances last night, when they suffered their first defeat in this summer's pre-season friendly programme. The Pilgrims were beaten 2-1 by Scottish League First Division side Livingston at Bathgate Thistle's Creamery Park ground. Krisztian Timar scored an own goal and then made a mistake which led to the victors' second goal, before Luke Summerfield was on target with a penalty late in the game for the Coca-Cola Championship outfit. Afterwards, Paul Sturrock said: "There's a sharpness missing from the team at the moment, with all the work we've done on the training ground. The boys are saying they were a wee bit leggy, because of that, but as the game unfolded we got better. That shows our general fitness is in decent nick." The Pilgrims' boss added: "We created an awful lot of chances, but our finishing was not too good. We didn't hit the target often enough, and we can't legislate for two mistakes like the ones our centre-back made and expect to win football matches."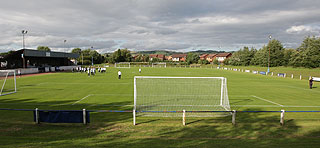 Creamery Park

Sturrock had given the Pilgrims' new midfield 'diamond' formation another run-out last night, with Summerfield in the anchor role and Jason Puncheon at the forefront of the quartet.
The opposition are employed by a club in a state of financial crisis, but their problems did not prevent them producing a promising performance. Livi kept the ball on the deck and looked like a decent side, but they could have fallen behind in the early stages. Jim Paterson, who played well on the right side of midfield, took the ball round goalkeeper Roddy McKenzie and hit the deck when challenged by Cammy MacDonald in the third minute. It looked like a foul, but no penalty was given. Five minutes later, Paterson swung in a good cross with his left foot from the right flank, and Ashley Barnes glanced a header off target. Livi then had a good spell, with Liam Fox sending a curling shot just wide and Andy Halliday doing likewise with a strike from the edge of the penalty area. When Argyle returned upfield, Chris Clark's fierce shot was kept out by the keeper's legs, and Jamie Mackie surged through the Scottish side's defence but put his cross behind fellow striker Ashley Barnes. The first goal, when it arrived, went to Livingston. Fox showed some fine skill on the right flank before he came up with a low cross which was diverted past Argyle goalkeeper Romain Larrieu by Timar for a 26th-minute own goal. Puncheon almost equalised six minutes later when he ran at Livi's defence and let fly with a well-hit left-foot shot which was kept out by McKenzie, whose instinctive save was of high quality. The same Argyle attacker then sent a curling effort off target with the English team's last goal attempt of the first half.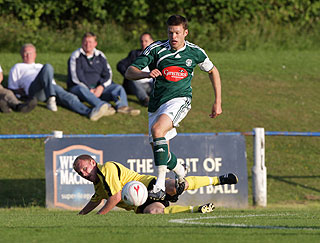 Jamie Mackie surging

It took Livi four minutes of the second half to double their lead and, again, Timar was culpable. The big Hungarian squandered possession deep in defence, and Anthony McFarland was able to squeeze a shot past Larrieu. Argyle tried to hit back two minutes later, when Mackie's shot hit the keeper and bounced off the crossbar. Boosted by some fresh legs off the bench, the Pilgrims took charge in the last quarter of the game. Substitute Rory Fallon sent a free header wide from a Summerfield corner five minutes before the Pilgrims eventually found the net in the 81st minute. Paterson ran at the defence and, as he had been at the start of the game, he was tripped by MacDonald. Summerfield fired the consequent penalty high to McKenzie's right to cut the deficit. Plenty of late pressure did not produce an equaliser. It might have arrived in the final minute but, when Fallon nodded the ball down to Steve MacLean, the substitute failed to come up with a shot worth saving.
ARNASON SIGNS ON WITH ARGYLE
21st July


The lure of playing in English football is what has brought Kari Arnason to Scotland this week. The 26-year-old Iceland international midfielder signed a one-year contract with Plymouth Argyle yesterday. He sorted out the formalities after passing a medical examination and then participating in a training session with his new colleagues at the University of Stirling, where the Pilgrims are based this week for a pre-season training camp. Arnason has joined the club on a free transfer, after leaving Danish club Aarhus at the end of last season. He has also played for Esbjerg in Denmark, Djurgarden in Sweden and Vikingur in Iceland. He has made 16 international appearances for his country. Arnason caught the attention of Paul Sturrock after standing out in a private practice match for trialists which the Pilgrims staged in Plymouth nine days ago. He also appeared in last Monday's 2-0 friendly win at Truro City, and it has taken the Devon outfit a week to agree terms with him and bring him back to Britain.
Arnason has snubbed interest from German clubs to join Argyle. Yesterday, he told the media: "I have been wanting to come to England for a long time, and now this is the perfect opportunity for me. I want to see what it's all about." I like the mentality of English football. I like hard work, and physical football. I think it suits my game. There were offers from Germany, but my priority was to come to England. I pointed my agent in that direction, and he set up the trial for me." Arnason, who declared that central midfield is his regular position, added: "I just want to prove myself to the manager, because he has not seen much of me. I just want to take it step by step, and try to work my way into the starting XI. I like the club, and I'm very happy about being here." The move to Plymouth represents Arnason's second attempt to establish himself in English football. He explained: "I went on trial to Charlton Athletic at the end of 2006, when I was leaving my club in Sweden. It was the season Charlton were relegated from the Premier League. They were not doing well, and they needed a saviour. It was not me. I was not fit to start straight away, because I had not played for two months. They needed someone else."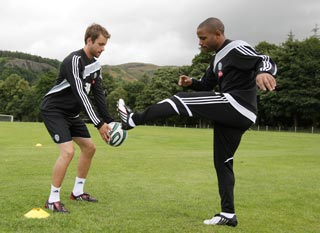 Kari Arnason on the training ground

Arnason becomes the second Icelandic international to play for the Pilgrims, after fellow midfielder Bjarni Gudjonsson. Arnason's most recent senior cap was awarded in October 2007, when he appeared as a substitute in a 4-2 European Championship qualifying home defeat to Latvia. Sturrock is very pleased to have acquired Arnason. The Argyle manager said: "An agent contacted us about him, and that opened the door for him to play in the game for trialists at our training ground. He was the stand-out player. He was the one that took your eye straight away, and he scored as well. He has played in various positions for his country and his club sides. He can play at centre-back, wide midfield, right-back, holding midfielder, or as an attacking midfielder. He has a good range." Arnason has some catching-up to do in terms of his fitness, even though he has spent the summer training with his home club in Iceland, Vikingur of Reykjavik. Sturrock added: "If we can put a total fitness to him, I think we will have a player on our hands. He brings height to the team as well. He will be an asset in both boxes, and he has good honest qualities about him." Arnason did not feature in Argyle's friendly against Livingston last night. He is set to spend this week doing intensive fitness-training work, and may not make his second public appearance for the Pilgrims until Saturday's friendly at Morecambe.
The Pilgrims are planning to take a look at another foreign international in tomorrow's friendly against Romanian champions Unirea Urziceni in Glasgow. They have not named their latest trialist, who is due to arrive at their training camp today, but the player is understood to be Hungarian right-back Zoltan Szelesi. The 27-year-old is a free agent, having left French second-tier club Strasbourg at the end of last season. He has also played for Energie Cottbus in the top two divisions in Germany, and for Budapest club Ujpest. He has been capped 22 times by Hungary, for whom he has played alongside Argyle central defender Krisztian Timar. Argyle's only senior right-back, Scotland international David McNamee, has not yet played a game in this pre-season period, because of a calf strain. The same sort of injury kept midfield man Carl Fletcher out of last night's match and last Saturday's 2-0 win at Skelmersdale United. Both players are expected to be fit to play some time this week.
PILGRIMS NEVER FAR FROM TOUR TROUBLES
22nd July


An Argyle pre-season tour just would not be an Argyle pre-season tour without some last-minute change of plan. This week's trip to Scotland has been no exception. After six European expeditions – five to Austria and one to Sweden – the Pilgrims have come back to Scotland for their summer training camp for the first time since 2002. They are based at the University of Stirling, which has a verdant out-of-town campus, a high-class hotel for the squad to reside in, and very good training pitches. No problem there, but Argyle's match schedule on tour has had its hitches – which is nothing new.
When they went abroad last summer, the Pilgrims thought they would be playing two friendlies in Austria, where they were based. Instead, they went to Germany for both of their tour games. The first of the pair, a 1-1 draw against Germany's Greuther Furth, had its venue changed at least twice – with one alteration taking place on the day of the game. Things have not been so awkward this year – at the time of writing, at least - but it was a while before Argyle fans accompanying their team found out where they had to go to watch this week's matches. Argyle's opening opponents in Scotland this week were financially stricken Livingston, former members of the Premier League who are now struggling to stay afloat as a viable business in the First Division. They're a decent team – they beat Argyle 2-1 – but they could not use their own pitch. They don't possess a safety certificate for Almondvale Stadium, having had the power cut off for non-payment of bills, so they had to move the match – giving three days' notice – to the ground of non-League club Bathgate Thistle. Creamery Park possessed a good pitch – thankfully for the Pilgrims, who had been obliged to play on a potentially dangerous newly laid surface at Skelmersdale United two days previously – and very hospitable hosts, but not much in the way of facilities. Think Lux Park, Liskeard, but with no seating. It was a quaint old ground, with open grass banks on three sides and one covered cinder terrace. Much to the dismay of the 'Green Army', it had no bar open to the public. They retreated to a nearby pub, perhaps to help them cope with the shock of the admission fee.
Livi are in a bit of a state, off the pitch (when they can use theirs). They have debts, lots of them, and they may be on the brink of going into administration for the second time in five years. They charged adult spectators £16 to watch Monday's friendly. It was an exorbitant amount. Argyle spent a couple of days pleading with them to cut the price, to no avail.
At least the Pilgrims' players were able to change inside Creamery Park – unlike Livi's. Their players had expected to change at Almondvale and then make the short trip to Bathgate's ground by coach – but the coach was cancelled for cost-cutting reasons, according to the Scottish media. Argyle's opposition had to don their kit at their club's stadium, drive to Bathgate in their own cars, play the game, and go back to Almondvale to shower and change. In the circumstances, they had to be congratulated for playing as well as they did!
FOREIGN TEAMS CAN TEST ARGYLE RESOLVE
22nd July
Paul Sturrock had been hoping for all-British opposition for his Plymouth Argyle side in their pre-season friendlies this summer. Last year's games in Germany against teams from Germany and Romania were of limited value to the Pilgrims, according to the Argyle manager, because his men were up against teams who used styles of play which were alien to the Coca-Cola Championship. This summer, the Devon outfit have travelled to Scotland for their pre-season training camp – only to find Romanian opposition waiting for them once again. Sturrock is not too dismayed now about the prospect of facing Unirea Urziceni in Glasgow tonight, however. The Pilgrims' boss has been urging his squad to adopt a fluid, ground-based style of play this summer, and he believes it will do his players some good to come up against foreign opposition again. "I've had a think about it," he said yesterday. "They should have a European style, with a slow build-up and a sudden change of pace, and we will have to work hard to press the ball. It will be good practice."
A year ago, when Argyle spent a week in Austria, they crossed the border into Germany to gain a 2-0 win over Romanian second-tier side Unirea Alba Iulia, who went on to win promotion to their country's top flight last season. Alba Iulia were nothing special. Tonight's opponents, who share the same sponsors, ought to be of greater quality. Unirea Urziceni, who reached Romania's top tier in 2006, became champions of their country for the first time in 2008-09. They conceded only 20 goals in 34 league matches, and finished five points clear of Dinamo Bucharest. As far as British football fans are concerned, their most famous employee is their coach. Dan Petrescu was a high-class full-back who played at World Cups for his country, and in England for Chelsea, Sheffield Wednesday, Bradford City and Southampton.
Petrescu's squad have come to Scotland to prepare for their league season, just as they did last summer. Tonight's game is the last of four fixed up for this trip. They won 2-1 at Ayr United last week, they drew 1-1 with a Celtic XI in Lennoxtown at the weekend, and they beat Greenock Morton 3-1 on Monday.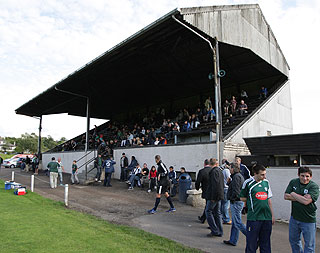 The Stand at Balgray Playing Fields

While the Romanians were conquering Morton at Cappielow Park, the Pilgrims were at Creamery Park, Bathgate, for a friendly against another Scottish League side. Livingston took their chances, in contrast to Argyle, and gained a 2-1 win. Most of the Argyle players who started Monday's game will be allocated substitutes' duty tonight, or will be given the night off. This evening's starting XI is likely to include some men who did well when they rose from the bench to take on Livingston. Argyle posed more of a threat up front in the final third of Monday's game, when they had Rory Fallon and Bradley Wright-Phillips as their strikeforce, than they did in the first hour of the game with Ashley Barnes and Jamie Mackie leading the line. "Rory and Bradley looked like they could be a good pairing," Sturrock admitted. Likewise, Steve MacLean dealt with the challenge of playing at the forefront of the midfield 'diamond' marginally better than Jason Puncheon did. MacLean was rarely picked for Argyle's first XI last season, and he is a contender for an outbound transfer this summer, but he remains the Pilgrims' record purchase and Sturrock has not written him off just yet. "Steve has been one of our best performers this pre-season," the Argyle manager said. "He came on against Livingston on Monday and changed the game. I'm not writing anybody off. I've got to pick the best 11 players I have for the game at Crystal Palace."
Getting things right in time for the trip to Selhurst Park is far more important than the result of any friendly, which is why Sturrock was not too upset when his troops lost a pre-season battle for the first time this summer on Monday. "I don't care about results at the moment, I just want to see that they've learned from what we're doing in training," the Home Park chief said. "Monday's game showed me what needs to be done in training, as far as sharpness is concerned, and it showed me that we need to have a bit more self-belief when we pass the ball." Argyle have distinguished opponents tonight – Urziceni will be playing in the group stages of the UEFA Champions League in 2009-10 – but the venue for the game is not a grand arena. Instead, it is a school sports ground. The match takes place at Balgray Playing Fields, Chesterfield Avenue, north-west Glasgow. The site is owned by Kelvinside Academy, an independent private school, which means the pitch should be well cared for.
HUNGARIAN STAR ON TRIAL FOR PILGRIMS
22nd July
The notion of Hungary's first-choice right-back joining Plymouth Argyle for pre-season training would have been quite outlandish eight or nine years ago, when the Pilgrims were languishing in the Football League's bottom division. Nowadays though such a situation is a routine happening and Argyle are used to having internationals from all over Europe and beyond in their squad. Iceland international midfield man Kari Arnason signed a one-year contract with the Coca-Cola Championship club on Monday. Yesterday, Zoltan Szelesi turned up at Argyle's temporary headquarters at the University of Stirling, where they are staging a training camp this week. The 27-year-old trained with the Pilgrims yesterday, and will be their right-back in tonight's friendly against Romanian champions Unirea Urziceni in Glasgow. Unlike Argyle central defender Krisztian Timar, he is a regular member of Hungary's national team. While Timar is regarded as an understudy to the Hungarians' regular centre-backs by national team coach Erwin Koeman, Szelesi is the Dutchman's preferred player for the right-back role. Szelesi has made 22 senior international appearances for his country. He won his first cap against China in June 2004, and his most recent against Malta in April this year. When Timar won his first cap against Slovenia in March last year, Szelesi was alongside the Argyle man in Hungary's back four. If the Pilgrims decide that they want to hang on to Szelesi, they will not have to pay a transfer fee for him. He is a free agent, having left French side Strasbourg at the end of last season. Szelesi began his professional career with Budapest club Ujpest. His first transfer took him to Germany in 2004, when he signed for Energie Cottbus. He helped Cottbus win promotion to the top flight of the Bundesliga in 2006, before he moved on to France two years ago. Szelesi spent two seasons with Strasbourg, who dropped out of the top tier in France a year ago. He is now trying his luck with the Pilgrims.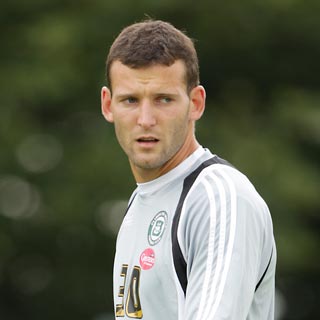 Zoltan Szelesi

Argyle's only senior right-back, Scotland international David McNamee, has had fitness problems ever since he arrived in Plymouth a year ago. A calf strain has kept him out of all of the Pilgrims' friendlies so far this summer. He did take part in full training yesterday, though, and is due to play tonight – at left-back. Two other Scottish members of Argyle's squad have been the subject of transfer speculation both before and since the Pilgrims arrived in Stirling last weekend. Striker Steve MacLean and midfielder or full-back Jim Paterson are wanted by Aberdeen. Mark McGhee, the Dons' manager, has made several public statements about his desire to borrow MacLean and Paterson. However, the Scottish Premier League outfit have not made much effort to make the appropriate arrangements with Argyle, even though any new signings they make after Friday this week will not be eligible for their UEFA Europa League fixtures this season. Argyle boss Paul Sturrock faced persistent questions about MacLean and Paterson from Scottish journalists after the Pilgrims' 2-1 friendly defeat to Livingston at Bathgate on Monday. "Mark McGhee had a chat with me about the availability of my players, and that's as far as it has gone," Sturrock said. "If anything was going to happen, I need somebody to come and speak to me again. Mark and I had one conversation, which was about three weeks ago. My phone is always waiting for a call." MacLean has also been linked with Heart of Midlothian.
PILGRIMS FORCED TO BATTLE FOR TOUR WIN
23rd July


Argyle claimed a notable scalp last night when they came from behind to beat the current champions of Romania in Glasgow. The Pilgrims' 2-1 win over Unirea Urziceni was billed as a friendly, but it was a feisty encounter at times. There was a distinct competitive edge to the match, in which Rory Fallon and Steve MacLean scored second-half goals to give the Coca-Cola Championship side a satisfying victory over very capable opposition. Argyle manager Paul Sturrock used the game at Balgray Playing Fields – the north-west Glasgow home of Kelvinside Academy, a private school – to take a look at Hungary's right-back, Zoltan Szelesi, a free agent who is on trial with the Pilgrims this week. After recovering from a calf strain, David McNamee played his first friendly of the summer, at left-back. New signing Kari Arnason made an unexpected start, at the base of the Pilgrims' midfield 'diamond'. The Iceland international had been booked in for a week of fitness training, but he was deemed to be in good enough shape to start last night. The Romanian title-holders were playing the last of four games during their trip to Scotland. They had been impressed by Morton winger Jim McAlister during their 3-1 win at Cappielow Park on Monday, and they gave him a run-out as a trialist in the last half-hour.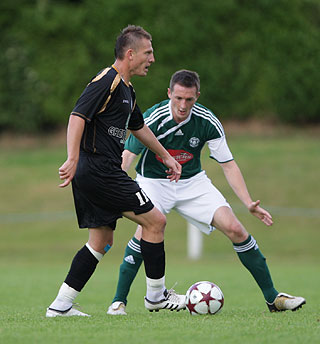 David McNamee returned from injury against Unirea

Urziceni's starting XI were a class act, as befits a team preparing to play in the group stages of the UEFA Champions League. They moved the ball around the park with speed and skill, and kept possession well. Argyle were under pressure in the first half, and Szelesi made a nervous start. He was warned for a foul tackle on Valeriu Bordeanu, and made a couple of unforced errors in the early stages. Szelesi will have been happier with a headed clearance in the 21st minute, when a swerving corner eluded the grasp of Argyle goalkeeper Romain Larrieu. Not long afterwards, the Hungarian launched an accurate long ball on to Fallon's head, which at least showed that he had learned Argyle's favourite tactic when they are in trouble. The Romanians continued to hold the upper hand, and they gained a deserved lead in the 34th minute. Marcel Seip's stray pass surrendered possession, Mat Doumbe's lunge failed to regain it, and Iulian Apostol slipped a pass into space for Raul Rusescu to take the ball round Larrieu and lash a shot into the unguarded net. Rusescu, a mobile striker, belted an angled drive just too high shortly afterwards. Then a bad tackle on Fallon by Pablo Brandan provoked the New Zealander into an angry reaction. The two men squared up, more players became involved, and it was a while before tempers were calmed. Near the end of the first half, Bradley Wright-Phillips capped a promising run with a shot which was beaten out by goalkeeper Giedrius Arlauskis, and Craig Noone was crowded out when he attempted to reach the loose ball.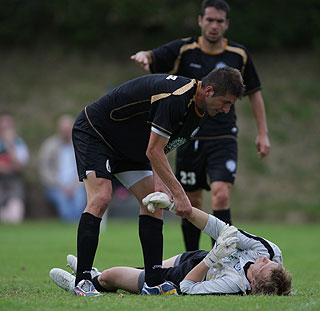 Unirea 'keeper Giedrius Arlauskis

The start of the second half saw a change of shape for the Pilgrims, to a 4-2-3-1 formation. Wright-Phillips and Noone went out wide, either side of MacLean, with Fallon operating as a lone striker. Arnason and Karl Duguid sat deep in midfield. The changes stifled the Romanians and helped the Pilgrims to make more of an impact in attack. Eleven minutes after the break, McNamee – who played well – did well to dig out a cross which Fallon met with a shot on the turn which was deflected just wide. The equaliser arrived in the 64th minute. Substitute Jim Paterson knocked in a pass to Wright-Phillips, who, with his back to goal, played the ball back to Fallon. He slammed a well-struck left-foot shot past Urziceni's Lithuanian 'keeper. Argyle were in front three minutes later. A loose ball rolled MacLean's way, some 25 yards out, and the former Rangers striker belted the ball into the bottom corner to beat Arlauskis again. The goalkeeper's participation came to an end not long afterwards. Arlauskis collided with a defender and, after lengthy treatment, he was taken away on a stretcher to an ambulance which was, helpfully, parked a few yards away. Fallon was not involved in the 'keeper's injury, but his muscular style of play was not to the opposition's liking. Argyle's big striker and Urziceni captain George Galamaz exchanged angry words, and had to be separated by the referee. Galamaz ventured forward to have a header saved by Larrieu, as the riled Romanians tried restore parity. They won a few corners in the closing stages, but to no avail, as Argyle hung on to claim a hard-earned victory.
ARGYLE NET VICTORY OVER ROMANIANS
23rd July


Argyle returned to winning ways last night with a 2-1 pre-season victory over Unirea Urziceni in Glasgow. In a sometimes fiesty encounter against the Romanian title holders – managed by former Premier League star Dan Petrescu – goals from strikers Steve MacLean and Rory Fallon ensured Paul Sturrock's team quickly bounced back from Monday's 2-1 defeat by Scottish League First Division side Livingston. Included in the Argyle line-up was Hungarian trialist Zoltan Szelesi, as well as new Icelandic signing Kari Arnason, who only completed his move to the Pilgrims earlier this week. Afterwards, Sturrock said: "They had a real quality about them in the first half, but we made a few changes at half-time, got in their faces a bit more, upset them a wee bit, and it worked for us. Something had to be done. We had to make it a bit more simplistic. We had to get close to them, and stop them from starting the game at the back. It worked." The Pilgrims' boss would like to take another look at Szelesi. "He was competent," Sturrock said. "I'd like to see him against British opposition. If we can hang on to him until Saturday, it would probably be a good idea to have another look. He improved after a shaky start."
PATERSON IN NO RUSH TO LEAVE
23rd July

Jim Paterson is in no rush to flee back home to Scotland this summer. His family are content in the Westcountry, and he seems determined to make a success of his career with Plymouth Argyle. The Pilgrims' midfield player is in demand back in the Scottish Premier League, the league he left behind when he moved to Home Park in January last year. Aberdeen have made it clear that they want to borrow him from Plymouth, while Motherwell – his previous club – are also reported to be keen to sign him. His target, however, is not a move back to familiar territory but, instead, regular first-team football with Argyle. The Lanarkshire-born left-footer wants to force his way into the Pilgrims' first XI and to stay there. Argyle manager Paul Sturrock has given him the chance to prove his worth to the Coca-Cola Championship club this summer, and he wants to make the most of it. "I've read the speculation in the papers, but Paul Sturrock is my manager and, until he tells me otherwise, I'm here to fight for my place at Plymouth Argyle," Paterson told the media this week, when the Pilgrims are staging a training camp at the University of Stirling. "I like living in Tavistock, my family have settled in, and they love it there," the 29-year-old added. "The only person who was grumpy last year was me, because of the frustration of not being in the team, and the team was struggling a bit last season. But we're still in the Championship, it's a new season with a clean slate, and we're all fighting for places again."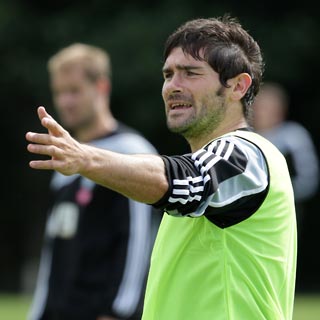 Jim Paterson in training at the University of Stirling

Paterson is a versatile player, who can play at left-back and anywhere in midfield, but he was never able to secure a regular place in Argyle's side last term, when the Devon team finished only one rung above the relegation zone. He made only seven starting appearances in the Championship in 2008-09. With just over a fortnight to go to the start of the new campaign, however, things are looking up for Paterson. He has been playing well in the Pilgrims' pre-season friendlies, and he has impressed his manager. "Jim has done well," Sturrock declared. "He has had a good pre-season. He's well up the pecking order at the moment, with his performances. He has been one of our best players in pre-season," the Argyle boss added. "He could do with a bit more sharpness, but then we're trying to peak for two or three weeks' time, not this week." Performance-wise, Paterson is pleased to be of service. "I'm happy with the way it has gone," the former Dundee United and Motherwell player said. "The manager spoke to us at the start of pre-season, and said we all had a clean slate and that everybody would be given the chance to perform. This is an opportunity for me to get back into the team," Paterson added. "The end of last season was probably the most disappointing period in my career. It was the first time it had ever happened to me, not being able to get into the team. I didn't enjoy it, I'll be honest, so I'm putting in the hard work now and hopefully I'll be able to get back into the team."
Paterson has thrived in the midfield 'diamond' formation that Sturrock has used in every friendly so far this summer. He been used both on the left of midfield and, during Monday's 2-1 defeat to Livingston, on the right. He seems more at home than he did in the 4-4-2 or 4-4-1-1 formations which were in favour for almost all of last season. "The system has suited me," Paterson admitted. "We tried it a couple of times last season in the Championship, and it didn't work. At home last year, though, I think we were a bit predictable, so the manager is trying it again. You've got a sitting midfielder behind you, you're one of two midfielders who are allowed to bomb forward, and you've also got three players in front of you. We're trying to pass it through midfield, rather than resort to the direct route." After spending a wet and tough week with the Pilgrims in Austria at last summer's pre-season training camp, Paterson has enjoyed this week's short stay in his homeland. "You get competitive games up in Scotland, and it's good to come up here," he said. "It's good preparation because, every week, there's a massive game to play in the Championship." He has set his sights on playing in those big games, rather than watch them from the bench or the stand.
BATTLING FALLON IMPRESSES
24th July

Rory Fallon was in the wars on Wednesday, and he came out on top. The Plymouth Argyle striker was kicked, shoved and mauled by Unirea Urziceni defenders in Glasgow, but he stuck to his task and scored his third goal in this summer's pre-season friendly programme as the Pilgrims came from behind to gain a highly encouraging 2-1 win over Romania's champions.
It was a friendly which was distinctly unfriendly at times. Tough tackling and hot tempers were on display, and Fallon was involved in two angry confrontations with opposing defenders. He also struck a splendid equaliser to cancel out Urziceni's first-half opener, and then Steve MacLean found the net with another well-hit shot to give the Pilgrims a victory to relish.
Argyle manager Paul Sturrock has not always been convinced about the wisdom of placing all his faith in Fallon, but he was impressed by what he saw on Wednesday. The Scotsman reckons the New Zealander was fired up by the feisty nature of the match. "I think I'm going to start putting Rory into a dark room for somebody to batter the hell out of him before kick-off," Sturrock said. "Then I think we might see the Rory we saw on Wednesday night. They couldn't handle him. It seems to me that there's a mental approach to the game that Rory doesn't always get right until he gets fired up, but, in saying that, he could have been sent off the other night. That's how stupid some of what was going on was. Three or four players could have been sent off."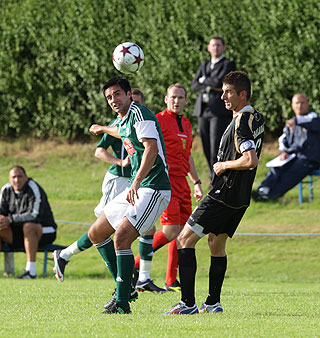 Rory in action against Unirea

Despite the punishment he took, Fallon enjoyed his night's work. After the game, in which the Coca-Cola Championship side replaced their midfield 'diamond' formation with a 4-2-3-1 formation at half-time, he said: "It was a good win for us. They played a lot of football and we couldn't cope in the first half, but, as soon we changed formation, we came back and we really showed a lot of guts. We never did that – come from behind to win a game – last season. It's good for us to show that we can do it. In the first half, we were a bit lost, but in the second half we played a lot of good stuff. It was a tough game for me, but that was good as well, because it's a physical game in the Championship. It was good to get another 90 minutes in, and I'm feeling sharp and feeling good." As for his goal tally so far this summer, Fallon said: "I know I can score, it's just about getting chances and putting them away. I just pray it can continue." Fallon was also pleased to see MacLean thrive in his attacking midfield role. The striker added: "It was an awesome goal from Steve, and he's looking good in what is probably a new position for him. He can keep the ball for you, and he did well." Asked for his verdict on his pre-season preparations so far, Fallon said: "I'm really happy with my pre-season. I'm just trying to get as fit as possible. "I know that, if I'm as fit and as strong as possible, not many people can hold me back. It's up to me to get as fit and as strong as possible, and the rest will fall into place."
PILGRIMS PROVE A POINT TO PETRESCU
24th July


"The other team, they are turning up, yes?" That was what Dan Petrescu, the coach of Unirea Urziceni, said when he and his team arrived at Balgray Playing Fields in Glasgow for Wednesday's pre-season friendly against Plymouth Argyle. Three hours later, the former Chelsea and Romania full-back and his players departed, licking their wounds. The Pilgrims did not just turn up, they fought back from a goal down against feisty opposition to gain a 2-1 win over Romania's champions – a side who will be playing in the group stages of the UEFA Champions League this autumn. Yes, it was only a friendly. Only plaudits were up for grabs, no points, but it was still a very satisfying evening's work for Argyle manager Paul Sturrock and his troops.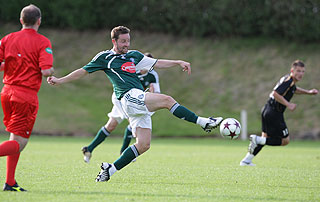 Steve MacLean during the game against Unirea Urziceni

After Raul Rusescu's goal had given a slick and skilful Urziceni side a half-time lead at a sports ground owned by Kelvinside Academy, a distinguished Glasgow-based school, the English side hit back after the break with spectacular goals by Rory Fallon and Steve MacLean to claim victory. After this morning's final training session of their week in Scotland, the Devon outfit will head south to prepare for tomorrow's friendly at Morecambe in a positive state of mind. As he reflected on Wednesday's game, Sturrock said: "In the first half, it looked as though we were worried about them. In the second half, we came out with a more positive attitude and turned the game." An astute tactical adjustment by the Argyle boss turned the course of the contest in his team's favour. The 4-1-2-1-2 'midfield diamond' formation with which the Pilgrims have started every friendly this summer was given a rest. It was replaced by a sophisticated 4-2-3-1 formation – a shape no Argyle team has used since Bobby Williamson gave it a go at Crystal Palace in 2005. In Sturrock's version of the system on Wednesday, Karl Duguid and new recruit Kari Arnason were used as midfield holding players. Further forward, Bradley Wright-Phillips played wide on the right, Craig Noone wide on the left. In between the wide men, MacLean was the playmaker, dropping deep to prompt and probe. Up front, Fallon was the target man. It all came together very effectively. Argyle scored twice, after stopping the Romanians in their tracks. "All of a sudden, their back four could not dictate the game," Sturrock said. "They had to play long balls, and that's not their game." The Argyle boss added: "Bradley and Noone looked quite content where they played, and Steve MacLean looked quite content where he played. It's another option." The shape suited Noone, who was less effective as part of the narrow 'diamond' in the first half. "Noone has proved to me that he's a wide-left player, nothing else," Sturrock said. "We've tried all sorts of other permutations for him, but that's what he is."
The game also showed Sturrock that Arnason, Argyle's Iceland international midfield man, has some catching up to do in terms of his fitness training. "Arnason looked like he was running in quicksand after about 65 minutes," the Pilgrims' chief admitted. "He was up to his neck by the end of it. His fitness levels aren't the best, but he went about his job and did it nice and simply. It's difficult for him. He doesn't know the names of his team-mates yet. Once he gets totally fit and he knows the players, we'll see more of him." Arnason was given a start because of the unavailability of Carl Fletcher. The midfielder has recovered from a calf strain, but he has sustained another injury. "He got a wee knock on his toe on Wednesday morning," Sturrock explained. "We don't know how serious it is. We'll wait and see."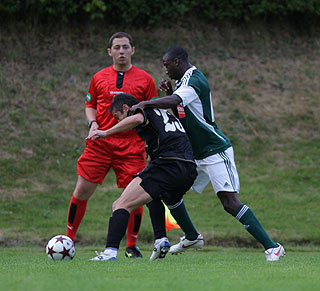 BWP tussles with Unirea full-back Valeriu Bordeanu

Argyle cannot boast an unbeaten record on this year's pre-season tour. They were beaten 2-1 by Scottish League First Division side Livingston on Monday. Despite the irrelevance of the result, Sturrock's competitive spirit came to the fore when he said: "If we'd managed to nick another goal on Monday night at Livingston, I'd have been really content with the way we're shaping up. "That result was the disappointment for me. Performance-wise, I didn't think we did too badly against Livingston, but everybody judges games on wins. I didn't think we played well in the first half on Wednesday, but at the end of the day we won the football game. I'm pleased with the attitude we showed, and the work that we put in. There's a good team spirit here." The next stop is Christie Park, where the Pilgrims will face Morecambe tomorrow. Asked whether he will try to field his strongest XI against the Coca-Cola League Two side, rather than give match practice to the men who did not play on Wednesday, Sturrock replied: "That's a question that I'll need to answer in my own mind over the next couple of days. I've got three 'big' friendlies left, and I'm going to have to start shaping things for the big day."
ARGYLE EXCEL IN TRAINING GROUND EFFORTS
25th July


Argyle managed to conquer continental opposition this week. Wednesday's very satisfying 2-1 win over Romanian champions Unirea Urziceni saw the Pilgrims come from behind to beat a team who will be playing in the group stages of the UEFA Champions League this season.
Falkirk were not so lucky the following day. They came unstuck in Liechtenstein, where a 2-0 loss after extra-time to Vaduz saw them suffer a 2-1 aggregate defeat in a UEFA Europa League qualifying round tie. The Pilgrims took an interest in the outcome of that encounter, because they had watched the Scottish Premier League club's preparations for the match. During their week-long stay in Scotland, Argyle have been sharing facilities with Falkirk's first-team and Academy players, who use the University of Stirling's top-class pitches as their training ground.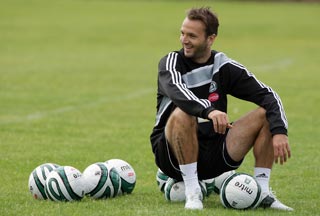 Karl Duguid takes a break during training, possibly to watch Falkirk?

There were plenty of familiar faces to greet the Scottish members of the Pilgrims' tour party on the training pitches last Monday. Alex Smith, a wily old veteran, is on Falkirk's coaching staff. He replaced Paul Sturrock as manager of Dundee United in 2000, just before Sturrock headed for England to take charge of the Pilgrims for the first time. Eddie May, Falkirk's new manager, played under Sturrock at Dundee United. Falkirk player-coach Lee Bullen and midfield man Burton O'Brien were players at Sheffield Wednesday when Sturrock was in charge at Hillsborough. Another Falkirk coach, Steven Pressley, took time out on Monday to greet Argyle players Jim Paterson and Chris Clark. Falkirk's first-team squad were in Stirling on Monday and Tuesday, prior to flying to Zurich on Wednesday. Argyle's players watched their training sessions during breaks in their own work schedule, while Sturrock and Smith got together on Tuesday to spend a while moving plastic cones around the turf, in what looked like a detailed discussion of various tactical formations.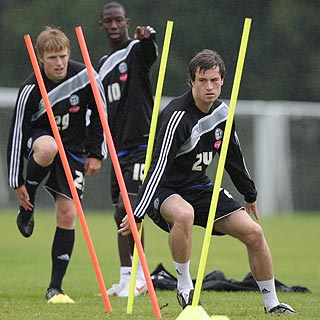 Damien McCrory, Bradley Wright-Phillips and Ashley Barnes during the training camp

Argyle have been bold with their tactical experimentation this week. At half-time on Wednesday, they set aside the 4-1-2-1-2 'midfield diamond' formation they have used in every friendly to date, and switched to a 4-2-3-1 shape. That alteration helped the Pilgrims see off the Romanian champions, and it was a minor tactical triumph for Sturrock. Judging by yesterday's training session, the 4-2-3-1 shape will be seen again in today's friendly at Morecambe. It is a more solid shape than the 'diamond' formation, which Sturrock was using with a view to making Argyle a more threatening team in home games this coming season.
Maybe, if all goes to plan, the 4-2-3-1 system will be seen away from home, when Argyle commence their Championship campaign at Crystal Palace in two weeks' time. While Falkirk's training contained plenty of physical work – sprinting, twisting and turning – as well as set-piece practice, Argyle's training has been geared more towards tactics and skill enhancement than physical conditioning. Things have been rather different on past pre-season tours. Fitness work has played a big part in the work done by the Pilgrims on previous trips to Scotland, Austria and Sweden. Times have changed – perhaps because players keep in shape in the close-season better than ever before. The Pilgrims' fitness conditioning has been taken care of in the first two or three weeks of pre-season training, it seems. The running was done back in Devon. The players are 'up to speed' in that respect, according to Sturrock, although new signings Bradley Wright-Phillips and Kari Arnason have some catching-up to do.
This past week, the drills have had the target of improving finishing skills and other techniques, plus gaining an appreciation of Sturrock's tactical plans. Training has been educational and enjoyable to watch. Now for the real thing. Winning matches that matter.
SZELESI OUT TO IMPRESS
25th July

Paul Sturrock will give Zoltan Szelesi another chance to demonstrate his talent in the Pilgrims' pre-season friendly against Morecambe at Christie Park today. Understandably, Hungary's first- choice right-back was not at his best in Wednesday's 2-1 win over Romanian champions Unirea Urziceni in Glasgow. It was the former Strasbourg and Energie Cottbus player's first appearance in an Argyle shirt, he had taken part in only three of the Coca-Cola Championship club's training sessions, and he was up against a classy side who will be participating in this season's UEFA Champions League group stages. Szelesi's pedigree in the game is a matter of record, however, and Sturrock has seen enough this week to want to take another look at the 27-year-old in match action – against a team who play the game the English way. "He's going to play at Morecambe, and that will enable us to have another look at him," the Argyle manager confirmed. "It was difficult to make an assessment of him the other night. The Romanians played a completely different style to most teams we play in our league, so it was difficult to judge him on a British footing. I think Morecambe will be a better yardstick."
Szelesi will be ferried to Manchester Airport tonight to start his journey back to Budapest. He is a free agent, and thus would not cost the Pilgrims a transfer fee if they decide to bring him back to England. The Hungarian international will start at right-back against the Shrimpers this afternoon. David McNamee, the only experienced right-back on Argyle's staff, played at left-back for the first two-thirds of Wednesday's game, after missing all of the Pilgrims' previous friendlies this summer due to a calf strain. The Scottish international will not be risked from the start at Christie Park, where Gary Sawyer is likely play at left-back. "I'm watching how McNamee gets on," Sturrock said. "He played for an hour the other night, and I don't think it's appropriate for him to start tomorrow. But he'll get part of the game." Carl Fletcher, whose last friendly appearance was in the 3-3 draw at Torquay United two Wednesdays ago, may return to action after the interval against Morecambe. The Welsh international has been bothered by calf and toes injuries during the past ten days, but he took a full part in training yesterday. Sturrock said: "Carl's toe is fine now, but we need to see if he has any reaction to training. If there's no reaction, he'll come on after half-time."
PILGRIMS IMPROVE TO SEE OFF MORECAMBE
27th July


Argyle compensated for a below-par first-half display with a second-half improvement to see off Morecambe in Saturday's pre-season friendly in the Lancashire seaside town. Long-range left-foot shots from Gary Sawyer and Jim Paterson gave the Coca-Cola Championship side a hard-earned 2-0 victory over League Two opposition at Christie Park. By the end of the contest, the Pilgrims' winning margin could have been bigger. The Shrimpers were under heavy pressure in the final stages, but it was a different story before the half-time break in Argyle's stop-over on their way home from their week-long training camp in Scotland.
In the opening 45 minutes, the Devon side seemed to show the effects of three games in the previous seven days and plenty of training sessions at the University of Stirling. Argyle were lethargic, and may well have let in one or two goals, but they strengthened their team with second-half substitutions while the hosts' changes lessened their threat. Argyle's starting line-up did not contain many players who can feel totally certain of a place in manager Paul Sturrock's first XI when the Championship campaign commences at Crystal Palace in 12 days' time. Back-up goalkeeper Lloyd Saxton was given a game, while Hungarian internationals made up half of the back-four in front of the youngster. Trialist Zoltan Szelesi made his second, and probably last, appearance for Argyle at right-back. He had his compatriot Krisztian Timar for company at centre-back. The other central defender was a tall trialist from France whose identity was kept secret by the Pilgrims' management, who liked the look of their mystery man.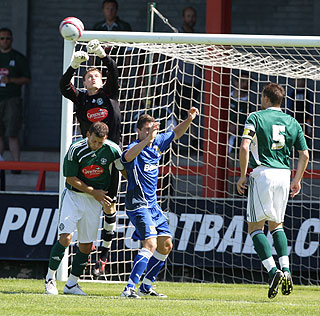 Lloyd Saxton makes a clearance against Morecambe

Having also liked the look of the 4-2-3-1 formation with which they conquered Romanian champions Unirea Urziceni in a friendly in Glasgow last Wednesday, Argyle retained the system. Chris Clark and Paterson were the holding midfielders, Steve MacLean was the playmaker in front of them, while Ashley Barnes was the target man up front. Morecambe gave debuts to Phil Jevons and Ian Craney, whom they borrowed from Huddersfield Town last week, and Craney had the game's first attempt on goal when he made space for a 25-yard shot which went over the crossbar. Craig Stanley sent Morecambe's next shooting chance too high as well. When Argyle ventured forward, Szelesi slipped a short pass to wide-right man Jamie Mackie, who ran at the home defence and let fly with a 25-yard shot which goalkeeper Barry Roche saved with his legs.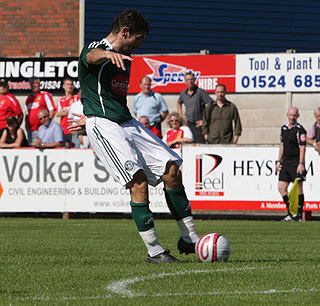 Jim Paterson strikes to make it 2-0

Most of the first-half attacking was done by Morecambe. Colin Larkin followed a forceful run down the left with a cross which was unconvincingly cleared by Argyle left-back Chris Barker. The ball reached Craney, who sent a drive off target. The hosts did not take their best chance to grasp the lead. In the 22nd minute, Stanley's through ball picked out Craney, who tumbled to the turf when challenged by the lanky trialist. A penalty was referee Nigel Miller's rather harsh verdict. Craney sent the spot-kick to Saxton's left – and the 'keeper dived to push the ball away with a fine save. After that reprieve, Argyle had some half-chances in the final ten minutes of the first half, but Clark, Puncheon and Mackie could not convert any of them. The visitors had more than a half-chance when Mackie's deft one-two with Puncheon set up Barnes, but the striker's close-range shot was wayward. Both Szelesi and Timar had looked vulnerable in defence in the first half. The right-back was replaced by David McNamee at the start of the second period, when Carl Fletcher – who had missed three friendlies due to a couple of minor injuries – and Sawyer also entered the fray.
It was Sawyer who broke the deadlock in the 55th minute. The left-back swooped on a loose ball over 20 yards from goal and fired a bouncing left-foot shot past substitute goalkeeper Scott Davies. Morecambe seemed to run out of energy, and they rarely looked like conjuring up a leveller. Argyle doubled their lead in the 77th minute, when Puncheon rolled a sideways pass to Paterson, who picked his spot and cracked a fine left-foot shot past Davies. He has scored two well-struck pre-season goals, as has Sawyer. Bradley Wright-Phillips has not yet scored for the Pilgrims, but he came close to doing so after replacing Barnes nine minutes before full-time. Argyle's new striker was played onside by Andrew Parrish, took the ball into the penalty area, but fired wide. Wright-Phillips was also denied by a good save from Davies and a block by Rory Winter, while Davies thwarted Paterson and Puncheon as the Pilgrims laid siege in the closing moments. Next up for the Devon men will be a sterner test – Heart of Midlothian at Home Park on Wednesday.