Back to

Scotland 2009

Tour Home
Scotland 2009: Official Site
AND THEY'RE OFF
17th July
Argyle have left Home Park for the pre-season tour of Scotland. The squad will stay in the Warrington area tonight ahead of Saturday's friendly at Skelmersdale, before travelling onto Stirling University. Paul Sturrock has added youth team full-back Ryan Leonard to the touring party as cover for David McNamee, and Romain Larrieu has been passed fit for the journey. Notable absentees include Simon Walton and Yoann Folly. "We have got some injuries but McNamee will travel, and we are hopeful he will be available for some of the games up there," said Luggy. "Leonard will be going to cover the right-back position and Romain will be travelling as well. Walton and Folly are not travelling."
FALLON STRIKES AGAIN
18th July - Skelmersdale United 0 Argyle 2

Having survived the journey from Hell to get their pre-season tour underway, the Pilgrims safely negotiated their fourth friendly of the week. Rory Fallon's second goal in four days set the Pilgrims on their way and substitute Jim Paterson's late low drive from 20 yards sealed a win that was slender in its margin of victory, but never as close as the score suggested. The Greens had something of an excuse for not performing at 100%. They had arrived late in the north west the evening before after a nightmarish and epic motorway trip in conditions more suited to surfing, than driving. If the weather forecast for Scotland for the next seven days is correct, they had better get used to the wet.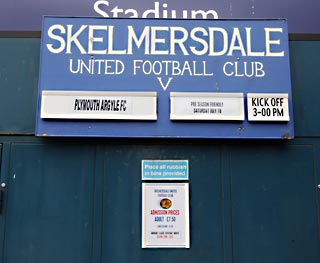 The turnstiles at Skelmersdale & Ormskirk College Stadium

The match saw first pre-season outings at front, middle and back, for newly-signed striker Bradley Wright-Phillips, new dad of twins Karl Duguid, and old faithful goalkeeper Romain Larrieu. The Pilgrims also showed a number of other notable differences to their matches earlier in the week against Truro City and Torquay United. For a start, Paul Sturrock opted to play one 11, rather than two, and, although he stuck to the diamond formation that had served at Treyew Road and Plainmoor, this time Steve MacLean was at its apex. A previous occupant of that role, Craig Noone, an alumni of the Skelmersdale and Ormskirk Stadium, was handed the captain's armband on his return to the scene of past glories.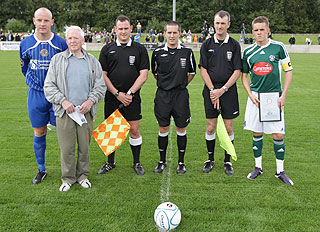 Captain for the day, Craig Noone

George Donnelly, another ex-Skem man, was unable to play because of a hamstring injury that has ended his pre-season almost before it began, but he did have the honour of performing the pre-match coin-toss. MacLean's break led to the Pilgrims' goal, his near-post shot forcing a right-wing corner which bobbled all the way to Fallon for an economic finish.
The game was pretty standard pre-season fare, with the Greens still yet to truly find their competitive stride - that will be honed and polished in Scotland. Unibond Division One Skem were game opposition and came close to embarrassing Argyle early in the second half. The red face, though, belonged to the home forward who managed to hit the crossbar of a totally undefended goal from about ten yards. Ronnie Rosenthal, who used to ply his trade a few miles from Skelmersdale, would have sympathised. Wright-Phillips, who showed up well, was withdrawn on the hour, complaining of feeling stiff, and Ryan Leonard, the only fully fit right-back in the party, was also given a breather. It was one of the replacements, Paterson, who ensured that the Greens, who stayed admirably strong until the end, had no problems in remaining undefeated since returning to action last Monday. Ashley Barnes, too, came into the fray as Luggy exposed more lungs and legs to conditioning that will get far more intense in the week ahead. To Stirling and beyond...
JUDGEMENT DAY
18th July
Argyle have completed their pre-pre-season - now comes judgment time. A 2-0 win at Skelmersdale on Saturday ensured the Greens remained unbeaten in their four friendlies during the first week back on the ball, with the entire first-team squad getting a blow. They left the north west for a week's training-camp in Scotland, and games against Livingston, on Monday; Romanian champions Unirea, on Tuesday; and Coca-Cola League Two Morecambe, next Saturday.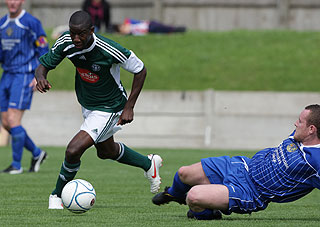 BWP in action against Skelmersdale

The change of scenery will see a change of attitude. Luggy said: "The judgment on players now starts, on Monday; the serious games start - Monday, Wednesday, Saturday. People will be judged now. I think everybody is up to speed. People who want to play in my team are going to have to start performing on Monday." Saturday's win was a first chance for Luggy and the Green Army to see new signing Bradley Wright-Phillips in action, and, although the striker lasted little more than an hour, Luggy was delighted. "I am very pleased with Bradley," he said. "I thought he showed a lot of good touches and got himself in the right areas. I'm looking forward to working with him."
Despite a not-quite-ready newly-laid pitch, with a fair growth of grass, the Pilgrims went about their business in the right way and were rewarded with goals from Rory Fallon and Jim Paterson. Luggy said: "I was a wee bit worried, because the amount of times people get their studs stuck in the ground, and also there was a couple who went over their ankle in the warm-up. To be fair, the players all responded properly and were very professional in their approach. People are getting comfortable on the ball. They all want to take it. We created an awful lot of chances, which is pleasing. We could have been about five up in the first ten minutes. It's normally shooting, crossing and set-pieces that we leave to the end of pre-season, and that's where we're getting now." Luggy also revealed that Jamie Mackie, Carl Fletcher, David McNamee and Chris Barker, who sat out Saturday, would be ready to feature against Livingston on Monday, and that a trialist would 'probably' play against Unirea.
RICK COWDERY'S STIRLING EFFORT - DAY 1
19th July
First day on the University of Stirling campus was just like...well, just like the first day at an unfamiliar university: you're not quite sure of your bearings, and the distance between any two points seems to necessitate a Michael Palin-like expedition into the unknown. On the subject of epic odysseys, Luggy and the lads arrived at Scotland's University for Sporting Excellence at around 10pm on Saturday, having left Plymouth some 19 hours earlier. They did, of course, stop off in the north west (of England) overnight to fit in a game against Skelmersdale on the way. The second leg of the journey, from Skem to Scotland, was a marked contrast to the first. Friday afternoon's trek from Home Park to the team hotel in Warrington had taken place in conditions more like a tropical rainstorm, than a summer's day in England (although, come to think of it...)
The mood of the boys had not been helped when, after seven and a half hours in a coach - on board which, owing to the rain-affected lack of Sky TV, they were unable even to amuse themselves by watching Australian wickets fall as rapidly as the rain - the hotel's carvery ran out of meat after about only half of those in the queue for food had had their fill. As I say, the trip from Skelmersdale to Stirling could not have been less fraught. Buoyed by a comfortable 2-0 win on an uncomfortably rutted and lush surface, and with the sun setting into the most incredibly verdant green hills, the miles flew by.
The squad, travelling in a new Target Travel coach that used to be owned by Arsenal ("Argyle Employ Ex-Arsenal Coach - Shock!"), were beaten to the Scottish base by the Baggo Boys of the Argyle Media Crew, who had obviously taken the high road to be in Scotland afore the bulk of the official party. The lads are staying the Stirling Management Centre of the university, which, like the entire sprawling campus - indeed, the whole of Stirling - is dominated by the National Wallace Monument. The massive 220-foot, 246-step, Victorian gothic tower stands proudly on the summit of the Abbey Craig hilltop in commemoration of Sir William Wallace, the 13th century Scottish hero. A number of artefacts believed to belong to Wallace are on display inside the monument, including the Wallace Sword, a 5ft 6in claymore. The tower was built some six centuries after Wallace's time at a cost of £18,000, part of which was paid by Italian national leader Giuseppe Garibaldi. Abbey Craig was the vantage point used by Sir William to watch the gathering of the army of English king Edward I, just before the Battle of Stirling Bridge.
You will have gathered that the Scots are particularly fond of Sir William. Not so the English. A bit of a 13th century Andy Murray (except for Wimbledon fortnight), then. Sir William is revered for having it out with Edward I during the Wars of Scottish Independence. He beat the English at the Battle of Stirling Bridge, and became Guardian of Scotland until the Sassenachs had their own back in the rematch, aka the Battle of Falkirk. A few years later, King Eddie ensured there would be no best-of-three by the expedient move of divorcing Sir William's head from his shoulders after the Scot was captured in Robroyston, near Glasgow. Definitely Andy Murray traits from Sir William there - promised so much, raised the hopes of his followers, but ultimately failed to deliver against a superior opponent. Sir William, though, remains a hero to the Scots, and to American-born Aussie Mel Gibson, who portrayed him in the 1995 double Oscar-winning film, Braveheart, which he also produced and directed.
It's a rattling good tale, and - not surprisingly, given its subject matter, a favourite of the Argyle manager - but it is, as they say in this part of the UK, a load of pish. Historian Elizabeth Ewan puts it rather more delicately. It was, she says, a film which "almost totally sacrifices historical accuracy for epic adventure", not least of all the fact that the Battle of Stirling Bridge did not include Stirling Bridge itself. All of which, although interesting, is of little relevance to the purpose of the Pilgrims' trip north of Hadrian's Wall.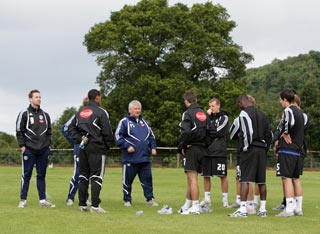 Day one training

After a breakfast of myriad choices, including kedgeree and Scottish rhubarb (together, if they wanted), the players split into two parties.  The starting 11 from Skelmersdale went with physio Paul Maxwell for regeneration, which is not as Star Trekish as it sounds, merely making sure their bodies have recovered from the previous day's match. The rest took part in a training-session, conducted by assistant-manager Kevin Summerfield and watched intently by Luggy and Sloop. The main drills were concerned with breaking quickly from midfield and getting the ball into the box, and they seemed to go well. The outstanding finishing of Jason Puncheon was eclipsed only by some consistently marvellous flank work from the unlikely figure of Krisztian Timar, who sent over a succession of right-wing crosses on the run, of which none was less than 100% perfectly delivered. The reaction from everyone watching fell somewhere between deep admiration and utter disbelief.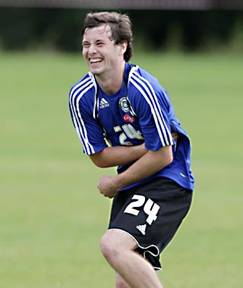 Ashley Barnes - first day dishonour

The session finished with a shoot-in competition, the simple rules of which are this: everyone takes a turn in firing in a first-time strike on Romain Larrieu's goal, retiring when they beat the Frenchman. Last man standing earns the opprobrium of his team-mates and is left considerably lighter in the pocket. The dishonour today belonged to Ashley Barnes. You might consider that a bit worrying, given that Ash finished last season as a first-choice striker, especially given that he was bested by several defenders, including Chris Barker, who has not scored a league goal since Sir William Wallace was a nipper. However, those of us with long memories of similar sessions from the past, can recall that Marino Keith would have found it easier locating the nether regions of what they call a 'cooie' round here with a banjo, than scoring: the next day, however, would see Dan ping the ball goalwards with unerring accuracy.
Lunch (marinated cucumber salad, pearl barley risotto, or, if you are Gary Sawyer, chicken in brown sauce - a not-as-bad-as-it-sounds concoction) ended with Luggy addressing his troops. "Rest is important, so I'm giving you the afternoon off, but I don't want you to sit around doing nothing" was the gist of his message. With the university hosting, amongst other facilities: the Scottish Swimming Centre; a nine-hole par-three golf course sandwiched between Airthrey Castle and Airthrey Loch (which is actually in the middle of the campus); a state-of-the-art cinema; and more than its fair share of sports halls, and tennis and squash courts, there was not much chance of vegetating. Making sure the players are occupied is very much a preoccupation of Luggy. He has seen the four walls of a hotel room enough to know that a tired mind produces a tired body so, after the afternoon off, he arranged a group-trip into Stirling to watch a movie. Braveheart was not on, so Public Enemies, starring Johnny Depp and Christian Bale, was the choice. Total Film magazine describes it as "something surprising, fascinating, and technically dazzling". Much the same as Kris's crosses, I reckon.

ARNIE SIGNS
20th July
It has taken 21 years and a football odyssey that has traversed four countries, but Kari Arnason has finally achieved his lifetime's ambition. The 26-year-old Icelandic international became a Pilgrim on Monday after successfully passing a medical and completing the formalities of a one-year deal at Argyle's Scottish training-camp in Stirling. Kari has harboured an ambition to play in England nearly since the day he joined local side Víkingur, of Reykjavik, as a five-year-old. The dream was realised after the central midfielder impressed Greens' manager Paul Sturrock in a trial game at Harper's Park recently. "To get to England has always been my goal," said Kari, "and that's what I told my agent my objective was. He found out about the trial game." The 16 times capped player has joined Argyle after being released by Danish Superliga side AGF Aarhus, whose fortunes he had helped rebuild under coach Ove Pedersen. When Pedersen moved on to fellow top-flight Danes Esbjerg fB in January this year, Kari followed him on loan. "I was at Aarhus for two and half years," said Kari. "It was a club that was building up, and had a reputation for being like a madhouse. The coach who had built everything up for Aarhus was fired for some strange reason and he wanted me to go with him to Ejsberg. He made me a good offer, and I took it. "He was a nice man and we had the same vision of football."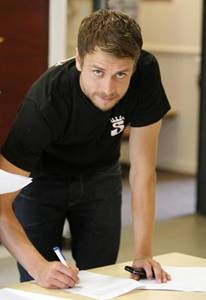 Arnason signs

Pedersen employed Kari as a sitting midfielder, a position in which he impressed in his only appearance in a green shirt so far, the second half of a 2-0 win over Truro City at Treyew Road last week. Prior to that, he had been used in a slightly different role by Djurgardens IF, with who he won the Swedish Double under manager Siggi Jonsson, a former player under Pilgrims' manager Paul Sturrock at Dundee United. "In Sweden, I played a different role - it was more box to box," he said. "Then, in Denmark, the coach used me as a sitting midfielder, so I have been doing that for two years now. "But it is not like I am stuck as a sitting midfielder. I would like to get into the box and head a few goals in, to be honest. We were champions in Sweden and won the cup, and were in Europe the year after, the Champions' League qualifiers, although we got knocked out early. Whilst I was in Sweden, I started playing for the national team. I scored against Sweden, which was pretty sweet, as it was on my home ground." Had it not been for Jonsson's interest, Kari might be commentating on football, rather than playing it. He had previously spent a year in America, studying at and playing for Gonzaga University, near Seattle, whilst the Icelandic season was closed down.
"I went for the study and basically played to keep in form for the Icelandic season - it wasn't for the football," he said. "It fitted perfectly with the season in Iceland, which is a summer season because the weather is too bad in the winter. I played in the States and studied broadcasting during the winter; then I played the full season in Iceland over the summer. The league in Iceland is a decent league and I could synchronise it with the studies, so it was good. It is not a fully professional league in Iceland, so I was working eight-hour shifts and playing football, all kinds of labour and, at one point, I worked in a kindergarten. The plan was to continue in the States but Djurgardens picked me up and offered me a contract. I just stopped the studies in the States and went to Sweden."

THE LIVI HIGHLIGHTS
20th July - Livingston 2 Argyle 1

Creamery Park, home of Bathgate Thistle, provided the picturesque, but unlikely, setting for what Argyle manager Paul Sturrock had signalled would count as the Greens' first serious pre-season game. Thistle, Scottish Junior Cup winners in 2008, were welcoming hosts, but not the opposition. That was provided by Scottish League One side Livingston, who were unable to stage the game at their Almondvale home because it is bereft of a safety certificate.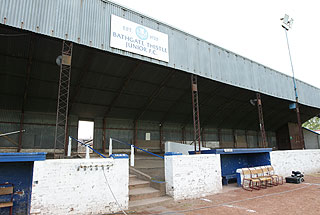 Creamery Park - home of Bathgate Thistle

Itinerant Livi were more at home than Argyle, who did not help themselves at the back: the first of the two goals they conceded was an oggie midway through the first half from Krisztian Timar, who then began the second by gifting a second to Tony McParland. A Luke Summerfield penalty - his second in three games - reduced the arrears nine minutes from time as the Pilgrims finished the game strongly. Luggy included two Scots for the Pilgrims' first match against Scottish opposition in Scotland for seven years: Jim Paterson, who had previously played at Bathgate as a youngster, and Chris Clark. Both took their place in a four-man midfield which saw Jason Puncheon restored to the apex of a diamond, floating behind a front two of Ashley Barnes and Jamie Mackie. The only former Livingston player in the Greens' Scottish tour party, David McNamee, was omitted because of his slight calf injury. Livingston's line-up included ex-Dundee United man David Winters and the ubiquitous A Trialist, whose extended family also provided three of the substitutes, all confusingly with the same initial. One bore a striking resemblance to a striker who was part of the Harper's Park trial earlier in the month that spawned new signing Kari Arnason, a spectator last night after a hectic first day as a Pilgrim.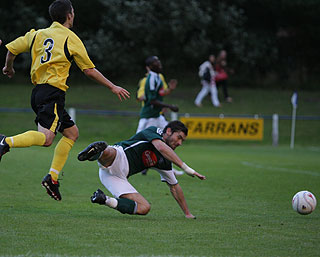 Patto is brought down and wins a penalty

Argyle were lively starters. They created a chance within the first 30 seconds when Paterson broke through only to be bundled off the ball with the goal well in his sights. Barnes' head was a decent afro away from connecting with a right-wing cross, while Clark had a powerful low shot beaten away by Livi 'keeper Roddy McKenzie. It would be fair to say, then, that the opening goal came against the run of play. A strange one it was, too, Timar turning a low cross into his own net without seeming to be under the sort of pressure that normally leads to such mistakes. The Greens bounced back and Puncheon, who has impressed a lot of people with his attitude and performances since returning from Milton Keynes Dons, was denied an equaliser when McDonald palmed away a fierce drive. A mistake from Timar four minutes after the break allowed McParland to run in unimpeded and double Livi's lead. Again the Pilgrims rebounded from their self-inflicted wound and the always industrious Mackie had a deflected shot that bounced off the top of the crossbar. Luggy switched his front three, bringing on Rory Fallon, Bradley Wright-Phillips and, to sit in the hole, Steve MacLean, and all three did well. The former two showed signs of a promising partnership, while the latter pulled some mighty fine strings. Ultimately, for all their effort, and the creativity of Paterson, Argyle's finishing let them down until Summerfield lambasted his spot-kick past McKenzie after Paterson had been brought down by Cameron McDonald.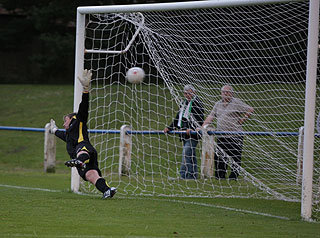 Summers spot-kick hits the back of the net

RICK COWDERY'S STIRLING EFFORT - DAY 2
20th July
As those of you who (a) know Stirling or (b) read yesterday's Stirling Effort will know, the locals in this neck of the woods are incredibly proud of Sir William Wallace. The Scottish rebel with the Aussie accent might have died seven centuries ago, but his ubiquitous influence pervades still. Even the pub on the corner of the University of Stirling campus, where the players are holed up, is called the William Wallace. Perhaps the only things more prevalent here than seemingly interminable William Wallace references are the wild rabbits. They are everywhere, and they don't seem at all timid. Something to do with being Scottish, probably.
Walking across campus, your path is likely to be criss-crossed by dozens of the thoroughly impudent fluffies, hip-hopping their way to their next carrot, or whatever important business they are upon, pausing only to scratch their nose with both front paws. Ker-yute. Mind you, it seems they sometimes pay for such gallus behaviour. At lunch the other day, Mat Kouo-Doumbe and Romain Larrieu recounted a frankly horrific tale about how they had seen a big black bird apparently launch an aerial attack on an unsuspecting ickle bunny-wunny. "Blood was going everywhere," said Ro, the telling of the story given a more macabre twist by the fact that he recounted it with a smile on his face. It was more than enough to put you off your strawberry smoothie.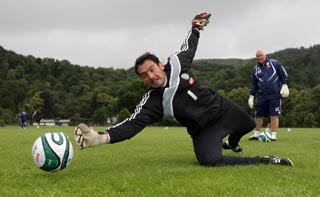 Ro - thankfully fully fit

Ro was lucky not to join Mrs Cottontail in the claret-spilling carnage during training today. He was going through some early routines with Lloyd Saxton and Crudgie when a gust of wind blew over the portable goal that he was guarding. Now, Ro's reflexes are legendary, but not even he can see behind him, and the metal frame pitched forward and caught him a pearler on the back of his bonce. Fortunately, no damage was done (to Ro, at least - I didn't examine the frame) and Le Keeper was soon back in l'action.
Before training, Luggy was able to catch up on some old friends. Scottish Premier League Falkirk use Stirling University as their regular training base, and their coach Alex Smith was obviously delighted to see Luggy, judging by the size of the bear hug to which he treated the Argyle manager. There was no such welcome for Icelandic international Kari Arnason, who slipped into his new training routine smoothly and completed his transfer after completing the morning training session and finishing off another top-quality lunch back at base. Kari arrived here on Sunday night, flying in to Glasgow from Reykjavik, via Heathrow. He arrived just as Tom Watson was blowing the Open just down the road at Turnberry. I had watched the final hole of Tom's final round at one of the airport bars, while waiting for Arnie's delayed BA 1488, and it is no exaggeration to say that the groan that greeted Tom's missed six-footer could not have been more heartfelt had the man from Kansas City been born in Sauchiehall Street. In that moment of high drama, I was reminded why those of us who love sport love sport. I was reminded again by the graciousness with which Tom took defeat, matched only by the graciousness of Stewart Cink in victory. Two true champions.
After picking up Arnie, I took him to the team HQ - being careful to avoid a couple of dozen rabbits en route - where a fish supper was waiting for him. Well, not exactly a fish supper, which is what you and I would get from a chippy, but a super healthy supper containing fish. This was bad news for Arnie, who is severely allergic to fish. An Icelander who's allergic to fish? He reckons the only one. A man from a country Britain went to war with over cod? He had chicken.
Sky Sports was showing the highlights of the second Ashes test as we munched healthily. Problem number two for the new man. "I don't understand this game at all," he said. Avoiding the temptation to explain that state of affairs existed because Iceland was never part of the British Empire, Disco Dave and I tried to appraise him of the game's basics. It is not until you hear yourself talking about those fundamentals that you realise what a bizarre concept cricket, especially Test cricket, is: "The game lasts for five days" - one raised eyebrow; "Each day lasts around seven hours" - a second raised eyebrow; "They break for tea" - complete implosion. Arnie retired (not out) shortly afterwards, none the worse for his piscine near-death experience, and none the wiser about cricket.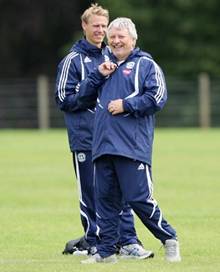 Brisbane-born Scott Russell with Luggy

On the subject of cricket, spare a thought for the Pilgrims' sports scientist Scott Russell, who loves the game. The problem is that Scotty is from Brisbane, which makes him a follower of the team that has just gone 1-0 down in the Ashes - as most of the dressing-room are not going to let him forget until they are no longer 1-0 down. While they might enjoy Scotty's squirming, I'm not sure ribbing him remorselessly is a terribly good idea - after all, he is the man that selects their breakfast, lunch and supper menus. Revenge, they say, is a dish best eaten cold. It's what else that Scotty might serve up that would worry me.



NO WRITE OFFS
21st July
Jim Paterson and Steve MacLean, Pilgrims who have been linked with moves away from Home Park, were given a ringing endorsement after Argyle lost 2-1 to Livingston on Monday night. Jim won the late penalty from which Luke Summerfield scored emphatically to reduce the Greens' arrears, while second-half substitute Steve was highly influential in an advanced midfield role. A move to Mark McGhee's Aberdeen has been suggested for the two Scots, but Luggy has not ruled either or both of them out of being in Argyle's starting 11 when the Coca-Cola Championship season kicks off at Crystal Palace on August 8. "Jim's done well," said Luggy. "Jim's had a good pre-season. He's up the pecking-order at this moment in time with his performances. He's been one of the main performers in pre-season. Steve could be our best performer in pre-season. He came on today and definitely got involved in the game. I write nobody off at this minute. I've got to pick the best 11 players for the game against Crystal Palace. Mark McGhee has had a chat with me about their availability - that's as far as it went. We've had one conversation and that was about three weeks ago."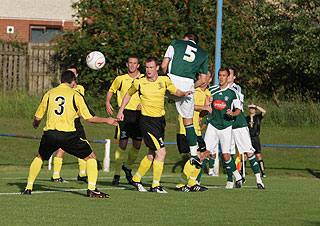 Timar in action against Livi, not his best game

Luggy admitted his team was not on the pace, and that their finishing needs honing. However, he said: "I don't care about the results at this minute in time as long as I see things that I need to work on in training and improvement. To be fair, tonight's game gives me the positive as far as knowing what I need to put into my players as far as a sharpness is concerned. We've got to peak for three weeks time. We've not got to be peaking now. We've seen our weaknesses today, and our problems. We've got to have more belief that we can pass the ball. There's a sharpness missing in the team at this minute in time. Obviously our finishing is not the best at this minute. We have created an awful lot of chances and not taken them, not hit the target. The boys are complaining a wee bit that they're a wee bit leggy, so we've got to get down to the sharp stuff and the quick feet. As the game unfolded, we got better, which shows our general fitness is in decent nick." Livi opened the scoring when Krisztian Timar put through his own goal midway through the first half, and doubled their tally early in the second when the same player slipped to allow Tony McParland through to score. Luggy said: "You can't legislate for two mistakes like our centre-back made and expect to win football games. At the end of the day, it's a lesson learned."
NEW FACE
21st July
A new face joined the Argyle squad at the Stirling University training-base on Tuesday morning. Greens' manager Paul Sturrock declined to reveal the identity of the foreign defender who took part in the Tuesday morning session. However, it is believed he is Hungarian international right-back Zoltan Szelesi. Zoltan, 27, has been capped 21 times by the Magyars since making his debut against Germany in June 2004. Last season, he played for French club Ligue 2 club RC Strasbourg, who he joined from German Bundesliga 2 side Energie Cottbus two years ago. Prior to that, Budapest-born Zoltan was a regular for his hometown club, Hungarian top-flight team Ujpest, for four seasons from 2000-2004. He moved to Energie for the 2004-05 season, and helped them win promotion to the Bundesliga the following season. After one season in the German top flight, he moved to French Ligue 1 side Strasbourg, who were relegated last season.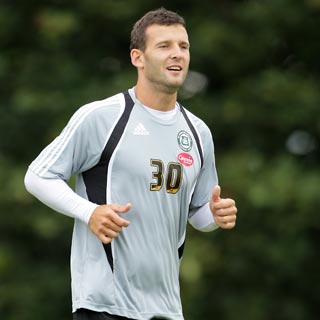 Zoltan Szelesi

RICK COWDERY'S STIRLING EFFORT - DAY 3
21st July
Argyle's Media team, aka the Baggo Boys, have been joined here at Stirling for the past couple of days by Mark Rivers and Mark Lovell, upstanding gentlemen of the club's Football in the Community team. The two Marks are up to get some inside information on how Argyle and other clubs run training sessions and community events. It's not easy keeping a squad of pros or a bunch of holidaying schoolkids interested and amused (although the youngsters are often undoubtedly the better behaved), so they are always on the look-out for fresh and innovative routines. Eager to help, Luggy allowed the two Marks to take part in one of the Greens' 11 v 11 training matches. I thought Rivers did okay. Strangely, though, although he stands 5ft 11in, he is only about 5ft 6in when he runs - his neck seems to disappear. How peculiar. Lovell, to my mind, was having a shocker in his midfield position. I couldn't recall him touching the ball, and he didn't seem to move with any urgency, jogging back and forwards in an over-leisurely style, barely venturing outside the centre-circle. After the game, someone told me he had been the referee.
At breakfast today, there was a big conflab around the table on which the coaches and ancillary training staff sit. Summers had out one of his several notepads on which are sketched pitch diagrams, and he consulted it regularly. He is an assiduous coach. As Luggy had said following the 2-1 defeat by Livingston yesterday, what he saw at Bathgate had given him pause for thought about the direction training should take for the remainder of the stay: more concentrated on sharpness, than stamina, seemed to be the gist of his thinking.
Greens director Keith Todd and his son Andrew paid a flying visit to Bathgate for the game against the temporarily homeless Scottish First Division side, as did Luggy's daughter, Lisa, who stays nearby. Among other visitors to the homely ground were representatives of Hearts and Aberdeen, as well as the local Scottish media . The two were not unconnected, as Luggy discovered in his post-match briefing, when one of the latter pressed him for his take on suggestions that one or two Pilgrims could be returning to Scotland on a more permanent basis in the future. Luggy parried the first enquiry but, credit to the laddie, he came back from a slightly different angle. Still no result, so, a little later, he had another wee go and had not got very far when Luggy spotted the sneaky approach. "You're going to try again aren't you son? " he interrupted. "You're getting close to me telling you to get lost. Now what were you going to ask?" That threat would have had many a reporter offering a mumbled withdrawal, but McMatey stuck to his guns and asked the question. They breed them tough in Scotland. He got an answer, too...rounded off, to perfect timing and smiles all round, with a "now get lost."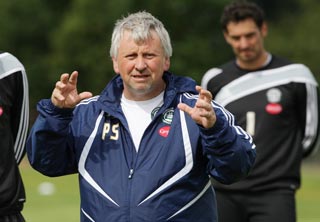 Luggy - popular in Scotland!

It is not often the Green Army is outnumbered, but they fought a losing battle at Bathgate. It wasn't the opposition supporters who had them beaten, but hordes of midges, attracted by the trees surrounding the ground and enticed by the sweet exposed flesh of the Sassenachs. Me especially. I might look nothing special to you, but, to midges, horseflies, mosquitoes and the like, I am Beluga caviar and Krug champagne. The darker it got, the more they multiplied until, during our post-match pitchside website interview with Luggy, they became a hazard to seeing, let alone anything else. The final few questions of the interview were conducted with me slapping my neck in 4/4 time, and Luggy wafting the bugs away from his face, looking for all the world like the Queen on her way to the State Opening of Parliament. Questions were short, answers shorter - neither of us wanted a mouthful of midges. Not everything in Scotland tastes wonderful.
The training-ground at Stirling shares its vast space with a par-three nine-hole golf-course, as well as a driving range. Judging by the fellows that we've seen there, they are not for the exclusive use of students - not unless mature students are considerably more mature than they were in my day. The old boys know and like Luggy (not an uncommon phenomenon in Scotland) and he smilingly takes time out to listen to their woes about the difficulty of the course, joshing them about their declining years and game. They love the banter as much as he does. The other day, Luggy ended his All Right Boys? routine with a spectacular finish. As he walked past the range, the only chap on it, a sprightly 60-something, asked whether he needed a new striker. "Give me that club," said Luggy, pointing to the driver in his hand.
"That's an old man's club, by the way." As the fellow performed a none-too-shabby star-jump or two and replied that he was a teenager from the neck up (I knew he was lying, though - he didn't have acne), Luggy flicked a ball on to the artificial tee. Then, without so much as a practice swing, he drilled it 200 yards. Straight down the middle. It would be lovely to report that he casually tossed the club back to its owner and marched off to the team bus for lunch back at base. Lovely, but untrue. He could not resist just one more swing and, inevitably, topped the second ball horribly. It was still ramrod straight, mind you.
RO-MANIAN CHALLENGE
22nd July
Romain Larrieu hopes his side can use tonight's friendly with Romanian champions FC Unirea as a learning curve in the art of European football. Le Keeper is not foreign to the continental style, having started his career at Montpellier and playing for ASOA Valence in his native France before moving to Argyle in the summer of 2000. "I know obviously, from where I am, the way we like to play football in Europe; they will be passing the ball and we'll be trying to get it back," said Ro. Echoing the sentiments of manager Paul Sturrock, club captain, Romain, believes the players are prepared for the varied style, as we face the only non-British opposition of the summer. He said: "It's what we do with it when we do get it back because they should be good at passing it - that is how they play football over there. When we are going to get it back, we are going to have to show composure." Ro, who had previously discussed the progress being made in Scotland, believes the chance to play against European opposition is one that the team can benefit from. "It's going to be a good work-out for us," he said. "That is why it's good to play a team from Europe in pre-season because it gives you a different type of exercise. It should be a good experience."
MAC THE KNIFE
22nd July - Argyle 2 FC Unirea Urziceni 1

Argyle came from behind to win (you might like to take your time and read that again) a feisty pre-season game - 'friendly' is definitely not the right word - against current Romanian champions Unirea in Glasgow. After being out-thought and outplayed for 45 minutes, and going into half-time trailing to Raul Rusescu's 34th-minute goal, they emerged with a new shape and a determined attitude to take the honours and the match with two goals in four minutes midway through the second half, from Rory Fallon and Steve MacLean. It was a victory for manager Paul Sturrock's team tactics and his players' team spirit.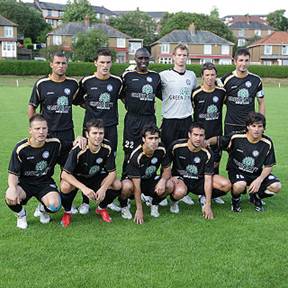 Romanian opposition - Unirea Urziceni

The Pilgrims' first ever 'home' game against Romanian opposition took place on the Balgray Playing Fields, a tidy patch of land in the middle of the better end of Glasgow belonging to Kelvinside Academy, an independent fee-paying school. Expensive that might be, but watching Argyle play the European Champions' League qualifiers did not cost the Green Army a penny, balancing out tour expenditure after Monday's rather sharp £16 adult admission price at Bathgate. You simply walked in off the street.
Argyle had started with the front three that ended the 2-1 defeat by Livingston, MacLean fronting the diamond midfield that Luggy has used exclusively in all the Pilgrims' pre-season games, behind Fallon and Bradley Wright-Phillips. Icelandic international Kari Arnason was given his Greens debut as the sitter, with Craig Noone and captain Karl Duguid the other diamond geezers. The defence was, goalkeeper Romain Larrieu aside, completely changed from two days previously, with Hungarian international right-back Zoltan Szelesi being trialed and David McNamee making his pre-season bow on the opposite flank. Marcel Seip and Mathias Kouo-Doumbe were recalled to the centre. Unirea's most notable inclusion was on their bench. Jim McAlister had so impressed their manager, the former Chelsea and Sheffield Wednesday star Dan Petrescu, while playing against the Romanians for Morton two days earlier that they wanted another look at him.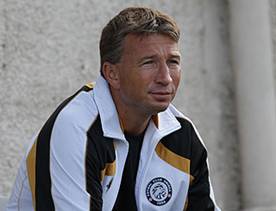 Dan Petrescu, Unirea manager

As predicted by Paul Sturrock, Argyle did not see a lot of the ball early on, and, as also predicted, the Pilgrims pressed hard. Sometimes very hard - Szelesi, Duguid, Arnason, McNamee and MacLean all left their mark on the black-shirted opponents. Argyle's aggression ensured that the game enjoyed a competitive edge, with the Pilgrims as near to what their manager calls 'battle conditions' since returning from the beach. Given the setting, it was all a little incongruous. The Romanians' quality gave the Pilgrims plenty of food for thought, as they struggled to contain their talented opponents or cope with their system, and consequently failed to cause their goalkeeper any problems. Mind you, Romain Larrieu was hardly in the thick of the action, either, and barely had a save to make before he was picking the ball out of his goal ten minutes before half-time. The Pilgrims' ability to cause problems for themselves at the back has been an unfortunate hallmark of the pre-season, and this time Marcel Seip had to hold his hands up as his indecisive pass let Rusescu run in on goal, round the grounded Larrieu, and fire home from a difficult angle. The niggle game disintegrated into a game of team handbags shortly after, as Fallon and his team-mates reacted with righteous indignation to the big Kiwi having the back of his shins raked by Pablo Brandan. The twin ignominy of going behind and being kicked while they were down seemed to spur the Greens, and, after finally finding their width they created a few penalty-area incursions.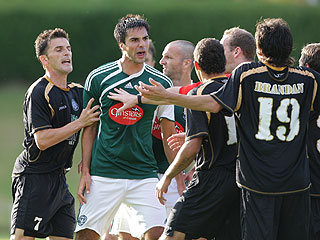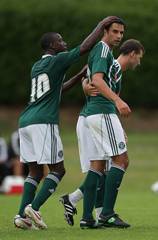 Big Rory - unhappy with a tackle but having the last laugh by scoring Argyle's first goal

The diamond was iced at half-time in favour of bolstering centre midfield by dropping Duguid in alongside Arnason, and, shortly after they re-emerged, Argyle created their first real chance when Fallon span round and shot after teeing himself up, only for the ball to take a deflection. Noone was then cut in half by Iulian Apostol, a foul that brought that rarity in friendlies, a yellow card, and the Scouser responded by firing over a cross that caused problems. The Pilgrims were definitely warming up. Then some. Immediately after McNamee and Duguid were replaced by Jim Paterson and Chris Clark, Fallon fired the Greens level with a low shot after Wright-Phillips had rolled the ball into his path. Three minutes later, they did what they failed to do all last season and took the lead after going behind when MacLean latched on to another prompt from Wright-Phillips and loosed off a shot that was destined for the back of the net from the moment it left his foot.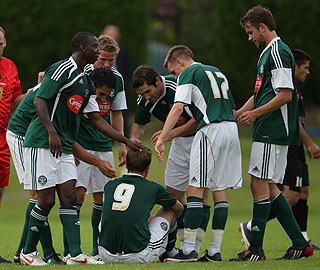 Steve MacLean receives the congrats after making it two

The game was delayed for several minutes for treatment to Unirea goalkeeper Giedrius Arlauskis, whom was hurt in a goalmouth melee and eventually stretchered off to a waiting ambulance. He was not, apparently, too badly hurt. The competitive nature of the game did not dwindle for a second. Fallon the Fiery was at the centre of another coming together of the two sets of players, which seemed to start with a bit of gouging and continued with at least one butting. If it had been a league game, it would probably have ended without at least two players on each side. As it was, the only numbers that counted were the two and the one on the scoresheet.

RICK COWDERY'S STIRLING EFFORT - DAY 4
22nd July
We're more than halfway through our stay at Stirling University and, after tonight's match, very much on the wind-down. Luggy promised the players that, providing he was happy with their attitude and performance in training and the two games, they would be given Thursday as a free day, which means one more obligatory training session - on Friday morning - before we're away down the road for Saturday's game back in England against Morecambe. As I've blogged before, Luggy is mustard keen that the lads don't succumb to boredom. Mind you, judging from the appearance of a couple of them today, that hope disappeared - along with a couple of half-decent haircuts.

Karl Duguid in action against Unirea, post-razor

Karl Duguid (or "Clark Duguid", as he was erroneously called, twice, by the announcer before Monday's game) and Carl Fletcher dispatched Nooney to buy a razor and thereafter filled some of their spare time by emptying their heads of hair. Rumours that Clark is going to work on the rest of his body on the rest day should be discounted. He hasn't got that much free time. For more than a few members of the Argyle party, a day off will give them a chance to nip off and see the family. The likes of Chris Clark, Steve MacLean and Jim Paterson, not to mention Luggy, are all within an hour away from where they are frae (which reminds me of a joke that Clarky once told - Q: "What do you call a Scotsman who's nearly home?" A: "Hamish". You need the Scottish accent). Sloop has already seen his kin, who came to Bathgate on Monday. Ambling in the early evening sunshine hand in hand with his grandson, the Greens' defensive coach could not have looked more content had Argyle kept successive clean-sheets against Barcelona, Manchester United and a World XI playing a 2-2-6 formation. It might be just coincidence, of course, but I'm wondering if being back on familiar territory has had a positive effect on the Pilgrims' three aforementioned Scots. Few would argue that they have been among the most impressive and consistent performers up here - and, indeed, in the pre-season games back home (that's Argyle's home, obviously). Macca has been influential in every match he has played, and seems especially to enjoy being at the top of the midfield diamond, floating behind the front two. He's a thoughtful player, and a decent chap off the field. As they say in these parts, there's no side to him, as far as I can see. Shame, then, that the Green Army have not taken to him. Yes, yes, I know he gave the Devonport End the 'Up Yours' clenched fist after scoring against QPR, but that was some payback for the unremitting abuse he had been copping. Some football fans can dish it out, but cannot take it (unlike a one-armed waiter, who can take it but cannot dish it out). I reckon Macca's problems began when Argyle paid £500,000 for him, and continued immediately he was handed the number nine shirt. Both carry a huge weight of expectation at Home Park. Forget the fee, and look on him as a playmaker, and not a goalscorer (it wouldn't be the first time that a previously prolific finisher had matured into a provider), and it might not be too late to revise your opinion.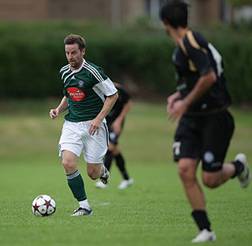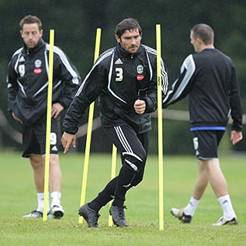 MacLean and Patterson, both enjoying excellent pre-seasons

Patty, too, is a very friendly, down-to-earth, chap. It's fair to say that, for whatever reason, things have not really worked out for him at Home Park, but he's taken Luggy at his word that everyone has begun the pre-season with a clean slate, and has quickly made his mark. Margins in football can be tissue thin. Jim was the starting left-back in the Argyle line-up that triumphed 2-1 at Watford last season but had to limp out of the midweek action early in the second half and was not available for the following Saturday. The win was, of course, the beginning of a fantastic run, and Luggy obviously saw no reason to change the team until it ended, getting on for 10 weeks later. Had Jim stayed fit, he would have more than likely established his place in the side during those two and a half months.
The people in the Management Centre at Stirling University could not have been more helpful this week (or, as Luggy put it more colourfully: "They are desperate to make you enjoy your day.") The food has been fantastic, and the facilities spot on. The whole place is a model for others to follow. The only thing they couldn't arrange was the weather, although Luggy seemed to revel in conditions with which he and his fellow Scots in the Argyle party grew up. "It's pure Scottish weather," he said, with that lip-smacking naughty-boy grin of his. "You can get soaked, you can freeze, and you can roast. All in the same day."
ATTITUDE
23rd July
Paul Sturrock put the Pilgrims' sit-up-and-take-notice 2-1 victory over Romanian champions Unirea in Glasgow down to "a good attitude and a good team-spirit". Modesty prevented him from taking a share of the credit himself for a game-altering tactical switch at half-time. Champions' League qualifiers Unirea, managed by ex-Chelsea star Dan Petrescu, bossed the first 45 minutes and took the lead ten minutes from half-time. However, Argyle wrested control after the break and goals from Rory Fallon and Steve MacLean inside four minutes midway through the second period secured a memorable win. "You could see a quality in Unirea in the first half. It's one big pitch and it was difficult to get close to them," said Luggy, "but we changed a wee bit in the second half, got in their faces a touch more and upset them a wee bit, and it worked for us. Something had to be done. We had to make it simplistic a wee bit more, to stop them from starting the game at the back, and that worked. First half, we looked as if we were worried about them; second half, we came out with a different, positive attitude, and turned the game."
Fallon, riled by the close attentions of the Unirea defence, was a handful for the Romanians in the second half, something Luggy would like to see in the upcoming Championship campaign. "I'm going to put Rory in a dark room for somebody to batter the hell out of him before the kick-off, and then I think we might see the Rory we saw tonight," Luggy joked. "It proves to me there is a mental approach to the game that Rory hasn't overcome. Saying that, he could have got sent off tonight. They couldn't handle him, plus, all of a sudden, the back four couldn't dictate the game and had to play long balls."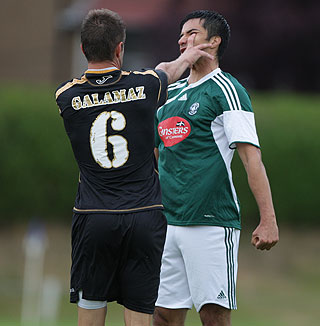 Rory Fallon being 'riled'

The victory came two days after a 2-1 defeat by Livingston at Bathgate, but Luggy is pleased with his squad's Scottish sojourn. He said: "If we had managed to nip another goal against Livingston, I would be really, really content with the way we are starting to shape up. The result was against Livingston was a disappointment. I didn't think the performance was too bad, but everybody judges games on wins. I didn't think we played well tonight in the first half, but, at the end of the day we've won the game. I'm pleased for them all. I'm actually pleased for the work they've put in. There was a good attitude and a good team-spirit. I was a wee bit worried how we were going to react. Unirea are going to play in the Champions' League, and have spent an awful lot of money on their players."
PAYING HOMAGE
23rd July
Stirling Castle, less than two miles from the Pilgrims' Scottish training-base at Stirling University, is home to the Argyll & Sutherland Highlanders' Regimental Museum. Without the Argyll & Sutherlands, there would be no Plymouth Argyle. When Frank Grose and William Pethybridge formed the team we know and love now as Plymouth Argyle, they named it in homage to the Argyll & Sutherlands, the Army football champions, who were based in the city at the time and whose style of football Grose and Pethybridge very much admired. It seemed only right, then, that the current Argyle team should pay respects of their own to the Pilgrims great, great grandfathers. Chris Barker, Ashley Barnes and Jason Puncheon did the honours on behalf of their team-mates and, indeed, the Green Army.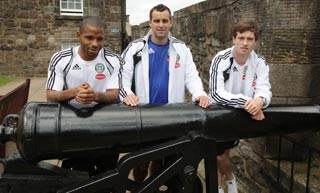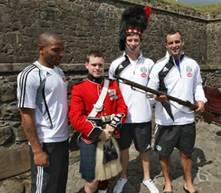 Puncheon, Barker and Barnes visiting the Highlanders

RICK COWDERY'S STIRLING EFFORT - DAY 5
23rd July
One way or another, there's been a lot of travelling done this week. For a start, there was the near-600 mile journey from Plymouth, via Skelmersdale, to get here. Then, such is the vastness of the Stirling University campus, the players have been ferried to training every day on the new, jet-black and rather sinister-looking team bus, while the two matches, against Livingston and Unirea, have been a good drive away from base, at Bathgate and Glasgow, respectively. For two of the lads, that mileage was dwarfed by the efforts they made to take the high road to be in Scotland for the Greens. Kari Arnason flew into Glasgow Airport from Reykjavik via Heathrow on Sunday, and Zoltan Szelesi passed through the same arrival lounge 24 hours later, by way of Gatwick. Strange, then, given all the road-work they have put in that the boys should spend part of their day off...driving.
Okay, then, a few dozen laps around the indoor track at Falkirk's Xtremekarting wasn't the same as motoring on Her Majesty's highways (although, having seen a few of the lads behind the wheel, there wasn't that much difference). It certainly looked a lot more fun and, given that it was footballers taking part, it was very competitive. Most of the squad took part. Ro, along with Mat and young Summers sat it out, having decided that (a) he wasn't that interested in speed, and (b) the karts were not made for 6ft 4in Frenchmen. It soon emerged that '(a)' was a lie, as he and Mat eagerly watched the 18th stage of the Tour de France in which Alberto Contador scorched around the time-trial at speeds possibly greater than the top Green karter - Gary Sawyer, aka 'the Falkirk Flyer' - managed on the track.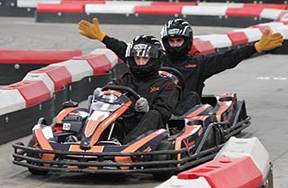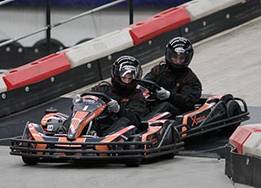 Carl Fletcher behind David McNamee   - Karting action -   Marcel Seip leads Kari Arnason

Everyone gave Rory 'Fiery' Fallon a wide berth, obviously not wishing to upset him after seeing his reaction to the shenanigans of Unirea's defenders on Wednesday night. For those of you who haven't seen Dave Rowntree's excellent pictures, Rory was kicked, nipped and gouged by his opponents on the Balgray Playing Fields, a sequence of misdemeanours which turned the normally so-laidback-he's-horizontal Kiwi into something that would have had the Incredible Hulk away on his green toes. Such was the positive effect to being mugged on Rory's form, that Luggy suggested a severe working over before the kick-off of every game might be the answer to all Pilgrims' prayers, while Summers senior reckons we should sign a Romanian player, not to play, but just to wind Rory up.
While the players made it to Glasgow (with Rory giving Romanian restaurants a wide berth), the coach did not. Unfortunately, something vital in the engine department gave up the ghost, which is about as detailed as my knowledge of mechanics goes. Mal, the coach driver, has not had the best of trips, to be honest. Right at the start of the week, while carrying out a recce on Skelmersdale's ground in order to take down the kit before the players arrived for the game, he got lost. He, being a man, will, of course, tell you that he did not get lost at all, but we did seem to develop a fondness for going around the same one-way system a few times. In the end, the Skem chairman came to our rescue by driving out to meet us in his blue Landrover (registration: 0005KEM) and bringing us in. It transpired we'd been looking for the wrong ground. Anyway, Mal didn 't need to worry about taking the boys home after the Unirea match, as they stayed on in Glasgow to appreciate the delights of the former European City of Culture, and returned to HQ later in taxis. I absolutely refuse to reveal any of the juicy and salacious stories that were doing the rounds this morning around the breakfast table about what they got up to in the curry capital of the UK, except to say two things. Firstly, it is a well-known rule that what goes on tour stays on tour. Secondly, there weren't any.
SECOND-CHANCE SALOON
24th July
Paul Sturrock will give Hungarian trialist Zoltan Szelesi a second-chance to impress in Saturday's pre-season friendly at Morecambe - kick-off 3pm. The 27-year-old from Budapest played against Romanian champions Unirea in Glasgow on Wednesday, and Luggy now wants to see how he copes with Coca-Cola League Two opponents. He said: "It was difficult to make an assessment - Unirea play a different style to most of the teams we play in our league so it was difficult to judge him on a British footing. I'd like to see him in the hurly-burly of English football, which I'm sure will be stiff test for him." Carl Fletcher looks set for action for the first time since the Pilgrims left Plymouth eight days ago despite suffering a toe injury in training on Tuesday. "He's fine," said Luggy. "We'll have to see if there's any reaction from training. If there's no reaction, he'll come on at half-time."
Defender David McNamee, who made his pre-season bow after a calf injury when he started against Unirea, will also see some action. Luggy said: "I'm watching him because, obviously, he's missed a lot of the games. He played for an hour the other night. I felt it wasn't appropriate to put him in again, but he'll play a part in the game. With just two weeks to go until Argyle kick off the new Coca-Cola Championship season at Crystal Palace, Luggy knows what he is looking for: "Development, as far as performance from the individual and from the team is concerned. We're tampering a wee bit in this game from what we've been doing in the last two or three games, Not a great deal. We should be able to handle it. I'm looking for that sharpness that has been missing in most of the games so far. The important thing is that we realise that the next two weeks are vitally important for the first game against Crystal Palace - the individual performances, the team performance and the results all go hand in hand."
RICK COWDERY'S STIRLING EFFORT - DAY 6
24th July
I write this final blog with some pride as runner-up in this week's William Wallace pub quiz.
More accurately, and slightly less glamorously (if that, indeed, is possible), as one-third of the not-quite-winning team in what passes for the weekly social high point in the part of Stirling where the University is based. The Baggo Boys had not intended to lock cerebral horns with the Willy's finest minds on Thursday night but, rather like Wallace himself at the Battle of Falkirk some 700 years earlier, found ourselves in the wrong place at the wrong time. We had left campus at around 8pm for some well-earned R'n'R after another busy day cataloguing and compiling the latest Argyle news, views and interviews for this website (Did you see Parsons' rather lovely behind-the-scenes footage of the boys' visit to Xtremekarting? You should).
First stop was the Allan Water Café in Bridge of Allan. I appreciate that sentence might need some explaining so: first, Bridge of Allan is not a bridge, and the Allan Water Café does not serve water. Clear? Okay, then - Bridge of Allan is a small, and rather charming, market town near to Stirling. It is the annual home of the Strathallan Games, a 150-year-old gathering which attracts hundreds of athletes, pipe bands, and highland dancers. I don't think they all compete in the same events. Bridge of Allan lies on Allan Water, a tributary of the River Forth, hence the name of the café, which we visited after a hearty recommendation from Sloop and Summers senior. They maintained that the fish and chips served there were "magnificent" - the highest possible endorsement from two not-always-easy-to-please gentlemen. They were not wrong. I'll never see 32 again, and I can honestly say the plaice and chips they dished up was the best fish supper I have had. Ever. Magnificent, indeed. The only black mark from me was that they had run out of mushy peas.
Replete, we drove down to the William Wallace and headed for a small table in the corner. Disco Dave and Parsons had a sweet black and tan and I opted for an Irn-Bru. If, at the beginning of the previous sentence, you had not known we were in Scotland, surely you could have been in no doubt by the end. Sweet black and tans were introduced to us by Luggy on a past Scottish tour by the Greens. They consist of half a bitter mixed with a particular Scots delicacy, Sweetheart Stout, which is - this will shock you - a sweet stout. Sweetheart stout has not made it south of the border and is not even hugely popular any more this side of Hadrian's Wall (and I can still just about write that as we're in the Media Wagon as I type, heading for Morecambe, where we are playing tomorrow, with Carlisle still ten miles yonder). It is only 2% proof and, consequently, regarded as something of a woman's drink. Rightly, I'd say. Until, that is, it is mixed with the more macho bitter to create a velvety concoction that slips down all too easily. I digress.
A few minutes after we sat down, a diminutive chap in a shirt so loud I had to stop Parsons ringing the Noise Abatement Society, asked if we would mind moving. (We're in England now by the way, and Disco and Parsons are singing patriotic songs. I say "singing", but...). Small man in loud shirt was, it transpired, the William Wallace's weekly quizmaster, and we were sitting at his quizmaster's table. The near unforgivable sin, but a second Battle of Stirling Bridge was avoided. At mention of the word 'quiz', Parsons, who is uber competitive, started salivating, and, before we had even sat down at our new table, was enthusiastically brandishing a pen and some pieces of paper. Disco and I weren't so keen, but Parsons turned us with a passionate speech. "Take part and you may lose," he said. "Run and you will live at least awhile. And dying in your bed many years from now, would you be willing to trade all the days from this day to that for one chance, just one chance, to come back here as young men and tell our enemies that they may beat us in a quiz but they will never take our freedom!" I think he'd been reading something on the wall of the toilet, but it didn't cost anything to enter so what the heck?
I've been in a few quizzes before and knew from one glance around the pub that we were in trouble. Every pub has a resident quiz king (in our village, it's Trevor, from the local shop) and it took nanoseconds to spot the William Wallace's egghead. The giveaway was the bright white t-shirt with pin sharp creases down the sleeves. Even in Scotland, it's too hot for anoraks at this time of the year. I was right. If I'd been given five points for that correct answer, we would have beaten Egghead and chums to the first prize of a crate of beer. That's quizzing, though, as Paul Sturrock might observe. Actually, I think the quizmaster took a bit of a shine to us. We seemed to pick up points for answers that were a bit iffy or, in one case, palpably wrong. Maybe he was as tired as everyone else of Egghead & Co. winning every week. For our efforts, we won a t-shirt, which Parsons nabbed, and a bottle of Chardonnay, which Dave reckoned would make a nice present from Scotland for his long-suffering wife, Carole. Not that he's a cheapskate or anything like that. The sharp among you will notice that I ended up with zip. Fair enough - I don't drink and the t-shirt wasn't my colour - but I couldn't help noticing that the booby prize-winners were handed a t-shirt, a box of chocs, and a nifty device for carry multiple glasses. I will not, however, let that small discrepancy sour what has been a superb trip for the Greens, from whatever angle you look at it. It should provide the bedrock for a decent nine months. I hope you've found these blogs something less than tiresome, and that they've given you a distinctly Scottish flavour of the past week. Just one thing: if anyone knows how to turn off the blessed mouse button in the centre of my laptop keyboard, please email me.

MORECAMBE 0 ARGYLE 2
25th July - Morecambe 0 Argyle 2

The goal-machine that is Gary Sawyer set Argyle on their way to a second successive pre-season victory as the Greens eased past League Two outfit Morecambe. Sawyer scored the game's opener, before fellow lefty Jim Paterson - a player who has probably been on the pitch for more pre-season minutes than any other outfield Pilgrim - franked the win 13 minutes from the final whistle. Sawyer, who scored three goals in nine starts for the Pilgrims at the end of last season, had already got off the mark in pre-season with a quality strike in the 3-3 draw at Torquay. On Saturday, he had barely been on the pitch ten minutes, as a half-time substitute, when he added another goal to his collection to fire the Greens into the lead. Sawyer's intervention came at the start of a half which Argyle dominated, after an even opening 45 minutes. Indeed, the Pilgrims were maybe fortunate to go in at the break on level terms after conceding a penalty.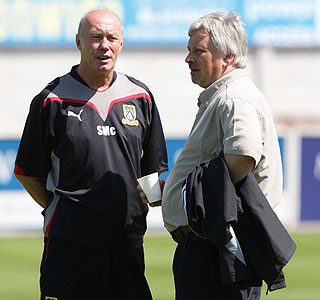 Luggy with Morecambe boss Sammy McIlroy

Argyle's line-up was notable for the inclusion of a couple of players not previously seen in pre-season. Actually, in the case of the number 11 named on the team-sheet, Bryan Spring, a trialist, it was a case of a player not previously seen, period. The rangy left-footed newcomer lined up in the centre of defence alongside Krisztian Timar, and Timar's trialing countryman, the Hungarian international right-back Zoltan Szelesi. Goalkeeper Saxton emerged from the shadow of Romain Larrieu for a first-team run-out between the sticks. For the first time since the players returned to training, Luggy started a game without a diamond midfield, favouring, instead the more regular 4-4-2 with which he ended the previous Wednesday's 2-1 victory over Romanian champions Unirea. Chris Clark and Paterson took centre stage, with Jamie Mackie and Jason Puncheon in the wings. Ashley Barnes and Steve MacLean formed the Pilgrims' strike-force.
The game was played in blazing sunshine on a wide park at Christie Road, which the Greens were visiting for the first time. And, cup draws notwithstanding, last time, as it is shortly to be replaced by a Sainsbury supermarket. The home side's lively left-sided players Laurence Wilson and Ian Craney caused problems down the Pilgrims' right side during the early exchanges, and Saxton needed to be strong under pressure. Argyle's best opportunity in the opening period fell to Jamie Mackie, who unleashed a low shot that swerved before reaching goalkeeper Barry Roche, who elected to kick out the shot. Morecambe's enterprise in driving forward continued to embarrass the Pilgrims' back line rather too easily, and nearly reaped rewards when Craig Stanley's through-ball to Craney saw the recipient of the delightful pass crumble under pressure from the centre-back trialist. Referee Nigel Miller's interpretation of the clash as worthy of a penalty left something to be desired, but Saxton ensured there would be no recriminations by thwarting Craney's penalty with a smart save to his left.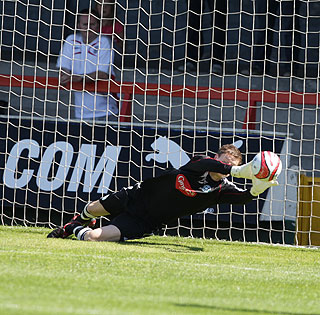 Justice as Lloyd Saxton saves the penalty

As the half wore on, Argyle managed to eliminate some of the errors, take the play higher up the pitch, and create chances. MacLean and Puncheon, especially, began to hit their stride and ask questions of the opposition defence. The Greens should have taken the lead just before half-time, when Puncheon and Mackie worked an opening on the right and the ball reached Barnes on the six-yard line, only for the young striker to balloon his shot over the crossbar.
The Pilgrims made three changes at the interval, bringing on David McNamee, Carl Fletcher and Gary Sawyer for Szelesi, Chris Barker and MacLean. Ten minutes later, Sawyer separated the two sides with a super strike from 20 yards, firing home a loose ball from just outside the left edge of the penalty area across substitute goalkeeper Scott Davies and into the corner of the net.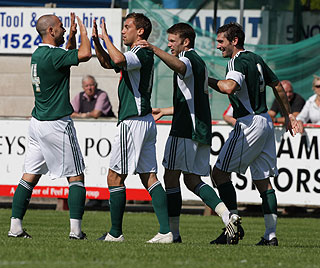 Goal celebrations for Gary Sawyer

The second of trialists disappeared after an hour - though, not, I suspect, because he failed to impress - as Paul Sturrock began to ring the changes on a fairly regular basis. It did little to disrupt the Pilgrims' rhythm and they deservedly went further ahead with 15 minutes to go, Puncheon playing Paterson in for a precise drive from the edge of the area.
One of the substitutes, Bradley Wright-Phillips, nearly opened his Argyle account after Mackie sprang the offside trap, but, after leaving his marker sprawling, curled his final shot wide of the post. Puncheon, too, was close to scoring, seeing a fierce shot on the angle beaten by Davies, who then excelled himself further by parrying a blistering Wright-Phillips drive.