Back to

Scotland 2009

Tour Home
Scotland 2009: Evening Herald
PILGRIMS TOUR DIARY
FIT AGAIN LARRIEU COULD FEATURE AT SKELMERSDALE
18th July
Romain Larrieu has returned to training after a thigh muscle injury, which he sustained early in pre-season, and could make his first appearance of pre-season when Argyle play Skelmersdale United. Former Skelmersdale striker George Donnelly will miss out on the match after suffering a torn hamstring.

He is set to be ruled out for four to six weeks and will be sidelined at the start of the 2009/10 Championship campaign. Defender Chris Barker is expected not to play against Skelmersdale after suffering a cut above his left eye against Torquay. Barker, who needed nine stitches for the wound, will still be part of the Pilgrims' squad for their training camp at the University of Stirling next week. They will travel to Scotland tomorrow. Meanwhile, defender David McNamee should be able to return to action next week after a calf strain. Like Larrieu, the former Scotland international has not featured against Truro or Torquay. McNamee, 28, is not expected to play at Skelmersdale, but could be fit for the Pilgrims' two tour matches. Argyle will play Scottish League Division One club Livingston at Creamery Park, the home ground of Bathgate Thistle, on Monday. The West Lothian town of Bathgate is only five miles from Livingston. Thistle were Scottish Junior Cup winners in 2008 and they play in the Bukta Super League. Livingston head coach John Murphy, whose side lost 2-1 in a friendly at Montrose on Thursday, is relishing the prospect of a clash against Argyle. He said: "Paul Sturrock was a fantastic player and is an excellent manager so I expect Plymouth to be well prepared for this match. "These are the type of matches I want to play at this point of the season as easy games don't do you any favours."
Argyle will also take on Romanian champions FC Unirea Urziceni at the Balgray Playing Fields in Chesterfield Avenue, Glasgow, on Wednesday. Balgray Playing Fields are owned by Kelvinside Academy, an independent private school. FC Unirea are already in Scotland and they beat Ayr United 2-1 on Wednesday. Argyle's games against Livingston and FC Unirea are both open to spectators.
ARGYLE FORCED TO DIG DEEP TO OVERCOME SKELMERSDALE
20th July
Goals from Rory Fallon and Jim Paterson saw Argyle secure a 2-0 win away to Skelmersdale United on Saturday. The Championship club were playing opposition from six divisions below them, but this was no stroll for them. It was the Pilgrims' third match of pre-season and Skelmersdale put up some stubborn resistance. The UniBond Division One North part-timers only created a couple of scoring chances. But one of them was a clear-cut opportunity which striker Chris Almond should have taken to put them level at 1-1. He failed to take it, however, and Paterson put Argyle 2-0 up in the 79th minute to secure their victory.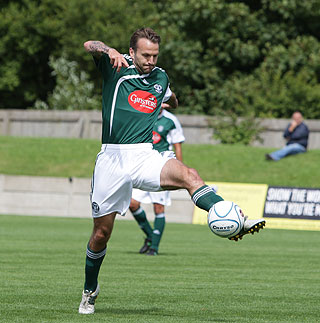 Karl Duguid at Skelmersdale

Paul Sturrock continued with his experiment of playing a 'diamond' formation in midfield. Steve MacLean was at the top of it, with Luke Summerfield in the holding role. Between them were Karl Duguid and former Skelmersdale player Craig Noone – who captained Argyle. Duguid and goalkeeper Romain Larrieu were both making their first appearances of pre-season. Larrieu did not have any saves of note to make but, nevertheless, it was reassuring to see the French shot-stopper back between the posts. The 32-year-old had missed the previous two matches because of a thigh injury. Duguid, who became the father of twins last week, played the entire match, ending it at right-back. Second-year apprentice Ryan Leonard had started the game in that position. The 17-year-old former Ivybridge Community College student has clearly made an impression on manager Paul Sturrock. That has seen Leonard included in the Pilgrims' squad for the pre-season training camp at the University of Stirling this week. Republic of Ireland under-19 international Damien McCrory also started the match at left-back.
Argyle had all the early pressure, but somehow Skelmersdale survived the early onslaught. Goalkeeper Alan Fitzpatrick saved from new Argyle striker Bradley Wright-Phillips after a precise pass from Noone. Wright-Phillips lobbed the ball over Fitzpatrick but past the outside of the right post, and Noone shot narrowly wide, as the Pilgrims dominated. Noone then skipped past a challenge from defender Shaun Foster and was not far off target with a curling 20-yard drive. Fitzpatrick saved at point-blank range from MacLean in the 17th minute, but Argyle took the lead from the resulting corner. Noone aimed the ball into the six-yard area and it was bundled into the net at the far post by Fallon.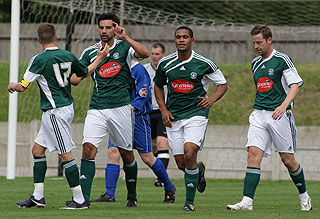 Celebrating Rory Fallon's goal

Argyle had two opportunities to double their advantage on the half-hour mark. First, MacLean had a close range shot blocked by the legs of Fitzpatrick after a neat reverse pass from Fallon. The ball rebounded to Duguid, but he wastefully volleyed over the crossbar. Duguid stabbed the ball into the side netting following another Noone corner, and the Pilgrims' captain-for-the-day also went close with a 20-yard strike before half-time. However, it remained 1-0 until half-time, and Skelmersdale should have drawn level in the 49th minute. A dreadful back pass from Summerfield gifted the ball to United substitute Steve Burke. He passed inside to Almond who, with Larrieu out of position and with the goal at his mercy from 15 yards out, shot against the underside of the bar. Duguid was not destined to score as two other chances came and went for him. First, his fierce strike was beaten away by the Skelmersdale 'keeper after he was set up by Wright-Phillips. Then a curling shot cleared Fitzpatrick but the ball was headed off the line by home captain Michael White. Argyle did grab a second goal in the 79th minute when Paterson, on as a substitute for Leonard, drilled a low 20-yard shot into the bottom corner of the net. Fitzpatrick made further saves from substitute Chris Clark and MacLean. Then, in the 89th minute, Argyle centre-back Marcel Seip saw his looping header from a Summerfield corner cleared off the line by United's Michael Duffy.
NOONE CHOSEN TO LEAD OUT GREENS ON RETURN TO HIS FORMER CLUB
20th July
Craig Noone was given the honour of leading out Argyle for the game against Skelmersdale United. He was handed the captain's armband by manager Paul Sturrock because he used to play for the Lancashire part-timers. The coin toss before the match was carried out by injured Argyle striker George Donnelly. A torn hamstring meant Donnelly could not play against the club he left to sign for the Pilgrims in March. Instead, the 20-year-old had to watch the action from the sidelines.

Donnelly will be at Home Park this week to continue receiving treatment for his injury. Noone and the rest of the Argyle squad travelled to Scotland that night. They set off from Skelmersdale for their training base at the University of Stirling. Noone told Herald Sport he had enjoyed the experience of leading out Argyle. The winger said: "I captained Skem when I was here, so to come back and captain a Championship side is unbelievable really. All the lads were giving me stick, saying that I should put the yellow armband around my head."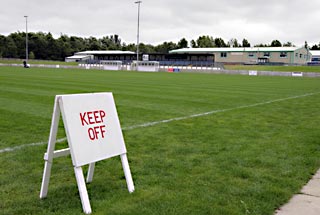 The newly laid pitch at Skelmersdale

Noone sympathised with Donnelly over his injury, and the fact he missed out on the game against his former club. He said: "It was unlucky for George, but I'm sure he will come back better from his injury. I'm living with him and all he goes on about every night is how gutted he is, not just about being out against Skem, but for the whole of the pre-season." Noone had a couple of decent chances to score against Skelmersdale, but could not mark his return to the club with a goal. He said: "It was good to see everyone and play on the pitch where I made my mark really. It was good. I played with four or five of their team when I was here. The rest were new, or trialists." Noone admitted the recently relaid pitch had made it difficult from both sides to get into their stride. He said: "The grass was really long, and it was really dry. For me, I couldn't run with the ball. I had to get it and give it so it wasn't ideal."
LUGGY RUES WASTEFUL PILGRIMS SIDE AFTER THEY MISS CHANCES
20th July
Paul Sturrock lamented his side's wasteful finishing after the 2-0 victory over Skelmersdale United. The Pilgrims failed to convert a series of chances early on against the Lancashire part-timers. They did score twice in the end, with the goals scored by Rory Fallon and substitute Jim Paterson. But Sturrock thought they should have been much more clinical, and vowed that was something which would be worked on in training. He also felt the state of the pitch had not been conducive to good football. Skelmersdale have relaid their pitch during the summer and the game against Argyle was the first to take place on it. As a precaution, the grass was not cut too short to prevent any lasting damage being done to the playing surface. And there were areas where the turf had not settled in, which meant players from both sides struggled to keep their footing at times. Sturrock said: "It's probably the most difficult pitch to play on that I have ever seen. People were going over on their ankles all the time. We had two who did that in the warm-up. The length of the grass also made it very difficult to travel with the ball. But, to be fair, we could have been about five up in the first 10 minutes."
New signing Bradley Wright-Phillips made his first appearance for Argyle, starting up front with Fallon. The former Southampton striker played 62 minutes before he made way for Chris Clark. Sturrock said: "I was very pleased with Bradley Wright-Phillips. I thought he showed a lot of good touches and got himself in the right areas. I'm looking forward to working with him."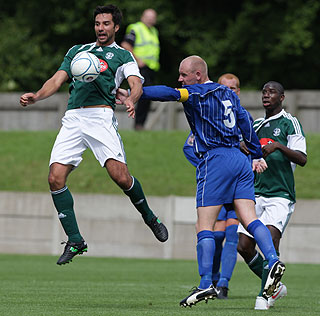 Rory Fallon and Bradley Wright-Phillips in action against Skelmersdale


Argyle's game against Skelmersdale was their third of the pre-season, following a 2-0 win at Truro City and a 3-3 draw away to Torquay United. Sturrock now wants his players to start staking claims for first team selection on the opening day of the 2009/10 Championship campaign. He said: "People will be judged now. I think everybody is up to speed. A lot of boys got 90 minutes today. People who want to play in my team now are going to have to perform, starting on Monday."  Romain Larrieu and Karl Duguid both had their first outings of the pre-season against Skelmersdale. Larrieu returned to action after a thigh injury, while Duguid became the father of twins last week. Skelmersdale rarely troubled Larrieu, apart from at some corners, and Duguid played the entire match. He started in midfield, but was switched to right-back in the second half. Sturrock said: "Duguid is needing a wee bit of catch-up. I put him in another position in the second half and he got himself forward from there." Carl Fletcher and Jamie Mackie were not involved against Skelmersdale because of slight injuries. But both are expected be fit to face Livingston, as should defenders Chris Barker and David McNamee. Barker needed nine stitches in a wound above his left eye after a collision with Torquay striker Tim Sills in the game at Plainmoor. McNamee has not featured against Truro, Torquay or Skelmersdale because of a calf strain. The Argyle squad had set off by coach from Plymouth at 1pm on Friday. But they did not arrive at the Holiday Inn, Warrington, until after eight o'clock after long delays on the M5 and M6. Sturrock said: "It was a nightmare! To be fair, you could see the players were a bit weary. But people are getting comfortable on the ball. They are all wanting to take it and we created a lot of chances in the first half, so it's quite pleasing."
WRIGHT-PHILLIPS TARGETS GOALS AND FITNESS ON TOUR
20th July
Bradley Wright-Phillips has revealed his two main aims for Argyle's pre-season trip to Scotland. The Pilgrims' latest signing wants to work on his fitness levels, and score some goals. Argyle will play twice while they are in Scotland, before facing League Two club Morecambe at Christie Park on Saturday, on their return trip to Plymouth. Wright-Phillips made his first appearance for his new club in the 2-0 victory over Lancashire part-timers Skelmersdale United on Saturday. He told Herald Sport: "I just need matches. Hopefully, I can get some more under my belt this week. I had been training with Southampton since June 22, but I just hadn't played any games."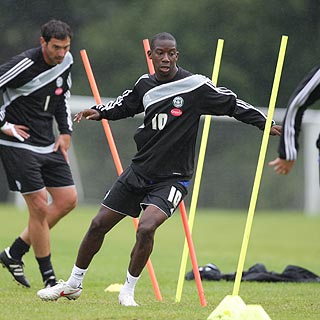 Wright-Phillips training at the University of Stirling

Wright-Phillips only signed for Argyle last Wednesday so the tour to Scotland will give him a chance to get to know his new team-mates much better. He said: "The boys have been good to me. It hasn't been bad at all. I think we are much closer now after the long trip up here yesterday. It's not going to happen overnight but they have definitely made it easy for me." Wright-Phillips played for 62 minutes against Skelmersdale before he was replaced by Chris Clark. He said: "I felt sharp for the first half an hour. After that, I died out a bit. I have got a bit of a back problem at the moment, although it's nothing too serious." Wright-Phillips led the Pilgrims' attack with Rory Fallon, who scored one of the goals. He said: "It was good playing alongside him. He's a target man so I tried to play off him. You had MacLean in behind, who can see a pass, so it was fun." Wright-Phillips added: "To be fair, it doesn't matter who you play with up front, as long as you stay close and talk to each other. It's as simple as that."
PILGRIMS CALLING FOR LIVINGSTON PRICE CUT
20th July
Argyle officials are pushing for admission prices for their pre-season friendly against Scottish League Division One side Livingston tonight to be reduced. The Pilgrims have complained that £16 for adults and £10 for concessions is far too expensive. Many Argyle supporters are expected to attend the match, which will be played at Creamery Park, the home ground of Scottish non-league club Bathgate Thistle. Cash-strapped Livingston could not stage the fixture at their Almondvale Stadium because of problems over securing a safety certificate. The mains electricity supply was only reconnected to the ground last Friday after the club reached an agreement with Scottish Power about outstanding monies.

So Livingston took the decision on Friday to move the fixture to nearby Creamery Park, instead of playing it behind closed doors at Almondvale. Argyle have since complained to Livingston, and the company organising their pre-season tour to Scotland, about the admission prices for the match. They are hoping the prices will be cut before supporters arrive at Creamery Park tonight. A statement on Livingston's official website said: "We would like to apologise to our supporters, and our visitors from Plymouth, for the inconvenience of not being able to play at Almondvale. While we appreciate moving the game is not ideal, we felt it was the best step to try to ensure fans can see the match."
ARGYLE SET TO SIGN ARNASON
20th July

Argyle are in advanced talks over the signing of Iceland international midfielder Kari Arnason. The 26-year-old was set to have a medical at the Pilgrims' training camp at the University of Stirling in Scotland last night. Personal terms have been agreed with Arnason and a contract for him to sign has been drawn up. Argyle club doctor Paul Giles, who is staying with the squad at their training base, was carrying out the medical. Arnason flew into Glasgow Airport yesterday and then made the short trip to Stirling to meet up with his potential new team-mates. The 6ft 3in midfielder has been capped 16 times by Iceland, and scored one goal.
Arnason played for Argyle in the second half of the 2-0 pre-season win away to Truro City last Monday. That was after he impressed in a match for trialists at the club's training ground the previous day. Arnason is a free agent after being released by Danish Superliga club AGF Aarhus at the end of last season. He had signed for Aarhus from Djurgarden in Sweden in January 2007. Arnason spent part of last season on loan to Esbjerg FB, another Danish Superliga club. He was a Swedish league and cup winner with Djurgarden in 2005.
Arnason is set to be manager Paul Sturrock's third signing of the close season, after the captures of midfielder Carl Fletcher and striker Bradley Wright-Phillips. Sturrock will want to use the training camp as an opportunity to work on the fitness levels of Arnason. That could mean a lot of running for the midfielder, and limit his involvement in Argyle's two friendlies while they are in Scotland. The Pilgrims are playing Livingston at Creamery Park, Bathgate, tonight. Meanwhile, Sturrock has confirmed a trialist could play for Argyle in their game against Romanian champions FC Unirea Urziceni on Wednesday. Sturrock would not name the player, but it is thought he is a foreign right-back.
LUGGY RE-UNITED WITH FORMER DUNDEE TEAM-MATE
21st July
The University of Stirling is the regular training base for Scottish Premier League club Falkirk. Yesterday morning their players were being put through their paces on the pitch next to where the Argyle squad were practising. Falkirk were busy preparing for their Europa League second qualifying round tie away to FC Vaduz on Thursday. The Bairns, who won the first leg 1-0 last week, will be flying out to Liechtenstein tomorrow morning. Falkirk's head coach is Eddie May, a former team-mate of Argyle manager Paul Sturrock at Dundee United. The pair had a chance to catch up with each other before their two respective squads started training yesterday. May has recently taken charge of Falkirk after his predecessor John Hughes was appointed by Hibernian. One of May's assistants is 69-year-old Alex Smith, who succeeded Sturrock as boss of Dundee United in 2000. Smith has managed Stirling Albion, St Mirren and Aberdeen earlier in his career. He and Argyle coach John Blackley spent some time chatting before the two clubs' training sessions yesterday. Two of Falkirk's squad played for Sturrock when he was manager of Sheffield Wednesday. They are defender Lee Bullen, who captained the Owls for Sturrock, and midfielder Burton O'Brien. Meanwhile, there was a lucky escape for Argyle goalkeeper Romain Larrieu after a freak accident during training. Larrieu was saving shots from his 19-year-old back-up Lloyd Saxton when a strong gust of wind blew over the portable goal. Goalkeeping coach Geoff Crudgington shouted a word of warning, but not in time. The goal tipped over and hit Larrieu on the back of the head, leaving him sprawled on the grass. Fortunately, the French shot-stopper was not injured and soon resumed training – but with a new, sturdier, portable goal wheeled into position.
PROFLIGATE PILGRIMS LOSE UNBEATEN RECORD TO LIVI
21st July
Argyle were beaten for the first time in pre-season when they lost to Scottish League Division One club Livingston last night. An 81st minute penalty from midfielder Luke Summerfield was not enough to save them from defeat. Livingston, on the brink of administration because of a financial crisis, took their chances when they came – and the Pilgrims did not. Argyle almost snatched a draw in the closing seconds but striker Steve MacLean, on as a second half substitute, misfired from close range. Livingston took the lead in the 26th minute after an own goal from centre-back Krisztian Timar. Midfielder Anthony McParland then doubled the lead for the Lions four minutes after half-time, pouncing on a misplaced pass from Timar. Argyle manager Paul Sturrock said: "There's a sharpness missing in this team with the work we have done in pre-season so far. Our finishing isn't what you would call the best at the minute. We are creating a lot of chances and not hitting the target." Sturrock continued: "The boys are complaining they are a wee bit leggy so we have got to get down to the sharp stuff and the quick feet. As the game unfolded we got better, so it shows our general fitness is in decent nick. But you can't legislate for two mistakes like our centre-back made and expect to win football games. At the end of the day, it's a lesson learned."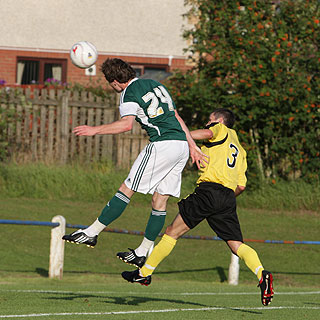 Ashley Barnes

Argyle went into the match without Carl Fletcher and former Livingston right-back David McNamee, who were both nursing calf strains. New signing Kari Arnason was also not included in the Pilgrims' squad. Sturrock wants to check on the fitness of the Iceland international midfielder before giving him a run-out. The match was played at Creamery Park, home of Scottish junior club Bathgate Thistle. It had been moved from Livingston's Almondvale Stadium because they did not have a safety certificate. Supporters were charged £16 admission, which would have been steep had the match been played at Almondvale. But it was a disgrace considering the state of the facilities at Creamery Park. There was a covered terrace along part of one side of the pitch, a burger van and a couple of toilets. That was it. Sturrock complained about the cost of admission to Livingston officials, but to no avail. At least the pitch was in good condition, and much better than that for Argyle's 2-0 win away to Skelmersdale United on Saturday.
Argyle appealed for a penalty in only the third minute after midfielder Jim Paterson took the ball around keeper Roddy McKenzie. Paterson seemed to be clipped by defender Cameron McDonald as he prepared to shoot into the empty net, but the referee thought otherwise. Striker Ashley Barnes headed wide at the far post from an excellent Paterson cross as the English tourists started strongly. Livingston, playing a 4-5-1 formation, gradually came into the contest. Fox and midfielder Andrew Halliday both fired wide, before McKenzie came to Livingston's rescue in the 16th minute. Paterson crossed into the penalty area and midfielder Chris Clark's fierce shot was blocked by the legs of the Livingston keeper. The deadlock was broken in the 26th minute and it was the Scottish hosts who grabbed the opening goal. Fox raced onto a pass forward from centre-back Steven McKenna and crossed into the penalty area. Timar was there, but the Hungary international could only slice it into the net. The Pilgrims almost equalised in the 33rd minute as Jason Puncheon ended a superb solo run with a fierce blast that was superbly saved by McKenzie. Puncheon was playing behind strikers Barnes and Jamie Mackie, and he carried an attacking threat whenever he was on the ball. He demonstrated that again four minutes later with a curling shot over the crossbar from 20 yards after good hold-up play by Mackie.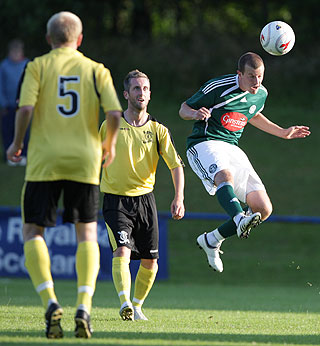 Goalscorer Luke Summerfield in action against Livi

It remained 1-0 until half-time, but Livingston soon increased their lead after the break. McParland capitalised on a misplaced pass from Timar to squeeze a shot between keeper Romain Larrieu and his near post. Mackie went close to scoring a couple of minutes later with a powerful shot which was pushed onto the top of the bar by McKenzie. Then left-back Gary Sawyer could not hit the target with a close-range header following a corner from Summerfield. Sturrock made a triple substitution in the 62nd minute, with MacLean, Rory Fallon and Bradley Wright-Phillips replacing Puncheon, Barnes and Mackie. Fallon wastefully headed over the bar from another precise Summerfield corner in the 76th minute. But Argyle finally opened their account soon afterwards, following a foul on Paterson by McDonald. And, this time, the referee awarded a penalty the Pilgrims. The spot kick was taken by Summerfield and he smashed the ball into the net. Argyle went in search of an equaliser and it almost came in the 89th minute when Fallon nodded the ball down to MacLean. But the striker, linked with a move to Scottish Premier League club Hearts at the weekend, could not put the ball in the net from six yards out.
SZELESI IS THE TRIALIST
21st July
Hungary international right-back Zoltan Szelesi is the trialist on his way to Argyle's training camp in Scotland. The 27-year-old is being lined up to play in the Pilgrims' friendly against Romanian champions FC Unirea Urziceni in Glasgow tomorrow. The match is being played at Kelvinside Academy's Balgray Playing Fields. Szelesi, capped 22 times by Hungary, was with French second division side Strasbourg last season. He started his club career with Ujpest FC in his homeland before moving to Energie Cottbus in Germany in 2004. Szelesi, a 6ft defender, then signed for Strasbourg in August 2007. Currently, Argyle have only one recognised right-back and that is David McNamee, who has been suffering from a calf strain. Chris Clark, Karl Duguid, Simon Walton and 17-year-old apprentice Ryan Leonard have all been tried out in the position during pre-season. Szelesi is an international team-mate of Argyle defender Krisztian Timar, with seven of his appearances for Hungary coming last season.
ARGYLE SEAL ARNASON DEAL
21st July
Kari Arnason has always wanted to play professional football in England, and now he is going to get the chance with Plymouth Argyle. The Iceland international midfielder has signed a one-year contract with the Championship club. Arnason passed a medical at the Pilgrims' pre-season training base at the University of Stirling yesterday. He flew into Scotland on Sunday night and then trained with his new team-mates yesterday morning. Arnason was spotted by manager Paul Sturrock when he played in a match especially for trialists at Argyle's training ground on July 12. He was then given a run-out in the win at Truro City the following night. Sturrock was impressed, and it did not take long to agree a deal with the 26-year-old, who was released by Danish Superliga club AGF Aarhus at the end of last season. Arnason said: "I have been wanting to come to England for a long time and now is the perfect opportunity. I think there were offers from Germany, but my priority was to come to England." The 6ft 3in midfielder believes playing in the Championship will suit his style of play. He said: "I like the mentality of English football. It's about hard work and it's physical. I have played central midfield my whole life, but I have played on the wing for the national team." Arnason has also filled in as a centre-back and right-back for club sides in the past. He said: "I have played a lot of positions on the pitch and, while I look at myself as a central midfielder, I'm willing to do whatever the manager says. I want to prove myself to the manager first of all, because he has not seen that much of me. I'm just going to take it step by step and then try to work my way into the starting 11."
Arnason becomes Sturrock's third signing of the summer, following midfielder Carl Fletcher and striker Bradley Wright-Phillips. Sturrock has high hopes for Arnason, who has been capped 16 times by Iceland. He said: "He will be an asset in both boxes. He has good honest qualities. An agent contacted us about him and that opened the door for him to play in the game for trialists at our training ground. He was the stand-out player. He was the one that took your eye straight away, and he scored as well. He has played various positions for his country and his club sides. He can play at centre-back, wide right or as an attacking midfielder. He has a good range." Arnason was released by Aarhus after a new coach took over at the club and new players were added to their squad. Sturrock added: "If we can put a total fitness to him, I think we will have a player on our hands. He brings height to the team as well." Arnason almost made the move to English football in January 2007, after leaving Swedish top-flight club Djurgarden. He had a trial with Charlton Athletic, but ended up signing for Aarhus instead. Arnason said: "It went pretty well for me at Charlton, but they weren't doing that well at that moment. It was the year they got relegated from the Premier League. The club were struggling so they needed a saviour, and I wasn't fit enough to go straight into the team because I hadn't played for two months or so. The season in Sweden was over and they needed some other guy." This time, however, the deal to take Arnason to Argyle was finalised in rapid time He said: "I'm very happy about it. I like the club and everything around it."
'TOP SHAPE' IS ARNASON'S AIM AFTER JOINING PILGRIMS
22nd July
Kari Arnason is only the second player from Iceland to sign for Argyle. The previous one was also an international midfielder, Bjarni Gudjonsson, who arrived from Coventry City in 2004. Gudjonsson made 27 appearances for Argyle, including 20 starts, and scored one goal before being released in January 2006. He ended up returning to Iceland for a second spell with IA Akranes. Arnason said: "His best friend is a good friend of mine. He was around the national team when I was first called up. He dropped out soon afterwards so I didn't really get to know him personally, but I know of him." Arnason was released by Danish Superliga club AGF Aarhus at the end of last season but signed a one-year contract with Argyle on Monday. His first aim is to get into 'top shape' as soon as possible. Arnason, 26, had been training on his own, and with former club Vikingur in Iceland, before his trial with Argyle last week. "I have done a little bit, but not enough," said the midfielder. "I went to the club in Iceland where I played from five to 19 and I trained to get my footwork going because that's the first thing you lose when you are on holiday. Then I ran a lot by myself and did weight training. Stuff like that."
Arnason did not feature in Argyle's 2-1 defeat against Scottish League Division One club Livingston at Creamery Park on Monday night. He had trained with the rest of the squad in the morning and then had an individual session with fitness coach Scott Russell in the afternoon. Arnason, a Swedish league and cup winner with Djurgarden in 2005, is relishing the prospect of playing in England. Argyle will be up against Newcastle United, Middlesbrough and West Bromwich Albion in the Championship this season, for example. There are also well-supported clubs such as Derby County, Ipswich Town, Leicester City and Nottingham Forest. Arnason said: "The atmosphere at games in Sweden is quite under-rated. Djurgarden are one of three teams based in Stockholm and the derbies are insane. There are 40,000 people there and you can't hear anything. I'm used to that, but it's different in England. It's total madness, so I'm looking forward to it, definitely." He added: "They have been showing English football on TV in Iceland for many years, and everybody watches it."
SZELESI SET TO START IN STERN URZICENI TEST
22nd July
Zoltan Szelesi will play at right-back for Plymouth Argyle in their friendly against Romanian champions FC Unirea Urziceni in Glasgow tonight. The Hungary international has teamed up with the Pilgrims on their pre-season tour to Scotland. Szelesi trained with the Argyle squad for the first time at the University of Stirling yesterday morning. His inclusion in the side against Urziceni will see right-back David McNamee, who has shaken off a calf strain, play on the opposite side of the defence. Midfielder Carl Fletcher will also return to action after a similar injury. The match is being played at Kelvinside Academy's Balgray Playing Fields, and the kick-off has been brought forward from 7.30pm to 7pm. Admission is free.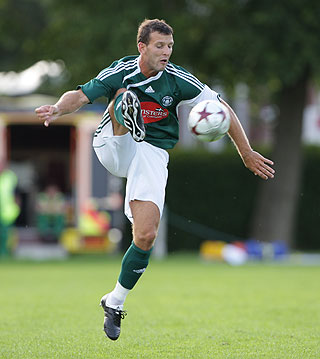 Szelesi in action against Unirea

Szelesi, capped 22 times by Hungary, was with French Second Division side Strasbourg last season. He started his career with Ujpest FC in his homeland before moving to Energie Cottbus in Germany in 2004. Szelesi, a 6ft defender, then signed for Strasbourg in August 2007. He has been an international team-mate of Argyle defender Krisztian Timar, with seven of his appearances for Hungary coming last season. Argyle manager Paul Sturrock expects Urziceni to provide difficult opposition. The Romanians will be competing in the group stages of the Champions' League this season. Sturrock said: "The one good thing about the game is that it's going to enable us to work a wee bit harder on pressing the ball. They are going to have it a lot of the time and play a European style, with a slow build-up and then, all of a sudden, be quite quick. So we are going to work on that side of it, and make sure we start to develop an understanding of the change from when we have the ball to when the other team have the ball." Argyle played Romanian opposition on their pre-season tour last summer. On that occasion, they played FC Unirea Alba Iulia and won 2-0 in a game played in Laufen, Germany. Sturrock is not worried about playing opponents with a style so dissimilar from the Championship. "They will pass the ball, which enables me to work on some things," said the Argyle manager.
Meanwhile, new Argyle signing Kari Arnason will not be involved against Urziceni. Sturrock wants to check on the fitness of the Iceland international midfielder before giving him a run-out. Arnason put pen to paper for the Pilgrims on Monday, but did not play in the defeat by Livingston. Instead, he was put through their paces by fitness coach Scott Russell before the game. Sturrock said: "Arnason won't play until I see a general fitness in him, but I have seen enough in training to tell he has a range of passing and will be a benefit to us. He has a pre-season to do, which he hasn't done yet with any football club." Sturrock still wants to reduce the size of his squad, with several players not even making the trip to Scotland, but there have been no recent departures. He said: "There are a lot of rumours, but I'm not going to discuss speculation."
PSYCHOLOGIST MARSH JOINS THE PILGRIMS ON TOUR
23rd July
Sports psychologist David Marsh has been with Argyle on their pre-season tour to Scotland. The former golf professional is working with the Pilgrims on a part-time basis. Marsh has recently been advising Scott Drummond, the winner of The Herald's Sports Personality of the Year award. Meanwhile, Scott Russell has assumed the role of Argyle's fitness coach and takes the players for their pre-training warm-ups. That leaves physio Paul Maxwell to concentrate on dealing with any injuries. Brisbane-born Russell started at Argyle as coach of the ladies' team before a spell as kit man while Ian Holloway was the Pilgrims' boss. He was the club's ProZone analyst last season before adding on his new role for this term.
Paul Sturrock has been enjoying Argyle's stay at the University of Stirling – despite the varying weather. There has been a mixture of sunshine and heavy showers while the Pilgrims have been in Scotland this week. The Argyle squad have been based at the Stirling Management Centre, which is located on the 310-acre campus. It is a plush business and conference centre with hotel accommodation set in superb parkland surroundings. Sturrock has been pleased with the warm welcome Argyle have received. He said: "The food has been fantastic, the facilities are excellent and the people here are desperate to make sure you enjoy your stay. The nice thing about it all is that it's pure Scottish weather. You can get soaked, you can freeze and you can roast all in the same day!" Sturrock is no stranger to Stirling, and the Central Scotland region. He was educated in Pitlochry, further north up the A9 from Stirling, and played for Bankfoot Athletic before moving to Dundee United. Meanwhile, the presence of Sturrock in Scotland has not gone unnoticed. Sports reporter Gordon Waddell was at the University of Stirling on Tuesday to interview the Pilgrims' boss for the Sunday Mail, a Scottish tabloid newspaper.
ARGYLE ROCK ROMANIAN STARS WITH SECOND-HALF FIGHTBACK
23rd July
Argyle took the impressive scalp of Romanian champions FC Unirea Urziceni in a feisty pre-season encounter in Glasgow last night. The Pilgrims seemed destined for defeat when they trailed 1-0 at half-time after being outplayed by Urziceni. But manager Paul Sturrock changed to a 4-2-3-1 system after the break, and it paid dividends. Rory Fallon grabbed his third goal of the pre-season when he equalised for Argyle in the 64th minute. Steve MacLean then put them ahead only three minutes later with a fine finish from 25 yards. It was a much-improved second half performance from the Pilgrims, and Fallon was the key with his determined display.
The match was played at Kelvinside Academy's Balgray Playing Fields, close to Glasgow Airport. New signing Kari Arnason made his first appearance for Argyle in midfield. Trialist Zoltan Szelesi, the Hungary international right-back, was also included in the starting line-up. And defender David McNamee got his first run-out of the pre-season after a calf injury. With Szelesi in the side, it meant McNamee played out of position at left-back to accommodate him. Fallon and Bradley Wright-Phillips were paired in the Pilgrims' attack. Urziceni were playing the fourth and final game of their pre-season tour to Scotland, which included a 3-1 win at Greenock Morton on Monday. The Romanian champions were so impressed with Morton's Jim McAlister they offered the winger a trial. Urziceni manager Dan Petrescu, the former Chelsea defender, included McAlister among his substitutes against Argyle.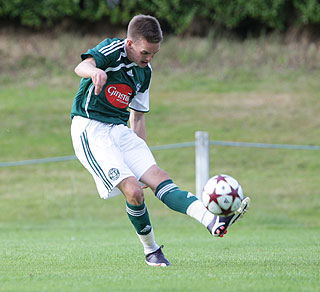 Nooney puts in a cross against Unirea

Szelesi made his presence felt early on, especially when he clattered into Urziceni left-back Valeriu Bordeanu and conceded a foul. The Romanian champions soon got into their stride, passing the ball accurately and crisply from one side of the pitch to the other. But neither Argyle goalkeeper Romain Larrieu nor his Urziceni counterpart Giedrius Arlauskis were tested in the opening 20 minutes. Szelesi made an important headed clearance from a corner taken by midfielder Iulian Apostol as Urziceni continued to dictate the play. Argyle defended solidly, though, and Urziceni could only come up with a tame 25-yard free-kick from striker Raul Rusescu, which went harmlessly wide. But Urziceni broke the deadlock in the 34th minute after a misplaced pass from Argyle centre-back Marcel Seip. Apostol slid the ball into the path of Rusescu and he took it around Larrieu before slotting into the net from a tight angle. It was a cool finish from Rusescu, who went close to scoring again with an angled drive over the crossbar in the 38th minute.
Tempers flared after a late tackle on Fallon by Urziceni's Pablo Brandan. Argyle midfielder Karl Duguid took exception to the challenge and squared up to Brandan. Players from both sides were quickly on the scene, but calm was soon restored. Argyle's first chance of the contest came in the 43rd minute, when Fallon flicked the ball outside to Wright-Phillips. The striker outpaced his opponent and his fierce, low shot was parried away by Arlauskis. Winger Craig Noone tried to pounce on the loose ball, but he was blocked by a couple of Urziceni players. It remained 1-0 until half-time, with Argyle having to work hard whenever the Romanian side were in possession.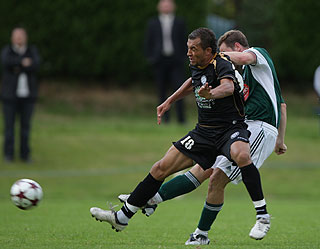 Steve MacLean gets stuck into Unirea midfielder Ricardo Gomes

Paul Sturrock abandoned the midfield 'diamond' formation for the start of the second period. He switched to 4-2-3-1, with Arnason and Duguid the holding players in midfield. Meanwhile, Wright-Phillips moved into a wider position, leaving Fallon as the lone striker. And Fallon almost grabbed an equaliser for Argyle in the 56th minute. He swivelled and shot narrowly wide, with a deflection off an Urziceni defender, after a cross into the penalty area from McNamee. There was a definite improvement from the Pilgrims, with Fallon's physical presence a factor. Urziceni sent on McAlister as a 60th minute substitute for Marius Onofras. Argyle then made a double switch with Jim Paterson replacing McNamee at left-back and Chris Clark coming on for Duguid in midfield. That was soon followed by the equaliser from Fallon in the 64th minute. Wright-Phillips laid the ball off to the Pilgrims' striker and he drilled the ball past Arlauskis. Rusescu wastefully headed over the bar from a cross by Apostol, before Argyle grabbed their second goal in the 67th minute. The ball broke to MacLean, who was 25 yards out, and he smashed it low into the bottom corner of the net.
Urziceni could have drawn level almost immediately, but a shot from striker Marius Bilasco deflected wide off Argyle centre-back Mathias Doumbe. There was then a long delay while Arlauskis received treatment after he was injured when trying to clear a cross into the Urziceni six-yard area. Arlauskis was stretchered off to a waiting ambulance, and replaced by Daniel Tudor. Doumbe made another timely challenge to block a shot from Apostol and McAlister fired the loose ball across the face of goal. Larrieu smartly saved a header from Urziceni defender Bruno Fernandes after a free-kick into Argyle's penalty area in the 86th minute. Jamie Mackie and Chris Barker were late substitutes for the Pilgrims and, despite some late pressure from the Romanian champions, they held on for an impressive victory. Sturrock said: "I was surprised with the size of the pitch – it was 74 yards wide and 116 yards long. I have never been here before and the grass was a touch long but the pitch played very well." He continued: "They are going to play in the Champions' League. They have spent a lot of money on their players and you could see a quality in them in the first half. But we changed it in the second half, got in their faces and upset them a wee bit, and it worked for us." Sturrock admitted he had no option to try a different formation in the second half. He said: "Something had to be done. We had to make it a wee bit more simplistic and stop them from starting the game at the back. And that worked."
STURROCK WANTS ANOTHER LOOK AT TRIALIST SZELESI
23rd July
Paul Sturrock wants to take another look at Argyle trialist Zoltan Szelesi. The Hungary international right-back played the entire match as the Pilgrims beat Romanian champions FC Unirea Urziceni 2-1 in Glasgow last night. Szelesi could play in Argyle's next pre-season friendly, away to League Two club Morecambe on Saturday, depending on his travel plans. The defender flew into Scotland on Monday, and Sturrock was not sure when his return flight was. Asked about Szelesi's performance against Urziceni, Sturrock replied: "I thought he was competent. I would like to see him against British opposition, but I don't know when his flight is. If he could hang about until Saturday, it would probably be a good idea to have another look."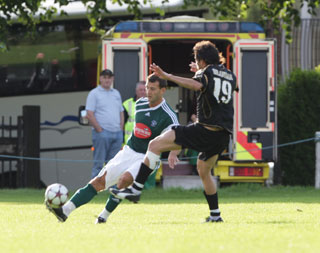 Szelesi during the game against Unirea

Sturrock admitted Szelesi, who played for French Second Division side Strasbourg last season, had improved after a shaky start. He said: "It must be very difficult for somebody to come in and play when he doesn't know anybody." Iceland international midfielder Kari Arnason played for the first time since signing a one-year contract with Argyle on Monday. Arnason tired in the second half and was eventually substituted by Chris Barker in the 89th minute. Sturrock said: "Arnason was running in quicksand after about 65 minutes and he was up to his neck by the end of it. It was difficult for him because he doesn't know the names of the players and his fitness levels aren't the best. But he went about his job and did it nice and simply. I think we are going to see him attacking things in both boxes as well once he gets totally fit." Midfielder Carl Fletcher was ruled out of the clash against Urziceni after suffering a toe injury in training yesterday morning. Fletcher had sat out the previous two pre-season friendlies because of a calf strain. The summer signing from Crystal Palace has not played since the 3-3 draw away to Torquay United last Wednesday. Sturrock said: "Fletcher has got a toe knock, but we don't know how serious it is."
MIDFIELD DUO CUT IT FINE ON PRE-SEASON TOUR WITH GREENS
24th July
It was a close shave for Argyle as they narrowly escaped relegation from the Championship last season. Now midfield pair Karl Duguid and Carl Fletcher have had a similar experience – this time by having their hair cropped while away in Scotland. Duguid explained: "Me and Fletch were bored one afternoon. A couple of lads went into town and we got them to get some hair clippers. We were hoping a few more might follow suit, but they haven't bothered. They have just left me and Fletch to do it. I think by the end of the week someone else will have it done, even if they don't know they are getting it done!"
DUGUID HAILS NEW ARGYLE SPIRIT AFTER SCOTLAND TRIP
25th July
Karl Duguid believes Plymouth Argyle's pre-season tour to Scotland has been a successful team-bonding exercise. The Pilgrims have been based at the University of Stirling this week, staying in a plush hotel on the 310-acre campus. They have managed to combine a busy training schedule with some other activities, such as visits to the local cinema and a nearby go-karting track. Duguid said: "Last year we went to Austria and it was a little bit earlier in the pre-season. We were training three times a day and it was more like a prison camp, to be honest with you. It was a lot harder. On this trip, we have had more games and I think the lads are bonding more. There is a lot more to do around here. You have got the golf course and the computer room. A load of us went to the cinema the other night, so I think it's more of that kind of trip. We probably didn't do enough of that last season. We all feel that we needed to get to each know other on a different level. All the lads have had a good time, and the training has gone well."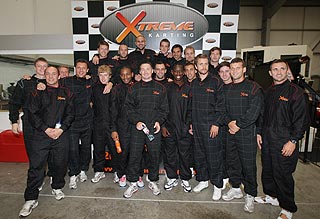 The team bonding trip to Xtreme Karting

The University of Stirling prides itself on being 'Scotland's centre of sporting excellence' and it has proved to be an excellent base for Argyle. Duguid said: "The facilities are great and the rooms in the hotel are lovely. Like I say, it's completely different to what Austria was, but I think it is important to get away so the lads do get to know each other." Duguid admitted the Argyle squad was a lot more settled now. There have been three new arrivals so far this summer, with midfielder Carl Fletcher completing a permanent move after a loan spell at the end of last season. Striker Bradley Wright-Phillips and midfielder Kari Arnason have also been signed. Duguid said: "A lot of people came in before the start of last season, including some different trialists, and it was very unsettled. That probably continued into the start of the season, where the manager didn't really know his best team and things like that. I'm sure he has got an idea of what he wants to play by now. Fletch has come in, but he was part of the team last season anyway. The Icelandic boy has just come in, but he has just fitted straight in, actually. He seems a nice lad and he speaks good English, which is a massive plus. It's hard for them and hard for us when players don't really speak English and they don't understand things."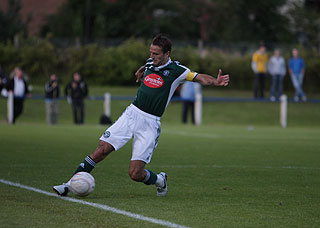 Duguid in action against Livingston

Duguid thought team spirit would be very important for Argyle this season, as they compete against clubs with far more resources. Sturrock is aiming to reduce the size of his squad because of financial constraints at Home Park, despite the recent boardroom reshuffle. Graham Stack is on his way and Yoann Folly and Simon Walton appear to be expendable as far as Sturrock is concerned. Duguid said: "I think everyone being together as a team is going to be very important this season. Obviously, the manager wants to bring his squad down to whatever amount and I think it will be a very tight-knit group." Sturrock has been experimenting with different formations in pre-season as he searches for an option to use in home matches other than 4-4-2. Duguid said: "The manager is looking for a Plan B this season, but I don't know what he's going to start with. I think he's just looking at different things so we have got something else to fall back on. At home last season, 4-4-2 didn't really work for whatever reason. So I think he's just looking at different things because if we do change our system during a game then everyone knows what to do. There is nothing worse than not working on something and then you go into it in a game. Everyone ends up running around everywhere and not really understanding their position. I think the manager wants every player to get used to what to do if we do play in those positions."
Argyle manager Paul Sturrock has come to the realisation that Craig Noone is an out-and-out winger. Sturrock has tried out Noone in a couple of different roles during pre-season. Noone has played at the top of the midfield diamond formation that Sturrock has been experimenting with, and also on the left of that quartet. But the Pilgrims' boss does not believe that has been a success. Sturrock said: "Nooney has proved to be a wide left player. I have tried all sorts of other permutations for him, but that's what he is."
IN-FORM DUO AGAIN CATCH THE EYE IN WIN AT CHRISTIE PARK
27th July
Two of the stand-out performers for Argyle in pre-season scored the goals in their victory over Morecambe at Christie Park on Saturday. Left-back Gary Sawyer, on as a half-time substitute for Chris Barker, put the Pilgrims into a 55th minute lead with a low 20-yard shot. And the versatile Jim Paterson, playing in a midfield holding role, made it 2-0 in the 77th minute with another long distance drive. Sawyer finished last season strongly after overcoming a troublesome hamstring injury and forcing his way into the first team. He put in some solid defensive displays and chipped in with goals too. It has been a similar story this pre-season, with the former Argyle apprentice looking very sharp at the moment. Paterson has been at the centre of speculation about a season-long loan move to Scottish Premier League club Aberdeen. But in an interview last week, Paterson made it clear he wanted to stay and fight for a first team spot at Argyle. And his performances, both in training and in matches, must surely have caught the eye of manager Paul Sturrock.
Paterson played as one of two holding players in a 4-2-3-1 formation at Christie Park. He was paired with Chris Clark in the first half and Carl Fletcher after the interval. Paterson was one of only four Argyle players – including goalkeeper Lloyd Saxton – to complete the whole match. He has certainly given Sturrock food for thought as the new Championship campaign draws ever closer. Argyle were making their first-ever visit to Christie Park and they were greeted by warm sunshine and a lush pitch. Hungary international right-back Zoltan Szelesi made his second appearance for the Pilgrims, but he was not the only trialist in their side. A French centre-back who Sturrock would not name, but that was called Bryan Spring on the teamsheet, was included after flying into Liverpool the previous night.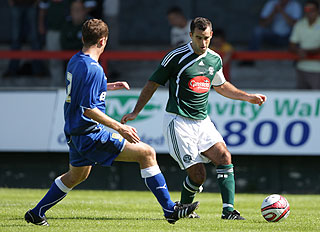 Chris Barker at Christie Park

Morecambe were bright and busy in the first half and Szelesi struggled to cope with their left-sided midfielder Laurence Wilson. Szelesi was substituted at half-time, and will not be offered a contract by Sturrock. But the Pilgrims' boss was impressed with the tall, rangy French centre-back and is ready to make a move for him. The trialist had not even trained with Argyle and, apart from a couple of lapses, he slotted into the defence seamlessly. He was replaced by Marcel Seip early in the second half, which was dominated by the much-improved Pilgrims. But, by then, Sturrock had seen more than enough of him to know he was a player he wanted to try to sign.
Morecambe started strongly against their Championship opponents and created some decent early chances. The Shrimps were then awarded a penalty in the 22nd minute after midfielder Ian Craney was bundled over by Argyle's centre-back trialist. Craney, who was signed on a season-long loan from Huddersfield Town last week, stepped up to take the spot kick. But Pilgrims' goalkeeper Lloyd Saxton dived low to his left and made a fine save. The French trialist then came to Argyle's rescue moments later, after Wilson skipped past defender Krisztian Timar and put in an excellent cross. Morecambe striker Phil Jevons was ready to tap the ball into the net until the Pilgrims' mystery centre-back made a vital interception. Argyle did then show an improvement before half-time and striker Ashley Barnes wastefully fired wide from close range in the 45th minute. The chance was created for Barnes by a slick one-two between Jamie Mackie and Jason Puncheon.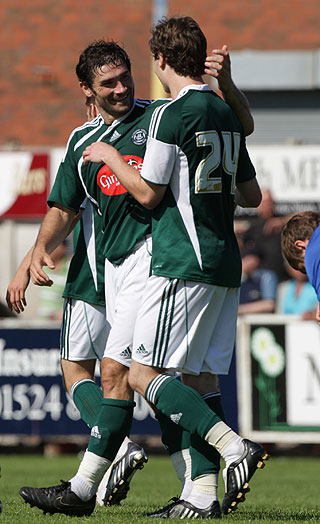 Jim Paterson celebrating his goal with Ashley Barnes

David McNamee replaced Szelesi at right-back for the start of the second half. Sawyer came on for Barker at the same time, while Steve MacLean made way for Fletcher, who had recovered from a toe injury. Fletcher slotted in alongside Paterson, while Clark was pushed further forward, to where MacLean had been playing. MacLean has also looked sharp in pre-season, but Argyle did not get him on the ball as much as they would have wanted in the first half. It was soon evident the Pilgrims were better balanced, with Paterson heading over a cross from Puncheon, before Sawyer put them ahead. The ball broke to Sawyer, who was 20 yards out, and his low shot beat the despairing dive of Morecambe's substitute keeper Scott Davies. Seip and midfielder Luke Summerfield replaced the French trialist and Clark respectively, before Paterson made it 2-0 in the 77th minute. He was teed-up by Puncheon and his fierce left-foot shot flew into the net, giving Davies no chance.
Barnes made way for Wright-Phillips soon afterwards, as Argyle took complete control in the closing stages. Only a series of excellent saves from Davies prevented the visitors from extending their lead. Wright-Phillips sent a shot wide in the 85th minute after a superb defence-splitting pass from Mackie. Mackie was then replaced by striker Rory Fallon, before Davies beat away powerful drives from Paterson and Puncheon. Wright-Phillips, the recent signing from Southampton, then had a couple of chances to open his goalscoring account for Argyle. First he had a shot pushed over the bar by the busy Davies, and he then had another attempt blocked in the goalmouth by Morecambe substitute Rory Winter. It remained 2-0 until the final whistle but, overall, this was a useful exercise for the Pilgrims. Morecambe had pushed them hard in the first half, but Argyle's superior class and fitness told after the break.