Back to

Holland 2010

Tour Home
Holland 2010: Western Morning News
CAPALDI JOINS ARGYLE FOR DUTCH CHALLENGE
16th July
Argyle's most capped footballer is back with the club. Tony Capaldi turned up at the club's UCP Marjon training ground yesterday, and trained with the first-team squad. He will be part of the travelling party which sets off today for a week-long training camp in the Netherlands. Capaldi, who is likely to play at left-back for Argyle in tomorrow's friendly against Dutch top-flight outfit NAC Breda, is a free agent. He left Cardiff City this year, at the end of the three-year deal he signed following his departure from Home Park in 2007. Peter Reid said: "He's training with us, he's going to come away with us. We'll have a look at him, and he can have a look at us. I've seen him play. He has good energy down that left side. He has been a good pro, and he's an experienced player. He can do both jobs, left-back and left midfield, equally well. He's a clever player, and he's naturally a fit boy."
While Capaldi will travel to the Netherlands with Argyle, Chris Barker will be staying in England. Reid has told the experienced defender that he does not feature in his plans for the Pilgrims. The 30-year-old, who signed a three-year contract when he arrived from Queen's Park Rangers two years ago, has been advised to seek a fresh start elsewhere. Reid said: "We've had a chat, and I've told him that I think his future is away from the club. Nothing personal against the boy, it's just a managerial decision. That's what I'm paid for." Centre-backs Kari Arnason and Krisztian Timar were restricted to light training yesterday, but they will both be on the plane today. Arnason has a thigh strain, Timar is being bothered by a toe injury. Right-back Ryan Leonard will miss the Dutch tour because of the patella injury which has kept him out of Argyle's pre-season games.
Capaldi will be joined by two other trialists on the trip. American midfield player Anton Peterlin, who has been with the Pilgrims since the start of pre-season training, is staying with the squad, as is Bermudian goalkeeper Freddy Hall, who replaced Romain Larrieu at Torquay when the Frenchman's kicking was hindered by a groin twinge. Larrieu did not kick the ball in training yesterday, but he will travel to the Netherlands. So will Dutch central defender Marcel Seip, whose wife Lucy is due to give birth any day now, which may affect his travel plans.
Argyle squad for Dutch tour: Larrieu, Hall, Duguid, Bhasera, Seip, Arnason, N'Gala, Timar, Johnson.R, Fletcher, Johnson.D, Clark, Paterson, Summerfield, Bolasie, Noone, Mason, MacLean, Donnelly, Patterson, Wright-Phillips, Head, Kinsella, Trott, Capaldi, Peterlin.
DUGUID RELISHES DUTCH FRIENDLY
17th July
Karl Duguid is looking forward to trying to help Plymouth Argyle tame some high-class opposition during the Pilgrims' week-long stay in the Netherlands. The men from Home Park will launch their tour with a game against Dutch top-flight team NAC Breda this afternoon. They have further friendlies next week against AZ Alkmaar, who finished fifth in the highest division last term, on Wednesday, and against second-tier side SC Cambuur on Thursday. Argyle may be up against it in their first two tour fixtures, at least, but that does not bother Duguid. He treats pre-season assignments, whatever the level of the opposition, as fitness tests. The experienced 32-year-old knows that results only matter when points or cup-tie victories are at stake. "We've played two games already, against Truro and Torquay, and we're playing some good sides in Holland, but pre-season is all about getting through games with no injuries," Duguid declared. "Getting fit is the main aim, along with getting to know the new manager and his ways."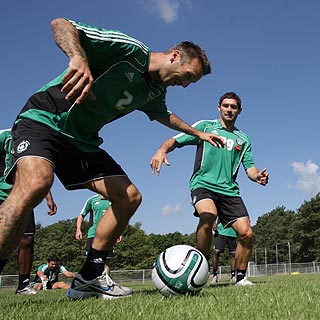 Karl Duguid and Jim Paterson during a tour training session

After beating Truro City 2-0 a week ago, Argyle did not play well last Tuesday, when they went down 3-1 at Torquay United. "We know we're better than that," Duguid admitted, "but Torquay were a good side. They do the basics very well." After their two Westcountry outings, the Pilgrims are embarking on a tough seven days on tour. Argyle manager Peter Reid has played little part in the planning of his team's Dutch expedition, which was set up before he was hired by the club at the end of June, but he is happy about the strength of the opposition. "You can find out more about your players against better opposition," Reid said. "I can understand the other argument, getting your confidence up by going in against weaker teams and winning 8-0, but I tend to think that's a false confidence. I'd rather go in against more difficult sides. That shows your failings, and some of your strengths." Reid is also well aware of the benefits of taking his squad abroad for seven days, as opposed to playing friendlies in and around the Westcountry. "I didn't set up this trip, but it's an excellent one," he said. "I've been to Holland on many occasions as a player and a manager, and it will be great. When you're with the players for a week, you get to know the players – and they get to know me. It will be beneficial to me and to the players."
Duguid is also no stranger to pre-season tours, and he said: "It will be good to get away and play a few games, and to get to know the new lads." Getting to know the gaffer will also be a key component. When Duguid was asked for his early impressions of Reid, the former Colchester United stalwart said: "He says it how it is, and in football it's great to have a bit of honesty. If you don't like it at times, so be it, but we'll know that's how he wants to do things – and that's how football should be. That's what a lot of players want, and that's what we've got. We're all looking forward to working with him. He's been there and done it, hasn't he? He has played and managed at the top level, and he's somebody we can respect."
PILGRIMS WILL LOOK TO KICK ON AGAINST CLASSY DUTCH
17th July
After coming off second-best in their most recent friendly, Plymouth Argyle are unlikely to find any easy opposition lying in wait on their three-game tour to the Netherlands, which starts today. The Pilgrims eased their way into their pre-season match schedule a week ago, when they gained a 2-0 victory at Southern League part-timers Truro City. On Tuesday, however, the men from Home Park were given something of a jolt when they were beaten 3-1 at Torquay United. The League Two outfit will be playing one level below Plymouth in the Football League this term, but that gap was not apparent at Plainmoor. The Gulls outplayed the Pilgrims, according to Argyle manager Peter Reid, and they deserved their success on the night.
The next stage of Plymouth's preparations for the new League One campaign will take place over the next seven days in the Netherlands. With all due respect to Torquay, Argyle will be up against opposition of a somewhat higher calibre than Paul Buckle's team. Two of the top ten teams in the Dutch top flight last season will face the Pilgrims during the coming week. Argyle will start their tour this afternoon with a fixture against NAC Breda at the home of amateur club Rood-Wit St Willebrord. NAC finished tenth in the 18-team Eredivisie last season, they have reached the last four of the Dutch Cup four times in the past five years, and it took classy Spanish side Villarreal to remove them from the UEFA Europa League at the play-off round stage last season. NAC are coached by former Motherwell midfielder Rob Maaskant, and they have some international talent in their squad. Striker Matthew Amoah has represented Ghana at the last two World Cups. Fellow forward Joonas Kolkka (who has played Premiership football for Crystal Palace) has won 98 caps for Finland, while Csaba Feher plays as a holding midfielder for Hungary.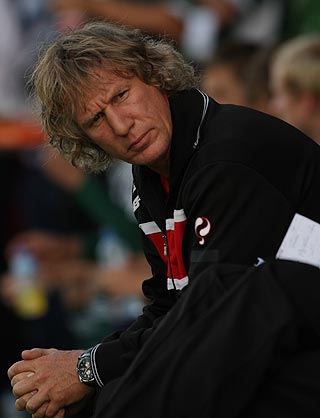 AZ manager, Gertjan Verbeek

After a three-day gap – which will be filled by intensive training – without a game, Plymouth will finish their tour with two matches in two days. Next Wednesday, at the home of amateur club BKC Anna Paulowna, the Pilgrims will take on AZ Alkmaar. AZ finished fifth in last season's Eredivisie and current boss Gertjan Verbeek took over this summer. Verbeek's squad includes goalkeeper Sergio Romero, who was an ever-present for Argentina at the World Cup. Mexico defender Hector Moreno and Denmark defender Simon Poulsen also saw action in South Africa. AZ captain Stijn Schaars went to the World Cup as an understudy to Dutch midfield enforcers Mark van Bommel and Nigel de Jong, and did not get a game. Like Argyle's New Zealand striker Rory Fallon, AZ's World Cup men may not be back on club duty just yet. Nor are the Pilgrims likely to face AZ's former Tottenham midfielder Mounir El-Hamdaiui.
A day after the encounter with AZ, Argyle will conclude their tour with a match against SC Cambuur at the ground of amateur club SC Franeker on July 22. Cambuur finished second in the Eerste Divisie – the Dutch equivalent of the Championship – last season, and lost out on in the play-offs for a place in the top flight. Their coach is arguably more famous than any of their players. Stanley Menzo spent ten seasons keeping goal for Ajax, and played for the Netherlands. His squad includes striker Mark de Vries, who has played in England for Leicester City and Leeds United, as well as in Scotland for Heart of Midlothian and Dundee United.
MASON ON TARGET AS PILGRIMS LAUNCH THEIR DUTCH TOUR IN TRIUMPHANT STYLE
19th July
Plymouth Argyle launched their Dutch tour in very satisfactory fashion on Saturday, when a well-taken headed goal late in the game by Joe Mason gave them a 1-0 win over NAC Breda. The hosts, who staged the friendly at the home of amateur club Rood-Wit Willebrord, were a classy side. They moved the ball around the field very comfortably, and they possess some skilful players, but they were unable to penetrate the Pilgrims' well-organised defence. When NAC did find a way past Argyle's back-four, Romain Larrieu made a couple of very fine saves to keep them at bay. In attack, the English side made the most of the energy of substitutes Mason, Yannick Bolasie and Craig Noone, and they could have extended their margin of victory. Plymouth's line-up featured the return, at left-back, of an old favourite. Tony Capaldi, who won a Second Division championship medal with the Pilgrims in 2004, linked up with the squad last Thursday, and will spend the rest of this week in the Netherlands with the Home Park outfit. The Northern Ireland international is a free agent, having been released by Cardiff City last month, and is seeking new employers. A slight back strain meant he only managed to complete half of Saturday's contest, but he looked the part while he was on the field. If Argyle can afford him, he would be a wise acquisition.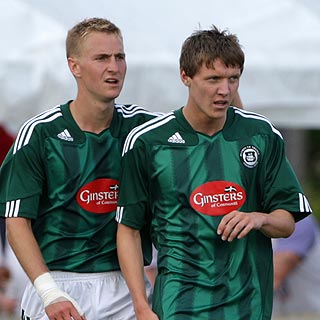 Anton Peterlin and goalscorer Joe Mason during the NAC Breda game

Argyle's other trialist, Anton Peterlin, lasted the full 90 minutes. The Californian played in three positions – right-back, right-midfield and his preferred centre-midfield slot – and looked very proficient. The former Everton reserve-team player brings plenty of energy to his game, and will be unlucky if he is not offered a contract. Peterlin began the match at right-back, with Karl Duguid operating on the right side of midfield, but the pair soon swapped roles. Argyle were on the back foot for much of the first half, during which they were given plenty of defending to do. NAC, who finished tenth in the Dutch top flight last term, retained possession with what looked like great ease at times. Nemanja Gudelj, their Serbian midfielder, had a chance in the opening seconds, when his shot was deflected for a corner, and Larrieu had to push out Donny Gorter's free-kick. Larrieu was then called upon to thwart Gorter with a kicked clearance, at the end of a multi-pass move, while the last attack of the first half ended with Argyle captain Carl Fletcher blocking Gorter's shot. Bradley Wright-Phillips, with a lob which was off target, and Rory Patterson, with a well-hit shot on the turn which was safely held by goalkeeper Jelle Ten Rouwelaar, were responsible for Argyle's most threatening moments before the interval. Jim Paterson took over from Capaldi at the start of the second half, and looked comfortable at left-back. Bolasie was then brought on to play as a striker, as was George Donnelly, before Mason came on to play on the right flank. Argyle's other substitutions saw Noone take over from Chris Clark on the left of midfield, and Luke Summerfield slot into central midfield. The reshuffle meant that Fletcher assumed central defensive duties.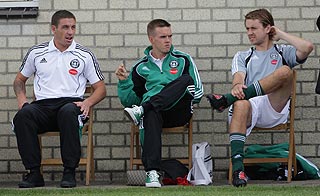 George Donnelly, Craig Noone and Kari Arnason watch Argyle take on NAC Breda from the bench

NAC continued to pose a threat in the second half, and they almost took the lead when Finland international Joonas Kolkka swung over a cross from the left. Anthony Lurling made contact with a header which seemed destined for the top corner. Larrieu's leap did the trick, though, as the Frenchman pushed the ball to safety. Jim van Fessem, NAC's substitute goalkeeper, was unable to emulate Larrieu in the 74th minute, when Argyle scored the winner. Bolasie made space for himself on the right flank and delivered a cross which was met by Mason's deft header. The ball flew high into the net. Two minutes later, Mason almost did it again. He got to Noone's low cross and hit a shot on the turn but, this time, Van Fessem was able to make a save. Bolasie fired across goal and wide, before NAC produced some late pressure. Argyle stood firm, though, with Larrieu producing another eye-catching save to beat out Lurling's shot to ensure that a hard-earned clean-sheet was secured.


REID PLEASED AFTER PILGRIMS RAISE THEIR GAME
19th July
Plymouth Argyle manager Peter Reid praised his players for raising their game against daunting opposition in the Netherlands at the weekend. The Pilgrims' boss was not a happy man after last Tuesday's pre-season friendly, when his charges had played poorly in a 3-1 defeat to Torquay United. He was far more content on Saturday, at the end of the first instalment of Argyle's three-match Dutch tour. Plymouth took on NAC Breda, who were the tenth-best team in the Netherlands last season, and beat them 1-0 at St Willebrord. Joe Mason scored the only goal of the match, 16 minutes prior to the end of the contest. "Hopefully, I've seen a true performance," Reid said. "I thought we were excellent. NAC were a good side on the ball, but I thought our shape was good. I thought we frustrated them when we didn't have the ball. That was the plan, and I thought some of our counter-attacking play was really good. As the game went on, we changed a few things and gave ourselves a bit more pace up front. I'm pleased with everybody who took part."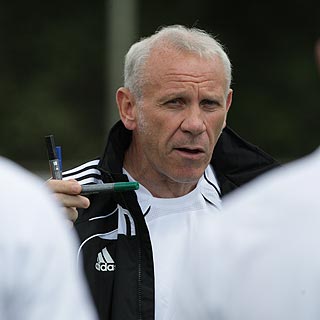 Peter Reid giving out instructions before the NAC game
Reid's team included a trialist who was no stranger to the Argyle fans who had made it to the south-west corner of the Netherlands. Tony Capaldi, whose four-year stay with the Pilgrims came to an end in 2007, was picked at left-back and lasted until half-time in his first match since he left Cardiff City at the end of last season. "I thought he was terrific," Reid declared. "I thought he showed his experience. He has been training by himself, he needs games, but he did very well." Capaldi was replaced by Jim Paterson after the interval. "I was going to give Tony a bit more than half a game, but he was just feeling his back a little bit, so I erred on the side of caution," the Argyle boss explained. "That allowed me to give Jim Paterson 45 minutes, and he was smashing as well. I thought everyone was terrific. Joe Mason came on and had few chances, and scored with a header. Bolasie came on and stretched them with his pace, Noone got on the ball, and the two experienced midfield players, Fletcher and Johnson, were terrific for us. It was a good performance against a side from the best Dutch league. We had a chat before the game about how I wanted them to play, and they did great."
Bolasie was used as a central striker when he joined the fray as a substitute, rather than as a winger. "It's a nice option to have," Reid said. "With his pace, he is a threat up there. Sometimes I'll play him wide, but sometimes I might decide to go up top with him." Two members of Argyle's playing staff were not with the squad on Saturday. Marcel Seip delayed his departure for his homeland because of an imminent arrival back in Plymouth – a first baby for the Dutchman and his wife, Lucy. Onismor Bhasera has been ill with influenza. Both players are still expected to make their way to Argyle's training camp at Papendal, on the outskirts of Arnhem. Reid said: "Marcel will get in touch with us when his wife gives birth. Bhasera is due out on Monday, I think."

PETERLIN'S SIGHTS ON FIRST-TEAM OPPORTUNITY
19th July
Thanks to Everton, Anton Peterlin has gained a year's worth of experience of the reality of life in English professional football. The amiable Californian has now come to Plymouth Argyle in search of the one factor which remained elusive last term – first-team action. Peterlin was one of three American trialists who reported for duty at the start of the Pilgrims' pre-season training schedule this summer, and he is the only one left. The 23-year-old midfielder is spending this week with Argyle at their training camp in the Netherlands. Peterlin was plucked out of the world of college and semi-professional soccer in the United States last year, when he joined Everton from southern California-based Ventura County Fusion. He spent last season working with the Toffees' first-team squad, and playing reserve-team football. His one-year deal at Goodison Park was not extended, but he has not given up on his dream of forging a career in England. He played well for Argyle in their praiseworthy 1-0 win over Dutch top-flight side NAC Breda on Saturday, and he is fitting in well with the rest of the Pilgrims' squad. "It's a great group of lads, and I've had a lot of fun," Peterlin said. "We work very hard together, we train very hard, and we got a good win today. It's gone very well so far."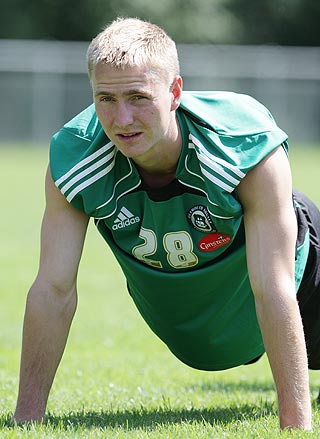 Anton Peterlin during training at Papendal

Peterlin has the benefit of two very experienced agents, Barry MacLean and California-based Graham Smith, a former West Bromwich Albion player. They know Everton manager David Moyes, which helped to secure a trial and then a contract at Everton. They know Argyle's Peter Reid, Paul Mariner and John Carver, hence his chance to impress the Pilgrims. When Peterlin was asked what he had learned from his year with Everton, he replied: "As a person, I learned to live so far away from home, and it changed me incredibly as a player. I was training with amazing players like Pienaar, Saha, Rodwell and Phil Neville every day. They push you, and they make you much better." Peterlin is now hoping to use that experience to good effect with the Pilgrims, for whom he has featured in all their friendly matches so far this summer. "I've been happy with my games so far," he said. "I've been listening to the senior players, like Carl Fletcher, and I'm learning the style of play. It's going pretty well, I think." Peterlin played at right-back, right-midfield and centre-midfield against NAC Breda on Saturday. "Centre-midfield is where I'm most at home," he said, "but I'll play wherever the team needs me to play. I'm enjoying being with this team."
CAPALDI LOOKS FORWARD TO FRESH START WITH ARGYLE
19th July
For the first time in his decade as a professional footballer, Tony Capaldi does not possess a contract of employment. He has come back to the club where he established his career in search of a fresh start. The Northern Ireland international left-back, who won a Nationwide League Second Division championship medal with the Pilgrims in 2004, is spending this week with the men from Home Park at their training camp in the Netherlands. He played in Saturday's encouraging 1-0 win over Dutch top-flight outfit NAC Breda at St Willebrord, and he trained with the rest of Argyle's squad at their base at Papendal yesterday.
Capaldi left Argyle for Cardiff City in 2007 and, when his contract with the Bluebirds expired at the end of last month, he effectively found himself out of work. He has been weighing up his options during the summer so far. No promises have been made by anybody at Argyle, it seems. He has to prove himself, just as other trialists have to do, but, with his ability and his experience, that should not be too much of a problem. Then, assuming he produces the goods on the pitch this week, it will be a case of listening to what the Pilgrims have to offer. The chance to link up with his previous club cropped up last week, two days before the Argyle squad set off for the Netherlands. Capaldi explained: "I got a phone call from Peter Reid on Wednesday morning. I was asked if I fancied coming down for training the following morning, and then going off to Holland this week. When we get back, I'll sit down with the gaffer and we'll have a chat, and we'll see what happens."
There are enough familiar faces around to make Capaldi feel at home. Romain Larrieu, Krisztian Timar and Luke Summerfield were Plymouth players when he was last a Pilgrim. "There are some people I know," he said after Saturday's game, in which he played well in the first half before being substituted to avoid aggravating a minor back injury. "I had my first training session on Thursday, and my first game today," he added. "I'm not fit or sharp yet, but it was good to get 45 minutes under my belt. We'll see what happens from here. I know the gaffer has got quite a big squad, and I don't know what the financial situation is, but we'll get this week out of the way and then we'll decide after that." Capaldi had intended to stick to a solo training routine while he was without a club, but things did not go to plan. "I hadn't been able to do anything for two weeks, because I twisted a muscle in my back," he said. "I've just been sitting round the house with two kids crawling over me. It has been good to get out and do a bit of training. I'm a naturally fit lad, thankfully, but I'm not sharp yet. That will come with more training, and more games."
Capaldi could have done with more games to play last season. After he returned to Cardiff following a mid-term loan to Leeds United, he made only nine appearances for the Bluebirds in the second half of the campaign. When he was asked if he was surprised by his release from the Welsh club, he replied: "No, not really. I thought I was going to have the chance to leave in January. I had a couple of clubs lined up, but the gaffer turned round and said: 'You can't leave. You've got to stay until the end of the season.' They had a transfer embargo, and they couldn't sign any players. That messed me up a little bit. To be honest, I had to leave. I'm 28 now, and I want to start playing football again. I don't know how many years I've got left in the game. I want to start playing as many games as I can. If it's at Plymouth, brilliant. If not, I'll look elsewhere at the end of this week." He has had interest from elsewhere, but it seems that the Pilgrims are his preferred option. He admitted: "I had a few offers from other clubs, but nothing overly appealing. When you're getting close to the start of the season and you're out of contract, you want to get yourself sorted," Capaldi confirmed. "I want to get myself fit first, that's the most important thing, I want to make a bit of an impression, and then we'll see what we can sort out."
REID PUTS ARGYLE THROUGH THEIR PACES
20th July
Ball skills and team shape will be the key components of Plymouth Argyle's work on the training ground in the Netherlands this week. The days when professional footballers spent the build-up to a campaign regaining fitness standards lost during the summer break are, it seems, long gone. After their holidays, players are now expected to report back for duty almost as fit as they were at the end of the previous season. Match sharpness is just about all that they are allowed to lack. Furthermore, clubs tend to have all they technology they need to ensure that their players' fitness levels are measured and assessed. "In general, sports science has kicked in," Argyle manager Peter Reid said yesterday, in between lengthy training sessions at the Pilgrims' base at Papendal. "Most clubs employ sports scientists now. Our sports scientist, Scott Russell, monitors heart-rate and everything else on his computer. You still have your eyes as a manager, whether they need a bit more or a bit less work, but the players are a lot more professional these days."
When a manager can trust his players to be fit and ready for the rigours of a demanding pre-season schedule, it makes it easier to concentrate on skills and tactics at this time of year. "I'm a great believer in getting the ball out early in pre-season training," Reid added. "Footballers have got to be able to run, we know that, but it doesn't half help when the balls are out. At the end of the day, being a great runner doesn't mean you're a great footballer. We've done team play in training today. We've done a function this morning on the defensive aspects of team-play, and we'll do attacking play and dead-ball situations this afternoon. They're basic things I want to do, and we'll try to do the whole scope of the game." The training is tailored to what will lie in wait for Argyle in their forthcoming League One campaign. Reid knows that the style of play which the opposition on this week's three-match tour – which started with last Saturday's 1-0 win at NAC Breda – favour differs from lower-division fare in England. "Against Breda, the players acquitted themselves really well," he added. "These games are good games in terms of getting yardage and match-fitness, but I know people get the ball forward a lot quicker in the English league. The team-play this morning was all about dealing with the ball coming in to our back four early, all about dropping into positions and dealing with it. All aspects are covered."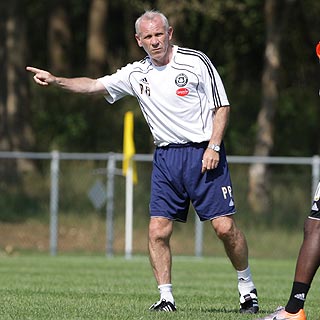 Peter Reid making a point during a tour training session

Reid is part of an experienced coaching team at Argyle. Head coach Paul Mariner and assistant head coach John Carver, along with Reid, took charge of training sessions yesterday. "Paul was a fantastic striker, and he took the strikers for the finishing," Reid explained. "John has done the possession work, and I've done the team-play. They're good coaches, and they utilise all their experience." Unlike other recent Argyle managers – except for Ian Holloway – Reid also takes part in some training sessions. The 54-year-old did all the warm-up work on the practice pitches at Papendal yesterday and on Sunday – when he also participated as a player in a passing and positional drill organised by Carver. "We were a man short, and I drew the short straw," Reid said, with a wry smile. "The legs don't go so well these days, but it was nice to be out there. If I could turn the clock back to my playing days, I'd pay anything for that."
There was a down-side, though. It was a contact training session, and Reid was tackled by Krisztian Timar, Argyle's fearsome central defender. The manager didn't mind that, though. He was just pleased to have the Hungary international back in action on the practice pitches, after he missed last week's work because of a toe injury. "It was nice to see Timar out there," added Reid, who has also welcomed fellow central defender Kari Arnason back into training, after a thigh strain kept him on the sidelines last week. Their return has been timely, as centre-backs Bondz N'Gala and Reda Johnson did not take part in training yesterday. "We've got Timar and Arnason fit, but now we've lost our other two centre-halves with little niggles," Reid explained. "Reda has done a groin and Bondz has done an ankle, but they're not serious. It's just a precaution, keeping them out of training." Timar, who has not played in any of Argyle's friendlies so far this summer, and Arnason, whose match activity has been restricted to a brief appearance in the opening friendly at Truro City, will form the Pilgrims' centre-back partnership in tomorrow's tour match against AZ Alkmaar. The encounter with the Dutch top-flight side at Anna Paulowna will be the first of two games in two days for the Pilgrims, who will take on Dutch second-tier outfit SC Cambuur at Franeker on Thursday evening. Argyle youngsters Jordan Trott, Liam Head and Sean Kinsella, who have had little or no match action in the friendlies played so far, can expect to be deployed at some stage this week. Reid said: "Some players have played a lot more than others and we've got two games in two days coming up, so I'll be mixing it about when I pick my teams."

LARRIEU WANTS A CHANCE
20th July
Romain Larrieu came close to leaving Plymouth Argyle this summer. There was to be no fond farewell to the popular Frenchman, however. The Pilgrims' long-serving goalkeeper, who has been with the Home Park club since December 2000, could be given the chance to mark his tenth anniversary as a Plymouth player as a first-team regular. That was not his status in the closing weeks of last season, which was why he thought about moving on. Larrieu had to settle for an understudy's role at a crucial stage of Argyle's doomed Championship campaign, when head coach Paul Mariner preferred to pick on-loan Fulham goalkeeper David Stockdale. It was a frustrating time for Larrieu, and the signs were that he might not have been restored to favour this term, if Mariner had remained at the helm. The head coach talked about the possibility of a coaching role for the amiable Frenchman.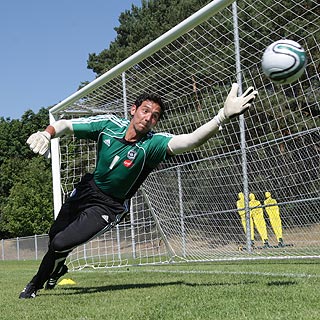 Le Keeper training at the Dutch Olympic Sport Training Centre

Larrieu wanted to play, though. If not at Argyle, then elsewhere. He put out feelers, to see what was available, but, in the end, he stayed put. The 33-year-old signed a fresh two-year contract with the Pilgrims last month, and he will play his part in their upcoming League One campaign. After two gruelling training sessions yesterday at Argyle's training camp in the Netherlands, Larrieu was asked to explain the events of the summer. He told the Western Morning News: "I wanted to play still, and I didn't feel I was going to be given the opportunity, if I stayed. That was why I didn't want to sign the contract I had been offered. I wanted to wait, to see if somebody out there wanted to give a playing contract. But May went, and I can honestly say there was not much happening, in terms of me finding a club. I waited, and there was still nothing happening in June. In the end, I thought: 'I know this place'. I thought I could be a champion with this club next year for a third time, which nobody has done," added the Frenchman, who played for Argyle in their 2001-02 and 2003-04 title-winning seasons. "I always believed there was talent in this team, even though we went down last season," Larrieu said, "and I'm sure we can be a very solid team in League One. We need to believe that." When Larrieu signed his new deal early last month, he knew that Mariner would not be in charge of Argyle this term, but the new manager had not been hired at that time. He did not know who he would need to impress. "I thought, given my past with Plymouth, I would be given a crack," Larrieu said. The new manager turned out to be Peter Reid, who has put his faith in the Frenchman so far. "It has been good," declared Larrieu, who made some excellent saves when Argyle opened their Dutch tour with a 1-0 win against NAC Breda last Saturday.
ARGYLE'S 'BEAST' IS HUNGRY FOR A PIECE OF THE ACTION
21st July
AZ Alkmaar's strikers will need to be wary of 'The Beast' tonight. Krisztian Timar is back. Plymouth Argyle's rugged central defender, whose ferocious tackling has earned him an apt nickname, is about to be given his first taste of match action since January this year. Timar will be part of the Pilgrims' starting line-up for the second match of their tour to the Netherlands. Timar will play against AZ, who finished fifth in the Dutch top flight last season, at Anna Paulowna tonight. It will be his first game for Argyle since October last year, and his first game anywhere since he suffered a serious injury only ten minutes into his home debut for Oldham Athletic. The Hungarian international joined the Latics in January this year, in search of match practice, but his stay at Boundary Park was cruelly cut short during a League One encounter with Tranmere Rovers. His hamstring was torn so severely that it was described as a "terrible injury" by Argyle head coach Paul Mariner.
Timar missed the rest of the 2009-10 campaign, and his quest to impress new Argyle manager Peter Reid in friendlies this summer has been delayed by a toe injury. Now, at last, he is fit – and he is ready to be let off the leash. "I can't wait to play," Timar told the Western Morning News after yesterday's practice session at Argyle's training camp at Papendal. "I need to play games to test the strength of my hamstring." Looking back on his temporary move to Oldham, he added: "It was really frustrating. I went there, I played one game, I had three weeks' break because of the snow, and then it happened only ten minutes into my next game."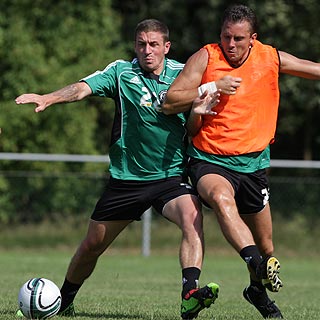 Krisztian Timar takes on George Donnelly during a tour practice match

What made it worse for the 30-year-old was the fact that he was no stranger to serious injury. He suffered a badly fractured skull while playing for Argyle at Wolverhampton Wanderers in May 2008. "My head injury was much more dangerous than the hamstring," he said. "It was much worse. You can't compare, but I have been out for a longer time because of the hamstring. It has been hard to come back." After two troubled years, Timar now feels that he deserves the good fortune of an injury-free season. He added: "Two really big injuries so close to each other was tough, but that's football. For eight years before then, I had no serious injuries, so I hope my luck has changed again now." The next target for the former Ferencvaros player is regular first-team action – at Argyle, preferably, but elsewhere if needs must. "I am 30 years old, and I want to play football. My first aim is to impress the new manager, and after that we will see what happens. I am enjoying training with him, and now I just want to play football. I am really pleased to be fit, and to be able to play games again."
PLYMOUTH ARGYLE WORK OVERTIME IN NARROW DEFEAT TO CLASSY AZ ALKMAAR SQUAD
22nd July
Argyle had to dig deep into their reserves of fitness as they came up against a talented AZ Alkmaar squad in Anna Paulowna last night. The Pilgrims rarely threatened in attack, but they defended solidly in the second match of their pre-season tour to the Netherlands. The decisive goal came as early as the seventh minute with a controversial penalty from Nick van den Velden. The scoreline remained that way until full-time, with Argyle playing out the last quarter-of-an-hour one man short. That was because substitute Steve MacLean was sent-off after a confrontation with AZ captain Kew Jaliens.
Argyle were playing the first of two games in successive evenings, and manager Peter Reid selected a strong side for the clash against AZ. The rest of the Pilgrims' squad are set to face SC Cambuur in Franeker tonight. There were three changes to Argyle's starting line-up from the 1-0 win against NAC Breda on Saturday. Centre-backs Reda Johnson and Bondz N'Gala sat out after suffering slight injuries this week. They were replaced by Kari Arnason and Krisztian Timar, who was making his first appearance of pre-season. Striker George Donnelly was also added to the team, with Bradley Wright-Phillips making way for him. AZ, the 2008/09 Dutch champions, did not have any of their five players who were involved in the recent World Cup in their line-up. But they still boasted a squad strong enough to win a four-team tournament in Cologne, Germany, last week.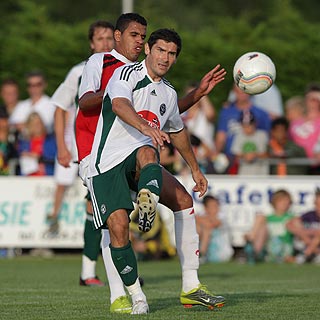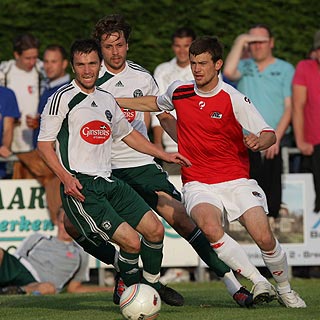 Jim Paterson and Damien Johnson in action against AZ

AZ took the lead in only the seventh minute when van der Velden scored from the penalty spot. The spot kick was awarded for some pushing by Argyle from a corner. It was not clear whom the referee penalised, as there were so many players from both teams competing for the ball. But there was no doubting the emphatic way van der Velden dispatched the spot kick. Argyle soon learned they were to be in for a tough test, as AZ switched the play from one side to another swiftly. They kept possession for long periods and their players were all comfortable on the ball. Brazilian striker Jonathas fired wide in the 12th minute as AZ strived to extend their lead. But Argyle, to their credit, retained their shape and gave good protection to goalkeeper Romain Larrieu. There was a blow for the Pilgrims in the 24th minute, however, when Duguid was hurt in a heavy collision with AZ left-back Nick Viergever. Duguid received treatment from physio Paul Atkinson to his lower right leg for a few minutes before he was stretchered off. Chris Clark moved from the left-side of midfield to replace Duguid at right-back and Yannick Bolasie was sent on as a substitute.
AZ almost doubled their lead in the 33rd minute with a fierce drive from van den Velden. However, his goalbound shot inadvertently hit Jonathas, which diverted the ball over the crossbar. Even had it ended up in the net, it would not have been a goal as the AZ striker was flagged offside. AZ had another chance before the break, but a curling 25-yard free-kick from Sweden international midfielder Rasmus Elm was punched away by Larrieu. Argyle failed to trouble AZ 'keeper Joey Didulica in the first half as they struggled to construct any attacks. Defensively, though, the Pilgrims stuck to their task and Larrieu was not overworked either.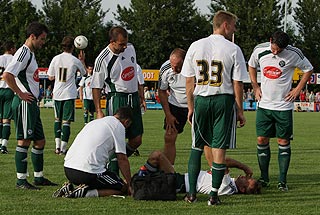 Karl Duguid receiving treatment

Argyle made two substitutions at half-time, with Joe Mason and Jim Paterson sent on by Reid. Paterson played at left-back, with trialist Tony Capaldi pushed further forward. Mason was on the opposite side of midfield, with another trialist, Anton Peterlin going into the centre. Bolasie, meanwhile, was moved into a supporting role for Donnelly. The two players to make way were captain Carl Fletcher, who had been booked for dissent shortly before half-time, and striker Rory Patterson. Van den Velden, who had been so dominant in the first half, was also taken off by AZ and replaced by Ragnar Klavan. Argyle's first chance of the contest came in the 52nd minute, but a snapshot from Donnelly flew high and wide of Didulica's near post. AZ continued to call the shots, though, and Argyle's fitness levels were being put to the test as they closed down as best they could. That was an impressive feature of AZ's play, as they rarely gave their English opponents time on the ball. Argyle could not retain possession in attack and, consequently, they spent more time in defence.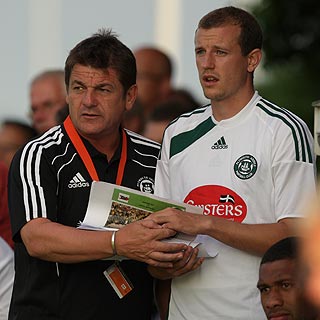 Luke Summerfield receiving instructions from John Carver before coming on against AZ

Duguid emerged from the dressing room on crutches and made his way to the Pilgrims' dug-out. Argyle made two more substitutions in the 64th minute, with MacLean and midfielder Luke Summerfield entering the action. They took over from Peterlin and Donnelly, respectively. AZ went close to a second goal soon afterwards when Johann Berg Gudmundsson headed over the bar from a cross by another substitute Erik Falkenberg. Summerfield then had a 20-yard shot deflected out for a corner as Argyle launched a rare attack. MacLean's run-out lasted only 12 minutes before he was sent-off. It came after MacLean and Jaliens squared up to each other, when the Pilgrims had been awarded a free-kick. Craig Noone replaced Damien Johnson in the 85th minute as Reid made a sixth substitution. AZ almost added a second goal in stoppage time, but Larrieu made a superb, diving save. Gudmundsson's corner was met by his Icelandic compatriot Kolbeinn Sigthorsson and his powerful header was pushed onto the left post by Argyle's keeper. The final whistle blew only moments later.
JOE MASON BRACE ENSURES PLYMOUTH ARGYLE FINISH TOUR WITH A FLOURISH
23rd July
Joe Mason scored twice but Argyle squandered a 3-0 lead in the final match of their pre-season tour to the Netherlands. Winger Craig Noone put the Pilgrims into the lead in the 20th minute of the match in Franeker last night. Mason then struck twice early in the second half and Argyle seemed to be in cruise control. But after defender Bondz N'Gala was substituted in the 67th minute, Cambuur ran riot against a makeshift back-line. Centre-back Robert van Boxel headed home 10 minutes from time to put them on level terms. Cambuur boss Stanley Menzo, the former Ajax goalkeeper, had seen Argyle lose 1-0 to AZ Alkmaar in Anna Paulowna the previous night but none of the players who started against AZ were in the side for the fixture in Franeker. Argyle did not get to the ground until 20 minutes before the scheduled 7pm kick-off. Their coach was late arriving for the two-hour trip to the north-east of the Netherlands. That meant the kick-off was delayed by 22 minutes, but it still did not give Argyle much time to prepare. Cambuur, meanwhile, had arrived at 5.45pm, having made the short trip from their home town of Leuuwarden. Their line-up included towering former Leicester City striker Mark de Vries. Cambuur were runners-up in the Dutch second division last season but they were not promoted as they lost in the play-offs. There were no floodlights at the ground but, fortunately, it was a clear evening.
Trialist Freddy Hall was Argyle's keeper, and young trio Liam Head, Sean Kinsella and Jordan Trott all started. Head, usually a striker, was pressed into service at right-back. Jim Paterson, the Pilgrims' skipper for the night, slotted into the centre of defence with N'Gala, who had not trained for the previous three days because of an ankle injury. Trott was at left-back, while Kinsella played in the centre of midfield with Luke Summerfield. Steve MacLean, sent-off against AZ, led the attack in a 4-4-1-1 formation, with Bradley Wright-Phillips in close support. Cambuur had the ball in the net inside the first 30 seconds but striker Serhat Koc was flagged offside. Argyle had a couple of early chances, too, with MacLean firing wide from the left post from a tight angle. Then, in the ninth minute, Wright-Phillips dragged a shot across the face of goal after latching onto a long, raking pass from Summerfield. Hall was called into action for the first time when he made a comfortable save from Nassir Maachi.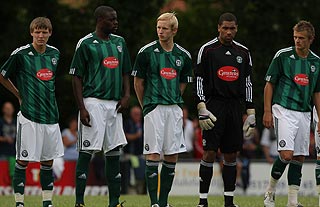 The Argyle team line-up before facing SC Cambuur, and Steve MacLean watches Craig Noone's shot beat the 'keeper

Argyle opened the scoring in the 20th minute when a cross from Mason ended up at the feet of Noone and he fired into the net from close range. Hall made a good stop from Oguzhan Turk's long-distance drive soon afterwards, getting his body behind the ball and holding onto it firmly. Cambuur keeper Robbert te Loeke then produced an excellent diving save to keep out a 20-yard free-kick from Summerfield. It came after Wright-Phillips had been clumsily fouled by Leon Hese. MacLean miskicked from a good shooting position before Cambuur created two chances before the break. The first saw Paterson bravely block a goalbound shot from Hese. Then, in the 41st minute, Maachi showed good trickery on the ball but curled it over the crossbar from inside the penalty area. The match was played at a slower tempo than against AZ but it was still a decent work-out for the mix-and-match Argyle side.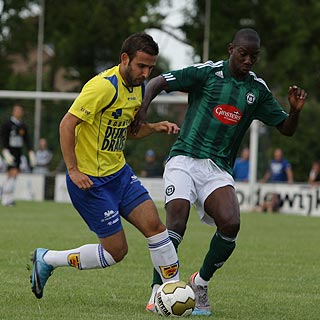 BWP in action against SC Cambuur

Wright-Phillips was replaced by George Donnelly for the start of the second half. Donnelly should have added a second goal for Argyle in the 50th minute but headed over the bar from an excellent Noone cross. Cambuur responded with one of the best chances of the match. De Vries, showing a deft touch with the outside of his boot, touched the ball back to Koc, whose curling shot was saved by Hall. Argyle then took a 2-0 lead in the 55th minute when another left-wing cross from Noone was headed home by Mason, who had also scored that way in the Pilgrims' 1-0 win against NAC Breda last Saturday. Mason struck again in the 59th minute as Argyle punished some sloppy defending. Noone rolled the ball into the path of Donnelly, whose shot was going wide. But Mason popped up in the right place at the right time to tap it into the net from close range. Argyle were now playing with confidence and Summerfield stabbed the ball wide of the near post after being set up by MacLean. Donnelly then had a rising shot saved by te Loeke after another misplaced pass from Cambuur. There was a let-off for the Pilgrims, though, in the 66th minute when Maachi cut inside and curled the ball against the far post.
N'Gala was replaced by Chris Clark moments later, and formed a makeshift central defensive pairing with Paterson. Cambuur exposed that in the 69th minute when substitute Reza Ghoochannejhad crashed a fierce shot past Hall. The Dutch side were lifted by that goal, and forced a series of corners as they tried to stage a late rally. There was a double substitution by Argyle in the 75th minute with MacLean and Kinsella making way for Rory Patterson and trialist Anton Peterlin, respectively. Cambuur cut the deficit to 3-2 four minutes later when Ghoochannejhad finished off a low cross from close range and the comeback was complete soon afterwards when van Boxel headed home past Hall. Tony Capaldi added some experience to Argyle's defence in the 85th minute. He was sent on for Head, with Trott moving into the centre of defence with Paterson and Clark playing at right-back. That solidified Argyle in the closing stages as the game ended in an exciting draw.
REID PLEASED WITH EFFORT DISPLAYED BY HIS PILGRIMS
24th July
Thanks to a successful week's work in the Netherlands, Peter Reid now has a very good idea of what he has to work with at Plymouth Argyle. The Pilgrims' manager watched his side win, lose and draw the three matches they played while they were based at the Dutch Olympic sports headquarters at Papendal, near Arnhem. Argyle returned to England yesterday, and they will be back at work on Monday to prepare for next week's pair of friendlies – at Hereford United on Wednesday and at Queen's Park Rangers on Friday. Argyle took on two Dutch top-flight teams and another who finished in second place in the country's second tier while they were in the Netherlands. They started off on a high note with a 1-0 win over NAC Breda, and then they lost 1-0 to their other top-tier opponents, AZ Alkmaar. Finally, they sent out an under-strength side against SC Cambuur on Thursday and, after doing very well to build a three-goal lead, they had to settle for a 3-3 draw.
The match practice was, of course, not the only reason for going abroad as a group. Reid has been at the helm at Home Park for less than a month, and the seven-day expedition allowed him to get to know his players off as well as on the field of play. It has been, as far as the Liverpudlian is concerned, a very worthwhile exercise. "All in all, it has been a really good trip," he told the media before the Pilgrims' travelling party headed for home. "I'm getting to know the players. I know now what the strengths and weaknesses of the squad are." Argyle's squad is still too big for the club's financial comfort while, if he is in a position to recruit some fresh faces, Reid no doubt has some players in mind. He did, however, make a plea for patience. Both outbound and inbound transfers take time to set up. "There will be some changes as we go into the season," Reid added. "It's hard work in the market, getting people in and out at the moment, but, as the season gets nearer, people do tend to get more business done. I'm hoping to do the same."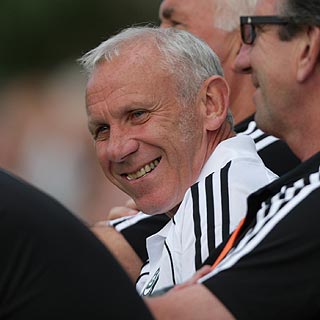 Peter Reid enjoying the early stages of the game against SC Cambuur

Three members of Argyle's squad did not go to the Netherlands. Marcel Seip missed out on a trip to his homeland because he was in Plymouth awaiting the delayed arrival in the world of Walter, a first child for the Dutchman and his wife, Lucy. Rory Fallon, whose World Cup feats on behalf of New Zealand in South Africa kept him busy almost to the end of June, was spared the tour to give him more recovery time. In contrast, Argyle wanted to take Onismor Bhasera with them, but they were unable to secure a Dutch visa for the Zimbabwean. In the trio's absence, Argyle found room in their tour squad for three trialists. Left-back Tony Capaldi, who is trying to secure a contract with the Pilgrims for a second time, and American midfielder Anton Peterlin appeared in all three matches in the Netherlands. Bermudian goalkeeper Freddy Hall played against Cambuur. "He did OK," Reid said. "He came out for crosses and, hand on heart, I don't think he had a chance with any of the goals. He has been smashing this week." All three trialists can afford to feel satisfied with their week's work in games and on the training pitches. When Reid was asked about their prospects of remaining with the Pilgrims, he replied: "I think it's fair to tell them first, and that's what I'll do, but all three did well."
Reid was then asked if there were financial restrictions in place which were likely to make it hard for him to give contracts to new signings without parting company with players beforehand. The Argyle boss said: "There are deals to be done, if it's in our budget scope, but I don't really like talking about that, because it alerts other people." The Plymouth players managed to make it through the week without suffering any serious injuries. Karl Duguid was removed from the field of play on a stretcher during Wednesday's loss to Alkmaar, but the verdict was that there was no long-term damage. "It's a shin injury and he's still a bit sore, but we don't think there's any real damage in there," Reid revealed. "It's just soft-tissue damage, which is good." The crutches which Duguid had been using after Wednesday's game had been abandoned a day later, and the right-back seems likely to recover in time to feature in one or both of next week's friendlies. Centre-back Krisztian Timar, who has had an injury-plagued year, gained his first taste of match action this summer against Alkmaar. Fellow central defender Kari Arnason, who suffered a thigh strain a few minutes into Argyle's first friendly of the summer, also had a 90-minute run-out on the same evening. "I'm delighted," Reid added. "Arnason and Timar had a game, and there were no reactions, which is great news for us. I'm very pleased with the way it went, and we'll be back in training on Monday. I'll give all the lads fitness tests again next week, just to see how they are, and we'll go from there."