Back to

Holland 2010

Tour Home
Holland 2010: Official Site
TOUR PARTY
15th July
Peter Reid will be taking 26 players on the pre-season tour of Holland on Friday. The notable absentees include Chris Barker, who has been told he can leave the club, and injured youngster Ryan Leonard. Krisztian Timar (toe) and Kari Arnason (thigh) are in the touring party, as is Onismor Bhasera, who has been suffering from a cold. Trialists Freddy Hall, Tony Capaldi and Anton Peterlin are also included. "I have got a couple of niggles out there," said Reid. "Bhasera is bit under the weather with a cold, so the doctor has kept him in. He will travel but whether he comes out a bit later will be down to the doctor.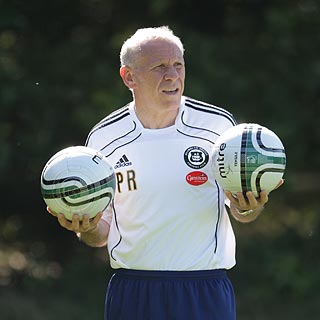 Peter Reid during a tour training session

The full touring party is; Players: Kari Arnason, Onismor Bhasera, Yala Bolasie, Tony Capaldi, Chris Clark, George Donnelly, Karl Duguid, Carl Fletcher, Freddy Hall, Liam Head, Reda Johnson, Damien Johnson, Sean Kinsella, Romain Larrieu, Steve MacLean, Joe Mason, Bondz N'Gala, Craig Noone, Jim Paterson, Rory Patterson, Anton Peterlin, Marcel Seip, Luke Summerfield, Krisztian Timar, Jordan Trott, Bradley Wright-Phillips.Management and Coaching Staff: Manager - Peter Reid, Head coach - Paul Mariner, Assistant head coach - John Carver, Goalkeeping coach - Geoff Crudgington, Sports scientist - Scott Russell, Head physio - Paul Atkinson, Physio - Ian Leigh, Masseuse - Victoria Hannaford, Kit man - Neil Lunnon.


EXCELLENT TRIP
15th July
Peter Reid is delighted by Argyle's choice of location for the pre-season tour. Although the decision to visit Holland was taken before the new manager arrived at Home Park, it is a country he has visited many times in his career. "I did not set the trip up, as you know, but it's an excellent one," he said. "I've been to Holland on many occasions, as a player and a manager. When you're with the players for a week, you get to know them. I'm getting to know them on the training ground now and they are getting to know me. When a new manager comes in, there is a bit of apprehension about. The tour is beneficial to the players and to me."
EXPECTANCY
15th July
Marcel Seip is part of the pre-season tour of his homeland, despite the imminent arrival of his first child. The Dutch defender will join the rest of the squad for Friday's departure, although Peter Reid is fully understanding of Marcel's situation. "His wife is expecting as we speak," said Reid. "I gave him the choice of whether to stay at home because family is very, very important. He wants to come and, if anything happens, I'm sure we'll be able to get him a flight. He has done alright in pre-season and done everything I've asked of him."


LEARNING LESSONS
16th July
Peter Reid is looking to learn valuable lessons from the challenging friendly fixtures ahead. The Pilgrims departed for their pre-season tour of Holland on Friday, where they will face Dutch top-flight opposition in AZ Alkmaar and NAC Breda, and second division outfit SC Cambuur. "The better the opposition you play, the more you can find out about your players," he said. "I can understand the other argument where you go in against weaker teams, win 8-0 and get your confidence up, but I tend to think that's a false confidence. I would rather go in against more difficult sides. That shows your failings and your strengths, so I would rather do that." The Greens will face a trip to big-spending QPR shortly after their return from Holland, with former Pilgrim Jamie Mackie among Neil Warnock's summer recruits for the Hoops. "It is a good game for us because Neil has been busy in the transfer market. If I was a betting man, which I'm not, I would have a shilling on them to go well," added Reid.


A - OW YOU SAY? - NON-FLYING VISIT
17th July
Before yesterday, the last time I had left the UK was in 1978. I was still at school and flew to Italy for a sixth-form skiing trip. The school was not, you will have possibly guessed, an inner city comprehensive. Flying to Italy was not a problem; however, flying back was possibly singularly the most terrifying experience I have known. Never the best of fliers, watching normally take-it-in-their-stride travellers blanche with naked fear as our suddenly very vulnerable craft pitched and rolled like a drunken bootnick on the first day of leave scared the living daylights out of me. I vowed then - if I survived the ordeal, I remember thinking at the time - never to fly again and, being a man of my word, have not and will not.
That partially explains my reticence to leave home shores. Another reason is that I have never particularly felt the need to. As the skipper of a Cornish shark-fishing boat once explained, when I asked where he went on his vacation, with the economy of thought and words beloved of his countymen and women: "Everyone comes here for their holidays, so why shouldn't I do the same?" I still will not fly, and still do not feel the need to holiday outside my home county, but here I am, on foreign soil for the first time since reaching the age of majority, in Holland, with Peter Reid and his pre-season Pilgrims. My faithful assistant Snips, photographer Disco Dave and I drove here to Papendal, just outside Arnhem, in the Vospers Argyle Media Wagon. It took the best part of 12 hours from Saltash, although we did stop for a hearty breakfast just past Stonehenge and a lengthy pee near Nijmegen.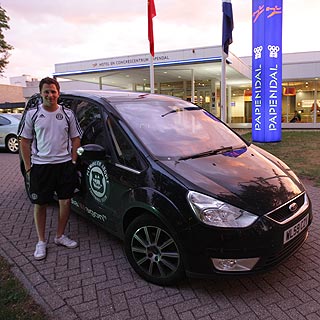 The Argyle Media Wagon arrives in Holland


We came through four countries (five, if you count Cornwall) and went under one ocean, thanks to the Channel Tunnel (Snips swears there are actually three Channel Tunnels, called 'Tom', 'Dick' and 'Harry' after the three escape routes in the Great Escape, but I reckon that's a bluff). It has to be said that the traffic was least bothersome in the UK, which, as a veteran of 24 seasons following the Greens in this green and pleasant land, surprised me, not least of all because we are constantly told that our European allies are streets ahead of us as far as their road-systems are concerned.
After a trouble-free run from Saltash to Folkestone, we encountered three traffic-jams - equitably, one each in France, Belgium and Holland - lengthening the journey time, although the trip was actually only about 40 miles further than the previous year's pre-season jaunt to Stirling, in Scotland. We amused ourselves in various admittedly childish, and possibly often borderline racist, ways: perfecting the Gallic shrug and pouting lower lip in France; shouting 'Hergé's Adventures of Tintin' in Belgium; and performing Steve McLaren impersonations in Holland - this, of course, consisted mainly of saying "Ow you say" after every sentence. (It was a lot funnier in real time, than it appears in print. Honest). That, and a rather impenetrable ring-road around Antwerp, helped pass the time, and, had we not become impossibly lost after a wrong turning with Papendal in sight, we would have beaten the team in by more than the five minutes by which we eventually pipped them. They had left England some eight hours after us, mind you.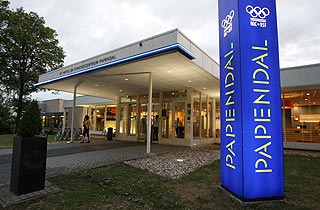 The Hotel at the Papendal National Sports Centre

By a quirk of fate - a rather pleasant one, it has to be said - the only player absent from the tour party on arrival was the club's lone Dutchman, Marcel Seip. His failure to muster in his homeland was not altogether unexpected as Mrs Seip - Lucy - was, as of Friday morning, two days overdue with their first child, so the conjecture was that a happy event was either imminent or, indeed, had taken place. Whenever the child comes into the world, it will have impeccable Argyle pedigree through both sides: Lucy is, of course, the daughter of Pilgrims' Deputy Chairman Paul Stapleton and his wife Kim. Everyone else in the squad was present and correct in Papendal, even the squad's notoriously bad flier, who had braved the air despite his discomfort. I sympathise, of course (which is why I am am not revealing his identity), and am wondering whether to offer him a ride home with us next Friday. Wonder what his Steve McLaren impersonation is like?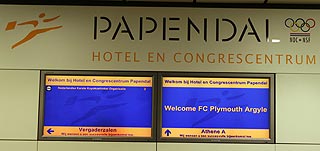 A warm welcome from the Hotel

NAC BREDA 0 ARGYLE 1
17th July
A headed goal by substitute striker Joe Mason got the Greens off to a flyer in the Land of Orange. The Pilgrims youth product rose to the occasion 16 minutes from a game played at the small Sint Willebrord ground against Dutch top-flight opposition, heading home Yala Bolasie's excellent cross. The 1-0 victory capped a fine performance from the Pilgrims, who refound their standards after the previous midweek's disappointing performance against Torquay back in Devon. The game saw the inclusion of former Pilgrim, now a trialist, Tony Capaldi, at left-back, and Bradley Wright-Phillips, starting a game for the first time since the players returned after the summer, up front alongside pre-season regular Rory Patterson. Manager Peter Reid had apparently opted for a more cautious approach than he had employed at Torquay five days earlier, leaving out both wingers, Craig Noone and Bolasie, in favour of Karl Duguid and Chris Clark. Remarkably, in this day and age, the Pilgrims' line-up was only one number out from being a 1-11.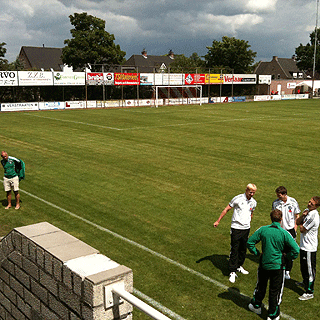 Pre-match at the Sint Willebrord stadium

NAC Breda, who finished tenth in the Eredivisie last season, boasted a strong multi-national squad including the multi-capped Finnish winger Joonas Kokka, who numbers Crystal Palace among the clubs on his CV, and 22-capped Brazilian international Leonardo. There was an immediate and obvious two division distinction between the two sides, with Argyle battling to get a toehold in a game which was dictated by the passing of their technically gifted hosts. Battle they did, though, and, after surviving a first-minute surge into the area by Serbian midfielder Nemanja Gudelj that ended only narrowly the wrong side of the post, showed a relish for the fight, and BW and Rory P each tried their luck from range after quick breaks. Tactically, the defensive and midfield flank players interchanged on the fly for periods, and, in the case of Duguid and Peterlin, permanently, to good effect. The result was far fewer threats on Romain Larrieu's goal, although the Frenchman had to be smart to thwart Donny Gorter following a break down the middle after a typically patient passing phase from the Dutch side. The half, though, ended with Fletcher putting the block on a drive from Anthony Lurling to make sure the ball ballooned over the crossbar.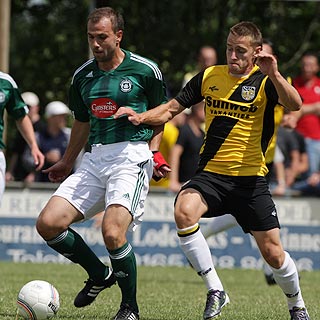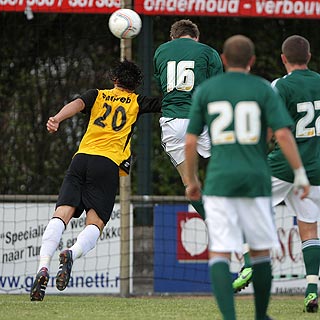 Carl Fletcher in action against NAC Breda, and Joe Mason scoring the winner

NAC were barely much more of a force in the second half as Argyle's work-rate frustrated their best intentions and the introduction of Bolasie and Georgie Donnelly just before the hour pepped up the Pilgrims. It took a fine save from Larrieu to preserve the parity, with Le Keeper flying high to his left to turn away a header from Lurling following Kolkka's cross. At the other end, Bolasie found the bye-line, only for his cut-back to be cleared before a slew of substitutions by both sides. One of these was Mason for Reda Johnson, an unlikely swap, but one that saw Fletcher move to centre-back with Mason taking his place in a three-man attack alongside Donnelly and Bolasie. The latter provided the cross from which young Mason headed powerfully home at the far post to provide a marvellous start to the Pilgrims' pre-season trip to Holland.


EXCELLENT
18th July
What a difference four days, 500 miles, and a step up in opposition made for Peter Reid. Disconsolate, angry, puzzled and frustrated in equal measure after his side's capitulation at Torquay on Tuesday, the Argyle manager was the picture of contentment following Saturday's tour-opening 1-0 win over Dutch top-flight side NAC Breda. Substitute Joe Mason's 74th-minute header topped a solid and committed performance that saw off the technically superior Eredivisie team.
"I commented that you learn something when you get defeated and I learned something at Torquay," said Peter, "but hopefully I've seen a true performance. I thought we were excellent. Our shape was good; we frustrated them when we didn't have the ball; some of the counter-attacking play was good. The plan was to frustrate them - which we did - and, as the game went on, we changed things - we got a bit more pace up front. Everyone's had a good run-out today and I'm pleased with everybody that took part. It was a good performance." Peter, though, is keen to keep the good ship Pilgrim on an even keel. I said, after the defeat at Torquay, that my main concern was Southampton, first game of the season, and that hasn't changed and will not change," he said. "It's a good performance, a good result, and now we go to work again. We had a chat before the game about what I wanted and the players were smashing, really good. I was pleased with the way they went about it."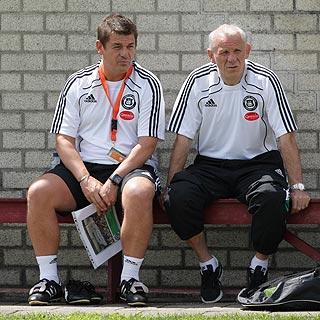 John Carver and Peter Reid watch Argyle take on NAC Breda

WAITING GAME
18th July
Onismor Bhasera and Marcel Seip could swell the Pilgrims' numbers in Holland this week. Baz is expected to join his team-mates in the Papendal Hotel and Conference Centre on Monday after illness. Marcel's participation at the pre-season training-camp depends on at least two other people: his pregnant wife, Lucy, and their imminent first child. "I haven't heard from Marcel," said manager Peter Reid, after Saturday's 1-0 win over NAC Breda. "I'm waiting for a phone call. He's going to get in touch with us when his wife gives birth. We'll play it by ear. I'll see what the boy says and see how it goes back home. The lads at home will train if they don't come out. I'm quite flexible."
TONY'S TALK TIME
18th July
Tony Capaldi will talk to Peter Reid about a possible return to Home Park when the Pilgrims return from their pre-season visit to Holland. Capaldi, 28, is on trial at the club with whom he won Second Division title honours in 2004, and for who he holds the club record number of international caps, after his contract at Cardiff City ended. The left-back played the first 45 minutes of Argyle's 1-0 win against NAC Breda in Sint Willebrord on Saturday, after being persuaded to return to Home Park by the new manager. "I had a phone call on Wednesday morning, asking if I fancied coming down for training on Thursday and then going off to Holland for a week," said Tony. "I haven't done anything for the first two weeks of pre-season because I twisted a little muscle in my back, and I have been lounging around the house, two kids crawling all over me, so it's good get out. I'll get myself fit and I'll sit down with the gaffer, and we'll have a chat and see what happens. I know he's got a big squad, and I don't know what the financial situation is, but, as I say, we'll get this week out of the way and take it from there. I've had a few offers to go to clubs, but nothing overly appealing so far. We're getting close to the start of the season and I want to get something sorted. I want to make sure I'm fit first, that's the most important thing, to make an impression, and then, after that, we'll see. I'm 28 now, I don't know how many years I've got left in the game, so I want to start playing as many games as I can. If it's Plymouth, brilliant; if not, I'll look elsewhere."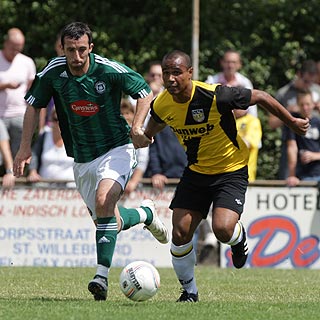 Tony Capaldi in action against NAC Breda
Peter Reid was more than content with Tony's contribution to a memorable victory. "He did terrific," said Peter. "He showed his experience. He has been training by himself and he needs games, but he showed what he is - a good, experienced professional - and he did very, very well." There should be more to come, too. Tony said: "It's the first pre-season game. I never look forward to them. The grass is long, the pitch is a bit bobbly; NAC weren't a bad side; you're not quite sharp, not quite on the ball; your touch isn't quite right. I had my first training session the other day and my first game today. I'm not fit or sharp yet, but it is good to get a little 45 minutes under my belt, and we'll see what happens from here."


WHEN CONVERSATION CLICKS
18th July
Compared to previous Argyle pre-season trips abroad, this one has all the hallmarks of being a wham-bam-see-you-later job. Within 15 hours of arriving at Papendal (or the 'Papendal Hotel and Conference Centre, the training centre of the Dutch Olympic team and home to the National Olympic Committee', to give it the whole orchestra), we were back on the road for the opening match of our seven-night stay. 'On the road' is right, too. The game against NAC Breda was played, not at Breda's home ground (top Dutch teams do not use their manor for anything but 'signature' friendlies, we were told) but at Sint Willebrord, some 130k away from the Papendal Hotel and etc. Or, in bums-on-the-coach terms, around an hour and a half's travelling. Incidentally, I cannot say how impressed I am with the notion of kilometres, as opposed to miles - seeing those big numbers on the road signs tumble quicker than the winner of the annual Gloucestershire Cheese Rolling and Wake competition is psychologically very lifting. Especially when you get lost. Like we do. Often.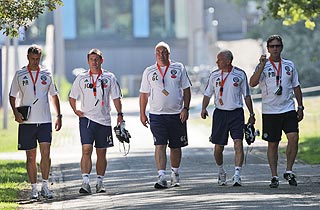 The management team heading for one
of the elusive training pitches
With back-to-back games coming up on Wednesday and Thursday, before returning to Blighty on Friday, the Pilgrims are certainly cramming things in. They would have preferred to play Saturday, Wednesday, Saturday, but, as those who have followed Argyle pre-seasons regularly will appreciate, that did not come to pass. The bottom-heavy schedule means, of course, that the lads will enjoy (as in 'benefit from', not 'take pleasure in') three consecutive days of training. As of yet, even the luxury of an afternoon off has yet to be mentioned, far less granted. So, before we set of for Sint Willebrord, we went for a recce around the hotel, with the main purpose being to discover the training pitches. Some of the coaching staff had the same idea. However, neither of the two search parties could find them: an 18-hole golf-course, yes; tennis courts, check; myriad mountain-bike trails, no problem; football pitches, um, er, no.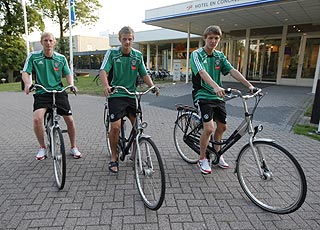 Liam Head, Sean Kinsella and Joe Mason
make use of the mountain-biking facilities
This failure resulted in a non meeting of minds between Disco Dave and one of the coaching staff. Suffice to say that, if you ask the club photographer, in an accent other than pure Jannerese, whether he has seen the pitches, the outcome is likely to be a mildly hilarious dichotomic conversation in which one party is talking about playing surfaces and the other about the output of his digital camera. Maybe we should have asked some of the other residents. Specifically, the Hibernian players, two of who we bumped into while returning to our rather-too-hot bedrooms after breakfast: we would not have needed to introduce ourselves, either, as one of the Hibs was Graham Stack. Stackie, never backward in coming forward, greeted his former team-mates with much geezering and backslapping. There was also a happy reunion after the game at Sint Willebrord, when former Argyle manager and player of the year (and bar) Steve McCall and Romeo Zondervan popped into the dressing-room to renew acquaintance with fellow ex-Tractor Boy Paul Mariner. Of all the towns in all the municipalities of all the lowland countries in the world...


'ORGANISATION WAS KEY'
18th July
Like all his team-mates, Chris Clark did not have long to reflect on Argyle's stunning pre-season tour victory over NAC Breda on Saturday. Clarky, who played left midfield in the 1-0 win over the Eredivisie side at Sint Willebrord, was up early with the rest of the squad the following day for a double session on the training-grounds of Papendal.With temperatures in the high 20s at pitch level, it was no gentle run-out, either, although the Saturday starters were given a mildly less arduous time of things by manager Peter Reid.
Chris is convinced that the gaffer's input on the training pitches at Marjon, prior to flying out to Holland on Friday, helped pave the way for the win. "NAC move the ball around really well and it's a different system you come up against, so we had to be well organised," he said. "The manager has been trying to get his point across. He's looking for a lot for hard work - that should come anyway - and the way we are organised plays a big part in the games. I think there were early signs of that in the match. Everyone was really on top of it. We frustrated them and then caught them on the counter-attack a number of times."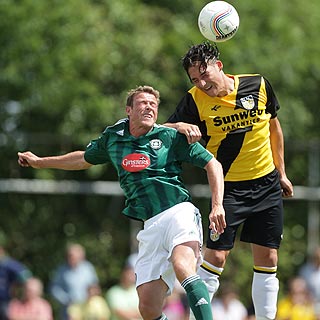 Chris Clark competing against NAC Breda

The Greens have two more games before returning to the Westcountry on Friday, back-to-back matches against AZ Alkmaar, on Wednesday, and SC Cambuur, on Thursday. Before then, they will have two more days of solid training at the Papendal Hotel and Conference Centre, near Arnhem. Not only will that allow Peter Reid to put his managerial stamp even more firmly on the players, it will give the medical and fitness staff time to attend the walking wounded. Reda Johnson missed training on Sunday after being substituted against NAC, while fellow centre-back Bondz N'Gala is also a slight concern. The club is still waiting for defender Onismor Bhasera to fly out to Holland after flu, while Marcel Seip has so far remained in England for the imminent arrival of his and wife Lucy's first child.
POSTCARD TO FOLLOW
19th July
Before getting stuck in to today's blog, I would just like to one thing perfectly clear - I am not on holiday. I say so lest anyone reading this should bump into my wife or my mother and engage them in conversation. The two ladies in my life are mistakenly under the impression that, because I am abroad, and because, for them - and, I suggest, a majority of Brits - 'abroad' equates to 'holiday', I am therefore vacationing. "Enjoy the rest of your holiday," said my mother as I signed off from Skyping her (Skyping with her? Skyping to her?) last night. "Are you having a nice holiday?" asked the breadknife, when she finally realised I was not in the house. (To be honest, she loves it when I am away, as it means there is one less person around to clutter up her never-quite-perfect home). Actually, for the record, I am working. One of the prime duties as Head of Communications of Plymouth Argyle Football Club ( a title, incidentally, that many find hard to remember - I have recently been introduced as 'Media Manager, 'PR Head', or, even more prosaically, as the distinctly non-titular 'Argyle Press guy'), I - amongst other tasks - head up the output of the official Argyle website.
Between arriving at Papendal on Friday evening and me writing this, the site has put out: a preview of the game again NAC Breda; interviews with Steve MacLean and Anton Peterlin; exclusive live commentary of the whole of the Breda victory; a report on same that went up on the game's final whistle (apologies for the typos - later corrected - but it was not easy with the harsh sunlight bouncing off the laptop screen: man alive, the migraine I had later); two post-match video interviews, with Peter Reid and goal-hero Joe Mason; video highlights of the game; written post-match interviews with Peter and Tony Capaldi; a wee story about Marcel and Baz; and two daily blogs. We also knocked off a DVD of the match to provide instant analysis opportunities for the gaffer and sport scientist Scott Russell. That's not a bad 36 hours, in which, incidentally, we managed to also cram in two nights' sleep and a three-hour return journey to Sint Willebrord that actually took five hours because of roadworks and the alarmingly regular map-reading malfunctions. Clearly, you cannot do all that if you are lying on a beach in Zandvoort. It is bloomin' hard work.
Please do not misunderstand me. I am not looking for praise, or for sympathy, or, indeed, for any sort of reaction. I get paid for what I do, and I enjoy it - I consider myself really blessed to have worked in only two different jobs in nearly 30 years, both of which have given me pleasure which I suspect few people get from their employment. But it is still work. Not. A. Holiday.
Sometimes, you have to remind yourself that you are abroad at all. With, I guess, the globalisation of our planet through multinational companies and shrinking journey-times (unless, of course, you are travelling in the Argyle Media Wagon), we could be anywhere in northern Europe. Except Scotland - it is not raining every day. Inside the hotel, the only real clue you are in a foreign land is that you have Eurosport pumped into your room, instead of Sky Sports. With the strict diet the players enjoy, there is not even much scope to sample the local cuisine: poached salmon and pasta is pretty well the same whether you are in Papendal, Plymouth or, presumably, Puckapunyal. More on food tomorrow. I need to complete this blog now because training starts in 20 minutes and I must be out there. Working.
Now, where did I put my suntan lotion and flip-flops?
ARNIE'LL BE BACK
19th July
Kari Arnason has been something of a spectator in the opening days of the Pilgrims' pre-season trip to Holland, but has been impressed with what he has seen. The Icelandic centre-back is on course to play a part in either of the two remaining games in the Netherlands this week, having sat out the 1-0 victory over NAC Breda on Saturday. From the bench then, he was well-placed to judge his colleagues' efforts, and gave them a huge endorsement. "The team looked good, really good actually," said Arnie. "The shape of the team was very good. The first 15 minutes didn't look very good - I thought we were going to get pumped, because NAC are really good footballers - but we just beat them tactically. Definitely. It was a good start to the trip. Let's hope the rest of it goes in the same direction. We are working on shape much more and that's the most important thing in the game. As the small teams in the World Cup proved, you can beat anybody if you have the right shape and you have the right tactics, and you work hard." Arnie has not worked with Peter Reid before, but he knows all about him from his younger days in Iceland. He said: "He was quite a big thing with Sunderland when they had Niall Quinn and Kevin Phillips - they were actually my favourite striking duo at the time. I watched Sunderland quite closely back then."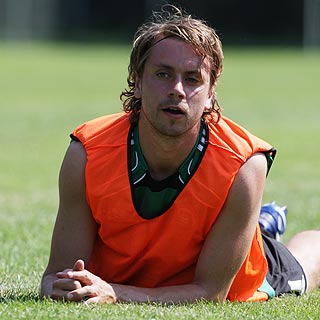 Kari Arnason takes a break from training in Papendal


SUMMER'S SPUR
19th July
Luke Summerfield will use the experience he had on loan to Leyton Orient last season as a spur to nailing down a place in Peter Reid's starting Argyle 11. Summers, 22, has had a stop-start career, with the three months he spent at Brisbane Road between September-December last year giving him his first real taste of regular professional football. It was a taste he enjoyed.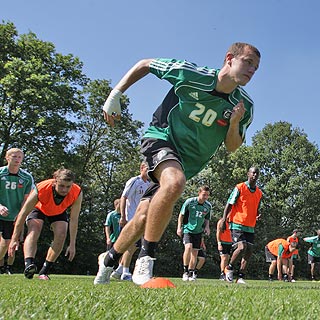 Luke Summerfield during a tour training session
Speaking from the Pilgrims' training-camp in Holland, Summers said: "When I was at Orient, I played in every game that it was possible for me to play in and I enjoyed, come three o'clock on a Saturday afternoon, putting my shinnies on and going out to play football. That's what I want to do. I am a footballer. That's what I enjoy. All I want to do is go and play football, enjoy myself, wear a kit. I had a great time at Orient but, here, it's been a bit stop and start. The gaffers have been changing and this and that, and I've had a stint in and stint out - as a footballer, that's not enjoyable, to be honest. I've been trying my best in training and in the games, and I'm going to do my utmost to stake my claim. My aim is play as many games as I can. It's all about games for me. I'm at the age now when I need to have a good season."


EAT, DRINK, AND BE FIT
20th July
When Argyle started taking the business of pre-season trips seriously at the turn of the millennium (the most recent one), the party generally consisted of around 20 players, the manager and two coaches - one of which was the bus on which they travelled up to Scotland. Times have changed, for football generally, as well as for the Greens specifically, and in no sphere more than off-field preparation before training or a match, and regeneration afterwards. Which is why Argyle's travelling retinue to Holland this pre-season includes: a manager; three coaches (human variety); a sport scientist and fitness coach rolled into one; two physios; a kit man; and a masseuse. None of whom are called Uncle Tom Cobley.
When I was a young green journalist covering the Pilgrims in the days that Dave Smith's side was establishing itself in the second tier of the Football League, I used to (euphemism warning) 'mix socially' with some of the players. After a game, I would meet them at the Far Post (a de facto players' lounge) no less than 20 minutes after the final whistle. That was how long it took me to get some quotes off Smithy and leg it down to the bar. The lads were often there before I was. At around 8-9pm, following several beers, Gordon, the Far Post host (a description I would have been only barely capable of saying at the time), would decide he would quite like to shut up shop and would the first-team squad, who were not members and the only people left in the place, kindly at least think about leaving? After one for the road, we would go in search of a something to eat. This would be the first food the players had eaten since late breakfast, after which they had played 90 minutes of football and sunk enough lager between them to fill Tinside Lido. Probably twice. One curry (normally) later, the day would wind up the following day (if you see what I mean) in one of the city's nightclubs - the Grapevine was popular around this time, or the Sailing School - occasionally with a little fisticuffs and always with plenty of alcohol. And (punchline warning) you should have seen what happened when we won! Ayethngyew.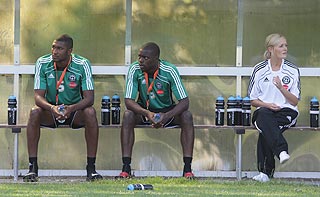 Reda Johnson and Bondz N'Gala watch training
alongside tour masseuse Victoria Hannaford
If I showed Argyle sport scientist Scott Russell the above, he would, after wincing at my incredibly bad joke, shake his head in disbelief (possibly muttering "strewth!" under his breath - actually, he would not: this is a merely literary device to convey to you the notion that Scott is Australian). He is responsible for, amongst other areas, the players' nutrition. He makes sure that what they eat, at least while they are under his jurisdiction, is not just healthy, but beneficial to fitness, avoiding injury, recovering quickly from playing or training, etc. Every component of every meal is weighed mentally, as well as physically, for its value, which is why the choice of food on tour or back at Home Park, although wide, very rarely varies. There is always pasta, rice, chicken, some non-fatty meat, plenty of fresh fruit and vegetables, salad, maybe some brown bread. Copious amounts of lager, you will note, is not on the menu.
The above sounds like a fairly unappealing diet and, indeed, it would be were it not for the skill of the chefs who prepare the meals, both here in Papendal and back in Plymouth (and I have to declare an interest here as I am married to the mother of the players' chef at Home Park). Their considerable talent lies in being able to take, for instance, some humble chicken breasts, lean pork chops, pasta, and a variety of vegetables and turn each of them into something that players will want to eat - without, remember, the aid of salt, cream, butter or, basically, any ingredient you or I would not think twice about using - and to have enough variety of recipes to make that same basic meal appealing five, six or even seven days a week. To be fair - to employ and overused football idiom - players are sensible enough to realise that eating properly is vital to their career, and disciplined enough to follow the plan. Anyway, if they do not, the Body Mass Index Police will be around swifter than you could say: "A Football Special, supersized, with extra onion rings, please, and have you got any salt?"
REIDY GETS BEASTED
20th July
Peter Reid has been playing a full part in training while Argyle have been on their pre-season camp in Papendal, and not just as a coach. The gaffer has participated regularly in the Pilgrims' warm-ups, and even taken part in practice matches. In one, he was even beasted by Hungarian centre-back Krizstian Timar. "We were a man short and I drew the short straw," said Peter. "The old legs don't go well these days, but it's nice getting out - if I could turn that clock back, I'd pay anything. To work with these young players, and try to improve them - that's what it's all about, being a coach." Peter has been assisted by his head coach Paul Mariner and assistant head coach John Carver. He said: "Paul has been, as everyone knows, a fantastic striker, in terms of knowing how to put the ball in the net, so he took the strikers for the finishing. I basically like taking the team-play; and John's done the possession. They are good coaches so you utilise everything, don't you? We have chats before we go out, and we have a weekly programme, but that can be changed, depending on what you see in games and what you see on the training-pitch."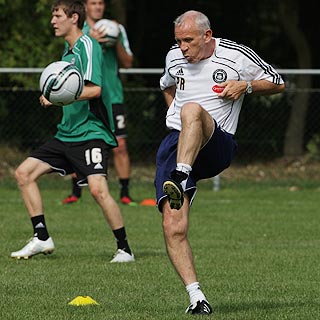 Peter Reid getting involved during training
BRADLEY RIGHT
20th July
After a non-start, a false start and a late start, Bradley Wright-Phillips is ready to start over. The Argyle striker, who is with the Greens on their pre-season training-camp in Holland, arrived at Home Park amid much publicity and hope a little over a year ago. Signed by the Pilgrims after leaving Southampton, BWP was all set to be the man to fire his new team up the Championship table. Then, on the very cusp of the new campaign, he smashed his knee so badly that it would be the following March before the Green Army would eventually get to see him in regular action. That followed an abortive return around the turn of the year. "Last season like three pre-seasons, because I came back and got injured again," said 25-year-old Bradley. "I did think I was ready, but it was frozen, the ground was hard, and my knee just went again."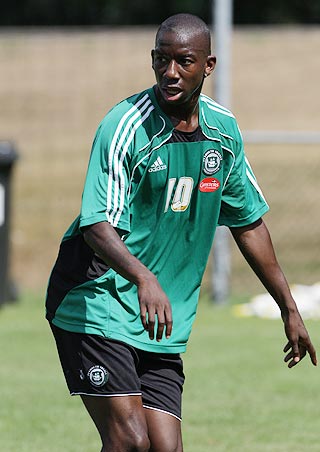 BWP in training

The knee initially went at Exeter's Cat & Fiddle training-ground in a behind-closed-doors game in the week preceding the beginning of the season. I was playing out of position," said Bradley. "It wasn't a bad foul. I tried to turn too sharp for my ability." Now Bradley has his sights set on getting a starting shirt for this season's opener at his former club, Southampton. To do that, he will have to overcome serious competition for places: George Donnelly and Rory Patterson have been selected to start Wednesday's prestige friendly against AZ Alkmaar, for instance. "You need that," he said. "As long as everyone gets a fair crack, I don't mind." The fact that the opening day's game is against his previous club is, he says, of little consequence. He said: "I just want to play every game - it will be the same the week after. It's like starting again."


VITAL COG IN THE GREEN MACHINE
21st July
It was 30 degrees (probably plus) on the training-ground yesterday morning, a figure which made Neil Lunnon one of the most important men in the Argyle party at the Dutch Olympic headquarters of Papendal. Neil who? I guess it would be fair to say that Neil is barely a household name in his own household. Unless you are a friend or relative of his, you have probably not heard of him, but - forget Peter Reid or Peterlin, Mariner or physio - Argyle could not have functioned without Neil during this baking hot tour of Holland.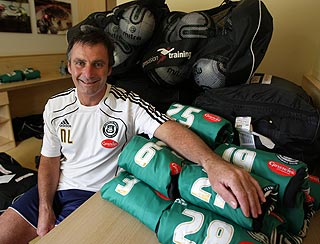 Argyle Kit Man, Neil Lunnon

You see, Neil is the man responsible for making sure that copious bottles of iced water are ferried to the training pitches. Without them, at least half a dozen players would have suffered severe dehydration this week, while another two would simply have melted. It is difficult to estimate how many half-bottles of Dutch spring water (I always thought you needed mountains to have springs, but, then again I did fail Geography O Level) were glugged down and almost immediately recycled as sweat, but none of the three large wheelie-bins around the training ground was ever less than full to the brim. So, cheers, Neil.
Actually, Neil's primary responsibility is to look after the players' training clobber and match-day colours. He is the latest Home Park incumbent of that most traditional and romantic positions at a football club: the Kit Man. Neil took over the role only recently, after the sudden departure of his predecessor, and he could hardly have been plunged into a deeper deep end. This time of the year is the Kit Man's Christmas shopping, packing for a summer holiday and getting the triplets ready for a new school all rolled into one. He has to get the new training and playing kit ready for the season - making sure every single member of the playing squad has enough gear (from match-day shirts to flip-flops, and everything in between), in the correct size, all numbered and initialled.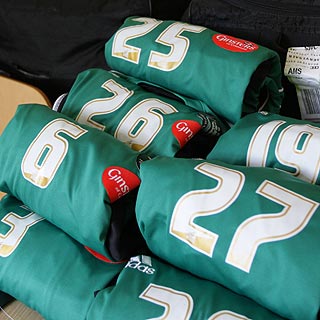 The most visible, but far from only, part of Neil's work
Back in England, he has to organise his washing rota so that everyone has clean set of training gear for every session (doubly difficult if there are double sessions), and to ensure that the correct playing strips are properly laundered, checked and packed before each game. This isn't as easy as it sounds, if you do not have an organised mind and a clear plan - in recent seasons there have been occasions when the first team has arrived at a ground with (a) the wrong colour shirts (a good kit man will always check with his opposition counterpart what favours his chaps will be wearing); and (b) no socks whatsoever.
On tour, his regular duties are magnified. Especially on this one, when we've got back-to-back matches to end the week. Papandel are, naturally, extremely efficient in helping all the kit men of the many and varied clubs using the complex - aiding with the daily piles of laundry, and even providing a room in which all the kit can be stored and sorted - but it is still an onerous task. Then, there are the additional, non job-description tasks which also fall to Neil, e.g. the procurement, delivery and distribution of cold, cold water. As I said, Neil has not been this vital cog in the Green machine for long, but he shows all the signs of being to the manor born. The doyen of Argyle kit men is Jacko - Ian Pearce - who has been cajoled out of retirement (not for the first time) to pass on years of accumulated wisdom to his latest successor. If Neil can assimilate half of what Jacko tells him, he will have no problems. In one respect, he already shares a character trait with Jacko that you know will stand him in the highest stead. He is an extremely kind man.

BACK TO BACK FINISH
21st July
Argyle will finish their pre-season visit to the Netherlands by playing back-to-back matches on Wednesday and Thursday in which all fit members of their party will see action. Alkmaar, Dutch Eredivisie champions the season before last, are Wednesday's opponents, while second-flight side SC Cambuur, who narrowly failed to win promotion at the end of the last campaign, are Thursday's opposition.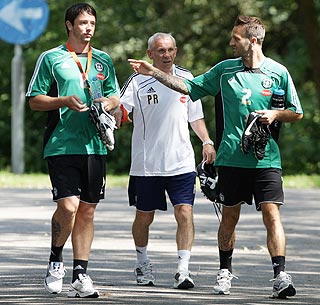 Rory Patterson, Peter Reid and Karl Duguid
on their way to a training session

Lop-sided as their Dutch training-camp itinerary has been (fly out, game, training, training, training, game, game, fly home) and with two defenders injured, manager Peter Reid sees only positives. "I think Wednesday will be more of a test and, on the Thursday, I'll get people who haven't really played that much in the game. It's important everyone gets football time under their belts." Argyle beat Dutch top-flight NAC Breda 1-0 in their tour opener on Saturday, and Alkmaar will probably provide a greater challenge. They have already won a pre-season tournament involving Belgian side Anderlecht and Fenerbache, from Turkey. "It shows you what you are up against," said Peter. "They will be up to speed in terms of games because you don't win a tournament like that if you're not nearing full fitness, so it's going to be a really good game for us.
Peter did not name his team to face Alkmaar yesterday, but said that Carl Fletcher and Damien Johnson will anchor midfield, while Krisztian Timar and Kari Arnason would be his centre-back pairing, and not just because Bondz N'Gala and Reda Johnson are injured. He said: "I'm not saying the injuries have come at a good time - you never want injuries but they are not bad ones - but I wanted to see Timar and Arnason play anyhow. There would have been changes and they would have been the changes. As everyone knows, Timar has a history, over the last couple of years, of terrible injuries. He's worked hard in pre-season. He's had a little niggle but he's fit now so we'll start him and monitor him because it's his first game for a bit. He looks alright; he looks solid enough in training."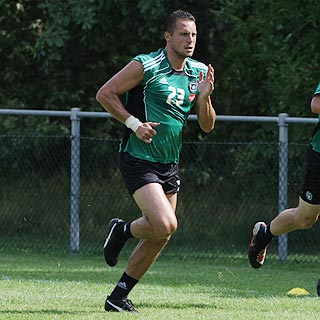 Krisztian Timar working hard
AZ Alkmaar finished fifth in last season's Eredivisie. The game takes place at the Sportpark Kleine Sluis, in the town of Anna Paulowna, some hour and a half from where the team is based. SC Cambuur missed out on promotion to the top flight last season only after a play-off defeat to Go Ahead Eagles. Thursday's game is at the SC Franeker ground, an hour away from Papendal.
GEORGIE CLAIM
21st July
Georgie Donnelly has been given the opportunity to play himself into League One contention when Argyle take on AZ Alkmaar on Wednesday night. Striker Georgie, 22, is set to start the second game of the Pilgrims' pre-season visit to Holland alongside Rory Patterson. The Merseysider has impressed manager Peter Reid in training at the Papendal sporting centre, near Arnhem, and when he came on as substitute in Saturday's 1-0 win against NAC Breda. "He's done alright," said Peter. "He got injured last pre-season with a hamstring; but this pre-season he has looked sharp and has earnt a chance to show what he's got. It will be interesting to see how he goes."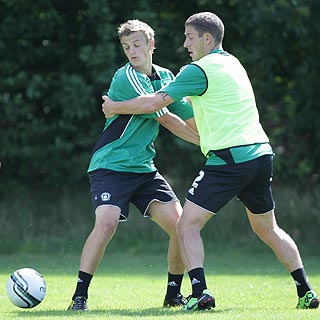 George Donnelly tussles with Jordan Trott in training
'GETTING THERE'
21st July
Peter Reid believes Argyle are "getting there" following some intensive training in the Dutch Olympic headquarters at Papendal this week. "This trip has been invaluable," he said, on the eve of the Pilgrims' double-header against AZA Alkmaar and SC Cambuur. "I'm still trying to get over to them what I want. Some of the lads find it a little bit different, which is understandable, but I'll keep doing my 10-20 minutes a day until they get it. I want the players to express themselves and not worry about things, especially some of the young lads who've come here. Sometimes, when you get in a big squad, you are a bit nervous, apprehensive. Slowly but surely, the lads are getting there." Peter believes that his players' education will continue when they play AZ, in Anna Paulowna, on Wednesday night, and SC Cambuur, at Franeker, 24 hours later. "It's a different shape over here," he said. "At home, I think it'll be a lot quicker, but, over here, you have to use your head and tactically drop into positions. It's still good fitness work, chasing the ball , and, when we have got the ball, there's certain things I want, which I will get out of them."

AZ ALKMAAR 1 ARGYLE 0
21st July
An early penalty, from which Nick van der Velden scored the game's only goal, and the late dismissal of Pilgrim forward Steve MacLean after a confrontation with AZ captain Kew Jaliens, topped and tailed Argyle's prestige friendly in Holland. There was still much positive to be taken by Peter Reid's willing team, not least the committed display of the entire 11, notably decent individual displays by Anton Peterlin and Krisztian Timar. This second game of the Pilgrims' pre-season visit to Holland was a step up in every way. The Sportpark Kleine Sluis, on the outskirts of Anna Paulowna, a small town near Alkmaar, was an improvement on the previous match-day venue - still smallish, but beautifully grassed, and packed with fans of the home side, ass well as a smattering of the continental Green Army. Alkmaar were missing their World Cup contingent but still possessed the quality that befitted a club which played in last year's Champions' League and finished fifth in the most recent Eredivisie. Moreover, they came into the game fully warmed up, having won a tournament that also included Fenerbache and Anderlecht, and posted T20 scores against Dutch cannon-fodder.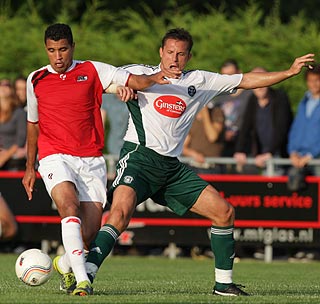 Krisztian Timar impressed in his
first Argyle game for nine months
As expected, forward Georgie Donnelly had been given a rare first-team start, alongside pre-season regular Rory Patterson. Bradley Wright-Phillips was rested. The only other changes from the 11 that had begun the previous Saturday's lifting and deserved 1-0 victory over NAC Breda, another Eredivisie side, were at centre-back. With Bondz N'Gala and Reda Johnson injured, there were first appearances in the Netherlands for Kari Arnason and Timar. Both were involved in the incident that led to AZ's opener - but, then again, so were half-a-dozen players from each side. As the Pilgrims defended a right-wing corner, the AZ attackers congregated, bus-queue style, on the penalty spot. They were matched by their Argyle markers, there was much shoving and jostling, and van der Velden went down on his backside. The referee could have awarded anything to anybody, but the match being played in Holland, he opted for a home penalty, and van der Velden recovered from his ordeal to convert the spot-kick low to Romain Larrieu's right, while the Frenchman dived to the left.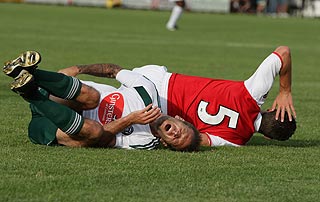 Karl Duguid collides with Nick Viergever
The first major hiccup of Argyle's pre-season came in the 26th minute, when Duguid was crunched by Nick Viergever. Immediately he went down, it looked serious, and the near four-minutes of treatment he received on the pitch and his subsequent exit on a stretcher appeared to confirm those concerns. Howver, Duguid emerged after half-time with only a light bandage, suggesting nothing more serious than bruising. He was joined in the crocks' section by Carl Fletcher, who appeared to have an ankle problem. In a game of few chances Donnelly came as close to anyone to scoring when he bustled his way through the AZ defence to loose off a volley that went only just wide of the near post. As they had done against Breda, Argyle succeeded in upping the pace after the hour, with Yala Bolasie and Joe Mason, on as substitutes, creating the impetus. They sensed a chance when another substitute, Luke Summerfield shot powerfully from long range following a long Tony Capaldi throw-in, but the effort was deflected.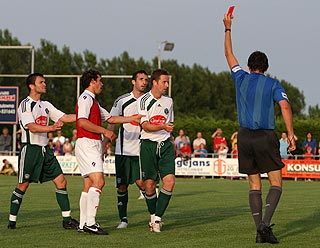 Steve MacLean sees red against AZ
Then a game that had never been bad tempered, but had carried an undercurrent since the penalty award, saw MacLean red-carded minutes after coming off the bench. A more experienced referee might have adjudged his coming together with Jaliens worthy of a reprimand, especially as this was pre-season game, but the card was out before he reached Argyle's Scottish striker, and MacLean was on his way. Reduced to only 10 men, the odds went further against Argyle and the emphasis was on defence, rather than attack. No-one exemplified this more than Romain Larrieu, who, like Timar, appears to be rolling back the clock rather nicely.


UPBEAT PETE
22nd July
For a man who had seen his side defeated through a questionable penalty decision and one of his players sent off equally dubiously, Peter Reid was remarkably upbeat on Wednesday night. Argyle were beaten 1-0 by top Dutch side AZ Alkmaar in the picturesque town of Anaa Paulowna - some 170 kilometres from their Papendal base - when Nick van der Velden won and converted a seventh-minute spot-kick. Despite the early setback, the Pilgrims showed the same desire and discipline that had helped them to a 1-0 win over AZ's fellow top-flight side NAC Breda the previous Saturday. It was that, and the form of returning centre-backs Kari Arnason and Krisztian Timar, that especially delighted the manager.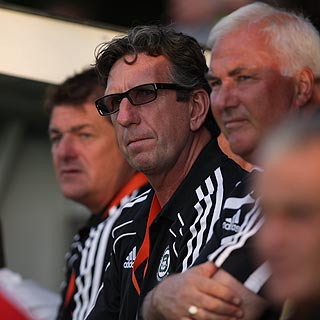 The Argyle coaching staff watching
their team take on Alkmaar Zaanstreek

"All in all, in terms of fitness and the way the players have responded, I've got to be really pleased with them," Reid said. "For the first 15 minutes, we were still on the coach. We had an hour and a half journey and we didn't start in terms of shutting down; we were leggy; we didn't win a second ball. But after that, besides not really testing them, from a defensive point of view, the lads were really terrific. We put a bit of pressure on with corners and might have got a header last in the second half, but I've got to say I'm pleased with the way the players have done it today against a really good side. AZ have just won a tournament in Germany - they beat Anderlecht and Fenerbache - so really good for the lads. They had a lot of possession but we defended well. The way we defended, the way we got our shape, was terrific. If you look at their chances, there was the penalty...and the keeper made a save in the last minute. Timar, who has been out of the game for a long time, was terrific on his game back - he stuck at it - and Arnason did well. Both of them looked ever so solid. We got some injuries and I didn't want them to do the 90 minutes, but they did and have done fantastically well. If there was one critcism, I thought we didn't hold the ball as well as I would have liked it."


'NOT A SENDING-OFF' - GAFFER
22nd July
Peter Reid did not think substitute Steve MacLean deserved to be sent off in Wednesday night's 1-0 defeat by AZ Alkmaar. MacLean saw red after a something and nothing coming together with AZ captain Kew Jaliens midway through the second half. Peter said: "I'm not going to criticise referees because it's difficult, but there were a couple of decisions that - let's just say - didn't go our way. I did have a word with the referee before the game and asked him that, if there was any trouble, just give me a nod and I'd drag the lad off, so I was a little bit disappointed. It was a good, competitive game, but I didn't think it was a sending-off." Similarly, Peter did not agree with the referee's decision to award AZ the seventh-minute penalty from which Nick van der Velden scored the game's winner after the same player had gone down while tussling for the ball from a corner. "The penalty was debateable," said Peter. "I didn't see anything wrong, but the referee's given it." The penalty also baffled Argyle centre-back Krisztian Timar. "I couldn't see anything," said Kris, "but I think he was the softest referee in my career. I think the penalty and Steve Maclean's red card were an absolute joke."


DOOGIE'S HIGH HOPES
22nd July
The Papendal Hotel and Conference Centre, where we are based for this week's pre-season camp, is proud of its status as the training centre of the Dutch Olympic team. It is impossible to take more than 10 steps, indoors or out, and not to be reminded of this accolade. For instance, on entering reception, you are greeted by a huge sporting mural, underneath which is a representation of a digital clock, counting down to the next games: "Weken Tot Londen - 106." The impressive effect is somewhat negated by a symmetrically positioned similar, but blank, graphic, under the banner "Weken Tot Vancouver". In fact, it is getting on for 20 weken since Canada staged the Winter Olympics. That 'clock' has yet to begin ticking towards the 2014 games in Sochi. Maybe it is a protest about the Russian occupation of Abkhazia.
The Olympic-sized Olympic graphic is just one of many photographs adorning the walls of the Centre. Thankfully, in an establishment of its size, there is not one theme (although the predominant colour is - what else? - orange), but several different motifs. For instance, surrounding the bar ("the Dug Out") are pastel-coloured shots depicting athletes in a variety of effortful or victorious moments. Superimposed on these are single words, like 'snelheid', 'kracht' and 'winnen' - and you do not need to know the lingo to understand them. In another corridor of the complex, there is a set of huge prints of former Dutch Olympic skating stars, artistically shot in grainy black and white by Monique Velzeboer, herself a former Olympic short-track skating gold-medallist who took up photography after being crippled in an ice-rink accident. The pictures are beautiful, stylish and thought-provoking. I did not previously know any of the subjects - among them, Andrea Nuyt, Martin Hersman, and Maureen and Melanie de Lange - but, after studying their portraits, I feel I do now. That is the power of the medium where one moment, captured perfectly, is worth a thousand words. Remarkable as they are, the pictures are only number two on the list of awe-inspiring wall decorations at Papendal. That honour goes to two separate murals. If I tell you that one is 29 ft 2½in long and the other 2.45m high, you might be able to get a little ahead of me.Every time we go for a meal, we walk past a life-size representation of Bob Beamon's gold-medal winning leap at the 1968 Olympics in Mexico City. Actually, make that "walk through" because the whole 'jump', including 'run-up', 'take-off board' and 'sandpit', are marked out in the design of the carpeting.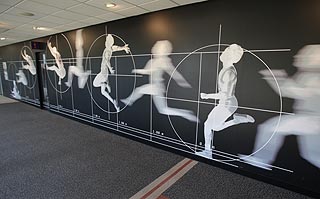 The Bob Beamon wall decoration


On the wall alongside are life-sized representations of Beamon in the various stages of his leap, later immortalised in Dick Schaap's book, the Perfect Jump. Even though you can see it, it is still almost impossible to comprehend. And it is not even the longest long jump ever, just the longest in the Olympics. It is also impossible for some people not to have a little go at replicating the jump, as was evidenced one evening, when Karl Duguid came careening into the Dug Out, obviously on his run-off from an Olympic record-equalling attempt. I am guessing Doogie was some way short. For a start, Papendal is not at altitude, and, for another thing, the wind-speed behind was not the maximum legally admissible 2m per second - two factors that were in Beamon's favour in Mexico City. Just for the record, I did not have a go, although I did pace it out. It took me 13 reasonably large strides to achieve what Beamon did in one. Phenomenal. As Welshman Lynn Davies, the defending Olympic champion in Mexico City, told Beamon at the time: "You have destroyed this event." Almost as impressive is a similar set-up on the way downstairs to the gymnasium. This time Cuban high-jumper Javier Sotomayor's world-record high jump is represented in life-size: the 8ft 0.46in he leapt in Aalamanca, Spain, in 1993. As yet, Doogie has resisted the temptation to try that one.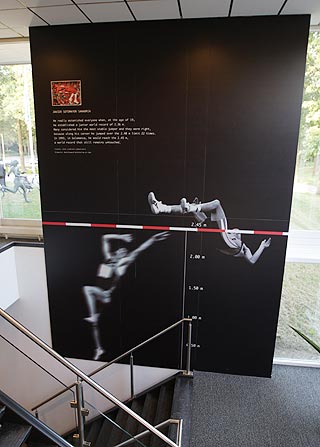 Javier Sotomayor's world record high jump
Now, I'm no expert on sport psychology but I would reckon that if I was the Dutch Olympic long-jump hopeful or high-jump representative for London 2012, I would find it demoralising to have to walk past those staggering feats every day. Especially when the best long-jump ever by any Dutchman is the best part of 30 inches behind Beamon's mark, and when the Netherlands' best ever high-jumper was all but six inches shy of Sotomayor's 17-years-and-counting world best. One final word on the facilities here. Not all the apparatus used by the lads has been state-of-the-art. On the way back from training yesterday, some of the senior pros decided they needed to perform some parallel dips. Which is why, anyone driving or, more likely, cycling, around Papendal just before lunch would have seen Doogie, Fletch and the rest going through their routine...on roadworks crash barriers.


NO GOING BACK
22nd July
Peter Reid will resist the temptation to pull on his boots again when Argyle round off their Dutch trip with a match against SC Cambuur on Thursday night. With a growing injury-list, and having had a gruelling game against AZ Alkmaar on Wednesday, Argyle are stretched, and Peter has already made a decision to play some of the squad's fringe players against second-tier Cambuur. "All the young lads will be playing, and Freddy will get a game in goal," said Peter. "We'll have a big change around. "I'll have to have a look at the injuries, but I'm loathe to let some lads who've had 90 minutes against AZ go out there again because that's when you do pick up injuries." The changes will definitely not involve a certain former Manchester City player-manager, despite the suggestion of one of his coaching staff. "John Carver's trying to get me to play," he joked, "but I'm not going to."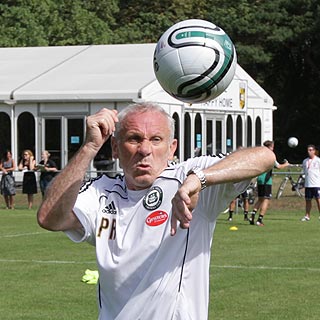 Peter Reid, a training ground comeback only
RETURN OF THE BEAST
22nd July
Argyle defender Krisztian Timar returned to first-team action after a seven-month absence with a bravura performance in the Pilgrims' 1-0 defeat by AZ Alkmaar in Anna Paulowna on Wednesday night. The Argyle player of the season for 2007-08 has had a miserable two years with injury but looked his old self, partnering Kari Arnason in the second game of Argyle's visit to Holland. "I worked hard and I couldn't wait to play again," he said. "I am really pleased to be back in the first-team after a long time. Listen, especially after my head injury, many, many players have finished football with similar injuries. But I have got a really good attitude and I tried to push myself. I really wanted to come back so I can show I can be the same as I was before." Kris knows he faces competition for his position, not just from Arnie, but also Reda Johnson and Bondz N'Gala. "That's not my problem," he said. "I will just try to do my best, to work really hard, and then it is the manager's problem."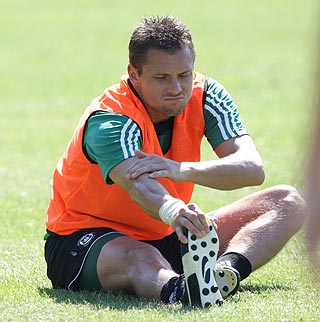 Timar in training
SC CAMBUUR 3 ARGYLE 3
22nd July
Argyle ended their week-long visit to the lowlands on a high with a third successive highly satisfying performance. A quickfire second-half double from Joe Mason, who can lay claim to 75% of the Argyle tally in the Netherlands, followed a first-half opener from Craig Noone and put the Pilgrims in complete command. However, two late Reza Ghoochannejhad goals for their hosts and an equaliser ten minutes from time by Cambuur captain Leon Hese, as the intensive week caught up with Argyle's stretched squad, deprived them of a second tour win. Nevertheless a draw against a side that failed by a play-off defeat to be an Eredivisie side this season was all the more remarkable for the fact that it was achieved by a side which, while first class, was distinctly second string. They also had to eudure another a marathon coach journey to the northern edge of the Netherlands for their last match in the country, made more fraught by their late arrival at yet another attractive and full tree-lined non-league gound in the town of Franeker.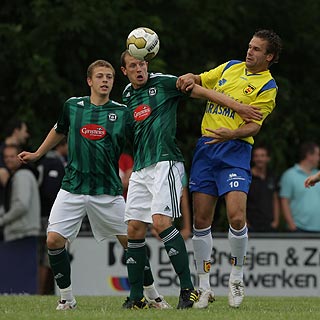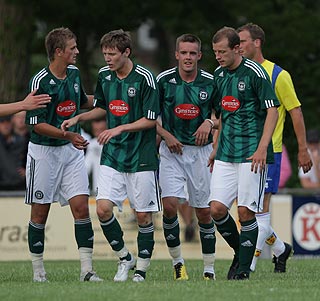 Sean Kinsella and Luke Summerfield in action against SC Cambuur,
and Craig Noone is congratulated after opening the scoring

Manager Peter Reid had stuck to his post-AZ promise to rest everyone who had played a significant part on Wednesday night. That meant that an unfamiliar Argyle 11 took the field at Franeker, with a couple of players occupying unfamilair positions, most notably young striker Liam Head, who made his first senior start at right-back. Head's fellow young pros, Sean Kinsella, Jordan Trott and Mason started, while Bermudan Under-21 goalkeeper Freddy Hall replaced Romain Larrieu between the posts. Bondz N'Gala returned after an ankle injury to partner captain-for-the-night Jim Paterson at centre-back, and Steve MacLean was given a redemption opportunity in the vanguard alongside Bradley Wright-Phillips, who had recovered from blistered feet. The most notable name on the oppostion team-sheet (apart from the commentator's nightmare of Ghoochannejhad) was former Hearts and Leicester City man Mark de Vries.
Argyle survived a close call in the opening moments when, after Head had given the ball away, Serhat Koc took advantage of the confusion that ensued to head the ball home, though after the offside flag had been raised. After that, they settled well to their task and a Bradley Wright-Phillips break was rounded off with a shot across the goal that went only narrowly wide. Wright-Phillips then engineered the break from which Noone opened the scoring. He found Joe Mason, scorer of the Pilgrims' previous goal on this tour, who took the ball on to the bye-line and chipped it to the far post for Noone to check back inside and fire home. Remarkably, the pic'n'mix selection continued to enjoy the better of the game, and it took a good save from Robbert te Loeke from Luke Summerfield's free-kick to prevent them going further ahead. Paterson led from the front, keeping the Pilgrims alive with a block on Hese's thuderous shot as the inexperienced back line creaked.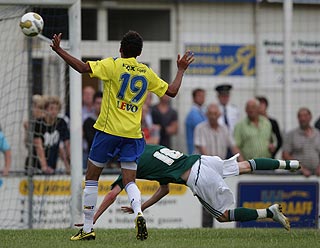 Joe Mason scores his first goal against SC Cambuur

The understudies continued to stage a show after the interval and half-time substitute Georgie Donnelly went close with a powerful header after MacLean had teed up Noone for a pinpoint cross. Cambuur responded with intent and Hall confirmed what those of us who have seen him in training this week know - that he is an extremely good shot-stopper - by keeping out Koc's snap shot. Immediately, Argyle doubled their lead with another Mason headed goal, this time from Summerfield's precise right-wing delivery. Before blinking, it was 3-0. Donnelly sprang through the Cambuur back line and touched the ball around the goalkeeper, but appeared to make a hash of his shot. No matter - Mason was on hand to poke the ball home from a few feet. The Pilgrims were in cruise control and Donnelly stung the opposition goalkeeper's fingers with after another swift break. They maintained their record of not having conceded a goal in open play on this tour until 20 minutes from the end, when Ghoochannejhad netted his first, and another by the same player, nine minutes later rocked a tiring side. When Hese added Cambuur's third, it seemed an unlikely home victory might be on the cards, but Argyle dug in and held on.
THE BATTLE OF ARNHEM
23rd July
There has not been much down-time on this hectic visit to Holland. Training sessions have been full and plentiful; matches - suddenly, like an Arnhem trolleybus, you wait for ages, then two come along at once - have been anything but local. The journeys to play AZ Alkmaar, on Wednesday, and SC Cambuur, on Thursday, were not far off Plymouth-Bristol length, and perfectly in keeping with the standard set by Saturday's two-hour jaunt to Sint Willebrord for the match against NAC Breda.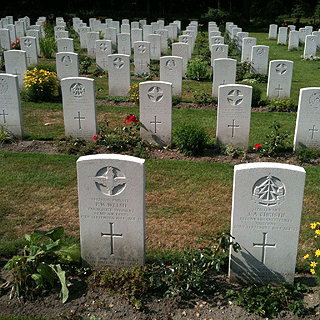 Arnhem Oosterbeek War Cemetery
Having evening games does free up a little time, however. After a heavy morning's work and a light lunch, there are a couple of hours to while away before the team bus arrives at Papendal to take the squad to the game. Sometimes on time. Up until yesterday, since we have been here, I had ventured outside the grounds of the Dutch Olympic complex only to attend our games, and, despite not really enjoying doing the tourist bit, would not have liked to return to Blighty without having tasted something of the locale. That should read "historic surroundings" because, if there is one thing everyone knows (or thinks they know) about Arnhem, it is Arnhem Bridge, aka the Bridge Too Far. I knew about the bridge. I had seen the film, after all. Only, like most things gleaned from celluloid interpretations of history, what I had learnt was wrong. Or, if I'm being generous, partially right. I discovered the truth on a sobering and educational early afternoon's exploration of our surroundings.
It began at Oosterbeek, a small, but wonderfully appointed town, just around the corner from our Papendal base, on the outskirts of Arnhem. It is host to the Arnhem Oosterbeek War Cemetery, home to 1,759 second world war graves, mostly Allied servicemen killed in the Battle of Arnhem - the Allies' attempt to cross the Rhine in 1944 - or in the liberation of the city the following year. Many of the gravestones' dedications coldly display the facelessness of brutal conflict: no name, no rank, just the fact that "a soldier" lies beneath. A few hours later, having taken in Arnhem city centre, our explorations ended at the John Frost Bridge, a re-creation of the Bridge Too Far named after Major-General John Dutton Frost, who commanded the British forces that reached and defended the bridge during the bloody battle. The Battle of Arnhem took place in September 1944, when the Allies launched Operation Market Garden. The seizure of the Arnhem road bridge, spanning the Lower Rhine, was seen as the final piece in a complex operation to take bridges from the retreating Nazis across the Netherlands, allowing the Allies to outflank the Siegfried Line and encircle the Ruhr, Germany's industrial heartland.
Arnhem, though, proved right the pre-battle fears of British Lieutenant-General Frederick Browning, deputy commander of the First Allied Airborne Army, who allegedly told Field Marshal Bernard Montgomery, the operation's architect: "I think we may be going a bridge too far." The plan had been for the British 1st Airborne Division, commanded by Lt-Colonel Frost, to take the bridge and hold on to it for a few hours, by which time reinforcements would swell their ranks. Unfortunately, the back-up never arrived and faulty Dutch underground intelligence meant the Allies were unprepared for a face-off with SS Panzer forces. Although the bridge was initially taken, the small force of 740 men that captured it were battling against overwhelming odds, as well as the Nazis. Nevertheless, they grimly stuck at for four days - less than a thousand men achieving in four days what had been assigned to 10,000 troops - before being overwhelmed and withdrawing after nine days of battle in which more than 3,000 soldiers on both sides, and more than 450 Dutch civilians, died. Allied losses included 1,174 men of the 1st Airborne, which is why Oosterbeek is also more commonly known simply as the Airborne Cemetery. Because of the forced withdrawal, the vast majority of their dead had to be left on the battlefield and were buried in simple field graves (often their own slit trenches) or in small mass graves dug by the Germans. Which is why, chillingly, men killed in these battles are still discovered in the surrounding area today, swelling the Oosterbeek cemetery's numbers more than 60 years later. I think I'll leave it there.
'BONDZ INJURY COST US' - PETER
23rd July
Despite seeing his side let slip a three-goal lead, Argyle manager Peter Reid ended the Pilgrims' tour of Holland a happy man. Two goals from Joe Mason and another from Craig Noone saw a callow Argyle 11 into a 3-0 lead against Dutch second-tier side SC Cambuur. However, the home side netted three times in 11 second-half minutes to share the honours with an Argyle squad that has the complete set of one win, one draw and one defeat from the week-long stay in the Netherlands. "I'm pleased with it," said Peter. "I'm disappointed to concede three, but there's a lot of things I was delighted about and, overall, it's been a really good trip."

Peter put down the opposition's late goal-burst to an injury to Bondz N'Gala that saw him substituted, leaving Argyle with a back four of Jordan Trott and Jim Paterson at centre-back and Chris Clark and striker Liam Head at full-back. "If the centre-half stays on, we win the game, but he's had to come off because he's got a knock on his ankle again," said Peter. "He got a whack on it early and it was just getting progressively worse, so it was a case of just get him off as a precaution, make sure he's right for next week. We got done with a straight ball and we didn't pick up a couple of their headers in the box, and the crosses went in too easily, but you can't have it all."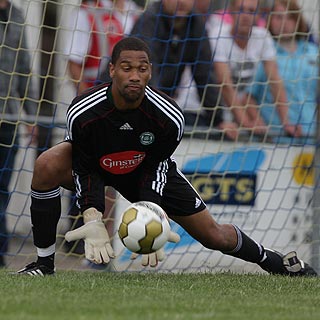 Freddy Hall in action against SC Cambuur

Mase, playing wide right, added to his headed winner in the opening tour game against NAC Breda with a quickfire second-half double, giving him three of the four Argyle goals on the trip. Peter said: "He's a good young player. He's an intelligent player and, from the right-hand side position, he gets in dangerous areas where he's difficult to pick up. He's done well. Going 3-0 up was fantastic and then we could have gone even more, to be fair. I'm a bit disappointed with the goals we conceded but, all in all, it was a good evening for us. Some of the young players did well - Mason's done well; Liam Head, who has had to play right-back, was fantastic; young Sean Kinsella in the middle of the park. It was a fairly young side out there and they've done great. I thought we did alright. We shut down a lot earlier tonight, which I wanted to do. We got here a bit late - the bus didn't come on time - but the lads have structured themselves really well. There were a lot of pluses: Summerfield played ever so well; MacLean held the ball up - he got a good 80 minutes under his belt, so he's done alright as well; Noone got a goal and made one." Peter was also pleased with the form of trialist goalkeeper Freddy Hall, who played the entire 90 minutes. He said: "He came out for crosses and, hand on heart, I don't think he had a chance with any of the goals. He's been smashing."
CHANGES TO COME
23rd July
Peter Reid will use the information he gathered on the Pilgrims' week-long trip to Holland to shape his squad for the forthcoming season. Argyle spent a week at the Dutch Olympic HQ at Papendal, near Arnhem, for intensive training under the new gaffer. They also played three matches - using every one of the 24-man squad at least once - beating Dutch top-flight side NAC Breda 1-0, losing by the same score to NAC's fellow Eredivisie side AK Alkmaar by a dubious penalty, and drawing 3-3 with strong second-tier team SC Cambuur.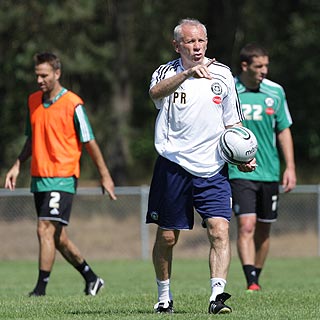 Peter Reid leading a tour training session

From what he saw on the pitch and on the training-ground, Peter believes he knows what needs to be done before kick-off at Southampton on August 7. "I'm getting to know the players," he said. "I know now what the strengths and weaknesses of the squad are. There will be some changes as we go on to the season. It's hard work in the market, getting people in and out, at the moment, but, as the season gets nearer, people tend to get more business done - I'm hoping to do the same." Peter declined to speak in detail about the future for trialists Tony Capaldi, Anton Peterlin and Freddy Hall. However, he did say: "There's deals to be done if it's in our budget scope. I think all three have done well." One positive for the gaffer has been that the entire pre-season has so far been relatively serious injury-free. "There haven't been many injuries," said Peter. "Obviously there have been knocks and bruises, but that's the nature of a physical-contact sport. In terms of pulls and strains, I'm really pleased with how it's gone." Peter will be able to add Rory Fallon, Onismor Bhasera and new father Marcel Seip to his mix when the player reconvene in England on Monday afternoon. "We've got the lads who haven't come over with us to go back to," he said. Lest any of his players think that the hardest part of pre-season is behind them, they should be warned. Apart from away games at Hereford and Queens Park Rangers next week, Peter has another treat in store. "I'm going to fitness-test them again to see what progress they've made," he said, "and we'll go from there."
HOLLAND BY NUMBERS
24th July
5 THINGS I HAD FORGOTTEN CONCERNING EATING AND DRINKING ON A EUROPEAN TOUR
1. There is only one way to cook pasta
2. Players are creatures of habit and sit in the same place in the restaurant for breakfast, lunch and dinner - every day
3. Chicken still tastes like chicken, whatever sauce you put over it
4. If you like tea, you will be disappointed
5. Iced water is better than beer
3 THINGS THAT YOU SEE ONLY ON THE CONTINENT
1. Those sugar sprinkles, like hundreds and thousands, that you eat on toast
2. Motorcyclists with no helmets, and commensurate brains
3. Proper, working, reliable, free WiFi
2 TOURISTS WHO COULD BE A STAR OF THE FUTURE
1. Joe Mason
2. Neil Lunnon
2 TOURIST STARS OF THE PAST WHO COULD YET GIVE A STAR OF THE FUTURE A RUN FOR HIS MONEY
1. Krisztian Timar
2. Romain Larrieu
3 THINGS THE DUTCH LIKE
1. Cycling
2. The colour orange
3. Speedskating
2 THINGS I AM GLAD I PACKED BECAUSE I HAD A HUNCH I WOULD NEED THEM
1. Superglue
2. A four-gang
1 THING I SHOULD HAVE PACKED
1. A packet of Teabags (Tetley, large)
2 THINGS I AM GLAD I PACKED ALTHOUGH I THOUGHT I WAS MAD AT THE TIME
1. High factor sun protection cream
2. Flip-flops
4 THINGS I PACKED ALTHOUGH I KNEW I WOULD NOT NEED THEM AT THE TIME
1. Footwear that was not trainers or flip-flops
2. Computer games
3. Hunter Davies's book, Beatles, Football and Me
4. Long trousers
1 THING ABOUT MYSELF THAT WAS CONFIRMED BY THE CHANNEL TUNNEL
1. I suffer from claustrophobia
4 THINGS I BROUGHT HOME THAT I DID NOT TAKE OUT
1. Several bottles of complimentary shampoo (orange)
2. Several bottles of complimentary shower gel (orange)
3. Several bars of complimentary soap (orange)
4. A piece of fruit (orange)
2 THINGS THAT WOULD HAVE IMPROVED LIFE ON TOUR NO END
1. Aircon in the bedroom
2. Sky Sports News
2 MOST SURPRISING (IN A GOOD WAY) MOMENTS ON TOUR
1. Beating NAC Breda 1-0
2. Hearing Kari Arnason and Anton Peterlin converse in Danish
1 MOST SURPRISING (IN A BAD WAY) MOMENT ON TOUR
1. Steve MacLean's sending-off against AK Alkmaar
2 FORMER PILGRIMS WHO GOT A MENTION ON THE SC CAMBUUR PA
1. Peter Shilton
2. Bruce Grobbelaar
3 NAMES I WILL NEVER FORGET
1. Reza Ghoochannejhad
2. John Frost
3. Bondz Bondzanga N'Gala
4 THINGS ABOUT DUTCH ROADS I DID NOT KNOW BEFORE
1. Everyone drives like they are half an hour late for work
2. Destination signs are illogical
3. The Dutch for 'detour', when a road is closed, is 'guessutotalsap'.
4. Nowhere leads to Arnhem, least of all signs that point you to 'Arnhem'
1 THING I DEFINTELY, ABSOLUTELY, TOTALLY WOULD PACK NEXT TIME I VISIT HOLLAND
1. An up-to-date Europe-configured satnav