Back to

Holland 2010

Tour Home
Holland 2010: Evening Herald
PILGRIMS TOUR DIARY

PETER REID PLANNING TO LEARN ABOUT ARGYLE SQUAD ON DUTCH TOUR
16th July
Peter Reid believes he will learn a lot about his Argyle squad during their pre-season tour to the Netherlands. The Pilgrims will play three games while they are away, starting against NAC Breda in Sint Willebrord tomorrow. NAC finished 10th in the Dutch Eredivise last season and are sure to provide a stern test. So, too, will AZ Alkmaar, who are the Pilgrims' opponents in Anna Paulowna on Wednesday, July 21. AZ competed in the UEFA Champions League last season, and ended up fifth in the Eredivise. Argyle's third and final game is against SC Cambuur in Franeker on Thursday, July 22. Cambuur were runners-up in the Dutch second division last term but missed out on promotion to the Eredivise after losing in the play-offs. Reid is undaunted by the strength of the sides the Pilgrims will be encountering. He sees it as an opportunity to properly assess the players he has at his disposal after taking over as Argyle manager last month. Reid said: "I think the better opposition you play the more you find out about your players. I can understand the other argument, where you play weaker teams, you win 8-0 and you get your confidence up, but I tend to think that's a false confidence, to be perfectly honest. I would rather go in against more difficult sides. That shows your failings, and it shows some of your strengths."
Argyle's trip to the Netherlands was set up before Reid was appointed as manager, but he is all in favour of it. He said: "I have been to Holland on many occasions, both as a player and as a manager. It's a great area. When you are with the players for a week you get to know them better. And I think, on the other side of it, they get to know me. When a new manager comes in there is a bit of apprehension about. So I think it will be beneficial to the players and it will be beneficial to me as well." Argyle will be based at the Dutch national sports centre in Papendal, near Arnhem. Reid will be taking a 26-strong squad on the trip, including defender Marcel Seip. The Dutchman has returned to Argyle after spending much of last season out on loan, first at Blackpool and then Sheffield United. His wife, Lucy, is expected to give birth to their first child at any time, but Seip will still be going on the tour. Reid said: "I gave him the choice of whether to stay at home, but he told me he wanted to go with us. If anything happens then, obviously, he will get straight back."

TONY CAPALDI RETURNS TO ARGYLE
16th July
Tony Capaldi has returned to Argyle to start a trial with the club. Capaldi was part of the Division Two title-winning squad in 2003/04 and also holds the club record for the most international appearances by an Argyle player. He was released by Cardiff City in May after three seasons with the Bluebirds and began his trial with Argyle yesterday morning when he took part in training at UCP Marjon. Capaldi has been included in Argyle's squad for the three-match pre-season tour to the Netherlands. The Pilgrims will play the first of those games tomorrow, when they take on Dutch top flight club NAC Breda in Sint Willebrord. Peter Reid said: "He's training with us, and he's going to come away with us. I have seen him play before and he has good energy on that left side. He's an experienced player and I asked him to come down. He's going to come away with us, so he will have a look at us and we will have a look at him. I think he can play at left-back or on the left of midfield equally well. He's a clever player."
Capaldi made a total of 155 appearances for Argyle during a four-season stint at Home Park, and scored 12 goals. He allowed his contract with the Pilgrims to run out before completing his move to Cardiff on a Bosman transfer. Reid believed it would be a benefit that Capaldi, who will be 29 next month, was so familiar with Argyle. "I don't think it harms, let's put it that way," he said. "I think it helps." Capaldi is two weeks behind the rest of the squad when it comes to pre-season training and Reid added: "He might have a bit of catch-up to do, but he looks a naturally fit boy so I don't think that will be any problem for him."
One player not making the trip will be defender Chris Barker, who does not figure in the future plans of Reid. Barker has had 45-minute run-outs in the Pilgrims' first two pre-season friendlies, against Truro City and Torquay United. Reid said: "Barker won't be going on the trip. That's just a decision I have made. We have had a chat about it and I think his future is away from the club. I have told him that." Reid insisted the arrival of Capaldi on trial had not been a factor in his decision not to include Barker in the tour party. "It's nothing against the boy personally, it's just a professional decision," added Reid.
With Barker set to leave Argyle, Capaldi could, should he impress while on trial, compete for the left-back spot with Onismor Bhasera. The Zimbabwe international has been ill over recent days and sat out the 3-1 defeat by Torquay at Plainmoor on Tuesday. Bhasera will be part of Argyle's tour party to the Netherlands, as will the injured pair of Kari Arnason (thigh) and Krisztian Timar (toe). Arnason was an early casualty in the 2-0 win against Truro at Treyew Road last Saturday, while Timar has not played in pre-season yet. Capaldi is one of three trialists Reid will be checking out while the Pilgrims are in the Netherlands. Goalkeeper Freddy Hall and midfielder Anton Peterlin are also in the tour party. Peterlin spent last season at Everton, although he did not make any first team appearances for the Premier League club. The 23-year-old has already featured for Argyle in the games against Truro and Torquay. Hall, a Bermuda international, played in the defeat at Plainmoor after taking over from an injured Romain Larrieu. Larrieu was troubled by a groin strain in that game, but is expected to be fit to play against NAC tomorrow. Two other players who have been on trial with Argyle, right-back Laurent Manuel and striker Manuel Mence, have not been included in the tour party to the Netherlands.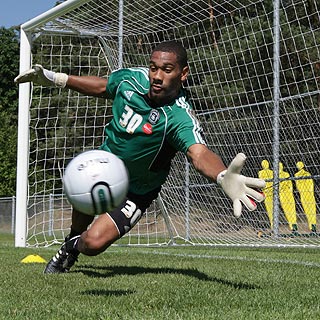 Freddy Hall training on tour


PLYMOUTH ARGYLE BOUNCE BACK WITH ENCOURAGING BREDA VICTORY
19th July
Argyle took the impressive scalp of Dutch top-flight club NAC Breda on Saturday, courtesy of a fine goal from rising star Joe Mason. He scored in the 74th minute of the Pilgrims' first match of their pre-season tour to the Netherlands, in Sint Willebrord. Mason powerfully headed the ball into the opposite top corner of the net, after a pinpoint cross from Yannick Bolasie. Both players were sent on by Argyle manager Peter Reid as substitutes in the second half, with Bolasie leading the attack in a 4-4-1-1 formation. Mason, meanwhile, was deployed on the right-side of midfield. But they swapped roles for the decisive goal, with Bolasie darting out wide and then spotting Mason had cut inside. Pre-season friendly maybe, but it was still a superbly executed move, and finish. NAC, who finished 10th out of 18 teams in the Eredivise last season, would not have expected to have come unstuck against the Pilgrims. They had won four and drawn one of their previous five warm-up matches. Admittedly, the games were against amateur opposition, but NAC had outscored them by 36 goals to one. With a couple of exceptions, including Ghana international striker Matthew Amoah, they were at full strength on Saturday. Despite a lot of early possession, they struggled to open up Argyle, and when they did create chances goalkeeper Romain Larrieu made some fine saves.
Romain was in good form against NAC Breda

The Pilgrims had clearly been stung by the criticism of Reid after their 3-1 defeat by Torquay United last Tuesday. They showed a better shape about them, and played with much more conviction, than they had done at Plainmoor. But, in pre-season, it is always wise not to get too carried away by one result. It was not the end of the world when Argyle lost to Torquay, and automatic promotion to the Championship is not certain after their win against NAC. Still, this was a lot more encouraging for Reid and gives him, and the players, a platform to build on.
Argyle's squad for the training camp in the Netherlands includes three trialists, but one of them is a very familiar face. Tony Capaldi, part of the Pilgrims' Division Two title-winning squad in 2003/04, started at left-back against NAC. He put in a decent display before being substituted at half-time, and replaced by Jim Paterson. Goalkeeper Freddy Hall did not get a run-out as Larrieu played the entire match. But former Everton midfielder Anton Peterlin stood out, with his ability on the ball and awareness of team-mates around him. Peterlin started the game by playing out of position at right-back – and it showed. Finland international winger Joonas Kolkka, who once had a short spell in the Premier League with Crystal Palace, was too good for him. Peterlin soon swapped positions with Karl Duguid, who had been on the right-side of midfield, and he became a factor in the match. One slick pass from the American set up striker Rory Patterson for a fierce shot in the 20th minute, which was saved by Jelle ten Rouwelaar. Peterlin then moved into the centre of midfield in the second half. He slotted into the space vacated by captain Carl Fletcher, who dropped into defence after centre-back Reda Johnson was taken off because of an injury. San Francisco-born Peterlin continued to show his technical ability for the rest of the match. More performances like this on the tour to the Netherlands and he could be given the opportunity to turn his trial into a permanent move.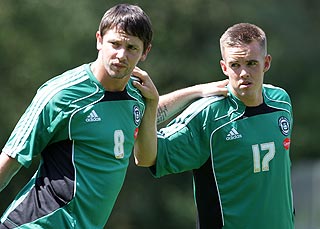 Rory Patterson and Craig Noone, back in training the day after facing NAC Breda

NAC had almost opened the scoring only 24 seconds after the kick-off. Midfielder Nemanja Gudelj broke into the Argyle penalty area and his goalbound shot deflected off Larrieu for a corner. The Pilgrims were content to let NAC have possession inside their own territory, but were swift to shut them down when they crossed the halfway line. Bradley Wright-Phillips was Argyle's lone striker, ahead of Patterson, and he lobbed the ball narrowly wide in the 17th minute. Patterson's attempt followed soon afterwards, and it was clear by now the Pilgrims had settled into the contest. It was goal-less at half-time, but Larrieu had saved a free-kick from midfielder Donny Gorter, and hacked a loose ball away before the same NAC player could get a decisive touch to it. Fletcher had also slid in to divert a powerful drive from Gorter over the crossbar on the stroke of half-time.

Argyle made a double substitution in the 58th minute with Wright-Phillips and Patterson making way for Bolasie and George Donnelly respectively. For Donnelly, who spent the end of last term on loan to Stockport County, it was his first run-out this pre-season. Almost immediately, Larrieu had to come to the Pilgrims' rescue. Kolkka picked out striker Anthony Lurling with a fine cross and his firm header was superbly clawed away by Larrieu, with a strong left hand. Mason, Luke Summerfield and Craig Noone all entered the fray for the English tourists before the deadlock was broken. Duguid passed the ball to Bolasie and he combined with Mason to telling effect, with NAC's substitute 'keeper Jim van Fessem powerless to keep the ball out of the net. Mason almost added a second soon afterwards, when he turned away from defender Ferne Snoyl. On this occasion, van Fessem parried the ball away, but Mason's attacking instincts were certainly very sharp for this stage of pre-season.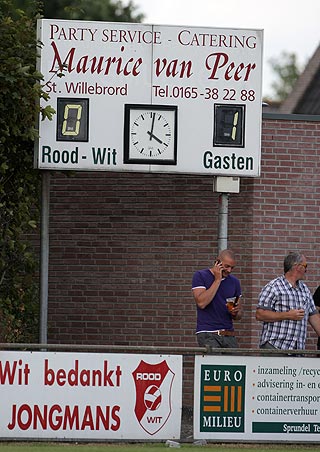 A satisfying scoreline at Sint Willebrord

Noone and Bolasie both had chances to extend Argyle's lead in the closing stages. But NAC went close to an equaliser in the first minute of stoppage time, when they were denied again by the agile Larrieu. The ball was worked out to Lurling, whose crisp strike was accurate but could not beat the French 'keeper. Fletcher was typically effective, both in midfield and later on at centre-back, and it is clear already that Reid will rely heavily on his experience and leadership. Wright-Phillips, meanwhile, showed some good touches but will need to retain possession better to stake a claim for a regular first team start.
BACK-AGAIN TRIALIST TONY CAPALDI EYES NEW DEAL WITH PLYMOUTH ARGYLE
19th July
Tony Capaldi wants to start playing regular first team football again – and hopes it will be at Plymouth Argyle. Capaldi has begun a trial with the club for whom he featured prominently between 2003 and 2007. And he made his first return appearance for Argyle in their impressive 1-0 win against Dutch top flight club NAC Breda on Saturday. Capaldi started at left-back and played until half-time, when he was substituted. The 28-year-old now has the rest of the Pilgrims' pre-season tour to the Netherlands, which continues until Friday, to earn a contract with the League One outfit. Capaldi was released by Championship outfit Cardiff City at the end of last season. He said: "I had a chance to leave in January. I had a couple of clubs lined up, but the gaffer turned around and told me I couldn't go. They were under a transfer embargo and couldn't sign any players. So he turned around and said, 'No-one is leaving the club so you can't go'. It messed me up a little bit. I had to see it out until the end of the season but, to be honest, I had to leave. I want to go somewhere and start playing football again. I'm 28 now and you don't know how long you have got left in the game. If it's at Plymouth, brilliant. If not, I will look elsewhere next week and see what we can sort out."
Capaldi signed for Cardiff on a Bosman transfer from Argyle in the summer of 2007. The following season he played for the Bluebirds in the FA Cup final at Wembley, when they lost 1-0 to Portsmouth. Capaldi had been without a club until Argyle manager Peter Reid telephoned him last Wednesday. Reid offered him the chance to have a trial with his former club, and Capaldi took it up. Capaldi said: "There are a lot of faces behind the scenes I know, but the playing squad and the coaching staff are all different. It was my first training session the other day and my first game today, so I'm not fit or sharp yet. But it was good to get 45 minutes under my belt and we will see what happens from here. I got a phone call from Peter Reid on Wednesday morning and he asked me if I fancied coming down for training on Thursday, and then going over to Holland for a week for a bit of fitness. I haven't been able to do anything the first two weeks of pre-season because I have twisted a little muscle in the back. So I have been lounging around the house with two kids crawling all over me, so it's good to come out and get myself fit. When we get back, I will sit down with the gaffer and we will have a chat." Capaldi continued: "I know he has got quite a big squad here, and I don't know what the financial situation is. But I will get this week out of the way and then we will decide after that. I have had a few offers to go to clubs but nothing overly appealing. We are getting close to the start of the season and when you are out of contract you want to get something sorted. I want to make sure I'm fit first, that's the most important thing for myself this week, and try to make a bit of an impression. As I say, after that we will see what we can sort out."
Capaldi was up against NAC's Brazil under-21 international speedster Leandro, but gave a good account of himself. He said: "It was my first pre-season game and I never look forward to them. The grass is long and it's a bit bobbly, but they weren't a bad side to be fair. They kept the ball quite well. I'm 45 minutes closer to being fully fit," added the Northern Ireland international. "I'm a couple of weeks behind everybody else, but I looked after myself and have done a few runs over the summer. I'm naturally fit anyway, so it's just the sharpness really. I need to work on that, but it will come with more training and more games."

GOING DUTCH: CHRIS ERRINGTON IN HOLLAND WITH THE PLYMOUTH ARGYLE SQUAD
19th July
I have never been to the Netherlands before but I have to say my first impressions have been very good. Schiphol Airport, on the outskirts of Amsterdam, is huge, but easy to find your way around. My Western Morning News colleague Rupert Metcalf and I flew from Exeter to Schiphol on Friday afternoon, courtesy of Flybe. Only 70 minutes after taking off from Devon, we had crossed the North Sea and were touching down. The first officer on our flight told us shortly before landing we would be using the southerly airport at Schiphol. That, he added, would involve a 12-minute taxi to the main airport terminal, where we would get off the plane. I thought he must be exaggerating – but he was not. When our plane landed, I could just see the main control tower for Schiphol in the far distance. We then proceeded to trundle along miles of tarmac, at a steady rate of knots. We finally came to a stop and were able to get off the plane after a very comfortable flight. It had not taken us much longer to get to Schiphol than it did when we flew to the Pilgrims' FA Cup third round replay at Newcastle United in January.
After leaving the plane and making a lengthy walk to the main airport building, we went through passport control and picked up our hire car. Before we were handed the keys for our Opel Astra we were both given a complimentary – that is, free — bottle of water. Even after a relatively short flight such as we had , it was still nice to have a drink. I thought that was a nice touch so congratulations to Avis at Schiphol. We were soon on our way to our destination, a small village close to Argyle's training base, the Papendal Hotel and Conference Centre, near Arnhem. That is the headquarters of the Dutch Olympic Sports Federation, and boasts excellent and varied facilities. As at Schiphol, we were greeted with smiles when we arrived at our hotel. My language skills have never been the best, despite studying French and German at school a long time ago, but I know next-to-nothing about Dutch. However, that is clearly not going to be a problem because everyone in the Netherlands – certainly those I have met so far – speaks excellent English.
Having only returned from a family holiday on the west coast of the United States last Wednesday, I was still feeling weary when arriving at our hotel on Friday. But after a glass of local brew – and a very strong one at that – and a good night's sleep, I was ready and raring for the game against NAC Breda. A group of young footballers from Qatar are also staying at our hotel, and we could be in the presence of future World Cup heroes. Qatar are hoping to stage the tournament in 2022, and will not be short of money to push their claims. So, perhaps some of the young lads who I have been sharing the breakfast room with could be playing for their national team in the World Cup in 12 years' time. On our return from Sint Willebrord, following Argyle's 1-0 win against NAC, we stopped at a supermarket in the nearby town of Osterbeek to stock up on food. I was also able to buy some medicine as I have must been irritating Rupert with my near constant coughing. Hopefully, I will be on the mend soon.

Argyle finally held the first training session of their pre-season tour to the Netherlands yesterday morning. The squad had arrived at their base, the Dutch national sports centre at Papendal, near Arnhem, on Friday evening. They did not train before the game against NAC on Saturday. But, under clear blue skies and in the pleasantly warm conditions, they went to work yesterday morning. Those who had played most of the match on Saturday had a light session. But the rest, including Bermudan trialist goalkeeper Freddy Hall, were much more active, as coach John Carver put them through their paces. Manager Peter Reid, the 54-year-old former England midfielder, took part in the warm-up and ballwork himself. The first session of the day ended around midday, and the players were back for a second one from 3pm. Head coach Paul Mariner and goalkeeping coach Geoff Crudgington were not at either of them, though. Instead, they had travelled to see a match somewhere else, presumably to check out a player.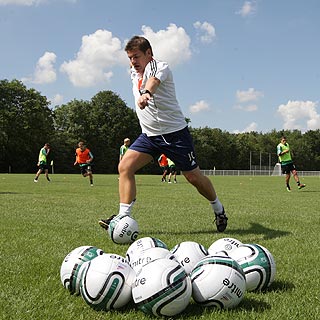 John Carver getting involved in training
PETER REID UPBEAT AFTER PLYMOUTH ARGYLE VICTORY OVER NAC BREDA
19th July
Manager Peter Reid was hugely encouraged by Argyle's 1-0 win against NAC Breda. It was a much-improved performance after the 3-1 defeat away to Torquay United last Tuesday. And it was the best possible start to the Pilgrims' three-match pre-season tour to the Netherlands. Reid said: "I commented after the game at Torquay that you learn things in defeat but, hopefully, I have seen the team's true performance today. I thought we were excellent. NAC are a good side on the ball, technically. Our shape was good, we frustrated them when they didn't have the ball and some of our counter-attacking play was really good. The plan was to frustrate them, which we did, and then we changed a few things as the game went on. We got a bit more pace up front. I'm pleased with everybody who took part," added the new Pilgrims' boss.
Reid was impressed with the performance of trialist Tony Capaldi, the former Argyle left-sided player. Capaldi played the first half at left-back before being replaced at the start of the second period by Jim Paterson. The 28-year-old, released by Championship outfit Cardiff City at the end of last season, had only started training with the Pilgrims last Thursday. Reid said: "I thought he did terrific, and he showed his experience. He has been training by himself and, obviously, he needs games but he showed what he is – a good professional. He did very well. I was going to give him a bit more of the game, but he was feeling his back a little bit, which is understandable, so I erred on the side of caution. I wanted to give Jim Paterson 45 minutes and he did smashing as well. I thought everybody did well. Mason came on, had a few chances and scored with a header. Bolasie stretched them and Nooney got on the ball. And, overall, I thought the two experienced midfield players, Fletcher and Johnson, were terrific for the side. It was a good performance against a side from the Dutch top division."
Reid was not getting carried away by the win, or the performance, with his eyes set firmly on the start of the League One campaign on August 7. He insisted: "I said after the defeat at Torquay that my main concern was Southampton away, the first game of the season, and that hasn't changed, and will not change. But it's a good performance and a good result, and now we go to work again." Bolasie was a 58th minute substitute for Bradley Wright-Phillips and led the Pilgrims' attack, with George Donnelly, who also came off the bench at the same time, playing behind him. Reid admitted he wanted to try out Bolasie, a fleet-footed winger, in a new position.He said: "I was just having a look at it. With his pace he is a threat up there because he can stretch teams. Sometimes I will play him wide, but I might decide to go up top with him. It's a nice option to have."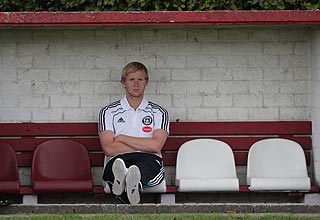 Liam Head watching the NAC game from the bench

Defenders Onismor Bhasera and Marcel Seip did not travel out with the rest of the Argyle squad for the start of the pre-season training camp in the Netherlands. Bhasera was still recovering from illness, although he was expected to fly out to the Pilgrims' base at Papendal today. And Seip remained in Plymouth awaiting the birth of his first baby. After the 1-0 victory over NAC Breda on Saturday, Argyle manager Peter Reid said: "I haven't heard from Marcel. He's going to get in touch when his wife gives birth, and I think Bhasera is due out on Monday." It was unclear when, or whether, Seip would travel to the Netherlands for the training camp. Reid said: "We will play it by ear. I will see what the boy says and how it goes back home. I'm quite flexible about it."
GOING DUTCH: CHRIS ERRINGTON IN HOLLAND WITH THE PLYMOUTH ARGYLE SQUAD
20th July
Argyle are sharing the extensive facilities of the Dutch Olympic Sports Federation at Papendal, near Arnhem, with another British football club. Scottish Premier League outfit Hibernian, including former Pilgrims' goalkeeper Graham Stack, are also based at the same location as part of their pre-season. By all accounts, Stack has been making some quips about his ex-team-mates around the four-star hotel both clubs are staying in.

The pitch that was lined up for Argyle's use on Sunday morning was nabbed by Hibernian instead. Usually, it is where Dutch top flight club Vitesse Arnhem put their players through their paces. There are several excellent pitches at Papendal, however, so Argyle moved to an adjacent one. Hibernian's squad does not include striker Alan Gow, who has been linked with a move to them after being released by Argyle earlier this month. Gow spent the final months of last season on loan to Hibernian and their manager, John Hughes, is keen to sign him. However, it seems finances dictate that Hughes must move on some of his squad before he can do so. Hibernian lost 3-0 to Heracles on Saturday and they were playing another Dutch top flight club, NEC Nijmegen, last night. It is the second successive pre-season Argyle have ended up training alongside an SPL club. In 2009 it was Falkirk at their University of Stirling training base. Both Argyle and Falkirk ended the season being relegated from their respective divisions.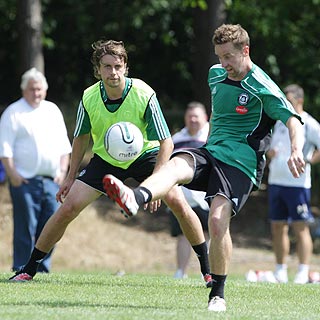 Kari Arnason and Steve MacLean on one of the Papendal training pitches

Club photographer Dave Rowntree and I have both been on all 10 of Argyle's pre-season tours since they started in 2001. So his reaction to the Pilgrims' 1-0 win against NAC Breda on Saturday was interesting. "That's the best tour match we have ever played," said Dave, after the final whistle at Sint Willebrord. Certainly, Argyle's 1-0 defeat by Fabio Capello's Real Madrid in Kapfenberg, Austria, in 2006 was more memorable. But in terms of it being a competitive match, and excellent preparation for the start of a Football League season, I would agree with Dave. NAC are a decent Dutch top flight club, but Argyle frustrated them. I would imagine Peter Reid will want to see his side replicate that performance when they play away to Southampton in their League One opener on August 7.
They were fortunate not to concede a goal inside the first minute against NAC. After that, the Pilgrims - in a solid 4-4-1-1 formation - were content to let their opponents have as much of the ball as they wanted in their own territory. But it was a different story when NAC approached the final third, as they were hustled and harried by the English tourists. NAC could not open them up and, as the game progressed, Reid introduced more pace to his team off the substitutes' bench and it resulted in the only goal of the game. Yannick Bolasie darted out wide and then delivered a pinpoint cross for Joe Mason to head home in the 74th minute. It was, in many ways, a textbook away-day display, and one Reid will hope to see more of when the season starts.
With all my copy completed and filed, I travelled into Arnhem by train with my Western Morning News colleague Rupert Metcalf on Sunday evening. There is a station in the small village in which we are staying and it was only two stops to our destination. We found a comfortable bar in the centre of Arnhem, which reminded us of the Thistle Park Tavern in Plymouth, and tried out some of the local brew. That was followed by a meal at an Italian restaurant, sat out in a tree-lined courtyard, before the return train trip some three hours later. A lot of people I know always tease me that these pre-season tours are 'holidays' so I might as well make it sound like one!

PETER REID KEEN ON AMERICAN MIDFIELDER ANTON PETERLIN FOR ARGYLE
20th July
American midfielder Anton Peterlin is staking a strong claim to be offered a contract by Plymouth Argyle. The 23-year-old from San Francisco has been on trial with the Pilgrims since the start of pre-season. And he has played in their three friendlies so far, including all of the 1-0 win against Dutch top flight club NAC Breda on Saturday. Peterlin has also stood out in the training sessions at Argyle's base in the Netherlands this week. His endeavours have not gone un-noticed by new Pilgrims' boss Peter Reid. "He has done well," said Reid. "I thought he did ever so well in the game against Breda. We started him at right-back and moved him to the right-side of midfield. He ended up in the centre of midfield, and he's a boy with plenty of energy who doesn't give the ball away. He has acquitted himself really well. The lad has got a chance." Peterlin was released by Everton at the end of last season after only one year with the Premier League club. He had previously played for San Francisco Seals and Ventura County Fusion in the USL Premier Development League. Peterlin also holds Danish citizenship because his mother, Anne, was born there and that means he can play in England without a work permit.
Reid has not ruled out other changes. "There are a couple of things bubbling under, but until it's concrete I wouldn't want to say any more than that," he said. Argyle defender Reda Johnson has not trained since the victory over NAC. He suffered a groin injury in that game, but it is not serious and should not sideline him for too long. Another centre-back, Bondz N'Gala, also sat out both of the Pilgrims' training sessions at a hot and sunny Papendal yesterday. He had an ankle injury, and Reid described the decision to rest him as a precautionary one. "The two lads have got little niggles but they aren't serious ones," he said.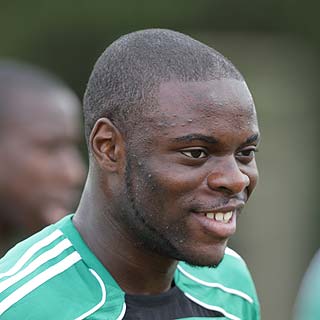 Bondz N'Gala enjoying a tour training session

Meanwhile, Reid believes coaches Paul Mariner and John Carver are complimenting his style of management. Mariner had control of the first team for the final five months of last season, assisted by Carver. But, following Argyle's relegation from the Championship, Reid has been brought in as the new boss. That has prompted speculation about how the trio will work together. It all seemed smooth enough at training yesterday morning when, for example, there were three distinct parts to it. There was an 11-versus-11 game which Reid took control of, stopping it regularly to pass on praise or point out how an improvement could be made. It was followed by a two-touch match, played in only one half of a pitch, which was overseen by Carver. Mariner then took the seven strikers in the Argyle squad for shooting practice, against goalkeepers Romain Larrieu and Freddy Hall. Reid said: "Paul, as everyone knows, was fantastic in knowing how to stick the ball in the net, so he took the strikers for the finishing. I basically like coaching the teamplay and John has done the possession." Reid continued: "They are good coaches and you utilise everything you can. We have chats and we have a weekly programme. But that could be changed, depending on what you see in games and what you see on the training pitch."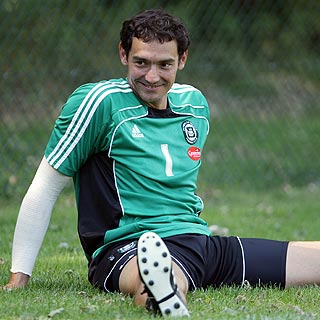 Romain Larrieu, Argyle's Number One
The role of sports scientist at professional football clubs has taken on increasing prominence over recent years, and Argyle are no different. Australia-born Scott Russell carries out the duties for the Pilgrims. Argyle manager Peter Reid is ready to embrace new technology to prepare his squad the best he possibly can. But he is also an advocate of some old-fashioned principles as well. "Most clubs have got sports scientists," said Reid. "Scott monitors everything on a computer, such as heart-rates. But you have still got your eye as a manager and whether I think they need a bit more work, or to ease off. So that's still there." He added: "We are guided a lot more by sports science and the players are a lot more professional."
YOUNG STRIKER JOE MASON LOOKS TO BUILD ON PLYMOUTH ARGYLE'S OPENER
20th July
It did not take up-and-coming striker Joe Mason long to make his mark on the teenager's first pre-season tour with Plymouth Argyle. Mason, 19, was sent on as a 64th-minute substitute in the Pilgrims' game against Dutch top flight club NAC Breda, in Sint Willebrord, on Saturday. He slotted into the role on the right-side of midfield, rather than in out-and-out attack and was soon on the scoresheet with the only goal of the game. Mason met a cross from Yannick Bolasie in the 74th minute and headed into the opposite top corner of the net. He almost grabbed a second goal soon afterwards, but saw his close-range shot saved by NAC's Jim van Fessem. Mason was frustrated about that but pleased, nonetheless, to get the decisive goal.
It may only be pre-season, and the start of the Football League campaign is still some time away, but Mason always relishes scoring goals. It does not matter what level he has played at – youths, reserves and, more recently, the first team – he has done that consistently. And he is aiming to continue doing that in the 2010/11 season for Argyle. Mason told Herald Sport: "You want to score in every game you play. It's still a good feeling, even if it's pre-season. It gives you confidence going into the season and, hopefully, it will hold me in good stead." Bolasie was playing as the out-and-out striker for Argyle in a 4-4-1-1 formation when he created the chance for Mason. "You know Yala is always going to get a cross in, with the pace he has got," said Mason. "I just had to get in front of the first man and make good contact. Luckily enough, it went in." Mason showed his goalscoring instincts by popping up where he did, in the heart of the penalty area, when Bolasie had pulled out wide. "It's just natural, I think," he said. "If Yala is on the right I know he's going to get a ball in and I want to score goals." NAC enjoyed a lot of early possession but Argyle stuck to their task and, gradually, they showed more attacking intent themselves. It was an impressive result to beat a team who finished 10th in the Dutch top flight last season, even though there were no league points at stake. "They kept the ball really well to start with, but I thought towards the end of the first half we started to break them down," said Mason. "I should have scored again in the second half, but we were happy with just the 1-0 in the end. I wasn't aware of how good they were before the game, so it was quite a good coup for us."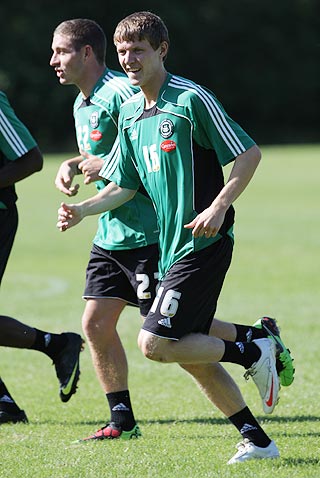 Joe Mason training the day after scoring the winner against NAC Breda

Argyle have two more challenging matches on their tour to the Netherlands, the first of which is against AZ Alkmaar in Anna Paulowna tomorrow. AZ were fifth in the Dutch top flight last term, and reached the group stages of the UEFA Champions' League. Then, on Thursday night, Peter Reid's Pilgrims will take on SC Cambuur in Franeker. Cambuur were runners-up in the Dutch second division in 2009/10. Mason believes it will benefit Argyle from playing against such strong opposition. He said: "It's better than playing against lesser teams and winning 10-0 every game. I know that's good for confidence but it doesn't show how you are doing. We are playing AZ Alkmaar, who were in the Champions' League last season, so that's going to be a really good test."
Mason was a first-year professional last season, and was not included in the squad for the pre-season training camp at the University of Stirling in Scotland. By December, however, he had broken into the first team and he was soon scoring goals in the Championship. He ended up with three, all of them coming off the substitutes' bench. Mason is one of several young players in the Argyle squad this time alongside Liam Head, Sean Kinsella and Jordan Trott. "I didn't get to go on the pre-season tour last year, so this is my first one," he said. "You are together 24/7 pretty much and you get to know everyone. It's good for the young ones, especially the lads who weren't really involved last season." Mason has noticed a fundamental difference in the pre-season preparations under Reid this year compared to former manager Paul Sturrock in 2009. He said: "Straight in, on the first day last year, we were running really hard, but this year we have been eased in. I think that's better because you don't want any injuries in the first few days. I feel like we are getting up to full fitness now. I would say we are about 60 per cent so, there is a bit more to do, but we are getting there slowly but surely." Argyle's victory over NAC was their third game of the pre-season. They had previously won 2-0 away to Truro City but lost 3-1 at Torquay United. Mason said: "It has been a bit of a mixed bag, but we are trying to get a winning mentality for the season. Towards the end of last season we had a bit of a losing mentality. We want to go into every game thinking we can win, and get the confidence as high as we can. Everyone is feeling more comfortable on the ball now. The new manager wants us to play it on the floor, and we have got players who can do that. It will play to our advantage."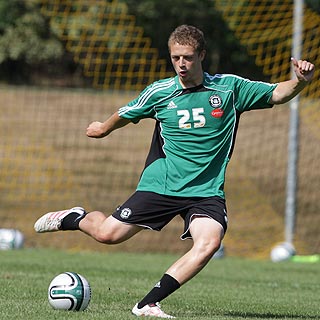 Sean Kinsella during a tour training session


GOING DUTCH: CHRIS ERRINGTON IN HOLLAND WITH THE PLYMOUTH ARGYLE SQUAD
21st July
Peter Reid has had a large squad of players to work with in the Netherlands this week, despite unavailability, injury and illness. Marcel Seip did not travel because his wife, Lucy, is expecting their first child, and Onismor Bhasera has also been absent. Rory Fallon has been on holiday after playing for New Zealand in the recent World Cup in South Africa. And Chris Barker was not included in the tour party by Reid, who sees his future away from Argyle. On top of that, Reda Johnson and Bondz N'Gala have had minor injuries and not trained this week. Even so, Reid has still been able to oversee 11-versus-11 practice matches, although 18-year-old striker Liam Head has been pressed into service at centre-back.
It is a far cry from the first of the Pilgrims' annual pre-season tours in 2001. Then manager Paul Sturrock took Argyle to the small village of Edzell in Scotland, not far away from Dundee. The squad – and support staff – was much smaller than it is now. I can remember one afternoon when Argyle trained on a pitch in a farmer's field, on the road between Brechin and Montrose. I kid you not. Sturrock wanted to work on some attacking play, but was short of defenders. So I ended up being roped in – I was much younger and fitter then – and slotted in alongside captain Mick Heathcote at centre-back. What poor old Mick must have made of it all, I don't know. But he was kind enough not to pass any comment as I, in my trainers, tried not to make a complete fool of myself. I also remember Phill Gill, then a fan but shortly to become one of Argyle's new directors, took part in the same session.
When The Herald sent me on the tours to Edzell in 2001 and 2002 it helped subsidise the cost for Argyle. I ate all my meals – breakfast, lunch and dinner – at the hotel with the players and went to training with them on the team coach. That allowed me to provide a detailed diary of what they were up to. I know from comments I received it was popular with readers as it gave them a unique insight into the life of a professional footballer. Over the years, however, the club have been increasingly keen for newspaper reporters to travel independently. That is fine. It is their toy set, so to speak. But it has made the task of covering a tour a very different one. For example, this year we are staying in a hotel about three miles from where Argyle are based, and have only seen the players and management at training. It has given us the chance, however, to see how new Pilgrims' boss Peter Reid works, and his methods and style of coaching. He is similar to Ian Holloway – out in the middle of the pitch, shouting out his instructions, and always ready with words of praise or criticism. There are no doubts who the boss is.
The latest arrivals at Papendal – Argyle's training base near Arnhem – are Huddersfield Town's youth academy squad. It means they, Argyle and Scottish Premier League club Hibernian are all staying on the site. Huddersfield are taking part in a youth tournament being hosted by Feyenoord, and also featuring Crystal Palace. Hibernian, by the way, won 1-0 against Dutch top flight club NEC Nijmegen on Monday night. Some of the Pilgrims' coaching staff made the short trip to Herpen to see the match, with Derek Riordan scoring the decisive goal from a free-kick. Hibernian manager John Hughes and his assistant, Brian Rice, watched part of Argyle's training session yesterday morning. They chatted with Peter Reid for a while, while Paul Mariner and John Carver were working with the Argyle squad.

STRIKER GEORGE DONNELLY WILL START FOR PLYMOUTH ARGYLE IN SECOND TOUR GAME
21st July
George Donnelly will start for Plymouth Argyle in the second game of their pre-season tour to the Netherlands tonight. The 22-year-old is set to play behind Rory Patterson in a 4-4-1-1 formation against top Dutch club AZ Alkmaar in Anna Paulowna. Donnelly gets his chance at the expense of Bradley Wright-Phillips. The bustling striker was signed from non-league club Skelmersdale United in March 2009. He made two substitute appearances for Argyle before the end of that campaign. However, Donnelly suffered a hamstring injury in pre-season last year and did not play any games for the Pilgrims. Donnelly did, however, have a lengthy loan spell at relegated League One club Stockport County. Now, with new Argyle manager Peter Reid at the helm, he has a clean slate to impress. Reid said: "He has done all right in training and he will start tonight. He has looked sharp and he has earned a chance to show what he has got. It will be interesting to see how he goes."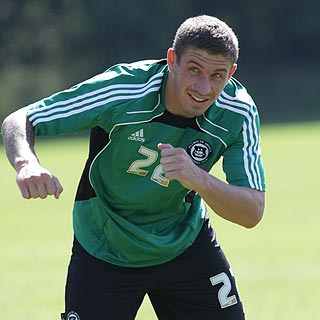 George Donnelly preparing to face AZ

Donnelly for Wright-Phillips is one of three changes Reid is expected to make from the 1-0 win against NAC Breda in Sint Willebrord on Saturday. Centre-backs Reda Johnson (groin) and Bondz N'Gala (ankle) have been nursing minor injuries this week. So Kari Arnason and Krisztian Timar, who have both had fitness problems during pre-season, are set to start against AZ. Arnason suffered a thigh strain when the Pilgrims beat Truro City 2-0 on July 10. Timar, meanwhile, will be getting his first run-out for Argyle this pre-season. The Hungarian centre-back was ruled out of the end of last term by a serious hamstring injury. Timar, 29, has recovered from that, but then injured a toe early in pre-season. Reid had planned to play Arnason and Timar against AZ, regardless of the unavailability of Johnson and N'Gala. "Their injuries are not bad ones, and I wanted to see Arnason and Timar play anyhow," said Reid. "Timar has had a terrible time with injuries for the last couple of years. He has worked hard in pre-season and had just a little niggle, but he's fit now so we will start him tonight. It's his first game for a while, but he looks strong enough in training. And, of course, Arnason is back in the fold. He can play in a few positions so it will be good to see those lads on the park."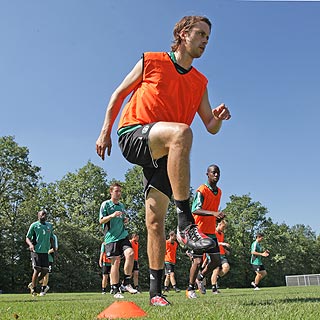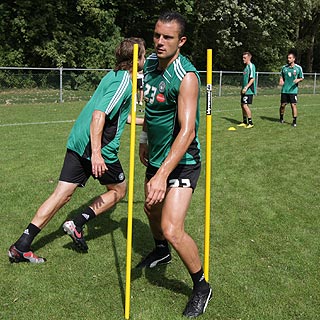 Kari Arnason and Krisztian Timar during training

Reid was 'quite open' to the idea of playing Arnason in midfield at some point. He said: "This trip has been invaluable because I have been able to do teamplay, but I'm still trying to get over what I want. I think some of the lads find it a little bit different, which is understandable. But I will keep doing my 10-20 minutes a day until they get it. I have enjoyed getting to know them. I might ask people to play in positions they haven't been used in before. I don't mind doing that. I have done it at other clubs I have been to and been quite successful. Pre-season is the time to try things. I want the players to try to express themselves, and not worry about it, especially some of the young lads. Sometimes when they get in the squad they are a bit nervous and apprehensive. It's just a matter of them relaxing, but, overall, I have been pleased with the way the trip has been going." The players who do not start against AZ will do so in the final match of the tour, against SC Cambuur in Franeker tomorrow night. Reid said: "I will get people who haven't really played that much in the game on Thursday. "It's important everyone gets football time under their belt." Reid's aim is for as many players as possible to play all of the game against AZ, but injuries could dictate that. And Timar, in his first match of pre-season, will not be pushed too hard. AZ will pose strong opposition for Argyle, having won a four-team tournament against Anderlecht, FC Cologne and Fenerbahce last week. Reid said: "I think this is going to be a real good test for us. The harder the game, you see certain things which give you a picture. I'm glad it's a good game for us. They will be up to speed because you don't win a tournament like they did unless you are nearing full fitness."

KARI ARNASON SET TO RETURN FOR ARGYLE AFTER FALSE TRURO START
21st July
Kari Arnason is ready to return to action after overcoming the thigh strain he suffered early in pre-season. The Iceland international is set to play for the Pilgrims in the second game of their tour to the Netherlands. That is against 2008/09 Eredivise champions AZ Alkmaar in Anna Paulowna this evening. Arnason was hurt in the opening 15 minutes of the Pilgrims' first pre-season match, the 2-0 win at Truro City on July 10. He trained for the first time since then on Sunday, taking part in both sessions. Arnason, 27, was given the go-ahead to do that by Argyle's head physiotherapist Paul Atkinson, and successfully came through it. He told Herald Sport: "I thought about taking some shots, but I didn't feel totally secure, so fortunately my brain took over and I decided not to!" Arnason was philosophical about getting injured so early in the first pre-season friendly. He said: "It's actually better to get it now, than when the season starts. It's a case of keeping your head up and, hopefully, I will be injury free when the season starts. It was a spasm in my right thigh, and it might have been a grade one tear. It was a strange sensation really."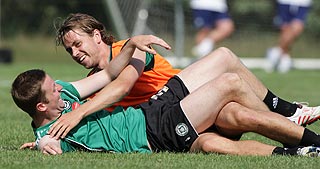 Kari Arnason gets tangled up with Steve MacLean during a tour training session

It is almost exactly 12 months since Arnason signed for Argyle, on their pre-season training camp at the University of Stirling in Scotland. He had impressed then Pilgrims' boss Paul Sturrock during a trial. The form of Arnason was one of the few highlights of the 2009/10 Championship relegation season. It led to him being offered a long-term contract, and a recall to the Iceland squad. Argyle are staying at Papendal, near Arnhem, for the first time this week and Arnason has been impressed with the set-up. Papendal is a base for the Dutch Olympic Sport Federation and is located in the Veluwe Woods. Arnason said: "It's really good here. The grass on the pitches is a bit long but, other than that, it's perfect. There are basically three things you have to have on a training camp – a decent bed, a decent pitch and decent food."
Argyle opened their tour to the Netherlands with an impressive 1-0 defeat of NAC Breda. Arnason said: "They put us under pressure in the first 15 minutes but, other than that, I thought the shape of the team was really good." NAC finished 10th in the Eredivise last season while AZ, tonight's opponents, were fifth. Their squad includes two Icelandic compatriots of Arnason – midfielder Johann Berg Gudmundsson and striker Kolbeinn Sigthorsson. Arnason said: "I think AZ are a better team. I actually know a little bit about them because they have some Icelandic boys there. They are going to play the same style of football, but I'm guessing they will probably be sharper up front." Peter Reid is already the third different boss Arnason has played under at Argyle. First it was Sturrock, then Paul Mariner and now Arnason – and the rest of the squad – are trying to impress the new manager. Arnason said: "He's working on shape, which I thought we needed, so that's really positive. He's very straight-forward and has an authority about him, which I think is a good thing."

PLYMOUTH ARGYLE PREPARE TO FACE TOUGH TEST AGAINST HIGHLY RATED AZ ALKMAAR
21st July
AZ Alkmaar had four players on duty at the recent World Cup in South Africa, including Argentina goalkeeper Sergio Romero. The others were defenders Hector Moreno (Mexico) and Simon Poulsen (Denmark), plus their captain and midfield general Stijn Schaars (Netherlands). None of the quartet have featured for AZ in pre-season yet, and are unlikely to play against Argyle tonight. Nevertheless, the 2008/09 Eredivise champions still possess a strong multi-national squad. They proved that by winning a four-team tournament in Cologne, Germany, last week. AZ beat top Turkish club Fenerbahce 2-0 in the first match of the ETL Domcup on Thursday. Their goalscorers were midfield duo Nick van der Velden and Johann Berg Gudmundsson. Their opponents in the final on Saturday were Anderlecht, of Belgium, and AZ came out on top 2-1.On target for the Dutch side were midfield pair Pontus Wernbloom and Kolbeinn Sigthorsson.
Argyle head coach Paul Mariner was part of the Ipswich Town squad which beat AZ in the final of the 1981 UEFA Cup. Seven years later, AZ were relegated from the Eredivise and did not return to the Dutch top flight until 1998. AZ returned to prominence in 2004/05, when they finished third in the Eredivise and were UEFA Cup semi-finalists. They moved to a new 17,000-seat capacity stadium in the summer of 2006, but there are plans to expand that to 30,000 by the start of 2011/12. AZ, under top Dutch coach Louis van Gaal, had a so-near so-far season in 2006/07. They were third in the Eredivise, having led going into their last game, and lost in a penalty shoot-out to Ajax in the Dutch Cup final. They were also beaten by Ajax in the play-offs for UEFA Champions' League qualification. Perhaps, unsurprisingly, AZ struggled the following season, having lost several of their star players. They finished 11th in the Eredivise and made early exits from the UEFA Cup and Dutch Cup.
AZ lost the first two games in 2008/09, but were then unbeaten in the next 28 matches and wrapped up the title three weeks before the end of the season. It was only AZ's second Dutch championship since being founded in 1967. It was also the first time since AZ's previous success in 1981 that a club other than Ajax, PSV Eindhoven or Feyenoord had come out on top. Van Gaal moved to top German club Bayern Munich that summer and he was replaced by Ronald Koeman. AZ picked up only three points from six games in the group stages of the Champions' League last season. Their results included a 1-1 draw at home to Arsenal and a 4-1 defeat to the Gunners at the Emirates Stadium. Koeman's reign lasted only until December, when he was succeeded by former Netherlands team manager Dick Advocaat for the rest of the season. Advocaat led AZ to some improved results and a final position of fifth, which put them into the third qualifying round for the 2010/11 UEFA Europa League. Gertjan Verbeek took over as AZ's new boss this summer, after leaving Dutch club Heracles. AZ's recent history shows what a formidable club Argyle face in Anna Paulowna tonight.

PETER REID ROLLS BACK THE YEARS ON TOUR WITH ARGYLE
21st July
Peter Reid is clearly still very fit, even at the age of 54. He has even taken part in one of the sessions at the Pilgrims' pre-season training camp at Papendal, near Arnhem, this week. The former Everton and England midfielder did not look out of place. "We were a man short and I drew the short straw because the legs don't go well these days," he said. "I would pay anything to turn that clock back, but to work with these young players and try to improve them, that's what it's all about being a coach." At one point in the training session, Reid came up against Argyle's tough-tackling defender Krisztian Timar, but that did not bother him. "It's good seeing him on the training pitch," said Reid. "The lad has had a bad couple of years with injuries." Timar has suffered a fractured skull and a serious hamstring injury over the past couple of years.

RED CARD FOR MACLEAN BUT PILGRIMS TAKE POSITIVES FROM BATTLING DEFEAT
22nd July
Argyle's quest to remain unbeaten on their pre-season tour of the Netherlands has failed, but the Pilgrims can take some positives from their unlucky 1-0 defeat to classy Dutch outfit AZ Alkmaar in Anna Paulowna. The men from Home Park were the victims of two very arguable refereeing decisions at key moments of last night's contest. They conceded a penalty early in the game, which AZ converted to score the only goal of the match, and they had substitute striker Steve MacLean sent off rather harshly in the second half. Overall, though, the Pilgrims applied themselves well against talented opposition. Argyle, who have another fixture to fulfil tonight against SC Cambuur at Franeker, picked a side which was pretty close to what has looked like manager Peter Reid's current first XI in this week's training sessions. Krisztian Timar, after an injury-ravaged year, was given a start alongside Kari Arnason in central defence. George Donnelly, after some good work in training and a lively run-out as a substitute in last Saturday's 1-0 win over NAC Breda, played up front alongside Rory Patterson. AZ, who finished fifth in the Dutch top flight last term, did not pick any of their five players who went to this summer's World Cup finals, but the squad they relied upon went into the game in good form. Their three previous friendlies had produced wins over Austria's Red Bull Salzburg, Turkey's Fenerbahce and Anderlecht of Belgium.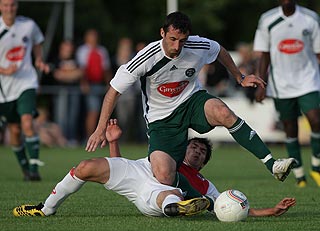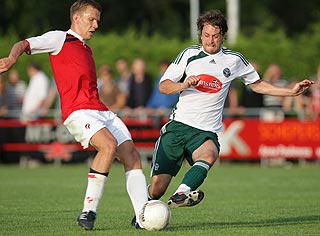 Tony Capaldi and Kari Arnason in action against AZ

AZ quickly demonstrated that, when they had the ball, they were capable of keeping it for long periods, just as Breda had done at the weekend. Unlike Breda, AZ backed up their possession play by harrying Plymouth players when the Pilgrims had the ball – even in Argyle's half. When the English side went a goal down in the seventh minute, however, there was little Dutch 'total football' involved. AZ attacked their first corner of the match by gathering a bunch of players in a group inside the penalty area to await the flag-kick. The referee saw some shirt-tugging by a Plymouth player, and awarded a penalty. Nick van der Velden sent Argyle goalkeeper Romain Larrieu the wrong way from the spot. The Pilgrims' attempts to restore parity were let down by their failure to keep hold of the ball for long enough, and they suffered a worrying injury setback midway through the first half. Right-back Karl Duguid was hurt in an accidental collision with Nick Viergever and, after lengthy treatment to a shin injury, he was carried off the pitch on a stretcher. He reappeared on crutches during the second half. Yannick Bolasie rose from the bench to replace Duguid and took up a left-wing role, which meant that Chris Clark switched to right-back. AZ continued to pass and probe, and they had a couple of chances to extend their lead before the break. After Damien Johnson had lost the ball in midfield, Charlison Benschop fired just wide from the edge of the area. Then, after Carl Fletcher had been booked for dissent at the award of a free-kick against him, Sweden international Rasmus Elm's dead-ball strike was pushed away by Larrieu.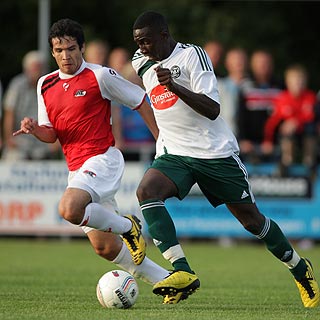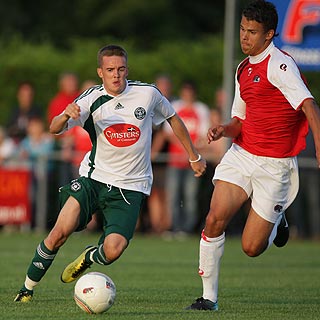 Yannick Bolasie and Craig Noone taking on Alkmaar Zaanstreek
Argyle removed Fletcher, who had turned an ankle, and Patterson from the fray at the interval, and sent on Jim Paterson and Joe Mason. The consequent reshuffle included Tony Capaldi's move from left-back to left-midfield, and Bolasie taking on a striking role. Bolasie was asked to drop off behind Donnelly, who had a half-chance soon after the break. The former Skelmersdale United striker sent an angled shot on the turn too high. Donnelly, who worked hard without being able to retain possession for long, was replaced by MacLean midway through the second half. Luke Summerfield took over from Anton Peterlin in midfield at the same time. AZ also made plenty of changes, and two of their substitutes combined to fashion a chance. Erik Falkenburg chipped in a cross from the right, and Johann Berg Gudmundsson sent a header too high. MacLean's participation lasted no more than a dozen minutes. He was fouled by AZ captain Kew Jaliens near the touchline, and reacted by becoming involved in a physical confrontation with the central defender which was not to the referee's liking. A red card was brandished, and off went the Scottish striker. With their one-man advantage, AZ dominated the closing period, and Argyle had to thank Timar for a fine tackle to thwart substitute Mitchell Te Vrede. The Hungary international's strong 90-minute showing was one of the most positive aspects of the night for the Pilgrims. Larrieu also deserved praise for his evening's work – especially for a flying save to keep out a header from substitute Kolbeinn Sigthorsson in the final minute of the contest.
GOING DUTCH: CHRIS ERRINGTON IN HOLLAND WITH THE PLYMOUTH ARGYLE SQUAD
22nd July

I must admit when I packed my bag to come to the Netherlands for this pre-season tour I opted for more sweaters and trousers than T-shirts and shorts. I assumed that the weather would be warm, but no more than that. How wrong I was. The weather has been very hot since we have been out here. On Monday morning it was 21 degrees centigrade when we set off for the Pilgrims' training camp at 10.15am. On returning to our hotel at lunchtime it was up to 29, and probably pushed up to 30 in the afternoon. All of this under unbroken, clear blue skies. It was exhausting watching the players training so hard, and for so long, in such heat so I found some shade to sit down in!
It was even hotter on Tuesday, with the temperature hitting 31 degrees. That was one of the reasons why Argyle manager Peter Reid decided not to have an afternoon training session. Instead, the players were allowed to visit a nearby swimming pool to cool off and relax. Fortunately, as this is a relatively short trip by the standards of recent Argyle pre-season tours, my supply of T-shirts and shorts will keep me going. Otherwise, I would have had to politely ask new kit man Neil Lunnon if he would do me a favour and wash some clothes for me! It was not quite as hot yesterday, but still sunny, and is forecast to be only 22 degrees tomorrow.
They are counting down the days to the 2012 Olympics in London at Argyle's training base. Papendal, near Arnhem, is the headquarters for the Dutch Olympic Sport Federation. There is a digital display at the entrance, counting down to the next summer and winter Olympics. I can tell you it is 796 days until London in 2012 and 1,296 days until the winter version in Sochi, Russia, two years later. Many of the Dutch Olympic sport teams train at Papendal but, surprisingly, there is no swimming pool. The Netherlands have traditionally been strong at swimming. Otherwise, Papendal has an impressive array of facilities and perhaps partly explains why the Dutch have such a good record at recent Olympics. At Beijing in 2008 they picked up seven gold medals, five silver and four bronze, which put them 12th in the table. That was also their final position in the table at Vancouver earlier this year, when they had a haul of four gold medals, one silver and three bronze.
Recently-married Argyle goalkeeper Romain Larrieu (belated congratulations to him and Penny) has been glued to the television this week whenever possible. He has been anxious to follow as much of cycling's Tour de France. As is the case with most countries in continental Europe, there is extensive TV coverage of the event in the Netherlands. Finally, a health update. I seem to have finally shaken off the cough which I referred to in 'Going Dutch' on Monday. Maybe the hot weather has helped. Who knows? But I am a much happier camper now.

KARL DUGUID WILL HAVE LEG INJURY ASSESSED AFTER BEING CARRIED OFF IN FRIENDLY
22nd July
Karl Duguid will have a leg injury assessed today after being carried off in Plymouth Argyle's 1-0 defeat by AZ Alkmaar last night. The Pilgrims' right-back was hurt in a heavy collision with AZ's Nick Viergever in the 24th minute. Duguid was stretchered off after a few minutes of treatment from head physio Paul Atkinson. But the injury to the right leg is not thought to be too severe, and he emerged from the dressing room on crutches during the second half. Argyle ended the second match of their pre-season tour to the Netherlands one man short. That was after substitute Steve MacLean was sent-off, following a clash with AZ captain Kew Jaliens. AZ's winning goal was a controversially-awarded penalty, scored by midfielder Nick van den Velden in only the seventh minute.
Argyle manager Peter Reid was pleased with his team's performance against the 2008/09 Dutch champions, in what he thought were adverse circumstances. He said: "I'm not going to criticise the referee because it's a difficult job. But there were a couple of decisions that, let's just say, didn't go our way." MacLean received his red card after only 12 minutes on the pitch. Reid said: "I did have a word with the referee before the game and asked him if there was any trouble to give me a nod and I would drag the lad off. So I was a little bit disappointed. I didn't think it was a sending off, but he made the decision." Argyle are short of cover at right-back so they will be hoping Duguid's injury is not serious. Reid said: "We will just see how it is overnight. It's swollen and he's having ice on it now."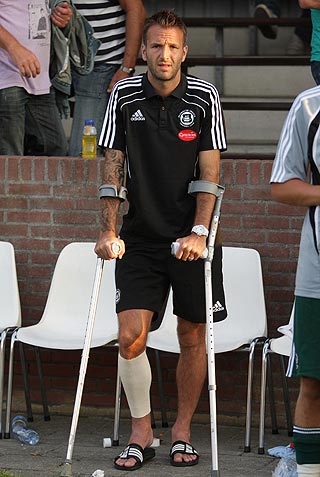 Karl Duguid watched the second-half of the AZ game on crutches
Argyle skipper Carl Fletcher was substituted at half-time after turning an ankle when blocking a shot, but that was a precautionary move. Reid said: "I have got to say, I thought for the first 15 minutes we were still on the coach. We had an hour-and-a-half trip and we didn't shut them down. We were leggy and we didn't win a second ball. But after that, besides not really testing them, I thought from a defensive point of view the lads were terrific. All in all, I'm pleased with the way we have played against a really good side." Argyle's centre-backs Kari Arnason and Krisztian Timar both impressed after recovering from injuries. Arnason had only been out of action for a couple of weeks because of a thigh strain. But it was Timar's first match since suffering a complete tear of a hamstring at the start of January while on loan to Oldham Athletic. Reid said: "I didn't want them to do the 90 minutes but they have done fantastically well. Timar has been out for a long time but I thought he was terrific in his first game back. He stuck at it, and so did Arnason, but Bolasie came on up front for us and did well. He held the ball up, and if there was one criticism I would have it's that I just thought we didn't hold the ball up as well as I would have liked it. Having said that, AZ were a really good side," he added.
Argyle will play the third and final match of the tour against SC Cambuur in Franeker tonight. Cambuur were runners-up in the Dutch second division, and they missed out on promotion after losing in the play-offs. Argyle's line-up will include the players who have not yet seen any action while in the Netherlands. There could also be a run-out for Bondz N'Gala, who has been troubled by an ankle injury this week. But another of Argyle's centre-backs, Reda Johnson, will not be risked after sitting out training with a groin strain. Trialist goalkeeper Freddy Hall will start for the Pilgrims, and young trio Liam Head, Sean Kinsella and Jordan Trott are set to play. Striker Bradley Wright-Phillips will also feature, having been ruled out by blisters on his feet last night.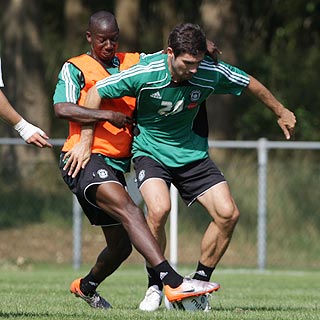 Bradley Wright-Phillips tackles Jim Paterson in a tour practice match
DUTCH TOUR HELPS PLYMOUTH ARGYLE STRIKER RORY PATTERSON SETTLE IN
22nd July
What better way for striker Rory Patterson to get to know his new Plymouth Argyle team-mates than a pre-season training camp in the Netherlands? The trip to Papendal, near Arnhem, has been invaluable for the 25-year-old as he settles into his new club. When in Plymouth, the players all go off in their separate directions once training has been completed. But it is different on a pre-season tour, when they are all together 24/7. Patterson has spent a lot of time talking to midfielder Damien Johnson, who, like him, is a Northern Ireland international. But he admitted the trip meant it speeded up his acclimatisation to Argyle. Patterson told Herald Sport: "It's probably the best way you could think of because you are with the lads all day and night. You have breakfast and dinner together, so you get to know each other a lot easier. It's a great set-up here. There are a lot of facilities and the pitches are all decent. It's good." There has been hot sunshine at Papendal during Argyle's stay so far, and that suits Patterson fine. He said: "It's a nice change from back home. I would rather train and play in this sort of weather than in wind and rain. I'm just doing my best to get my fitness up to what it needs to be. The rest will just follow, so I'm plugging away at that. We have got the hard training out of the way, and now it's getting to know the lads and the way they play."
Patterson was signed by Argyle from Irish Premiership club Glentoran for a transfer fee believed to be £40,000 last month. He has played in all of their pre-season friendlies so far, as he settles into his new surroundings. Patterson said: "With every game I play, I'm getting more of the ball. The players are starting to understand me and I'm starting to understand them. It's coming along nicely, and by the start of the season we should be alright." When Patterson had a trial with Argyle in March, head coach Paul Mariner was in control of first team affairs. Mariner was very keen for the Pilgrims to sign Patterson this summer. And they did so, even though by then the club had decided to appoint a new manager. That meant Patterson has had Peter Reid to impress during pre-season. Patterson said: "He's a very experienced man. When he stands up and talks, everyone listens. He's well respected and, obviously, has managed some big clubs." Mariner and coach John Carver have remained part of the coaching structure, and Patterson believes that can only benefit the players. "The set-up is great," he said. "You have got Peter Reid as the manager and John Carver knows his stuff. And, obviously, it helps to have a former striker like Paul Mariner working with you. He knows when things are going right and when they aren't going right, and what to say and what to do. He helps you along and takes us on our sessions, so that can only help us score goals." Patterson only had a short summer break because he played for Northern Ireland in two friendlies against Turkey and Chile after the end of last season. He said: "I went away with them for 10 days and we did a lot of training in hot weather. We played Turkey and Chile so they were big fitness tests, but I didn't mind. I knew that was going to happen. I'm just happy to be here and getting started now," he added.

ARGYLE RESERVE TEAM ACQUITS ITSELF WELL IN BATTLING DRAW
23rd July
What was more a less a Plymouth Argyle reserve team did their best last night to win the final match of the Pilgrims' tour to the Netherlands, but they were unable to hold on to a three-goal lead against SC Cambuur. A first-half opener from Craig Noone and two second-half goals from Joe Mason had put the English outfit in command, but the Dutch side did not give up the fight and scored three times in the last 20 minutes. Nevertheless, the Pilgrims can reflect on a decent night's work by an under-strength line-up.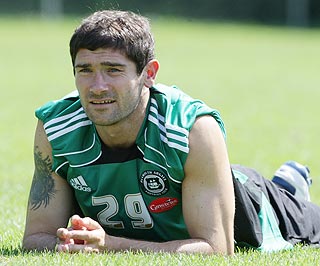 Skipper for the night, Jim Paterson

Argyle's team selection was influenced more by the desire to give game-time to the under-used members of their squad than any wish to provide strong opposition to a team who had finished in second place in the second tier of the Dutch League last season. None of the Pilgrims' line-up who had started Wednesday's 1-0 defeat to AZ Alkmaar were on the field from the first whistle in Franeker. Argyle's side included Freddy Hall, their trialist goalkeeper from Bermuda, plus Sean Kinsella, Liam Head and Jordan Trott, three youngsters who have not played any competitive first-team football for the Home Park club. Kinsella and Trott played in their normal positions – centre-midfield and left-back, respectively – but Head was not so lucky. He had to fill in at right-back, and put in a good shift. Jim Paterson, who was skipper for the night, played in central defence alongside Bondz N'Gala, who had recovered from an ankle injury he sustained in last Saturday's 1-0 win over NAC Breda.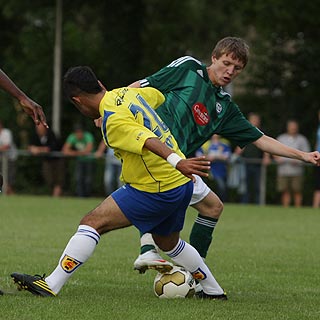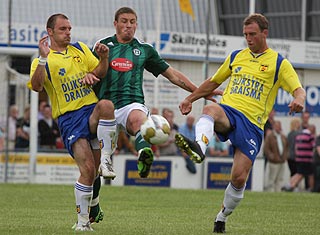 Joe Mason and George Donnelly in action against SC Cambuur
Cambuur, who fielded former Leicester City striker Mark de Vries, put the ball in the net in the early moments, but only after an offside flag had been raised. The next two chances fell to Argyle. Steve MacLean, who had been sent off on Wednesday, smashed an angled drive too high. Then Bradley Wright-Phillips ran on to a fine pass from Luke Summerfield, and rolled a shot across goal and wide. Argyle's understudies were doing well against decent opponents, and they took the lead in the 20th minute. Mason skipped down the right side, and declined to go down when he was fouled inside the penalty area. He gained his reward when his low cross was converted by Noone with a composed finish. Hall showed safe handling to deal with a couple of long-range shots, and Argyle almost extended their lead in the 32nd minute. After Wright-Phillips had been fouled by Leon Hese 25 yards from goal, Summerfield's well-struck free-kick was pushed away by goalkeeper Robert de Loecke. Cambuur raised their game, and dominated the last ten minutes of the first half. They created but failed to take three reasonable chances, as Argyle's makeshift defence stood firm.
The Pilgrims removed Wright-Phillips, who has been bothered by blistered feet this week, from the fray at the interval, and sent on George Donnelly, who had started Wednesday's friendly. Donnelly went close in the 50th minute, with a flashing header from Noone's driven cross which was only just off target. N'Gala got in a good block when Cambuur posed a threat, and then Hall dived to his right to grasp Serhat Koc's firm shot. Argyle went upfield and doubled their lead in the 55th minute. Noone was the supplier with a good cross from the left, and Mason beat his marker to the ball and found the net with a glancing header to register his second goal of the tour. The Plymouth-born player's third goal of the tour was not long delayed. Four minutes later, Noone won possession out on the left and slipped a pass to Donnelly. Mason tapped in the substitute's cross-shot at the far post. On the break, the Pilgrims went looking for more goals as Cambuur probed in vain. Donnelly seized upon a loose ball and raced to hit a shot at Te Loeke.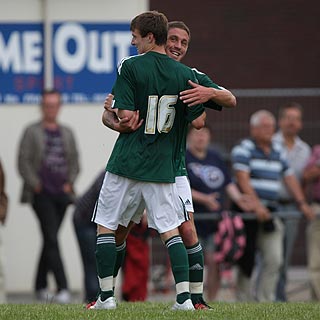 George Donnelly congratulates Joe Mason after his second goal
Argyle had a lucky escape in the 66th minute, when Nassir Maachi curled a shot on to the inside of an upright and Hall grasped the rebound. The Bermudian also held on to a daisy-cutter from the same player, but he was eventually beaten in the 69th minute when Iranian striker Reza Ghoochannejhad ran on to a long ball and clipped a shot into the net. By then, with Chris Clark having replaced N'Gala and gone to left-back, Argyle's entire back-four were playing out of position. Trott had joined Paterson in the middle of the defence. Some fallibility was excusable. Argyle freshened their team by sending on Rory Patterson and Anton Peterlin with a quarter of an hour to go – three minutes before Cambuur grabbed their second goal. Ghoochannejhad was the marksman again, sticking out a boot to divert a cross from Kevin Diaz into the net. The Dutch oufit sensed that an equaliser was on the cards, and it arrived in the 80th minute. Jeffrey de Visscher swung over a cross from the right, and centre-back Robert van Boxel climbed high to plant a header into the net.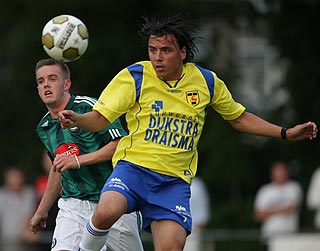 SC Cambuur's Reza Ghoochannejhad
PLYMOUTH ARGYLE DROP THREE GOALS AFTER N'GALA IS WITHDRAWN WITH ANKLE INJURY
23rd July
The recurrence of an ankle injury to defender Bondz N'Gala proved the turning point in Plymouth Argyle's 3-3 draw against SC Cambuur last night. The Pilgrims were leading by three goals when N'Gala was taken off in the 67th minute. Midfielder Chris Clark and left-back Jim Paterson filled in as Argyle's makeshift central defensive pairing and Cambuur capitalised on that as they netted three times in only 11 minutes. Nonetheless, Argyle manager Peter Reid took a lot of positives out of the final match of the pre-season tour to the Netherlands. Joe Mason, for example, scored twice, to follow his goal in the 1-0 win against NAC Breda on Saturday. Young trio Liam Head, Sean Kinsella and Jordan Trott were all given run-outs, while Luke Summerfield stood out in the centre of midfield. Reid said: "I think if the centre-half stays on we win the game. But he has had to come off because he has got a knock on his ankle again. It was a precaution. It's disappointing to concede three, but there are a lot of things I was delighted about. All in all, it has been a really good trip. I think Bondz got a whack on his ankle early and it just got progressively worse. We got him off to make sure he's right for next week." Reid added: "Mason has done well and Liam Head, a centre-forward, did fantastic at right-back. It was a fairly young side out there and they have done great."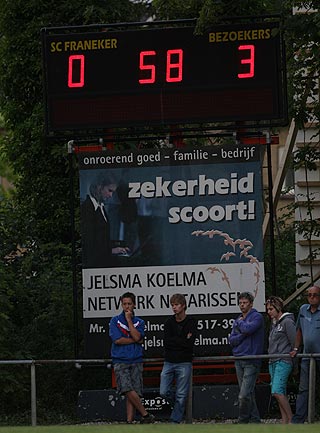 The scoreboard made good reading for the first 68 minutes

The scheduled 7pm kick-off was delayed by more than 20 minutes as Argyle did not get to the ground until 6.40pm. Reid admitted that had not been ideal preparation for his players. He said: "We got here a bit late. The bus didn't come on time, but the lads have acquitted themselves really well. We shut them down a lot earlier tonight, which I wanted us to do." Mason has taken the chance to show his goalscoring potential to new Pilgrims' boss Reid during the trip to the Netherlands. "He's a good young player, and he's an intelligent player," said Reid. "From that right-side of midfield, he gets in dangerous areas where he's difficult to pick up. The boy has done well, but there were a lot of plusses out there tonight. I thought Summerfield played ever so well." Trialist Freddy Hall was Argyle's goalkeeper against Cambuur and put in a decent display. Reid said: "He has done smashing. He came out for crosses, and hand on heart I don't think he had a chance with any of the goals." Meanwhile, the shin injury suffered by right-back Karl Duguid in the 1-0 defeat by AZ Alkmaar on Wednesday night is not a serious one. Duguid was stretchered off in the first half of the game in Anna Paulowna and he left the ground on crutches, but he did not need them last night as he watched from the sidelines. Reid said: "He's still a bit sore but we don't think there is any real damage in there. It's just soft-tissue damage, which is good." The Argyle squad were returning to Plymouth today and will resume training on Monday.


GOING DUTCH: CHRIS ERRINGTON IN HOLLAND WITH THE PLYMOUTH ARGYLE SQUAD
23rd July
The city of Arnhem is only a few kilometres away from Argyle's Dutch training camp at Papendal. Some of the fiercest fighting in the Second World War took place in and around the locality. There are reminders everywhere of 'The Battle of Arnhem', and the lives lost. So, when we had some spare time this week, my Western Morning News colleague Rupert Metcalf and I found out more. We visited the Airborne Museum in Oosterbeek, once a small village but now a thriving suburb of Arnhem. The museum is in what used to be the Hartenstein Hotel, which briefly was the HQ of British divisional commander Major-General R E Urquhart during the battle. A huge military operation code-named 'Market Garden' took place in September 1944. The Allies wanted to liberate the Netherlands and advance on Berlin, avoiding the Siegfried Line, the fortified defence positions between France and Germany. It was a combination of a surprise attack by parachute troops to capture the bridges over the rivers (Market) and ground troops who would hold them (Garden).
Almost 12,000 British and Polish airborne soldiers fought in and around Arnhem to secure their objective – the bridge over the Rhine. Around 700 allied troops reached the bridge on September 17, 1944 and fought hard for four days in an endeavour to take it. The remainder of the 1st Airborne Division did not reach them because of strong German resistance. Eventually, they withdrew to Oosterbeek, in the area around the Hartenstein Hotel, hoping to keep a bridgehead open until further ground troops arrived. After five days of hardship and heavy fighting, what was left of the division withdrew across the Rhine. Our trip to the Airborne Museum was a real eye-opener for me. For example, the Edense Golf Club, which borders the Papendal training complex, was where the 1st Polish Independent Parachute Brigade were dropped. And there were landing zones for the 1st Airborne Division to the south-west of the nearby village of Wolfheze. It is a beautiful part of the Netherlands and it is hard to believe that it was the scene of such bloodshed. Each year, many British tourists visit the Airborne Museum and I can thoroughly recommend it. It not only tells you about Operation Market Garden, but the Battle of Arnhem from a British and German perspective. It also tells the stories of the brave Dutch civilians who were caught up in the conflict, and suffered the consequences. We also spotted a tank with the name 'Argyle' written on it outside the entrance to the museum.
Argyle pre-season tours usually involve a lot of travelling to the games, and this one has been no different. For example, there was the trip to Obertraun in Austria two years ago, when both of the matches were played in Germany! Or there was the time in Sweden in 2005 when Argyle travelled more than two hours into Lapland and played what amounted to a pub team on a park pitch and won 9-0. Or, on a previous visit to Obertraun, there was the time when the Pilgrims' squad had a long coach trip across Austria to Wels. There they found a pitch covered in small craters, and which was subsequently flooded by a torrential downpour. The game did not take place. The first of Argyle's three matches in the Netherlands was staged in Sint Willebrord, not far from the border with Belgium. It took around an hour by car to get there from Papendal. It was even further to get to the next two games, both of which were in the northern part of the country, in the towns of Anna Paulowna and Franeker. Anna Paulowna, for example, is in the province of Noord (North) Holland. It is close to the North Sea, yet the Pilgrims have been staying in the east of the Netherlands. Even driving mainly by motorways, it was half-past-midnight before Rupert and I returned to our hotel after the game against AZ. It has, I suppose, given us an opportunity to see a lot of the Netherlands. But, without wishing to sound churlish, it would have been nice if at least one of the three games had been relatively local to Papendal.

PLYMOUTH ARGYLE HOPE TO SIGN TRIALISTS CAPALDI, HALL AND PETERLIN
24th July
Peter Reid is keen on signing Plymouth Argyle trialists Tony Capaldi, Freddy Hall and Anton Peterlin. All three impressed him on the Pilgrims' pre-season tour to the Netherlands, which ended yesterday. But it is not clear whether the club have the finances to complete deals for the trio. Reid has inherited a sizeable squad and it could be that some players have to move on, such as striker Steve MacLean, before he can bring others in. The new Pilgrims' boss was keeping his cards close to his chest about Capaldi, Hall and Peterlin when asked about their futures. Reid said: "I don't really like talking about that because I think it alerts other people, but all three of them have done well." He added: "I think there are deals to be done if it's in the scope of our budget." Capaldi, part of Argyle's Division Two title-winning squad in 2003/04, was released by Cardiff City at the end of last season. Should he be signed, the 28-year-old could play at left-back or wide in midfield. Hall would be the back-up to goalkeeper Romain Larrieu and the all-action Peterlin would provide versatility across the midfield. Capaldi and Peterlin both made two starts and one substitute appearance in the Pilgrims' three-match tour to the Netherlands. Hall played the whole of the last game, the 3-3 draw with SC Cambuur on Thursday night, when a makeshift defence struggled desperately in the second half.

Reid admitted he had found the tour to be very beneficial to his planning for the forthcoming League One campaign. He said: "I know now what the strengths and weaknesses of the squad are, and there will be some changes as we go on to the season. But it's hard work in the market, getting people in and out at the moment. I think as the season gets nearer, people will get more business done and I'm hoping to do the same. But, all in all, it has been a really good tour," added the Pilgrims' boss. The Argyle squad returned to Plymouth yesterday and they will resume training on Monday. So, too, will striker Rory Fallon, after his break following his participation in the World Cup for New Zealand. All of the Pilgrims' players will have their fitness levels tested again, as was the case at the start of pre-season. That will then allow Reid to assess how much progress each one has made. Argyle will have two more pre-season games next week, the first of which is away to League Two club Hereford United on Wednesday. They will then travel to Championship outfit Queens Park Rangers on Friday. Reid has seen Karl Duguid, Carl Fletcher, Reda Johnson and Bondz N'Gala all pick up injuries this week. None of them are thought to be serious, though. Reid said: "Obviously there have been knocks and bruises, but that's the nature of a physical, contact sport. But, in terms of pulls and strains, I'm really pleased with the way it has gone."
PLYMOUTH ARGYLE SHAPING UP WELL AFTER TOUR, BUT MONEY STILL A WORRY
24th July
Argyle returned from their pre-season tour to the Netherlands yesterday. Having seen them in training, and in three games, here is what I have learned from this trip:
Romain Larrieu, who will be aged 34 at the end of August, remains a fine goalkeeper. In my opinion, there will not be many – if any – better shot-stoppers than him in League One this season. He has looked very sharp, not only in training but in matches. Larrieu played all of the games against NAC Breda and AZ Alkmaar and conceded only one goal – a controversial penalty. He made a superb save in the closing stages of the 1-0 win against NAC. But Larrieu produced an even better one when the Pilgrims lost 1-0 to AZ, pushing a header from a corner onto his left post in second half stoppage time. With a new two-year contract in his pocket, Larrieu seems certain to be Argyle's regular 'keeper in 2009/10.
Manager Peter Reid is spoiled for choice when it comes to centre-backs. Bondz N'Gala and Reda Johnson, who have had injuries this week, would appear to be the pairing for the future. But Reid will only be concerned about the here and now, and Kari Arnason and Krisztian Timar cannot be discounted. Arnason and Timar were excellent in the game against AZ, when both were strong in the air and in the tackle. Those will be two important qualities in League One. Then, of course, there is the question of whether centre-back Marcel Seip will feature in Reid's plans come the start of the season. Seip has not been on the trip this week because his wife, Lucy, was expecting their first child. She gave birth at tea-time on Thursday to a boy, Walter Paul, who weighed 10lb 4oz.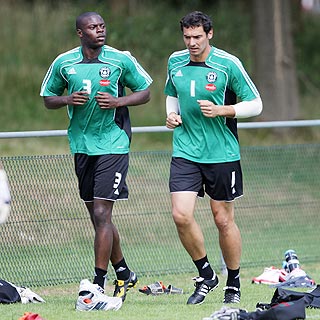 Bondz N'Gala and Romain Larrieu, who both had impressive tours
Reid will rely heavily on the central midfield pairing of Carl Fletcher and Damien Johnson this season. It is not only their experience he will be calling upon, but also their ability to break up opposition attacks and set up some of Argyle's own. Reid and Fletcher, the Pilgrims' skipper, already seem to have struck up a good rapport.
New striker Rory Patterson is looking a good bet to begin the season in Argyle's starting line-up. The Northern Ireland international has impressed with his workrate, not only when the Pilgrims are in possession but when the other team have the ball too. Reid wants his strikers to close down opposing players as much as possible, which is an area Bradley Wright-Phillips will have to improve on.
Finance could be a problem, but trialists Tony Capaldi and Anton Peterlin would both be good additions to Argyle's squad. Capaldi is a proven commodity, having spent four years with the Pilgrims earlier in his career. He is still only 28, and considering he had not been training with a club before starting his trial with Argyle last Thursday, he has been very sprightly. Capaldi would be more than good enough for League One, either at left-back or in midfield. Peterlin has spent all of pre-season with Argyle and seems very comfortable in the set-up. The busy American midfielder has shown the ability which persuaded Everton to offer him a one-year contract last summer. Peterlin was released by the Premier League club at the end of last season, but has all the attributes to be a success for the Pilgrims. He is very fit and has the versatility to play in more than one position. Peter Reid already has a sizeable squad, so that could be an obstacle to Capaldi and Peterlin being offered contracts. It only goes to highlight the importance of moving on players that are surplus to requirements.
I would be surprised were striker Steve MacLean still to be with Argyle at the start of the season. The club's record signing has spent most of this week playing for the 'second team' in training. A parting of the ways would surely be best for all concerned.
Joe Mason has provided further evidence of his scoring capabilities and his promise for the future. The talented 19-year-old scored three of the Pilgrims' four goals on the tour to the Netherlands. Mason will probably start the season as an impact substitute coming off the bench. But I do not believe it will be long before he forces his way into the first team. He could be used as an out-and-out striker, but all of his goals this week came from the right-side of midfield. That is where Peter Reid might play him first.
So that is another pre-season tour in the book. Hopefully, my diary this week has given you an insight into Argyle's preparations for the 2010/11 League One campaign, but also to life in the Netherlands. I can recommend a visit.