Back to

Tour Home
GERMANY 1965
SUCCESSFUL GERMAN TOUR
It's not so many years ago that professional footballers would be hurled into the fierce heat of a new season with perhaps only one or two public practice matches behind them. You remember those dreadfully dull affairs - Colours versus Whites or Probables versus Possibles - lacking sparkle and realism? Today modern clubs - clubs like Plymouth Argyle - realise that their teams must be geared up with three, four or even more games against tough opposition before the whistle goes for the opening League encounter of a new season.
It was in this progressive mood that a party of 15 Argyle players led by manager Derek Ufton and accompanied by vice-president Harry Deans and of course long-serving club trainer George Taylor, set off from Plymouth on Tuesday August 3rd for an ambitious three-match tour of West Germany. A few days later director, Brian Williams, and new club secretary, Graham Little, joined the party. Also attached to the group throughout the seven days of the tour were Ray Head, sportswriter of the Western Morning News and Evening Herald, and myself.
A long coach trip from Plymouth to London Airport, a 60 minute flight to Dusseldorf and a 90 minute coach journey to Aachen where Argyle's tourists received a warm welcome from officials of the TSV Alemannia Aachen Football Club. Early next morning Manager Ufton had the players out training in preparation for the game with Aachen that evening. The lads received a tremendous ovation before the kick-off and lined-up in true Continental style to salute the German crowd.
Aachen were two up in the first half when match-rusty Argyle tried to find their touch. But it was a different story after the interval, when Mike Trebilcock and Frank Lord put fighting Argyle back into the game. But still the talented German side hit back with a goal from inside-right Alfred Glenski. With seven minutes to go Lord equalised off a Barrie Jones cross and Argyle's tour was off to a magnificent start.
Thursday and Friday were spent in the ancient city of Trier and strenuous training sessions were broken up with sight-seeing tours and shopping expeditions. Saturdays game marked the 60th anniversary of Argyle's next opponents, Eintracht Trier 05 E.V. and it was Trebilcock who scored the only goal. Afterwards the Argyle party joined some of the 200 Trier officials, players and supporters at a magnificent 60th anniversary celebration which featured a 20 strong male voice choir and orchestra.
It was an early start the following morning for the long coach journey to Worms followed by lunch at a delightful restaurant on the banks of the Rhine. It was here that one of the many humerous moments of the trip was staged as the lads 'played' a mock cricket match minus bat or ball which ended with demon bowler Barrie Jones being hit for six by skipper Johnny Newman with several astonished Germans looking on. Argyle were once again impressive against Wormatia Worms winning 2-0 with Cliff Jackson and Lord scoring the goals early in the first half. So ended a delightful and successful tour which I am sure has toned the lads up for the season and certainly has given a tremendous boost to team spirit. Both on and off the field the players were a credit to the club.

*This article was written by John Davies and first appeared in the Daily Express. This version has been copied from the Argyle programme of August 25th 1965.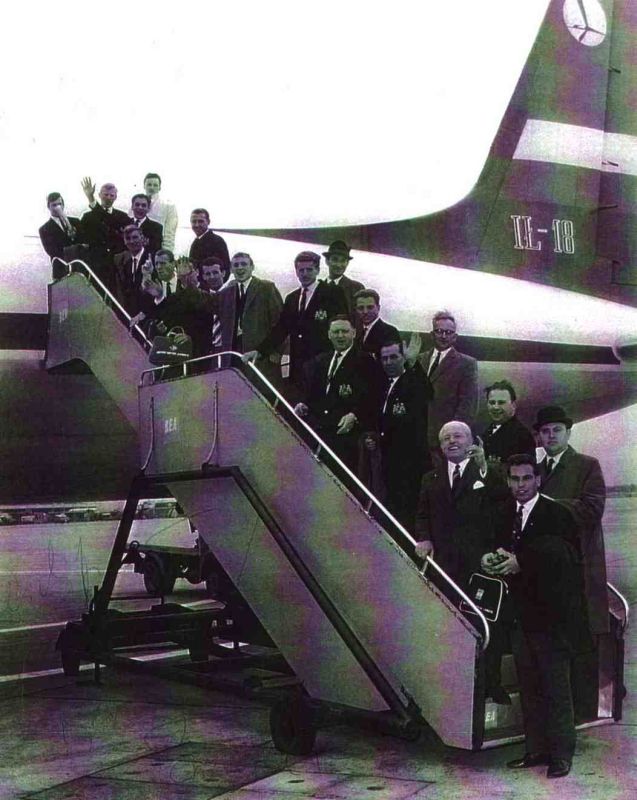 The Argyle party preparing to fly to Germany

TRICKERY OF NICK JENNINGS PLEASES GERMANS
Argyle's lethargy criticised by Manager Ufton
Officials of Alemannia Aachen F.C. gave Plymouth Argyle much credit for fighting back so well here last night in the first game of their three-match tour of Germany. Argyle, 0-2 down at half-time, drew 3-3 with goals from Frank Lord (2) and Mike Trebilcock. Alemannia Aachen representatives told me they were very impressed by Argyle's performance. The German club's president, Dr Gerd Heusch, commented, "It was a fast match and a draw was the best result. No one could say there was a better team." Another official, Herr Winand Von-Neus, was full of praise for Argyle. He summed up: "A quick, wonderful game, clean and quick. Your wingers were our favourites, particularly the young lad Nick Jennings. The fans loved his trickery."
NEW SIGNINGS
Herr Von-Neus was certain Argyle's showing would boost attendances for the matches against Eintracht Trier and Wormatia Worms at the weekend. Trier were a very strong side, he said, having signed three new players. One thing is certain. Not for Argyle the new disease of defensive football next season. The soccer they played last night won't leave the crowds bored and frustrated. Manager Derek Ufton had reservations about the performance, criticising the moods of lethargy which Argyle slipped into when they had got on top. "This is something we will have to overcome, but in all fairness it was the first time since they reported for training that the lads have been on a pitch with goalposts and marked lines, and we did well to score three goals on a ground smaller then Home Park.
ERRORS
"At the same time, we conceded three goals, two the result of defensive error, but you expect that at this stage." Manager Ufton added, "I was delighted we were losing at half-time. If we had been winning it wouldn't have proved anything. With the team 0-2 down I was able to learn more." He admitted making tactical changes in the second-half, switching his inside-forwards, Trebilcock and Cliff Jackson. "Their left-half was an attacking player and I switched Trebilcock so that he could operate in the open spaces," he said. He thought the wing men enjoyed their wandering roles: they had been told not to play defensively except for, "free-kicks in and around our penalty area, or for corner kicks against us." Apart from those lethargic moods Argyle fought well. Nevertheless, the game confirmed his opinion of the teams weaknesses and strengths. He was also critical of Argyle playing for a draw after making it 3-3 seven minutes from time. "If we had been lucky to be level I wouldn't have had any complaints, but we were gradually assuming control and should have gone all out to win. We have come to Germany to win matches. Of course it is different in away League games, but we were trying to impress the sponsors of the tour and should have played good, entertaining football right to the final whistle. As it is we seem to have made them very happy and Aachen are not a bad side."
Manager Ufton told me he was very pleased with the way the team had attempted to play to the methods and tactical ideas which had been worked on in training. The shouting of the Argyle men throughout the match amused the German crowd. Said manager Ufton, "I like my players to shout on the field. If they don't we will never get anywhere." Of his first game in charge of the team he said, "I enjoyed it. I like the feel of the game. This is what I want." Johnny Newman, who has been suffering from stomach trouble, Richard Reynolds, Norman Piper and John Leiper will be playing at Trier on Saturday. Don't be surprised if manager Ufton experiments with Piper as inside-forward. "The lad has a tremendous amount of ability and it's just a matter of finding out his best position," he said.
Argyle fell away for a while after a bright opening burst last night and Aachen collected goals through outside-right Gerd Klostermann and left-half Christian Breuer. In a breathtaking start to the second-half, Argyle scored twice in three minutes through Trebilcock and Lord. Thereafter, Argyle had long spells of success, with Tony Book particularly impressive. Noel Dwyer pulled out some excellent saves. The best goal of the game, hammered home by inside-right Alfred Glenski, made it 3-2 for Aachen, but Lord grabbed a draw.

ARGYLE HAVING ANOTHER CONTINENTAL TOUR NEXT YEAR
Moves to strengthen the team are possible
As we waited for the aircraft home here this morning, Manager Derek Ufton said Plymouth Argyle's three-match tune-up tour of West Germany was as successful off the field as on. "A few years ago such a trip before the season would have been considered fantastic," he said. Ufton added: "Now it will be routine. We shall go abroad next year. It's the only method, too, whereby the lads, particularly the youngsters, can gain experience against the Continentals and play in competitive games before the season opens. As far as discipline is concerned, nobody tried to get out of line. They all deserve praise for the way they have trained and shaped up in three games after only a fortnights work-out at home. They did a good job for Plymouth Argyle."
Not too severe
Given his assessment of the tour - Argyle fly home in half an hour undefeated following their 2-0 win against Wormatia Worms yesterday afternoon - Manager Ufton commented: "I don't think the strain on the players has been too severe and apart from Duncan Neale's pulled muscle we've come through injury free. "I have learned a lot and it has given me the opportunity to get to know and understand the players better. It has done them - and me - a lot of good." Everybody in the party agreed it has been great over here. Said skipper Johnny Newman: "We've had a wonderful tour and naturally we are now all looking forward to the new season." Manager Ufton reckons he has learned several lessons from the tour. "For instance, five or six players who I considered were good players have proved they are," he told me. Nevertheless moves to strengthen the team are a possibility before August 23rd. Manager Ufton admits he has a problem or two and is not going to indulge in any wild forecasts about the seasons prospects.
Rekindled
"It's difficult to compare matches in Germany with the English League, but the weeks stay abroad has rekindled enthusiasm and been an ideal booster for team spirit," he commented. Certainly, Manager Ufton, always the diplomat has had a big influence on the players, bolstering their confidence and building a happy atmosphere. Who will be in goal at Portsmouth? Manager Ufton still has this problem to sort out. The goal-keepers were successes on the tour. "I'd rather have both playing well than both playing badly," said Argyle's manager. He declined to name the most outstanding player on the tour but it is no secret he was highly delighted with Mike Trebilcock, who gets my award, Johnny Williams, Tony Book, Norman Piper, John Leiper and Noel Dwyer. I predict that Trebilcock will be a force in Division 2 next season. With rain falling steadily he hit a superb winner in the 1-0 defeat of Eintracht Trier on Saturday night. Cliff Jackson and Frank Lord were the scorers in yesterdays 2-0 win at Worms. Had it not been for Leiper, Trier might have won. Dyer, substituting after the break, also pulled out stirring saves when Argyle were defending for long spells in the second half. Norman Piper at right-back brought off a brilliant save, heading off the line from centre-forward Fink Wolfgang. Piper had an impressive game. Worms included two ex-Yugoslav World Cup stars in their line up.
Three for Lord
Lord collected three goals in two matches and any hopes that Bury have of Manager Ufton having second thoughts about letting the centre-forward go can be ruled out. Lord also had a brilliant header disallowed for offside at Worms - a hairline decision. All the matches in the three-game trip have been played in a friendly atmosphere. The emphasis over here is on retreating defences, but Argyle made the scoring chances and their moves were often brilliantly planned. Barrie Jones attracted the attention of the West German crowds with his showmanship. All through the West Germans appeared to enjoy Argyle's smart football. The Argyle party arrived at London Airport this afternoon.
* These articles first appeared in the Evening Herald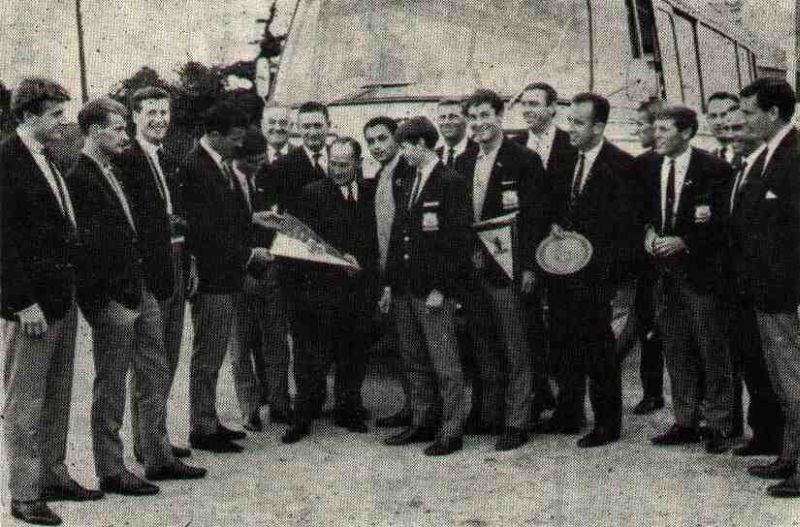 Plymouth Argyle on their return from Germany show Club Chairman, Mr S Williams, the pennants which were presented during the tour. (left to right) J.Leiper, C.Jackson, D.Baird, J.Williams, N.Piper, H.Deans, D.Fletcher, S.Williams, M.Trebilcock, N.Jennings, T.Book, R.Reynolds, F.Lord, G.Little, J.Newman, D.Neale, B.Williams, G.Taylor, D.Ufton

TOUR RESULTS

| | | | | |
| --- | --- | --- | --- | --- |
| Date | Opposition | Venue | Score | Scorers |
| August 4th | TSV Alemannia Aachen | Aachen | 3-3 | Trebilcock, Lord 2 |
| August 7th | Eintracht Trier 05 E.V. | Trier | 1-0 | Trebilcock |
| August 8th | Wormatia Worms | Worms | 2-0 | Jackson, Lord |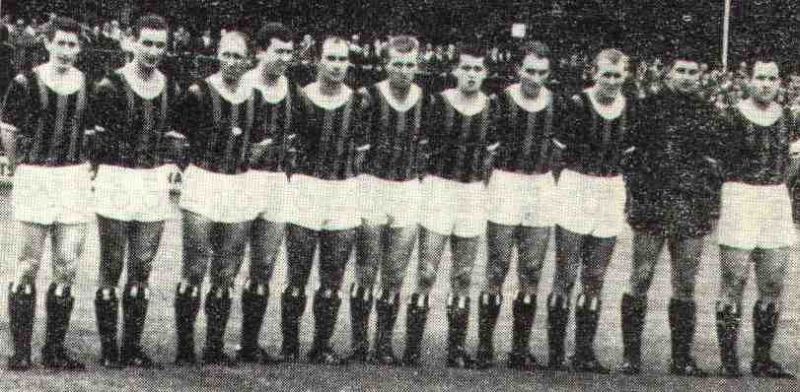 Eintracht Trier