Back to

Austria 2007

Tour Home
Austria 2007: Western Morning News
HOLLOWAY IS A HAPPY CAMPER
23rd July
Argyle made a belated arrival in Austria yesterday evening fit and ready to make the most of their week-long overseas training camp. When Ian Holloway took the Pilgrims to the spa resort of Loipersdorf 12 months ago, he had been Argyle manager for little more than three weeks. Now, after more than a year at the helm, his squad are doing things his way - and he feels that they are reaping the benefit. The men from Home Park are back at Loipersdorf and, despite the diversion of yesterday's flight from Stansted to Klagenfurt, rather than the intended destination of Graz, they are in good shape. Asked if he thought his players are fitter than they were at this time last year, Holloway said: "Yes, I'd like to think they are. Our results suggest that." The Pilgrims' boss is also delighted to be making his second visit to Loipersdorf. "I'm as pleased as punch to be back here," he said. "The facilities are absolutely outstanding and the food is excellent!"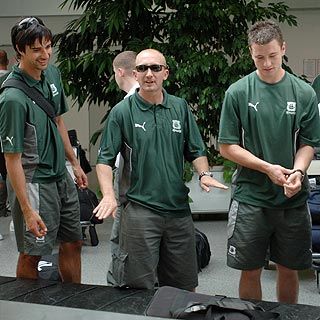 Holloway happy to be in Austria

The Pilgrims have been back in training for three weeks in preparation for the new Coca-Cola Championship season. The players have been concentrating on improving their fitness, but this week in Austria will feature plenty of skill work as well as physical conditioning. "It always starts to swing towards shape and pattern at this time," Holloway said. "We'll be working on our team shape and finding out how well they know their jobs. It will be all about patterns of play, but it will be tied in with some extra running early in the morning." As well as their training-ground sessions, Argyle have two games to play while they are in Austria. They take on Turkish top-flight side Genclerbirligi in Sochau tomorrow and then tackle highly rated Israeli outfit Hapoel Tel Aviv in Dietersdorf on Friday. "We've got two unbelievably tough games," Holloway admitted. "I'm expecting us to have to work hard to stop the other teams scoring. That will be good for us."
Holloway may not be in Austria for Friday's game, which is back at its original venue after a plan to stage the game on Argyle's training pitch in Rudersdorf fell through. His chief scout Gary Penrice has been concentrating on finding potential Pilgrims in Europe this summer, and Holloway may be joining Penrice on a scouting trip next weekend. "Gary is trying to get me over to France next weekend," the Home Park boss revealed. "I can see a lot of games on Friday, Saturday and Sunday. I might have to go and do that." Penrice has also been trying to line up some trialists to join the Pilgrims in Austria later this week, but that task has proved to be a difficult one. Holloway was hoping to take a look at a young full-back from Bayer Leverkusen with a view to a long-term loan deal, but the German club have decided not to let go of the player.
HODGES HAPPY TO GET GOING
24th July
For some of Plymouth Argyle's players at this week's training camp here in rural south-east Austria, the novelty factor comes into play. Some of the younger Pilgrims have never been abroad before with the Home Park outfit or with any other football club. The gruelling grind of pre-season training is new to them as well. Lee Hodges, however, is back on familiar territory. Argyle have a few thirty-something veterans among their ranks, but none have been earning a living in English professional football for as long as the affable Essex man. Epping-born Hodges, who will turn 34 in September, has been toiling away on training grounds and in stadiums big and small since he earned his first professional contract at Tottenham Hotspur 15 years ago. It is 14 years since he first joined Argyle as a youthful loan signing, and six years since he returned to Home Park on a full-time basis. Since Paul Sturrock signed Hodges from Reading in August 2001, the versatile left-footer has played a significant part in the Pilgrims' rise from the depths of the Football League to the Coca-Cola Championship. After signing a one-year contract at the end of last term which extended his stay in Plymouth, he is relishing the challenge of preparing for yet another campaign.
The Pilgrims have returned to the spa resort of Loipersdorf, which they first used a year ago, for this summer's training camp. "It's good to come back," Hodges said. "We knew how nice it was, and the weather is great too compared to home." Argyle could have done the physical work they are doing this week back at home, but an overseas training trip is about more than what happens on the practice pitches. The squad are spending a week working and socialising together, and the benefits will become apparent during the long season which lies ahead. "It's good bonding," Hodges said. "There are a few players who weren't here this time last year, and it's especially good for them. We're a good bunch, and we all get on well." The priority is definitely work, not play. "We're only halfway through our first day and we've had two hard training sessions already," Hodges added. "We haven't come over here for a nice little jolly-up. We've come here to work as hard as we can to get ready for the first game of the season." Hodges confirmed what has been discernible to observers - Argyle's training this summer, both here in Austria and back in Devon during the last three weeks, has been tougher than it has been before. He said: "The manager wanted us to get even fitter this year. We've been timing what we've been doing, and the times are even quicker. Everyone has come back fit, and we're all pushing hard and looking to be as fit as possible."
After a 2006-07 campaign which was interrupted by two knee injuries and a hamstring problem, Hodges is hoping for better luck in his quest to stay fit this season. He has worked hard all summer to make sure that he starts the new term in peak condition. "I've been at Home Park almost all summer," the 33-year-old said. "I went away for a two-week holiday with the family, but apart from that I've been working to keep fit and I feel like it's paying dividends. Pre-season is hard and I do struggle at times, but this year I feel a lot fitter." In the friendlies so far this summer, Hodges has done shifts at left-back and in central midfield. His versatility is a bonus for Holloway and if Gary Sawyer, the Pilgrims' regular left-back, or the club's midfielders are unavailable then the manager knows that Hodges is ready and waiting to play his part. "Gary is doing a brilliant job at left-back," the veteran said. "If I'm needed to play there, I haven't got any qualms about it. I'll fill in and I'm happy to do so, and it's the same in midfield. The games I've played so far this summer, I've felt really good. I can get around the pitch."
Like everyone at Home Park, Hodges knows that the Pilgrims will find it far from easy to improve upon last season's 11th-place finish in the Championship. "To break into the top ten will be hard," he said, "but we've got a good settled squad and, if people do go out, we've got players who can come in and take their places. "Ollie is giving everyone a chance, and what he wants to get across to everyone is that, if we know what we're doing on the pitch and we're fitter than everyone else, then we have a chance of doing something in this division. Year after year, since I've been here, we've improved. Everyone expects us to break through into the top ten now. Deep down within ourselves, we know what we can achieve, but I don't think we need to go around shouting about it. As we've always done, we'll go out and play each game and give it our best shot."

HOLLOWAY CHALLENGE FOR NORRIS
24th July
Ian Holloway knows that he has a shining jewel in David Norris - but he wants the Plymouth Argyle midfielder to raise his performance levels even further. Norris scored seven goals in Coca-Cola Championship and cup-tie football during the 2006-07 campaign, and last Saturday he registered his first strike of the Pilgrims' pre-season programme with the opening goal in Argyle's 2-1 friendly win at Cambridge United. The former Bolton Wanderers player is an immensely influential operator on the right side or in the centre of the Argyle midfield, and he is never reluctant to push forward and try to finish off attacking moves. Considering how often he finds himself in excellent positions in the opposition penalty area, however, the Pilgrims' manager believes that his goal return could be better than it is has been.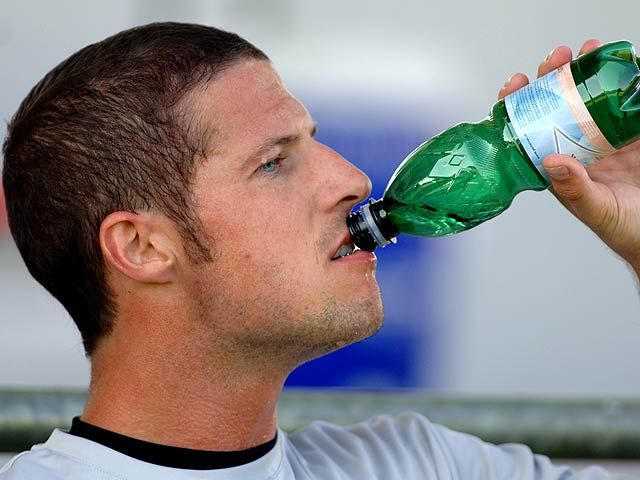 Chuck takes a drink during a break in training

"Chuck is a very talented boy," Holloway said. "I've asked him to score more goals than he did last season. Who knows what he's capable of? He's a fantastic lad. "If he starts to really believe in himself and his finishing, he could easily get double figures this season." Norris might have had more than one goal at the Abbey Stadium last weekend. "The Cambridge 'keeper had to make some fantastic saves from him in the first half on Saturday," the Argyle boss added. The Pilgrims' winning goal against the Blue Square Premier side was scored by Cambridge-born Sylvan Ebanks-Blake. The former Manchester United striker started the friendly on the substitutes' bench, but took to the field in the second half and found the net with a fine shot a couple of minutes after the home team had equalised. "I don't know if Sylvan was too happy about not starting the game, but I don't care where anybody comes from," Holloway said. "It's always nice to come back to your roots, but this is about us and pre-season. Sylvan took it in great spirit and struck a good goal. He did well to get the ball out from under his feet and strike it as well as he did."
Ebanks-Blake is one of five strikers who have been taken to Austria by Argyle for this week's training camp, along with Barry Hayles, Rory Fallon, Nick Chadwick and teenager Ashley Barnes, whom Holloway plucked from non-League club Paulton Rovers last season. Another forward, former England youth international Cherno Samba, has been left behind in Devon and seems unlikely to play first-team football for the Pilgrims again. "I've placed Cherno on the transfer list," Holloway explained. "He needs to get himself another club. With the young strikers I've added this year, I can't see him breaking through. I've got Ashley Barnes coming through, and he's here with us. Technically, Cherno has another year left, but I'd let him go for nothing. He ought to be trying to show somebody else what he can do." Asked if Argyle had fielded any approaches for Samba, Holloway replied: "Not at the moment, no. It's down to his agent to find him some trials. Cherno is a great lad, but I just want him to move on. I'm only trying to be fair to him." Another absentee in Austria is injury-plagued left-winger Bojan Djordjic. Last term the former Manchester United man fractured a cheekbone not long after he had secured a regular first-team place. This summer he has not been able to feature in any friendlies so far because of Achilles tendon and foot injuries. "It's disappointing for Bojan, but we left him behind as a precaution," Holloway said. "He's going to do a fitness programme back at home. I feel for him, but I'm sure he'll be fine."

REID NETS EQUALISER FOR ARGYLE
25th July
Plymouth Argyle did well to take away a 1-1 draw last night from the first of two friendlies they are playing during their week's stay in Austria. The Pilgrims had been forewarned that Turkish top-flight team Genclerbirligi would provide formidable opposition, and that proved to be the case as the Coca-Cola Championship side were second best in the first half after letting in a very early goal. Argyle's defence was not breached again, however, and they equalised late in the second half with a goal from substitute Reuben Reid. Even if the leveller had not materialised, the match would still have been of considerable value for the Pilgrims. Genclerbirligi were by some distance the best side they have faced during their pre-season friendly programme, and they provided just the sort of test the Devon men needed at this stage of the summer. Tackling the Turks was a challenge for Ian Holloway's troops, and they rose to it.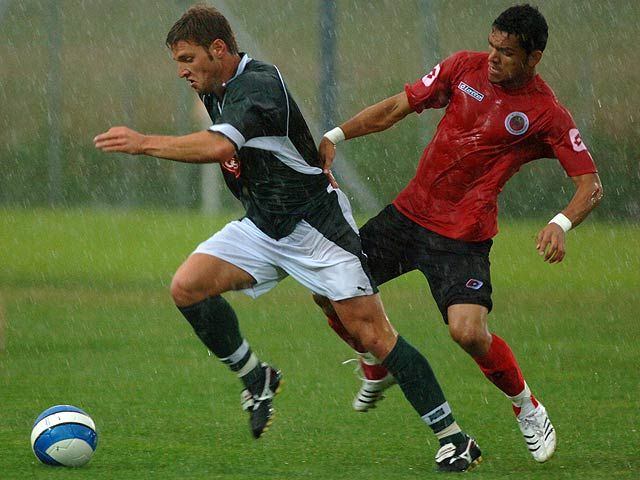 Akos in action against Genclerbirligi

Last night's match was played in picturesque surroundings a few miles away from the Pilgrims' base in Loipersdorf. The venue was the small Krauterdorf stadium, surrounded by corn fields on the edge of the village of Sochau. About 50 Argyle fans had made the trip to cheer on the English team, who sent out just about their strongest available starting XI. The game started to the accompaniment of lightning flashes, rumbles of thunder and rain which soon turned into a downpour. As the heavens opened, the Turks, who had finished in sixth place in their country's top division last season, took the lead from their first attack. A swift break was finished off in the second minute by balding centre-forward Okan Ozturk, who drove a confident low shot past Argyle goalkeeper Luke McCormick from the edge of the penalty area.
The Pilgrims did their best to push forward and restore parity, but the Turks looked like an accomplished unit and were in no mood to surrender possession when they had the ball. They were also quick to lunge into tackles, and Mehmet Cakir was soon shown a yellow card for a foul on Gary Sawyer. The tally of bookings was soon levelled, when Mat Doumbe was cautioned for a foul on Genclerbirligi's Brazilian forward Sandro. With the rain easing off, Argyle's first chance arrived soon afterwards, when Barry Hayles sent a looping header over the crossbar from a good cross by Gary Sawyer. That was a rare attack from Argyle, who did not see much of the ball in the first quarter of the game. The Turks were moving the ball around the turf with some decent passing, and when they lost the ball they chased back in pursuit of possession. They were up for it. So were Argyle, and a spell of pressure from the English side saw Hayles set up a close-range chance for Sylvan Ebanks-Blake, whose shot was deflected wide. Argyle did not take advantage of a couple of corners, but they were having more of the play as the half-hour mark drew near. Genclerbirligi were soon going forward again, though, and Mehmet Nas beat a couple of Pilgrims on a strong run before forcing a save out of McCormick with a decent shot. Then Cakir sent a drive too high, and Sandro was also off target with a fierce strike. At the other end, Genclerbirligi's keeper Gokhan Tokgoz made his first save of the game three minutes before half-time, when he plunged to his right to keep out Lilian Nalis's glancing header from Peter Halmosi's free-kick.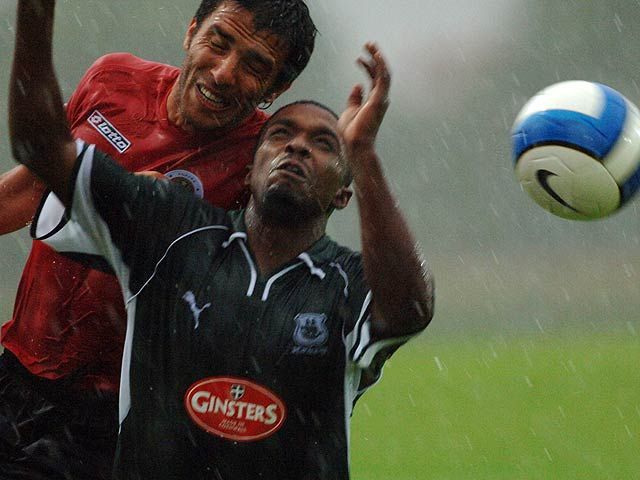 Sylvan Ebanks-Blake against Genclerbirligi

Argyle made five changes at the start of the second half, and gave Lee Hodges the captain's armband as well as a role in central midfield. Rory Fallon and Nick Chadwick took over up front, and the latter soon stretched to head wide at the far post from a Halmosi cross. Argyle were seeing more of the ball in the early stages of the second half. Dan Gosling, who was playing on the right of midfield, was looking lively but the Turks were standing firm and they almost increased their lead in the 60th minute. Argyle centre-back Krisztian Timar gave the ball away carelessly, and Sandro shrugged off Marcel Seip before coming up with a fierce dipping shot which made the bar quiver. Eight minutes later it was Argyle's turn to strike the woodwork, when Fallon's stooping header from an Akos Buzsaky corner crashed back off the bar. The Pilgrims promptly made five more changes, and the new men quickly got involved. Reid's run and pass gave Chadwick the chance to sidefoot the ball against a post, and Ryan Dickson's long-range shot had to be pushed behind by Gokhan. Argyle made a change in goal 15 minutes from the end, when McCormick was replaced not by Romain Larrieu, who was not fully fit, but by Lloyd Saxton, who is the only apprentice Argyle have brought to Austria. Argyle kept pushing as the Turks, who made little use of their substitutes, tired. Luke Summerfield fired wide from a pull-back by Reid, who was playing on the left wing, when he should have hit the target; and Fallon chested the ball down before shooting just wide as well. The equaliser eventually arrived two minutes before the end, when the busy Reid cut in from the left and found the net with a low shot from about 20 yards which Gokhan will have been disappointed to let in. Saxton's brave late save at Okan's feet preserved a hard-earned draw for Argyle, whose second game of their Austrian trip will take place on Friday against Israeli outfit Hapoel Tel Aviv.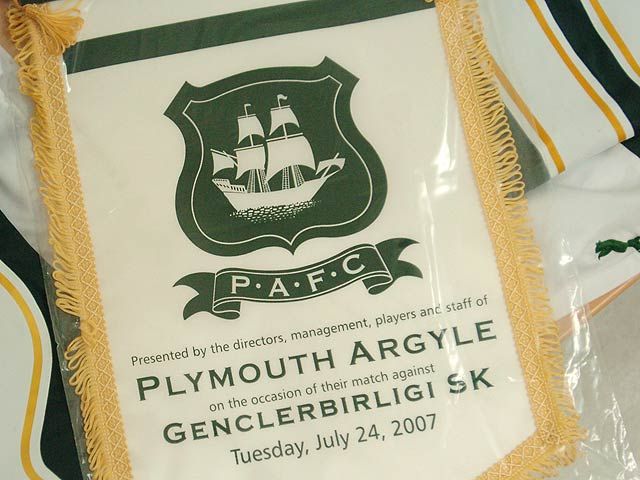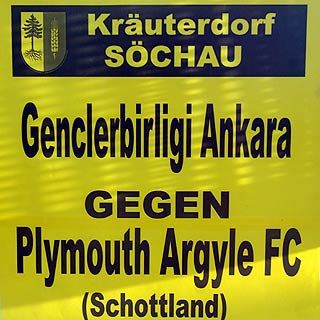 Match pennant and (geographically dodgy) poster from Sochau

PLEASING POINTS
25th July
Plymouth Argyle manager Ian Holloway was well satisfied with his side's efforts in Austria last night. The Pilgrims found themselves up against a very talented Turkish team in Sochau, the venue for the first of two friendlies they are playing during their week-long training camp, and they held their own. Reuben Reid's late equaliser gave Argyle a 1-1 draw against Genclerbirligi, who had opened the scoring in the second minute and at times looked capable of adding to their lead. "I thought they were a very good test for us," Holloway said after. "They were sharp, they were bright, they moved the ball well and I think we had to step up our game a notch. We managed to do that, particularly in the second half. I was very pleased with how we won the ball back off them. By the end we were chance for chance, almost, with a team that I think looked good. So did we, which was very pleasing considering the average age of who we had on by the end of the second half."
Argyle used 11 substitutes and finished the game with youngsters Reid, who turns 19 tomorrow, Scott Laird, Ryan Dickson, Luke Summerfield, Dan Gosling, Ashley Barnes and apprentice goalkeeper Lloyd Saxton on the pitch against the Turkish top-flight team. "It was fantastic," Holloway said. "Some of those young ones were bursting with enthusiasm. I'm delighted for them. I had to pinch myself. Gosling looked class, Barnes did ever so well on the right, Laird was superb, and then young Saxton made a good save at the end. He showed a lot of composure when they were clean through."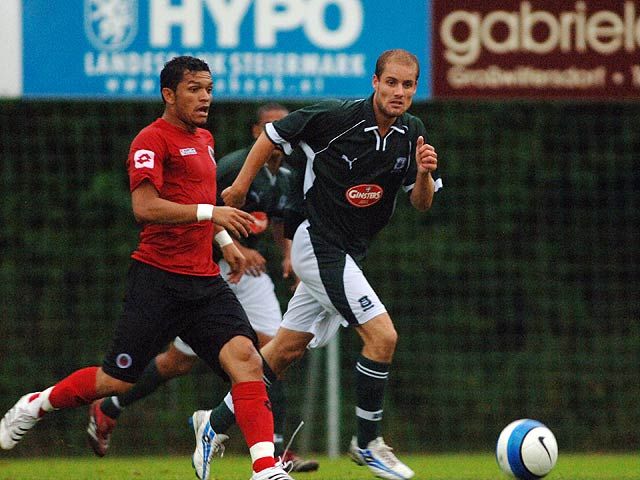 Marcel Seip in action against Genclerbirligi

Avoiding a defeat was pleasing for the Pilgrims, but the match practice was what really mattered. "It's all about the work-out," the Argyle manager added. "I think we're looking a bit sharper, and we were very unfortunate not to get one or two more goals in the second half. I know they hit the bar with a wonderful strike, but I was very pleased with my lot as well. We deserved to get something out of the game." Both the strikers Argyle fielded in the second half, Rory Fallon and Nick Chadwick, struck the woodwork as well. They troubled Genclerbirligi more than the first-half attacking partnership of Barry Hayles and Sylvan Ebanks-Blake had done. "It wasn't a good day at the office for Sylvan," Holloway admitted. With half a dozen strikers to pick from, Holloway was almost spoilt for choice and he used two of them - Reid and Barnes - as wingers in the game's final 20 minutes. Reid ran in from the left flank to score with an accurate, if rather tame, shot in the 88th minute. "It was great for Reuben to score," said Holloway. "How it went in, I don't know, but he still had enough about him to cut inside and hit it."
GOSLING HAPPY TO BE A PILGRIM
26th July
Dan Gosling has become accustomed to foreign travel since he joined Plymouth Argyle's pre-season trip to Austria a year ago. The talented teenager was one of two Home Park apprentices who travelled with the Pilgrims to the spa resort of Loipersdorf in July 2006. Along with striker Anthony Mason, he trained with the senior players and, like his fellow trainee, he was given a few minutes on the pitch in Argyle's glamorous friendly against Real Madrid. This summer, back in Loipersdorf with the Coca-Cola Championship club, Gosling is no longer a novice. The versatile midfielder, who signed a professional contract at Home Park on his 17th birthday in February this year, is very much part of the Pilgrims' first-team squad. By the end of last season, Gosling's dramatic progress had earned him 14 senior appearances and two goals. His talent has also been recognised far beyond Devon. Along with team-mate Luke Summerfield, he was invited to train with Chelsea last term - and also rewarded with England recognition. The Brixham-born youngster has established himself as a member of England's Under-17 squad. He saw European Under-17 Championship action in Bosnia and in Belgium earlier this year, and next month he will be off on his travels again. Yesterday Gosling's place was confirmed in England's squad for the FIFA Under-17 World Cup in South Korea, which starts on August 18 and finishes on September 9. He will be striving for a starting place in England's side for group fixtures against Brazil, New Zealand and North Korea and in any subsequent knock-out fixtures.
The proud young Devonian is still coming to terms with what has happened to him in the last year. "I never imagined anything like this," Gosling told the Western Morning News. "The first time I travelled with the first-team squad back in the autumn, even though I didn't play, was an amazing feeling. I couldn't describe it." As is often the case in football, one player's misfortune is advantageous for another player. The knee injury which curtailed club captain Paul Wotton's season last December gave Gosling his chance. "Finally I got on the bench, and through an injury I got on," Gosling recalled. "I did myself justice, and it carried on from there." He is most at home in central midfield, but most of his first-team football has come on the right of midfield or, so far this summer, at right-back. "I've only had about 20 minutes in the centre of midfield," the teenager said, "but I get a lot more time out wide and I'm enjoying learning to play out there. I like playing right-back, and it's good for everyone if I can put a bit of pressure on Paul. It helps the team if I can play there."
Most of Gosling's England appearances have come at right-back. Unsurprisingly, he has relished representing his country. "It's been brilliant," he said, "and it will be unreal if I get to play in this World Cup. Taking on Brazil will be exceptional." The only negative aspect of the trip to Asia will be spending so long away from Home Park while the Pilgrims will be striving for Championship points. Gosling will be unable to aid them in that quest. "I'm a bit gutted about that," he admitted, "but you can't say no to England. The FA have priority. If I don't play much for England, my fitness will probably drop, but I'm taking a training programme out there with me. I'll have to do that, if I don't play. Fingers crossed, I'll come back all right. It would have been ideal if the World Cup had been in the close-season, but I'll just have to make the best of it." Most of Gosling's England colleagues play for Premier League clubs and have yet to taste first-team action. Some of them, it seems, are jealous of him. "A few of them have said they'd rather play for Plymouth's first team than Chelsea's youth team," he revealed. Gosling's progress with club and country has been noticed by scouts from top-flight teams, and there has been speculation in the national media that he could be on his way to the Premier League sooner or later. The facts are, though, that Argyle have not received any bids for him and he will be glad to go on wearing green for a while yet. "I get told about what's in the papers, but I don't take much notice of it," he said. "I'm certainly happy where I am."
NORRIS NOT FOR SALE
26th July
Plymouth Argyle manager Ian Holloway has criticised Ipswich Town for speaking out in public about their fruitless approach for the Pilgrims' midfielder David Norris. Argyle's Coca-Cola Championship rivals have not made a formal bid for Norris, but Holloway admitted that the Portman Road outfit had made a verbal enquiry about the 26-year-old. Town were told that the Pilgrims have no intention of selling the highly rated midfield man. "David Norris is a player that I've kept an eye on for a while," Ipswich manager Jim Magilton said yesterday in an interview published on his club's website. "He is a proven performer at this level, and I did speak to Ian Holloway about his situation. "We went through the proper channels of communication, but Plymouth made it clear that he was not for sale, so that is the end of it for now." Holloway, who is with the Pilgrims at their pre-season training camp in Austria, said: "Until an offer has been made and accepted and a medical has been done, you shouldn't talk about other people's players. If that's what Ipswich are doing, then, with the greatest respect to everybody there, they're bang out of order. I'm not very happy about it. If they admire some of my players, that's great, but they shouldn't be talking about it. It's nobody's business." Holloway also feels that Norris would not be taking a big step up if he did move to Portman Road. "David Norris has got a three-year contract which he was very happy with when he signed it last year," he said. "With the greatest respect to Ipswich, I'm sure there are a lot more people interested in him who are better placed than them. We finished above them last season. We should be asking about their best players, not the other way round. I strongly consider that they should keep their noses out of our business, and conduct themselves in a more professional manner."
While Argyle have no intention of parting company with Norris, who signed a three-year contract at Home Park last summer, other Argyle first-team regulars could find themselves in a different situation sooner rather than later. The Pilgrims have a host of players whose contracts run out at the end of the forthcoming season. Akos Buzsaky and Mat Doumbe are two of those men, and Holloway does not want to see that pair or any of the Devon club's other valuable assets leave Home Park for free - as Tony Capaldi did this summer at the end of his contract. If Holloway finds out that any of his squad want to take the Capaldi route out of Home Park in 2008, he will try to sell them before they can do so - maybe before the closure of the transfer window at the end of next month. "That might have to happen," the Argyle boss said. "If we can't come up with contract offers that are suitable to them, then we'll have to try and sort some business out. "Our company cannot let the Capaldi situation happen again," Holloway insisted. "He's still very friendly with a lot of people in our dressing-room, and he's going to be telling them how much he's earning. If that turns their heads, then I'm going to have to deal with it. I'm going to have to make some tough decisions, if other clubs are interested in our players." It is believed that Northern Ireland left-back Capaldi more than tripled his salary when he joined Cardiff City on a free transfer this summer. The Welsh outfit are not the only Championship club with a far bigger wage budget than the Pilgrims.
Holloway knows that Argyle will find it hard to compete in financial terms with many of their rivals for the foreseeable future, but he will do his best to maintain a strong playing squad at Home Park - even if there have to be changes in personnel. "I don't want to get rid of anybody," he said, "but we might have to play the swapping game if we can't keep all our players happy. "Some of our players might feel that their future is somewhere else, and I might feel the same about them," Holloway added. "I'm going to have to be up front, and try and plan a year in advance. You're never happy about selling your best players, but what you have to do is weigh up the whole situation. You can't have players running out of contract, because then you lose the power, so you have to nail them down quickly on long contracts or sell them, but what I do want to say to our fans is that I'm not at a club which is looking to asset-strip - and we haven't had cash offers for any of our players." Here in Austria, Argyle were taking it relatively easy yesterday. After Tuesday's 1-1 draw with Turkish top-flight outfit Genclerbirligi in Sochau, the Pilgrims had only one training session, late in the afternoon. It will be a different story today, though. Holloway's squad will be sent on a cross-country run at 7am, and will then have a strenuous training session after breakfast at 10am and another at 5pm. Argyle tackle Israeli side Hapoel Tel Aviv, who are sharing their hotel in Loipersdorf, in a friendly in Dietersdorf tomorrow afternoon. They fly back to England on Sunday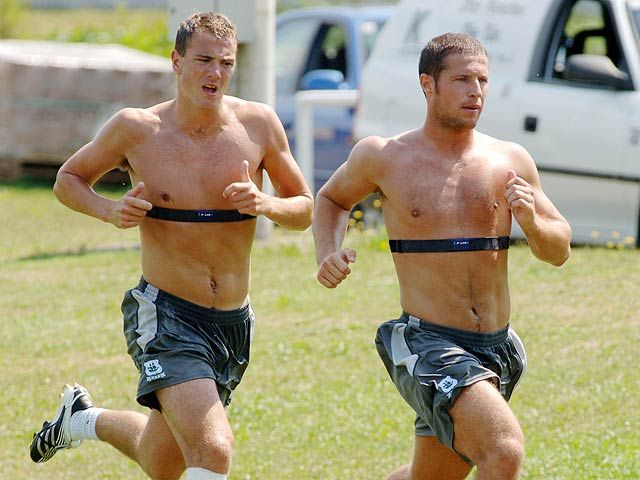 David Norris, along with Paul Connolly, in training in Austria

HOLLOWAY PERSEVERES WITH TALENTED REID
27th July
Ian Holloway is giving talented young striker Reuben Reid every chance to fulfil his potential with Plymouth Argyle. Reid, who celebrated his 19th birthday yesterday, scored Argyle's first goal of their trip to Austria this year when his late equaliser earned the Pilgrims a 1-1 draw with Turkish side Genclerbirligi in Sochau on Tuesday. Just as he did this time last year when the Coca-Cola Championship club came to Austria, Reid has made an impact in training and in match-play with his strong running and his skill on the ball. Argyle manager Holloway believes that the teenager could turn into a very good player - but Reid's progress has not been unblemished during the past 12 months. The youngster's talent is hard to ignore, but so is the trouble he creates for himself at times with his temper or his occasionally sullen temperament. Last season he twice left Home Park to join other clubs on loan, but both temporary transfers were marred by unfortunate incidents. Reid's last game for Kidderminster Harriers ended in a red card at Exeter City, while his stay with Rochdale was cut short by a training-ground argument which led to him being sent back to Home Park. That indiscretion led him being suspended by Argyle for a while, but Holloway has not given up on the teenager. Far from it.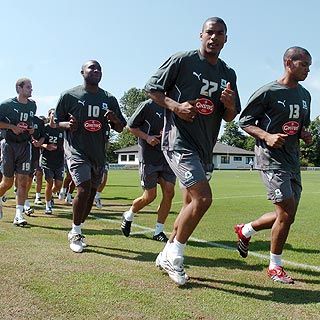 Reuben Reid leads the laps on day one of training in Austria

Reid is being given his chance to earn a starting role this summer - and in an unfamiliar position. The Pilgrims have brought four senior strikers to Austria, so Reid has been asked to play on the wing in training games and in friendly matches, mostly on the right flank but sometimes on the left. He has risen to the challenge to good effect. "It's a learning curve for Reuben," Holloway said. "He scored a goal the other night and he created some chances. He's been creating chances in training as well. Now he's got to show me plenty of enthusiasm. When he's enthusiastic, the world is his oyster. But when he starts moaning, he drags some of the team down with him. "He has to cut that out, and he also has to learn that he might have to break into the team in a different position. A Championship club is likely to have a lot of centre-forwards, so what he's going to have to learn is how to play out wide." So far, Reid is making progress in the right direction. "If he shows me the attitude he's showing me at the moment," Holloway said, "then I'll keep giving me the chance to play out of position and I know eventually he'll end up up front."
LARRIEU HAS EXTRA INCENTIVE
27th July
This time last year, Romain Larrieu was coming to terms with having to conquer testicular cancer. That battle has been won, and now Plymouth Argyle's goalkeeper is very glad to back in business on the football field amid the Pilgrims' preparations for the forthcoming season.The 30-year-old Frenchman has been given a clean bill of health and is hard at work here in Austria, competing with his friend and rival Luke McCormick for a place in Argyle's first team when Coca-Cola Championship combat resumes next month. Larrieu missed out on Argyle's trip to south-east Austria last summer because of his illness, so he is savouring his first experience of the facilities available at the spa resort of Loipersdorf, which the Pilgrims have chosen as their base for a week-long training camp for the second year running. "It is a brilliant place," the Frenchman said. "It has been hot, but the organisation has been first-class. I have been really enjoying it. We have been doing a lot of training, and the boys are looking very fit. We have reached a level of fitness that I can't remember us reaching before, because of our training regime. We have to benefit from how fit we are, and we saw that happen on Tuesday, when we finished very strongly. That has helped us before. One of the reasons we got out of the division below the Championship was because we always finished games stronger than anybody else."
As well as first-rate fitness, team spirit has played a crucial part in the Pilgrims' progress since Larrieu arrived at Home Park in 2000, when the Devon club were in the Football League's bottom division. "We know each other," the big keeper said. "We were all here last season, and that helps." Larrieu can still recall the facilities Argyle had to make the most of on the first summer training camp the club organised after his arrival at Home Park. The Pilgrims were based in Edzell, in north-east Scotland, in 2001. While their hotel was excellent, their practice pitches were far from ideal. Argyle have come a long way since those days, but what happened back then has helped to shape the club. "They were not bad trips, and at the time we were happy to get away from Plymouth," Larrieu said. Back then, Argyle's goal was to find an escape route from the Third Division. Now their sights have been raised a long way. Their fourth season in the Championship is approaching, and they want to aim for at least a top-ten place.
Last term, the Frenchman made what was, with hindsight, a premature return to Argyle's senior side after his recovery from his illness. He was not at his best in four games in the Championship during the Christmas and New Year holiday period. A dozen weeks on loan to Gillingham allowed him to restore both match-fitness and by the end of the season he had been restored to the Pilgrims' first team. All he can realistically ask for now is to stay fit and to be given the chance to compete with McCormick for manager Ian Holloway's favour on equal terms. "I am looking forward to that, and I am not really putting myself under any kind of pressure," Larrieu said. "I feel fit, which is fantastic, and there are still a few friendlies to play. It is up to me to keep showing what I was trying to show the manager over the last few months of last season, that the illness is behind me now and I am ready to go again."
Larrieu played throughout Argyle's 2-1 friendly win at Cambridge United last Saturday and, after missing out on Tuesday's match here in Austria because of a slight thigh strain, he will play in this afternoon's tour game against Israeli side Hapoel Tel Aviv. "It was good to play 90 minutes last weekend, and I am looking forward to tomorrow's game," he said yesterday. "I really, really feel good." Along with McCormick and apprentice keeper Lloyd Saxton, Larrieu has been doing specialist work with Argyle goalkeeping coach Geoff Crudgington, as well as the physical tasks all the players have been given. The emphasis has been on honing agility and reflexes. "I feel like my body has absorbed a lot of work in this pre-season period," Larrieu declared, "and I feel great."
PILGRIMS STAKE THEIR CLAIMS
27th July
No Plymouth Argyle player is going to miss out on the chance to stake a claim for a place in the Pilgrims' first team when the Coca-Cola Championship campaign kicks off next month. Ian Holloway is making sure of that. Argyle tackle Israeli side Hapoel Tel Aviv in Dietersdorf this afternoon in the second of two friendlies they are playing during their week-long training camp in Austria. Their opponents, who finished fourth in Israel's top flight last season, are regular competitors in the UEFA Cup and have a squad which is well stocked with international players. They ought to be as good as, if not better than, Turkish team Genclerbirligi, with whom the Pilgrims drew 1-1 in Sochau on Tuesday. "From what we can find out, they might be even better than the Turks were," Argyle manager Holloway said. "It will be a very good test for us, and it will give us plenty of confidence if we can match them."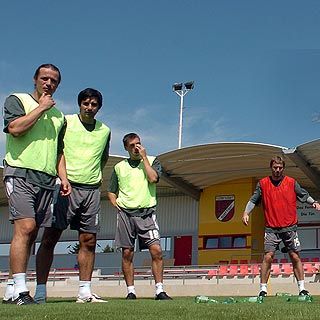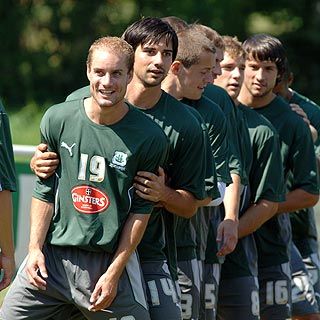 Training in Rudersdorf

The Argyle players who did not start Tuesday's game can expect to feature from the first whistle tonight, and to play for about an hour before substitutions start to be made. "Those that didn't start against the Turks will play the majority of the game," Holloway explained. "Luke Summerfield will start instead of Akos Buzsaky, Lee Hodges instead of Lilian Nalis, Ryan Dickson instead of Peter Halmosi, and so on." The Pilgrims' boss is still making sure that every member of his squad gains more or less the same amount of playing time during the pre-season period. Picking a first-choice XI is something that can wait until much nearer the start of Championship hostilities on August 11. Holloway said: "The fans can try to guess what my first XI will be, but they have to bear in mind who we're playing. My team selections are always influenced by what we need to do to try and beat the opposition. That's what it's all about."
While Holloway would relish the preservation of an unbeaten record on tour this summer, the work the Pilgrims have been doing on their training pitches at Rudersdorf should be of greater value than the results of the two friendly matches this week. The squad were made to work very hard yesterday, when an early-morning trip to the gymnasium at their hotel in Loipersdorf was followed by two tough training sessions, one late in the morning and the other late in the afternoon. Holloway observed, rather than led, the first of the two sessions, when coaches Tim Breacker and Des Bulpin took charge, and he liked what he saw. "I stood there today and I was very proud of my team, on and off the pitch," the Argyle boss said. "Everyone is giving me what I want. It feels good, and it feels right." The manager was also happy to let his staff take more of the strain. "It's good for the lads to hear some different voices, rather than have me in their faces all the time," he added.
Unless his plans change at the last minute, Holloway will be at this afternoon's friendly. The Argyle boss was considering the possibility of joining his chief scout Gary Penrice in France to watch games tonight, tomorrow and on Sunday, but arranging Holloway's trip has been problematic and it seems Penrice will make that journey by himself. The Pilgrims' chief scout has been clocking up the miles this summer. "Gary has been to Spain, Portugal, France, Ireland and Scotland," Holloway disclosed. "I think he's going to Poland as well." With the domestic transfer market being inflated by rising transfer fees, the search for foreign bargains or free transfers to follow in the footsteps of players like Marcel Seip and Akos Buzsaky is crucial for a club with slender resources. "We haven't got big gates like Leicester City, and we haven't got Milan Mandaric's millions, so we have to do things a different way," Holloway added. Argyle's hopes of taking a look at some trialists while they are in Austria have come to nothing, as the players they were keen to assess have gone to other clubs, but Penrice is working hard to find potential new recruits for the Pilgrims
BUZSAKY STRIKES TO LIFT ARGYLE
28th July
Plymouth Argyle brought their two-match trip to Austria to a close last night with a satisfactory performance which earned a 1-1 draw against Israeli outfit Hapoel Tel Aviv. Just as they had done in their other tour fixture this week, the 1-1 draw against Turkey's Genclerbirligi, the Pilgrims conceded a goal early in the game, but they responded positively and they deserved the result they gained thanks to a second-half strike from in-form Hungarian international midfielder Akos Buzsaky. Hapoel were decent opponents, even if they were not quite as impressive as Genclerbirligi. The Israelis finished fourth in their country's top flight last season, and they have gained plenty of experience in the UEFA Cup in recent years. It was Argyle, however, who finished the friendly looking like the stronger side, and there were plenty of encouraging individual performances from the English team. The venue for yesterday's game was the rural Waldstadion on the edge of the village of Dietersdorf, a couple of miles from the hotel in Loipersdorf where both teams have been spending the week. The match started with rain falling, although thankfully not with the severity of the thunderstorm which had made conditions difficult in Tuesday's stalemate in nearby Sochau.
The Pilgrims sent out a side featuring a mixture of first-team regulars and understudies. After sitting out the friendly against the Turks, Romain Larrieu returned in goal. Dan Gosling was given another run-out at right-back, while Lee Hodges played at left-back in place of Gary Sawyer, who had been given permission to return to England yesterday to perform best-man duties at his brother's wedding this weekend. There was an unfamiliar look to Argyle's midfield, which featured teenage striker Ashley Barnes playing out of position on the right flank and David Norris operating alongside Luke Summerfield in the centre of the park. With Sylvan Ebanks-Blake unavailable because of a thigh injury sustained in training yesterday morning, Nick Chadwick joined Barry Hayles up front.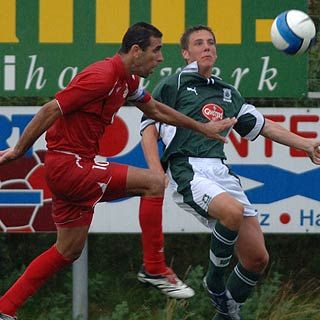 Dan Gosling in action against Hapoel

The Israelis did not favour the sort of fast-paced game with which the Turks took on the Pilgrims, but they still took the lead in the tenth minute. Bibras Natkho drove a free-kick from midfield deep into the penalty area, where it found the forehead of Hapoel's towering captain Walid Badir. The former Wimbledon player - a Palestinian who plays international football for Israel - planted his header past Larrieu. The same two players almost served up a repeat performance from another free-kick a couple of minutes later, but this time Badir's header drifted wide. Argyle did not make a great deal of attacking progress in the opening quarter of the game, when the Israelis held sway. Argyle's attempt to make the most of their first corner came to nothing, as Krisztian Timar failed to make sufficient contact with a flag-kick delivered by his compatriot Peter Halmosi. The nature of the game was hardly over-competitive, but the Austrian referee still found it necessary to flash his yellow card at Hapoel left-back Rami Duani and to Chadwick in quick succession for fouls.
The Pilgrims made a tactical switch midway through the first half by sending Barnes up front and withdrawing Chadwick into midfield. It was still the Israelis who were making most of the running, though, and a swift move down the right gave Nsumbu Mazuwa the chance to drill in a low shot which escaped Larrieu's grasp and came back into play off a post. Some good interplay between Barnes and Hayles gave the Pilgrims the chance to launch a raid into Hapoel territory, but the latter's cross from byline on the left did not reach Chadwick. The referee was still keen to take centre stage, and cautions for Barnes and Tel Aviv full-back Dani Bondar doubled his tally of bookings. Barnes was soon withdrawn, with Buzsaky being sent on and Chadwick being moved back up front. The most threatening forward on the field, however, was Badir, and the ex-Don's back-header from another free-kick by Natkho had to be tipped over the crossbar by Larrieu in the closing moments of the first half.
While the Israelis remained unchanged at the interval apart from a goalkeeper swap, the Pilgrims made six further substitutions and sent out Lilian Nalis, Marcel Seip, Paul Connolly, Rory Fallon, Ryan Dickson and Scott Laird for the second half. The reinforcements, who were soon joined by Reuben Reid, helped Argyle claim a greater share of possession. Fallon's muscular presence up front caused some discomfort to the Hapoel rearguard at times, and the New Zealander's neat lay-off gave Gosling - who played in midfield at the start of the second half - the chance to come up with a shot which Vincent Enyeama had to dive to save. A dipping shot by Gosling from further out forced another save from the Nigerian, who conceded a corner from which the Pilgrims equalised in the 69th minute. Buzsaky's flag-kick was knocked short to Dickson, who returned the ball to the Hungarian. Buzsaky beat Enyeama with a low shot from the edge of the penalty area. The Israelis made substitutions at regular intervals during the second half, in which Argyle mostly held the upper hand. The Pilgrims made a positional change in the last quarter of the game by moving Gosling back to right-back to allow Connolly a run-out in midfield. The Liverpudlian pushed forward eagerly, and Buzsaky continued to see plenty of the ball, but a second goal remained elusive. The one they did register, however, ensured that they will travel home to England tomorrow with an unbeaten record in Europe this summer.
OLLIE TO LOOK AT MCVEIGH
28th July
Plymouth Argyle manager Ian Holloway announced last night that former Northern Ireland international forward Paul McVeigh is all set to have a trial with the Pilgrims next week. After his side's 1-1 draw with Israeli top-flight team Hapoel Tel Aviv in last night's friendly in Austria, Holloway said: "I think we're likely to be adding an additional person by next Tuesday for us to have a look at: Paul McVeigh. He's currently out of contract, and he's been over in Italy. We haven't got Kevin Gallen, and I'd quite like to have someone who can play the same sort of role. Paul can fill a dual role, and I'd like to have a look at him." Argyle continued their preparations for the new Championship campaign with a worthwhile practice game against a good Israeli side in Dietersdorf last night. The final scoreline meant that the Pilgrims have drawn both the friendlies they have played during their week-long training camp in Austria. They also drew 1-1 with Turkish team Genclerbirligi last Tuesday. Asked to comment on last night's game, in which his side fell behind to a headed goal by former Wimbledon player Walid Badir early in the game, Holloway said: "Some of our problems from last year are still showing. We missed a long header and we gave away a foul, and then we got done by a header from a set-piece. We've got to sharpen up on that, but after that I thought we were absolutely terrific. I thought we moved it well and looked sharp and bright. We caused them all sorts of problems, and I think we had a lot more possession than they did." Badir's goal was cancelled out after half-time by an Akos Buzsaky strike for Argyle. "Akos is looking sharp," Holloway said. "I was very pleased. He's getting fitter, and he knows it. He's full of belief. I was delighted with a lot of them, it was a great effort from the boys."
PILGRIMS STRIKERS PRESSING CLAIMS
30th July
Plymouth Argyle won their final five fixtures of the 2006-07 Coca-Cola Championship season with a strikeforce consisting of Barry Hayles and Sylvan Ebanks-Blake. The good news for the club's prospects in the coming campaign is that both men are being put under severe pressure for their places in the Pilgrims' line-up. Hayles was as competitive and as determined as ever during last week's training camp in Austria, and the veteran showed up well in the two friendlies Argyle played while they were away. However, Ebanks-Blake was not at his best, according to manager Ian Holloway, in last Tuesday's 1-1 draw against Turkish team Genclerbirligi. He subsequently sustained a thigh injury in training, and missed Friday's 1-1 draw against Hapoel Tel Aviv of Israel. If Ebanks-Blake has to have some time away from the front line, Holloway has other options. Fellow strikers Nick Chadwick and Rory Fallon have both done their best to stake a claim for a place in Argyle's team for the opening game of the Championship season at Hull City a week on Saturday. Fallon was unable to secure a regular first-team slot last term, following his £300,000 arrival from Swansea City in January this year, but the big New Zealander did plenty of good work in training and in matches in Austria. Holloway is keen to use the 25-year-old's ability with the ball at his feet as well as up in the air. "I think Rory linked up play very well on Friday," the Argyle boss said, although he added that there was room for improvement. "I've got to get him on the move," Holloway explained. "For me, too many times at the moment a long ball comes towards him and someone nips in front of him. If he's reading that long ball right, he should be moving before that defender, but it's only little bits that we need to work on. I like how physical Rory is, I like how I said something at half-time against Tel Aviv and he went out and got a few free-kicks for us. We've got to sharpen up on that. The Israelis did it brilliantly."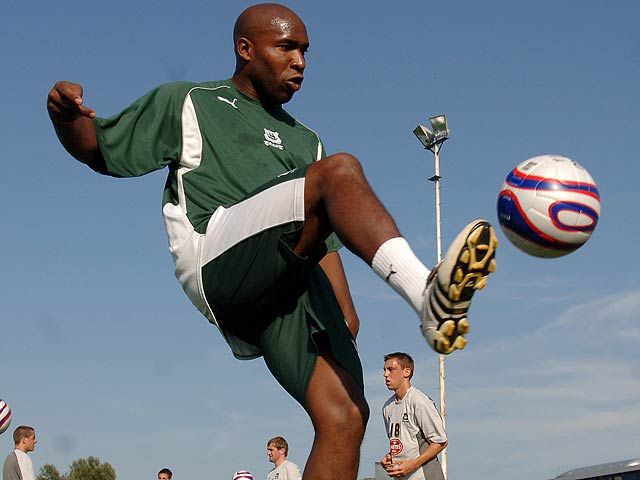 Barry Hayles training in Austria

Chadwick has not had an opportunity to impress Holloway in a competitive game since November last year. A groin injury kept the former Everton striker on the sidelines for the second half of last season, but he is now fully fit and is looking eager to force his way to the forefront of the manager's plans. "I've been really impressed by Nick," Holloway revealed. "I haven't seen him for a long time, and I've really loved what he's done. I think he's an honest and hard-working boy." The Pilgrims flew home to England yesterday, and Holloway is looking forward to having extra assistance on the training ground back in Devon this week. Chief scout Gary Penrice, who also has a role as the club's specialist strikers' coach, will be back from his travels to work with Fallon and Chadwick and the other Argyle forwards. "I'm anticipating getting Gary in to work with my strikers," Holloway disclosed. "I'm looking forward to that, because he knows how to cure one or two things when I've been focusing on other things." Neither Penrice, whose scouting duties kept him away from Austria, nor assistant manager Tim Breacker were part of Holloway's back-up team this last year, when they first came to the spa resort of Loipersdorf. Having the two men on board has been a big bonus for the Argyle manager. "I feel a lot better with them working with me, and I think you can see that," Holloway said. "I was trying to do all sorts of things last year, and it was really awkward. Having all my staff on board lets me concentrate." The Argyle manager has put all his energy into coaching his players, and the progress the Pilgrims have made in the last year was evident in the two games they played in Austria. "We didn't look half bad," Holloway said, "but whether that's good enough for the Championship we'll have to wait and see."
ARGYLE LOOK IN GOOD SHAPE
30th July
Plymouth Argyle manager Ian Holloway is well pleased with the efforts his players have made during their week in Austria.The Pilgrims spent seven days enjoying the facilities of their spa resort in Loipersdorf, but they did not come to Austria for a holiday. They made the trip to work, and that work has been hard. Argyle's players have had as many as three daily training sessions while they have been away, and what they have been made to do has been tougher than anything they have experienced on past summer tours. They have also played two friendly matches against high-class opposition. The Pilgrims more than held their own in 1-1 draws with Turkish top-flight team Genclerbirligi and with Israeli outfit Hapoel Tel Aviv. "For us, it's been about football and fitness, and I have to say it's been a very successful tour for those two reasons," Holloway said. "We're looking fitter, and I've given all sorts of young people the chance to play against two decent teams. "They'll just tuck that in their top pockets for experience, and I've been very, very pleased with an awful lot of them, to say the least. It's been a learning curve. Everybody has been professional, and we've kept going."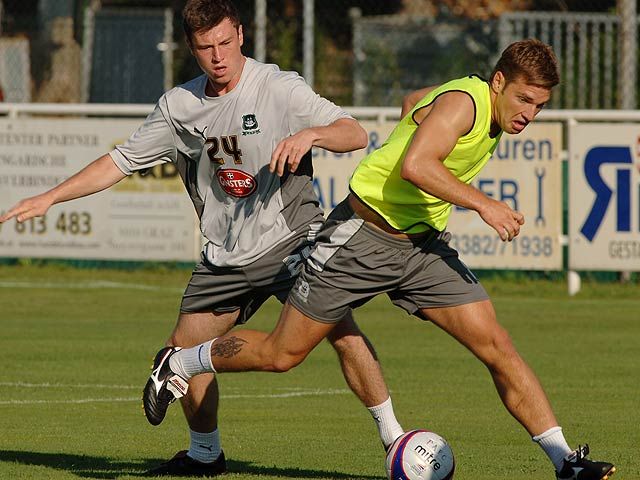 Ashley Barnes and Akos Buzsaky in training

The encounter with the Israelis last Friday gave Holloway the chance to put some tactical experimentation into practice. "We've got some very talented boys here, and I've been delighted with them," he added. "The discipline and the shape has been very good. We played a bit of a different shape on Friday, and I thought it worked an absolute treat. We got the young kids in a diamond in midfield, and I was delighted with it. At the start of the week, we wouldn't have been able to do that, but at the end we were. It gives me great hope for the future, because that's what I want to bring into the way we do things. Lots of movement in and out of space, and I thought we saw some of that in the second half on Friday. They couldn't get the ball off us. It's been disappointing we haven't won either of our games here, but we've tested ourselves against two very stiff opponents and come out with loads of positives. We still need to sort out our marking from set-pieces, but we've got time to get that right."
Despite their exertions against Hapoel, the Argyle players were not given the morning off on Saturday. Far from it. Holloway's squad were up early for a weights session in the gymnasium at their hotel in Loipersdorf, and then they travelled to their training pitches at Rudersdorf after breakfast for some strenuous running work. Asked how fit he felt his players were, compared to this time last year, the Argyle manager said: "That's for everyone else to find out, but the energy they've given us and the way they've worked for and with each other have been absolutely superb. I think that session on Saturday morning was probably one of the hardest sessions anybody could ever do, in testing conditions because of the heat, and they did it absolutely brilliantly. I can't ask for more. When we get back, we'll have two weeks to get ready. We'll have other things to work on, like set-pieces, but that's the bulk of it done. I'm delighted. When I was watching them run around on Saturday morning without their shirts on, I could see a huge difference from this year to last year. They are starting to look like athletes."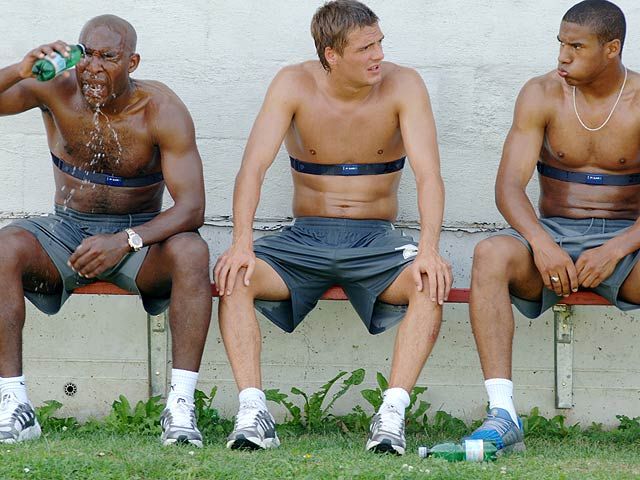 Barry Hayles, Ryan Dickson and Reuben Reid endure the end of tour fitness tests

The only players who were excused the full work-out at Rudersdorf on Saturday were striker Sylvan Ebanks-Blake, who was an absentee against the Israelis because of a thigh injury, plus Lee Hodges and Dan Gosling, who along with goalkeeper Romain Larrieu had been given the full game against the Israelis. Gosling was deployed in midfield and at right-back at different times in Friday's game, and the teenager coped with both tasks with commendable maturity. He will be away for the first month of the Championship season, if England go the distance at the FIFA Under-17 World Cup in South Korea, and given how well he has been playing in pre-season games he will be missed by the Pilgrims. "I wanted Dan to get a full 90 minutes under his belt before he goes away with England, and if I'm honest I'm rueing the fact that he's doing that," Holloway admitted. "He looks like a very composed player, and he always looks like he's going to make the right choices. I've been very pleased with his play and his attitude."
The Pilgrims are considering an invitation to visit Poland next summer, but if that idea comes to nothing Holloway would be happy to bring his players back to Loipersdorf. "It wouldn't bother me at all," the Argyle chief said. "I don't think I've ever been on a pre-season tour where everything is so well-organised, and the games and the training and the hotel are so close together. We'll have to think about it, but I'd have no complaints if we came back." Argyle have two friendly fixtures to fulfil this week before they face Bristol Rovers at Home Park next Saturday in their only home pre-season game this summer. They face Paulton Rovers in Somerset tomorrow and Truro City in Cornwall on Wednesday. The Pilgrims are planning to take big squads to both matches and to give their first-team players 45-minute run-outs at either the Southern League club or at the FA Vase winners, or in some cases both. The intention at the weekend is to pick a team to play 90 minutes against the Pirates, if possible.