Back to

Austria 2007

Tour Home
Austria 2007: Official Site
LOIPERSDORF ARRIVAL
24th July
Plymouth Argyle arrived in Loipersdorf in eastern Austria on Sunday evening after a longer journey than expected. The extra security currently in operation at British airports understandably delayed the loading of the plane, with many passengers, including some of the Argyle party, unable to get to the departure gate until after the scheduled take-off time. The plane was delayed for 25 minutes. After a comfortable flight problems were experienced at Graz airport. As the Ryanir jet made its final approach high winds casued the pilot to pull out of his first landing. He circled and tried again but with the plane bobbing and pitching he pulled up and away for the second time. The conditions forced the pilot to land at Klagenfurt airport instead. The team bus was diverted from Graz to pick up the players delaying their arrival at the Loipersdorf hotel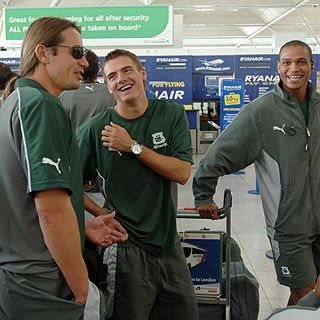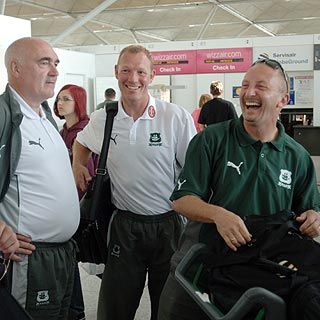 Smiles all round before the drama

AUSTRIA DAY ONE
24th July
Searing sun greeted the players on the first morning of their pre-season tour of Austria and the sweat glands were open and pumping by 7am. A gruelling run in the hills surrounding the Loipersdorf resort was a sharp reminder to the squad that the next seven days will be tough in the extreme. Breakfast barely had time to reach the stomach before we all trundled down to the training ground in the nearby village of Rudersdorf. Lotion swiftly applied and manager Ian Holloway led his team on a gentle jog around before the squad split into two groups for a vigorous session of keep-ball. Paul Wotton was given a ceremonial welcome back into the fold by all his team-mates with much hollering and real affection for the club captain's return to training. Physio Paul Maxwell was keen to stress that Wottsy is still not ready to be involved in the contact side of training, but it was still great to see the skipper with a ball at his feet after eight months out with a serious knee injury. Following the keep-ball session, goalkeepers Romain Larrieu, Luke McCormick and young Lloyd Saxton went off for some specialist training with coach Geoff Crudgington, all of which was being filmed for analysis by the biometric department at Marjon college. The outfield players were split into four groups with one bunch sent off to do some training drills with Maxi, while the rest were marshalled by Ollie in a high energy session where the emphasis was placed on movement and pressing the ball. The groups were continually rotated in order to maintain freshness to the session as Ollie urged his players to be like tigers in the grass when evading markers. Ollie then completed the first session with a mini-game played on half the pitch. Lee Hodges was the first man to hit the net when his powerful low drive swept past Romain. Rory Fallon then got in on the act after he profited from some lovely skill by Lord Barrington of Hayles. Luke Summerfield then hit a post before Romain showed his reflexes are still intact when he made a string of fines saves. Matty Doumbe was the next to score with a neat finish past Lloyd. Barry immediately replied with a crisp left-foot shot, but Lilian Nalis was denied a place on the score-sheet when his header was cleared off the line by Paul Connolly. Young Lloyd then showed why he is on this tour with a miraculous double save from Sylvan Ebanks-Blake. Easy goals for Reuben Reid and Nick Chadwick brought an energetic and enjoyable session to a close.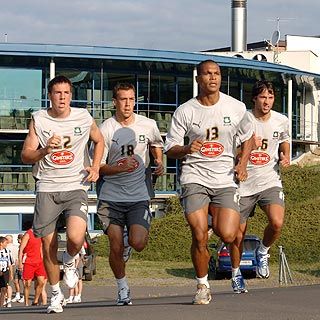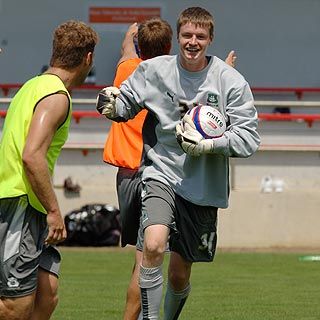 A jentle jog? Lloyd Saxton enjoying his first tour

RECOVERY MAN
24th July
The rigours of a pre-season tour in Austria may well be a shock to the system for most of the Argyle squad but for two men it will be the norm. While their team-mates have been relaxing in the summer months, Nick Chadwick and Paul Wotton have been daily visitors to the Home Park gym, as they both continued their recovery from long-term injuries. Chadders had been out of action for eight months with a serious groin problem, while Wottsy sustained knee ligament damage back in December. It has been clear to see in the friendlies we have played thus far that Chadders is relishing the chance to prove his fitness to manager Ian Holloway. He said: "I have just enjoyed being amongst the lads, training and playing. Eight months is an awfully long time and I am enjoying it at the moment. I am enjoying playing football with my mates and I think that is coming across out there on the pitch. I am pleased with how things have gone but I am still touching wood. I had a thigh strain two weeks ago and I have to be careful about picking up little niggles along the way because it has been so long. Wottsy's injury was obviously well publicised and a bad injury, whereas mine has been more drawn out. It has been tough but it is part and parcel of football. Some injuries are instantaneous and some will be drawn out like mine. We could never get to the root of the problem and we eventually needed an operation. I had inflammation on the groin and it was a serious injury. It would never seem to go away and I ended up having an operation to release the pressure in a tendon near the pelvis. Our injuries coincided and I think Wottsy has said before that we both helped each other get through the summer and the bleak times, and now we are both here in the sun. It is a relief and enjoyable to part of things again. The long term objective has been in the forefront of my mind throughout my time out. It has kept us both going. We don't want anybody to feel sorry for us. We were in the gym for four hours a day, every day. Some people might say that we get paid well and we should be doing that, and rightly so. I am not here to whinge about things but it is sometimes nice to get away after a long season and spend some time away from the club. We did not get the chance to do that and we were in every day, along with the kit man Scott and physio Maxi, who has helped us through. It was tough but we are not going to cry about that. We did it for ourselves in the end. We want to be part of the club and part of the team."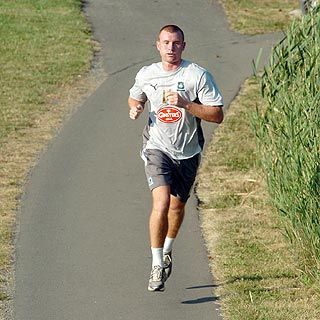 Nick Chadwick
Chadders also revealed his relief that we made it to the training base in the South Austrian village in one piece after a nervy flight from Stansted. Everything seemed fine until we came into land at Graz airport. The pilot made two aborted landing attempts before diverting to nearby Klagenfurt airport. Chadders said: "We got here safe and sound, which is all that really matters but it was not an ideal start to the week. I have not experienced that before where he has come down and aborted the landing on a couple of occasions, and it was quite scary at times. He obviously opted not to land in the end." Tiredness from a long day travelling was replaced with a different kind of fatigue the following morning, as the squad set out on a gruelling run around the hills of Loipersdorf. "It was nice to get started and everyone has been looking forward to getting under way," said Chadders. "After a long day travelling, whatever we did was always going to be a bit tough. It is not a nice run but it is in the bank. The heat is something we will have to deal with while we are out here. It makes things a little bit tougher on us but that is why we are here. It is a training week and all the lads are excited about getting fitter and sharper." The next hurdle for Chadders and his team-mates is tonight's friendly against Turkish side Genclerbirligi, which is closely followed by another tough examination on Friday against Israeli outfit Hapoel Tel Aviv. Chadders said: "I can't recall playing against teams from Turkey and Israel. I am looking forward to any game and the two games this week are obviously going to be tough and I think they will work us hard. The weather and the pitch will also make it tough but I am looking forward to any game at the moment."
VENUE CHANGE
24th July
The pre-season friendly against Israeli side Hapoel Tel Aviv will now be played in the village of Dietersdorf. The game was originally due to take place in nearby Rudersdorf but has now been switched to Dietersdorf, which is only a mile from Argyle's team hotel in Loipersdorf. Kick-off time remains 6.30pm local time and the game will hopefully be the perfect finish to our pre-season tour of Austria

GENCLERBIRLIGI PREVIEW
24th July
Top Turkish side Genclerbirligi are the next hurdle for Argyle on their eventful pre-season tour of Austria. The tour commenced with an uncomfortable flight and a random visit from FA drug testing team, and tonight's clash will be another test for the Pilgrims. Genclerbirligi gave Arsenal a tough battle a few days ago and manager Ian Holloway is expecting his squad to face a rigorous examination of their progress. He said: "It should be a very good workout for us. They lost 3-0 to Arsenal the other day but we spoke to Pat Rice from Arsenal and he said they were very fortunate not to be 3-0 down at half time. They hit the post twice and gave Arsenal a few scares, so they are obviously a very good side and I am looking forward to it. They will try to keep the ball and pass it. I think they are going to play 4-3-3, so that will be very similar to Hull City, who we play at the start of the season."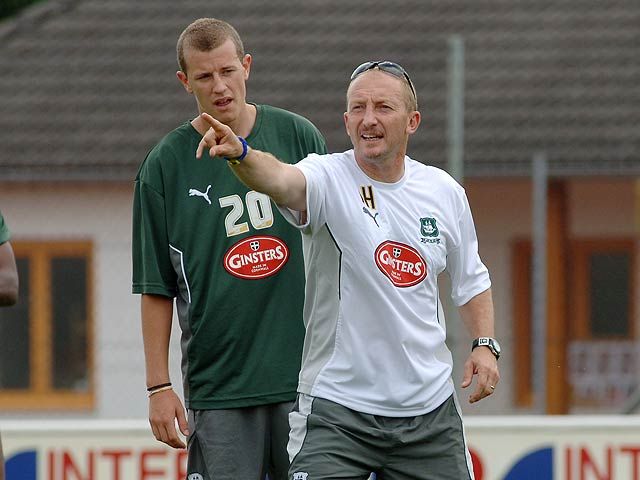 Ollie making a point

Israeli club Hapoel Tel Aviv will be our next opponents on Friday and Ollie is delighted to once again be playing quality opposition in Austria. We lost 1-0 to Real Madrid this time last year and tonight will be another big challenge. Ollie said: "We did not know who we were going to play, so there was no cunning plan like Baldrick would make up. It is just a very nice venue with wonderful surfaces to practise on and train. We are very pleased to have got some quality opposition. It does help because the Championship is a very tough division. It will be an experience for everybody to play this Turkish side and Hapoel Tel Aviv, particularly for the young ones in our squad. Certain countries play different types of football. We want to try and rattle them and get a bit tighter to them than most teams would, and see if we can unsettle them. We were 0-0 for a large part of the game against Real Madrid last year and we did have a few chances as well. We know it is going to be another tough test and we will have to chase the ball, and that is all part of it." Thankfully, there are no injuries to report ahead of the game and striker Nick Chadwick is continuing to make good progress after missing eight months with a groin problem. "Everybody has recovered well and touch wood we are all ok at the moment," said Ollie. "Nick Chadwick is fine. Nobody wants to be a footballer and have a lot of injuries. He has had a sore groin for quite a few months, maybe even a couple of years because there has always been something niggling. At the moment he is in a pain-free zone, which is fantastic. You don't stay at Everton for the time Nick did and not be any good, and I can't wait to see the best of him. He won me some games last year and it was very unjust that he had his injury."

GENCLERBIRLIGI 1 ARGYLE 1
25th July
Reuben Reid was the Argyle hero in the toughest test of pre-season against a talented Turkish team. Genclerbirligi burst out of the blocks with an early goal from Okan Ozturk and their wonderful fluency in the opening 20 minutes threatened to overwhelm the Pilgrims. Argyle gradually worked their way into the game and a number of changes in the second period saw a young side create countless chances against their tiring opponents. Reid's equaliser took a long time in coming but was still fully deserved when it did arrive, and manager Ian Holloway will be delighted with the strength in depth that he has in this young and enthusiastic squad.
Ollie started with arguably his strongest side amid a stormy scene as the thunder crackled and lightning flashed all around the humble ground of our hosts, Austrian club SV Sochau. The travelling Green Army numbered around 50, and yet they made the noise of far more, or was it just one man who was so loud it could actually be his name? The black skies were matched by a depressing start. Genclerbirligi cut through the Argyle defence with worrying ease in the second minute to take the lead. A chipped past from Mehmet Cakir found his strike-partner Okan, who wrong-footed Marcel Seip with his first touch and nonchalantly threaded the ball past the advancing Luke McCormick with the outside of his right boot. Mother Nature's response was to unleash a monsoon of English proportions and the Turkish team did not take kindly to having their lavish hair-do's greased up even more than normal as Cakir was rightly booked for a late lunge on Gary Sawyer. Matty Doumbe avenged his team-mate two minutes later with an equally crude challenge on Sandro, not the original culprit, but no matter, it was game-on in Sochau. Barry Hayles was the first man to threaten Gokhan Togkoz in the Genclerbirligi goal but his header was too high to ruffle the most luxurious hair-do of all. The side from Ankara moved the ball with impressive speed on the soggy surface and it was already clear that the Pilgrims were in for a real test. The Green Army response to this worrying start: 'I would rather be a Janner than a Turk'. Good work Mr Loud.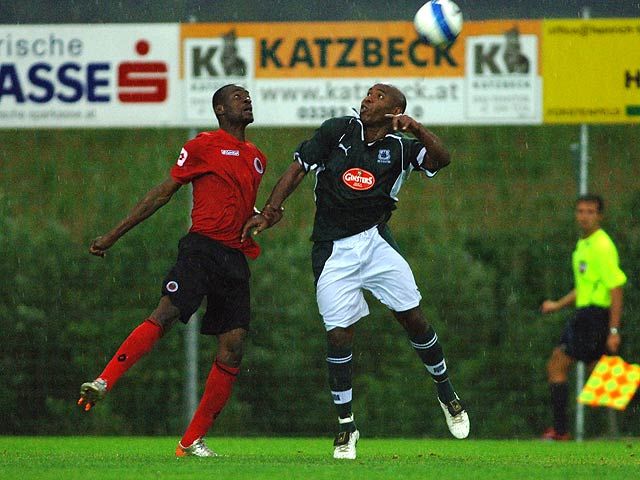 Barry Hayles in action against Genclerbirligi

As the rain stopped, Argyle started to play and Barry out-muscled his marker to reach the by-line and his cutback to Sylvan Ebanks-Blake caught Genclerbirligi napping, and Sylv was unlucky to see his stabbed effort deflected wide by a Turkish foot. Despite this brief resurgence, Genclerbirligi were still the more potent side and Super Luke had to be on his toes to beat away a fierce drive from the hugely impressive Mehmet Nas after his weaving run from midfield had left Peter Halmosi and Akos Buzsaky in a Hungarian heap on the floor. Genclerbirligi continued to sweep forward and a breathtaking move involving all five of their attacking quintet ended with a fierce drive from Sandro flying inches over the bar. It had been a tough examination for the Pilgrims but they ended the half with the sort of character and determination we expect from Ollie's men, and almost grabbed an equaliser when Lilian Nalis's flicked header from a Halmosi free-kick was only just pawed away by Tokgoz.
Ollie opted to make five changes at the interval with Rory Fallon and Nick Chadwick replacing Barry and Sylv in the van. In midfield, Dan Gosling and Lee Hodges replaced Lil and the unusually quiet David Norris. The final substitution was Krisztian Timar coming on for Matty Doumbe in defence. Genclerbirligi neglected to make any alterations and the new-look Greens were givens an early scare when Cakir tried to bundle his way to goal. He was only stopped by Super Luke bravely diving at his feet. Hodges, with the captain's armband warming his bicep, responded with a curled effort that would have troubled Togkoz if it had a fraction more pace. The Pilgrims came even closer a minute later. Gosling's strength allowed Akos the room to whip in an inviting cross for Fallon and the big Kiwi was a mere shoe-size away from levelling matters. Genclerbirligi were never going to lie down and make it easy for Argyle and they almost doubled their lead on the hour-mark when a stinging Sandro shot from 25 yards thundered back off the crossbar. Cakir was the next to threaten, nipping in front of Gary Sawyer to fire in a crisp shot that may have found the corner of the net had Timar not managed to get the tiniest of deflections on the ball.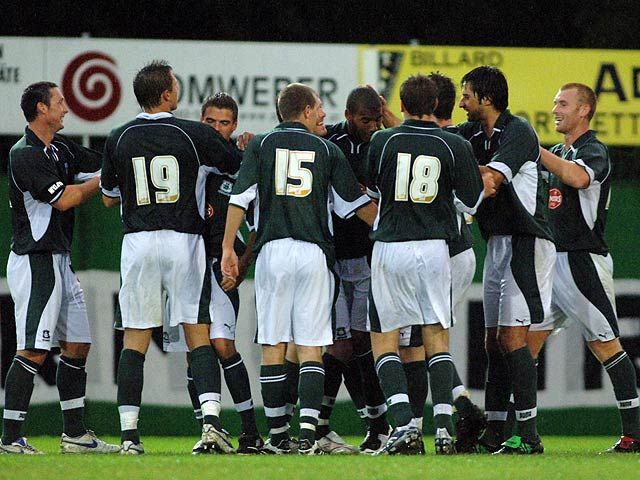 Celebrating the equaliser

With a quarter of the game to go, Chadders came the closest yet to scoring for Argyle when his fierce header from an Akos corner crashed back off the bar and away to safety. Ollie responded by making the five outfield changes still available to him. Scott Laird, Ryan Dickson, Reuben Reid, Ashley Barnes and Luke Summerfield replaced Seip, Paul Connolly, Sawyer, Akos and Halmosi. The changes seemed to unsettle Genclerbirligi's rhythm more than Argyle's and Reuben's composure in laying the ball across to Chadders gave the former Everton man time to steer a shot past Togkoz that cruelly bounced away off the post. Dicko then took up the mantle, and Togkoz did well to palm away his curling effort. Ollie then made his final change with youth team goalkeeper Lloyd Saxton replacing Super Luke between the sticks. Despite their collective inexperience, Argyle were definitely now the better side and Reid, once again, surged down the left-wing and his low cross was met by the onrushing Summerfield, who steered his shot inches wide. Fallon was the next man to be unlucky. The Kiwi neatly brought down Golsing's lofted cross-field pass and fired a sweet shot with his weaker right-foot that followed the same path that Summerfield's effort had traced seconds earlier. The deserved equaliser finally arrived in strange circumstances. Reuben picked the ball up on the left-wing, cut inside his man and scooped an effort goalwards. There seemed to be no danger but Tokgoz got down with the speed of a falling feather and the ball somehow crept into the corner. The match ended with Saxton grabbing his moment of glory when his bravery at sliding out on Okan denied Genclerbirligi a certain winner.

AWAY DRAW IN EUROPE
25th July
Ian Holloway declared himself very pleased after the 1-1 pre-season draw with top Turkish team Genclerbirligi. The Pilgrims had to endure a torrid opening, falling behind to an Okan strike in the second minute and the Turks threatened to run riot in the opening stages. Gradually, we worked our back into the game and, despite introducing numerous youngsters, the Greens were by far the better side in the second half and fully deserving of Reuben Reid's late equaliser. "It is an away draw in Europe against a very good team," said Ollie. "It was good test for us and I thought they were sharp, they were bright, they moved it well and we had to step our game up a notch, and we managed to do that, particularly in the second half. I was very pleased with the way we won the ball back off them and we went chance for chance against a very good team. If you look at the average age of the team we had out in the second half, I had to pinch myself. It was absolutely fantastic and some of them were bursting with enthusiasm."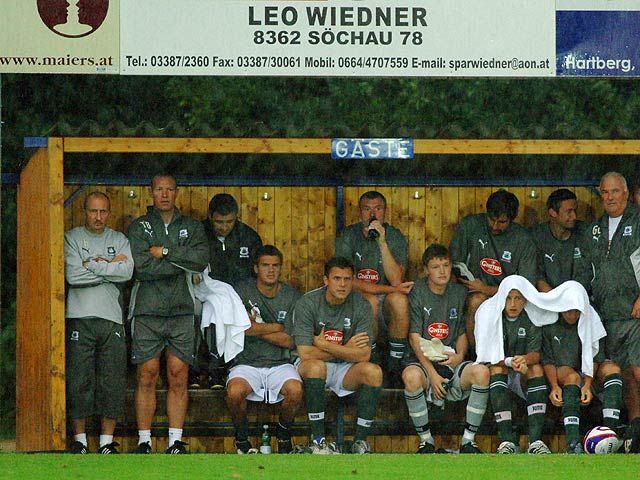 The Argyle bench in Sochau

Unlike Argyle, Genclerbirligi neglected to make many changes, and yet it was the Turkish team who struggled to keep their rhythm. Once again, Dan Gosling looked composed and oozed quality. Scott Laird's versatility has been another feature of pre-season and Reid is also blossoming very nicely. Ollie also reserved a special mention for young goalkeeper Lloyd Saxton, who replaced Luke McCormick in the closing stages and repaid that faith with a superb late block to keep the scores level. Saxton's chance came in the absence of Romain Larrieu, who has a sore thigh, although Ollie expects Le 'Keeper to be back for Friday's friendly with Israeli side Hapoel Tel Aviv. Ollie said: "Gosling looked class. Lairdy has played three different positions for me and been absolutely superb. I also put young Lloyd on and he showed the composure to make the right decision when they were clean through. Romain will probably play on Friday but I don't like giving goalies only 45 minutes, so I will probably bring Lloyd on again. "Romain has got a slightly sore thigh and Luke has got a sore knee. We brought Lloyd here; he has done ever so well in training, so I gave him a go. It is all about experience and Lloyd can say that he came on when we were 1-0 down and we won his little bit 1-0. They all appreciated the fact that I put them on against decent opposition and it was a learning curve for them. We are looking sharper and we were very unfortunate not to get more goals in the second half. I am very pleased with my lot. They were getting more tired, so we put freshness and enthusiasm on. It was great for Reuben to score, although it was probably the worst effort of the whole second half. I don't know how it went in but he still had enough nouse to cut inside and hit it. We ended up with four centre-forwards out there and a left-winger playing centre-midfield, so I am delighted we got something. I think we deserved something from the overall performance. We have got another game on Friday, which will probably be even tougher than that."
Few could question that youngsters helped to change the course of the game in the second half, but they were ably assisted by the powerful forward partnership of Nick Chadwick and Rory Fallon. Ollie also praised the small contingent of the Green Army out here in Austria, who, as if there was any doubt, made one hell of a noise. Ollie said: "One or two of us could have been a little sharper and it was nothing like Sylvan Ebanks-Blake's best day at the office but, with Chadders breathing down his neck and Rory coming along, I am not that bothered. It is great to see these fans here and I have never seen anything like it. They are absolutely brilliant." Ollie concluded by tipping his cap to Turkish forward Okan, who opened the proceedings with a wonderfully taken goal. He said: "They have got very good players and it was a brilliant move that led to a great goal. It was the only time in the game that their midfield went through mine and it was like a hot knife through butter. Full credit to their number nine because it was a fantastic touch to deceive Marcel and I can't really complain, but I can't remember too many other chances."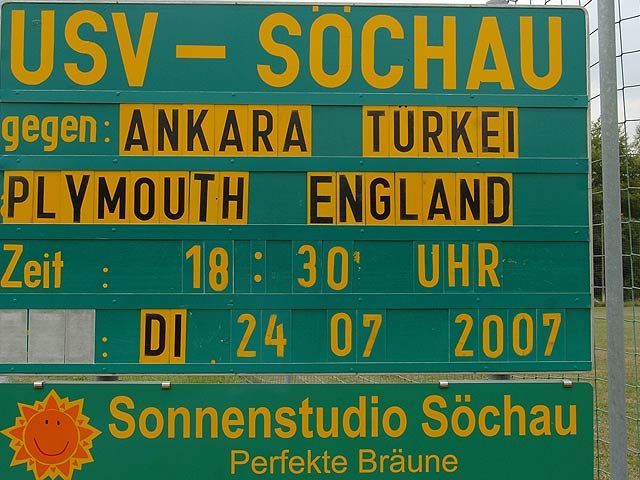 RIGHT ON REUBEN
25th July
Reuben Reid continued his impressive pre-season with the equalising goal in last night's 1-1 friendly draw with Turkish side Genclerbirligi. He has been deployed in a wide role for much of the pre-season campaign and manager Ian Holloway is delighted with the enthusiasm his young striker has shown. Reid also shone in the 5-0 thrashing of Liskeard prior to the tour of Austria, when he created four of the goals. Ollie said: "He created four the other night. We scored four from his passes and he has done it again tonight. He is one of those that has got to show me the enthusiasm because the world is his oyster when he is enthusiastic. When he starts moaning, he can drag others down with him. There is more to it than getting the ball and that is what he has got to learn. When you are a young footballer, you might have to break into the team in a different position, especially if your position is a solid position, like a centre-forward." Another young striker who did a good job on the wing against Genclerbirligi was Ashley Barnes and Ollie may now give them both the chance to show what they can do in their favoured position. Ollie said: "If Reuben keeps giving me the attitude he is showing me at the moment, then I will keep giving him the chance to play out of position and then he can move back up front. I will now give him and Barnes a chance up there. In the meantime, I thought they were both very bright and dangerous. Some of the things Barnes did looked like a seasoned professional. He was really bright, really sharp, so well done son."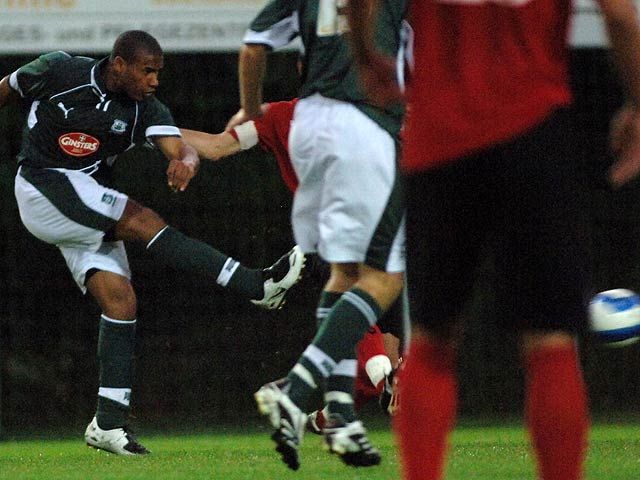 Reuben scores against Genclerbirligi

ARGYLE 1 HAPOEL TEL AVIV 1
27th July
Argyle secured the second 1-1 draw of their pre-season tour in Austria with a performance that followed a similar pattern to the first game. Tuesday's 1-1 draw with Turkish club Genclerbirligi was matched by tonight's game against Israeli side Hapoel Tel Aviv and, once again, it was all about the second half performance for the Pilgrims. As with Tuesday, Argyle fell behind to an early goal. Big centre-forward Badeer Valeed the man to strike for the Israeli's. The Argyle response was typically stoic and Akos Buzsaky's equaliser just reward for another superb second half display. Manager Ian Holloway opted for Romain Larrieu in goal behind a starting back four of Dan Gosling, Krisztian Timar, Mathias Doumbe and Lee Hodges. Ashley Barnes started at right-midfield with David Norris alongside Luke Summerfield in the engine room and Peter Halmosi on the left. Nick Chadwick partnered Barry Hayles in attack with Sylvan Ebanks-Blake missing out because of a sore thigh. The only other absentee from the squad was Gary Sawyer, who was given special dispensation by Ollie to fly home early for his brother's wedding.
Tel Aviv started the game very brightly and Hodgey had to be alert to thwart Valeed with a well-timed tackle in the opening minutes. It was a brief respite, however, as Tel Aviv took the lead on ten minutes. Natcho Bebars swung in a free-kick and Valeed stole a yard on Matty Doumbe to glance a header beyond Larrieu and into the bottom corner. Argyle's first meaningful attack came ten minutes later when Timar met a beautifully flighted Halmosi corner, but the big Magyar could not get enough purchase on his header and the ball flew inches wide. The referee was the next to get involved, booking Chadders for dissent and Tel Aviv's Doani Ram Rahamim for having a little nibble on Krisztian as a corner flew across. Ollie responded to Argyle's lacklustre opening by shifting Barnes up front and switching to a 4-3-3 formation. The ploy almost worked immediately as Barnes released Chadders down the right and his driven cross appeared to hit Rahamim's hand, but Herr Referee gave nothing. The two sides then exchanged a booking each with Barnes cautioned for a late tackle and Ollie decided to bring on Buzsaky in his place, as the youngster's temper began to look a little frayed. The half ended with Larrieu back pedalling smartly to palm a looping header from Valeed over the crossbar.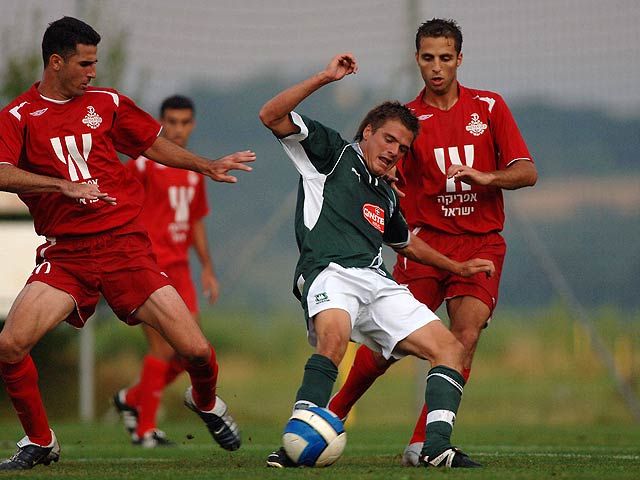 Ryan Dickson

Ollie made a number of changes at half-time and the second half line-up consisted of a back four of Paul Connolly, Scott Laird, Marcel Seip and Hodges. Gozzie moved up to right-midfield with Ryan Dickson on the left. Lilian Nalis joined Buzsaky in centre-midfield and Rory Fallon came on to partner Hayles in attack. Tel Aviv made just one change with Nigerian international Enyeama Vincent coming on goal. The Israeli's had a glimpse of goal straight after the interval when a free-kick glanced off Lilian's head, and Lairdy had to show great strength to prevent Asulin Lior from profiting. Reuben Reid replaced Hayles on 56 minutes as the Pilgrims began to control the match. Buszaky was particularly lively, while Gozzie was absolutely superb on the right. His strength and composure on the ball seems to get better with every match. It was Gozzie who was the first to test Vincent as he cut inside from the right and fired in a powerful left-foot drive that the Tel Aviv 'keeper did well to parry away from the lurking Reid. Gozzie's next effort was truly sensational. A half clearance looped out to him on the right and he controlled the ball on his chest before unleashing a wonderful volley from 25 yards that Vincent did brilliantly to turn over the bar. However, Vincent's good fortune did not last long. The resultant corner was taken short to Buzsaky and the magical Magyar was given time to cut inside from the left and fire a crisp right-foot shot into the bottom corner. The goal was the least Argyle deserved for dominating possession in the second period and, although the game fizzled out towards the end, it was another encouraging performance to bring a successful tour to a close.

JOB WELL DONE
28th July
A disappointing early goal was the only black mark in another strong Argyle performance on their pre-season tour of Austria. The Pilgrims followed up on Tuesday's draw against Genclerbirligi with another 1-1 draw, this time against Israeli side Hapoel Tel Aviv. Argyle fell behind to an early goal from a set-piece before Akos Buzsaky's second half equaliser, and manager Ian Holloway was disappointed to concede such a soft goal. He said: "Our nemesis from last year is still showing. We missed a header, give a foul away and then get done by a header from a set-piece. We have got to sharpen up on that but we had obviously not seen them play and did not know what sort of set-pieces they would do. If you look at last year, we have got to brush up on losing headers and we have done it again, and, with Krisztian out there, we don't want to do that. We were absolutely terrific after that. We moved it sharp and bright. We made a switch and that caused them all sorts of problems."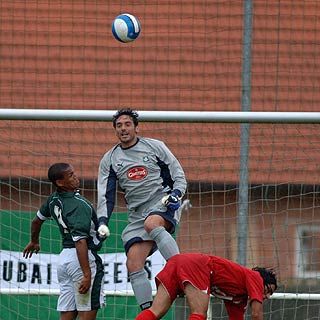 Romain Larrieu taking charge against Hapoel

Argyle dominated much of the game after conceding the goal and could have won the game if a spectacular volley from Dan Gosling had not been superbly saved by Tel Aviv's Nigerian goalkeeper Enyeama Vincent. Ollie said: "If you look at possession, we had a lot more than them. Barring a great save by their 'keeper from young Danny Gosling, we would probably be talking about a win. It was a great effort from the boys. They could not get it off us in the second half. Unfortunately, we did not create enough from that but there you go. The discipline and the discipline of the shape was very, very good. We got young kids in little pockets and played in between their midfield line with a sort of diamond effect. We would not have been able to do that at the start of the week and now we can, which gives me great hope for the future."
It was a testing game for a number of reasons and four bookings dished out in the first half by the referee reflects the antagonistic nature of proceedings. It was a steep learning curve for young Ashley Barnes, and Ollie wisely removed him from the action just before half-time as his temper began to fray. "I brought Ashley off because he lost his temper," said Ollie. "I told them what they would be like and they did it. What you have to do, in any standard, is get the first one in and then they retaliate. Unfortunately, we got mugged off a bit, but we stayed professional and kept going." Despite this, it has definitely been a successful week for the Pilgrims and Ollie is delighted with the progress of his squad. He said: "It has all been about football and fitness and it has been a very successful tour for those two reasons. We are looking fitter. I have given all sorts of young ones the chance to play and they will tuck that in their top pockets for experience."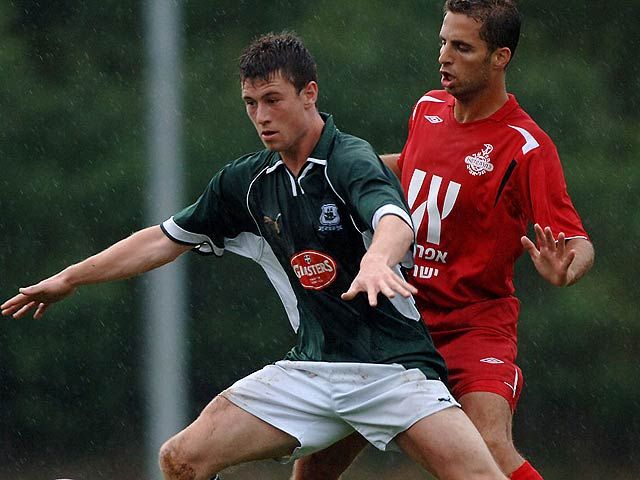 Ashley Barnes in action against Hapoel

There were two absentees from the game with Sylvan Ebanks-Blake struggling with a sore thigh and Gary Sawyer sent home early to attend his brother's wedding. Ollie said: "Ebanks-Blake hit a shot in training and felt his thigh, so we thought we should leave him out of it. Gary has gone off to be the best man at his brother's wedding tomorrow. I value people's families and they normally give me a bit extra for that. Good luck to him and I hope he has had a safe flight." Gosling was undoubtedly the star of the show and Ollie admitted that his imminent departure for the Under-17 World Cup in South Korea could be a real loss for Argyle. Ollie said: "I wanted Gos to get a full 90 minutes before he goes off with England and I am rueing the day he is doing that. He is very, very composed and always looks like he is going to make the right choice." Kiwi striker Rory Fallon was another man to impress with his physical performance in the van and Ollie is hoping to get forwards' expert Gary Penrice in to provide some extra training next week. "I think he did very well but I have got him on the move," said Ollie. "There are too many times at the moment where a long ball is coming towards him and someone nips in front of him. I like how physical he is at the moment. I like how I said something at half-time and he got a few free-kicks for us. I am anticipating getting Gary Penrice in next week and I am looking forward to that because he knows how to focus on certain things."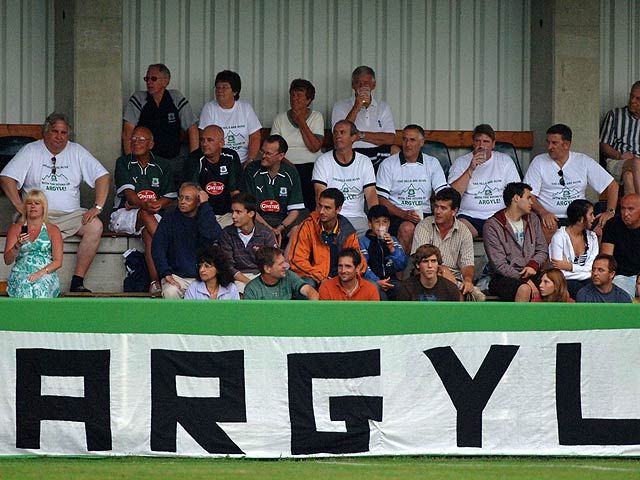 Argyle fans in Dietersdorf