Back to

Austria 2007

Tour Home
Austria 2007: Evening Herald
MID AIR PLANE DRAMA FOR ARGYLE PLAYERS
July 23rd
Argyle's footballers were caught up in a mid air drama on their flight to a pre-season tour in Austria yesterday. The Argyle squad and manager Ian Holloway were on board a jet which was caught up by high winds as it came into land at an airport at the town of Graz. As it was buffeted in the turbulent conditions, the flight made two bids to land before it had to abandon the attempt and go to another airport. Journalist Rupert Metcalf was on board the nerve-wracking flight with the club, and other passengers. He said: "After a somewhat turbulent descent from cruising altitude, the packed plane made a sharp turn prior to landing, and that was when things started to go wrong. The aircraft lurched to the left and then to the right - and then soared upwards again after giving up trying to reach the single runway at the small airport of Graz. When the plane had returned to cruising altitude, its passengers were informed that high winds had caused the problem. Another attempt was made to land at Graz about ten minutes later, from a different direction, but again the conditions were deemed to be too dangerous and the aircraft soared skywards once more just moments before touchdown." The passengers were then told that the crew were giving up on Graz and were heading for Klagenfurt, 80 miles to the west, where the plane landed safely 25 minutes later.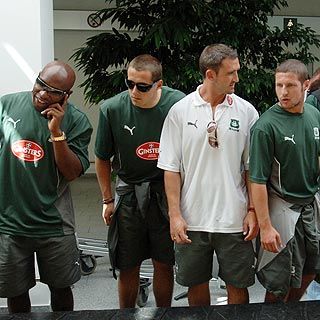 Waiting for the bags after finally touching down safely

The Coca-Cola Championship club's first-team squad have gone to the spa resort of Loipersdorf, in south-east Austria, for a week-long training camp. Their Ryanair flight from Stansted took off with only a minimal delay late yesterday morning, and the two-hour trip was uneventful until its closing stages. Argyle's players and staff had a long wait for their coach to arrive from Graz, and they eventually reached Loipersdorf - the other side of Graz - at 7.20pm instead of the planned time of about 4pm. After cancelling last night's training session and giving his players the night off, Argyle manager Ian Holloway said: "I've never been on a plane that's done that before. I don't want to use the word scary, but it was surreal. We were coming into land and it seemed like the left tip of the wing almost touched the floor, and then the pilot tried to correct it. We were all thinking: 'Wait a minute, this isn't right'. Everyone had a look around, but no one said anything, and then we just started accelerating up and away again. When we did it a second time and off we went again, all I can remember thinking was: 'I hope he doesn't do it a third time'. When the pilot told us we were going somewhere else because it was too dangerous, I thought: 'Thank you, Lord'. But then," Holloway added, "I started thinking: 'What if we can't land? How much fuel has he got?' There was a huge sigh of relief when we hit the Tarmac, I can tell you." Although some passengers were unwell because of the turbulence and the tension, the Argyle players seemed none the worse for the experience. Holloway added: "I think the lads have got over it quite well, but a little girl behind me was sick. It wasn't very pleasant, but everyone is safe. That's the most important thing.

PILGRIMS BID KNOCKED BACK
July 23rd
Argyle's bid to give a trial to a Bayer Leverkusen full-back has been rejected by the Bundesliga club. Manager Ian Holloway had been hoping the highly-rated but unidentified defender, who could have been available on a loan deal, would join up with the club at their week-long pre-season training camp in Loipersdorf, Austria. The Pilgrims flew out from Stansted yesterday, after seeing off Cambridge 2-1 at Abbey Stadium in a pre-season match on Saturday afternoon, thanks to goals from David Norris and Sylvan Ebanks-Blake. Holloway is happy with the way his squad's preparations are going for the start of the new Championship campaign, which begins on August 11 away to Hull City. However, he is still keen to strengthen and admitted he may miss the final few days of Argyle's Austrian trip to check out players in France. "Gary is trying to get me over to France next Friday, Saturday and Sunday, which I may have to do," said Holloway. "There is a lot happening over there. I would be able to see 16 games in three days and nearly everybody involved is free. So, I may just have to go and do that."
DRUG TESTERS MAKE VISIT TO ARGYLE'S CAMP
July 24th
Argyle's first full day of their training camp in Austria was interrupted by three Football Association drug testers. They took samples from four of the Pilgrims' players, who were chosen at random. The surprise visit by the trio of drug testers came as Argyle started their 5pm training session in Rudersdorf. Manager Ian Holloway said: "It seems quite a waste of money, doesn't it? Surely they could have done it after our game at Cambridge rather than over here. But their job is to turn up and surprise you, and they have certainly done that. We have complied with all that we were asked of by them and I'm sure everybody will be fine." According to Holloway, the drug testers visit to Austria was solely to check out Argyle. He said: "It seems an extravagant waste of money. They have come over here and are going back today." The players' day had started at 7am when they went on a run outside their five-star hotel in Loipersdorf. After breakfast, they spent two hours on their training pitch in Rudersdorf, which is a short coach trip away, and then had another session in the late afternoon. Both sessions were carried out under clear blue skies and in very hot conditions.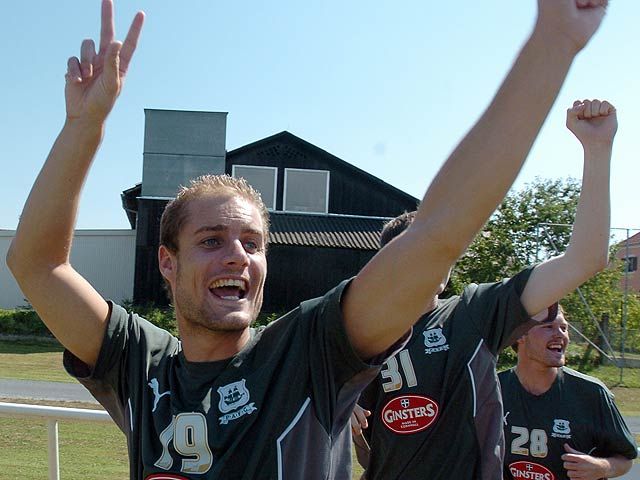 Marcel Seip enjoying training

OLLIE EXPECTS TOUGH TEST
July 24th
Ian Holloway is expecting a tough encounter when Plymouth Argyle play Turkish top flight club Genclerbirligi tonight. It is the first of two friendlies while on their pre-season tour to Austria this week and will take place in Sochau, a short distance from their base in Loipersdorf. Genclerbirligi, who finished sixth in Turkey's Super Lig last season, are not short of match practice. They have played three games during their current tour to Austria, including a 3-0 defeat by Arsenal in Bad Waltersdorf last Thursday. Before that, Genclerbirligi had lost 2-1 to Mlada Boleslav, of the Czech Republic, in Koflach. Then, after their clash with Arsenal, the Ankara-based club drew 0-0 with Germany's FC Cologne in Wolfsberg on Sunday. Argyle coach Des Bulpin spoke yesterday to Pat Rice, one of Arsenal's backroom staff about their game with Genclerbirligi . And Rice, a Gunners' legend from the 1970s, gave a glowing report about the Turks, who played a 4-3-3 formation against Arsenal. Holloway said: "Pat Rice told Des they should have been 3-0 down. Genclerbirligi started really brightly and hit the post once, but Arsenal still managed to beat them 3-0 in the end. You never know what you are going to be up against, but it's another good test for us."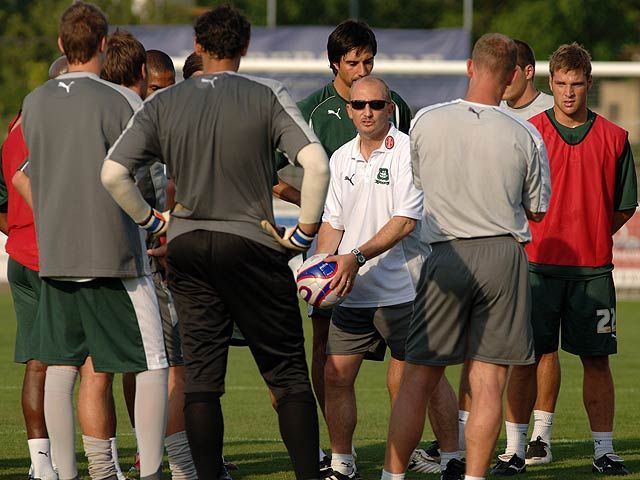 Ollie in the middle at training

Argyle's second game on tour will be on Friday, when they play Israeli top flight club Hapoel Tel Aviv in Dietersdorf. Holloway revealed, however, they could have played Spanish champions Real Madrid while on tour for the second successive year. Real Madrid beat Argyle 1-0 in a friendly in Kapfenburg last July before going on to lift their first La Liga title since 2003. There was a chance of a re-match this week but, instead, Real Madrid will play another Championship club, Tony Pulis' Stoke City. Holloway said: "We almost got Real Madrid again, apparently. They did not want to play a top team, but luckily for Stoke, they got that one. Maybe we gave them too good a game last year." Holloway plans to involve most of the Pilgrims' squad against Genclerbirligi. The two exceptions are club captain Paul Wotton, who is on the comeback trail from a serious knee injury, and under-18 goalkeeper Lloyd Saxton. Wotton did take part in his first full training session yesterday morning after a cruciate ligament operation in January. But it is still expected to be several weeks before the 29-year-old will be ready to return to action. No trialists are currently training with Argyle, despite exhaustive attempts by Holloway and his chief scout Gary Penrice
REID'S LATE STRIKE EARNS PILGRIMS DRAW
July 24th
Reuben reid scored an 87th-minute equaliser as Argyle drew with Turkish top flight club Genclerbirligi SK in Sochau last night.The Pilgrims, playing in the first of two friendlies while on their tour to Austria this week, had fallen behind in only the second minute as striker Okan Ozturk fired Genclerbirligi ahead. Genclerbirligi were the better side before half-time, although without threatening goalkeeper Luke McCormick too much. But it was a different story after the interval, with Argyle on top and strikers Nick Chadwick and Rory Fallon both hitting the woodwork before Reid grabbed his last-gasp, but deserved, goal.
Thunder rumbled around the surrounding hills as the 6.30pm kick-off approached, and there were also a couple of sharp showers. Argyle were led out by captain Barry Hayles to a noisy ovation from the die-hard fans who had made the trip to Austria. There was lightning as Hayles and Genclerbirligi skipper Erkan Ozbey carried out the coin toss, and it illuminated the dark sky. The floodlights had to be switched on as heavy rain started to fall. Genclerbirligi did not seem too concerned about the conditions as they opened the scoring inside two minutes with a goal from striker Ozturk. The ball was threaded through to him by Mehmet Cakir and Ozturk cut inside defender Marcel Seip before firing past Luke McCormick. That was the cue for a cloudburst, but play continued despite the torrential rain and Cakir was booked for a late tackle on Argyle left-back Gary Sawyer. Pilgrims' centre-back Mathias Doumbe was also shown a yellow card after a crunching challenge on Sandro. Although there was still thunder and lightning, the rain eased up and Argyle created their first chance when Hayles headed over the crossbar from a Sawyer cross. Striker Sylvan Ebanks-Blake then had a close-range shot deflected behind for a corner after a cut-back by Hayles. Genclerbirligi midfielder Mehmet Nas weaved his way past Argyle's Hungarian duo Akos Buzsaky and Peter Halmosi in the 34th minute but his 20-yard shot was easily saved by McCormick.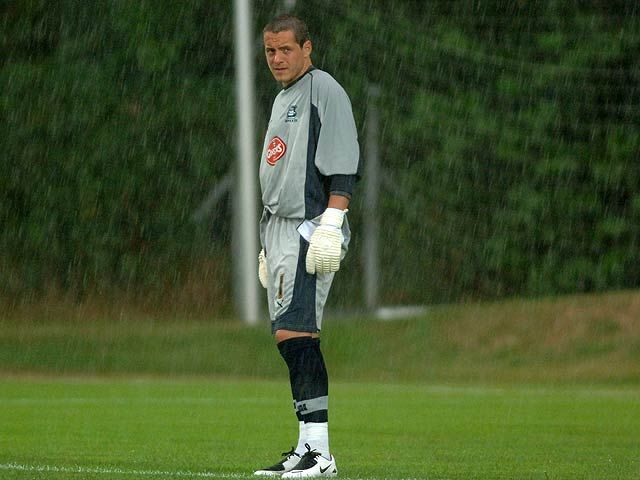 Luke, and steady rain, in Sochau

With steady rain falling again, it was becoming an increasingly competitive game and a good work-out for the Pilgrims. Genclerbirligi, who were playing a 4-3-3 formation, clearly had some talented performers in their ranks, with Nas and Cakir particularly impressive with their control and poise. Sandro sent a rising 25-yard drive high and wide in the 41st minute before Argyle midfielder Lilian Nalis almost grabbed an equaliser. Halmosi aimed a free-kick into the penalty area and Nalis saw his glancing header pushed away by Genclerbirligi goalkeeper Gokhan Tokgoz. After 45 minutes exactly, the referee blew for half-time and both sets of players could take some shelter from the continuing downpour.
Argyle manager Ian Holloway made five substitutions at the start of the second half, with Ebanks-Blake and Hayles making way for Chadwick and Fallon in attack. Also sent on were centre-back Krisztian Timar and midfield pair Dan Gosling and Lee Hodges, for Doumbe, David Norris and Nalis, respectively. Chadwick headed wide in the 49th minute after Tokzog failed to cut out a deep far post cross from Halmosi and Hodges then had a curling 20-yard shot saved by the opposition keeper. Argyle continued their encouraging start to the second period when Buzsaky created a decent chance. Buzsaky whipped in a low cross from the by-line and Fallon got a touch to the ball but the striker could not direct it on target. Argyle were dominating until the 60th minute when Sandro rattled the bar with a fierce 30-yarder. McCormick scrambled to his feet after diving to stop the shot and managed to punch the ball clear before any of the Genclerbirligi players could get to it. The rain was still falling and there was occasional thunder and lightning but the worst of the storm seemed to have passed. Argyle's best chance of the game came in the 68th minute when Buzsaky's corner was headed powerfully against the bar by Fallon, with Tokgoz beaten. Holloway made another five substitutions soon afterwards, with Buzsaky, Halmosi, Sawyer, Seip and right-back Paul Connolly taken off. They were replaced by Ashley Barnes, Ryan Dickson, Scott Laird, Reid and Luke Summerfield as some of the Pilgrims' young talent were given a run-out. Reid, playing on the left-side of midfield, provided the cross from which Chadwick shot against the base of a post. Dickson then had a long-distance strike pushed away by Tokgoz as Argyle continued their pursuit of the goal that their second half performance merited. Argyle's 11th substitution of the match saw under-18s goalkeeper Lloyd Saxton take over from McCormick between the posts in the 75th minute.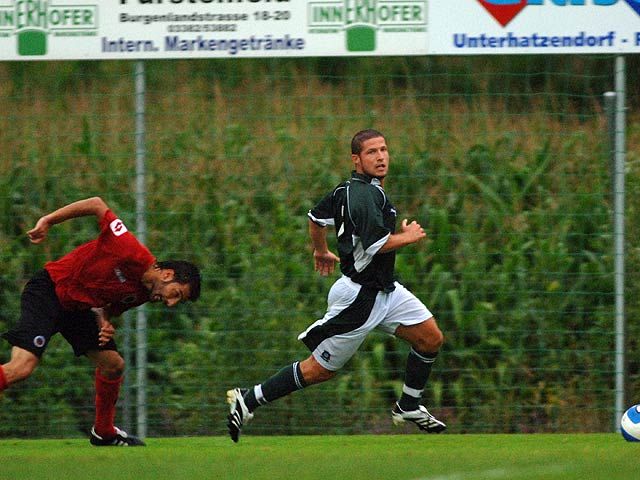 David Norris in action against Genclerbirligi

As the game entered its closing stages the skies started to clear - and Reid created another chance, this time for Summerfield. Reid rolled the ball into the path of the Argyle midfielder who took it in his stride but fired wide of the right post, much to his evident frustration. Fallon also went close with a 20-yard strike, which was inches wide of the target, before Reid equalised in the 87th minute. Tokgoz was badly at fault as he allowed Reid's 20-yard shot to bounce past him, but it was no more than the Pilgrims deserved after their vibrant second half display. Genclerbirligi almost snatched a second goal, though, when Ozturk raced clear in the 89th minute. The striker tried to place the ball into the left corner of the net but, under pressure from Laird and Timar, he sent his shot wide and the game ended up as a 1-1 draw.

ARGYLE SPIRIT PLEASES OLLIE
July 25th
Manager Ian Holloway took plenty of positives out of Plymouth Argyle's 1-1 draw against Turkish top flight club Genclerbirligi in Sochau, Austria, last night. Reuben Reid, one of 22 players used by the Pilgrims' boss, scored an 87th-minute equaliser. Genclerbirligi had taken an early lead with a fine goal from striker Okan Ozturk, but it was cancelled out by Reid's low 20-yard shot, which deceived goalkeeper Gokhan Tokgoz. Argyle were good value for the 1-1 draw after a determined second-half display. Some of the club's talented youngsters were given run-outs by Holloway after the break, and he was thrilled with their contribution to the Pilgrims' fightback. Holloway said: "It's an away draw in Europe, which is never a bad result. I thought they were very good. It was a decent test for us. They were sharp and bright and moved the ball well. We had to step up our game up a notch and we managed to do it, particularly in the second half. I was very pleased with how we won the ball back off them. It was almost chance for chance against a team who, I think, looked quite good."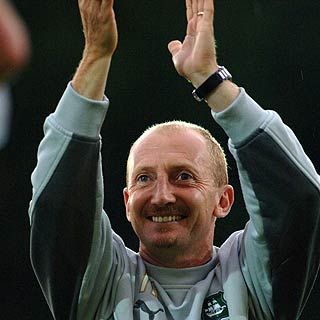 A happy Ollie after the game

Genclerbirligi have finished sixth in Turkey's Super Lig for the past two seasons and they had some talented ball-players. But the likes of Ashley Barnes, Ryan Dickson, Dan Gosling, Scott Laird and Luke Summerfield, as well as Reid, showed they have got ability too. There was even a brief appearance for under-18s goalkeeper Lloyd Saxton. He came off the substitutes' bench in the 75th minute to replace Luke McCormick, with Romain Larrieu being saved for the second game of Argyle's tour, against Hapoel Tel Aviv, of Israel, in Dietersdorf on Friday. Holloway said: "If you look at the average age of who we had on the pitch at the end, I have got to pinch myself. I thought it was fantastic. Some of those young ones were bursting with enthusiasm. Barnes did well on the right, Gosling looked a bit of class and Lairdy has played three positions for me already. It's absolutely superb." Argyle had a strenuous training session yesterday morning, despite the game against Genclerbirligi in the evening. There was thunder and lightning throughout the first half in addition to heavy rain, which persisted for most of the match, although the storm had passed by the end. Holloway said: "It's all about the work-out. I think we are looking a bit sharper now. We were very unfortunate not to get one or two more goals in the second half, although one of their fellas hit the bar with a wonderful strike of a football." Genclerbirligi made only five substitutions, compared to Argyle's 11, and three of those came in the closing stages. Holloway said: "They were getting more tired and we put freshness and enthusiasm on. It was great for Reuben to score, but it was probably the worst effort of the second half. How it went in, I don't know. But he still had enough nous to cut inside and hit it. We ended up with four centre-forwards out there in the second half, and had a left-winger playing centre midfield. So, what can I say? I'm delighted we got the goal because I think on the overall performance we did deserve something out of it." Holloway added: "We have got another game on Friday, which will probably be a bit tougher than this one, so it's a good test for us. Some very positive things came out of tonight for me."
ARGYLE CHIEF WANTS REID TO KEEP SHOWING RIGHT ATTITUDE
July 26th
Manager Ian Holloway has admitted a good attitude is the key to the future of 18-year-old Plymouth Argyle striker Reuben Reid. Reid returned early from a loan spell with League Two club Rochdale last season after unspecified disciplinary problems. He was briefly suspended by Argyle and Holloway ended up having a meeting with him and his father, explaining exactly what he expected from the Bristol-born forward. The Pilgrims' boss is hoping to see a positive response from the talented teenager in the forthcoming campaign. Reid came off the substitutes' bench to score the Pilgrims' equaliser in their 1-1 draw against Turkish top flight club Genclerbirligi in Sochau, Austria, on Tuesday. Holloway said: "When he's enthusiastic, then the world is his oyster. But when he starts moaning, he drags some of the team down with him. Him and Dicko had a little disagreement the other night because he didn't give Reuben the ball. There are more to things than getting the ball. That's what he has got to learn."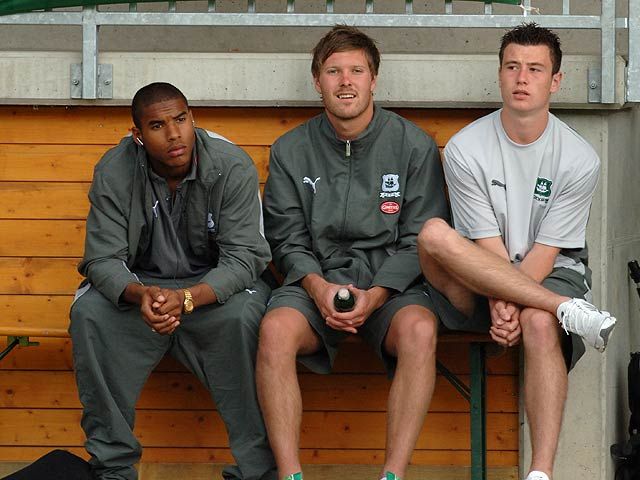 Reuben Reid, along with Scott Laird and Ashley Barnes, on the bench in Sochau

Reid, who is starting his second season as a professional, is one of six strikers currently at the disposal of Holloway, with a seventh, Cherno Samba, on the transfer list. Holloway admitted Reid's best chance of playing first team football at the moment would be in a wide position, rather than up front. Reid played on the left-side of midfield against Genclerbirligi and, as well as scoring the equalising goal, he created a couple of good opportunities for team-mates. Holloway said: "When you are a young footballer, you might have to break into the team in a different position. If you're a centre-forward your club, particularly if they are in the Championship, are likely to have a lot of those players. If he shows me the attitude he's showing me at the moment I will keep giving him a chance to play out of position and I know eventually he will end up up front."
Holloway has four established strikers in Nick Chadwick, Sylvan Ebanks-Blake, Rory Fallon and Barry Hayles, who are all fit. So Reid and Ashley Barnes, who was signed from non-league Paulton Rovers in March, have played in wide positions during the pre-season friendlies this month. Holloway said: "I thought they were both very bright and dangerous the other night against Genclerbirligi. Some of the things Barnesy did, he looked like a seasoned professional. He was really sharp and really crisp. 'Well done son' that's what I say."
SAXTON COULD GET ANOTHER RUN OUT
July 27th
Second-year apprentice goalkeeper Lloyd Saxton could get another run-out when Plymouth Argyle play top Israeli club Hapoel Tel Aviv in Dietersdorf tomorrow. Saxton came on as a 75th minute substitute for Luke McCormick in the 1-1 draw against Genclerbirligi on Tuesday. Argyle were trailing 1-0 at the time, but Reuben Reid fired home an equaliser three minutes from the end of the game in Sochau. Romain Larrieu will start between the posts for the game against Hapoel Tel Aviv after sitting out the draw with Genclerbirligi. Manager Ian Holloway said: "I don't like having two goalies playing 45 minutes each. Romain will play the majority on Friday, and I will probably bring Lloyd on again. Romain has got a slightly sore thigh anyway and Luke has got a slightly sore knee. We have brought Lloyd here and he has done ever so well in training so I will give him a little go. It's all about experience. He can say he came on at one-nil down and we won his little bit of the game."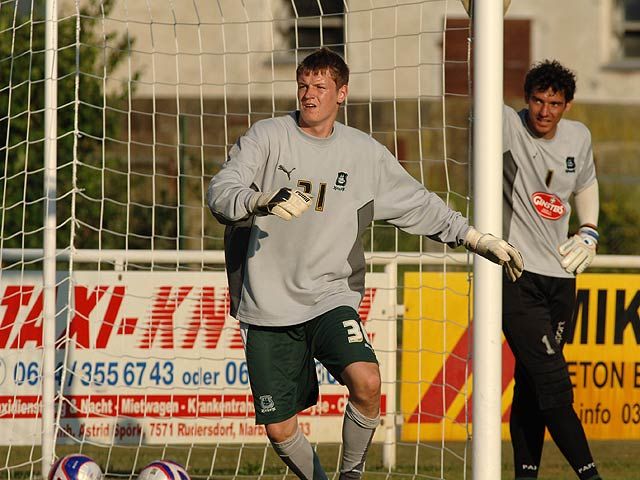 Lloyd Saxton training in Austria

ARGYLE BOSS TO MAKE CHANGES FOR HAPOEL TEST
July 27th
Argyle will take on Israeli UEFA Cup qualifiers Hapoel Tel Aviv in the second and final game of their pre-season tour to Austria in Dietersdorf tonight. Manager Ian Holloway will pick his side from the same players he used in the 1-1 draw against Turkish top flight club Genclerbirligi on Tuesday, but he said: "It will be a completely different starting line-up. The ones who came on as substitutes the other night will play the majority of the game. Luke Summerfield will start instead of Akos, Lee Hodges will be in for Lilian Nalis and Ryan Dickson will start instead of Halmosi. It will be that type of thing. We are trying to make it so that they will have all had the same amount of minutes in these two matches." Goalkeeper Romain Larrieu will be between the posts for Argyle tonight with second-year apprentice Lloyd Saxton as cover for him on the bench. Luke McCormick will sit out the game after playing for the first 75 minutes against Genclerbirligi before Saxton took over from him.
Argyle have been staying in the same hotel this week as Hapoel Tel Aviv, the 13-times Israeli champions, whose training base has been in Dietersdorf. But there has not been much contact between the two sets of players and coaching staffs. Holloway said: "We don't know too much about them to be honest, but from what we can find out I think they will be a bit higher standard than the Turkish side, who I thought were very good. So it's going to be another tough test for us." Hapoel Tel Aviv finished fourth in Israel's Ligat ha'Al last season and will enter the UEFA Cup at the second qualifying round stage next month. Last term they made it into the last 32 of that competition before losing 4-1 on aggregate to Glasgow Rangers. But in recent seasons they have taken the scalps of Chelsea, Italian club Parma and France's Paris Saint-Germain in the UEFA Cup, so their pedigree is an impressive one. Hapoel Tel Aviv will be playing the fourth and final game of their summer training camp in Austria. They drew 0-0 with Sigma Olmutz, of the Czech Republic, last Friday before losing 2-1 to Serbia's Red Star Belgrade two days later. That was followed by a 2-0 win against Olympiakos Nicosia, of Cyprus, on Tuesday. Holloway had been thinking about going on a scouting trip to France with chief scout Gary Penrice today and into the weekend but he is now expected to stay with the Pilgrims' squad in Austria. He added: "The game the other night has really sharpened us up, but that's down to the training as well. I was stood watching them at training yesterday and I was very proud of my team, and my off-the-pitch team. They are giving me what I want and it all feels very good."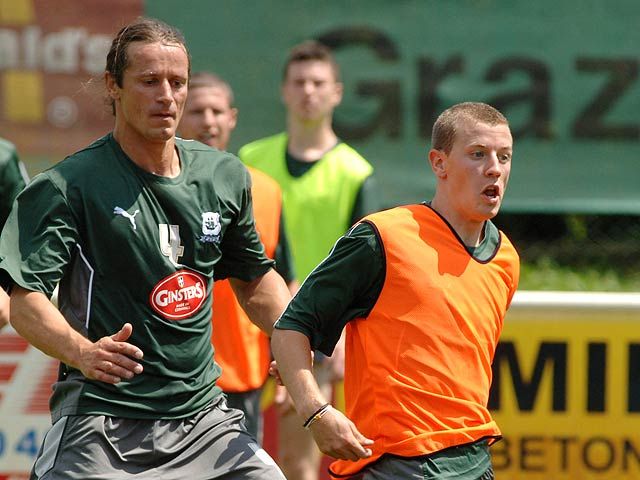 Lilian Nalis and Luke Summerfield in training

WOTTON ENJOYS GETTING AWAY FROM THE RAIN
July 27th
While the rain continues to fall in Plymouth, out in sunny Austria the skies are bright blue and the temperature has topped 32 degrees centigrade.Argyle captain Paul Wotton admitted it had been nice to escape the miserable weather at home. The Pilgrims' squad have this week been staying at a luxury hotel in Loipersdorf, close to the Austrian borders with Hungary and Slovenia. The facilities there are excellent, and it is the same at Argyle's training base in Rudersdorf, a 15-minute coach trip away. Wotton said: "Whatever job you do, whenever you wake up in the morning and the sun is shining it puts you in a good mood. "It's good to get some training in at a decent altitude and in the heat, although it's important we stay hydrated. No matter what the weather is like at home, inevitably on August 11 it's going to be roasting. It normally is, so it definitely stands you in good stead. The food at the hotel is great and the rooms are great. We get looked after very well. The swimming pool, spa and gym are first class and the main training pitch is very good. So in terms of a pre-season training camp, I think you would struggle to beat it."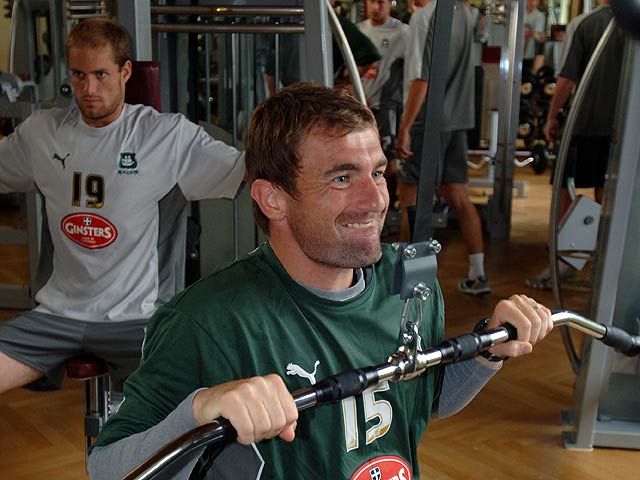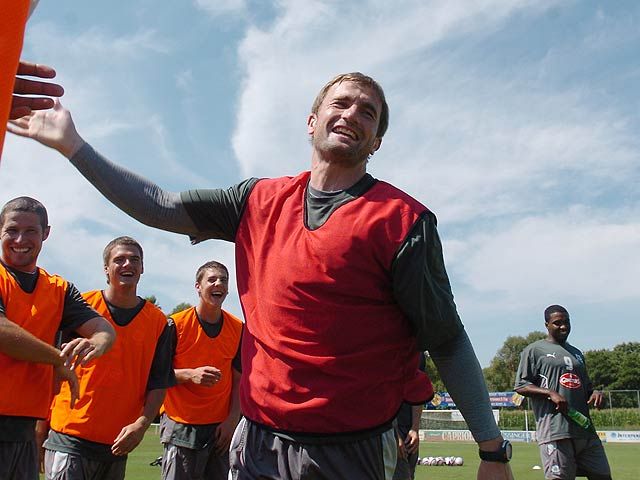 Wottsy - delighted to be back

AKOS EARNS PLAUDITS AS ARGYLE HOLD ISRAELI ACES
July 28th
Midfielder Akos Buzsaky took the chance to impress his watching parents by scoring Argyle's equaliser as they drew against 13-times Israeli champions Hapoel Tel Aviv last night. Buzsaky netted with a low 20-yard drive in the Pilgrims' second and final game of their pre-season training camp in Austria. With Argyle staying so close to the border with Hungary it was the perfect opportunity for the midfielder's mother and father to catch up with him. Buzsaky had come on as a 39th minute substitute for 17-year-old Ashley Barnes. He relished the attacking role he was given in the centre of midfield and, after his injury problems of last pre-season, he is looking very sharp this time around. That can only bode well for Argyle, with the new Championship campaign only two weeks away.
It was hot and sunny yesterday morning but by mid-afternoon it had clouded over and cooled considerably, with steady rain falling at kick-off. With no floodlights at the Waldstadion in Dietersdorf, a short coach trip from Argyle's hotel in Loipersdorf, it was distinctly gloomy. The Green Army had been swelled to around 50-60 by the arrival of several supporters since the 1-1 draw against Genclerbirligi in Sochau on Tuesday. In that game, Genclerbirligi had opened the scoring inside two minutes. This time Argyle conceded the opening goal of the game in the 10th minute and it was scored by Walid Badir, who briefly played for Wimbledon in the Premiership. Bibras Natkho hit a free-kick into the Pilgrims' penalty area and Badir sent a powerful header past goalkeeper Romain Larrieu. Hapoel could have added to their lead before half-time, with Nsumbu Mazuwa hitting the base of the right post and Badir having a header flicked over the crossbar by Larrieu. Although the game lacked the pace and intensity of Argyle's friendly against Genclerbirligi, four players were booked before half-time. They included Pilgrims' striker Nick Chadwick, after some jostling with an opponent when the Pilgrims were defending a free-kick, and Barnes, for a foul on Mazuwa.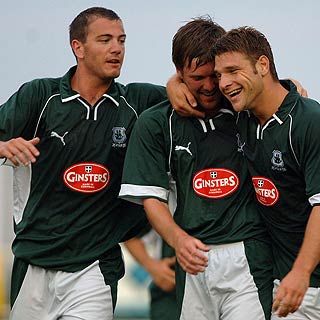 Goal celebrations for Akos

Argyle manager Ian Holloway made seven substitutions at the start of the second half. Only Larrieu, Dan Gosling, Lee Hodges and Barry Hayles continued after the break, and the latter soon made way for Reuben Reid. As against Genclerbirligi, Argyle put in a much-improved performance in the second half. Striker Rory Fallon found Gosling in the 64th minute and the England under-17 international cut inside one player before having a low shot saved by Hapoel keeper Vincent Enyeama. The Nigerian shot-stopper then made a spectacular save at full stretch to keep out a dipping drive from the lively Gosling. An equaliser seemed on the cards as Hapoel, who will enter the UEFA Cup at the second qualifying round stage this season, lost their way. Sure enough, the goal came in the 69th minute and it followed a short corner involving Buzsaky and midfielder Ryan Dickson. Buzsaky got the ball back from Dickson and cut inside before letting fly with a firmly struck shot which beat Enyeama at his near post. Argyle might have expected to go on and win the game, but they could not maintain their momentum. Chances were few and far between in the closing minutes but, even so, a second successive draw against opposition who play in the top flight of their own domestic league was a fine achievement. After a gruelling week of training, often in intense heat, the Pilgrims will return to Plymouth tomorrow. They have friendlies away to Paulton Rovers and Truro City next Tuesday and Wednesday, respectively, with all of the first-team squad taking part in at least one of them. Then Argyle will face newly-promoted League One club Bristol Rovers at Home Park next Saturday, seven days before the season kicks off.
HOLLOWAY PLEASED WITH HIS SIDE'S RESPONSE AGAINST HAPOEL
July 28th
Manager Ian Holloway was in a satisfied mood following Argyle's 1-1 draw against Hapoel Tel Aviv. Holloway was disappointed at the way the Israeli cup holders took the lead in the 10th minute, with a header from a free-kick. But the Pilgrims' boss thought the response from his side after that was 'absolutely terrific'. Holloway said: "Our nemesis from last season is still showing. First, we missed a header and gave a foul away and then we got done with a header at a set piece. So, we have got to sharpen up on that. After that, I think we were absolutely terrific. We moved the ball nice and sharply."
Argyle started with Nick Chadwick and Barry Hayles in attack, with 17-year-old rookie striker Ashley Barnes on the right-side of midfield. But Hapoel coped easily with the Pilgrims' 4-4-2 system so Holloway made alterations. First, he moved Barnes up front with Hayles and played Chadwick behind the pair of them. Then, after Barnes was booked for a foul, he was taken off in the 39th minute and replaced by midfielder Akos Buzsaky as Argyle experimented with a diamond formation in midfield. Holloway said: "We had to switch because the people I had out there didn't really suit them. I thought the switch caused them all sorts of problems and, if you look at the possession, we had a lot more than them. Barring a great save by their keeper from young Danny Gosling, I would probably be stood here talking about a win. It was a great effort from the boys, and a bit of a learning curve for them as well. I brought Ashley off because he lost his temper. I told him what they would be like and they did it. They didn't surprise me, but what did surprise me was our reaction. What you have to do at any sort of standard is get the first one in and then they retaliate. Unfortunately, we got mugged off a little bit by that. But never mind, we are professionals and we kept going. This tour has been about football and fitness and I have to say it has been very successful for those two reasons. I think we are looking fitter and I have given all sorts of young people a chance to play against good opposition. They will just tuck that in their top pocket for experience and I have been very pleased with a lot of them, to say the least." Sylvan Ebanks-Blake was sidelined by a thigh injury for the game, and Holloway said: "Sylvan hit a shot in training this morning and felt his thigh, so we had to leave him out of it." Left-back Gary Sawyer was also not involved, having returned to England yesterday afternoon to be the best man at his brother's wedding today. Holloway said: "Normally, I let them do things like that because I value people's families, and they normally give me a bit extra back. I hope he has had a safe flight - and his brother owes me, doesn't he?"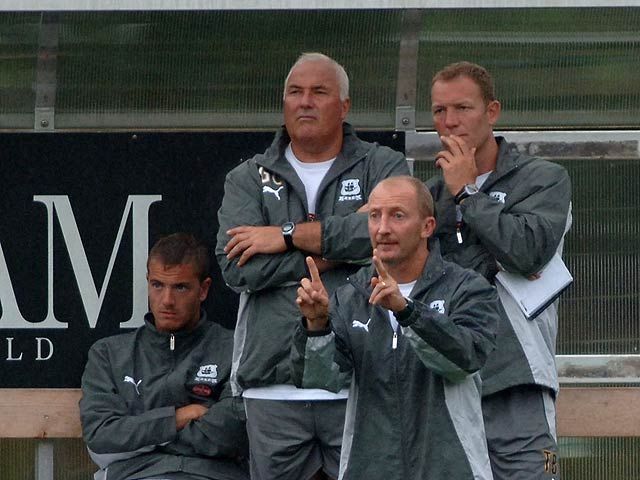 The Argyle management team

PILGRIMS PEAK IN PERFECT PRACTICE AT AUSTRIA CAMP
July 30th
Plymouth Argyle have had pre-season tours every year since 2001 but the trip to Loipersdorf in Austria last week was, without doubt, the most successful.The Pilgrims' squad flew back into London Stansted Airport yesterday afternoon after playing two games while they were away. They both ended in 1-1 draws, against Turkish top-flight club Genclerbirligi and Israeli cup holders Hapoel Tel Aviv, but those matches were of secondary importance. The main objective of the exercise was to getting the players into peak physical condition, and that was achieved.
Even after the game against Hapoel in Dietersdorf on Friday night, there was no respite for them. At 8am the following morning, the players were in the gym for a weights session and then, after breakfast, they went to their training ground in Rudersdorf for the last time. Dan Gosling and Lee Hodges did not take part in it as they had played all 90 minutes against Hapoel. They must have been relieved to sit it out because it was an exhausting session. There was no ball work. Just running, running and more running in searing heat. It was tiring to watch, so what it must have been like to do, goodness only knows. Credit where credit is due, though. All of the squad stuck to the task and their must have been some weary legs when they had lunch at one o'clock. This was Argyle's second trip to Loipersdorf and the players and coaching staff were again unanimous in their praise for the facilities available to them. Most of the days were hot and sunny and, more often than not, Argyle started training at 9.30am and 5pm to avoid the highest temperatures.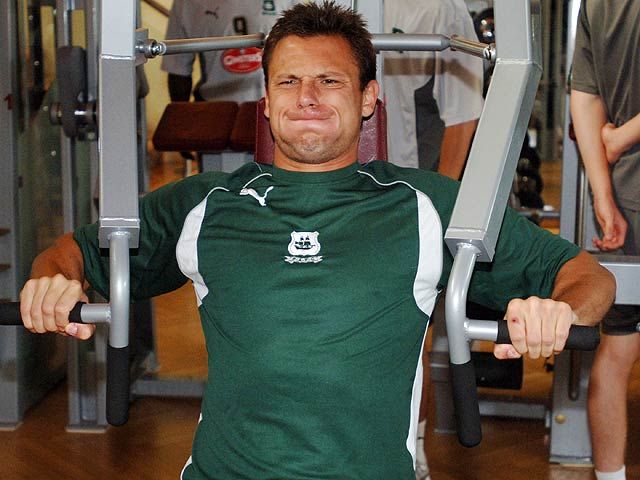 Timar getting stuck into the weights

Physio Paul Maxwell would get the players warmed up before each session before manager Ian Holloway, assistant boss Tim Breacker and coach Des Bulpin took over. Breacker, who only arrived at Home Park last September, had a large input into the training. Unlike previous pre-season tours, there were no trialists with the Pilgrims' squad, although that was not through the lack of trying by Holloway and chief scout Gary Penrice. More importantly, however, there were no serious injuries during the week. Club captain Paul Wotton is continuing his excellent recovery from a cruciate knee ligament injury and even took part in some practice matches. He was not allowed to tackle anybody, or be tackled himself, but the 29-year-old is looking fitter than ever before. Striker Sylvan Ebanks-Blake suffered a thigh strain in training on Thursday morning and sat out the 1-1 draw against Hapoel, but it is not a serious problem. The players' mood throughout the week was relaxed and, despite the hard graft, there were plenty of laughs along the way.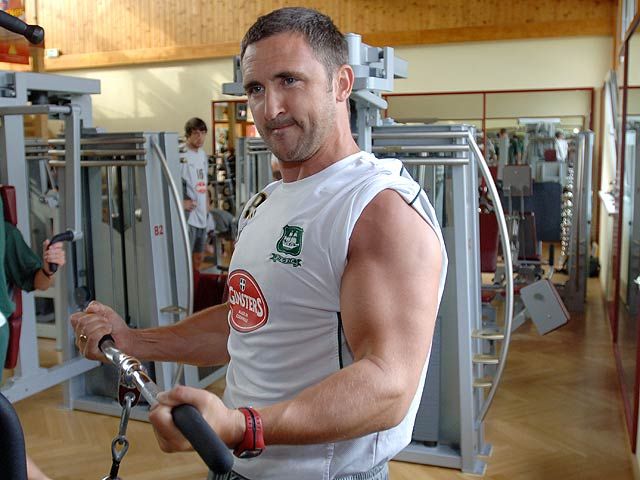 Maxy leading by example

ARGYLE READY TO RUMBLE - OLLIE
July 30th
Manager Ian Holloway believes Plymouth Argyle could not be better prepared for the new Championship season after their training camp in Austria. It is now 13 days until the Pilgrims start their league campaign with a visit to Hull City and Holloway is convinced the hard work put in by the players while they were in a hot and sunny Loipersdorf last week will stand them in good stead. The pre-season tour ended with a gruelling training session on Saturday morning in temperatures close to 30 degrees centigrade. The players had to do a series of timed short and long distance runs while wearing heart monitors so their fitness could be fully assessed. Holloway was thrilled with the outcome of what he admitted was a very tough test. He said: "The energy they have given and the way they have worked for each other and with each other has been absolutely superb. That is probably one of the hardest sessions anybody could ever do, and in testing conditions, and they did it brilliantly. I can't ask for much more really. Now we have got two weeks to get ready and then with, each game, you see what happens and it gives you other things to work on. But that's the bulk of it done and I'm delighted with them."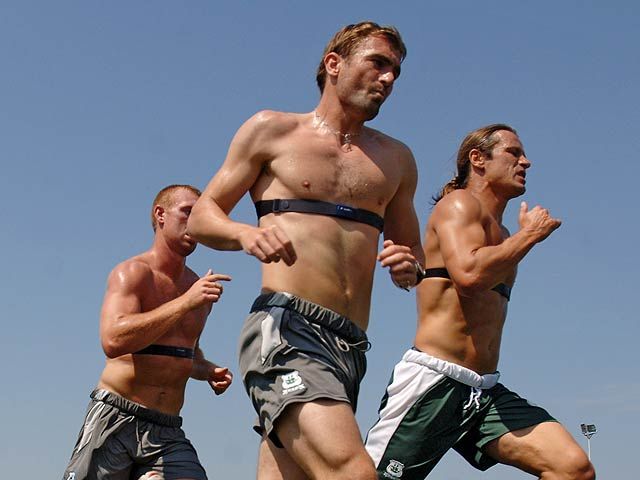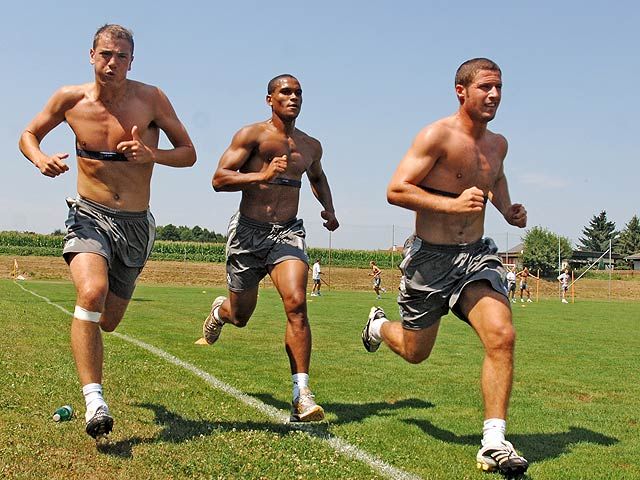 Chadwick, Wotton, Nalis - Gruelling fitness tests - Connolly, Doumbe, Norris

During the trip to Austria, club photographer Dave Rowntree took a series of revealing pictures of the players for a charity calendar. It will raise money for the Mustard Tree, the cancer support unit at Derriford Hospital in Plymouth. Holloway said: "If people want to know how fit the players are, they should buy the calendar. When I was watching them running around on Saturday morning without their shirts on, you can see a huge difference from this year to last. They are starting to look like athletes." Argyle drew 1-1 in both of their games in Austria, against Genclerbirligi of Turkey and Israel's Hapoel Tel Aviv. Holloway said: "It's disappointing we didn't win, but we tested ourselves against two very good opponents and came away with loads of positives. I still think one or two of the problems we had last season are still evident at the moment and we have got two weeks to iron that out. One is marking from set pieces and we need to win long balls onto our back line."
Holloway worked closely with assistant boss Tim Breacker, coach Des Bulpin and physio Paul Maxwell when putting on the training sessions in Austria. "We know what we want to do, we started it at home and it has been a continuation here," said Holloway. "What I have to say is the people here have been absolutely brilliant. It has been as smooth as clockwork. Everything we have wanted we have managed to get. The surfaces have been superb, and the gymnasium we have used is great. I'm very pleased with all the players. Obviously, that doesn't guarantee you results when the season starts but we couldn't be better prepared if we tried." Holloway would not have any problems in returning to Loipersdorf for a third year next July. He said: "I don't think I have ever been on a pre-season tour where it's so well organised and you are so close to everything. You would be happy to come back here."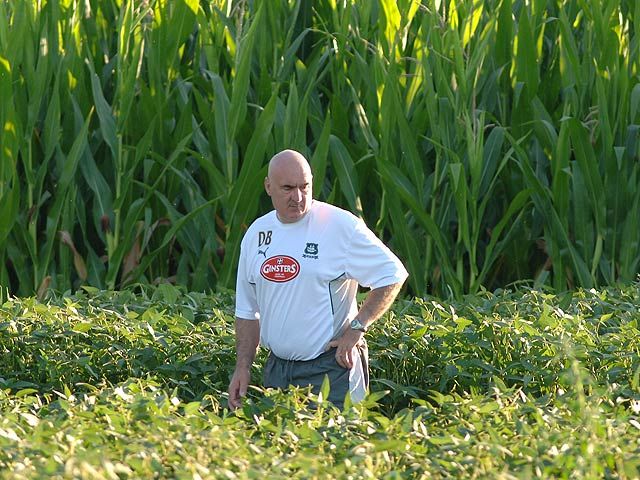 Des Bulpin

MEMORABLE TRIP HAD FLYING START
by Owen Ryles
August 1st
Pre-seasons are supposed to be all about laborious, unexciting preparation for the upcoming campaign aren't they? However, it never quite seems to work out that way as far as Plymouth Argyle's summer tours are concerned. If it's not incidents involving chairmen or captains, or star signings struggling to get back into the country, then you can be pretty certain something else will land on the horizon. But maybe not first time, as this year's annual foreign excursion proved. Most air travellers have probably experienced bumpy landings at one time or another. But not landing at the designated arrival airport was a new one for virtually all of the players, coaching staff and travelling Green Army who flew out to Austria on the Sunday following the Greens' game at Cambridge. While we fans aboard Ryanair Flight 5732 from Stansted were unsurprisingly perturbed by two failed landings at Graz airport, there was little doubt that various - and we'll leave them unnamed - members of the playing staff were visibly shaken by the time it successfully touched down at Klagenfurt. It was not the start to the club's week-long training camp that anybody anticipated, but at least it could only get better. And thankfully it did as it was undoubtedly in football terms one of the most successful tours undertaken by the club since the annual foreign summer outings began in 2003. With fans based at Graz, Hallstatt, Schladming, Loipersdorf and other assorted points in Austria and Eastern Europe, the Greens were not lacking in support. With the Green Army ranging between 40 and 80 for the two games, the team were considerably better backed than Swindon, who had four fans turn up at one game, and Middlesbrough, who were backed by just five supporters. However, I'm not sure that presence, and the noise generated, was entirely appreciated by those listening on Argyle World!
My own trip, and that of six other members of the Green Army I was travelling with, was split between Graz - eventually after a two hour coach journey from Klagenfurt airport - and the Loipersdorf Spa complex where the team was based. There have been times when the club has been accused of excessive frugality, but you could not fault the choice - or cost - of base camp in Loipersdorf. There was no doubt that, after seeing it at first hand, the facilities were impressive and worthy of a club in the Premiership let alone the Championship. It was just a shame the club couldn't find a way of making Real Madrid pay for it again! If the facilities were impressive, so were the open training sessions fans were allowed to observe. Intensive and varied, they were certainly eye-openers for fitness and tactics let alone for the revealing photo shoots being undertaken for the squad's forthcoming charity calendar! If for no other reason, their hard pre-season training has certainly come in handy for their personal appearances. The action on the pitch wasn't too bad, either. Against teams theoretically above Argyle in their respective football pyramids, the Greens responded well to going behind in both games. Their fitness, organisation and determination told in the latter stages against both Genclerbirligi and Hapoel Tel Aviv and two 1-1 draws were favourable outcomes. But as befits a club that finished 11th in the Championship last season, this team and this tour probably stands out as the best compared to the previous four. It is always difficult to compare and contrast the past and present, but a year into Ian Holloway's reign, the Greens look a far more formidable outfit than at the start of it. That progress is easily demonstrated through the example of a young man who, 12 months ago, would have been known to very few Argyle fans - Dan Gosling. Physically, tactically and in terms of ability, his development in a year has been phenomenal and you feel that you should enjoy his talent while he's at Home Park as he is undoubtedly destined for a higher stage - sooner rather than later one suspects. After dodging thunder, lightning and torrential rain at the first game in Sochau and a slightly nervier return flight than might have been expected a little over a week before, it was a tour for players and fans to look back on as a positive experience.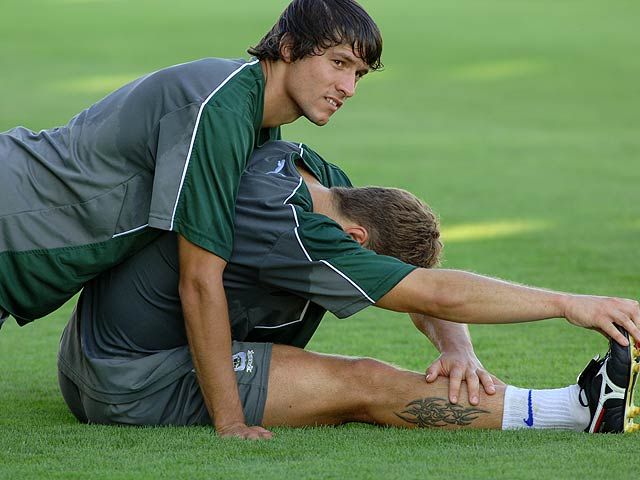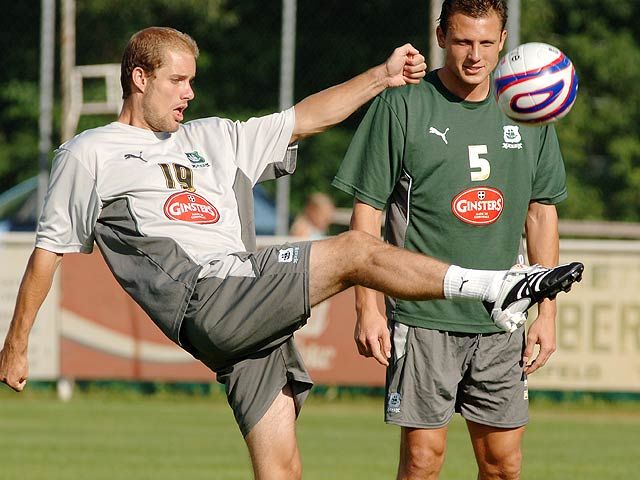 Peter Halmosi, Akos Buzsaky, Marcel Seip and Krisztian Timar training in Austria