Back to

Austria 2006

Tour Home
Austria 2006: Western Morning News (Rupert Metcalf)
ARGYLE'S REAL PRIZE
10th July
Plymouth Argyle are poised to announce a glamorous friendly against Real Madrid, which is due to be played during their pre-season stay in Austria next week. The eye-catching opportunity to take on the world-famous Spanish club has arisen because Real want to make use of the training base which the Pilgrims have booked for seven days of rigorous preparation for the forthcoming Coca-Cola Championship campaign.
Argyle have been planning to spend next week at Schloss Pichlarn hotel and resort, in the Austrian town of Irdning, but they are all set to willingly surrender their booking at the luxury facility to the men from the Bernabeu stadium. The friendly against Real, on a date and at a venue still to be arranged, will be Argyle's compensation for making late alterations to their tour. The Devon club will also receive a significant financial inducement to change their accommodation. The Pilgrims are now finalising plans to spend their training camp next week at the spa resort of Loipersdorf. Like Irdning, it is in the Austrian province of Styria, but in the rolling hills of the south-east of the province (close to the Hungarian and Slovenian borders) rather than the Alpine scenery of the north-west. A member of the Argyle coaching staff will fly to Graz today to study the facilities, which are reputed to be first-rate and on a par with Irdning, at Loipersdorf. The Pilgrims have not yet officially confirmed the change of accommodation and the fixture against Real Madrid, who have been champions of Europe nine times and have won the Spanish title on 29 occasions, but it seems to be a formality that they will do so soon.
The Pilgrims' chief executive Michael Dunford told the Western Morning News yesterday: "We are considering a request from Real Madrid, which we will respond to shortly. We will go ahead with the plan only if the facilities at the alternative venue meet our requirements, but the prospect of a friendly against such illustrious opponents is certainly a mouth-watering one for the players and the 'Green Army'." Argyle initially picked Irdning as the base for their third trip to Austria in four years because former manager Tony Pulis used the venue in 2004, during his first spell in charge of Stoke City, and he was very impressed with Schloss Pichlarn and the adjacent training facilities. Real Madrid went to the same destination last year and in 2002, and last week they decided to make a return visit.The Spanish club delayed finalising their pre-season plans while they searched for a new coach. Last week they hired former Juventus boss Fabio Capello, who has been to Irdning during his time in charge of Roma.
The Madrid outfit will commence their pre-season training programme on Wednesday, but their players who have been involved in the World Cup finals in Germany will not report for duty. They are being given more time off, so it seems very unlikely that Brazilian quartet Ronaldo, Roberto Carlos, Robinho and Cicinho plus Spanish internationals Raul, Sergio Ramos, Michel Salgado and Iker Casillas will be facing Argyle next week. David Beckham will definitely not be involved - the former England and Manchester United captain is out of action until mid-August with an Achilles tendon injury. However, the Pilgrims could still find themselves facing injury-plagued England and former Leeds United defender Jonathan Woodgate, Denmark's ex-Everton midfielder Thomas Gravesen (whose final appearance for the Goodison Park outfit was in an FA Cup tie at Home Park last year), Italian striker Antonio Cassano and Spanish stalwarts such as midfielder Guti, defender Ivan Helguera and ex-Leeds United defender Raul Bravo.
Real Madrid will arrive in Irdning a week today and are due to stay there until August 5th. Argyle fly to Graz, the Styrian capital, on Sunday and return on July 23rd. The Pilgrims had announced two tour friendlies - against Austrian second-tier side Gratkorn at Stainach on July 19th and Israeli team Maccabi Petach-Tikva at Trieben on July 22nd - but that schedule may be subject to alteration, depending on when the game against the Spanish giants is staged. Given the likely interest from both locals and travelling Plymouth supporters, it is thought that the organisers of Argyle's tour are intending to secure a stadium of some size to play host to the match.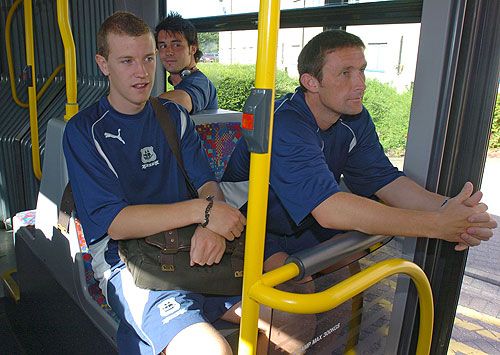 Luke Summerfield and Lee Hodges on the way to Stansted Airport

OLLY ISSUES REAL WARNING
11th July
Ian Holloway reckons Real Madrid will be worried about playing his Plymouth Argyle team. The Pilgrims are due to face the world-famous Spanish side in a friendly in Austria next week. The Home Park outfit are waiting for confirmation of the date and venue for the glamorous fixture. Holloway is looking forward to seeing his side tackle the men from Madrid. Asked yesterday to recall his reaction when he first heard about the fixture, the Argyle manager joked: "I feel sorry for their manager, to be honest. He must have been really worried about us!"
Holloway has mixed feelings about his squad having to change their accommodation at short notice, but he is well aware of the positive aspects of the deal - not least the financial benefit. He said: "We heard that they wanted our hotel and we've got to move out of it. I don't like that. Who are they to move us? But, if that means we get another hotel of the same quality for free, then I'm sure that will suit us. We get the trip paid for, and we've sent David Kemp out there to have a look at where we're going and to make sure the facilities are equally as good. If we do play them, it will be an education for our lot, won't it?" It might be an eye-opener for the Spanish aristocrats, too. "We'll get amongst them," Holloway promised. "We'll leave something on one or two of them. They might not like that!"
As exclusively revealed in the Western Morning News yesterday, the team from the Bernabeu stadium have agreed to play the Pilgrims as a gesture of thanks to Argyle, who have provisionally decided to allow Real to take over their accommodation in Austria next week. Argyle coach David Kemp flew to Graz yesterday to visit the new location for the Pilgrims' week-long pre-season training camp. As well as fulfilling the friendly match, the Spanish outfit will be covering the cost of the Devon club's stay at a luxury hotel in the spa resort of Loipersdorf, in the Austrian province of Styria, as compensation for surrendering their booking at Schloss Pichlarn hotel in Irdning.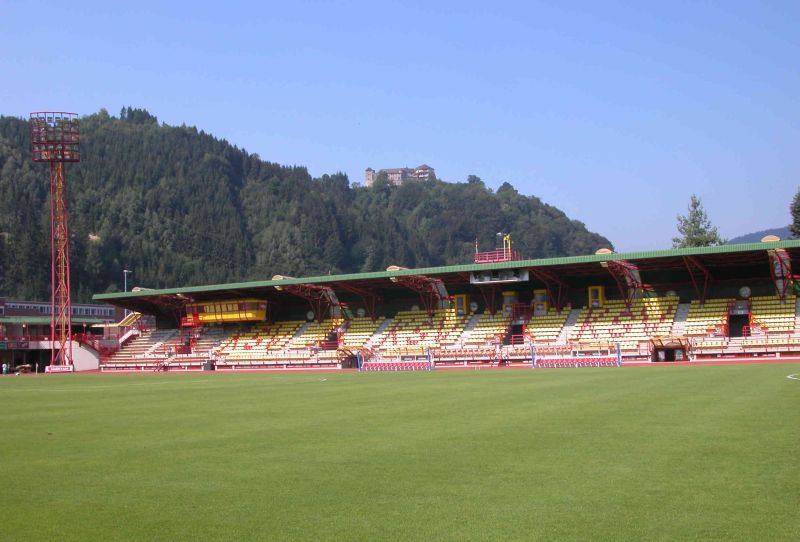 Franz Fekete Stadium

PILGRIMS WILL PLAY MADRID IN KAPFENBERG
12th July
Plymouth Argyle's eagerly anticipated pre-season friendly against Real Madrid will take place on Friday week in Kapfenberg, Austria.The Pilgrims confirmed yesterday that their encounter with the elite Spanish team will be played at the 12,000-capacity Franz Fekete stadium, the home of Austrian Erste Liga club Stadtwerke Kapfenberg, on July 21st at 6pm local time. Kapfenberg is 90 miles from Vienna airport and 45 miles from Graz airport, which both have good links with London. Because of Argyle's meeting with Madrid, their scheduled game against Israeli side Maccabi Petach-Tikva, which was due to be played on July 22nd, has been cancelled. The Pilgrims will, however, still fulfil their fixture against Austrian Erste Liga team Gratkorn at Stainach on Wednesday, July 19th (6pm local time).
As exclusively reported by the Western Morning News on Monday, Argyle have been given the chance to play Real Madrid next week because they have allowed the Spanish club to use the luxury hotel, Schloss Pichlarn in Irdning, which they had originally booked for their week-long stay in Austria. The Pilgrims will now be based in a hotel of comparable quality in Loipersdorf, 40 miles east of Graz. Argyle manager Ian Holloway is delighted that the game against the world-famous team from the Bernabeu stadium has been confirmed. Yesterday he said: "I'm chuffed to bits. I don't think my lads can really believe it yet. Their players who've been at the World Cup won't be playing, but it will still be a marvellous occasion. It will be fantastic to be playing against the might of Real Madrid, even if it won't be their full-strength team. We won't get any points if we manage to get a draw or beat them, but it will be an amazing experience," an excited Holloway added. "It's all a bit surreal, to be honest."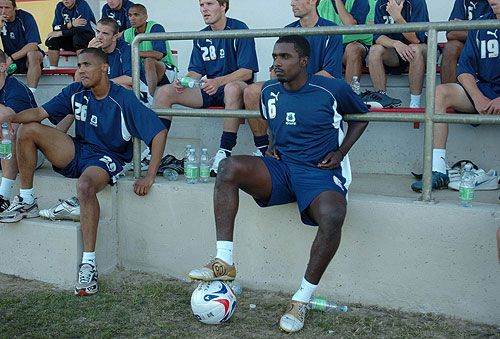 A break in training on day one of the tour

HOPE GROWS FOR BUZSAKY
17th July
The threat of Plymouth Argyle midfielder Akos Buzsaky missing the early weeks of the Coca-Cola Championship season seemed to diminish yesterday when the Hungarian international took a full part in the Pilgrims' first training session here in Austria. After a 3-0 friendly win for the men from Home Park against Grays Athletic in Essex on Saturday, Argyle manager Ian Holloway came up with the startling information that Buzsaky might be unavailable for a month or more, but such a bleak scenario looked less likely last night. The Hungarian will not play any part in the Pilgrims' two tour games in Austria, but he has a chance of featuring in the Championship opener against Wolverhampton Wanderers on August 5.
Buzsaky's predicament started when he suffered a groin injury late last year. He was bothered by the problem for the rest of the 2005-06 season, and underwent an operation in his homeland in May on the recommendation of the Hungarian national team doctor. The Pilgrims knew nothing about that operation, which came as a surprise to the Devon club's medical staff when the 24-year-old showed up for pre-season training at the end of last month. Buzsaky was sent for some scans just prior to the Pilgrims' departure to Austria via Grays on Friday, and the results alarmed the Home Park hierarchy. "Akos is a bit concerning," Holloway said. "We've been trying to get to the bottom of what they did to him over there. They've cut something, and I'm not very happy. I didn't like what I heard, and you might be talking months."
Last night Argyle physiotherapist Paul Maxwell disclosed the details of Buzsaky's operation in Hungary. He revealed: "Akos has had a tenotomy, which means the abductor tendons have been cut. That has shocked everyone. Now he has to work on the other muscles around the hip, to make them extra-strong. He's always going to be weak in that area. He'll be training here as much as he can. We don't yet know how he'll cope with playing games, but there's a chance he could be fit for the start of the season if he can get enough strength work done." Buzsaky and fellow midfielder David Norris took no part in Saturday's win at Nationwide Conference club Grays. Norris tweaked a medial ligament in last Wednesday's 4-0 friendly win at Tiverton Town, and was restricted to running during yesterday's training session at Rupersdorf, near the Pilgrims' hotel in Loipersdorf. However, he should be fit to play some part in Friday's glamorous game against Real Madrid.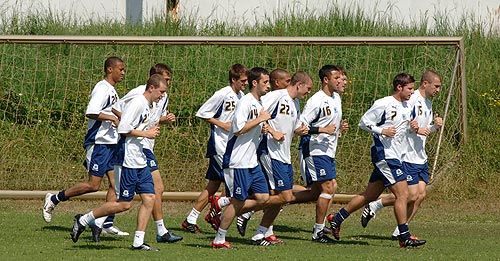 Norris out in front, during his only work of the day!

Nick Chadwick was the match-winner at Grays with a well-taken hat-trick, and Holloway was well pleased with both the centre-forward's performance and the overall display. "It was very professional," the Pilgrims' boss said. "We showed a great attitude, played some decent football and scored some nice goals." Argyle gave a debut to striker Sylvan Ebanks-Blake, who was recruited from Manchester United last Friday, but the newcomer was eclipsed by Chadwick, who was playing his first pre-season game after recovering from an Achilles tendon strain. "Don't write Chadders off," Holloway added. "He got three. Lovely-jubbly - it's nice to have him back!" The Pilgrims are poised to add another forward to their squad today, when 34-year-old former Fulham and Bristol Rovers forward Barry Hayles is expected to complete a move from Millwall. Holloway would not confirm the identity of his target on Saturday, but he said: "I hope to have another striker in on Monday."
SOUVENIR MAGAZINE PRODUCED FOR FRIDAY'S CLASH WITH REAL
18th July
Plymouth Argyle are producing a special souvenir edition of their Pilgrim match-day magazine for this week's prestige friendly against Real Madrid. The Pilgrims are publishing a one-off limited-edition copy of the Pilgrim, which is printed in Cornwall, which they intend to take out to the Franz Fekete Stadion, in Austria, where Friday's game is being played. Argyle chief executive Michael Dunford said: "We pulled out all the stops to make sure fans will be able to have a permanent reminder of one of the biggest games in the club's history. We're having a limited run of 2,000 copies of a commemorative Pilgrim printed, and will take the bulk of those over to Austria to sell at the game. We will keep a few hundred back for sale at the Argyle Superstore for those members of the Green Army who cannot get to the match. The Pilgrim will be going over on the supporters' coach which leaves Plymouth first thing tomorrow and will be available on match-day at the Franz Fekete Stadion." The 24-page special Pilgrim will retail at 5 euros, or £3.50. Among its contents will be: an article looking at the history of Real Madrid; a profile of new Real Madrid coach Fabio Capello; features on Alfredo di Stefano and Laurie Cunningham; and a Real Hall of fame.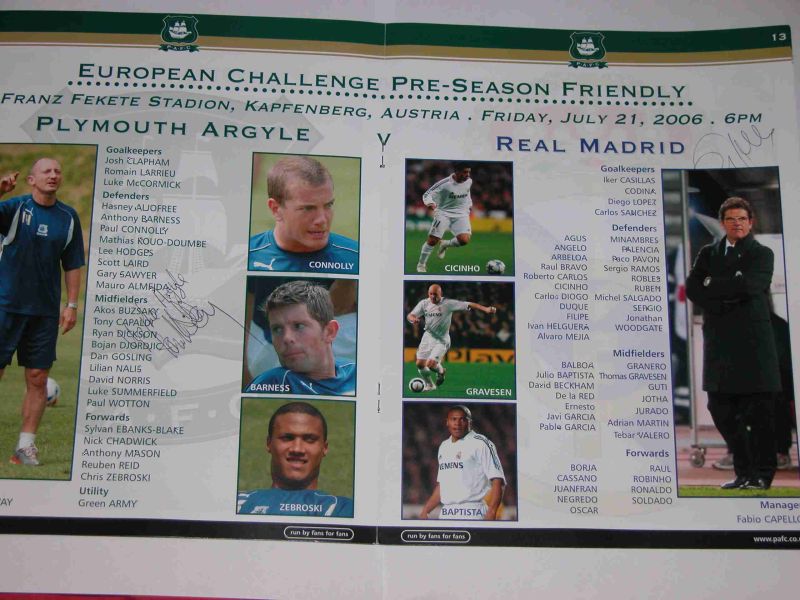 A souvenir programme signed by Ian Holloway and Fabio Capello

GAFFER'S GENTLE JOG OFFERS SQUAD LITTLE RESPITE
18th July
A holiday camp? No way. Argyle's players may be staying at the five-star Loipersdorf Spa and Conference Centre hotel, but they are definitely not on vacation. Yesterday's training schedule proved that. There was a 7am start - an hour and a half before breakfast - for the Pilgrims' squad on the first full day of their pre-season training trip. On Sunday evening, Argyle manager Ian Holloway had prepared for yesterday's work by delaying his dinner and embarking on a solo run through the woods which surround the Pilgrims' base in south-east Styria province. From their first-floor dining-room vantage point, the players guessed what the gaffer was up to and early yesterday - very early - they were proved right. The Argyle squad's 7am run was not just any old run. It lasted an hour, and after a gentle warm-up there was some serious pace involved. The players did laps of a circular route, their performances were timed. By mid-afternoon, the timings had been collated, printed and delivered to the manager and his staff for analysis.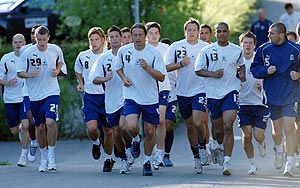 A gentle jog?

The balls came out at 10am. Argyle's training pitches are at the ground of USV Rudersdorf, a Regional League club just across the provincial border in Burgenland. The small but neat stadium will host the Pilgrims' first friendly on tour, tomorrow's game against Austrian Bundesliga II club Gratkorn. Rudersdorf is a 10-minute coach ride from Loipersdorf, and the pitches there are the best Argyle have been allocated on any of their pre-season trips in the past six years. They are being put to good use. Yesterday and today they are hosting two training sessions each day - one mid-morning and one late afternoon, to avoid the midday sun at its peak.
So far, no two training sessions have been the same. The highlight of Sunday's session, which started only three hours after the Pilgrims' flight from Stansted landed at Graz, was a lengthy crossing and finishing exercise. All the Argyle strikers seemed to have no difficulty in putting the ball in the net at the end of full-pace moves, which bodes well even though there were no defenders in their way. Beforehand, the players had started off with what can best be described as a lengthy "keepy-uppy" session. They were working with both full-sized footballs and small balls which are used in 'futsal', to improve their control. Like all the drills done to date here, they were enjoyable to watch and, according to the squad, to participate in. That helps.
Yesterday morning, after the habitual warm-up, the players started off working on a pitch squeezed to about a third of its normal length. They split into teams of three - a goalkeeper and two outfield players - and were asked to score in brief, high-intensity bursts. Control and movement was of paramount importance. After a sprinting drill which involved plenty of twisting and turning, the squad enjoyed a half-hour 11-a-side practice match. Even with David Norris and Akos Buzsaky, who are recovering from injuries, restricted to running and stretching, the Pilgrims have enough players here in Austria (24 in total) to make such a game possible. The practice match ended in a stalemate, so a penalty shoot-out ensued. More good practice (England, take note). For the record, Paul Wotton, Luke Summerfield, Chris Zebroski (with a cheeky chip), Hasney Aljofree and Nick Chadwick converted their spot-kicks, while Luke McCormick saved from Ryan Dickson, Reuben Reid and Scott Laird and Josh Clapham kept out Lee Hodges' effort. Wotton's penalty was rammed straight down the middle with maximum force. Even in training, the skipper plays to win.
CHADWICK FOCUSING ON GOALS
18th July
Plymouth Argyle striker Nick Chadwick knows that his hat-trick in last Saturday's 3-0 friendly win at Grays Athletic will not feature in his end-of-season goal tally, but it was still an achievement to enjoy for the former Everton marksman. Whatever the opposition - and the Nationwide Conference outfit from Essex were not a poor side - and the circumstances, a hat-trick does no harm to any striker's confidence. Chadwick has maintained his sharp-shooting form in training sessions here in Austria - he scored twice in an 11-a-side inter-squad practice match yesterday - and Ian Holloway is wasting no opportunity to boost the 23-year-old's morale. "Hot-Shot" has replaced "Chadders" as the centre-forward's nickname, as far as the Argyle manager is concerned. Now Chadwick is determined to book a place in the Devon club's starting line-up for next month's Coca-Cola Championship kick-off.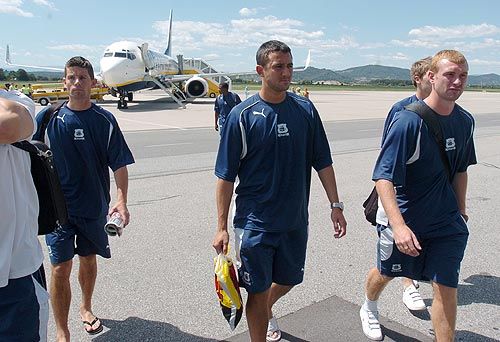 Anthony Barness, Hasney Aljofree and Chadwick on arrival in Austria

"It's good for a forward to score goals, especially in what was my first game of the season," Chadwick told the Western Morning News at the team hotel in Loipersdorf during a break in Argyle's tough training schedule yesterday. He had missed last week's 4-0 friendly win at Tiverton Town due to a strained Achilles tendon. "It was also good to get 55 minutes under my belt fitness-wise at Grays," Chadwick added. "I was pleased with the whole day, and the gaffer hasn't stopped reminding me that I scored three goals." The injury restricted Chadwick's involvement in the first fortnight of pre-season training, so he has some catching up to do. "There is a little bit to do," he admitted, "but I had done quite a lot of work before coming back in. That was part of the problem [road-running had caused the Achilles strain], but I want to be as fit as I possibly can for the start of the season. It's all about being fit in three or four weeks' time, not now. The important day is when we play Wolves at home."
Chadwick has taken a full part in every training session since Argyle arrived in Austria on Sunday afternoon. The work on the practice pitches at Rudersdorf has been demanding, but varied and interesting. The training seems to be more enjoyable than it was on the Pilgrims' tour to Sweden a year ago. "Everybody is enjoying it," Chadwick said. "The gaffer's enthusiasm is infectious. The session when we got here on Sunday was good, and everyone is going into the season with more enthusiasm and belief than perhaps we had this time year. The technical side and the fitness side of the training have both been good."
ARGYLE ARE HAPPY TO BE RUBBING SHOULDERS WITH THE JET SET
19th July
Plymouth Argyle might be spending a week in a remote corner of south-east Austria, but they are far from the only foreign football club to be tempted by the attractions of this small part of Europe this summer. For their third trip to Austria in four years, the Pilgrims are based at the five-star Loipersdorf Spa and Conference Centre hotel in Styria province. Last week Red Star Belgrade were at the same premises while two Czech clubs, Mlada Boleslav and Slovan Liberec, have been at other hotels in Loipersdorf. Another Czech team, Sigma Olomouc, were at nearby Sochau last week. The national team of Oman are spending two weeks at the same town. Up the road at Bad Waltersdorf, Hertha Berlin are staging a two-week training camp, and will be replaced by Arsenal next week. Dutch outfit Utrecht arrive at Bad Gleichenberg next week while Bad Radkersburg, down by the Slovenian border, is a popular destination. Gretna, Scottish UEFA Cup contestants this season, Germany's Schalke 04 and Wigan Athletic are all spending time there this month. Further afield in Styria, Real Madrid (who play Argyle at Kapfenberg on Friday) arrived at Irdning on Monday and will stay there until August 5th. Fulham, who will take on the Spanish side on Saturday week, will join them there next week. Tony Pulis's Stoke City, Kaiserslautern, Maccabi Petach-Tikva of Israel, Anorthosis Famagusta of Cyprus, Turkey's Vestel Manisaspor and Slovakia's Banska Bystrica are also in Styria this month, while Lazio, Derby County, Salzburg and Persepolis Tehran are in adjacent Burgenland province.
The attractions are obvious. Austria, a very health-conscious country, has splendid sporting facilities and accommodation of a similar high calibre. Argyle manager Ian Holloway is very happy with what he has found at Loipersdorf. "I've never had better facilities anywhere in the world. It's very quiet, it's perfect, beautiful scenery and a wonderful hotel." As well as top-quality rooms and healthy food, the Pilgrims' hotel provides a large swimming pool, a gymnasium and a sauna. It is a venue which fits the bill for clubs of stature - which is what Argyle want to be regarded as. Coming here is a big step in the right direction in that particular quest.

DJORDJIC EAGER TO IMPRESS
19th July
Plymouth Argyle winger Bojan Djordjic is working hard to earn a regular first-team place with the Pilgrims after spending his summer making a name for himself as a television personality. The former Swedish Under-21 international was a familiar face in front of the cameras for the duration of the World Cup finals, when he was employed as an analyst by a Swedish television company. "I was one of three in the studio," Djordjic explained. "The others were Hans Backer, the new manager of Panathinaikos, and Magnus Hedman, who played for Coventry and Celtic. He was one of the big stars of the 2002 World Cup." It was not a new experience for Djordjic. "I did it in 2002, when I was a Manchester United player," the Belgrade-born 24-year-old added. "It was fun. I covered the whole tournament, but I was asked to be an expert on the games involving Sweden and Serbia, because that's where I'm from. It was great to get the chance to do that job at my age."
Both the Sweden and Serbia squads contained former team-mates of Djordjic. "I played with Sweden's Zlatan Ibrahimovic when I was young," he said. "He's now at Juventus. Of course there were some old Manchester United team-mates out there, and when I was at Red Star Belgrade I was room-mates with Nemanja Vidic. He's at United now." Djordjic's Argyle team-mate Nick Chadwick had a different view of the World Cup finals - as a spectator. "I went over there with a couple of friends and watched three England games, which cost me a fortune," the centre-forward said. "I managed to get to Australia-Japan and Australia-Brazil as well, which was a great experience." Chadwick's former Everton and Millwall colleague Tim Cahill was responsible for the latter part of the Argyle striker's World Cup expedition. The Australian midfielder, who was one of his country's star players in Germany, looked after his old team-mate. "He was kind enough to get us a couple of tickets," Chadwick added. "It was nice to see him play and do so well, holding his own and scoring goals at that level." Chadwick was glad to savour the atmosphere of being at a World Cup. "It was brilliant, it's the pinnacle of football on a grand scale," he said. "It was something I really enjoyed doing, and I'll probably try and get to another major tournament when I can."
This week Chadwick and Djordjic are both working hard at Argyle's pre-season training camp in Austria. For Djordjic, who did not play as much as he would have liked last term, the build-up to the new campaign is especially important. On the evidence of the two friendlies played so far and the training sessions conducted by new manager Ian Holloway, the Pilgrims' style of play in 2006-07 might suit the former Manchester United winger more than it did last season. "I've been encouraged by what I've seen and how I've done," Djordjic said. "I'm happier. I need to sort a few things out - maybe sometimes I need to let the ball go instead of trying to do everything myself - but that will come. It was frustrating and hard last season," the Serb admitted. "Many people don't know what happened behind the scenes. Many people had opinions, but they never saw me train. I've always given 100 per cent in training, in reserve games at Tiverton, everywhere. I didn't throw my towel in, like some people say, because I knew that the day would come when I would have to be ready when my chance arrived. I hope it will come this year. I don't think I have anything to prove," Djordjic insisted. "I only have to be honest with myself. I know what I can do. I don't need people to tell me and pat me on my back. It's nice, but it's better when it's encouragement instead of saying good things to me and then behind my back saying something else."
Djordjic is determined to play a major part in the Pilgrims' progress this season. "I haven't forgotten how to play football overnight," he added. "I know I have talent, but I need to produce that talent and go the extra yard and fulfil my potential instead of always being 80 per cent." The arrival of Holloway has, Djordjic feels, made Argyle a more positive club. Players are encouraged, not chastised, when they make mistakes in training. "We'll see what happens," the winger said. "It's an encouraging start, and hopefully on August 5th I'll be on the pitch." If Djordjic does make the starting line-up against Wolverhampton Wanderers, there is a good chance that he might have Tony Capaldi for company on the left flank. With the Northern Ireland international operating at left-back, as he does for Lawrie Sanchez's side, the pair formed an effective partnership in last weekend's 3-0 friendly win at Grays Athletic. "I'm looking forward to playing with Tony again," Djordjic added. "I thought we played very well on the left side in the last game. It was a good combination. He is a very good footballer and he has a very good football brain."
The mood in the Argyle camp has also been improved by the splendid facilities the Pilgrims are enjoying in Loipersdorf, compared to last summer's bleak week in northern Sweden. "At least this year we don't have to go to mosquito land and eat bear meat," Djordjic explained. "It was a trip to remember, but this year here it is a step forward. The facilities are great and we have trained very well." Argyle have two friendlies to play here in Austria, against Gratkorn in Rudersdorf tonight and then the big game against Real Madrid in Kapfenberg on Friday. Djordjic and his team-mates are keen to give a good account of themselves against the famous Spanish outfit. "It's not a Champions League tie, it's a friendly for us like it is for them," the Serb said, "but of course you want to get a good result. You don't want to be made to look like fools. Whatever side they put out, it will be a good test for us and you know they will want to play football. Our new manager wants to play football. I'm looking forward to it."
HOLLOWAY PROMISES EQUAL OPPORTUNITIES FOR ALL PLAYERS
19th July
Ian Holloway is in no rush to pick his strongest Argyle side for the first time. The Pilgrims' manager takes charge of his new team for the third time tonight, and will once again try to ensure that every fit member of his squad gains an equal amount of match practice. Argyle tackle FC Gratkorn in the first fixture of their Austrian tour at Rudersdorf this evening. Gratkorn will provide a decent standard of opposition, as they finished fifth in Austria's Erste Liga (the equivalent of England's Coca-Cola Championship) last season. Holloway wants a competitive game in order to boost his players' levels of match-fitness. "The plan is to give all the lads an equal amount of time on the pitch," Holloway said last night. "That will be the plan for the next two games and when we get back we'll start trying to give people 90 minutes." The Pilgrims' final two pre-season friendlies are against Yeovil Town at Home Park next Tuesday and at Bristol Rovers on Friday week. Every Argyle player except midfielder Akos Buzsaky is fit and ready for tonight's game.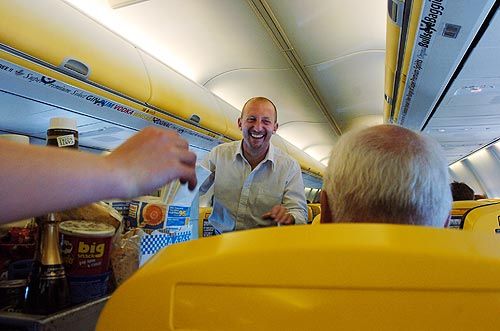 Ian Holloway on the plane to Austria

Argyle now have two trialists on board. Portuguese central defender Mauro Almeida, who featured in last Saturday's 3-0 win at Grays Athletic, has been joined by Muhamadu Ebad, a 24-year-old Dutchman who can play up front or in midfield. Both trialists should see some action tonight. "This lad Ebad has travelled all the way here and he's paid his own way, and I'm a decent fellow so I'll give him a shot," Holloway said. The Argyle manager takes pre- season friendlies seriously. He has gained information on Gratkorn's style of play and favoured formation, so that he and his players can get the most out of the game. "It's important to try and give the lads some idea of how serious it is and to prepare as well as you can," Holloway said. "You can't always do it, but it helps to know what you're up against shape- wise, particularly."
NORRIS IN FOR THE LONG HAUL
19th July
David Norris has given Plymouth Argyle a pre-season boost by confirming his acceptance of a new deal to extend his stay with the Coca-Cola Championship club. The 25-year-old midfielder has signed a revised contract which ties him to the Pilgrims until July 2009. His previous agreement would have expired next summer, when he could have left Home Park on a free transfer. At a press conference in Argyle's training-camp hotel in Austria last night, Norris said: "It wasn't too big a decision to commit my future to Argyle. The contract process takes its time, but I've been happy down here for the last three and a half years and now I'm happy to commit my long-term future to the club." With his abundant energy in midfield, Norris has been a key figure in the Argyle team since he was signed from Bolton Wanderers for £25,000 in December 2002. He is glad to have resolved his contractual situation now, rather than next summer when he would have been a free agent. "I didn't want to put myself in that position of seeing out a contract," he added. "I'd rather have something set in concrete and know exactly what is happening. As soon as Argyle said they wanted to open contract talks, I was happy to do that." The positive approach of Argyle manager Ian Holloway since his arrival at Home Park last month has helped to convince Norris that Plymouth is the place to be. "Coming back to pre-season before Ollie was announced as manager," he said, "the club was maybe in a little bit of turmoil, with no manager and a small squad. As soon as he came in, he lifted the whole place and his positivity is rubbing off on everyone else. On a personal note, on the day the gaffer signed for Argyle he called me into his office to let me know that I was part of his plans. I thought that was a nice touch."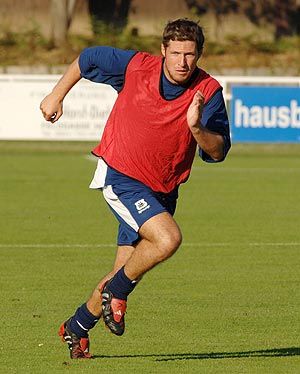 David Norris training on day three of the tour

Holloway is delighted to have Norris on board for the long haul. He said: "David has been a huge part of our success so far, and I can't wait to work with him to make that success even bigger." Argyle director Damon Lenszner, who is with the team in Austria, added: "We're absolutely delighted that David has signed his two-year extension. He was our Supporters' Clubs player of the year last season for every single branch." Norris said: "It was a good season for me last season, but I want to keep on improving. The manager wants to improve us a team and as individuals, so hopefully that will happen and I'll have a good season again." Lenszner confirmed that there had been interest in Norris from rival clubs. He said: "Unofficially, there were approaches, but David's first thoughts were for Argyle and we tried to put everybody else off." Norwich City manager Nigel Worthington publicised his admiration of Norris's talents earlier this summer, while Stoke City were also linked with him. Norris and his team-mates will be joined by Barry Hayles today, when the 34-year-old striker arrives in Austria to complete his £100,000 transfer from Millwall. "Barry has signed for Argyle, subject to a medical," Lenszner confirmed. The former Bristol Rovers and Fulham player will watch tonight's friendly against FC Gratkorn in Rudersdorf and is set to make his first appearance in a Plymouth shirt against Real Madrid on Friday.
ARGYLE SEARCHING FOR EXTRA HEIGHT AT BACK
20th July
Plymouth Argyle manager Ian Holloway has reassured defenders Hasney Aljofree and Mat Doumbe that they will both play a major part in the coming campaign, despite his ongoing search for a new centre-half. Doumbe and Aljofree formed the Pilgrims' preferred partnership in central defence last season, except when West Ham's giant stopper Elliott Ward was at Home Park on a three-month loan deal. Aljofree lost his place to the outstanding Ward, who this summer has left Upton Park to join Coventry City in a £1 million transfer. By the end of the 2005-06 campaign, however, Aljofree had been reunited with Doumbe at the heart of the Argyle rearguard, and the Frenchman and the Mancunian look all set to retain their positions in the team for the coming Coca-Cola Championship season. If Holloway has his way, though, they will face competition from a centre-back with an extra height advantage - when the Pilgrims' boss finds his man. "I'm delighted with the way we defend, I have to say," the Argyle manager said in Austria this week. "I think Hasney and Mat have been superb, and I'm sure for almost all the games last year they did the job. But, when we come up against someone like Rasiak [Southampton's lanky Polish international striker], it could benefit them if we had a 6ft 4in centre-half to head it away. But I'm delighted with the two of them at the moment," Holloway repeated. "I don't want them to think that I don't rate them. They've been superb." The Argyle boss is also pleased with the promise shown by the Pilgrims' two young central defenders, 21-year-old Gary Sawyer and 18-year-old Scott Laird, who are both with the senior squad in Austria. "Young Sawyer and Laird, I'm absolutely delighted with them," Holloway said. "They're a massive bonus. Like all the young kids here, they've got an awesome attitude." First-year professionals Chris Zebroski and Reuben Reid, plus apprentices Anthony Mason and Dan Gosling are also with the Pilgrims at their base in Loipersdorf. Back in England, Argyle assistant manager Lindsay Parsons has been given the task of going to watch various tall central defenders on behalf of Holloway. Like coach David Kemp, Parsons remains on the Pilgrims' pay-roll for the time being. Kemp has also been allocated scouting duties - the former Argyle striker and manager has been watching the Pilgrims' early-season opponents in action in friendly matches. New appointment Des Bulpin and goalkeeping specialist Geoff Crudgington are the only coaches who have made the trip to Austria with Holloway.
HAYLES RELISHING CHANCE TO LINK-UP WITH HOLLOWAY AGAIN
20th July
Barry Hayles became a Plymouth Argyle player yesterday and pledged to do his best to push the Pilgrims towards the Premiership. The 34-year-old striker may be in the later stages of his playing career, but he is still full of desire and determination. He has left his home city of London and a better pay-packet at Millwall to go west and prove that he still has what it takes to score goals in the second tier of English football. Hayles flew to Austria yesterday to join the rest of the Pilgrims' squad, and passed a medical examination at the team hotel in Loipersdorf before watching his new team-mates overcome FC Gratkorn 5-1 in Rudersdorf. He has cost Argyle a fee of £100,000, and will in due course combine playing for the Devon club with coaching duties.
When he was introduced to the media in Loipersdorf late last night, Hayles revealed just how much he is looking forward to teaming up with Holloway again. "It's a pleasure to work with him," he declared. "He's an honest gentleman and it will be great to work with him again. Ollie is good at showing you the bigger picture and my mind was made up as soon as I spoke to him," the 34-year-old added. "The bigger picture here is getting to the Premiership. He's building a decent squad to push us up there or thereabouts." After being part of the Millwall squad which dropped out of the Coca-Cola Championship last season, Hayles has not moved to Devon to endure another relegation struggle. He is aiming higher. "It was a tough season and a difficult time," he said. "Now I've come to a growing club. Each year the club has progressed and hopefully we can keep that going and aim for the top six or even the top two." Holloway knows what Hayles can do. When he was in charge of Bristol Rovers, the Argyle boss plucked the striker out of non-League football for a fee of £25,000 in 1997 and sold him on to Fulham for £2 million just over a year later. Barry was one of my proudest-ever signings," Holloway said. "I bought him from Stevenage when he was 25 and told him I'd put him on a bigger stage. He scored 26 goals in his first season and then he moved on for £2 million. All I wanted to do was help him in his career, and I'm so proud of him. Now I want him to come back and pay me back and help me. I want to get to the Premier League and I know this man will help me," the Pilgrims' manager added. "It's as simple as that. Barry is a fantastic leader of people in the way he plays. He's strong and he wants to win and I've told him about our boys here. They're getting better and he can help them get even better. Pace, power, strength, hunger and desire - that's what it's all about and he's got the lot. I don't care how old he is, that's irrelevant. He believes in my dream."
Argyle director Damon Lenszner said: "When Ian Holloway came to the club, he knew we were short of strikers. He had two names at the top of his list and only two names. We are delighted that both of those strikers have now joined the club and are with us here in Austria: Barry and Sylvan Ebanks-Blake." Holloway admitted last night that Marcus Stewart was also the subject of an enquiry from Argyle, but the Pilgrims' interest in Bristol City's former Ipswich Town and Sunderland striker seems to be at an end. The Plymouth manager said: "There was one more striker on my list, Marcus Stewart, but that probably won't happen now that I've got who I want."
FLYING START
20th July
Ian Holloway was a satisfied man after watching his Plymouth Argyle side secure an encouraging 5-1 win over FC Gratkorn in the first fixture of their Austrian tour last night. The Pilgrims went a goal down to their Austrian second-tier opponents but hit back in style. With new arrival Barry Hayles watching from the stand at Rudersdorf, Sylvan Ebanks-Blake showed his desire to book a place in Holloway's first competitive starting line-up next month by netting two excellent first-half goals. The second-half line-up for the Pilgrims, who made 11 changes at the interval, also enjoyed themselves. Trialist Muhamadu Ebad set up a tap-in for Reuben Reid and scored a cheeky goal himself. The Dutch striker is likely to be invited to Plymouth for Argyle to take a longer look at him.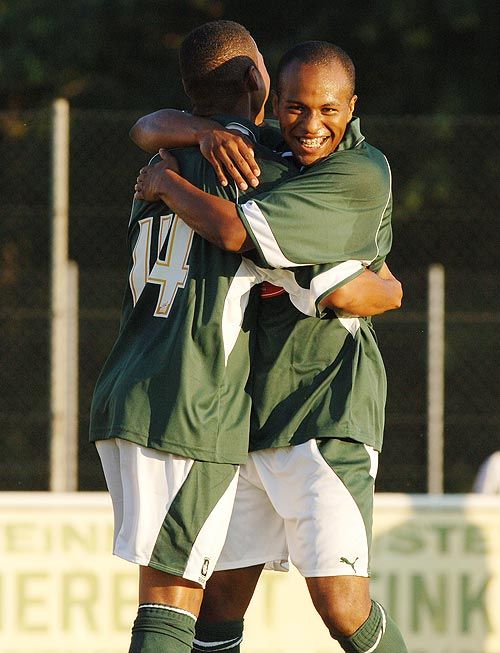 Reuben Reid and Muhamadu Ebad celebrate

Defender Hasney Aljofree thumped home a penalty to collect the other Argyle goal. Afterwards Holloway said: "I was very pleased. I wanted to see what they were like when they went a goal down and I got that. The lads were fantastic, absolutely excellent. I can't fault their attitude and application. They've had six training sessions in three days and a game as well," the Pilgrims' manager added, "so they've earned a nice little chill-out tomorrow and then we've got the big one on Friday." Argyle's next encounter in Austria is against world-famous Real Madrid tomorrow. However, former Manchester United forward Ebanks-Blake was not the only Plymouth player to catch the eye. "We had some very exciting performances out there," Holloway said, " but it's nice for a striker to get off the mark with a new club. Sylvan is a good lad. He works hard and it's about him becoming what I want him to be. He's nowhere near that yet, but it's amazing how hard centre-forwards work when another one has just turned up at the club."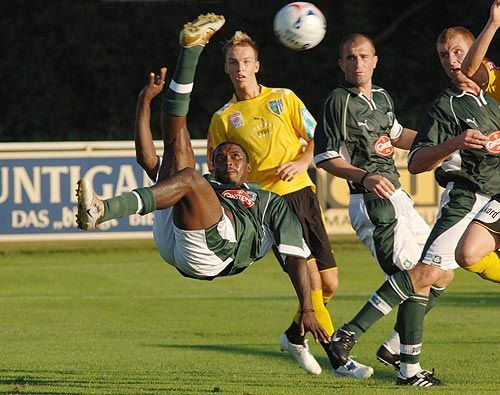 Sylvans spectacular overhead kick

Winger Bojan Djordjic, who is striving to become a regular starter for the Pilgrims after a lack of opportunities last season, created the first goal with a dashing burst down the left flank. Chris Zebroski returned his cross into the danger area and Ebanks-Blake did the rest with an acrobatic overhead kick. Holloway was happy to pay credit to Djordjic for his part in the build-up. "For Bo to do that after the season he had last time was great to see," the Argyle boss said. "There's an awful lot of talent there." The second goal saw Ebanks-Blake using his speed to reach a fine ball down the wing by right-back Paul Connolly. It was a move which the Pilgrims have practised in training this week. "There's no such thing as a long ball or a short ball," Holloway said. "You've got to play the right ball and you need some legs up front. We've got that now. That's what we needed. There are still things we need to iron out, but they'll get there. They're listening. Everything is looking very good at the moment, but there are no points on the board. We haven't played a League game yet. There's a long, long way to go, but there were an awful lot of positives out there."
One plus-point was the display of Ebad. His club in Belgium, Cercle Bruges, want a fee for him but that may not deter Argyle pursuing their interest in the 24-year-old. "He did very well," Holloway said. "He can't play against Real Madrid so we'll pay his expenses and send him home, and then we'll fly him back to our place. We need competition. I like the young fellows we've got but they've got a lot to learn. Ebad looked very sharp and I saw enough to invite him over. We'll reimburse him for what he's spent to come here. That's the least we can do."

PILGRIMS' HARD WORK REWARDED
20th July
Plymouth Argyle enjoyed their appetiser for tomorrow's glamour game against Real Madrid with a thoroughly deserved 5-1 win over Austrian outfit FC Gratkorn in Rudersdorf last night. The main purpose of the Pilgrims' week-long stay in Austria is fitness work and tactical training, but victories are always worthwhile even in friendly matches and Argyle made the most of last night's exercise. The Devon men used 23 of their players against Gratkorn and there were plenty of impressive performances, with recent recruit Sylan Ebanks-Blake catching the eye in particular with two spectacular first-half goals. On a hot evening in Burgenland province, Argyle had a chance to open their account from a fifth-minute set-piece. Nick Chadwick was tripped by Andreas Rauscher and Paul Wotton's resulting free-kick was low and on target, but found the arms of goalkeeper Heinz Weber. Bojan Djordjic was the next man to try his luck with a free-kick in sight of goal, but his left-footed effort was cleared by the Gratkorn defence. Then Ebanks-Blake leaped high to head the ball down for Chris Zebroski, whose looping shot was just too high.
Argyle were having most of the possession against opponents who play in Austria's equivalent of the Coca-Cola Championship, and some fine interplay between Ebanks-Blake and Chadwick almost set up a chance for Lilian Nalis, but the Frenchman was forced to stretch for the ball and caught Rauscher with a high tackle. Daniel Hofer was obliged to boot the ball into the cornfield behind the goal Argyle were attacking as Holloway's men maintained the pressure. Nalis and Wotton were getting stuck in in midfield, and it was the 23rd minute before there was any kind of threat to Luke McCormick in the Pilgrims' goal. Right-back Hofer let fly with a dipping long-range effort which was not far off target. The referee decided to become the centre of attention by producing three yellow cards in three minutes. In the 26th minute Scott Laird was booked for a tackle from behind on Manuel Bucsek on the edge of the penalty area, and Gratkorn captain Saso Lukic was cautioned for protesting about the positioning of Argyle's defensive wall prior to the subsequent free-kick. Then Nalis was booked for pushing Hofer. None of the cards seemed necessary.
Argyle almost opened the scoring in the 30th minute when Wotton released Ebanks-Blake with a fine pass down the inside-left channel. The former Manchester United striker took the ball round Weber but his shot from a narrow angle struck the far post and came out. Gratkorn promptly broke upfield and took the lead. Georges Panagiotopoulos was played onside by Paul Connolly and squared the ball for Richard Wemmer to beat McCormick with a low left-foot shot. Ten minutes later, the Pilgrims were in front thanks to the finishing quality of Ebanks-Blake. In the 37th minute Djordjic surged down the left flank and crossed to Chris Zebroski beyond the far post. The 19-year-old hooked the ball across goal and Argyle's new recruit controlled it with his first touch and, with his second, found the net with a splendid overhead kick.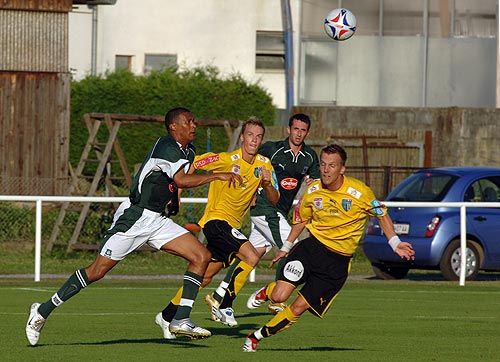 Chris Zebroski in action against Gratkorn

Four minutes later Connolly lofted a good pass over the Gratkorn defence and Ebanks-Blake ran on to the ball and thrashed a fierce rising shot past Weber to give Argyle a lead they held until the interval. Both clubs changed their entire line-ups at half-time. Argyle's second-half strikeforce was 17-year-old Reuben Reid and Dutch trialist Muhamadu Ebad, but it was Gratkorn's Daniel Brauneis who was the first to threaten after the break. His shot on the turn from outside the area was tipped over the bar by Josh Clapham, the University of Plymouth goalkeeper who is on trial with the Pilgrims. Argyle extended their lead nine minutes into the second half. The lively Ebad outpaced the Austrian outfit's defence down the right and his cross-shot looked like it was going to cross the line but Reid made sure from point-blank range to claim the goal. The fourth Plymouth goal arrived in the 57th minute. After a good run, David Norris was dragged down by Manfred Mandl inside the area and Hasney Aljofree thumped the resulting penalty into the top corner of the net.
As had been the case in the first half, the Pilgrims were playing the ball around with confidence and trying to keep it on the ground. Mat Doumbe and Aljofree were in command in defence, while Gary Sawyer was impressive at left-back. A searching pass down the left flank by Sawyer almost set up a fifth goal with seven minutes left. Lee Hodges met the ball with a firm first-time header into the danger area and Reid's fierce shot was deflected behind for a corner. Three minutes later, the Pilgrims did manage to extend their lead. Ebad bamboozled Michael Sauseng with a splendid turn near the byline on the left and beat substitute 'keeper Johannes Schwarz at his near post. That concluded a good evening's work for Argyle.

GREEN ARMY IN GOOD VOICE
21st July
There will be no shortage of Plymouth Argyle supporters in Kapfenberg for tonight's glamorous friendly against Real Madrid. A coach-load of hardy travellers have endured the marathon road journey from Plymouth to central Austria to watch the big game, courtesy of the Pilgrims' Travel Club. Many more are flying into Graz, Vienna, Salzburg or Munich and then making their way to Kapfenberg. All the signs suggest that hundreds of the "Green Army" will be present, but because so many are travelling independently an accurate guess at the total is difficult. It can be assumed, though, that the Styrian town of Kapfenberg is in for a noisy afternoon and evening. Some Argyle fans, however, have already watched the Pilgrims perform in Austria this week. About 30 intrepid supporters made it to the village of Rudersdorf, in Burgenland province, on Wednesday evening to watch Ian Holloway's men see off Austrian Bundesliga II outfit FC Gratkorn with a 5-1 win.
For these adventurous folk, watching Argyle in action overseas is nothing new. They don't need the excuse of a match against Spanish superstars to dig out their passports and their suitcases. Lewis Ridge, from Farnborough in Hampshire, was in Rudersdorf. It would have been astonishing if he had not been. No friendly is too far away for Lewis - he even reached Gambia nine years ago when Mick Jones' Pilgrims played an end-of-season tour match against the west African country's national team. Lewis did not have an easy journey to reach Rudersdorf. "I spent last night at Stansted airport," he explained before Wednesday's game. "Flew to Salzburg first thing today, bus to Salzburg station, four-hour train journey to Graz, another bus for about an hour to Furstenfeld and then a taxi here. An 11-hour journey."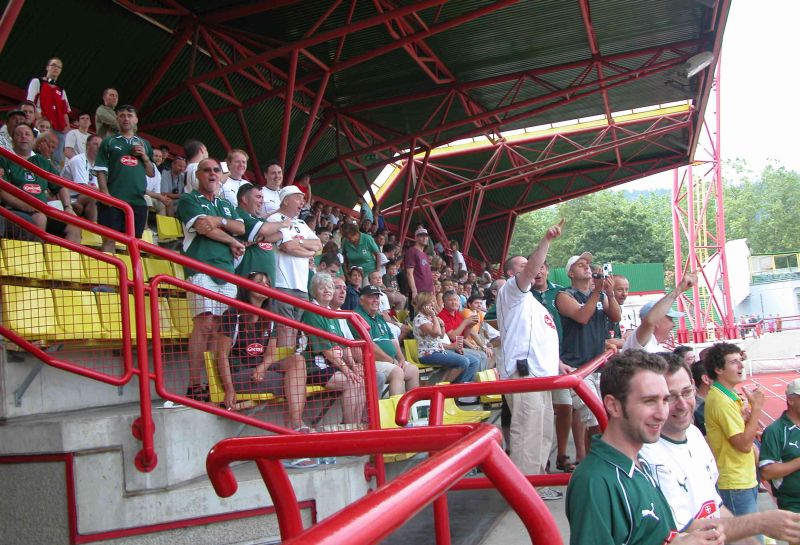 The Green Army on tour

Some Argyle fans are spending the whole week in Austria - and they have been doing more travelling than they had bargained for because of the late change in the team's plans. Keith Mitchell, Mark Havard and Mick Pengelly, all from Plymouth, have rented an apartment in the mountain resort of Schladming - near Irdning, where the Pilgrims were going to be based until Real Madrid decided it was where they wanted to be too, but a long way from Rudersdorf and the Devon club's hotel in Loipersdorf. "We booked up months and months ago," Keith explained. "It has meant a lot more travelling, but the game against Real Madrid is a marvellous compensation. One offsets the other, and we've had a fantastic time. The scenery has been brilliant and the Austrians have been marvellous. And we've managed to find a bar that stays open until 1am in Schladming."
Two couples from Ivybridge, Malcolm and Geraldine Vincent plus Raymond and Margaret Greenaway, were also at Rudersdorf. They had been four of the few fans who made it to northern Sweden for last year's Argyle tour, and this year they have returned to Hallstatt, the picturesque lakeside village close to the Pilgrims' base for their 2003 and 2004 trips to Austria. "It isn't far from Irdning, but because we like the place so much we decided not to move when the team changed their plans," Malcolm said. "We've driven down here and we'll go back tonight. It takes about three hours each way, and we didn't get lost coming down at all." Holloway was delighted to see the Argyle fans in Rudersdorf - even though, as he is losing his voice slightly because of all the instructions he has been barking out on the training pitch this week, he had to ask for a brief respite from the sing-songs so that he could communicate with his players. Asked about the support his team received against Gratkorn, the Pilgrims' manager said: "I can't get over it. They were singing so much I couldn't concentrate, but it's marvellous to see them here." He'll see - and hear - more than a few more tonight.

ARGYLE ARE SET FOR A REAL FIGHT
21st July
Plymouth Argyle will not find themselves facing a full-strength Real Madrid side in Austria this evening, but there will still be plenty of international talent representing the Spanish giants in Kapfenberg. David Beckham is injured and Zinedine Zidane has retired from international and club football, while Brazilian stars Ronaldo, Roberto Carlos, Robinho and Cicinho are still on vacation after their exertions at the World Cup finals. So are Spanish World Cup men Iker Casillas, Raul, Michel Salgado and Sergio Ramos, plus new signings Fabio Cannavaro and Emerson. Most, if not all, of those big names will be back on duty in time to play in a friendly against Fulham at Irdning tomorrow week, but tonight's Madrid line-up will not be bereft of famous names. Far from it. Injury-hit England centre-half Jonathan Woodgate is fit at last, and should feature tonight. The 26-year-old former Leeds United man has played precious little football since leaving Newcastle United for the Bernabeu stadium two years ago, and he needs games. Thomas Gravesen is another Madrid player with plenty of Premiership experience. The powerful Danish midfielder's last appearance for Everton came in an FA Cup tie at Home Park in January 2005, and although he has been tipped for a move back to Britain more than once in recent months he is in Austria with the Real squad and ought to be trading tackles with Argyle's Paul Wotton this evening.
Two highly experienced Spanish internationals who did not make their country's World Cup list are in the Madrid squad based at Schloss Pichlarn in Irdning, the luxury hotel which Argyle vacated to create space for Real. Centre-half Ivan Helguera, 31, and 29-year-old midfielder Guti are proven performers at the highest level. So is Spanish full-back Raul Bravo, who has played in the Premiership for Leeds United. Two Uruguayan internationals will be less well-known to English audiences, but their presence at the Bernabeu is a guarantee of their quality. Midfielder Pablo Garcia, 29, and 21-year-old winger Carlos Diogo will be eager to grasp their chance to impress in the absence of the World Cup men. Madrid will not be short of talent up front. Julio Baptista, 25, is a highly-rated Brazilian who was a transfer target for Arsenal before he moved to Spain. He can also play in midfield. Antonio Cassano, 24, may not have fulfilled the promise he showed when he was excelling in his native Italy with Roma and Bari, but he will surely be a potent threat to the Pilgrims' rearguard.
The gaps in the senior squad will be filled not by youth-team players but by men from Real's B team. Real Madrid Castilla play in the equivalent of England's Coca-Cola Championship, so their products should be of a suitably high standard. Perhaps the most famous figure coming to Kapfenberg with the Spanish side could be on the touchline rather than on the pitch, however. Legendary coach Fabio Capello won the title in Spain in his first single-season spell at the Bernabeu. Now the Italian master is back with Real, after leaving troubled Juventus, whom he steered to the Serie A championship in 2005 and last term before the two titles were taken away from the Turin club as a punishment for the misdeeds of Capello's bosses in the boardroom. Capello's coaching achievements include four Italian titles in five years with Milan, one with Roma and a European Cup win with Milan in 1994. Tonight Capello will be locking horns with Ian Holloway. As the Argyle manager would surely say, it beats sitting in your garden.
Real Madrid squad: Goalkeepers: Diego Lopez, Codina, Casilla. Defenders: Ivan Helguera, Raul Bravo, Jonathan Woodgate, Paco Pavon, Alvaro Mejia, Alvaro Arbeloa, Ruben Gonzalez. Midfielders: Carlos Diogo, Pablo Garcia, Thomas Gravesen, Guti, Juanfran, Jose Manuel Jurado, Borja Valero. Forwards: Julio Baptista, Antonio Cassano, Javier Portillo, Ruben de la Red, Roberto Soldado
THE REAL DEAL
21st July
Paul Wotton will proudly lead out Plymouth Argyle tonight and shake hands with the captain of Real Madrid. That would have seemed like a fantasy not so long ago, but it is reality and it is happening here in Austria. Argyle may have earned their friendly encounter with the world-famous Spanish side as compensation for switching hotels to accommodate the men from the Bernabeu stadium, rather than on merit, but that does not concern the Pilgrims' captain. Wotton cannot wait for kick-off at Franz Fekete stadium in Kapfenberg this evening. "It hasn't really sunk in because we've been working so hard out here," the Argyle skipper told the Western Morning News in the team hotel in Loipersdorf yesterday, "but now it's here it is exciting. There's no other word for it. We're really looking forward to it. It will be a once-in-a-lifetime experience but at the same time it's a game and it's up to us to put on a good show. We'll give it a good shot."
Every player in the Argyle squad apart from the unfit Akos Buzsaky will be involved tonight. Wotton added: "The gaffer has already said that everyone will get a game. For the apprentices with us, Anthony Mason and Dan Gosling, that's absolutely fantastic. They're 16-years-old. I'm 28 and I'm as excited as they must be. This is our chance to test ourselves against the best. We'll do it properly."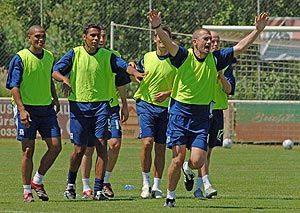 Paul Wotton during training in Austria

That is also the aim for Holloway, who is taking this game seriously. The Pilgrims' boss wants to collect scalps, not autographs. "For me it's just another game, although I know that sounds weird," said Holloway, who gave his players a day off from training yesterday after Wednesday's exertions in a 5-1 win over Gratkorn. "They've earned a day to just chill out, because it's Real Madrid next. I believe we'll have to chase the ball all over the pitch. I don't want to concede ground to them, I want to try and get the ball and at least have one shot. Our target is to have at least one shot in each half. Can we upset them? Can we get amongst them? Can we win the ball off them? Can we show that we're not afraid of anybody?
"In all seriousness," the Argyle manager added, "I want to try and beat them, whatever they put out there. That might sound crazy, but it's true. It's a game of football. Technically, it could be the hardest game we've ever had and I'm expecting us to take it seriously and use it as a training situation and, afterwards, revel in it – but not before the game. I don't over-respect anybody," Holloway insisted. "People have to earn that with me. We'll be up against great players, I understand that, and we might struggle to get the ball back off them but I'm teaching my players to win it back. We'll force an error. That's how I'm looking at it. What better game could we have for that? It's perfect. I'm looking for us to work hard and produce what we've been talking about in training. If we can do that against Real Madrid and get any sort of success, then hopefully that will do wonders for our confidence. You can't buy confidence, you have to build it and earn it."
Holloway is aiming to field two different line-ups in each half, as he did at Rudersdorf two days ago against Gratkorn. At some stage Barry Hayles, the experienced striker who arrived from Millwall this week, will make his first appearance in an Argyle shirt. The Pilgrims now have plenty of options up front. As well as former Fulham man Hayles, they can call upon Nick Chadwick, who scored a hat-trick in last Saturday's 3-0 win against Grays Athletic, and ex-Manchester United forward Sylvan Ebanks-Blake, who fired in two fine goals on Wednesday. The 20-year-old's first strike was a spectacular overhead kick. "I'll remember that goal for a long, long time. What a fantastic way to open your account," added Holloway, who will also use trialist Muhamadu Ebad tonight. The Dutch striker is being allowed to play by his club, Cercle Bruges, with whom he is under contract for another two years. The Belgian outfit are believed to be asking for a six-figure fee for the 24-year-old.

ARGYLE'S NIGHT TO REMEMBER
22nd July
Plymouth Argyle were beaten by Real Madrid in Austria last night, but only just. The Pilgrims went down to a 1-0 defeat to the world-famous Spanish side in Kapfenberg, but they were by no means disgraced in a prestigious friendly match which was rarely an uneven contest. A late penalty from Brazilian striker Julio Cesar Baptista gave Real Madrid their victory. "I can't believe it," Argyle manager Ian Holloway said afterwards. "I didn't realise the strength of the squad Madrid were bringing, and I was quite shocked when I saw all those wonderful names on their team sheet." Jonathan Woodgate, Thomas Gravesen, Ivan Helguera, Guti, Antonio Cassano and several other international players were all wearing white shirts last night. "I was very, very proud of our performance against a team like that," Holloway added. "It was a good work-out for them as well as us. To only lose 1-0 to a penalty was a credit to us." Argyle's French midfielder Lilian Nalis conceded the penalty by handling a cross. "It was a moment of madness, but there you go." Asked what he took out of the game in retrospect, the Pilgrims' manager said: "Some great organisation, some great closing down and, considering how short a time I've been with them, I'm delighted with that. I've got a great bunch of lads here. They're honest, they're hard-working, and I'm sure if I splice all that together it will come good. I'm very pleased - we gave a good account of ourselves and I was proud of our behaviour on the pitch. We tried to look after ourselves, but we were very respectful as well. Good luck to Mr Capello and to Real Madrid. I just can't believe I'm saying those words."
The game was watched by a crowd estimated at 1,500 spectators, which included maybe 250 fans sporting Argyle's colours. "I can't wait to play in front of these supporters at Home Park," Holloway said. "They were absolutely magnificent here. I'm very optimistic. I thought we passed tonight's test with flying colours and we gave them a good game." All round, it was quite an occasion. The spectators wearing Real Madrid shirts were, judging from overheard conversations, Austrian rather than Spanish. The 'Green Army' had taken over the bar of the hotel at Kapfenberg's Franz Fekete stadium well before kick-off, and gave both team buses a rousing reception upon arrival. The Argyle squad, the first to arrive after a two-hour journey from their base at Loipersdorf, responded with cheery waves and smiles. The men from Madrid offered merely indifference.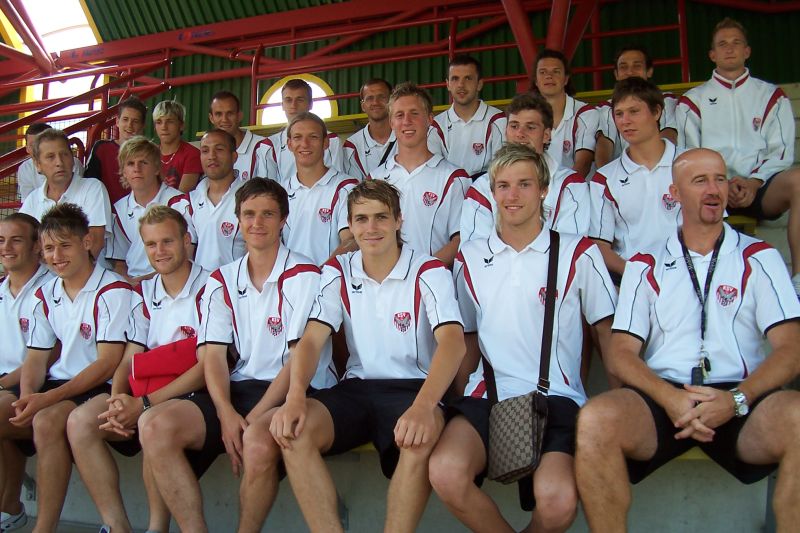 SV Kapfenberg

The crowd included the players of host club SV Kapfenberg, an Austrian Bundesliga II outfit, and Turkish club Vestel Manisaspor, who are staying at the stadium hotel. Pre-match attractions included a band wearing traditional Austrian costume and the presence of a large hooded eagle on the pitch. The two teams walked out prior to kick-off, which was delayed by the various ceremonies and entertainment, side by side, holding hands with local youngsters, as at the World Cup. At least the afternoon thunderstorms, which had threatened to delay the kick-off, held off until the closing minutes of the game. After an exchange of pennants between Madrid captain Guti and Hasney Aljofree, Argyle's first-half skipper, the first whistle was blown to start a match that will linger long in the memory of every Pilgrim present. Next up for Argyle? Yeovil Town at Home Park on Tuesday. It won't quite feel the same.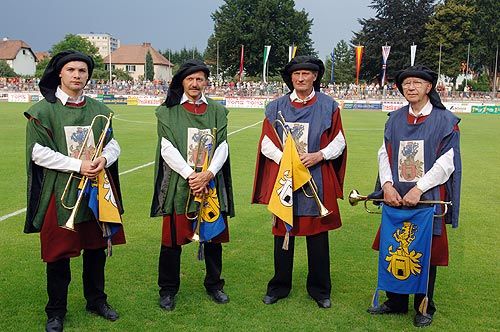 Pre-match trumpeters

SPIRITED ARGYLE SHOW THEY ARE THE REAL DEAL IN AUSTRIA
22nd July
Plymouth Argyle found the task of beating Real Madrid beyond them, but the Pilgrims put up a spirited display before going down 1-0 to the Spanish aristocrats in last night's friendly in Kapfenberg, Austria. A late penalty by Julio Cesar Baptista was the difference between the sides on an evening which players and travelling supporters from Home Park will have savoured with relish. Never mind the fact that the game was effectively used as a training session by the men from Madrid, there was still a game to be won and the Devon team did their best against the world-famous Spanish side.
The Pilgrims had picked two teams for the glamour game, one for each half, and they mixed up their squad so that each line-up contained a mix of experience and youth. Thus 19-year-old Argyle striker Chris Zebroski found himself being marked by former Leeds United and England centre-half Jonathan Woodgate in the first half, while Luke Summerfield contested midfield battles with ex-Everton stalwart Thomas Gravesen. The Madrid club's World Cup stars from the Brazilian and Spanish national squads are still on vacation and David Beckham is injured, but there was no shortage of top-level talent in white shirts last night. Italian Antonio Cassano is a forward of the calibre the Pilgrims will rarely, if ever, face in the Coca-Cola Championship this season, while central defender Ivan Helguera and midfielder Guti can call upon vast reservoirs of experience.
Argyle's very first attack resulted in an attempt on goal. Chris Zebroski tested Diego Lopez with a low shot in the second minute, which the goalkeeper clutched at the second attempt. With Gravesen playing the anchor role in midfield, it was not long before Madrid were moving the ball smoothly from back to front. One patient passing move ended with Guti slamming a diagonal shot over the crossbar and on to the running track surrounding the pitch. The tricky former Roma forward Cassano was looking like Madrid's most dangerous attacker. One twisting run from the Italian was halted by a fine interception from Anthony Barness, who tried in vain to set Argyle debutant Barry Hayles free down the right. With 20 minutes gone striker Javier Portillo was played in behind the Pilgrims' rearguard and was denied by Luke McCormick, who saved with his legs. At the other end, Argyle won a couple of corners in quick succession. Luke Summerfield's first flag-kick was headed away well by Woodgate, but the second was too long.
When Madrid returned to the attack, Baptista found space behind the Argyle defence and Mat Doumbe did well to divert the Brazilian's low cross away from Portillo. Then Cassano cleverly chested the ball into Portillo's path but the 24-year-old dragged his shot across goal and behind. When Cassano stumbled to halt another Real raid, David Norris tried to launch an Argyle counter-attack which was halted by a tackle from behind Raul Bravo. The former Leeds United left-back was shown a yellow card for his offence by Herr Steindl, the Austrian referee.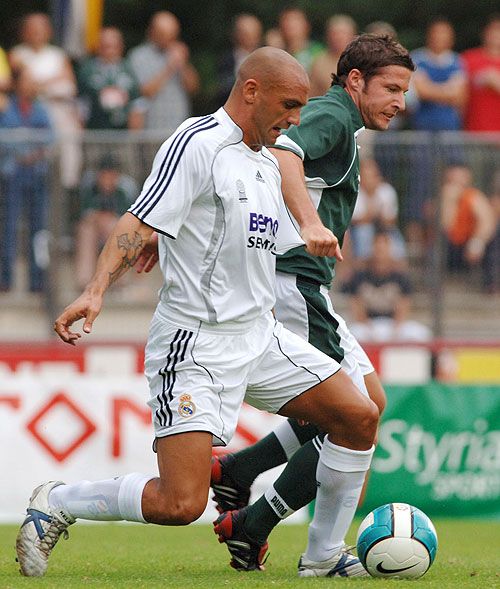 David Norris in action against Real

As thunder rolled around the Styrian mountains, the half-time whistle blew with the score still level. Argyle changed every outfield player at the interval, and club captain Paul Wotton soon made his mark early in the second half with a crunching challenge on Guti. Real restricted themselves to three changes at the break, with Gravesen among the men going off. Following a further flurry of Madrid substitutions 13 minutes into the half, McCormick kept Argyle on level terms with a brave close-range save in the 63rd minute to keep out a hooked shot by Roberto Soldado, after Francisco Pavon had headed Javier Balboa's right-wing cross back across goal. Then, with 15 minutes left to play, the deadlock was broken in circumstances that were harsh on Argyle. A right-wing cross by Ruben de la Red was, according to the referee, handled by Nalis on its way beyond the far post. Baptista sent McCormick the wrong way with the penalty, which was his last kick as he was promptly substituted.
Argyle had a chance to fashion an equaliser with nine minutes to go. A perceptive pass by Lilian Nalis released Reuben Reid on the right, but the 17-year-old's cross was steered behind the advancing Nick Chadwick and Sylvan Ebanks-Blake. At the other end, Soldado's finish was wayward when an opportunity came his way. The Pilgrims sent on University of Plymouth goalkeeper Josh Clapham and Home Park apprentices Anthony Mason and Dan Gosling for a taste of the action. Wotton had the chance to demonstrate his free-kick prowess in the 86th minute, after Chadwick had been fouled by Borja Valero. The skipper's shot had plenty of power but Diego Lopez was equal to it, and Madrid went up the other end to win a free-kick of their own. Scott Laird was cautioned for dragging down Soldado on the edge of the area, and Garcia's excellent curling free-kick came back off a post. Then, in the final minute, Clapham did well to keep out a shot by Soldado as Madrid tried to finish with a flourish. Victory, in the end, went to the men from the Bernabeu stadium, but the Pilgrims had absolutely no reason to feel anything but pride in their display.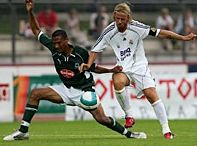 Chris Zebroski and Guti

TOUR STRIKES RIGHT NOTE
24th July
Plymouth Argyle will return to work at Home Park today after a week in Austria which manager Ian Holloway has hailed as a resounding success. The Pilgrims returned to Devon late last night, after an afternoon flight from Graz to Stansted and then a long coach journey to Plymouth. They will be back in training today in preparation for tomorrow's friendly against Yeovil Town at Home Park.
Argyle's visit to Austria was their third in four years to the country. Previous tours there and to Sweden and to Scotland each featured three or even four matches, but this trip contained only two fixtures. Argyle's narrow 1-0 defeat to Spanish stars Real Madrid on Friday was preceded by a 5-1 win over Austrian outfit Gratkorn last Wednesday. That schedule allowed Holloway (inset) to spend more time working with his players on the training ground, or send them off to the swimming pool or the gymnasium at their luxurious hotel in Loipersdorf. It has been a good week for the Pilgrims' boss. "It's been absolutely first-class," Holloway declared, speaking before Saturday evening's unfortunate injury to Argyle captain Paul Wotton. "The facilities have been wonderful. The venue and the matches have been first-class. There are no complaints whatsoever. The week has allowed me to get to know the lads on a personal basis," added the former Queen's Park Rangers and Bristol Rovers manager, who took over at Home Park at the end of June. "This is the first time I've been with them, really."
Holloway was keen to emphasise the benefits of going away from Plymouth as a group, rather than settling for a week's training at Home Park. "You're together 24/7," he said. "You need to be bonding, you need to get together, you need to work hard. We've sent them out training at 7am, 10am and 5pm. They've been together, talking and socialising away from their families, and becoming a unit. Sometimes it works, sometimes it doesn't. It depends on your accommodation and your surroundings. This trip has been very, very good. Everything we have tried to do has been spot-on and I feel it's been a huge benefit, particularly for a new manager coming in. To have seven days away and only two matches gives you an awful lot of time to get in some decent training and get some points across," Holloway added. It only needs to be drip-fed because I don't need to make major changes to what Tony was doing, but this trip has been invaluable. You couldn't do what we've done here by staying at your own home and coming into training three times a day. The most important thing for me to do was to find some new strikers, and I've done that, but we've got some great training under our belts in beautiful circumstances. It's been great for us. I want to enjoy my life and I want to enjoy my job. If I'm enjoying it, it's infectious, and I want everybody to be as enthusiastic as myself."
As well as supervise a successful tour, Holloway has also been able to sign the top two strikers on his transfer-market shopping list: Barry Hayles and Sylvan Ebanks-Blake. "I did some hard work before I came here which has all paid off, I'm glad to say," the Argyle boss added. "Sometimes you can spend hours or days or even months on the phone and never get who you want, so that's all gone well. David Norris has re-signed for the club, and so has Luke McCormick, which is fantastic as well. Now let's move on." McCormick has been the Pilgrims' senior goalkeeper on this tour and has impressed Holloway, especially with his work against Real Madrid last Friday. In the absence of Romain Larrieu, University of Plymouth 'keeper Josh Clapham, 21, joined the trip to Austria and has very much looked the part, according to the manager. "I didn't know Josh at all," Holloway said. "He only came because Romain was injured. He has put himself on the first rung of the ladder, I think." The Pilgrims' boss is tempted by the idea of adding a third goalkeeper to his squad. "I think we need one. We'll have to talk about it with the board," he added, "but I've been very impressed with Josh and he's got a chance. You've got to take your opportunity and he did. What a fantastic save he made against Real Madrid."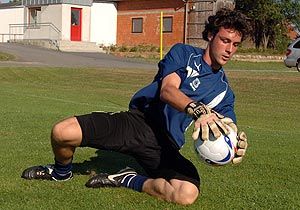 Josh Clapham

Holloway also has decisions to make about the future of two trialists who have been with Argyle in Austria: Portuguese central defender Mauro Almeida, who is a free agent after leaving Dutch side Zwolle, and Dutch striker Muhamadu Ebad, who is contracted to Belgian club Cercle Bruges.
"I'm going to look at both situations," the Pilgrims' boss said. "Mauro has done ever so well, he's a really nice man and has fitted in well. Whether he's exactly what I'm looking for, I'm not sure, and he has a couple of other options." As for Ebad, Holloway added: "It's been a tricky situation. I like him and I'm trying to get him over to Plymouth for another look, but I'm not in any desperate hurry for another striker." More than one agent claims to represent Ebad, and Cercle Bruges are asking a significant fee for him.
PILGRIMS HOLD OWN WITH REAL
24th July
Hasney Aljofree had the honour of leading out Plymouth Argyle against Real Madrid in Austria, which was a proud moment for the Pilgrims' centre-back. He was even more proud, however, of the display the Devon men delivered against the Spanish masters. Madrid started last Friday's prestigious friendly with a side packed with internationals, but it took them until the 75th minute to find a way past the Pilgrims' defence - and then it took a penalty from Brazilian forward Julio Cesar Baptista to break the deadlock and give Real a 1-0 win in Kapfenberg.
Thomas Gravesen, Jonathan Woodgate, Guti, Ivan Helguera and the hugely talented Italian attacker Antonio Cassano were also representing the club from the Bernabeu stadium, but Argyle were never overwhelmed. "Obviously we had respect for them," Aljofree said. "They're special players and they're at that club for a reason, but we prepared well to play against them. We didn't show them too much respect and we actually gave them a game of football. When the game started, I think they realised that we weren't messing about. We were unlucky to lose 1-0 in the end, because I didn't think they were well better than us," added Aljofree, who wore the skipper's armband for the first half. Club captain Paul Wotton took over after the interval, when the Pilgrims changed all ten outfield players. Wotton patrolled the centre of midfield in the second half alongside Frenchman Lilian Nalis, who handled a cross to give Real the decisive penalty. "It was a bit harsh," Aljofree said. "It was an honest mistake by Lilian. It can happen to anyone. You think you're going to head the ball and it just hits your hand. Never mind. We haven't been embarrassed. We've played Real Madrid and we've given them a game. We could have got a few goals ourselves. It would have been nice if we could have popped in a couple of goals. They had quite a few chances, but all in all I thought it was quite a fair game."
The 28-year-old former Bolton Wanderers and Dundee United defender has enjoyed being back at work with the Pilgrims this summer. The arrival of Ian Holloway as manager has energised the club, and the week in Austria has been a very beneficial experience for everybody involved. "We've had a great pre-season, we've only conceded two goals and we've scored plenty - and we've played Real Madrid," Aljofree added. "It's been the best pre-season tour we've had. Last year in Sweden was a joke, I think everyone knows that. We've got proper facilities here and we've been training really hard. We've had three sessions a day and the manager has been working us hard, but he's given us a bit of rest as well. He's respected what we're about. We're all honest players and we give everything, and I think he's realised that."
Holloway's predecessor organised a successful fight against relegation last season, but the players are responding to Tony Pulis's successor in a positive way. Aljofree said: "Respect to Tony Pulis, he kept us out of trouble, but he kept on going on about bringing new players into the club. The new manager has come in and he's told us all that we're all special players. He respects us all and he says we're all here for a reason. He's asked us to give him 100 per cent and that's good enough for him. In the past we were all looking over our shoulders and wondering whether the previous manager liked us or not, because he did keep going on about bringing in new players. Ollie has given us that bit of confidence where it was needed."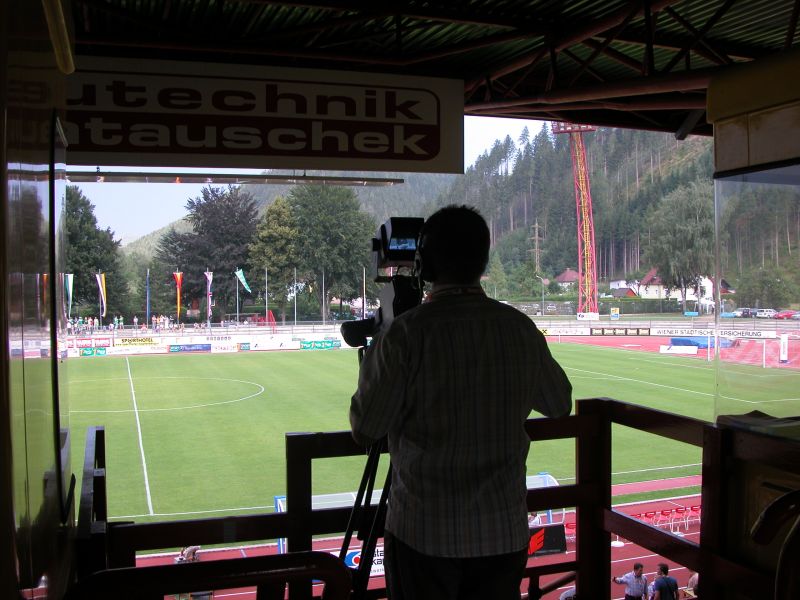 Many Argyle fans were able to watch the match online on Real Madrid TV