Back to

Austria 2006

Tour Home
Austria 2006: Official Site (Steve Hill)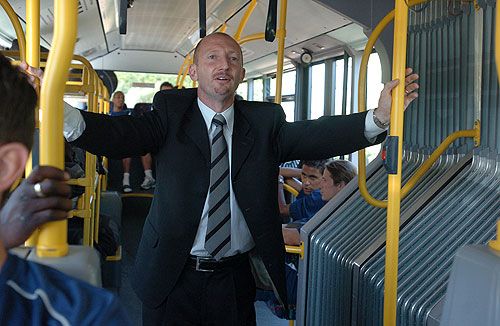 Ian Holloway on the airport shuttle bus, headed for Austria
10th July
Argyle are to play a prestigious pre-season friendly against Real Madrid. Ian Holloway's Pilgrims will face the nine-times European champions on Friday, July 21st at the Franz Fekete Stadion, Kapfenberg, Austria. The game kicks off at 6pm local time. The stadium is the home of Austrian second division side Kapfenberger SV, and was built in 1987. It holds 12,000.
Real arranged the friendly after Argyle agreed to a request from the Spanish giants to switch next week's Austrian training-camp base from the Schloss Pichlarn hotel in Irdning, which new Madrid manager Fabio Capello has used before and wants to take his new charges to. The Pilgrims will now be based at the nearby five-star spa resort of Loipersdorf. Real, who have won the Spanish title on 29 occasions, will be without former England captain David Beckham, who is out injured, while World Cup stars like Ronaldo, Roberto Carlos, Robinho, Cicinho, Raul, Sergio Ramos, Michel Salgado and Iker Casillas are likely to be give extra time off to recuperate after Germany 2006. However, the Spaniards still boast a formidable roster. England and former Leeds United defender Jonathan Woodgate, Denmark's ex-Everton midfielder Thomas Gravesen, Italian striker Antonio Cassano and Spanish stars like midfielder Guti, defender Ivan Helguera and ex-Leeds United defender Raul Bravo are among those likely to be on the plane to Austria.
"It will be an education for our lot," admitted Argyle manager Holloway, "even if we play against their young lads, it will be very good. "It's fantastic. Whatever side they put out, they will have some really good players. It's a fantastic opportunity for my players. A once-in-a-lifetime experience. We'll get amongst them and leave something on one or two of them; that'll be nice for them. It'll be something my lads will never forget."
However, Holloway is already playing down the importance of the occasion, focusing instead on the Pilgrims' opening Coca-Cola Championship game against Wolves on August 5th. "Any manager will tell you that pre-season is all about getting everyone fit, working on things," he said. "I'm really proud of what I've seen so far. We'll take it in our stride. What really matters is Wolves." Holloway was happy to agree to the switch after sending coach David Kemp out to Austria on Monday to recce the five-star resort at Loipersdorf. "If it means we can stay in another good quality hotel for free, then that will suit us fine," said Holloway. The Real fixture means that Argyle's scheduled Saturday friendly against Israeli first division side Maccabi Petah Tikva in Trieben has been cancelled.
11th July
Ian Holloway is considering missing the Pilgrims' prestige friendly against Real Madrid next week because he is searching for new players. Argyle play the nine times European champions next Friday in Austria, where the two sides have based themselves for pre-season training camps. However, Holloway is so concerned with building Argyle's squad for the new Coca-Cola Championship season that he is prepared to stay behind his desk to ensure he gets his men, with strikers high on his wanted list. "I'm seriously contemplating whether I can actually get over there," he said. "If I don't get the strikers I need, I'm going to be on the 'phone, working. I've asked the lads 'What do you want me doing?' They said 'We don't want you out here'. Hopefully, that's not because I'm absolutely rubbish, but because they know."
Holloway, who was appointed Argyle boss ten days ago in succession to Tony Pulis, has had something of whirlwind start to life at Home Park. "I have to say how proud I am at taking this job then, all of a sudden, playing against the might of Real Madrid, even if it's their reserves or youth team. It doesn't really matter. It'll be a marvellous moment. I'm sure that all their players who were at the World Cup will not be there because they will get a bit of a holiday, so that should weaken them. It's about the best thing that's ever happened, although we don't get any points if we get a draw, or beat them...or win a corner. The good thing is that I won't need any strikers to play against them. I'll have ten at the back and one goalie. I've actually rung the FA and asked if I can play two goalies. All joking apart, I'm very, very proud, but it's all a bit surreal for me at the moment. Surreal Madrid."
12th July
Argyle have released details of admission prices for their prestige friendly against Real Madrid in Austria next week. The Pilgrims face the Spanish nine times European champions at Kapfenberg next Friday, July 21, as part of both sides' pre-season training schedules. Hundreds of Argyle fans are expected to make the trip to the 12,000-seater Franz Feteke Stadion, home of Austrian Bundesliga II side SV Kapfenberg.
The Austrian-bound Green Army will be able to buy tickets for the game in advance, priced 10 euros for standing and 15 euros for seating. Tickets can be ordered from Ms Pusterhofer at the Kapfenberg Tourism Office - telephone 0043 3862 26476; for a fax, add a 4 to the end; or e-mail info@kapfenberg.at. Tickets have to be collected by 5pm on the day of the match. Alternatively, admission can be gained on the day, priced 15 euros for standing and 20 euros for seating. Meanwhile, Argyle's first game of the week - against Austrian Bundesliga II side FC Gratkorn on July 19th - has been switched to Rudersdorf, which is nearer the Pilgrims new base at Loipersdorf. Kick-off is 6.30pm.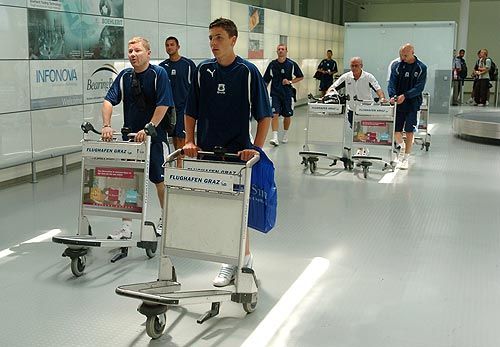 The Argyle squad arrive in Austria

DAY ONE
16th July
After a long journey from Stansted to Graz, the Argyle squad settled into their new surroundings at the Loipersdorf Resort where they enjoyed a light snack of cakes and fruit. The training pitch is a ten minute drive from the hotel, and after the rigours of a long journey Ian Holloway and his coach Des Bulpin started training with some ball juggling exercises. Akos Buzsaky was involved in the ball juggling while David Norris, with his right knee heavily strapped, stayed away from the ball to do some gentle jogging around the pitch with physio Paul Maxwell. The focus then moved onto a series of exercises based on a good first touch followed by a sharp turn with Holloway providing a passionate demonstration every time the routine altered. It was fairly clear that the players thoruoghly enjoyed watching his demo.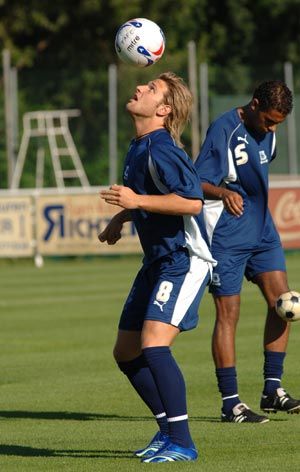 Akos Buzsaky training on Day One

Meanwhile, goalkeeping coach Geoff Crudgington was putting Luke McCormick and Josh Clapham through their paces at the far end of the pitch by firing repeated low shots at the goal as the pair took turns to block the ball. The session then heated up with a simulation of a game situation. Starting from the back, the ball was switched to the full-back, moved into midfield before being spread wide again. The ball would then be delivered from the wing for one of the onrushing strikers to finish, and this was repeated on a number of occasions with minor adjustments implemented by Holloway and Bulpin. McCormick and Clapham were given plenty of practice as countless shots peppered their goal from various angles. Holloway completed the session with a brief game involving all the players on a shortened pitch, with the emphasis placed on shape and short passing. The overriding theme of the session was the intensity of Holloway, and his insistence on encouragement between the squad with any sign of frustration swiftly quashed.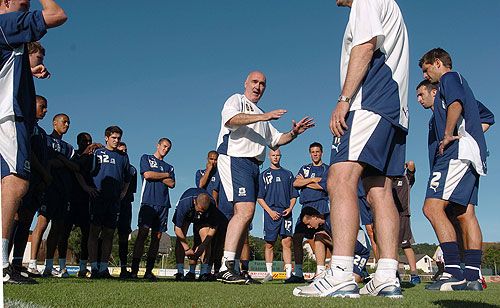 Des Bulpin leading the first days training session

DAY TWO
17th July
Day two of the Austrian tour began at 7am for the players, with an hour long jog in the hills surrounding the hotel. After a healthy continental breakfast with sausage, bacon and fried bread nowhere to be seen, the squad set off for the training ground for a gruelling session in the blistering heat of the Austrian summer. Following a thorough warm-up and stretching exercises with physio Paul Maxwell, the players were divided into two groups with Ian Holloway taking the midfielders and forwards, while Des Bulpin worked with the defenders.
Holloway's group were divided into groups of two and paired off against each other with the onus placed on creating an opening for a shot and, again, Josh Clapham and Luke McCormick were given plenty of practice. Bulpin, meanwhile, took a group of nine to one side and separated them into two sets of four with the extra man acting as a midfield fulcrum between the two groups. The ball would then be fired into the defenders, and they were expected to deal with the long ball and lay a pass into the midfield pivot. An interesting footnote to this session was the inclusion of Tony Capaldi in the defensive group, despite spending much of last season operating in midfield.
David Norris (knee) and Akos Buzsaky (groin) continued to train away from the main group, and it was easy to see why as the squad were separated into groups of young and old and played a full intensity game on a reduced pitch. There was one particularly happy young man durning the session, who was invited over to Plymouth after impressing Holloway in training. Robbie Woods, 16, is from Austria and was recommended by Argyle associate director Ken Jones. He will feel at home as his London born father worked in the Cornwall tin mines for ten years, and many of his family still reside in the Duchy.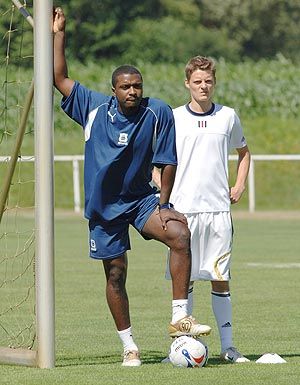 Sylvan Ebanks-Blake and Robbie Woods

Once again, the emphasis was placed on creating space and the star of the first-half was clearly Sylvan Ebanks-Blake, who scored twice and impressed everyone with his increased sharpness, pace and obvious finishing prowess. A 2-0 half-time deficit clearly upset the oldies, and a brace from 23-year-old Chadwick (hardly old) restored parity - the former Everton man just can't stop scoring at the moment after bagging a hat-trick in the friendly win over Grays last weekend. On foreign soil there is only one way for an English team to settle a draw, and Holloway revelled in organising a proper penalty shoot-out between the two sides. As the non-takers lined-up on the halfway line in time-honoured fashion, the chosen men stood up to meet their destiny.
Firstly, Luke Summerfield scored with a neat side-foot in the corner.
Young'uns 1 Oldies 0
Skipper Paul Wotton responded with a trade-mark thunderbolt giving young Clapham no chance.
Young'uns 1 Oldies 1
Ryan Dickson took a short run-up and paid the price as McCormick saved with his legs.
Young'uns 1 Oldies 1
Lee Hodges, however, failed to capitalise as Clapham blocked with his feet.
Young'uns 1 Oldies 1
Chris Zebroski then stole the show with a little dink in off the bar - a replica of Zinedine Zidane's penalty in the World Cup Final.
Young'uns 2 Oldies 1
Hasney Aljofree made it 2-2 with a confident penalty in the corner.
Young'uns 2 Oldies 2
Reuben Reid, however, failed to hold his nerve with McCormick making a good block to his right.
Young'uns 2 Oldies 2
Nick Chadwick put the oldies within sight of victory with a confident low penalty into the corner.
Young'uns 2 Oldies 3
Scott Laird had to score, but McCormick made another save to secure victory for the oldies.
Final Score
Young'uns 2 Oldies 3
The players then returned to the hotel for a hearty lunch of beef, rice and pasta before settling down to a well-earned afternoon rest. The evening session began at 5pm local time and, after a quick warm-up, the players were treated to the delight of a Paul Maxwell inspired assault course, clearly designed with the sole intention of making everyone sweat. The squad then sat down for a customary pep-talk from their manager before Holloway re-introduced one of his favourite training tools - the miniature football. Another Holloway theme that was becoming evident was the encouragement of healthy competition between the players, and the need to be the best in every exercise, however innocuous it may seem to onlookers. Bulpin then worked on an exercise with the team that involved one central midfielder making a decoy run, before his partner moved in short to pick the ball up before firing a long ball into the channel to exploit the pace of the youthful Argyle strike-force. Holloway completed the session with a 9-a-side game on a reduced size pitch with Paul Wotton, Paul Connolly, Anthony Barness all sitting out with niggles, and Nick Chadwick pulling out towards the end after a slight twist of the ankle.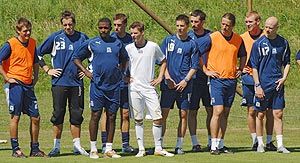 Day Two training

PILGRIMAGE TO AUSTRIA
Argyle are producing a special souvenir edition of their Pilgrim match-day magazine for this week's prestige friendly against Real Madrid. The Pilgrims are publishing a one-off limited-edition copy of the Pilgrim, which is printed in Cornwall, which they intend to take out to the Franz Fekete Stadion, in Austria, where Friday's game is being played. Argyle chief executive Michael Dunford said: "We pulled out all the stops to make sure fans will be able to have a permanent reminder of one of the biggest games in the club's history. We're having a limited run of 2,000 copies of a commemorative Pilgrim printed, and will take the bulk of those over to Austria to sell at the game. We will keep a few hundred back for sale at the Argyle Superstore for those members of the Green Army who cannot get to the match. The Pilgrim will be going over on the supporters' coach which leaves Plymouth first thing Wednesday morning and will be available on match-day at the Franz Fekete Stadion." The 24-page special Pilgrim will retail at 5 euros,or £3.50. Among its contents will be: an article looking at the history of Real Madrid; a profile of new Real coach Fabio Capello; features on Alfredo di Stefano and Laurie Cunningham; and a Real Hall of fame.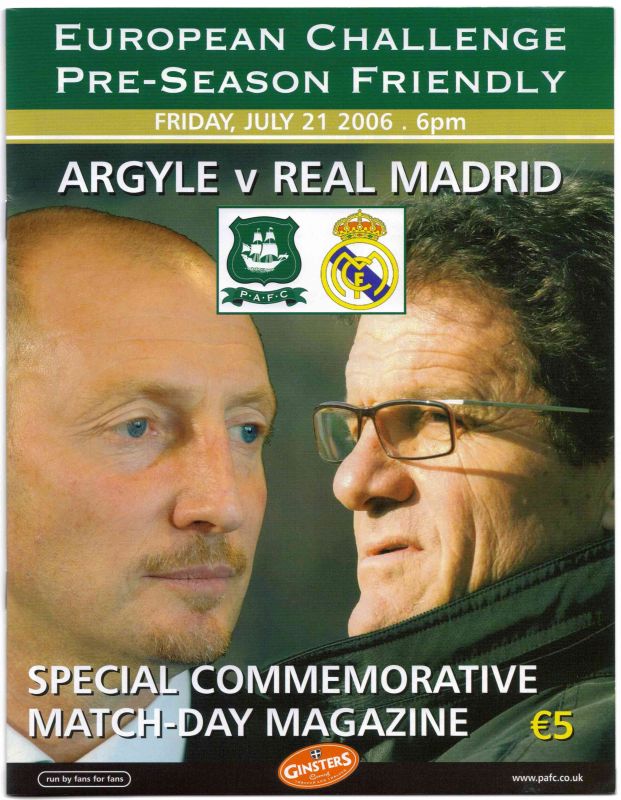 The souvenir edition of 'The Pilgrim'

GOTHIA CUP
There was more than one Devon club leaving the country for a tour on the weekend as the Argyle squad bumped into the lads from South Dartmoor College in Ashburton at Stansted Airport. The students were about to depart for the annual Gothia Cup held in Gothenburg, Sweden. A tournament widely regarded as the Junior World Cup. It is the fourth time the college has participated, and in previous years they have faced teams from Mexico, Denmark, USA, Sweden and Norway. Sports Master Steve Dinney was thrilled to see the Argyle squad mingling with the students at Stansted. He said: "A lot of the students are Argyle fans and this is a great start to the tour." The tournament is held at Gothenburg's Ulevi Stadium, venue for the 1958 World Cup Final, where a 17-year-old Pele introduced himself to the world with two goals in the final as Brazil trounced Sweden 5-2. The school are taking four teams to Sweden to compete in a competition involving 1,500 teams from 68 countries.

DAY THREE
19th July
It was another early start for the players on day three of the Austrian tour, as they descended on the hotel swimming pool for a 7am session in the water. Before heading for the training ground, the Argyle party gulped down a swift breakfast but still no sign of sausages or bacon; it was starting to look deliberate.
Physio Paul Maxwell assumed his normal warming-up duties with the outfield players, while Geoff Crudgington worked with goalkeepers Luke McCormick and Josh Clapham, focusing on their body shape as they prepared to face a shot. The players then split into two groups with Ian Holloway working on defensive shape and Des Bulpin coordinating attacking strategies, and more particularly, how to exploit space on the wings. David Norris rejoined the main group for his first full training since suffering a knee injury, following a heavy tackle in the 4-0 friendly win over Tiverton at Ladysmead last week. During a drink break, Holloway treated the players to another magic Ollyism: He said: "In my ten years as your manager, this is like the first five minutes of a date; we're all a bit nervous and not sure what to order for a starter, but the conversation is flowing well."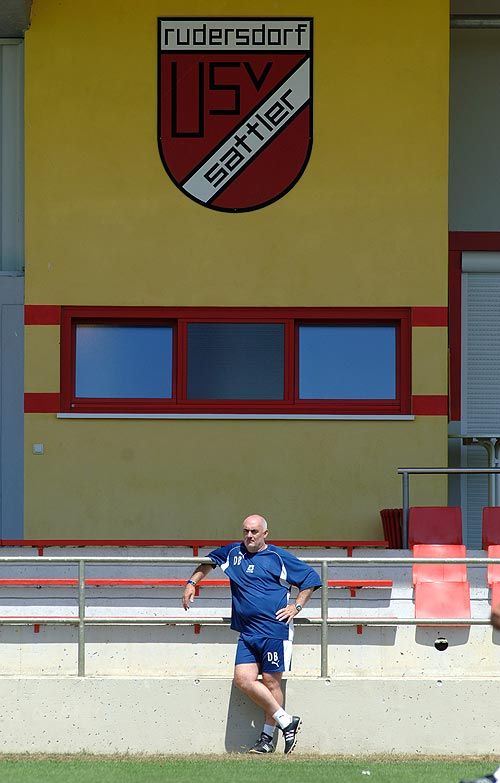 Des watching over training

The session ended with a 15-minute game where the intensity of the play was fierce, and Nick Chadwick was again looking sharp and fit up front. Holloway occasionally interrupted proceedings to emphasise the need for midfield players to rotate their positions in order to retain fluidity in their play. Ryan Dickson (sore feet) and Akos Buzsaky (groin) were the only men to sit out of the game, which ended goalless with Chris Zebroski spurning the best chance after an exquisite cross by Bojan Djordjic.
The squad returned to the hotel at 1pm for a lunch of rice, pasta, pork fillets and beef stew, before heading to their beds for a well-earned rest. The only people not resting were Holloway and his managerial team with all of them racking up a healthy phone bill by making numerous calls throughout the afternoon. The evening session kicked-off with another Maxi designed assault course; it was a different layout to yesterday, but equally as gruelling. Dickson returned to full training but Buzsaky continued to be a frustrated spectator due to his troublesome groin. Holloway laid out an intricate exercise area with numerous cones, and the players split into pairs and pitched against each other in a routine based on short passing and swift movement. The squad also alternated between a normal football and a miniature ball with Holloway offering constant encouragement and instruction. Crudgie, meanwhile, took his goalkeeping charges to one side for kicking practice, which was being filmed for the coaching staff to analyse their technique, and club Doctor Paul Giles to assess the bio-mechanics of the strike.
A new face joined the players for the evening session - Dutch striker Muhamadu Ebad had arrived at the hotel late on Monday evening, but the former Cercle Brugge, MVV Maastricht and FC Twente Eschiede player showed no ill effects when Holloway took the strikers to one side for a specialist session. The exercise involved two strikers running away from goal before peeling off and receiving a pass from Holloway, which they were expected to finish off past McCormick and Clapham. Ebad made an immediate impression by controlling a lofted pass on the chest and in one complete movement, smashing a fearsome left-foot volley into the top corner. Two weeks ago there was a veritable striker crisis, and now Holloway was instructing a group of six, which included Nick Chadwick, Reuben Reid, Sylvan Ebanks-Blake, Chris Zebroski, Anthony Mason and Ebad.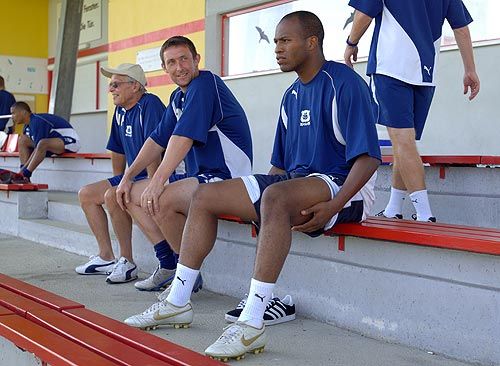 Ian 'Jacko' Pearce, Lee Hodges and Muhamadu Ebad

New signing Barry Hayles is expected to arrive in Austria on Wednesday lunchtime, and he would have enjoyed the second exercise, which involved Holloway laying-off the ball for the forward to fire a first-time shot at goal. Bulpin took the rest of the squad to the other end of the pitch to practice accurate long passing, interspersed with swift short passes. The players then got together for 8-a-side games with three teams rotating, the Whites, Greens and Reds, and the game being played on half the pitch with the players given instructions to create openings from tight spaces. Sylvan Ebanks-Blake continued to look sharp, and it was he who fired in the opening goal for the White team after controlling the ball neatly and firing a powerful low shot across Clapham and into the far corner. Zebroski was unlucky not to score for the Green team minutes before, with a vicious shot that cannoned back off the bar and it was clearly not to be his evening as McCormick later pulled off a fantastic flying save to prevent the young striker's header from nestling in the corner.
The second goal came from young academy star Daniel Gosling who fired the ball beyond McCormick and into the bottom corner. It was nothing less than Gosling deserved after impressing everyone with his composed passing and calm demeanour on the pitch throughout the early stages of the tour. Day three, therefore, ended the same way as day two, with a penalty shoot-out between the Greens and the Whites, while the scoreless Red team looked on.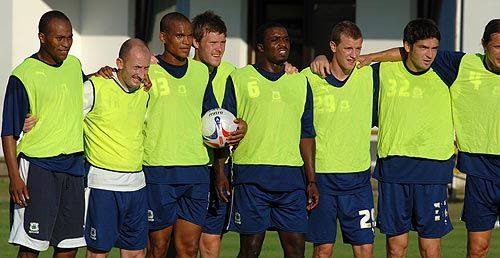 The nerves show as the Green team watch the penalty shoot-out.
(l-r) Ebad, Holloway, Kouo-Doumbe, Laird, Ebanks-Blake, Summerfield, Djordjic, Nalis

The penalty shoot-out:
Holloway - Low in to the corner sending Clapham the wrong way
Greens 1 Whites 0
Wotton - Great McCormick save low to his right to deny the Argyle penalty king
Greens 1 Whites 0
Doumbe - Sent Clapham the wrong way with a confident spot kick
Greens 2 Whites 0
Aljofree - Fired straight down the middle to keep the Whites in the mix
Greens 2 Whites 1
Nalis - Good save Clapham low to his left
Greens 2 Whites 1
Connolly - Good save McCormick to block a powerful strike
Greens 2 Whites 1
Ebanks-Blake - The new man drags his shot wide of the target
Greens 2 Whites 1
Reid - Fired into the corner by the young striker to bring the teams level
Greens 2 Whites 2
Summerfield - Never any doubt as the classy young midfielder sent Clapham the wrong way
Greens 3 Whites 2
Barness - Too much experience to be ruffled by the situation, and struck a calm penalty low into the corner
Greens 3 Whites 3
Ebad - Fired confidently into the top corner by the trialist
Greens 4 Whites 3
Zebroski - Finally beats McCormick with a sweet strike into the corner
Greens 4 Whites 4
Djordjic - Sent Clapham the wrong way
Greens 5 Whites 4
Sawyer - Despite the pressure, stroked into the corner without a trace of emotion
Greens 5 Whites 5
Laird - Side-footed into the bottom corner
Greens 6 Whites 5
Gosling - The banter levels rose for the youngster but Gosling followed up his goal in the game with the
best penalty of the lot, stroked into the roof of the net
Greens 6 Whites 6
McCormick - It was down to the goalkeepers, and Luke made no mistake by firing into the bottom corner
Greens 7 Whites 6
Clapham - There had to be a villain, and the young goalkeeper's penalty was well blocked by his opposite number
Final Score
Greens 7 Whites 6
Victory for the Greens and, as expected, the loudest celebration came from Holloway, the man who got the shoot-out under way. It was a dramatic end to another captivating day on the training ground in Austria, and thoughts now turn to the friendly with FC Gratkorn on Wednesday night

THE MORNING SESSION
The hottest day of the tour greeted the players on the morning of the FC Gratkorn match; in fact it may well have been the hottest day in the history of the world. Fortunately for the players, there was no 7am wake-up session and after a relaxed breakfast the troops headed to the training ground for a light session. Holloway started proceedings by pulling the players to one side, in the shade, and telling them the starting team for tonight's match. Such was the blistering heat of the morning that Paul Maxwell's warm-up started with a gentle stroll around the pitch, before breaking out into the lightest jog possible without actually stopping.
After some stretching exercises, Holloway and Bulpin took the starting eleven to one side to work on shape and positioning in attacking and defensive situations, while Maxwell took the unfortunate remainder for some shuttle runs in the searing heat. Set-piece patterns were the next focus for the squad as Holloway ran through a number of possible situations, before the two groups switched over. The only man not participating was Akos Buzsaky, but the Hungarian magician was still in good spirits strolling around the pitch and soaking up some rays to improve his tan. Another Holloway trait that was shining through was his clarity when explaining himself to the players, and his insistence on the team thinking about what they are doing and, more importantly, why they are doing it.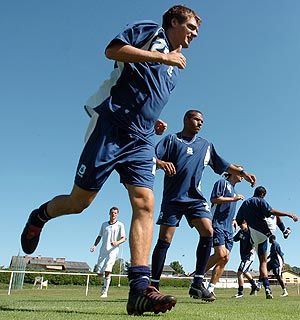 Ryan Dickson during training

FC GRATKORN 1 ARGYLE 5
After three days of rigorous training, the Pilgrims destroyed FC Gratkorn in their first game of the pre-season tour of Austria. A brace from Argyle's new number nine Sylvan Ebanks-Blake, plus goals from Reuben Reid, trialist Muhamudu Ebad and Hasney Aljofree helped the Greens to a healthy 5-1 victory. Their opponents from the Austrian equivalent of the Coca-Cola Championship toiled hard but the Pilgrims were simply too good on the night. Luke McCormick was restored to the starting line-up after giving way to university graduate Josh Clapham inhe 3-0 friendly victory over Grays Athletic last weekend. Ian Holloway selected an unfamiliar central defensive partnership of trialist Mauro Almeida and youngster Scott Laird, while Chris Zebroski started at right-midfield. The hat-trick hero from the Grays victory Nick Chadwick partnered new signing Sylvan Ebanks-Blake in attack. Another interesting factor was the sight of Tony Capaldi at left-back instead of the usual left-midfield role he deployed for much of the Tony Pulis era, with Djordjic the man to taking his place on the wing.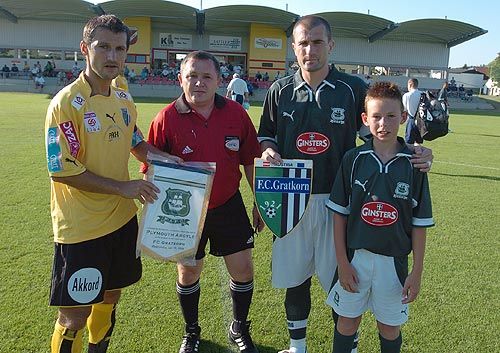 Paul Wotton exchanging pennants with the Gratkorn skipper

Holloway opted for a standard 4-4-2 formation, which was matched by his opposite number from FC Gratkorn, Michael Fuchs. The first concern on a blistering evening in Austria was the substantial girth of the referee and his assistants, who all looked like they had been taking life a little too easily in the summer months. The Argyle supporters were in fine voice at the start of the game and Holloway made sure he shook hands with many of them before proceedings got under way. The main entertainment from the opening came from who else, but the conductor Holloway, silencing the Green Army in order to pass on instruction before rousing them back into action with a wave of the hand. The first shot on goal came on 14 minutes from Zebroski, or 'Tickle' as he is known by his team-mates, but his volley from the edge of the area dipped a little too late to threaten Heinz Weber in the Gratkorn goal. The shaky looking Weber provided the next moment of excitement by dropping a routine long throw from Capaldi which, despite him smothering the loose ball, sparked the inevitable cry of 'dodgy keeper' from an exuberant Green Army. The Gratkorn right-back Daniel Hofer responded by firing a 30-yard bullet inches over McCormick's cross-bar just to remind the 50 odd Argyle fans that there was more than one team involved.
A determined tackle from Laird on 25 minutes resulted in an extremely harsh yellow card from the referee, but he levelled it up by booking FC Gratkorn skipper Sano Lukic, presumably for not sticking the free-kick in the top corner. The referee, who cleverly omitted his name from the team sheet, booked Lilian Nalis a minute later, apparently for not being Austrian, because the French midfielder didn't appear to do anything else wrong. It was becoming clear that our overly keen official was massively upset, probably because Frau Referee was cooking his favourite meal at home and his main hobby was being interrupted by 22 selfish footballers trying to get fit for the new season. Argyle's best early chance came on the half-hour mark when Ebanks-Blake latched onto a Paul Wotton through ball to round the 'keeper, but the angle was too tight and his shot bounced back off the post. Gratkorn cleared the ball, and the Pilgrims were immediately punished for a lack of concentration as the Austrian team broke down the other end and Richard Wenner cut inside from the right edge of the box to fire in the opening goal with a low strike past McCormick.
FC Gratkorn 1 Argyle 0
It was the first goal conceded in the Holloway era, and the manager was not best pleased to see his team fall behind after dominating much of the possession in the first half.
The response from Argyle came seven minutes later and, pre-season friendly or not, it was a truly fantastic goal. Djordjic collected the ball in his own half and set off on a rampaging run down the left; he danced past two players before chipping the ball to Zebroski at the back post, and Tickle sent a first-time side-foot volley back into the middle for Ebanks-Blake. The former Manchester United youngster introduced himself to the Argyle faithful by flicking the ball into the air and sending a perfectly executed overhead kick into the top corner.
FC Gratkorn 1 Argyle 1
Two minutes later, and Ebanks-Blake scored his second goal to send the Green Army into relative delirium. Paul Connolly sent a long ball down the line, and Ebanks-Blake used his explosive pace to get in behind the left-back before unleashing a vicious shot past Weber. The half-time whistle blew with Argyle in front and the Green Army ordering a pint of the finest Austrian beer in unison to celebrate the arrival of Ebanks-Blake.
FC Gratkorn 1 Argyle 2
We have a serious player on our hands and, on this form, we won't be needing the help of Paul Ince in the opening league game of the season at home to Wolves on August 5th.
Holloway's other new signing Barry Hayles will have enjoyed the Ebanks-Blake show and, despite only arriving at the team hotel a few hours before kick-off, he was clearly itching to get involved. The manager made eleven changes at half-time, and it was evident that the strategy was to play two separate teams in each half, with a healthy blend of youth and experience in both line-ups. Gary Sawyer started the second period at left-back with Ryan Dickson playing in front of him, while Anthony Barness and David Norris marshalled the opposite flank. Hasney Aljofree partnered Mathias Kouo-Doumbe in the heart of defence and Lee Hodges supported Luke Summerfield in the midfield engine room. Trialist Muhamudu Ebad set-up alongside young Reuben Reid in attack, as Holloway's managerial opponent also made wholesale changes to his Gratkorn team.
It was set to be, in the truest sense of the word, a game of two halves, although the formations stayed the same in the second-half despite the complete change of personnel by the two managers. Clapham had a nervy start to the second-half after taking a little too long to clear a back-pass and firing the ball against the body of Gratkorn striker Camaj Dulijamo. Fortunately the rebound bounced straight back to the big 'keeper, and he showed his true worth a minute later by turning a dipping shot from distance over the cross-bar, and making the resulting corner his own with a dominant catch. On 52 minutes the strike partnership of Reid and Ebad skinned the Gratkorn defence for pace twice in a row and on the second occasion it was 3-1. Ebad flew past the left-back and sent a deflected low cross past the new keeper Johannes Schwarz for Reid to tap home from a yard out. It was the trialist who did all the hard work but few could deny Reid a goal after his excellent displays in the friendly wins over Tiverton Town and Grays.
FC Gratkorn 1 Argyle 3
It was 4-1 five minutes later after Norris was felled in the box by Manfred Mandl following a trademark run from the right flank. Aljofree stepped up and smashed the spot-kick into the top corner to prove the usefulness of the training ground penalty shoot-outs of the last couple of days. It was a perfect example of how to take a penalty and a recording will be sent directly to Messrs Lampard, Gerrard, Carragher and Eriksson, although the hapless Swede will no doubt be too busy serenading another beautiful woman in his one-man mission to emphasise the pulling power of money and influence. Who needs good looks and charisma?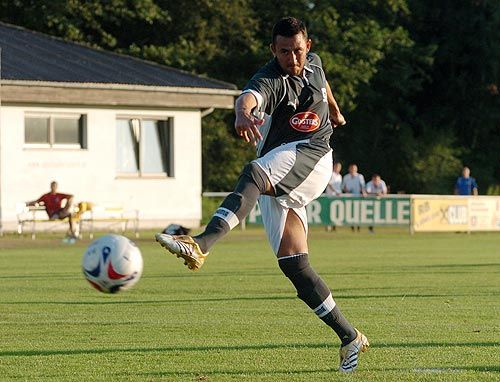 Hasney slams home the penalty

FC Gratkorn 1 Argyle 4
Inevitably, the game quietened down after the flurry of quality from Argyle, but that did little too deter the Green Army who sang their hearts out to awaken the sleepy village of Rudersdorf. With 15 minutes to go young Daniel Gosling was rewarded for his confident displays in training when he replaced Dickson and moved straight into a right-midfield position with Hodges moving out to the left and Norris shuffling across to centre-midfield. Reid almost made it 5-1 with seven minutes to go when he latched onto a neat header by Hodges, but the lively forward was denied by an excellent last-ditch tackle. No matter, it was 5-1 a minute later when Ebad muscled Michael Mauseng off the ball and fired a powerful shot past Schwarz. The keeper should have done better but Ebad deserved a goal after impressing onlookers with his strength, pace and willingness to make runs in the vanguard.
FC Gratkorn 1 Argyle 5
Holloway had always stated that the game was all about fitness but a 5-1 victory is always nice, whatever the circumstance. The Argyle squad can now look forward to a relaxing day at the hotel before Friday's meeting with Real Madrid at the Kaftenberg stadium. Holloway cautioned against too much excitement after the victory but it is difficult not too look forward to the new season with great optimism and right now, it is great to be Green.
Final Score
FC Gratkorn 1 Argyle 5
1st Half
ARGYLE (4-4-2): GK Luke McCormick; RB Paul Connolly, CB Scott Laird, CB Mauro Almeida, LB Tony Capaldi; RM Chris Zebroski, CM Paul Wotton, CM Lillian Nalis, LM Bojan Djordjic; CF Nick Chadwick, CF Sylvan Ebanks-Blake
2nd Half
ARGYLE (4-4-2): GK Josh Clapham; RB Anthony Barness, CB Mathias Kouo-Doumbe, CB Hasney Aljofree, LB Gary Sawyer; RM David Norris, CM Luke Summerfield, CM Lee Hodges, LM Ryan Dickson (Daniel Gosling 75); CF Reuben Reid, CF Muhamudu Ebad

A WAVE OF OPTIMISM
20th July
Argyle manager Ian Holloway was delighted with his team's 5-1 victory over Austrian club FC Gratkorn in Wednesday night's friendly match. The win was even sweeter for the Pilgrims boss because his team recovered from a 1-0 deficit to completely dominate their opponents. After four hard days training and now a full game on their tour of Austria, Holloway has given the players a day off to relax before Friday night's friendly with Real Madrid. "To win from 1-0 down, I am very pleased," said Holloway. "It was another good training session and the lads were fantastic, absolutely excellent again and I can't fault their attitude and application. We have had six training sessions in two days and a game, and I have run them afterwards, so we will have a nice chill out on Thursday and maybe have a free day. They will have a massage in the evening and then we have got the big game, and I am looking forward to it."
Despite excellent performances from every Argyle player, new signing Sylvan Ebanks-Blake stole the show with his first-half brace, which included a wondrous overhead kick for his first goal in a Green shirt. Ebanks-Blake's performance was also enjoyed by the club's other new striker, Barry Hayles, who joined up with the squad a few hours before kick-off. "We had some very exciting performances out there and it is nice for a striker to get off the mark," said Holloway. "Sylvan is a good lad and he works hard, and it is about him becoming what I want him to be; he is nowhere near there yet but it is a little piece at a time. It is amazing how hard centre-forwards work and we have now got another one at the club as well." The former Manchester United striker's second goal came from a ball over the top by Paul Connolly; a strategy Holloway has worked on in training. "There is no such thing as a long ball or a short ball; you have got to play the right ball," said Holloway. "I don't think we had that much pace over the top last year and what we have to do is get used to making runs. You have to earn the right to stretch teams and we have got that now; I think we have got some legs up front and that is what we needed, and so it proved tonight. I think Connolly has played two passes inside and given the ball away, and then he played the right one at the right time and the game opened up for us."
It was a fantastic performance by the team, but Holloway is refusing to get too carried away, although he was impressed with the work done by trialist Muhamudu Ebad. Another man to catch the manager's eye was young striker Chris Zebroski, who put in an excellent shift on the right-hand side of midfield. Holloway said: "There is a long, long way to go but there were an awful lot of positives and I need to write them down and make sure I pick on the bits I wasn't happy with it. Ebad did very well, so I shall send him home and invite him back to our place, which means good competition. We have got young fellows with a lot to learn but Chris Zebroski impressed me because I played him wide right, and next time I will play him up front and Reuben Reid might have to go wide. Hopefully, we can work with them and see if we can make them better than they already are, but it is all down to them in the end." Young striker Reuben Reid has been impressive throughout pre-season, and he fully deserved to score the third goal, even he did just knock it in from a yard out. Reid will be grateful to the work of Ebad in setting him up for the goal, and Holloway has seen enough of the Dutchman to invite him to HomePark for a further viewing. "I think it was Reuben's goal, I think he touched it in but again it was a great move and Ebad looked very sharp," said Holloway. "I don't know how long he (Ebad) has been training compared to us but he did enough for us to invite him over. I have to talk to our chief executive Michael Dunford about him, and we will reimburse his tickets and invite him over; that is the least we can do."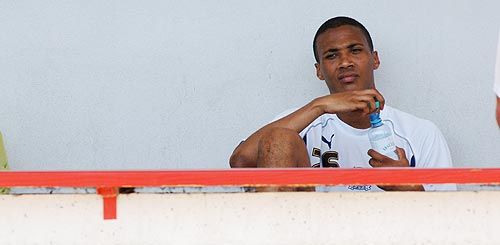 Chris Zebroski takes a break from training

The forwards may have taken a lot of the plaudits, but winger Bojan Djordjic created the first goal with an excellent run and cross down the left-wing, and Holloway was pleased for the Serbia-born Swede. Holloway said: "It was a great run by Bo (Djordjic) and for him to have had the few seasons that he has had it was great to see. There is an awful lot of talent there and a lot of solidity in the team and I am delighted, but there are still things that I have to iron out. They will get there, they are all listening and everything feels very good at the moment, but we have not done anything yet." There has been a wave of optimism sweeping over the club since Holloway's appointment, but the man himself was keen to point out that nothing has been achieved yet. The former Q.P.R. manager is fully aware of the downside of football management, having spent five months on gardening leave from the Loftus Road club before joining the Pilgrims. He said: "We have got no points on the board, we haven't even played a league game and we are in a tough division. We need to calm down, but it is nice to have some optimism, and I feel very optimistic. If you have sat in your garden for five months, and probably been put their unfairly in your own mind, then hopefully your enthusiasm doesn't wane."
With the Q.P.R. experience behind him, Holloway is hoping to make his mark with Argyle and leave a legacy to proud of. "At the moment this lads are making me very proud and I want to try and make my mark," said Holloway. "I am very proud of what people have done at Plymouth, and particularly what Paul Sturrock did a few years ago, and I want people to be equally proud of me. I am sure I can walk into two grounds (Bristol Rovers and Q.P.R.) at the moment and get a decent reception, and I want to make that three. I want people to appreciate me while I am here and I have never felt so welcome in all my life." Holloway's final word was reserved for the Green Army, who made a fantastic noise at the Rudersdorf Stadium. He said: "I can't get over it, they were shouting so much I couldn't even concentrate; it is just marvellous. Everything feels right and I know in football management it normally all ends in tears but I hope it is a very, very long time before I start crying."

NORRIS PRESS CONFERENCE
The feel-good factor at Argyle continues to shine through during the club's pre-season tour, and the news that David Norris has signed a two-year extension to his contract has added to the buzz of excitement. Norris was named Player of the Year last season by the club, and every branch of the Argyle supporters' clubs. The news was revealed in a press conference at the team hotel in Austria, which was attended by manager Ian Holloway and Argyle director Damon Lenszner. Lenszner said: "On behalf of Plymouth Argyle Football Club I am absolutely delighted to announce that David Norris has signed a two-year extension to his contract, keeping him at the club for another three years. Everyone knows that David was named supporters' Player of the Year last season from every single branch, and everybody at the football club is delighted that David has decided to stay with us. We look forward, along with the manager, to David being with us for the next three years." Holloway feels that the agreement with Norris is symptomatic of the positive feeling that has surrounded the club since his appointment as manager. "It has been a strange couple of weeks for me I must admit," said Holloway. "There were one or two problems when I came to the club but, hopefully, I am starting to rub off on the players bit by bit and the positive feel is coming back. This fella is huge to us and I am delighted that he and his young lady have decided to stay and commit to us because I believe he was a huge part of our success so far, and I can't wait to work with him to make that even bigger."
Norris himself was also delighted to commit his future to the club, especially after enjoying the best season of his career in the 2005/06 campaign. He also revealed that the arrival of Holloway was a big factor in his decision. Norris said: "The contract process takes time but I have been happy down here for the last three-and-a-half years, so I was happy to commit long term. I didn't want to put myself in the position of seeing out the contract because I wanted something concrete, so as soon as Plymouth said they wanted to open contract talks I was happy to do that. It was a good season for me last year but I want to keep on improving and the manager wants to keep on improving us as a team, and as individuals, so hopefully that will happen and I hope to have another good season. It (Holloway's appointment) has been huge because coming back to pre-season before Ollie was announced as manager, the club was looking in a little bit of turmoil. We had no manager and a small squad but as soon as he came in he lifted the whole club and the positive feel is rubbing off on everyone. On a personal note, the Gaffer called me into his office on his first day to let me know that I was part of his plans, which I thought was a nice touch." Norris has been the subject of media speculation linking him with a move away from Home Park, but he was not aware of any approach. Lenszner admitted that the club did receive unofficial approaches for his services, but Holloway feels that a players' agent will always be looking out for the interests of their client. "I don't know if there were any offers; you will have to ask the club," said Norris. Lenszner said: "Unofficially, there were approaches and we said that we were in contract talks but David's first thoughts were for Argyle, which put everybody else off. "It is a general indication of the way the club is going forward, and will be a force to be reckoned with in the next season." "I am sure his agent will have made a few phone calls, whether he knew about it or not," said Holloway.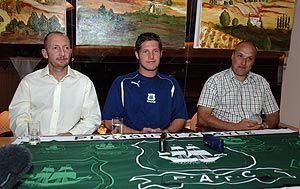 Ian Holloway, David Norris and Damon Lenszner at the press conference

Norris is now looking forward to the club making an improvement on last season's 14th placed finish in the Coca-Cola Championship. The dynamic midfielder has thoroughly enjoyed the pre-season tour of Austria, which will finish off with the glamour friendly against Real Madrid on Friday night. Norris said: "The target is to improve on last season, and every season we are in this league we want to make an improvement, and with Ollie in charge and a little bit of backing from the board, I don't see why that can't happen. The tour has been magnificent to be honest, the training facilities and hotel are excellent and the training itself has been good, and there is a good atmosphere in the camp. Real Madrid are a massive, massive club and to get a fixture against them and having seen the players they have, although some of them won't be involved, it is just nice to be involved in this sort of game." Holloway then chirped in to warn Madrid's prospective new signing from Manchester United Ruud Van Nistelrooy that he had better be equally excited about facing the Pilgrims. "I am sure when they sign Ruud Van Nistelrooy he will say the same about Plymouth, and if he doesn't, then he will do after the game," said Holloway. Norris has returned to full training after being sidelined for a week with a slight knee injury sustained in the 4-0 friendly win over TivertonTown last week. He is delighted to be back involved, and also talked about the excellent spirit within the camp at present. "I don't even like watching the boys train if I can't be involved myself, so it is good to be back training," said Norris. "The manager has come in and been really positive and that has rubbed off on everyone else, and the spirit in the camp has been good and with a couple of new players coming, suddenly things have gone from being down to right up, and we are all looking forward to the season in a positive frame of mind." Holloway concluded the press conference by re-iterating the importance of players like Norris to the club, along with the acquisition of new players like Sylvan Ebanks-Blake and Barry Hayles. There was, however, a word of caution from the manager. Holloway said: "I just want to add that this is a huge thing for us because David could have had a choice that most people would have envied, but I don't think that is always the way to go; it is sometimes better the devil you know. It is a wonderful area to live in and I think we are marching forward, and with people like David, with Sylvan, Barry Hayles and the rest of the squad, I don't see a problem. What we need now is for the Argyle fans to stick with us and encourage us through thick and thin because we will be there. Being woken up by seagulls is fantastic and I can't wait to get back to Plymouth and play some real matches with points on them. No matter what we do here in Austria, no matter how well we do now, the thing that matters is the start of the season and I can't wait."
WELCOME BARRY
Barry Hayles has been unveiled as Argyle's newest recruit at a press conference held at the team hotel in Austria. The former Fulham and Millwall striker joined up with his new team-mates on their pre-season in time to watch the Pilgrims batter Austrian FC Gratkorn 5-1 in a friendly match at the Rudersdorf Stadium. Hayles is new manager Ian Holloway's second acquisition of the summer, following the £200,000 signing of Sylvan Ebanks-Blake last week. Argyle director Damon Lenszner officially broke the news to the media following the victory over the team from the Austrian equivalent of the Coca-Cola Championship. "We are delighted to announce the signing of Barry Hayles," said Lenszner. "The manager came to us when he joined and said that we needed strikers, and he put two names at the top of the list. We are delighted that both of those names have now joined Plymouth Argyle." Holloway was equally delighted with the arrival of Hayles, the second time he has signed the bustling centre-forward. Hayles first played for Holloway eight years ago when the pair teamed up at Bristol Rovers, and the manager takes great pride in the success Hayles has enjoyed since then. He made such an impact at Bristol Rovers that Kevin Keegan paid £2M for his services, while manager of Fulham. Holloway said: "Barry is one of my proudest ever signings. I bought him from non-league Stevenage when he was 26 and told him that I was going to put him on a bigger stage, and he scored 26 goals in his first season and within 18 months he left for £2M. All I wanted to do was help him in his career and I am so proud of where he has played and what he has done, and now I want him to pay me back and help me with my career. I want to get into the Premiership and I know this man will help me and it is as simple as that."
Holloway is looking to the 34-year-old to act as a mentor to the young strikers at the club, such as Ebanks-Blake, 20, Reuben Reid, 18, Chris Zebroski, 19, and Nick Chadwick, 23. Holloway said: "Barry is a fantastic leader of people by the way he plays; he is strong and he wants to win and I've told him about our boys here because I believe in them. I believe they are getting better and they will need Barry, whether he plays or not, although I am sure he will play. Pace, power, strength, hunger and desire are what he is all about." The time had arrived for Barry Hayles to say his first words to the Argyle media, but, Nick Chadwick decided to intervene by dropping a coffee cup in the background. While the Austrian waiting staff scurried around sweeping up the porcelain carnage, the quickest response came from who else, but the manager. "I hope that wasn't one of our goalkeepers," said Holloway. When Hayles was given his chance to talk, he spoke of his delight at working with Holloway again, especially after a difficult season at struggling Millwall last year. "I worked with him for a year-and-a-half and he is an honest gentleman, and it is a pleasure to be working with him again," said Hayles. "My first thought was that Plymouth is one hell of a long way to go, but Ollie is good at showing you the bigger picture and he did that for me, so my mind was made up. The bigger picture was getting to the Premiership and building a decent squad to be there or thereabouts. It was a difficult time behind the scenes at Millwall but I am sure the club will turn it around and start growing again. I think Plymouth is a growing club that is making progress and, hopefully, we can make enough progress to finish in the top six, or even top two."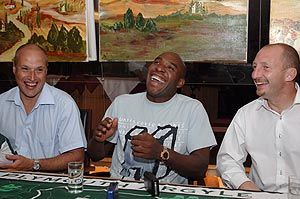 Lenszner, Hayles and Holloway at the press conference

Holloway spoke passionately about his dream of turning the Pilgrims into a Premiership club, and how he instilled that belief in Hayles. As if to prove his point, Argyle battered FC Gratkorn 5-1 in front of their new colleague and Hayles was suitably impressed. Holloway said: "I spoke to him about the potential that we have got and I want to harness that because potential is just promise but I don't want it to be just promise, I want it to happen. I managed to convince him that it could happen and if I didn't do that he wouldn't have signed for me, so he has still got desire and I don't care how old he is, that is irrelevant, it is about what he can do on the pitch. He believes in my dream and I wouldn't have come off my garden stool if I didn't genuinely believe in it, but it takes time and he will be here helping me to do it." "I was quite impressed (with the performance against FC Gratkorn) and it is all about fine tuning," said Hayles. Holloway is looking to Hayles to inspire his team-mates on and off the field, and believes that his experience will be vital to the team. The manager also hinted at another possible addition to the Argyle staff, but this time on the coaching side. Holloway said: "Strikers go in and out of form and they get injured, so you've got to stack them and rack them but they have to be the right types and, hopefully, we have got a few different types and Barry will help me work with them, whether it is just watching or coaching. Hopefully, I will bring another member of staff in very soon who is very good at doing that but we will move on. Primarily, Barry is here to show them how it is done and come Saturday afternoons, whether it be Sunderland or anybody, he will not be fazed, some of them might be, but Barry won't. He will lead from the front and I think you need leader's right through the middle of your team and whether he is picked or not, he will be cheering them on because that is what he is all about."
The manager is convinced that competition is healthy for the squad, and players will learn about how to respond to disappointment from people like Hayles. "I think Barry has already had an impact and so did Sylvan the other day when Chadwick scored three (against Grays Athletic)," said Holloway "That is how it is, and competition makes you a better person and it is great at the moment but when I pick the first team you might get one or two who get a bit of lip on and I have already warned them about that, I don't work with people like that. It is about us, and without the squad and the strength in depth you are going nowhere, in fact you will go bang in this league. It is a tough league and everyone is spending money, and we have spent more money than we ever had and I am proud of it. We have done nothing yet and Barry knows all about it and, whether I pick him or not, he will not get a lip on because I will have to beat him up - he knows I am tougher than him." Lenszner was clearly thrilled that the club have managed to land the two names at the top of the manager's shopping list. He said: "The two names on the list were Sylvan Ebanks-Blake and Barry Hayles and I asked Ian what would happen if we don't get them and he responded by saying 'I don't want to hear that, we will get them' and we have got them. We have heard a lot of negativity in the past around the club but Ollie's positivity has made sure that it has happened and we must look forward now because what we want, we can do and we will do."
Ebanks-Blake and Hayles may have been the names at the top of the list, but there was one man who appears to have slipped through the net. Holloway was also keen on experienced Bristol City forward Marcus Stewart. "There was another name and that was Marcus Stewart but that is probably not going to happen, so there you go," said Holloway. "You need experience at times to help young players and it has to be the right experience and they have got to want it as much for themselves as the people they are there to help and this fella (Hayles) can do it." Hayles has played against many of the Argyle players in the past and he has been immediately struck by the togetherness of the squad. "I have played against a few of them and had some battles with them," said Hayles. "I have already seen signs of it (team spirit), dinner was late and the boys have sat there patiently, so I can see the team spirit." Holloway is a strong believer in the need for people to have the right sort of personality, as well as footballing ability, and Hayles fits the bill. "We only work with good people and that is what it is all about, and Barry has got where he is because of his personality and how much he wants it," said Holloway. "You do not come into the game at 26 and play in the top flight for the years he did without being proper. Believe in the badge and that is it; end of story."

ARGYLE 0 REAL MADRID 1
21st July
A late Julio Baptista penalty was the only thing between Argyle and the biggest football club in the world on a balmy night in Kaftenberg. The Pilgrims pushed the mighty Real Madrid all the way and proved more than a match for a team filled with superstars. Argyle manager Ian Holloway pitted his wits against the great Fabio Capello, and very nearly came out on top but it was not meant to be for the Pilgrims as Los Galacticos secured a slender victory. Holloway elected to adopt the same approach to his team selection as he did for the 5-1 victory over FC Gratkorn on Wednesday night by naming two separate line-ups for each half. For the first period he named an experienced defence with Mathias Doumbe and Hasney Aljofree starting in the middle with Anthony Barness at right-back and Gary Sawyer on the opposite flank, while Luke McCormick took his place in goal despite suffering a slight thigh strain in this morning's light training session. David Norris began the game at right midfield with young Ryan Dickson on the left and Luke Summerfield partnering Lee Hodges in the midfield engine room, while new signing Barry Hayles made his Argyle debut alongside Chris Zebroski up front.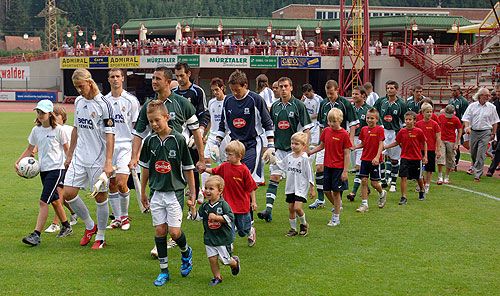 The Argyle and Real teams come out

Fabio Capello was taking charge of Real Madrid for the first time since his arrival from Italian crisis club Juventus, and the former Milan and Roma manager named his strongest possible team with much of Madrid's World Cup stars not travelling to Austria. Diego Lopez started in goal with Uruguayan Carlos Diogo at right-back and former Leeds United player Raul Bravo at left-back. England international Jonathon Woodgate partnered Spain international Ivan Helguera at the heart of the Madrid defence. Capello named Spain international Guti alongside Danish international and former Everton team-mate of Nick Chadwick, Thomas Gravesen, as the anchor men in midfield. Brazilian Julio Baptista started as the attacking midfielder just behind young Spanish striker Javier Portillo, and they were flanked by Italian Antonio Cassano on the left and Juanfran on the right.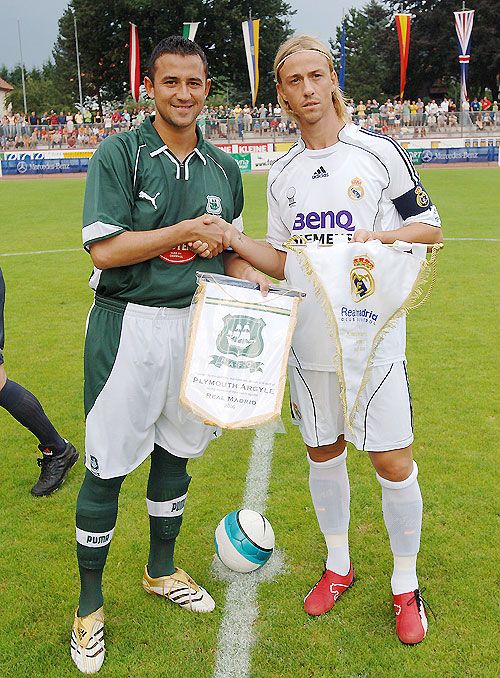 Hasney Aljofree and Guti

Within 15 seconds of the start, Zebroski robbed the ball from a lethargic looking Guti and fired a powerful low strike at the Madrid goal, forcing Lopez to make a good save down to his left. The sluggish start prompted Capello to leave the sanctuary of the dug-out and dish out some early instruction, while Holloway did the same to his troops, and what a beautiful sight to see the Argyle manager in a touchline battle with one of the greatest managers in football history. Guti almost made amends for his early error but his rasping left-foot drive from the edge of the area flew inches over McCormick's cross-bar. For all their fantastic talent and, despite the game being a friendly, many of the Real Madrid players just couldn't resist the temptation to fall over with no Argyle player even in the vicinity - perhaps there was a strong wind down at pitch level. Despite their balance issues, Madrid started to dominate possession and a clever through-ball by Baptista found Cassano on the left-hand side of the penalty area but the Italian tried to square the ball to Portillo when a shot was surely the better option, and Doumbe made a vital interception for Argyle. With 20 minutes on the clock it would be fair to say Madrid were beginning to show their quality, and Portillo latched onto a long ball from Diogo and tried to round McCormick, but the Argyle 'keeper didn't commit himself and made a good block for the Pilgrims.
Capello may have achieved magnificent things as a manager but is he as good a player as Holloway, who showed a magic touch when the ball flew in his direction, much to the delight of the boisterous Green Army. Five minutes later and Holloway's players did their bit for the manager when a left-wing cross from Dickson caused mayhem in the Real defence, and Woodgate was forced to concede a corner under pressure from Hayles. Following that the Pilgrims managed to force three corners in succession to apply some sustained pressure on the Spanish giants. There was little doubt that Argyle were now on top of their illustrious opponents and a flowing move through the middle of the Madrid defence ended with Norris in the box, but the ball wouldn't sit down for last season's Player of the Year and Woodgate cleared. Argyle's dominance seemed to annoy the Spaniards, and they swept up the other end of the pitch and Baptista forced a good save from McCormick with Doumbe making a goal-saving challenge to prevent Cassano from tapping the rebound into the empty net. Thirty seconds later and Portillo managed to get in behind the Argyle defence again but he dragged his shot wide of the post, and the Pilgrims survived. On the stroke of half-time Norris did what he does best and broke up a Madrid attack, burst down the right-wing but his progress was halted by a crude tackle from Raul Bravo, earning him a deserved yellow card. The first-half was destined to remain goalless and the Pilgrims can be very proud of their work with Hayles showing his experience in the vanguard and Barness impressing with his defending against the lively Cassano. One of the most pleasing aspects of the first period was Argyle's determination to play their own game and Holloway resisted the temptation to play a defensive strategy against their talented opponents. The Pilgrims pressed the ball and caused Los Galacticos plenty of problems in an exciting first period, although Madrid did show glimpses of their quality with Cassano particularly dangerous.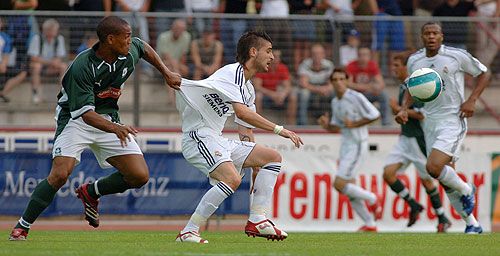 Mathias Kouo-Doumbe and Portillo

Holloway made ten changes at half-time with only McCormick remaining from the heroes of the first period, while Capello made only three alterations. Uruguayan international Pablo Garcia replaced Thomas Gravesen in midfield, Roberto Soldado took over from Portillo up front and Balboa was on for Juanfran on the right wing. Bojan Djordjic replaced Dickson on the left wing, and he started the half very brightly with Tony Capaldi supporting him at left-back while Paul Connolly partnered Reuben Reid on the opposite flank. Trialist Mauro Almeida began the second period at centre-back alongside young Scott Laird with Lilian Nalis in centre-midfield with Paul Wotton, and Sylvan Ebanks-Blake partnering Nick Chadwick up front. Wotton had his captain's armband back on after lending it to Aljofree in the first-half, and the skipper introduced himself to Guti with a crunching tackle and, naturally, Guti fell to the floor as if he had been shot. Pablo Garcia responded to Wotton's challenge on Guti by snapping at the heels of the Argyle skipper and being generally annoying - why do Uruguayan players always do their best to irritate their opponents instead of just playing the game? Capello made four further changes on 55 minutes with Jurado, Alvaro Mejia, Paco Pavon and Ruben De La Red replacing Diogo, Woodgate, Cassano and Guti, who scampered off to the local hairdressers for some dye to apply to his flowing blond locks.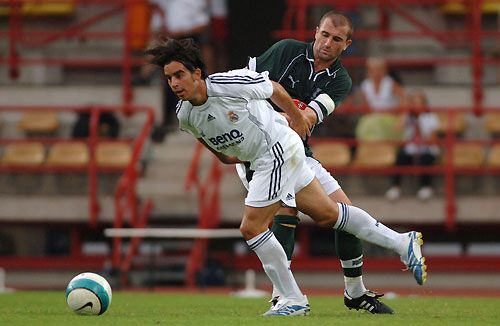 Jerado and Paul Wotton

It was a disjointed opening 15 minutes to the second-half, which was totally understandable with both managers making so many changes, although Ebanks-Blake was again looking very sharp in the vanguard. One factor that remained from the first-half was Holloway's insistence on his team not sitting too deeply, and it was great to see the Green-shirted warriors facing up to Madrid with such confidence and belief. The first decent chance of the second period fell to Soldado on 66 minutes. Balboa surged down the right-wing and sent a deep cross to Baptista who nodded the ball into the path of Soldado, but his shot was blocked bravely by McCormick - a fantastic save from the close range effort. Seven minutes later and Real Madrid were awarded a penalty after Nalis handled a cross from the right by Balboa, and Baptista calmly sent McCormick the wrong way to give the Spaniards a 1-0 lead at the Franz Feteke Stadion.
Argyle 0 Real Madrid 1
Capello immediately replaced the Brazilian with young Borja, but nothing could dampen the spirits of the Green Army who continued to sing their hearts out. The Argyle team responded positively to the support and determined play by Nalis enabled Reid to break down the right but his cut-back only found a Real Madrid shirt, and Los Galacticos escaped. Holloway made three dreams come true on 80 ten minutes with 16-year-old Daniel Gosling replacing Reuben Reid, Anthony Mason coming on for Djordjic and Josh Clapham replacing McCormick between the sticks. The Clapham story is one of the finest tales in football. The young 'keeper was awaiting graduation from Plymouth university two weeks ago but an illness to Romain Larrieu led to Clapham joining the Pilgrims on tour, and here he was facing Real Madrid. However, it was almost a nightmare start for Clapham but, thankfully, Soldado blasted over from 15 yards with the goal gaping after a great run and cross down the right by the impressive Balboa. Argyle had their first shot on goal of the second period on 82 minutes but Wotton's long range free-kick was well held by Lopez, and Madrid had a free-kick of their own a minute later. Pablo Garcia curled a beautiful left-foot shot against the post from 20 yards with Clapham well beaten. In the last minute Clapham had his moment after a misdirected header by Nalis had sent Soldado through on goal; the young 'keeper made a fantastic save down to his left. It proved to be the final act of a momentous game in which every member of the Argyle team played with pride, and Holloway will be delighted with the performance of his team. Real Madrid may have won the game but the whole night was also a victory for the Pilgrims and anyone with Green in their heart can be very proud.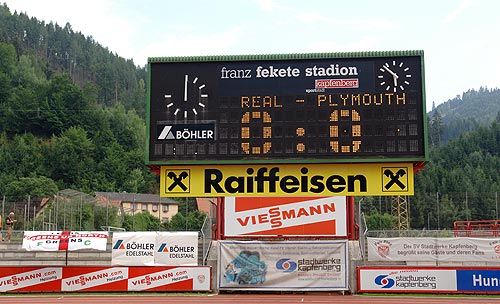 So close to the scoreboard staying this way ...

Final Score
Argyle 0 Real Madrid 1
1st Half
ARGYLE (4-4-2): GK Luke McCormick; RB Anthony Barness, CB Mathias Kouo-Doumbe, CB Hasney Aljofree, LB Gary Sawyer; RM David Norris, CM Luke Summerfield, CM Lee Hodges, LM Ryan Dickson; CF Chris Zebroski, Barry Hayles
2nd Half
ARGYLE (4-4-2): GK Josh Clapham; RB Paul Connolly, CB Mauro Almeida, CB Scott Laird, LB Tony Capaldi; RM Reuben Reid, CM Lilian Nalis, CM Paul Wotton, LM Bojan Djordjic; CF Nick Chadwick, CF Sylvan Ebanks-Blake
REAL MADRID (4-2-3-1): GK Diego Lopez; RB Carlos Diogo, CB Ivan Helguera, CB Jonathon Woodgate, LB Raul Bravo; CM Guti, CM Thomas Gravesen; RW Juanfran, AM Julio Baptista, LW Antonio Cassano; CF Javier Portillo
Booked: Raul Bravo 44

A PROUD MANAGER
22nd July
Ian Holloway has taken great pride from the performance of his team in the 1-0 friendly defeat against Real Madrid in Kaftenberg, Austria. The Pilgrims battled hard against the superstars from the Spanish capital and Holloway fielded 24 players during the game, while his opposite number Fabio Capello named his strongest possible side to start the match. "I didn't realise the strength of the squad they would be bringing," said Holloway. "I was quite shocked when I saw all those wonderful names and I am very, very proud of our performance." A late penalty from Brazilian Julio Baptista separated the two sides after a Lilian Nalis handball in the area. Holloway, however, felt the main reason for the goal was Argyle's failure to prevent the original cross from coming into the box following a short corner by Real. He said: "It was a good workout for us as well as them and we only lost 1-0 to a late penalty and we made a couple of great saves as well, so I am really proud. We were not right for the corner to be honest and we had made a load of changes. We headed out the corner and their bloke had far too much time to put the ball in and I think Baptista would have headed it in, so that's life. It looked like a handball and it was a moment of madness but there you go."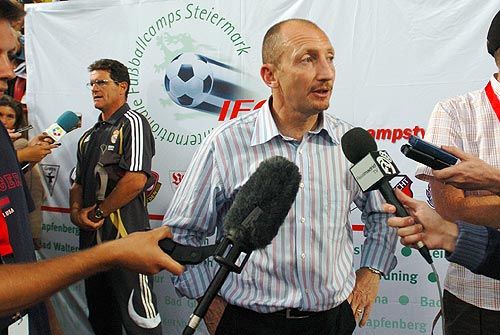 Ollie and Capello after the game

Holloway remained extremely upbeat with his team's performance and was particularly pleased to give youngsters Daniel Gosling and Anthony Mason a game against the mighty Madrid. "There was some great closing, great organisation and considering how long I have been with them, I am delighted with that," said Holloway. "I think they are a great bunch of lads, they are honest, hardworking and I am sure if I splice all that together we will do well. There are a load of young kids as well, including a 16-year-old to come on the right-wing and a 17-year-old on the left, and it is a day they will never forget. I was very pleased, we gave a good account of ourselves and I was proud of their behaviour on the pitch as well. They tried to look after themselves but they were very respectful as well." A number of Real Madrid's biggest names were absent from the game having been given extra time away from football following the rigours of the World Cup. Despite this, Holloway was still pleased to see so many top players on the field and thoroughly enjoyed pitting his wits against Italian manager Fabio Capello. Holloway said: "Good luck to Mr Capello and Real Madrid, I just can't believe I am saying those words. I was concentrating on my team and we got the closing right an awful lot and their body strength and shape; they knew what they were doing, so there was a lot of great things for me. I am delighted they had Guti, Woodgate and all the rest and it was a great test for us, which I thought we passed with flying colours and gave them a good game." Holloway's final words were reserved for the Green Army who made a fantastic noise throughout the game and did their club proud. "My lads did themselves and us very proud and as for this set of supporters, I can't wait to have some real games because they were absolutely magnificent."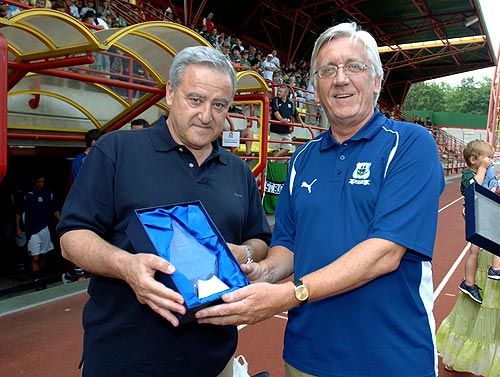 Real's Jose Serrano and Argyle Vice-Chairman Robert Dennerly