Back to

Austria 2006

Tour Home
Austria 2006: Evening Herald (Chris Errington)
ARGYLE CONSIDER REAL MADRID OFFER
10th July
Plymouth Argyle are set to make a decision today on whether to accept an opportunity to play Spanish giants Real Madrid in pre-season. Argyle coach David Kemp flew out to Austria earlier today, to effectively see if the friendly can happen. A date and venue would still need to be finalised, but it would be next week (July 16th-23rd) during Argyle's pre-season tour of Austria. "Nothing's confirmed with regards the Real game," said Argyle chief executive Michael Dunford. "At the moment it's just a suggestion. It would be a wonderful opportunity for Plymouth Argyle and a wonderful opportunity for Real to play Argyle. We'll know for certain later today."
The sensational opportunity has arisen after Real, late arranging their own pre-season because of their recent presidential election and subsequent managerial appointment of Fabio Capello, discovered Argyle had booked the Schloss Pichlarn hotel in Irdning, Austria as their base next week. Real used it in pre-season last year and in 2002, and would like to do so again. They have offered Argyle the chance to play them in pre-season and a financial inducement in compensation, if the Pilgrims would move to an alternative training base. Argyle are now considering an alternative camp in Loipersdorf, Austria, to accomodate Real's request. Kemp was today inspecting those facilities. However, they are believed to be equal to those they would relinquish to Real in Irdning.
Dunford said: "If David reports back favourably - and we can envisage no reason why he shouldn't - we will be happy to accommodate Real, but the ball is in our court. Loipersdorf is a top quality facility and, as long as it meets our requirements, we will have no problems basing ourselves there. Hopefully, everything can be arranged and we will be able to accommodate Real."
Argyle originally chose the Schloss Pichlarn as their base in Austria this pre-season, because former boss Tony Pulis used the facilities during his first spell in charge of Stoke City at 2004. Real begin pre-season training on Wednesday before flying out for their proposed pre-season camp in Irdning a week-today. They hope to be based there in preparation for the new La Liga season until August 5th, the day Argyle kick-off 2006/07 in the Championship at home to Wolves. Real's World Cup stars like Brazil's Ronaldo and Robinho and Spain's Raul will be given a belated summer break. England's David Beckham is out until mid-August with an Achilles problem. Subsequently, it is unlikely Argyle can expect to face Real's Galaticos next week. However, players of the calibre of former Newcastle United defender Johnathan Woodgate and ex-Everton playmaker Thomas Gravesen could still line-up against Argyle. Argyle have already arranged to play Austrian second division side FC Gratkorn on July 19th and Israeli club Maccabi Petah-Tikva on July 22nd, at Trieban. Both those games could be switched to accomodate a prestige friendly against Real. Dunford added: "We will go ahead with the plan only if the facilities at the alternative venue meet our requirements - but the prospect of a friendly against such illustrious opponents is certainly a mouth-watering one for the players and Green Army."

OLLIE'S DELIGHT AT REAL DEAL
12th July
Ian Holloway has expressed his delight at landing a pre-season fixture with Spanish giants Real Madrid during their pre-season tour of Austria. The Pilgrims yesterday confirmed they will play the nine-times European champions next Friday, July 21st at the Franz Fekete Stadion in Kapfenberg. The sensational friendly has been arranged after Argyle agreed to a request from Real to move from their original base in Austria, the Schloss Pichlarn hotel in Irdning, to nearby Loipersdorf. "I'm chuffed to beans," said Ian Holloway. "I don't think my lads really believe it yet. I'm sure all their ones at the World Cup won't be playing - because they'll get a bit of a holiday - but it will be a marvellous moment, I have to say."
Real, who recently appointed Italian Fabio Capello as their manager, were based at Schloss Pichlarn in pre-season in 2002 and 2005. They wanted to stay there again this year. Argyle only acquiesced after coach David Kemp inspected facilities at Loipersdorf personally on Monday. The Pilgrims fly out to Austria on Sunday before coming home a week later on July 23rd. They kick-off their pre-season tour against Austrian second division side FC Gratkorn next Wednesday, July 19th. Argyle's other scheduled friendly - against Israeli first division side Maccabi Petah Tikva in Trieben on Saturday, July 22nd - has now been cancelled. The venue for the Real Madrid friendly, the Franz Fekete Stadion, is the home of Austrian second division side Kapfenberger SV and was built in 1987. It holds 12,000.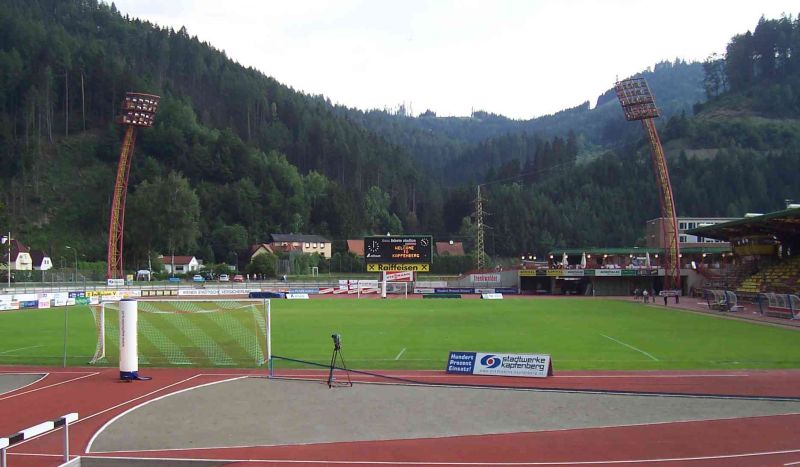 Franz Fekete Stadium

Real will be without former England captain David Beckham (Achilles), while other Galacticos like Ronaldo, Roberto Carlos, Robinho and Raul are set to be enjoying a belated break after playing in this summer's World Cup in Germany. However, they could still include England and former Newcastle United defender Jonathan Woodgate, former Everton midfielder Thomas Gravesen and Spanish stars Guti and Ivan Helguera. "I was so proud to take this job and all of a sudden we're playing against the might of Real Madrid," said Holloway. "Even if it's their reserves or youth team, it doesn't really matter. It's fantastic. It's just about the best thing that's happened to be honest, although we don't get any points if we manage to get a draw or beat them. The good thing is I won't need any strikers to play against them - I'll have 10 at the back and one goalie!"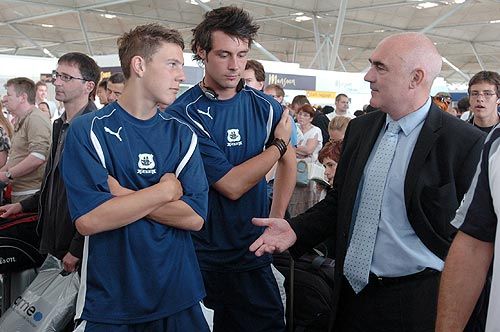 Des Bulpin dispensing advice at Stansted

ARGYLE WASTE NO TIME ON ARRIVING IN AUSTRIA
17th July
The Argyle squad had the first training session of their pre-season tour to Austria last night after arriving in the country only hours earlier. They were put through their paces by manager Ian Holloway and coach Des Bulpin for nearly 90 minutes. The Pilgrims had flown out of London Stansted at 11.30am, following their 3-0 win away to Grays Athletic on Saturday. They touched down in the south-eastern Austrian city of Graz less than two hours later. From there, the squad had a 40-mile coach trip to the five-star Loipersdorf Hotel, which will be their base until Sunday. After checking in and taking their bags to the rooms, the players were soon back on the bus. This time, they made the short trip to Rudersdorf to train on the pitch where they will play Austrian Bundesliga II side FC Gratkorn on Wednesday. The session began shortly before 6pm, under clear blue skies and with the temperature still topping 20 degrees centigrade. After returning to their hotel, which is just outside the peaceful small village of Loipersdorf, the players had dinner at 8.15pm. The Argyle squad were set to have two training sessions today.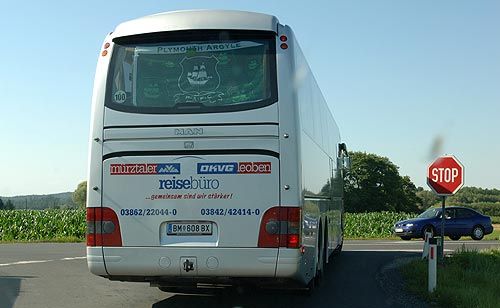 The Argyle tour bus, and drivers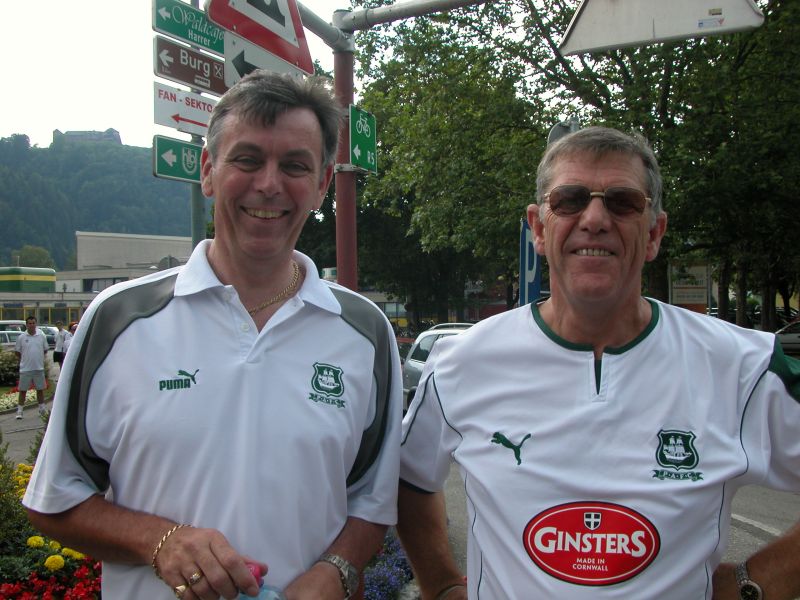 OLLIE KEEPS A CLOSE WATCH ON ALMEIDA
18th July
Argyle manager Ian Holloway will be closely checking out Portuguese trialist Mauro Almeida in Austria this week. The 24-year-old defender played in the 3-0 defeat of Grays Athletic in Essex on Saturday. He then flew out with the rest of the Pilgrims' squad to their training base in Loipersdorf the following afternoon.
Almeida started his career with FC Porto, the former club of Argyle midfielder Akos Buzsaky. Last season, he played for FC Zwolle in Holland and is now a free agent and was recommended to Pilgrims' coach Des Bulpin. Holloway said: "We will have a look at Mauro Almeida and see how he does over here. In the meantime, I have got loads of irons in the fire for that particular position." It is the second successive year a Portuguese defender has had a pre-season trial with Argyle. Nuno Mendes went on tour to Sweden last July and signed a one-year contract while out there. But he was released by the Pilgrims in January after making only two first team appearances.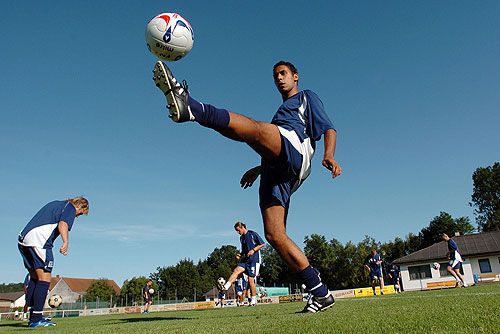 Mauro Almeida

ARGYLE BRIEFS
18th July
Ian Holloway has certainly added a competitive edge to pre-season training. The new Argyle manager ended yesterday morning's session at Rudersdorf with a 11-a-side match between the 'olds' and the 'youngs'. Such is the inexperience in the Pilgrims' squad, that 24-year-olds Tony Capaldi and Bojan Djordjic played for the senior side. The game finished 2-2, with new signing Sylvan Ebanks-Blake getting both goals for the junior team. But, instead, of ending the session then, Holloway insisted on a penalty shoot-out. Five players from each side were chosen, with all the players in the centre circle as they would be in a cup tie shoot-out. It was a serious business, with banter coming from both sides, especially the older players. Striker Chris Zebroski scored with a ice-cool finish, with the ball hitting the underside of the crossbar and bouncing over the line. It was almost identical to Zinedine Zidane's audacious spot-kick for France in the recent World Cup final. In the end, the senior team won the entertaining shoot-out 3-2. Paul Wotton, Hasney Aljofree and Nick Chadwick were all successful but Lee Hodges was thwarted by Josh Clapham. Luke Summerfield and Zebroski replied for the youngsters, with Luke McCormick saving from Ryan Dickson, Reuben Reid and Scott Laird.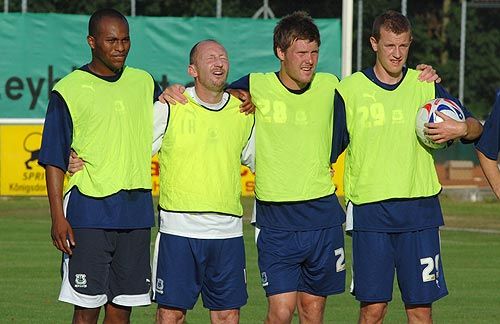 The strain of the penalty shoot-out

There was an unusually early start for the Argyle players yesterday morning. They were all in the foyer of the Loipersdorf Hotel at 7am, ready for a series of three runs. The players had to complete figure-of-eight circuits on tarmac paths around the hotel. Goalkeeper Luke McCormick said: "It's something I have never done before, but everyone was too tired to moan! I think the lads don't moan about much. They just seem to get on with it, which is good. At the end of the day it's for our benefit." The players had another 7am start this morning but this time their destination was the hotel swimming pool.
ARGYLE PROVE A HIT WITH YOUNGSTERS AT STANSTED
18th July
Argyle's players carried out an impromptu autograph session as they waited for their flight to Austria on Sunday. While the squad were checking in at London Stansted, they came across a group of 46 students from South Dartmoor Community College in Ashburton. The boys were travelling to Gothenberg in Sweden to take part in the annual Gothia Cup - often known as the Junior World Cup. A total of 1,500 teams from 68 countries have entered the event. South Dartmoor have four sides, two at under-12 level and one each in the under-14s and under-15s. The students - many of them Argyle supporters - were keen to get some autographs when they spotted the players. And Pilgrims' boss Ian Holloway made their day when he agreed to pose for some photographs with the boys, along with some of the players.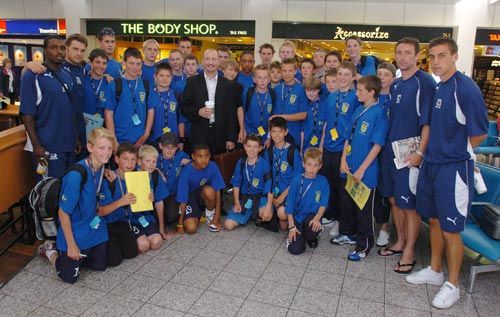 Ian Holloway, Argyle players and the lads from South Dartmoor Community College

Argyle's new first-year apprentice Dan Gosling, who was a late call-up for the trip to Austria, knew some of the South Dartmoor students. Brixham-born Gosling played alongside them for the successful Devon Schools' Under-16s side last season. Steve Dinnie, director of sport and health at South Dartmoor, said: "This is the fourth year we have gone to the Gothia Cup and we are taking our biggest party ever. We will be playing teams from Sweden, the United States, Mexico, Denmark and Norway in the group stages." Dinnie added: "We were certainly not expecting to meet Argyle at Stansted. Maybe if we had been flying out of Exeter or Plymouth, but not here. It's brilliant for the lads. Many of them are Argyle supporters and some are even season-ticket holders. They are all well aware Argyle are playing Real Madrid this week so to meet them going out there is fantastic."
WE'RE THINKING ABOUT ROMAIN, SAYS LUKE
18th July
Goalkeeper Luke McCormick is still only aged 22 but is now on his sixth pre-season tour with Argyle. He has been with the Pilgrims to Edzell in Scotland in 2001 and 2002, to Obertraun in Austria in 2003 and 2004 and to Holmsund in Sweden last summer. On each occasion, he has trained every day with Romain Larrieu. But the popular French shot-stopper is not with Argyle in Loipersdorf this week because of a testicular infection. McCormick admitted it was strange not having Larrieu around. He told Herald Sport: "We are all thinking of him. Obviously, it's a horrible thing that's going on at the moment. He must be worried but we are all behind him and hope he gets over it."
Instead of Larrieu as his training partner, McCormick is working with 21-year-old Josh Clapham. The University of Plymouth student was set to graduate in business and politics at a ceremony today. But with Larrieu not able to travel to Austria, Clapham was offered the shock chance to link up with the Pilgrims' squad this week. Clapham played all of Argyle's 3-0 victory over Grays Athletic on Saturday. McCormick, who signed a two-year contract extension earlier this month, has been impressed with the newcomer. He said: "It's strange not having Romain about, but Josh is here and he's a really nice lad. I have got to know him this week and he has done well. I think he has surprised a few people. Josh is very laid-back - as I think a lot of keepers are. He's keen to learn and even though he hasn't done day-to-day training before it hasn't really shown. He looks sharp and hungry for it, which is good."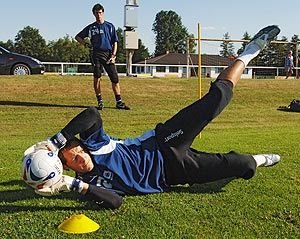 Josh Clapham and Luke McCormick in training

McCormick believes pre-season trips away from Home Park are an invaluable preparation for a new campaign. Argyle start their Championship fixtures in 18 days, against Wolverhampton Wanderers at Home Park. McCormick said: "It's really important to get a good pre-season under your belt. It does see you through until the end of the season, and also the tours help team bonding. The lads are in each other's pockets almost for a good week. It's not all hard work. They do try to make it as enjoyable as possible so it's good for the lads." The Argyle squad left Plymouth last Friday lunchtime for the game against Grays and will not return until Sunday evening. McCormick said: "It's a long time to be away. All the lads get on with each other but we will probably be glad to get away from each other come the end of the week!"
Football is a cut-throat business and while McCormick sympathises with Larrieu's plight, it presents him with an opportunity to impress new manager Ian Holloway. McCormick got his big break with Argyle in 2003, when Larrieu suffered a cruciate knee ligament injury and the Coventry-born 'keeper ended up playing 40 league games that season. "It's a little bit similar to then," admitted McCormick. "I think I said it then as well, it's not the way you would really want to do it. You want to be in the team through merit, but it is an opportunity for me to show the manager what I can do. First impressions are very important and, hopefully, now we have got a clean slate. I have just got to keep my head down and work as hard as I can."
BUZSAKY TAKES QUICK TRIP HOME
18th July
Midfielder Akos Buzsaky was given permission to leave Argyle's training camp in Loipersdorf briefly yesterday. Instead of training with the rest of his team-mates in the early evening, Buzsaky made the short trip across the Austrian border to his home country, Hungary. Buzsaky, who was expected back this morning, has not resumed full training after a groin operation over the summer. Argyle manager Ian Holloway said: "Akos has gone to see a specialist who is a masseur and who has worked on him for a long time. I had a long chat with Maxie and club doctor Paul Giles about it. With the relative proximity of where he comes from, and how quickly he could get there, we let him go. He truly believes it will really help him, and all we want is for him to be fit. He's a wonderful player - an exceptional talent - and what I have got to do is get a bit of Ian Holloway workrate into him, if I can. I've got to say the whole group are adapting to what I want and he will be a part of it, but he needs to be out there. He's getting very, very frustrated and I've told him he has to calm down and be professional."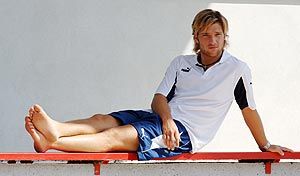 Akos Buzsaky

GRATKORN TO COMPLETE ENGLISH HAT-TRICK
19th July
Fc Gratkorn will play their third game in eight days against English opposition when they take on Argyle in Rudersdorf tonight. The Austrian side have already played two Championship clubs - Derby County and Stoke City. They were beaten 2-1 by Derby County in Ritzing last Wednesday, when Daniel Brauneis scored a consolation goal for them near the end. But Gratkorn then defeated Tony Pulis' Stoke City 2-1 in Bad Aussee on Saturday. Stoke's squad included striker Vincent Pericard and midfielder Anthony Pulis, who both had loan spells with Argyle last season. The goalscorers for Gratkorn, who trailed 1-0 at half-time, were Rene Gsellmann and Manuel Bucsek. Now they will be hoping to take the scalp of another English club tonight when Argyle play the first of their two tour matches.
Gratkorn finished fifth in Bundesliga II last season, the Austrian equivalent of the Championship. They were 14 points behind eventual winners, Cashpoint SCR Altach, and their record suggests they should provide a tough test for Argyle. Gratkorn played two friendlies against European opposition before their 'English week'. They lost 2-1 to Red Star Belgrade, of Serbia and Montenegro, and were beaten by the same scoreline by Cypriot side Famagusta. Gratkorn's club colours are all white and Erich Pfundner is their new manager. Tonight's game will be played at the home ground of USV Rudersdorf, a lower league club in Austria. Argyle have used it as their training base this week and the pitch is in good condition. There is a small covered stand on one side of the ground, with the dressing rooms and clubhouse opposite it
YOUNGSTERS HANDED CHANCE
19th July
Argyle have included two apprentices in their squad for the pre-season tour to Austria this week. Midfielder Dan Gosling, 16, and 17-year-old striker Anthony Mason were both late call-ups for the trip. The pair played as second half substitutes in the 3-0 defeat of Grays Athletic on Saturday before Argyle flew out to Austria the next afternoon. Gosling was the captain of the Devon Schools' Under-16s side last season while Mason is a Republic of Ireland under-17 international.
Argyle goalkeeper Luke McCormick can relate to how two apprentices are feeling on tour. Now aged 22, McCormick was an apprentice when he went on a pre-season trip to Scotland in July 2001. McCormick said: "Myself and Paul Connolly were in the same position to them a few years ago. I know how beneficial it was to me when I was at that age - not just the football side of things but the stuff that goes on off the pitch. They will be learning all the time, even when they are not on the football pitch. It will be really good for their progression."

ARGYLE BRIEF
19th July
David Kemp and Lindsay Parsons remain on Argyle's staff, even though they are not in Austria this week. As yet, they have not followed Mark O'Connor in following former Pilgrims' boss Tony Pulis to Stoke City. Kemp will this week be watching games involving Wolves, Colchester United and Sunderland, who are Argyle's first three opponents in the Championship this season. Parsons, meanwhile, will check out a couple of centre-backs that new manager Ian Holloway has some interest in. Holloway is being assisted with the training in Austria by Des Bulpin, along with physio Paul Maxwell. Also on the trip are goalkeeping coach Geoff Crudgington, club doctor Paul Giles and kit man Ian 'Jacko' Pearce.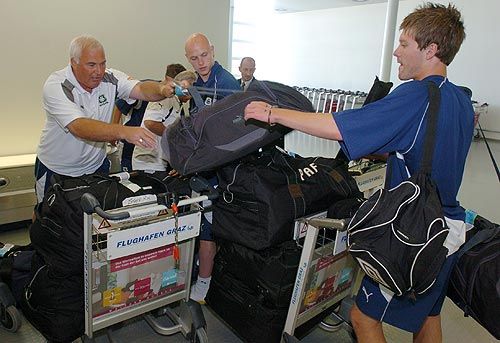 Crudgie the baggage handler at Stansted

OLLIE'S NOT FINISHED HIS SHOPPING YET
19th July
Argyle manager Ian Holloway has not ruled out signing another striker, despite the capture of Sylvan Ebanks-Blake and Barry Hayles in the past week. They have been added to Nick Chadwick and first-year professionals Reuben Reid and Chris Zebroski. But Holloway would consider recruiting a tall, physical target man should one become available. He admitted: "If there was a good one out there, who knows? You have got to stack them and rack them. "I think we are already starting to get the 'stairs system' I had at Bristol Rovers when I was there. We had Nathan Ellington and Bobby Zamora underneath Jamie Cureton and Jason Roberts, who were both 21, as well as Barry Hayles, who was 26, and Gary Penrice, who was 34. Now, I have got Hayles, who is 34, I have got Chadwick, who is 23, Sylvan is 20, plus the two teenagers. I think they have all got exciting bits and pieces, and it's now working with them. If there was an out-and-out header of a ball that was out there, I might add that. But, at the moment, I'm more than happy with what I have got."
Next on the shopping list for Holloway will probably be a commanding centre-back. However, the new Pilgrims' boss was keen to stress that did not mean any criticism of Hasney Aljofree or Mathias Doumbe. And he has also been excited by the promise shown by youngsters Gary Sawyer and Scott Laird during pre-season training. Sawyer, who can play in central defence or at left-back, has returned to Argyle after two seasons on loan at Exeter City. Holloway said: "I'm delighted with the way we defend, I have to say. I think Has and Mattie have been superb and for 98 per cent of the games last season I'm sure they did well. But when you come up against a Rasiak it could benefit them if I had a 17ft 4in centre-half there to head it away." Holloway added: "I'm delighted with them at the moment and I don't want them to think I don't rate them. I have also been very pleased with young Gary Sawyer and Lairdy. I think they are a massive bonus. All the young kids who have come here to Austria have an absolutely awesome attitude on them."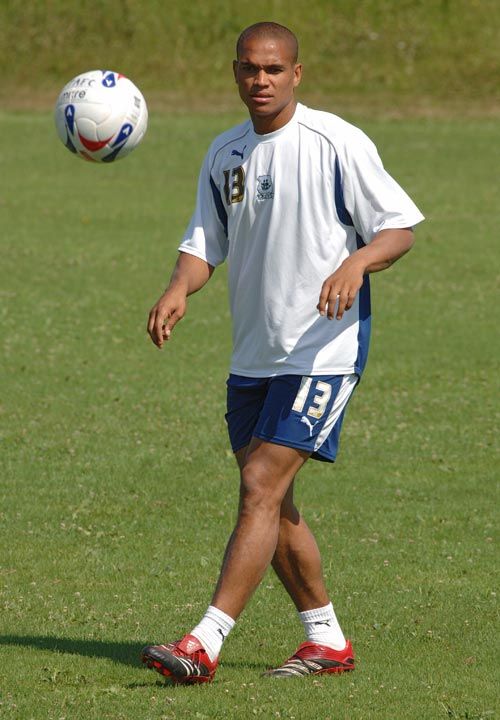 Mathias Kouo-Doumbe

HAYLES TO LINK UP WITH HOLLOWAY'S SQUAD AHEAD OF TONIGHT'S GAME
19th July
Barry Hayles should meet his new Argyle team-mates for the first time before the pre-season game against FC Gratkorn in Rudersdorf tonight. The 34-year-old striker could not be booked onto a flight from London to Vienna yesterday. So, instead, Hayles was set to arrive in Graz - 38 miles from the Pilgrims' training camp in Loipersdorf - this afternoon. Argyle are signing Hayles from Millwall for £100,000, subject to a medical today. Hayles, who has agreed a two-year contract, could make his first appearance for his new club in the clash with Real Madrid in Kapfenberg on Friday. Argyle manager Ian Holloway said: "I have got to assess his fitness levels compared to ours first, but I'm just delighted to bring him in."
Meanwhile Argyle have been given a boost with the return to training of David Norris. The midfielder took an active part in both sessions yesterday, as the temperature in south-east Austria soared close to 30 degrees centigrade. Norris, 25, had been sidelined by a medial knee ligament injury since the 4-0 win at Tiverton Town last Wednesday. The Pilgrims' 2005/06 player-of-the-year was forced to sit out the 3-0 defeat of Grays Athletic on Saturday. Argyle physiotherapist Paul Maxwell said: "We rested him up and let the medial ligament knit back together for four or five days. We did some work on Sunday and we did some crossing and finishing on Monday, and he came through it well, so we let him join in yesterday. He's still catching it every now and again, but you will do that with a medial ligament, even for a few weeks to come. Hopefully, he will play some part tonight, but I don't know how much. It depends how he reacts this morning."
Argyle are set to have two trialists on show against Gratkorn. Portuguese defender Mauro Almeida has been with the Pilgrims all week, after playing against Grays. But there was a newcomer to Argyle's training camp yesterday, in the shape of Dutch striker Ebad Muhamadu. The 24-year-old played for Cercle Bruges in Belgium last season. His previous clubs include FC Twente Enschede and MVV Maastricht, both in Holland. Holloway said: "I don't know much about either one of them but it doesn't matter. We are here to look and see how we get on. They are both nice people - that's a good start."
NORRIS SIGNS NEW ARGYLE DEAL
19th July
Midfielder David Norris hailed the huge impact made by new Plymouth Argyle manager Ian Holloway after committing his long-term future to the club. The fans' favourite signed a contract extension last night, which takes him through until the summer of 2009. Norris put pen to paper at Argyle's training camp in Loipersdorf, Austria, after negotiations lasting several months. His re-signing follows the capture of strikers Sylvan Ebanks-Blake and Barry Hayles in recent days.
Norris revealed there was now a new mood of optimism among the Pilgrims' squad ahead of the 2006/07 Championship campaign. He said: "I think Ollie has made a huge impact. Before he was announced as manager, the club was maybe looking in a little bit of turmoil. There was no manager and a small squad, but as soon as he came in he lifted the whole place and his positivity is rubbing off on everyone else. On the day the gaffer signed, he called me into his office to let me know I was part of his plans. I thought that was a nice touch, from a personal point of view."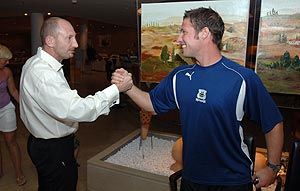 Ian Holloway and David Norris celebrate the contract signing

Former Argyle manager Tony Pulis, now at Stoke City, has not hid his admiration for Norris but Holloway was determined to keep him at Home Park. Holloway said: "It has been a strange couple of weeks for me, I must admit. There were one or two problems when I first came in but, bit by bit, hopefully I'm rubbing off on people and the positivity is coming back. This fellow Norris is huge to it, so I'm delighted he and his young lady have decided they want to stay and commit to us. He has been a huge part of the club's success so far, and I can't wait to work with him to make that even bigger."
Norris, a £25,000 bargain buy from Bolton Wanderers in 2002, insisted he had wanted to stay with Argyle all along. He said: "It wasn't too big a decision. The contract process takes its time but I have been happy here for the last three-and-a-half years." Norris could have kept his options open until next summer, when he would have been a free agent, but he preferred long-term security now. He said: "I didn't want to put myself in the position of having to see a contract out. I would rather have something set in concrete and know exactly what is happening, rather than wait for it to run out. As soon as Plymouth said they wanted to open contract talks, I was happy to do that."
Norris scooped all of Argyle's player-of-the-year awards in 2005/06 but he is not about to rest on his laurels. He said: "The manager wants to improve us as a team and as individuals and, hopefully, I will have a good season again." Argyle have finished 17th and 14th in the Championship in the last two campaigns since promotion and Norris believes that upwards trend can continue. He said: "Every season we are in this league we want to make an improvement. I'm sure with this man in charge, and with a little bit of backing from the board, I don't see why that can't happen." There has been a buzz about Argyle's training base this week, a fact not un-noticed by Norris. He said: "The tour has been magnificent, to be honest. The facilities and the hotel have been excellent. The training has been good and there is a positive atmosphere in the camp."

ARGYLE MANAGER'S PRAISE FOR NORRIS
20th July
Argyle manager Ian Holloway has praised the loyalty of midfielder David Norris. The 25-year-old signed a contract extension with the Pilgrims until 2009 on Tuesday, ending all doubts about his future at the club. Norwich had been keen on Norris and it was no secret former Pilgrims' boss Tony Pulis wanted to take him to Stoke City. Norris could have decided to leave his options open until next summer, when he would have been a free agent. That would have then presented Argyle with a dilemma. They would either have had to cash in on him, and probably sooner rather than later, or risk him walking away after the 2006/07 season on a free transfer. That is why the Pilgrims' boss was so thrilled when Norris agreed to put pen to paper. Holloway said: "I think this fella could have had a choice next year that most players would have envied. But I don't think that's always the way to go. It's better the devil you know. It's a wonderful area to live in and I think we are marching forward. With people like this, and Sylvan, Barry Hayles and the rest of the squad I don't see a problem. What we need now is the Argyle fans to stick with us and encourage us through thick or thin, whatever it is, because we will be there."
Argyle director Damon Lenszner was equally excited by the re-signing of Norris. He said: "It's just a general indication of the way the club is going forward and will be a force to be reckoned with in the next season." Holloway has enjoyed Argyle's training camp in Loipersdorf, Austria, this week, but cannot wait to return to Plymouth. He is counting down the days until the start of the new Championship campaign on August 5th, when the Pilgrims take on Wolverhampton Wanderers at Home Park. Holloway said: "Being woken up by seagulls is fantastic and I can't wait to get back to Plymouth and play some real matches - ones with points on. No matter what we do here, it doesn't matter. What matters is the start of the season."
OLLIE'S REVELLING BEING OUT ON THE TRAINING PITCH AFTER HIS BREAK
20th July
Argyle manager Ian Holloway is enjoying being out on the training pitch again. Holloway spent most of his first two weeks at Home Park on the telephone, trying to add new players to his squad. Now he has signed strikers Sylvan Ebanks-Blake and Barry Hayles, the pressure is off. That has allowed the former Queens Park Rangers boss to start working on the training pitch with coach Des Bulpin. Holloway has tried to instil a positive attitude among all his players. During one of the training sessions earlier this week, he told them: "I'm not at home with negativity." Holloway also goes out of his way to make sure the players encourage each other. He is not afraid to crack a joke and sing a song when the players are taking a break, but his passion for football is clear when he is working. Holloway tries to be a teacher, cajoling his pupils along as they learn his ideas. He said: "I'm enjoying this week more than anything but I have got a chance to show the lads how I coach and what I want. "I haven't been out there really since I came to the club." Judging by the mood of the players, it is obvious he has made a favourable impression with them.
Meanwhile, Holloway is planning a special role for Hayles. He wants the 34-year-old to show the ropes to rookie strikers Sylvan Ebanks-Blake, Reuben Reid and Chris Zebroski. Hayles has vast experience and Holloway hopes Hayles he can pass that on to the club's promising young hot-shots. Holloway said: "Any good team needs competition and it needs the right type of senior players. Paul Furlong was invaluable at QPR because he showed the young fellas how to behave and how to go about being a professional. You have got to remember, these boys are learning." Holloway admitted there could even be a coaching role at some stage for Hayles, who has agreed a two-year contract with Argyle. The Pilgrims' boss added: "I think it's important to bring in the right type of character for these lads and Barry fits the bill perfectly.

BOSS PLAYS DOWN SYLVAN'S ROLE
20th July
Ian Holloway refused to get too carried away by the promise shown by Sylvan Ebanks-Blake against FC Gratkorn. The Argyle manager said: "We had some very exciting performances out there. "It's nice for a striker to get off the mark but let's play it down. He's a good lad, he works hard and it's about him becoming what I want him to be. He's nowhere near there yet but it's little pieces at a time. And it's amazing how hard the centre-forwards work when you have got another one just turned up at the club as well."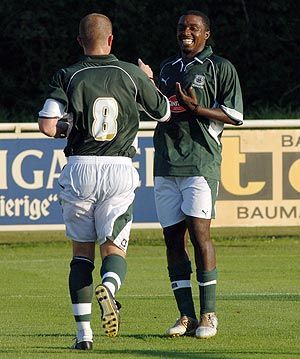 Sylvan celebrates scoring against Gratkorn

Ebanks-Blake's second goal came after a raking pass from right-back Paul Connolly. It was a tactic Holloway has preached to his players in training all week, to exploit the pace of their strikers. Holloway said: "There is no such thing as a long ball or a short ball. You have got to play the right ball. I don't think we had that much pace over the top last season and what we have got to do is get used to making runs in behind. You have to earn the right to stretch teams and we have got that now. We have got some legs up front - that's what we needed - and it was proved tonight," continued Holloway. "Conns played two inside and gave them away, then he has played the right one at the right time and the game opened up for us there. There's a lot of positives there and I need to write them down and make sure I pick on the bits I wasn't happy with. That's more than enough to keep me going for at least a month, but there we go."
Holloway revealed he would be inviting trialist striker Muhamadu Ebad to Plymouth for further training with the Pilgrims after he impressed last night. The 24-year-old Dutchman set up one goal for Reuben Reid and scored Argyle's fifth. Holloway said: "He did very well. I shall send him home and then we will invite him back to our place. I like the young fellows we have got. They have got a lot to learn as well. Chris Zebroski impressed me today because I put him wide-right. I spoke to him beforehand and when he plays next time he will be up front and Reuben Reid might have to go wide. Hopefully, we will work with these fellows and see if we can make them any better than they already are." Ebad, who played for Cercle Bruges in Belgium last season, had paid his own travelling costs to link up with Argyle in Austria. Holloway said: "I will reimburse him his tickets and invite him over. I think that's the least we can do."
HAYLES: OLLIE CAN TAKE ARGYLE UP
20th July
Barry Hayles has made the bold prediction that manager Ian Holloway can one day lead Plymouth Argyle into the Premiership. The 34-year-old completed his £100,000 transfer from Millwall to the Pilgrims after passing a medical yesterday. Hayles flew from London to Graz in the afternoon, where he was met by director Damon Lenszner and driven to Argyle's training camp in Loipersdorf. A couple of hours later, the experienced striker saw his new club crush FC Gratkorn 5-1. Hayles knows all about Holloway, having been plucked by him from non-league football and taken to Bristol Rovers in 1997. A £2.1 million transfer to Fulham followed 18 months later after going on a goalscoring spree for the Pirates.
Now the pair have been reunited at Argyle, with Hayles signing a two-year contract. Hayles said: "I worked with Ollie for a year-and-a-half and he's a honest gentleman. It's a pleasure to be working with him again. When he first spoke to me I thought 'Plymouth is a long way away'. But Ollie is good at showing you the bigger picture, and he did that, so my mind was made up. The bigger picture is to get to the Premiership and he thinks he's building a decent squad." Hayles has played against Argyle for Rovers, Fulham and Millwall in the past so he knows about the club and the set-up. Now he hopes to put Millwall's relegation from the Championship last season behind him. Hayles said: "I think this is a growing club. Each year it's progressing and, hopefully, we can aim for the top six."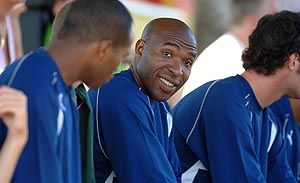 Barry Hayles

Holloway is hoping to add Gary Penrice to his coaching staff at Argyle soon. Penrice, a former striker at Rovers, Watford and Aston Villa, would work a lot with Hayles and the rest of the Pilgrims' forwards. Hayles saw Sylvan Ebanks-Blake, the £200,000 buy from Manchester United, score two excellent goals in the defeat of Gratkorn. Two other forwards, first-year professional Reuben Reid and Dutch trialist Muhamadu Ebad, were also on target. Hayles said: "I was quite impressed. There was some very good finishing. It's all about fine tuning and getting the best out of the players." The Jamaican international has taken a considerable pay cut to leave Millwall for Argyle and Holloway believes that shows his commitment. Lenszner said: "When the manager came to us and we were in need of strikers, he had two names at the top of his list and only two names. We are delighted both of those names have now joined Plymouth Argyle." Holloway confirmed he was also interested in signing Bristol City's out-of-favour striker Marcus Stewart, but the clubs could not agree a price. For the time being though, Holloway is thrilled to have Hayles on board. He said: "I bought him from non-league Stevenage when he was 26 and told him I was going to put him on a bigger stage. He scored 26 goals in his first season and in 18 months he went for £2m. I'm so proud of where he played and how far he has gone in his career, and I want him now to pay me back and help me with mine. I want to get to the Premier League and I know this man will help me. It's as simple as that. He's a fantastic leader of people by the way he plays. He's strong, he wants the ball and I have told him about our boys. I believe we are getting better and they need him, whether he plays or not, and I'm sure he will play." Holloway added: "Pace, power, strength, hunger and desire - that's what it's all about, and he has got the lot."
OLLIE: I WANT TO BEAT MADRID
21st July
Ian Holloway has prepared Argyle to take on the mighty Real Madrid tonight and insisted: 'I want to beat them.' The clash with the nine-times European champions is the highlight of the Pilgrims' pre-season training camp in Austria. Hundreds of Argyle supporters are expected to travel to Kapfenberg by road, rail and air for the match.
Holloway gave the players a well-deserved rest yesterday after six gruelling training sessions since they arrived in Loipersdorf on Sunday. Some chose to play golf, others just relaxed around their five-star hotel. Now, however, they are about to play one of the most famous and successful clubs in world football. Holloway said: "I'm really pleased with the way things are going and progressing. I can see the improvements in their fitness levels and I felt they had earned a day to just chill. I think it has done all of us some good. I also gave them the day off because we are playing Real Madrid. I believe we will have to chase the ball all over the pitch and I don't want to just concede ground all over the pitch. Our target is can we have one shot in each half, can we upset them, can we get amongst them, can we win the ball off them and can we then show we are not afraid of anybody. In all seriousness, I want to try to beat them, whoever they put out there. That might sound crazy but it's true. It's a game of football. We are here to work on our shape and our pattern, and defensively I want to make sure everybody is working together as a unit. I see football very simply. You can't have any gaps anywhere in your team if you are going to be a good, defensive, solid unit. If you have got a gap between your centre-forwards and your midfield there is a problem. And if you have got a gap between your midfield and your back line there will be a problem. It's the same with your back four and your goalkeeper. I want to make sure we are compact."
Holloway added: "On paper, this could be the hardest game we have ever had, technically, and I'm expecting us to use that as a training situation. Also, after the game, I want us to revel in it, but not before it. I don't over-respect anybody. People have to earn that from me. They are great players, I understand that, and we might struggle to get the ball back off them. Even on one-on-one situations they are really comfortable. But I try to train my people to make sure the team shape will win it back eventually and will force an error. That's how I'm looking at it. They will probably have the lion's share of possession, but when we get it I'm looking forward to us working on what we have been talking about. If we can do it against Real Madrid and get any sort of success then, hopefully, that will do well for confidence. You can't buy confidence - you have to build it and you have to earn it. That's what has pleased me so far. We have scored 12, let in one, and I think the lads are more and more confident in each other. When you believe you can score, then you become a team and that's I'm working on."
Argyle have 26 players with them in Austria, including trialists Josh Clapham, Mauro Almeida and Muhamadu Ebad, as well as apprentices Dan Gosling and Anthony Mason. With the exception of injured midfielder Akos Buzsaky, Holloway has promised all of them will get a run-out. That will see new £100,000 striker Barry Hayles make his first appearance for Argyle. Holloway will pick two separate sides for each half, as he did for the 5-1 win against FC Gratkorn in Rudersdorf on Wednesday
PLAYERS RELISHING MEETING WITH MADRID
21st July
Plymouth Argyle's prestige pre-season game against Real Madrid in Kapfenberg tonight could be a once-in-a-lifetime experience for the players, so they are determined to enjoy it. Real may be without their 'Galaticos', who played in the recent World Cup, such as Brazilians Roberto Carlos, Cicinho, Ronaldo and Robinho. But their side is still expected to include a whole host of internationals, with injury-prone England defender Jonathan Woodgate among them.
Real, minus their 'Galaticos', started pre-season training in Madrid last Wednesday, before travelling to their Austrian base in Irdning on Monday. They will be there for 20 days as they prepare for the start of the Spanish La Liga campaign. Real are staying at the Schloss Pichlarn Hotel, as they did in 2002 and 2005. Argyle were originally set to stay there this week, but agreed to give up their booking to Real, with the promise of a game against them. Pilgrims' goalkeeper Luke McCormick said: "I'm really looking forward to it. Obviously, it will be a great experience and it would be nice if they do play a few of the big names. Whether they will do, we will wait and see. It will be a good test for us regardless and a good workout for the outfield players for their fitness. There's no better way to test yourself than against some of the best players in the world. We will definitely make full use of the game."
Midfielder Tony Capaldi is used to coming up against top-class opponents on international duty with Northern Ireland. He played against David Beckham, Real's injured England international, during the 2006 World Cup qualifying campaign last September. But the 24-year-old admitted the aura surrounding the Spanish club would make tonight's game memorable. Capaldi said: "I don't think many boys get a chance to play against them, even if it's maybe not quite the starting 11. There will still be a few big names out there and, no doubt, they will be fantastic players. To be honest, though, our main priority is the first game of the season against Wolves. It's a good thing to say you have played against Real Madrid and a great experience for us. But it's just about getting the fitness work in and preparing for the first game of the season."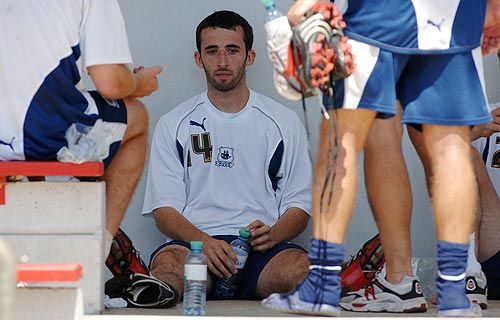 Tony Capaldi

Defender Gary Sawyer is desperate to get a run-out against Real. The 21-year-old has now bedded into the Pilgrims' squad after spending the last two seasons on loan at Exeter City. He does have some big-game experience, though. Sawyer starred for Exeter when they drew 0-0 against Manchester United at Old Trafford in the FA Cup third in 2005. United eventually won the replay 2-0 at St James Park. Sawyer said: "I couldn't believe it when they told us we would be playing Real Madrid while we were out here. It will be a fantastic game and I just hope I can play in some of it." Those sentiments were shared by midfielder David Norris, who signed a two-year contract extension with Argyle on Tuesday. He said: "Real Madrid are a massive club and to get a fixture against them is brilliant. I missed training at the start of this week because of a knee injury, but I want to be involved in this game."
SYLVAN'S DELIGHTED TO HAVE HAYLES ON BOARD
21st July
Sylvan Ebanks-Blake has welcomed the arrival of experienced striker Barry Hayles to Argyle. The Pilgrims have bolstered their attacking options over the past week with the double swoop for Ebanks-Blake from Manchester United and Hayles from Millwall. At a combined cost of £300,000 for the pair of them, it has been seen as a signal of Argyle's intent to become a force in the Championship. They will compete for a first team spot with Nick Chadwick, with first-year professionals Reuben Reid and Chris Zebroski waiting in the wings.
Ebanks-Blake, 20, only made two appearances for Manchester United - both in the Carling Cup. Hayles, on the other hand, has played more than 350 first team matches, despite only entering league football at the age of 26. So Ebanks-Blake believes Hayles, now 34, will be a good role model for him, and his team-mates. "He has got a wealth of experience and played for Fulham at the top level in the Premiership," said Ebanks-Blake. "His know-how can only help us as young lads to prosper and to be good players. It's definitely an added bonus to the squad."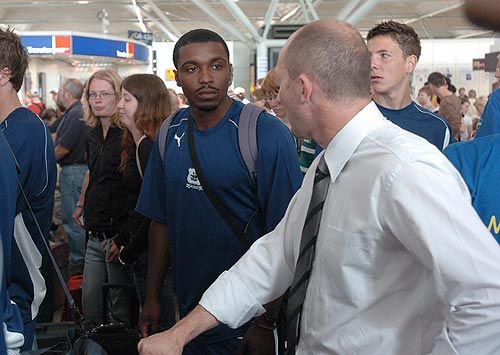 Sylvan and Ian Holloway on the way to Austria

Hayles flew out to Argyle's training camp in Loipersdorf, Austria, on Wednesday afternoon. He arrived at their five-star hotel only a couple of hours before the Pilgrims' 5-1 victory over FC Gratkorn. And Hayles must have been impressed as Ebanks-Blake scored two spectacular goals. The first was a brilliant overhead kick to make the score 1-1, and such was the excitement of his team-mates that Ebanks-Blake was poked in the eye by one of them. The Cambridge-born striker had to be checked out by physio Paul Maxwell and club doctor Paul Giles before he could continue playing.
Ebanks-Blake only signed for Argyle last Friday, so the Austrian tour has given him an excellent opportunity to find his feet, which he seems to have done. He said: "It's going well. Every day I feel more part of the squad. I think the players are learning my game and I'm learning their game. I'm pleased, and I hope the lads are pleased with me as well." Ebanks-Blake added: "The tour has been brilliant so far. I think it has been important for all the lads to get their fitness up and we have all been working hard this week." The temperature in south-east Austria's province of Styria has soared up to 34 degrees centigrade, but the Pilgrims have taken it in their stride. Hundreds of bottles of water have been consumed by the players during the week. They were rewarded by manager Ian Holloway with a day off yesterday after seven training sessions in the first four days of the tour, plus a couple of early- morning runs. Ebanks-Blake said: "Obviously, it's a lot harder with the heat but we are dealing with it. We are just glad to be out here, getting fit and ready for the coming season."

OLLIE SO PROUD AFTER REAL LOSS
22nd July
Manager Ian Holloway was bursting with pride after Plymouth Argyle's gallant 1-0 defeat by Real Madrid in Austria last night. The star-studded Spanish club needed a 74th minute penalty from Brazilian midfielder Julio Cesar Baptista to come out on top. The decisive spot kick was awarded for handball against Pilgrims' midfieder Lilian Nalis. Holloway used 24 players during the prestigious pre-season friendly, including 16-year-old Dan Gosling, and he was thrilled with the way they handled the occasion.
Although Real were without their 'Galacticos' after the recent World Cup, they still boasted a vast array of talent. On show, among others, were Baptista, Spanish midfielder Guti, Denmark's Thomas Gravesen, Italian striker Antonio Cassano and England defender Jonathan Woodgate. Holloway said: "I can't believe it. It has been a great night. I didn't realise the strength of the squad they would be bringing. I was quite shocked when I saw all those wonderful names on the teamsheet. I'm very, very proud of our performance. I thought it was a good work-out for them, as well as for us." Real's penalty came when an angled cross from substitute Ruben De la Red hit the hand of Nalis as he tried to clear it away. Holloway said: "We weren't right for the corner, to be honest. We headed it out and the bloke had far too much time to put the ball in. I think Baptista would have headed it in anyway. It was a moment of madness, but there you go."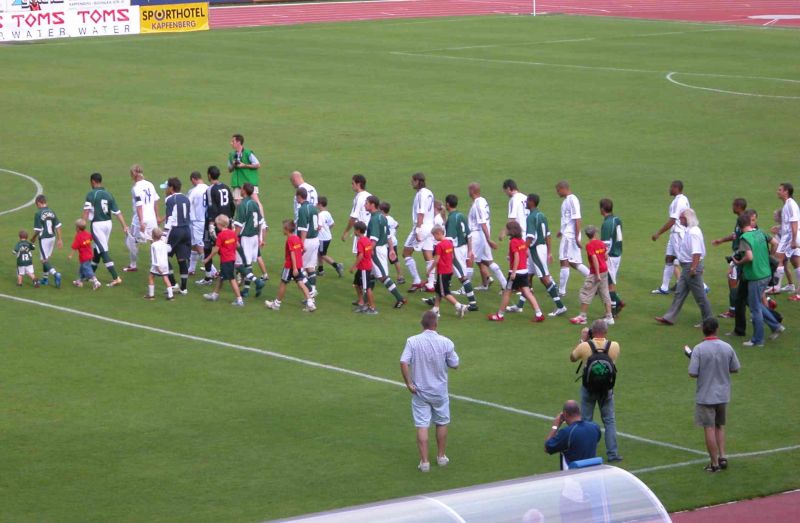 The Argyle and Real teams emerge

Holloway thought there were plenty of positives to take out of the friendly, which was played at the Franz Fekete Stadion in Kapfenberg. He said: "There was some great closing, great organisation and, considering how long I have been with them, I'm delighted with that. I think they are a great bunch of lads. They are honest and hard-working." Real were playing their first game since Italian Fabio Capello took over as their coach earlier this summer. Holloway continued: "We gave a good account of ourselves and I was proud of the boys' behaviour on the pitch as well. They tried to look after themselves, but they were very respectful. So good luck to Mr Capello and Real Madrid. I just can't believe I'm saying those words."
Holloway was asked whether he was disappointed there was no David Beckham or Ronaldo in Real's squad? His reply was: "No, not at all. I'm delighted there was Guti, Woodgate and all those others. It was a great test for us and I thought we passed it with flying colours." Around 250 Argyle fans made the trip to Kapfenberg for one of the most momentous matches in the club's history, even allowing for it being only a friendly. Holloway said: "This set of supporters are absolutely magnificent and I can't wait to have some real games now. I'm feeling very optimistic. The boys have worked hard and I'm very pleased." Argyle kick-off the new Championship campaign against Wolverhampton Wanderers at Home Park on Saturday, August 5th.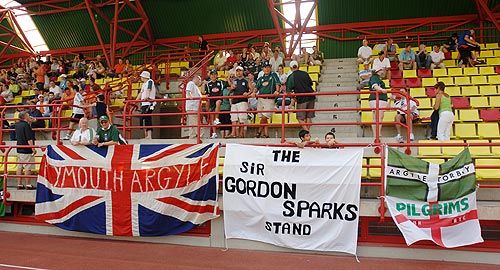 Argyle fans in the main stand at Franz Fekete Stadium

HONOUR FALLS TO ALJOFREE
22nd July
Hasney Aljofree had the honour of leading out Plymouth Argyle against Real Madrid last night. With club captain Paul Wotton not included in the starting line-up, it was Aljofree who wore the armband. He emerged from the dressing room first, alongside Real's Spanish experienced midfielder Guti. All 10 of the Pilgrims' outfield players were later substituted at half-time, with Wotton taking over as skipper in the second period.
Aljofree admitted the picture of him exchanging pennants with Guti before kick-off would be a treasured memento. He told Herald Sport: "It was a very proud moment. To captain Plymouth Argyle for the first time was a big thing for me. But to captain them against Real Madrid is something else. I felt a bit sorry for Wottsie, but there was nothing in it. Obviously, he's the captain of the club but it was a really proud moment for me." Aljofree added: "I said to Disco (club photographer Dave Rowntree) to make sure he got the picture because I will get it framed."
Real were minus their 'Galacticos' but the nine-times European champions still put out a side packed with world-class talent. Aljofree said: "It was their first team, apart from a few of the World Cup players. I thought we equipped ourselves quite well and we could have scored a couple of goals. Obviously, they had a few chances but, all in all, it was an even first half." Real's midfield trio of Guti, Brazilian Julio Cesar Baptista and Danish international Thomas Gravesen were particularly impressive. Aljofree said: "I have just got pure respect for them. They are at that club for a reason - they are special players - but I think we played well against them. We didn't show too much respect, though. We actually gave them a game of football. We were waiting to come onto the pitch before the game and a few of them gave a couple of shouts but I'm not sure if they were right up for it. But when we started, I think they realised we weren't messing about. We were unlucky to lose 1-0 in the end because I didn't think they were much better than us." Real's winning goal came from a 74th minute penalty after a handball by Argyle's French midfielder Lilian Nalis. Aljofree said: "I think it was just a reaction from Lil. It could have happened to anyone. You think you are going to head the ball and your arm comes up. It's just an honest mistake but, never mind, we have played Real Madrid and we haven't been embarrassed. We have given them a game of football and we could have got some goals ourselves."
SPIRITED PILGRIMS RUN CLASSY REAL SO CLOSE
22nd July
There was no Iker Casillas or Raul, no Brazilian brilliance from Roberto Carlos, Ronaldo or Robinho, and no David Beckham. And there was no sign of new recruits Fabio Cannavaro and Emerson from Juventus. But Real Madrid still sent out a side against Argyle in Kapfenberg last night that simply oozed class. There was the craft and guile of midfielder Guti, the pace and power of striker Antonio Cassano and the defensive solidity of Ivan Helguera and Jonathan Woodgate.
It was a match all the Argyle squad will remember for the rest of their lives - the night they played against one of the world's most famous clubs. But it must have been especially exciting for the Pilgrims' young stars. Midfielder Dan Gosling, aged only 16 and about to start his first season as an apprentice, was sent on in the closing stages. What a fantastic experience that must have been for him. The same applies to strikers Reuben Reid and Chris Zebroski, midfield pair Ryan Dickson and Luke Summerfield and defender Scott Laird, who were all involved as well. If getting a taste of playing against Real Madrid does not inspire those teenagers to achieve their potential then nothing will.
But the prestigious pre-season friendly could easily have been postponed because of storms in the Styrian mountains. The temperature nearly topped 100 degrees in Kapfenberg during the day and that triggered violent thunder and lightning in the afternoon. The lightning was an obvious risk to the players' safety and there was talk of calling the game off. Fortunately, the skies cleared as the 6pm kick-off approached and around 250 Argyle fans lived the dream of seeing their team play mighty Real Madrid.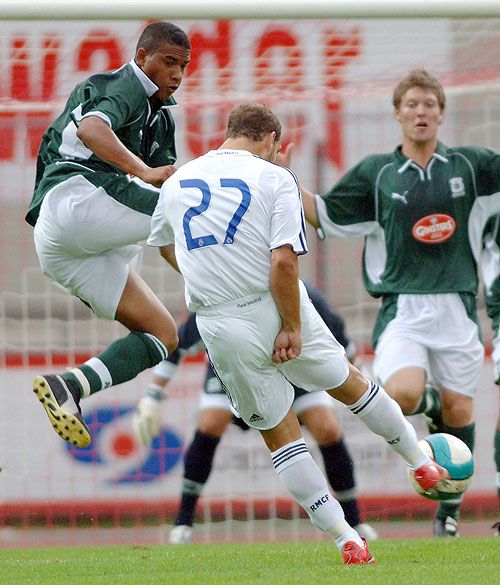 Reuben Reid, Soldado and Scott Laird

Real had only started pre-season training the previous Wednesday, and were without their 'Galacticos'. And Argyle almost caught them cold inside the first 30 seconds, when some casual play gifted possession to Zebroski. The 19-year-old striker unleashed a fierce shot which goalkeeper Diego Lopez - understudy to Casillas - spilled. However, Lopez recovered in time to pounce on the ball before new Argyle striker Barry Hayles could follow up. Hayles was making his first Pilgrims' appearance after his £100,000 transfer from Millwall earlier this week.
Real, who spent £18 million on Brazilian midfielder Julio Cesar Baptista last summer, took time to settle into their stride. Guti went close with a rising 20-yard drive but Argyle, as they did all game, pressurised Real relentlessly. There was a let-off in the 15th minute, though, when the powerful Baptista slid the ball into the path of Cassano. The Italian had a one-on-one with goalkeeper Luke McCormick but tried to square it to Javier Portillo for a simple tap-in. However, before the ball got to Portillo, Argyle right-back Anthony Barness made a last-ditch challenge to concede a corner. Hayles had a long-range shot comfortably saved by Lopez before McCormick came to the Pilgrims' rescue in the 21st minute. Portillo raced clear of the Argyle defence but the keeper made a brilliant block with his legs. Argyle forced three successive corners after the half-hour mark but they could not capitalise on any of them. Cassano shot narrowly wide in the 36th minute after a clever chest-down from Portillo as Real finished the first half on top. Argyle had not been outplayed by any means and that continued to be the case after the interval.
Manager Ian Holloway sent out a completely different side, with the exception of McCormick. Real made three substitutions, but Guti, Cassano, Helguera and Woodgate remained on the pitch. Neither side created any chances until the 68th minute, when McCormick pulled off a point-blank stop from Roberto Soldado. By now, Real's leading lights had been taken off and, almost unbelievably, a draw seemed possible. Then, in the 74th minute, the Spanish side finally broke the deadlock, although they needed some good fortune. A cross from Ruben De la Red - destined for the head of Baptista - hit the raised hand of Argyle midfielder Lilian Nalis. Baptista converted the spot kick, with McCormick diving in the opposite direction, before the Brazilian was promptly substituted. University of Plymouth student Josh Clapham took over from McCormick in the 82nd minute and, seconds later, Soldado fired over the crossbar. Argyle midfielder Paul Wotton had a 30-yard free-kick saved by Lopez before Real's Pablo Garcia hit the inside of a post with a set piece of his own. Then, in stoppage time, Clapham made an excellent low save to thwart the lively Soldado. It stayed 1-0 until the final whistle and Argyle could take tremendous credit for their disciplined and energetic display against such illustrious opposition.
ARGYLE
First half: Luke McCormick; Anthony Barness, Mathias Doumbe, Hasney Aljofree, Gary Sawyer; David Norris, Luke Summerfield, Lee Hodges, Ryan Dickson; Barry Hayles, Chris Zebroski.
Second half: Luke McCormick (Josh Clapham 82 mins); Paul Connolly, Mauro Almeida, Scott Laird, Tony Capaldi; Reuben Reid (Dan Gosling 82 mins), Paul Wotton, Lilian Nalis, Bojan Djordjic (Anthony Mason 82 mins); Sylvan Ebanks-Blake, Nick Chadwick.
REAL MADRID
Diego Lopez; Carlos Diogo (Alvaro Mejia 59 mins), Jonathan Woodgate (Francisco Pavon 59 mins), Ivan Helguera (Alvaro Arbeloa 74 mins), Raul Bravo; Thomas Gravesen (Pablo Garcia h/t), Guti (Ruben De la Red 59 mins), Julio Cesar Baptista (Valero Borja 74 mins); Juanfran Torres (Javier Balboa h/t), Javier Portillo (Roberto Soldado h/t), Antonio Cassano (Jose Manuel Jurado 59 mins).
Goals - Real Madrid: Baptista (pen) 74 mins
Yellow cards - Real Madrid: Bravo 43 mins
ARGYLE SKIPPER INJURED IN BUST-UP
24th July
Paul Wotton needed hospital treatment after an altercation with a team-mate in Austria. Striker Chris Zebroski was also involved in the incident at a restaurant in Graz on Saturday night, but was not thought to be injured. The Pilgrims' players, management staff and club officials were all having a meal at the end of a successful eight-day training camp in Austria. Following the incident, Zebroski was spoken to by Austrian police but no further action was taken. The incident will be the subject of an internal club disciplinary inquiry.
Wotton, 28, was seen with his head heavily bandaged as he and the Argyle squad flew from Graz to London Stansted yesterday afternoon. Zebroski, 19, was not with the Pilgrims' party and, instead, travelled home by a different route. Wotton suffered cuts to his head, but it is too early to tell whether he will be fit for the start of the new Championship season. Argyle's first game is against Wolverhampton Wanderers at Home Park on August 5th. A club statement released last night said: "Argyle can confirm there was an incident involving two of our players at our training base in Austria on Saturday evening. This incident resulted in one player receiving hospital treatment. Circumstances surrounding the incident will be the subject of an internal club disciplinary inquiry. Until that inquiry is completed, Argyle will be making no further comment."
Both Wotton and Zebroski featured for Argyle as they narrowly lost 1-0 to nine-times European champions Real Madrid in Kapfenberg on Friday. Wotton has made more than 400 first-team appearances for his home town club, leading them to two championship titles. He has also been the club's top goalscorer for the past two seasons. Zebroski, a graduate of the Pilgrims' youth system, has played only five times for the senior side, all of them as a substitute.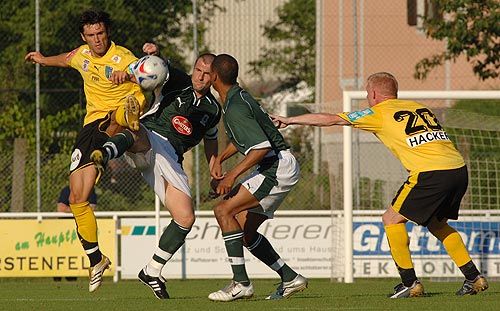 Wotton and Zebroski in action against Gratkorn

STORMS ALMOST ROB ARGYLE OF REAL DREAM
24th July
The hills were alive with the sound of... thunder. The highlight of Plymouth Argyle's pre-season trip to Austria saw them play mighty Real Madrid on Friday night. But, less than two hours before the scheduled 6pm kick-off, there was some concern the game would go ahead. The thunder was rumbling away in the mountains overlooking the Styrian town of Kapfenberg. More worryingly, there were regular lightning flashes which lit the sky and that was an obvious risk to the players. In the end, the storm subsided and Argyle put in a highly creditable performance before losing 1-0.
It took a 74th minute penalty from Brazilian midfielder Julio Cesar Baptista for the nine-times European champions to beat them. Argyle supporters had started arriving in Kapfenberg the previous day. More and more descended on the town in the afternoon and by 4pm there were many outside the Franz Fekete Stadion. They broke out in a noisy chorus of 'Green Army' when Argyle's team bus came into sight. Then, 10 minutes later, the fans chanted 'Who are you?' as Real Madrid arrived from their training camp in Irdning. A group of supporters had travelled by coach from Plymouth, leaving early on Wednesday. It took them around 27 hours to reach their destination after long queues in Germany but they were determined to enjoy the occasion.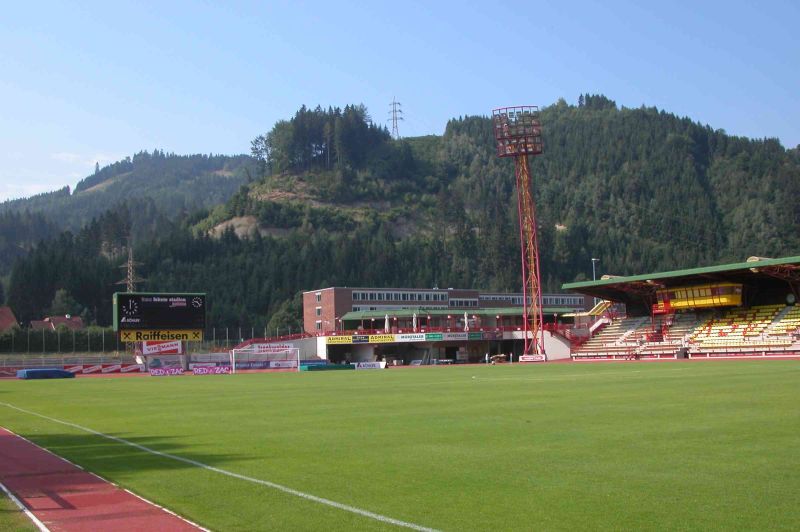 The Franz Fekete Stadium

Argyle had produced a commemorative 24-page programme, which was sold outside the stadium by Sonia and Mandi from the club's superstore. Gradually, the Green Army started to drift into the ground, which was built in 1987 but felt much older than that. There was one covered stand, otherwise it was terracing behind an eight-lane athletics track. English journalists were heavily outnumbered by those from Spain (but it is all about quality not quantity!) and the game was covered live on Real Madrid TV. At one end of the stadium there was the Sport Hotel, which looked out over the pitch. Staying there were Turkish top flight club Vestel Manisaspor and they watched Argyle take on Real from a large balcony area. The players from Kapfenberger SV, who are in Austria's Bundesliga II, were also at the game.
When the teams came out, they lined up in the centre of the pitch and Real's players shook hands with their Argyle counterparts as they walked down the line of them. Pilgrims' boss Ian Holloway also greeted Real's Fabio Capello before kick-off. Familiar Argyle flags were draped around the ground, such as 'North Devon Greens', 'Leeds Greens' and 'The Sir Gordon Sparks Stand'. Real were the better team, make no mistake about that, but that was not surprising considering the strength of their starting line-up. Argyle, though, gave a very good account of themselves and the supporters sang away even when Real finally broke the deadlock. They were there to have a good time, and that was exactly what they did. Within minutes of the game ending, the Manisaspor players were out on the pitch for a late-night training session under the floodlights. Argyle's squad went to a nearby hotel for a post-match meal before making the return trip to their training base in Loipersdorf. Holloway, as he was throughout the tour, was full of positivity as he reflected on the Pilgrims' Real adventure. "Just you wait until the second leg," he said. "We will mash them at home."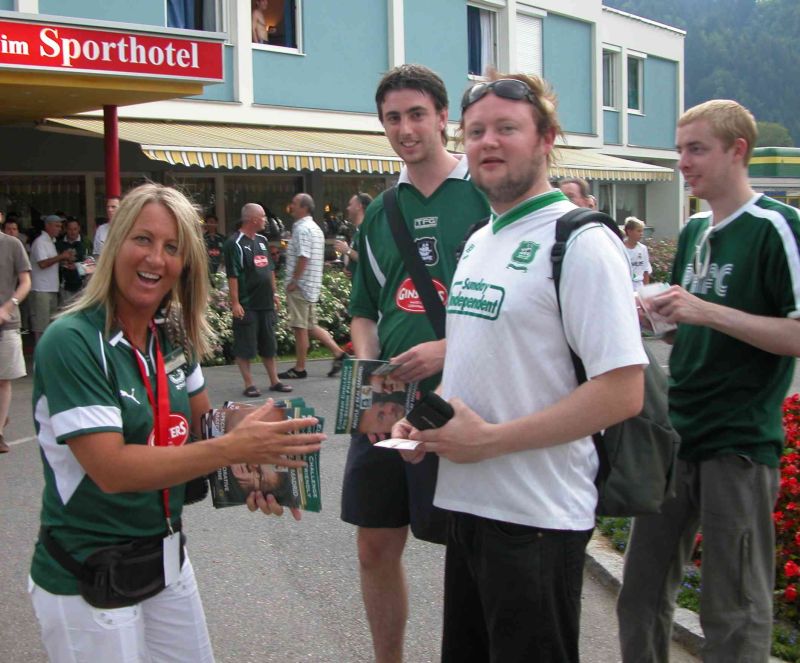 Sonia selling a souvenir programme to Neil Carhart

HOLLOWAY UPBEAT AFTER WEEK AWAY
24th July
Manager Ian Holloway's optimism for the new Championship season has been fuelled by the successful tour to Austria. Argyle kick-off against Wolverhampton Wanderers at Home Park on Saturday, August 5th. Holloway said: "Everything is feeling very good at the moment but, listen, we haven't done anything yet. We have got no league points on the board and it's a tough division. It's just nice to have some optimism. These lads are making me feel really proud and I want to try to make my mark. I'm very proud of Plymouth, particularly of what Paul Sturrock did those years ago, and I want people to be equally proud of me. I'm sure I can walk in two grounds at the moment and get a decent reception. "Hopefully, I will make that three, and I want to make it three before I go. I want people to appreciate me while I'm here. I have never felt so welcome in all my life." He added: "Everything feels right. I know in football management it normally all ends in tears but I hope it's a very, very long time before I start crying."
Holloway, meanwhile, has been hugely impressed with the team spirit among the players. He attributes that to the ethos instilled by Sturrock during his stint as Argyle manager from 2000 to 2004. Even though Sturrock left more than two years ago, that sense of unity has remained. Holloway said: "I believe there are one or two things I need to work on, both in possession and out of possession. But attitude-wise, they have been first class. I don't think I'm ever going to have to fault this group of people for that. That's why I'm really happy being here. It's very easy to talk to these lads because they want to listen." Holloway, speaking before the unfortunate injury to skipper Paul Wotton on Saturday, thought Argyle's training camp in Austria was a total success. They stayed at the five-star Loipersdorf Hotel, set amid picturesque rolling countryside, with the facilities to match. Holloway said: "Obviously, I wasn't involved in the preparation and booking of it, so I have got to thank Tony Pulis. "I know we have ended up in a different hotel, but the venue and the matches have been absolutely first class. No complaints whatsoever."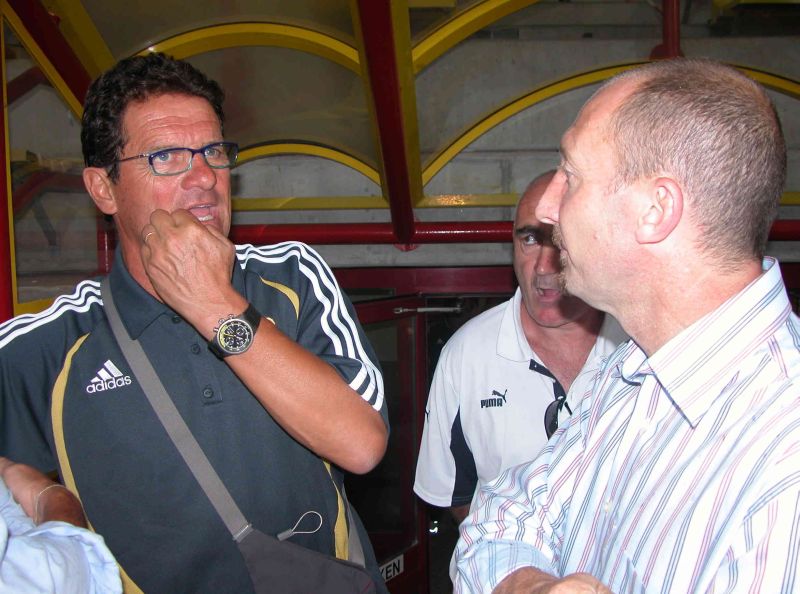 Fabio Capello and Ian Holloway after the game