Back to

Austria 2004

Tour Home
Austria 2004: Western Morning News (Rupert Metcalf)
PILGRIMS LIMBER UP IN THE ALPS
Plymouth Argyle arrived in Austria last night with manager Bobby Williamson keen to emphasise the all-round benefits of spending nine days abroad at a key stage of the build-up to the new season. The Pilgrims would have saved some money had they chosen to spend next week working on their fitness and skills at their Harper's Park training ground and playing local or touring teams in friendlies. But if they had taken that cheaper option they would have, the Argyle boss insisted, missed out on the varied plus points of their trip to Austria.
"Fitness, more than anything, is the target, and bonding," Williamson declared. "Getting the guys together on a daily basis is what matters. When they're away together, they're in each others' faces morning, noon and night. I think it's important for players to get to know each other and for me to get to know them better, and for us to try to concentrate on working on what we're trying to put into place for the start of the season. Pre-season is a long time - a month without any meaningful games, just working hard on a daily basis," the Scot added. "So taking the players away from their home environment to another environment which is very, very nice and with good facilities is refreshing. When they go back they'll face a couple of high-profile games before they start the League programme. Hopefully this trip will help them."
Argyle will be spending the next nine days living, working, eating and sleeping in a state-of-the-art sports training centre run by the Austrian government in Obertraun. Former manager Paul Sturrock first took the Pilgrims there a year ago. The centre, which boasts three football pitches and a big choice of other sporting facilities, nestles in a spectacular Alpine valley. It lies in the heart of the Salzkammergut, the Austrian lake district. While based in Obertraun, Argyle will play three friendlies. Today, they will make a short journey to face Austrian regional league part-timers Bad Aussee. Stiffer opposition lies in wait next week, when they tackle German Bundesliga Two outfit Wacker Burghausen (to whom they lost 1-0 in last year's opening tour fixture) in Eben-im-Pongau. On Friday they will meet Czech First Division side Ceske Budejovice, likely to be their toughest opponents, in Bad Goisern.
"No disrespect to the likes of Parkway and St Blazey, but we're looking for a higher level of opposition," Williamson said. "We'll get that over here. We're playing against various levels of opposition from different countries, and that can only help our players to develop. That's the objective." However, the Argyle manager may not be too disheartened if results go against his side in the three friendlies. He knows that Sturrock's Pilgrims did not win a game in Austria a year ago, and played poorly too. That was no hindrance when the real business started, and the Nationwide League Second Division championship was secured in style.
Williamson knows that training and bonding are more important than match results on this trip. He has taken a team to Obertraun before, when he was manager of Kilmarnock, and he is aware that the Austrian establishment has facilities that are hard to find in the British Isles. "I know how good the place is," he said. "It's great. The facilities are tremendous and it's a lovely place as well, which is a bonus. The surroundings are beautiful and it will be great for the fans, who will appreciate the area and enjoy their time over there."
A few privileged Argyle fans are staying in Obertraun as part of the official tour party. Many more are staying in guest houses or campsites in various locations in Salzburg and around the Salzkammergut. All will be welcome at the club's training base a week today, when Argyle are hosting an open day in Obertraun. The highlight promises to be a football match between a supporters' side and an Argyle tour XI which will include Williamson and his coaches Gerry McCabe and John Blackley. Williamson will also allow the fans to watch his squad in a noon training session at the open day - and the supporters will be able to see what else Obertraun has to offer. The Argyle boss explained: "You can do a lot more than just play football here. There are tennis courts, table tennis tables, a swimming pool and more. It doesn't matter how hard you work football players. You work them mornings, afternoons and early evenings and they'll still want a game of tennis. It all adds to their stamina, and they're more than welcome to do that if they're fit enough."
However, it is what his players do on the football pitch, rather than the tennis court, that interests Williamson as the build-up to the new campaign continues. "Every time they cross that white line, they're being judged," he said. "I've not come down hard on anybody yet, but as we get closer to the starting date I'm sure, if needs be, I'll be emphasising the fact that they could do better. Some of them have already impressed me, others could do more. But they all need to keep working towards their peak fitness and performance levels. The training will be a bit different from what they're used to. Hopefully it will be an enjoyable experience."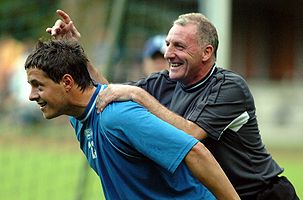 Luke and Gerry enjoying the first days training

HOME COMFORT
Plymouth Argyle looked very much at home here last night, when they took part in the first training session of their pre-season tour of Austria in the beautiful surroundings of Obertraun. The Pilgrims have returned to the same sports centre in the shadow of the Alps that they used last year, before they embarked upon their triumphant Nationwide League Second Division championship campaign. The majority of the Argyle squad are thus returning to familiar territory - as is manager Bobby Williamson, who took his former club Kilmarnock to Obertraun and recommended the venue to his Home Park predecessor Paul Sturrock.
The Pilgrims just missed out on a reunion with their former manager yesterday afternoon. Sturrock and his Southampton squad have spent this past week training in Obertraun as they launch their pre-season preparations, and they left the sports centre a couple of hours before the Argyle party arrived at 5pm. Yesterday was a long haul for the Pilgrims. Dawn was still an hour or so away when the Argyle players and coaching staff left Home Park at 5am for the coach journey to Birmingham and a flight to Salzburg. Then came another road trip to Obertraun, a meal and a brief rest before last night's training session at 7pm. The players must have been tired, but they did not show it. Two steady laps of one of the sports centre's three pitches were followed by some short sprints and then almost an hour's ball work which tested the players' first touch and close control.
Despite the idyllic scenery, this is not a holiday for the Argyle players. It is work, but last night they clearly enjoyed it. The team's strong spirit and good humour was very much evident, with the new additions to the squad fully involved in the camaraderie. It all bodes well for the challenge of the forthcoming season.
Today Argyle play the first of three friendlies arranged during the tour with a visit to local Austrian part-time outfit Bad Aussee. Williamson intends to rotate his squad as much as possible during the build-up to the League campaign, which means that few of the starting XI in Wednesday's 2-1 Home Park win over Torquay United will be on the pitch at kick-off tonight. Romain Larrieu, Paul Wotton, Hasney Aljofree, Steve Adams, Lee Hodges, Nathan Lowndes and Marino Keith are likely to form the core of tonight's team. "It was difficult for the players who came on in the second half against Torquay to get into the game," Williamson said, "so they'll start at Bad Aussee. That's the way we'll try and alternate it throughout the pre-season matches." Neither Peter Gilbert nor Steven Milne took a full part in training last night due to minor injuries, and they may play no part tonight.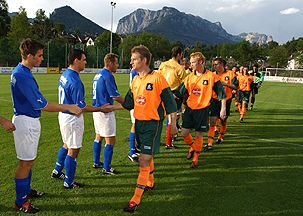 Argyle meet the Bad Aussee team

FITNESS AND NEW RECRUITS IMPRESS
SV Bad Aussee 0 Plymouth Argyle 4
When Plymouth Argyle came up against local part-time opposition on their pre-season tour to Austria last year, they gave a woeful performance against humble Bad Ischl and were lucky to come away with a 1-1 draw. The game featured the only goal they scored on that trip, which saw the Pilgrims fail to convince in any of their friendlies. Yet they went on to claim the Nationwide League Second Division title in the campaign that followed. That reinforces the theory that pre-season results are of little value in assessing a team's prospects for the campaign ahead, yet the Pilgrims will rightly be encouraged by the fare they served up here on Saturday evening.
The significance of the 4-0 win over Bad Aussee - a better team than the Bad Ischl outfit they failed to beat last year - was not just the result but the evidence of Argyle's healthy state of fitness, and of the quality of manager Bobby Williamson's new recruits. Former Motherwell midfielder Keith Lasley was arguably the Pilgrims' most potent attacking influence, while Steven Milne also seized his chance to impress as a second-half substitute. But it was not just a night when the newcomers shone, for Marino Keith, Graham Coughlan and David Worrell all showed up well too. If the performance was not as spectacular as the scenery and the pre-match weather - less than an hour before kick-off the towering mountains overlooking Bad Aussee's smart new stadium were almost hidden from view by a short but savage thunderstorm - it was highly encouraging.
As promised, Williamson rotated his squad so that some of the men who had not featured much in last Wednesday's 2-1 win over Torquay United back in Devon were given starts on Saturday night. Romain Larrieu wore the goalkeeper's jersey while the 'old firm' of Paul Wotton and Coughlan were reunited in central defence. Lasley and Lee Hodges were the wide midfielders, with Lee Makel and Steve Adams the central pairing, while Keith started up front alongside Nathan Lowndes. Stevie Crawford and Mathias Doumbe were among a handful of players watching from the stand. The Argyle manager, it seems, has no intention of trying to select a first-choice side in any tour games. Instead, the Scot will ensure that all his players are given a similar amount of time on the field.
From the first whistle, the Pilgrims were eager to press forward and, after his shot from an early direct free-kick had been charged down, Wotton's second attempt just cleared the bar. There was a setback for the tourists in the 12th minute, however, when Lowndes had to make an early exit, after being caught on the back of the head by a stray elbow in an aerial challenge. Ian Stonebridge was sent into the fray as a substitute, while Lowndes went to hospital to repair his wound with two stitches. Four minutes after that incident, Argyle were ahead. Hodges slipped a pass down the left to Keith, who cut inside and saw his shot deflected past home goalkeeper Hansi Lampl by big Czech defender Pavol Pavlus. Eight minutes later, though, the Pilgrims had to make another substitution when Makel limped off with an ankle injury, to be replaced by David Friio.
The reshuffling did not do any damage to the Pilgrims' attacking impetus, and they doubled their lead in the 33rd minute when a deep cross from Hodges on the left was knocked in on the volley by Keith from close range. It was the Scottish striker's fifth pre-season goal, as he continues to stake his claim for a starting role when the real action starts. Worrell, in contrast to Keith a very infrequent scorer, nearly added a third goal for Argyle five minutes later, but his curling shot from the edge of the penalty area came back off the crossbar. Then, with the last action of the first half, another Wotton free-kick was charged down.
The second half, which soon saw Wotton booked for a foul, lacked fluency because of a series of substitutions by both sides, but Argyle's superior fitness was evident as they added two more goals. Before they scored again, though, Peter Gilbert was given his first taste of pre-season action with a run-out for the last half-hour. The left-back had been a doubt for the tour with a leg injury, but has made a rapid return to fitness. Another substitute, Milne, had only been on the pitch for three minutes when he took a through ball from Friio in his stride in the 66th minute and ran on to beat Lampl with a cool finish. Then, with the Pilgrims switching to a 4-3-3 shape, Hodges saw a well-struck left-foot shot pushed behind by substitute 'keeper Wolfgang Leitgeb. Lasley completed the scoring in the 88th minute by exchanging slick passes with Friio and taking the ball round Leitgeb to find the net with a flourish. A good night's work.
SV Bad Aussee: H Lampl, A Bleiwerk, A Lobnig, P Pavlus, A Nikmengjaj, T Beber, R Hoger, H Kuhl, A Neuper, D Bodul, M Blazevic. Subs - R Lenz, W Leitgeb, C Neuper, G Weissenbacher, M Safratmuller
Argyle: R Larrieu, P Connolly, P Wotton, G Coughlan, D Worrell, K Lasley, L Makel, S Adams, L Hodges, N Lowndes, M Keith. Subs - I Stonebridge, D Friio, B Sturrock, P Gilbert, S Milne (not used - L McCormick, H Aljofree)
HEAD START
Plymouth Argyle manager Bobby Williamson was pleased with the efforts of his players in Saturday's opening fixture of their tour of Austria, a 4-0 victory over part-time outfit Bad Aussee - but not so happy with the way in which Nathan Lowndes sustained a head injury. "The lads showed a good attitude and there was good tempo to the game," a satisfied Williamson said after a fixture which the Pilgrims won with two goals from Marino Keith and one each from Steven Milne and Keith Lasley. "That augurs well. It's another 90 minutes. Quite a few of the lads got 90 minutes under their belt. Quite a few of them got 45. It was good to see Peter Gilbert getting a run-out, too. I was pleased about that." The left-back, whose leg injury had rendered his participation in the tour doubtful, came on as a second-half substitute for his first taste of pre-season match action. Gilbert had unexpectedly taken a full part in Saturday morning's training session, and was then put through a series of 100-yard sprints in the afternoon before being given half an hour against Bad Aussee in the evening. That sort of routine is indicative of the amount of work the Argyle players are being asked to do here in Austria. This is no holiday.
"We'll be working them very hard tomorrow again," Williamson added, "and push them to the limit. Some of them that played today will miss out in Tuesday's game, so they'll be given two sessions tomorrow." While Gilbert and striker Steven Milne, who was also a doubt for Saturday's match, both saw some action at Bad Aussee, the Pilgrims did not come out of the match unscathed. Lowndes was taken to hospital to have two stitches put into a head wound sustained when he was caught by an opponent's elbow early in the game, while Lee Makel was also substituted in the first half due to an ankle injury. The midfielder was limping heavily on Saturday night and yesterday. Williamson was displeased at how Lowndes was injured. "Nathan took a knock to the back of the head," the Argyle manager explained. "It was a ridiculous challenge. The lad made no attempt to get to the ball. It could have been a lot worse. "The other disappointing factor was there wasn't a doctor on hand, although the hospital is close by. But I still think there should be a doctor at every game and that wasn't the case. Nathan has had a couple of stitches in the back of his head, which will give him a bit of discomfort," Williamson added. The striker was wearing a bandage around his head yesterday. "Lee has a bit of bruising and we'll have to see how he is after the next couple of days. We took him off because we're not going to push guys through the pain barrier in this type of game."

GREEN ARMY PROVES GOOD VOICE ON IT'S TRAVELS
Austria is not a cheap place to visit as a tourist, but that has not deterred scores of the "Green Army" from making the journey to the Salzkammergut - the Austrian lake district - to follow Plymouth Argyle on their pre-season tour. About half a dozen dedicated supporters have each paid a substantial sum to join the club's official tour party. They are sharing with the players and the coaching staff the splendid facilities of the Austrian government-run sports training centre at Obertraun. Many more fans, though, are staying in guest houses and camp sites in the vicinity.
The attendance for Saturday's opening tour game at Bad Aussee was estimated at 250, and well over a hundred of the crowd were travelling Argyle fans. As was the case last year, the most vocal supporters were the North Devon Greens, who are again here in force. All sporting specially made tour T-shirts, the North Devon Greens spared no effort in enjoying themselves. The local bars were kept busy and then, long before kick-off, Bad Aussee's attractive new stadium was festooned with flags and banners swearing allegiance to the Pilgrims. As well as the North Devon Greens' flags, Leeds Greens also had their banner on display. But the biggest banner was a huge long green and white effort celebrating last season's Second Division championship success. It is so heavy that it apparently cost a substantial sum to take on board a flight from England as excess baggage.
The atmosphere at Bad Aussee as kick-off approached was convivial as fans of both sides appreciated the beer stall and the bratwurst - spicy local sausages - on offer. The home club, with a part-time squad who play in non-League football in the Austrian region of Styria, seemed to be surprised at the number of Argyle fans who have made the journey to their small Alpine town. When the Argyle players ran out, the noise escalated as many of them were greeted with their own special songs by the fans. What the locals made of the chant celebrating Marino Keith's spectacular goal against local rivals Exeter in the Pilgrims' Third Division championship season was hard to fathom. A few Plymouth players, not stripped for the match, were sitting in the stadium's sole stand with the fans. They did not escape the attention of the Green Army choir. Even though Mickey Evans' mullet hairstyle is not as dramatic as it was a year ago, once again he had to listen, much to his team-mates' amusement, to: "Does your missus cut your hair?"
The local press photographer, who was wearing lederhosen, also caused some mirth. The game was played in good spirit on and off the pitch, with only one middle-aged Austrian supporter attempting to sing a song or two to compete with the Green Army. He was fighting a losing battle, though. The Argyle fans also aimed a few chants at a group of travelling Stoke City fans - their team is also on tour in Austria - without response. It was all good-natured stuff, though. After the Pilgrims' 4-0 win it was back to Obertraun for most of the Argyle fans. Some left the village's one and only nightclub after dawn on Sunday morning.It could be a long nine days for some of the Green Army!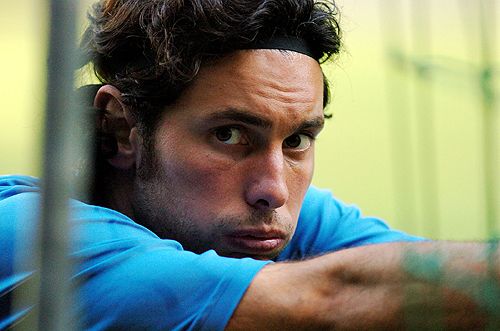 David Friio looks intense during training

TOUR'S COST IS 'MONEY WELL SPENT'
Plymouth Argyle chairman Paul Stapleton has no doubt that the cost of sending the Pilgrims' squad on their pre-season tour to Austria is money well spent. Stapleton, who along with his son Oliver is spending the week here in Obertraun with the team, has seen for himself the camaraderie among the Argyle players as they work together and relax together in the scenic surroundings of the Salzkammergut.
"The facilities here are first-class," Stapleton said while watching the players being put through a tough training session at Obertraun sports centre by Argyle manager Bobby Williamson and his assistants John Blackley and Gerry McCabe. "This place is tried and tested by both Bobby and his predecessor Paul Sturrock." Williamson recommended the venue to Sturrock after coming here with his former club Kilmarnock. "It's got great scenery and good air," Stapleton added, "and it's so important that the players come to a training camp like this. They're working, eating and living together. I never really realised the benefit of that when I was on the board under Dan McCauley, when Kevin Hodges was manager. Money stopped us going anywhere, I think, and we didn't go on any tours in that period. We just accepted it and got on with training, but having seen how the squad integrated over here last year and this year it's made me realise the importance of coming away. It gets the players out of their normal routine and, as we proved last year, it's successful. Let's hope it's as successful this year."
The Pilgrims' chairman also agreed that training camps like Obertraun are few and far between in Britain. "All-in-one sports centres like this are not easy to find in Britain," Stapleton said. "We've got everything we need here. OK, there is a little bit of cost attached to it, but if it gives us the benefits we want then we have to say it's money well spent."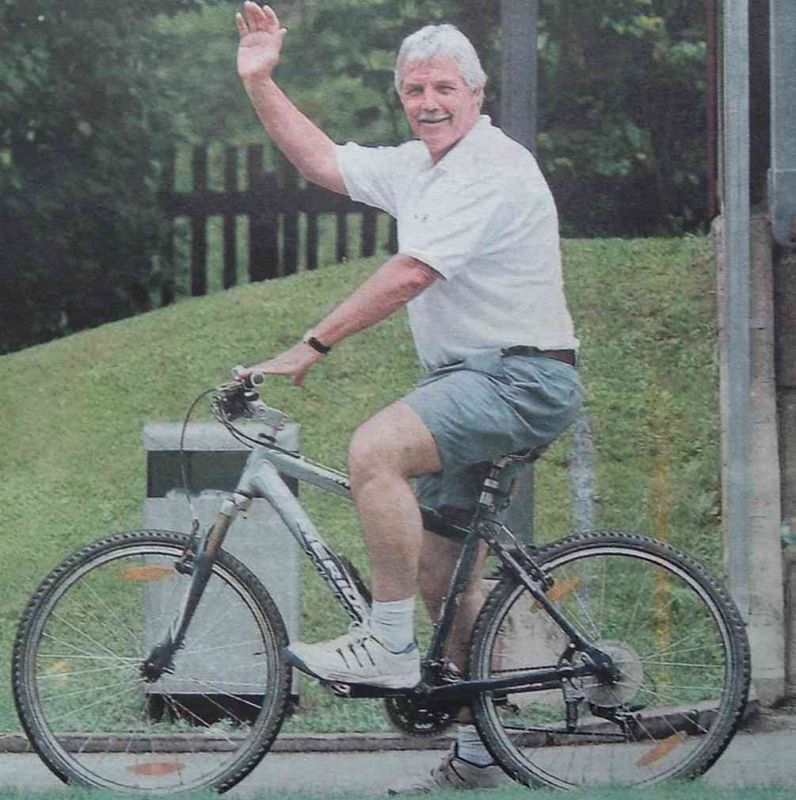 Paul Stapleton explores the area around Obertraun

The main purpose of the visit to Austria is to prepare the squad which won the Nationwide League Second Division title last season for the fresh challenge of the Coca-Cola Championship campaign, which starts early next month. The focus is also on helping Williamson's five new signings settle into doing things the Argyle way. Scottish international striker Stevie Crawford plus the other new arrivals - Steven Milne, Keith Lasley, Mathias Doumbe and Lee Makel - have all impressed at various stages of the pre-season build-up. Stapleton was keen to thank the fans for the part they have played in helping to acquire the talented quintet. "We set a preliminary budget for this season soon after Bobby arrived as manager," Stapleton said. "We had to try and think ahead for the new season in a higher division. Then, as the season-ticket income mounted up, we were able to look at the budget again. "We've had the benefit of such a great number of memberships and we've been able to increase the manager's wage budget. We haven't gone mad. That's not our style, but we did increase it and Bobby has brought all these players in within that revised budget. There's still a bit of leeway there, as well, because you never know what you might need during a season.
"Bobby has done well," the chairman added. "He has signed five players on free transfers, all players that he knew from the Scottish Premier League. They already look like they're going to fit in well. We had a good squad already and we've added to it with five quality players and done so within the budget. We're well pleased with that. Getting Stevie Crawford, a current Scottish international striker, to come down to Plymouth really says a lot for how far we've come. Not so long ago, when we were a mid-table Third Division side playing Exeter and Torquay, if we as a board had told the fans that we were going to sign a Scotland striker they'd have thought we were from Mars or somewhere. But that's what has happened to this football club - and there's no reason why we shouldn't progress further. I just hope the fans stay with us and bear with us, though, if there are some dodgy periods," Stapleton continued. "I'm not saying there will be, but if there are??? we're not used to losing at home. There are going to be some battles at Home Park this season, and there will probably be some battles where we give our all but don't quite manage to do it. If that happens, we want the fans to say: 'They did their best, great game, I'll be back next week'. That way we'll get somewhere."
Argyle's upward progress in the Football League was not adversely affected by the departure late season of Sturrock, one of the most charismatic and successful managers in the club's history. Williamson has already made his mark as a very able replacement for his fellow Scot. "We must give Bobby credit for that," the chairman admitted. "He saw us over the finishing line in the promotion race. He watched and he listened at the end of last season. He made sure we won our last three games, which was nice after the little setbacks we had. It was a blow to lose Paul Sturrock, but deep down we knew all along that it was going to happen sooner or later. I hoped he was going to stay and try to go all the way to the Premiership with Plymouth, but it wasn't to be. I'm pleased that he didn't go earlier," Stapleton added, "because he had chances to go before he did. But when the Southampton opportunity came up he just couldn't resist it. You couldn't blame him for that. But he's still a friend of ours and he'll always be made welcome."
Sturrock will be back at Home Park with his Southampton side for a friendly on Saturday week, but Stapleton and Williamson were able to meet him in Austria last Friday, when the Saints beat local part-timers Gmunden 2-0 after a week at the Obertraun training camp where Argyle are now based.

NOW FOR THE TOUGH PART
From now on, it gets tougher. Every friendly Plymouth Argyle have played so far this summer in the build-up to the new Coca-Cola Championship season has been against lower-level opposition. With all due respect to the best the Carlsberg South Western League has to offer, plus Torquay United and Austrian part-timers Bad Aussee, they are unable to deliver the sort of challenge that will be presented by the likes of Millwall, Leeds United and West Ham. The Pilgrims will thus gain a better idea of their readiness for the campaign ahead when they return to England next week and meet Premiership outfits Portsmouth and Southampton. Before then they play Czech top-flight team Ceske Budejovice here in Austria on Friday, and today they face their second match on tour when they tackle German Bundesliga Second Division side Wacker Burghausen in Eben-im-Pongau.
"It will be stiffer opposition, and that's what we need as we progress towards the League season," Argyle manager Bobby Williamson said last night. "The games coming up are going to be a wee bit harder for us. We want to be tested. There's no point in us only playing against so-called lesser opponents and running away with every game. We want to see where our frailties are and we want to work on them. That's the aim." The two sides have met before. Argyle lost 1-0 to Wacker in an occasionally bad-tempered encounter in Pettenbach a year ago, when the Pilgrims' full-back Paul Connolly was sent off. Another close game is likely. All the players who sat out Saturday's 4-0 victory at Bad Aussee are due to start against Wacker. Mickey Evans and Stevie Crawford are set to be paired up front, with Mathias Doumbe and Hasney Aljofree forming the central defensive partnership. David Norris and Tony Capaldi seem sure to start in midfield.
Nathan Lowndes, who had to have two stitches put in a head wound sustained on Saturday, took a full part in training yesterday and may be on the bench. The only player definitely ruled out is Lee Makel. The midfielder is still limping as a consequence of the ankle injury he suffered at Bad Aussee, and has spent most of the past two days dangling his foot in the chilly water of the River Traun, which runs alongside the training camp. "Lee's coming along," Williamson said, "but this game is too soon for him. Hopefully he'll feature in the last game. He's improving daily, but it's a frustrating time for him."
BOBBY'S NEW REGIME HAS BEGUN
A day's training with Plymouth Argyle certainly sorts out the fit from the unfit. Not that there are any unfit players in the Pilgrims' squad. If there were, they wouldn't last long. While Argyle are based here in Austria at their pre-season camp, they are allowing both fans and media a level of access to their training sessions that is not normally available back home in Devon. What we are watching every day on lush green pitches of Obertraun sports centre is nothing less than an education. On days when there are no matches to play, the Pilgrims hold two training sessions, one at 10am and another at 4pm. That was the case even on Sunday, despite the fixture at Bad Aussee the previous evening and a late return to base.
Last year, on Argyle's first visit to this venue, their practice sessions were tough. This year, according to what we can see for ourselves and to the players themselves, they are even tougher. The training is also somewhat different to the sort of work undertaken under former manager Paul Sturrock. Current Argyle boss Bobby Williamson, together with his assistants Gerry McCabe and John Blackley, has been putting into practice what he promised before the tour - that Austria would see him changing the players' routine and introducing his own ideas into training.
While the priority is reaching peak fitness in time for the start of the Coca-Cola Championship season, ball work is not being neglected. A lot of the technical training is aimed at improving or sustaining the players' first touch. The practice matches have shown that the training is working. Often it is McCabe who organises the sessions. A superbly fit 47-year-old, who has worked with Williamson for eight years at Kilmarnock and Hibernian, the tough Scotsman leads from the front. He does almost every exercise he asks the players do, for which he gains their respect. He is already proving himself to be a very valuable addition to the Pilgrims' staff.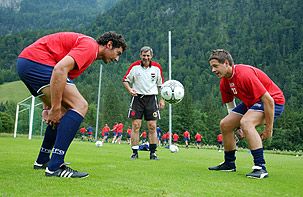 Romain and Luke train with Willy Lackner

PILGRIMS' FIGHTBACK IN VAIN AS GERMANS PREVAIL
Wacker Burghausen 3 Plymouth Argyle 1
Plymouth Argyle went down to their first defeat under manager Bobby Williamson last night, when a decent second-half display failed to repair the damage caused by a poor first-performance against Wacker Burghausen. Up against a very fit and competent German Bundesliga Second Division side, the Pilgrims let in three goals in just over half an hour's play on the tiny pitch of Austrian part-timers UFC Eben-im-Pongau. David Friio reduced the arrears early in the second half and, hard though they strived after the break, Argyle had to settle for a 3-1 reverse. Their unbeaten pre-season record is at an end.
As expected, the Pilgrims made nine changes to the starting line-up which beat Bad Aussee 4-0 last Saturday in their first game of this year's trip to Austria. Luke McCormick, Hasney Aljofree, Mathias Doumbe, David Norris, Tony Capaldi, Mickey Evans and Stevie Crawford all saw match action for the first time on the tour. Argyle's first proper chance arrived in the eighth minute when a Capaldi corner was cleared to the edge of the penalty area to Steve Adams, whose shot just cleared the crossbar. In the 11th minute, however, the Pilgrims fell behind when mobile striker Stefan Reisinger turned inside Peter Gilbert and confidently cracked the ball past McCormick.
The Argyle back four - David Worrell, Doumbe, Aljofree and Gilbert - had not played together and it was beginning to show, as Wacker threatened to add to their goal tally. Gilbert, starting a match for the first time in this pre-season programme, understandably looked rusty. The German outfit looked a strong and resourceful unit, and they doubled their lead in the 19th minute when Michael Wiesinger's deep cross from the right was headed home powerfully by Tom Geissler. Argyle were having their share of attacks, but Evans and Crawford were being tightly marked by the tall Wacker defenders Nico Herzig and Bjorn Hertl. Crawford did go close, however, in the 28th minute when Capaldi's long throw was headed down by Evans to the Scotland striker, whose close-range shot was smothered by Wacker goalkeeper Kay Wehner. Play soon returned to the other end, though, and the Germans added a third goal in the 32nd minute. Wiesinger's fine cross-field pass out to the left found Veselin Popovic, who cracked a superb dipping long-range shot over the helpless McCormick.
After Capaldi had been booked for kicking the ball against the grounded Reisinger by the touchline, which brought most of the Wacker bench on to the pitch, Martin Forkel went close with another effort from distance. Friio had a close-range shot blocked in the opening minute of the second half, as Argyle attempted to find a way back into the game with some attacking play which was more vigorous than what had been witnessed before the break. They earned their reward after 52 minutes, when a Capaldi free-kick from the right was headed down by Evans for Friio to nod home from point-blank range.
There was a scare for the Pilgrims in the 57th minute when Roland Bonimeier saw his curling 25-yard free-kick crash back off the bar. Seven minutes later Friio suffered the same fate with a free-kick from similar range at the other end. Momentarily Argyle appeared to have added another goal in the 73rd minute when Hasney Aljofree did find the net from a free-kick, curling the ball home well with his left foot. But the referee declared that the award had been indirect, even though there had been no sign of a raised arm. Aljofree mis-hit another free-kick attempt in the 84th minute, with the ball trundling harmlessly wide. Seconds earlier substitute Steven Milne had been clean through, but the referee called play back to give the Pilgrims the free-kick. Then Marino Keith headed a Capaldi long throw straight at Werner.
The Pilgrims were the better side in the second half, but they were unable to repair the damage of a poor first-half performance. The result gave Williamson his first taste of defeat since his arrival at Home Park. Argyle had won every League and first-team friendly game they had played under the Scot - until last night.
Wacker Burghausen: K Wehner, M Forkel, N Herzig, B Hertl, R Schmidt, M Wiesinger, D Rosin, R Bonimeier, T Geissler, S Reisinger, V Popovic. Subs - D Herzig, R Kazior (not used - U Gospodarek, M Kostolani, I Zikovic, H Vukovic, M Oslislo)
Plymouth Argyle: L McCormick, D Worrell, M Doumbe, H Aljofree, P Gilbert, D Norris, S Adams, D Friio, T Capaldi, S Crawford, M Evans. Subs - P Connolly, K Lasley, M Keith, S Milne (not used - R Larrieu, L Hodges, N Lowndes, I Stonebridge

WILLIAMSON FUMES AT REF
Plymouth Argyle manager Bobby Williamson was not in good humour after his side suffered the first defeat of their pre-season friendly programme last night. On their second tour outing in Austria, the Pilgrims were beaten 3-1 by accomplished German Bundesliga Second Division side Wacker Burghausen in Eben-im-Pongau. Argyle were out of sorts prior to the interval and trailed by three goals just after the half-hour mark. David Friio headed what turned out to be the Pilgrims' consolation goal soon after the break, but Williamson was annoyed that what looked like a perfectly good goal by Hasney Aljofree was disallowed. The defender found the net with a shot from what everyone in the Argyle camp thought was a direct free-kick. They were all amazed when the Austrian referee belatedly decided that the award had been indirect.
"I thought the referee was shocking," Williamson said. "If I could report him, I would. I know it's only a friendly match, but it's disappointing when the boys are three-nothing down and they've given everything they've got in the second half to get back into it. They got back into it, Friio's got a good goal, and then the referee disallows a direct free-kick. The referee never had his hand up to signal that it was indirect. Hasney puts it in the back of the net and then he says it was indirect. I don't see why it was indirect in the first place - it was a foul outside the box. Then Steven Milne was running right through the middle," the Scot added, "and the referee pulls it back for a free-kick for us. That was disappointing too."
The Argyle manager was also unhappy with the state of the pitch at the home ground of Austrian part-time outfit UFC Eben. "It wasn't good enough for professional football," he declared. "It was only about eight yards from corner flag to penalty box. On pitches like this, players are going to get close to each other and it can get a bit rough at times. If the park is bigger, it's harder for players to get to each other and it opens out a bit more." Williamson was not seeking to blame the referee or the pitch for the Pilgrims' defeat, however. "No excuses," he admitted. "Wacker are a good team and they took their goals well. The players felt they'd let themselves down a bit, though. Defensively we were poor. "You learn more about your players when we get a game like this. We learned a lot of lessons tonight." Argyle's next test is against Czech top-flight outfit Ceske Budejovice in Bad Goisern on Friday - the final fixture of their Austrian tour.
GODS ARE SMILING UPON ARGYLE AS THE HEAVY RAIN STAYS AWAY
Plymouth Argyle have had their training programme affected by the weather while they have been here in Austria, but the conditions have been far kinder to the Pilgrims than they were to Southampton when the Premiership club's first-team squad were here last week. Heavy overnight rain has on one occasion forced Bobby Williamson's men to adjust their training schedule. But the days have been fine and dry apart from last Saturday, when there was a brief thunderstorm prior to Argyle's 4-0 win at Bad Aussee in their opening tour fixture. Paul Sturrock's Saints, in contrast, were apparently rained on - heavily - every day while they were based at Obertraun sports centre. They had to improvise indoor training sessions because the football pitches at the camp were frequently waterlogged. Sturrock will be hoping that their misfortune with the weather is not an omen for the season ahead.
Southampton left Obertraun a couple of hours before the Pilgrims turned up here last Friday. (Wigan Athletic's youth squad were also at the camp for two days after Argyle's arrival). The sports centre is also home this week to a large number of Austrian youngsters, both able-bodied and disabled. Wheelchair handball is one of several sports which the venue caters for that we have been watching. The camp has three football pitches, with another one under construction. Only on one morning - Monday - did Argyle find all three pitches out of bounds because of an overnight downpour. Then the squad were sent for a run alongside the River Traun, before doing some work in the gymnasium. In between, they made unusual use of the centre's clay tennis courts, sending footballs back and forth over the net while trying to keep them in the air at all times with heads and feet.
On Monday afternoon and yesterday morning, when the sunshine was blazing down again after one cloudy day, the Pilgrims were allowed back on to the pitches again. All the training sessions supervised by Argyle manager Williamson and his coaching staff have provided a mixture of fitness conditioning and ball work, and no two sessions have been the same. There has been a lot of variety, to prevent any risk of boredom. There was an agreeable distraction for the players following afternoon training on Monday, which was a special day for Annabel Banbury, one of about 30 Argyle fans staying in Obertraun village near the sports centre where the team are based. The student from Barnstaple was celebrating her 21st birthday, and her two favourite players, Luke McCormick and Peter Gilbert, presented her with a bottle of champagne provided by her fellow North Devon Greens. With all their team-mates cheering them on, both players made sure they claimed a kiss from the birthday girl. In the evening, Williamson and Argyle chairman Paul Stapleton attended a party for Annabel on the lakeside terrace of one of Obertraun's hotels. The club are making sure that fans who have followed the Pilgrims to Austria are well aware how much their support is valued, and rightly so.
ARGYLE PAIR SET FOR A BROADER STAGE
Two of the Plymouth Argyle players here in Austria at the Pilgrims' pre-season training camp are looking forward to more than just the challenge of the Coca-Cola Championship in the campaign ahead. Tony Capaldi and Stevie Crawford are keen to make their mark in World Cup qualifiers for their countries. Despite being used as a midfielder by Argyle, Capaldi has established himself as Northern Ireland's first-choice left-back since making his full international debut in March. Striker Crawford has netted four goals in his 20 caps for Scotland, and is currently in coach Berti Vogts' first-choice line-up.
Lawrie Sanchez's Northern Ireland have not lost any of the fixtures in which Capaldi has featured. "We've done quite well with three wins and two draws," Capaldi said in Obertraun last night. "We had a tough game against Serbia, but apart from that we've played some low-ranked countries. It's been different, though - very different to playing week in, week out in Nationwide Division Two. You get more time on the ball as the opposition tend to sit back and defend on the edge of their box. It tends to be harder to break them down. There are fewer long balls played, and you find that players are much quicker, fitter and stronger." Capaldi played in every game of his country's three-match tour at the end of last season to the West Indies, where the pitches and the referees added to his footballing education. "The referees were very one-sided, and the pitches were a disgrace, but it was all good experience." Playing at left-back holds no fears for Capaldi. "I don't mind," he said. "As long as I'm playing, I just try to dig in and give a steady performance." His target now is to stay in Sanchez's side for the Group Six 2006 World Cup qualifying campaign, which will see Northern Ireland taking on both England and Wales. "It would be brilliant to remain involved and play against England," Capaldi added, "but there's a lot of football to be played before then."
Crawford has won most of his Scotland caps while playing for Dunfermline Athletic, hardly the most fashionable club in the Scottish Premier League. "It helped that the Old Firm clubs haven't fielded too many Scottish strikers over the last few seasons," he said, "but it's still hard to get into the Scotland squad. Playing for Dunfermline and getting as many caps as I have is, to a certain degree, quite an achievement.." Crawford remains confident that making the long-distance move to Plymouth will not harm his international prospects. "What you're doing at club level is what matters," he added. "If you're doing the business at club level, then the rest takes care of itself. The manager [Vogts] watches a lot of games in England, and there are quite a few of his squad who play in the First Division in England. But he knows what I can do, anyway." Scotland are in Group Five of Europe's World Cup qualifying competition, which also includes Italy. "They'll be disappointed with how they performed in the European Championship," said Crawford, "but they have a lot of big names and they'll be favourites for the group and rightly so. "Realistically, we'll be playing for second place, but knowing Berti and [his number two] Tommy Burns they'll not be settling for accepting defeat before we even set out. We'll give it a go."
The Pilgrims will not have to worry about playing League matches without the services of Crawford and Capaldi, because no Championship games have been scheduled for World Cup qualifying fixture dates. The tours to Austria these past two years have given scores of Argyle fans a taste of European travel. Maybe some will grasp the opportunity of watching Plymouth players in the international arena. There are worse ways of spending a week.
SQUAD HAS CHANCE TO RELAX
After four and a half days' of hard work on their pre-season expedition to Austria, Plymouth Argyle's players earned an afternoon off yesterday. Before then, they had been training or playing matches every morning and afternoon since their arrival here last Friday. Despite another overnight thunderstorm, the pitches at the Obertraun sports centre drained well enough to allow the Pilgrims to conduct the eighth training trip of their stay here yesterday morning. There were some weary legs, following the previous night's draining 3-1 defeat to Wacker Burghausen and the hour-plus coach trip each way to get to the match venue, Eben-im-Pongau, and back. But the regulation two hours of work on the training ground were duly completed. Then, after lunch, the players were given three options: rest, a round of golf or a trip by cable car up to the summit of Krippenstein, the Alpine peak which towers above the training camp, followed by a tour of Dachstein ice caves, which burrow deep inside the mountain.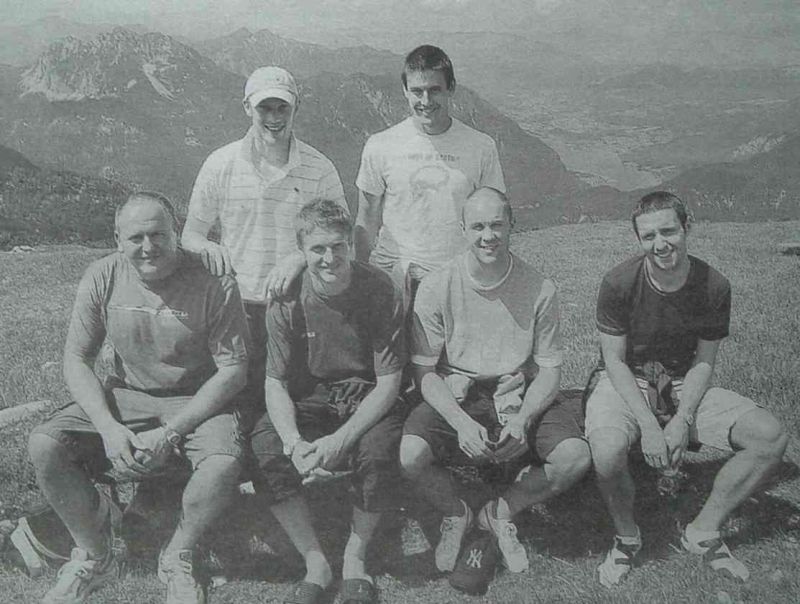 Nathan, Stoney, Ian Leigh, Lee Makel, Marino and Dave Worrell on the summit of Krippenstein

While strikers Stevie Crawford and Blair Sturrock were among the golfers, Marino Keith, Ian Stonebridge, Lee Makel (who is recovering well from his ankle injury), Nathan Lowndes and David Worrell chose to join the jaunt up the mountain. Two cable cars took the Argyle party, which included chairman Paul Stapleton, manager Bobby Williamson and most of the fans who have travelled here with the official club trip, up to the top of the 2,109 metre peak. The views from the summit, down to Obertraun or up to the glaciers on the even higher Dachstein peak, were stunning. There was more snow on the ground than there had been last year, when the Pilgrims made their first journey here, and predictably the players soon decided that the press men were legitimate targets for snowballs. Their aim was good - perhaps they had been practising throwing as well as shooting in training.
The previous evening's trek to Eben for the match against German outfit Wacker was also an adventure. Although less than 40 miles away, the route from Obertraun took us along twisty mountain roads that ensured the journey was made at a very slow pace. The splendid scenery provided plenty of compensation, though. The home ground of the host club, UFC Eben (who played a friendly against local rivals Bischofshofen after Wacker had beaten Argyle 3-1), was extremely compact. The pitch was far smaller than anything the Pilgrims will play on in the Coca-Cola Championship this season and there were no stands or terraces. The only seated accommodation was a row of benches along one touchline, either side of the dug-outs, and a couple of benches on the other side of the pitch. The dressing-rooms were so tiny that Argyle used both of them and Wacker changed at their hotel, which was four miles away. Most of the fans in a crowd of about 250 (Argyle's far outnumbered those from Burghausen, which is not far north of Salzburg) watched the game from the open-air bar behind one goal, but some fans plus the press used a bench next to the one used by the Pilgrims' substitutes.
INJURY BLOW
Plymouth Argyle's highly-rated goalkeeper Luke McCormick suffered a knee injury in training here in Austria yesterday afternoon which could rule him out of the Pilgrims' first fixture in the Coca-Cola Championship. Although the 20-year-old, who was on crutches last night with bandages wrapped round his right knee, seemed hopeful that the problem was not too serious, there are some fears that he may have sustained ligament damage. A full diagnosis of the injury may not be possible, however, until after the Argyle tour party returns to England on Sunday evening.
"It just stiffened up," McCormick said last night, less than three hours after he sustained the injury following the Pilgrims' second training session of the day at Obertraun sports centre. The formal part of the session had been completed but a few members of the Argyle stayed on the training pitch for some shooting practice, during which McCormick landed awkwardly. The injury could mean that Romain Larrieu will be in line to keep goal for the Nationwide League Second Division champions against Millwall at Home Park on August 7.

The Frenchman played only six League games last season, after sustaining a knee ligament injury ten months ago. McCormick kept goal in the other 40 fixtures of the Second Division campaign and won many admirers with a series of assured performances. McCormick has no chance of playing in today's tour fixture against Ceske Budejovice, from the Czech Republic, so Larrieu will keep goal in the match at Bad Goisern. Argyle manager Bobby Williamson will continue to rotate his outfield players against Ceske Budejovice, who finished in eighth place in the Czech top flight last term, to ensure that every fit member of his squad starts the League season with a similar amount of playing time in the warm-up matches. With that aim in mind, strikers Steven Milne, Blair Sturrock and Nathan Lowndes may be asked to play in wide positions for part of the game today, as they did in training yesterday
As well as McCormick, midfielder Lee Makel will not play today due to the ankle injury he sustained in last Saturday's 4-0 win over Bad Aussee. Yesterday he did a few laps of the athletics track which surrounds the Pilgrims' practice pitch, but did not take part in the training sessions. "There is improvement," Williamson said. "Hopefully he'll be available next week." The Argyle manager, whose side were beaten 3-1 by German outfit Wacker Burghausen on Tuesday, is expecting another tough test today. "I've not seen a bad Czech team," he said. Today's game was scheduled to be the last fixture of the tour, but Argyle look likely to accept an invitation to face Austrian regional league side Blau-Weiss Linz at Gmunden tomorrow evening. Argyle are likely to have a guest in goal.
LACKNER HAPPY TO SEE MCCORMICK PROGRESS
The goalkeeping coaching sessions at Plymouth Argyle's pre-season training camp here in Austria have been intriguing to watch. They are being conducted by Willie Lackner, the "Mr Fix-it" of Obertraun sports centre. Lackner lives on camp and is the local representative of Libero, the British-based sports agency which has organised Argyle's visit to Austria. His responsibilities include organising transport for the Pilgrims and looking after all their needs at the sports centre where they sleep, eat and work. He has also played a big part in the squad's training sessions. Although he was an outfield player in a professional career which took him from Austria to Canada and the Netherlands, Lackner is a qualified goalkeeping coach and has worked for German club TSV 1860 Munich. This past week he has supervised the training of 'keepers Luke McCormick and Romain Larrieu, putting both men through a tough series of exercises which the players have found tiring but productive.
When Argyle came to Austria a year ago, there was an unquestioned hierarchy in the goalkeeping department. The experienced Larrieu was the number one, while rookie McCormick was the Frenchman's understudy. That situation changed when a knee ligament injury sustained by Larrieu early last season kept him out of action for several months, and McCormick grasped his opportunity with aplomb. The 20-year-old did so well that the Frenchman was unable to reclaim his place in Argyle's first XI when fit. "I was very pleased by the progress of Luke last season," Lackner said. "He was second choice last summer when he was here, but he has clearly improved since he became number one. That was very important for his self-confidence. His body language and everything is better than last year," Lackner added before McCormick suffered a knee injury in training yesterday which seems certain to exclude him from training and match action for the rest of the tour. "I hope he got some benefit from his training sessions here."
Larrieu has responded to the competition from McCormick in the best possible way. There was evidence that he had put in plenty of hard running prior to the start of pre-season training on July 1, and he returned to work with the club in very good shape after his injury. "At the start of the week, I thought Romain might have been protecting the knee he injured," Lackner said, "but he has been improving with every training session. From my point of view, he is back. What he needs now is match experience."
Prior to McCormick's injury, Argyle manager Bobby Williamson had promised both 'keepers an equal number of appearances in the pre-season friendly programme. Now, with the 20-year-old on crutches in Obertraun last night to protect his heavily bandaged right knee, it is probable that Larrieu will be in goal for the Pilgrims in their Coca-Cola Championship opener against Millwall at Home Park on August 7. In unfortunate circumstances, the manager may now not have to make what would have been a very difficult decision.
It has not all been hard work for the two 'keepers. Larrieu and McCormick were among five Argyle players who enjoyed a night out with the fans staying in Obertraun. Along with Paul Wotton, Mickey Evans and Paul Connolly, they took part in a charity skittles game in a village bars. The tournament was won by a team from the North Devon Greens contingent of Argyle fans, who beat a Leeds Greens team which included Larrieu as a guest player in the final. A raffle for prizes donated by various supporters' groups, and for postcards of Obertraun autographed by the players, raised £140 for the club's Youth Development Trust.
CONNOLLY TURNS THE FULL CIRCLE
When he returned from Austria a year ago, after Plymouth Argyle's first pre-season stay at Obertraun sports centre, Paul Connolly was a reserve-team player hoping for a chance in the first XI. A year later, the 20-year-old has established himself as the Pilgrims' first-choice right-back and he has a Nationwide League Second Division championship medal to put in his personal trophy cabinet. It has been a big year for the likeable Liverpudlian, who did not enjoy a happy start to the 2003-04 campaign. He was sent off in the first fixture of last summer's Austrian tour, and then scored a calamitous long-range own goal on his first League appearance of the season. Connolly lost his place in former manager Paul Sturrock's first-choice XI after that own goal in the 3-3 draw at home to Brighton at the end of August last year, but regained it from the more experienced David Worrell after the Pilgrims were beaten 3-0 at title rivals Queen's Park Rangers in mid-November. Since then he has only missed one League match - he was rested by Sturrock's successor Bobby Williamson at Hartlepool in May, after the title had been clinched the previous weekend.
"It's been unbelievable, when you look back at the past year," Connolly said after yesterday afternoon's training session here in Obertraun. "I was in the reserves at the start of last season, and then I came in and scored that own goal against Brighton. I had about half an hour at Brentford the following weekend and then that was it for over two months." When Connolly did return to the starting line-up, he received plenty of valuable help from the man he had replaced. "All credit to Dave [Worrell]. He's a good pro and he's been great with me," the 20-year-old added. "It can be easy for a senior player to make life difficult for a younger player who has taken his place, but he has been different class. I've still got the pressure of him pushing me for the place, but that can only be good for the club. At the end of the day we both want to be playing, but Dave really works hard with me and I always ask him for advice and he's always willing to give it."
Connolly made his League debut for Argyle in May 2001, in the same game as goalkeeper Luke McCormick, but he had to wait until last season to establish himself. "If a young lad comes in, like Luke did last year as well as me, game by game you're always going to improve," the full-back said. "There comes a time when you think that you belong in the team, and your game goes from strength to strength. That's what happened with me. It was good, too, that I came into a winning team with a solid back four." With Connolly restored at right-back, the Pilgrims piled up seven straight League wins after the reverse at Loftus Road. Connolly's consistent form last season was noticed by scouts from top-flight clubs, and his reputation as a highly promising talent has spread well beyond the Westcountry. "It's always nice when you are linked with big clubs," he said. "I don't know if there is any truth in all that, and all I'm going to is keep working hard, keep my head down and just keep getting on with things. I'm not going to get big-headed. That's not my way and, anyway, I could fulfil my dreams with this club. I'd like to." As the Pilgrims prepare for the challenge of the Coca-Cola Championship, those are words that Argyle fans will surely enjoy reading.
GREENS CHECK OUT DOMESTIC OPPONENTS VIA SERIE A DETOUR
Some of the Plymouth Argyle fans who have accompanied the Pilgrims on their pre-season tour to Austria had an unexpected bonus on Thursday afternoon, when they were able to watch an Italian Serie A side take on one of the teams Argyle will be facing in the new Coca-Cola Championship campaign. The "Green Army" - or about 25 of them, at least - travelled by coach (booked by ever-helpful local hotelier Darron Day, a former goalkeeper for various Kent non-League clubs) to Irdning, half an hour's journey from the Pilgrims' base in Obertraun. There they saw Roma beat Stoke City 2-0, a friendly which was also watched by Argyle manager Bobby Williamson and other members of the club staff. The Serie A giants did not field all of their top stars - there was no Francesco Totti, for instance - but they did include Italy striker Marco Delvecchio and France defender Philip Mexes. Stoke, who used the burly pair of Ade Akinbiyi and Gifton Noel-Williams as their strikeforce, proved to be a strong, tall side who favoured the direct approach.
Surprisingly the low-key friendly, which was played on a small Austrian non-League ground, was screened live on Italian terrestrial television. Stoke's share of the broadcast fee will apparently go a long way towards paying for their tour to Austria. Food for thought for Argyle chairman Paul Stapleton and director Phill Gill, who are both with the Pilgrims' party here. Back at Obertraun sports centre on Thursday evening, the Argyle players and management, plus the supporters who have travelled with the club, took part in a quiz with Stapleton doing the question-master's shift. The press team won the music round, while the main general-knowledge part of the quiz was won by a team which included former Argyle director Ivor Jones and centre-half Graham Coughlan, who declined to accept his share of the cash prize. There was also a good showing from Mickey Evans' team, who called themselves "Give The Lads A Decent Bonus". There was loud applause and cheering from the players when the chairman was obliged to read out that name, twice, when announcing the results.
Out on the training field yesterday morning, when the players returned to work, the squad were not asked to sweat and strive too much. Williamson observed earlier in the week that the extensive efforts his men made on the practice pitch on Tuesday morning may have left them a little lethargic in that afternoon's match against Wacker Burghausen, against whom the Pilgrims found themselves three goals down in not much more than half an hour. Yesterday the plan was to keep the players as fresh as possible for the afternoon game against Ceske Budejovice. Much of the training, therefore, consisted of a variety of dribbling contests, with the squad divided into teams to compete against each other. Keith Lasley and Tony Capaldi were among those who were distinctly adept at weaving their way round a set of cones at speed.
A light-hearted highlight of every training session this week has been the banter between Williamson and coach Gerry McCabe. The pair were team-mates when the Argyle boss began his playing career at Clydebank two decades ago, and have been together throughout Williamson's spells in charge of Kilmarnock and Hibernian. The two tough Scots constantly wind each other up, much to the players' amusement. Training with the Pilgrims is never dull.
ARGYLE PLEASED WITH WORKOUT
SK Dynamo Ceske Budejovice 2 Plymouth Argyle 0
Plymouth Argyle suffered the second consecutive defeat of their pre-season tour to Austria last night, but there were still plenty of positives after the Pilgrims' 2-0 defeat to Czech top-flight side Ceske Budejovice. Eleven Argyle players came away from the game with the major benefit of having had 90 minutes of match action. No substitutes were used, because the Pilgrims have hastily arranged an extra tour fixture against Blau-Weiss Linz in Wels tonight. Plymouth also created plenty of chances, and played well for long stretches against high-quality opponents, who scored right at the start of the match and again after an hour of a game played at the rustic and picturesque home ground of Austrian non-League outfit Bad Goisern.
In an effort to give every fit member of his squad enough match practice, the Pilgrims' manager Bobby Williamson fielded two strikers, Steven Milne and Blair Sturrock, in width positions in midfield. Milne looked sharp throughout and there was also further evidence of Keith Lasley's quality in the centre of the park, while Mickey Evans led the attack in his usual rumbustious and effective style. It was the Czechs who struck first, though, as they took the lead in the second minute. Ales Matousek gained possession down the inside-left channel, shrugged off Graham Coughlan and then, as goalkeeper Roman Larrieu charged out to the edge of the penalty area, the nimble striker deftly took the ball round the Frenchman and rolled it into the empty net from a narrow angle.
When Argyle were given a chance to attack, Paul Wotton cleared the crossbar by some distance with a free-kick from 35 yards. The Czechs were grateful to their goalkeeper when the Pilgrims found their range in the tenth minute. Jakub Kafka did well to save an Evans header from a Sturrock cross, and then blocked Lee Hodges' shot from the rebound. The attack concluded with Milne glancing a header wide. Evans climbed well to get his head to a deep cross from Paul Connolly as the Pilgrims pressed, but he could not hit the target. Then Lasley controlled a clearance well on his chest 20 yards from goal, but sent his shot wide. Argyle were growing in confidence, and after a flowing move Evans set up Nathan Lowndes for a shot from an angle on the right which came back off the near post. Then the increasingly influential Evans again fed Lowndes, whose shot was wide, and Milne floated a cross off the bar. A long-range strike from Lee Hodges did not trouble Kafka too much, while Lowndes was too wide with a couple of strikes from distance. At the other end, the Pilgrims' back four were working hard to keep a close eye on Ceske Budejovice's wily strikers, Matousek and Marek Kulic. In the closing stages of the first half, however, the dangerous Matousek broke free on the left and cut in to lash a fine shot goalwards. Larrieu, at full stretch, made the save to his right.
The Czechs replaced four of their players at the interval, including both forwards. One of their substitutes, Martin Smisek, was soon booked by the Austrian referee for a late tackle which caught Wotton on the knee and sent the big defender crashing to the turf with a cry of pain. The Argyle captain was quickly back on his feet, though. The Pilgrims, who had moved Lowndes to the right of midfield and pushed Milne up alongside Evans, worked hard to regain parity. From an Evans nod down, Sturrock had a shot deflected over the bar. But, on the hour, the Czechs doubled their lead. After a swift raid upfield, Lubos Mysak rolled the ball back for midfielder Martin Vozabal to stroke home a well-placed shot from the edge of the area. Argyle countered again, and Evans lunged in to meet a Paul Connolly cross but could not hit the target with his diving header. However, the Czechs were always dangerous on the break, although all their changes had made them a less skilful unit.
After Coughlan had been booked for dissent, Sturrock swivelled to send a shot too high when well-placed. Plymouth were working hard, but like their opponents they were hindered by a pitch which was cutting up after a lunchtime thunderstorm. Evans was the next man into the referee's book, somewhat unluckily, when he was penalised for an aerial challenge on Kafka. There were some tired legs out on the park in the closing stages, and Sturrock tried but failed to latch on to a neat lay-off from Milne. The game ended in defeat for the Pilgrims, who also went down 3-1 to Wacker Burghausen last Tuesday, but results in July rarely matter. The benefits of the work done last night and on the rest of this tour should be evident in the coming months of League combat, however.
SK Ceske Budejovice: J Kafka, V Poncak, D Horejs, D Homolac, M Lestina, M Vozabal, A Lukas, J Chlebek, J Plocek, A Matousek, M Kulic. Subs - Rozboud, Nemec, Dvorak, Svoboda, Mysak, Smisek, Grznar
Plymouth Argyle: R Larrieu, P Connolly, P Wotton, G Coughlan, P Gilbert, S Milne, K Lasley, L Hodges, B Sturrock, M Evans, N Lowndes. Subs - (not used -S Adams, T Capaldi, M Keith, I Stonebridge).

NO DISGRACE
Plymouth Argyle manager Bobby Williamson was by no means dismayed after the Pilgrims' 2-0 defeat to Ceske Budejovice last night at Bad Goisern, in the third fixture of their tour to Austria. The Scot knew that losing to a good Czech top-flight side was certainly no disgrace, and he was pleased to see 11 members of his squad gain the benefit of 90 minutes of match practice. The Devon club will now conclude their tour with a hurriedly arranged fixture against Austrian regional league club Blau-Weiss Linz today.
"I was pleased with today's performance in patches," Williamson said last night. "We were up against a very good team. There are no mugs in Czech football. They knew when to step up the tempo. They got their goals at important times for them, but bad times for us." Ceske Budejovice hit the net in the second and 60th minutes. "We never got started and found ourselves chasing the game," the Scot added. "They were quite comfortable to leave us with the ball and fall back behind it. It's very, very difficult to break a team down when they settle like that. Then they went for it again and got their second goal from a hopeful punt up the park. We gave a good account of ourselves," Williamson insisted. "We created good chances in the first half, and we should have scored. Unfortunately we haven't done that, but the most important thing is that 11 players have got 90 minutes under their belts. That will hold them in good stead."
Last night's four unused substitutes plus the other fit seven members of the Pilgrims' squad will start against Blau-Weiss Linz today. The venue will be Union stadium in Wels, near Linz, and not Gmunden as originally planned. The extra match has been fitted in to the tour to give Argyle's squad more practice of playing full matches. "The players feel they get more benefit from playing 90 minutes rather than 45 or 60 minutes at a time," Williamson said. "They know what they need to do to get themselves to peak fitness, and I know that as well. We didn't want to take on four games at the start of the tour and then find ourselves picking up a few injuries."
One of the few Argyle players injured on this tour, Lee Makel, may appear as a substitute today. The midfielder is recovering steadily from an ankle injury. Goalkeeper Luke McCormick will not be risked, however, even though the knee injury he sustained in training on Thursday was much less painful yesterday. The Pilgrims will thus borrow a custodian from today's opponents, Blau-Weiss Linz. "We'll get a goalkeeper in," Williamson added. "We don't want to take a chance on Romain [Larrieu, who played last night]. Luke felt better today than he did yesterday, and hopefully he'll feel better again tomorrow, but it would be too risky to play him in this game tomorrow."
Plymouth Argyle (v Blau-Weiss Linz, today, probable team): Guest goalkeeper; D Worrell, M Doumbe, H Aljofree, T Capaldi; D Norris, S Adams, D Friio, I Stonebridge; M Keith, S Crawford.
RAINY DAY GREENS
Plymouth Argyle's trip to Austria came to a soggy and farcical end on Saturday when they made a four-hour round trip from their training camp in Obertraun in vain. A practice run for next season's motorway marathons was not what the Pilgrims had in mind when they agreed late last week to add a fourth fixture to their tour schedule. But, apart from a brief morning training session, that was all they got out of the day thanks to a late-afternoon downpour in the Upper Austrian town of Wels.
That was where Argyle were due to play Blau-Weiss Linz in a match arranged to give the Pilgrims' squad more match practice. But a cloudburst which began less than an hour before the scheduled kick-off time of 5.30pm put paid to the fixture. The pitch in the Union stadium, which was in a very poor state even before the downpour, rapidly became waterlogged. Although Argyle's opponents, an Austrian regional-league outfit, were apparently keen to try to play, and the suggestion of a delayed kick-off was made, a postponement was inevitable and the match was called off shortly before its supposed start time.
It was probably a blessing in disguise for the Pilgrims. The English side were already very unhappy with the pitch before the rain came. There were numerous bare patches on it and, most worryingly, the goalmouths and the areas around both penalty spots were grass-free craters. Had the match gone ahead on a dry pitch, let alone a wet one, the risk of injury would have been high.
"It's disappointing," Argyle manager Bobby Williamson said before leaving Wels for the return journey to Obertraun on Saturday evening. "We came a long way for the game, and when I saw the state of the pitch in the first place I wasn't best pleased. The deluge that we've had has made the pitch unplayable, and I'm not prepared to risk anybody in those conditions. The other side wanted to leave it a bit longer to see if we could get the game played, but the puddles on the park weren't going to clear up."
The grim-faced Scot added: "I didn't think the pitch was playable before the rain came. It wasn't just divots, there were holes in the park. It's a big disappointment because the fans have turned up, we're here and we wanted to have this game. It's a bit of a disaster." About 200 spectators had assembled despite the short notice of the fixture, with the "Green Army" probably out-numbering the fans from nearby Linz. The Argyle party returned to Devon late last night. The next first-team friendly is Wednesday's encounter with Premiership team Portsmouth at Home Park.



PILGRIMS DECIDE TO DIVE IN
There was some entertainment to be found in the Union Stadium in Wels on Saturday afternoon, but it was not what the fans of Plymouth Argyle and Blau-Weiss Linz were expecting to watch. The Pilgrims' plans to end their tour to Austria with a hastily-arranged fourth fixture, after the victory over Bad Aussee and the defeats to Wacker Burghausen and Ceske Budejovice, were scuppered by torrential rainfall which waterlogged the pitch in Wels and caused the late postponement of the match. The part- timers of Blau-Weiss were quite happy to warm up for the game that never was in the midst of the downpour, which turned the turf into something that resembled a South-East Asian paddy field more than an Austrian football pitch. Sensibly, the Pilgrims were more reluctant, but as notional kick-off time approached a few took the plunge. Literally.
David Friio was one of several Argyle players who expressed displeasure at the suspect nature of the pitch even before the rain arrived. Both penalty spots and goalmouths were a mess. Not much grass, plenty of holes. But the Frenchman was one of four Pilgrims to get their shirts wet. Very wet. After a few vain attempts to bounce a ball on the sodden turf, the Frenchman was joined by Hasney Aljofree for a kick-about. Or splash-about. But both soon retreated to the touchline and the patio outside the dressing-rooms, where their team-mates were gathered. By then what had once been the edge of the pitch nearest to them was a big puddle, steadily growing in size. Suddenly Aljofree turned and charged towards the pitch. What followed was spectacular. The defender did a perfect belly-flop dive into the huge puddle. Major water displacement ensued. Steve Adams did likewise, then David Norris, and then Friio, who emerged completely drenched.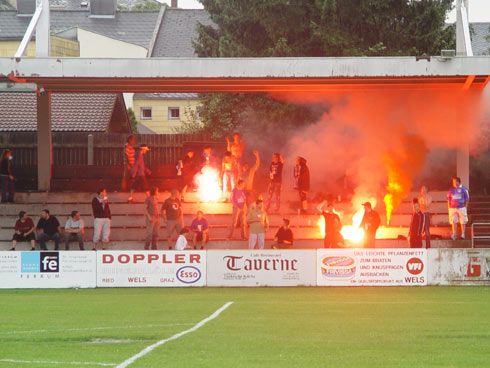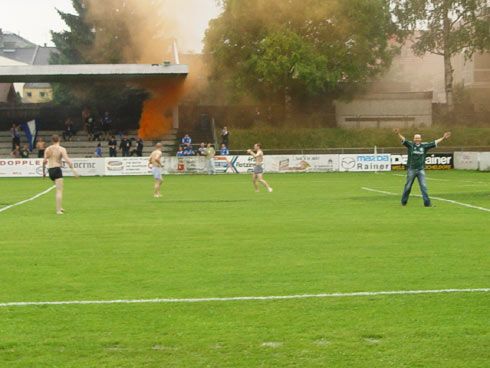 Linz fans enjoy themselves and join Argyle fans for an impromptu kick-around despite the weather

The "Green Army", most of whom were sheltering from the downpour in the open-sided beer tent, roared their approval. So did the rest of the Argyle players. Chanting "Gerry, Gerry, Gerry" in the style of Mr Springer's television show, they tried to persuade coach Gerry McCabe to follow suit and take a dive. But the Scot is too old and wise for that sort of malarkey. He stayed put. The addition of the match in Wels meant the cancellation of an Argyle open day which had been scheduled to take place at the Pilgrims' training camp in Obertraun on Saturday. There was thus no football match between the fans and the club's coaching staff, directors and the rest of the tour party. There was, however, a match of sorts to watch in Wels - and it was going on some time after the Pilgrims' players and staff had set off back for Obertraun. The Linz fans were not going to let the small matter of the postponement spoil their fun.
After lighting flares in the stadium's one stand and then prompting applause from the Argyle supporters with a chorus of the ever-popular song "We hate Man United," a group of Linz fans stripped down to their underpants and took to the pitch with a small beach ball. It started out as an attempt at a football game. It soon turned into what looked like mud-wrestling. Whatever, it provided some welcome entertainment for the bedraggled but still cheerful fans of both sides. Memories like this are what lingers long after match results on tour are forgotten by the fans. In contrast to Saturday's drab weather, Argyle's match against Czech side Ceske Budejovice on Friday evening started in glorious sunshine at Bad Goisern's rustic ground nestling beneath the mountains near Obertraun. Reaching the ground was quite an adventure. The Argyle team coach burrowed ever deeper into narrow lanes on the edge of the town. The owner of one parked car obstructing the coach had to be found before the Pilgrims could make progress. At the little stadium, there was something of a carnival atmosphere, as there had been at the earlier venues - Bad Aussee and Eben-imPongau. Argyle have been made very welcome (except by the weather masters in Wels). It has been a pleasure to be here.
CLASS TRIP
Despite two defeats in three friendlies and an unfortunate postponed fixture, Plymouth Argyle chairman Paul Stapleton is sure that the Pilgrims' pre-season tour to Austria was a worthwhile exercise. The Coca-Cola Championship newcomers returned to Devon late on Sunday at the end of their second trip to Obertraun sports centre in two years. Last summer's tour came at the start of a season which culminated in Nationwide League Second Division title glory for the Pilgrims.
"We didn't know last year what to expect with Austria, but when we came home we thought it had been successful," Stapleton recalled. "I suppose, by winning the championship, we can say that we had sewn the seeds of a very good season by what we did in Austria. The players who had been here last year wanted to do it again. And, from my point of view, it was good to see our five new players being away with their new team-mates and integrating well. I spoke to all of them on the trip," Stapleton added, "and to Crawford in detail about what we're doing. He said that it was fantastic to have the chance to get away together, and what a great bunch of lads we have. Living, working, eating and socialising together doesn't work out sometimes, but it has worked very well for us." As Argyle manager Bobby Williamson stated throughout the tour, match results were less important than team bonding and fitness conditioning. Stapleton savoured the opportunity to do something he does not have time to do in Plymouth - watch the players training - and he said: "Steve Adams said to me on Saturday that it had been a week of hell. I think he said it tongue-in-cheek, but pre-season training is all about pushing yourselves to the limit."
New Argyle coach Gerry McCabe, who took many of the training sessions, has impressed the Argyle squad - and the chairman - by his hands-on approach to his job. "If Gerry wanted the players to run round the track, he'd do it with them. He's taken part in what they've been doing," Stapleton continued, "and he's gained their respect." Argyle beat local outfit Bad Aussee but lost to Germany's Wacker Burghausen and Czech team Ceske Budejovice. Saturday's hastily arranged match against Blau-Weiss Linz was called off after a sudden downpour, but the poor pitch was causing serious concern before the rain came. A couple of the other pitches used for matches had also been criticised, and that is an issue Stapleton will address before future tours. "The tour operator did apologise for the pitches," the chairman added.
It is too soon for any firm plans to be made for next summer, but after two tours to Scotland and two to Austria the chairman indicated that the Pilgrims might have visited Obertraun for the last time. "It may be that we might look to do something different," Stapleton said. "Maybe go back to Scotland or go to another country. But we have plenty of time to think about that." Argyle return to Home Park with an attractive friendly against Premiership outfit Portsmouth tomorrow, and then face Paul Sturrock's Southampton side on Saturday.