Back to

Austria 2004

Tour Home
Austria 2004: Evening Herald (Chris Errington)
ARGYLE'S AUSTRIAN TOUR GETS OFF TO FLYING START
Friday
Herald Sport's Chief Football Writer Chris Errington and photographer Dave Rowntree are back on the Alpine trail as they follow Argyle on their pre-season tour of Austria. Here's their first report from Obertraun.
4.45am: The Argyle squad start assembling at Home Park, ready for the club's 10-day, three-match pre-season tour to Austria. It is dark and drizzling.
4.55am: The Ginsters-sponsored team coach arrives outside the main entrance, driven as usual by Malcolm Miller. The players, many clutching pillows to sleep on, get on board.
5.10am: The bus sets off for Birmingham International Airport. The 23 players on the coach include defender Peter Gilbert, who has recovered from a leg injury to make the trip. Physio Paul Maxwell is an absentee, laid low by illness, so Ian Leigh, who usually works with Argyle's youth squad, is travelling to Austria instead.
7.30-7.55am: A short stop-off at Michael Wood services, on the M5 in Gloucestershire. Many of the players buy a newspaper to read, with The Sun proving most popular.
9.15am: The team bus pulls up outside the entrance to Terminal Two at Birmingham International Airport. Chairman Paul Stapleton hands out the flight tickets.
9.30am: From the check-in desk the players make their way to the departures lounge on the first floor. They are wearing their new light and dark blue tracksuits, supplied by kit manufacturers TFG Sports, and get many inquisitive stares from other air travellers. French trio Mathias Doumbe, David Friio and Romain Larrieu pay a visit to a Starbucks coffee shop, along with Mickey Evans and Paul Wotton. Marino Keith and Keith Lasley catch up on the latest news from Scotland by reading a copy of the Daily Record. Meanwhile, Argyle coach John Blackley - a keen golfer - watches coverage of the second round of The Open Championship on the TV in the main departures lounge area. Blackley is sent a text message by Kevin Summerfield, the former Argyle assistant manager now at Southampton with Paul Sturrock. Southampton have spent the past week at the sports training camp in Obertraun, which is where the Pilgrims will be staying for the second successive pre-season. Summerfield tells Blackley that, for the first time during their visit, it has stopped raining and the sun has started to shine.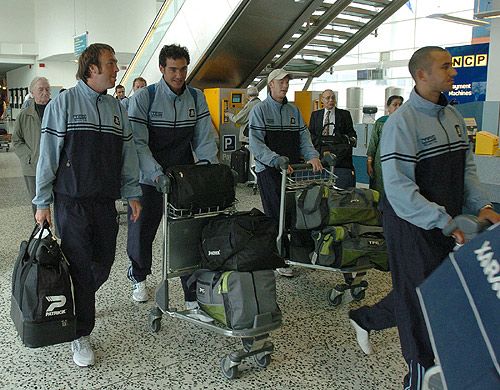 The Argyle party arrive at Birmingham International airport

11.55am: FlyBe flight BE1875 for Salzburg takes off 25 minutes later than scheduled. The plane flies above Oxford and then east to Dover before crossing the English Channel. From there it takes a route over Ostend in Belgium and then Frankfurt and Munich in Germany.
1.42pm (2.42pm in Austria): Touch-down at Salzburg Airport. Outside it is sunny and the temperature is 25 degrees centigrade. Quite a contrast from cold and rain-soaked Birmingham. After making their way through passport control and collecting their luggage, the players get on the bus which will take them to Obertraun.
4.45pm: The Argyle squad arrive at the Bundessport-und-Freizeitzentrum in Obertraun after a 90-minute coach ride. The Southampton tour party, including Sturrock and Summerfield, had left the training camp only half-an-hour earlier. They are playing a friendly against BW Linz in Gmunden tonight before returning to England tomorrow.
5.20pm: The players have dinner in the restaurant, which has been refurbished since their visit last July. On the menu are yeast dumplings, noodles with ham, and roast pork glazed in pumpkins. Wigan Athletic's youth academy squad are also staying at Obertraun and are eating at the same time.
7.00pm: The first training session of the tour is taken by new Pilgrims' coach Gerry McCabe. Manager Bobby Williamson and Blackley have gone to see Southampton play. It has rained for 14 of the last 15 days in Obertraun and the wet weather has taken its toll on the training pitch, which is scarred by divots. After a gentle couple of laps jogging around the pitch, McCabe puts the players through some short, sharp passing and dribbling drills. It is a light-hearted and relaxed session, understandably so after the early start to the day and the long trip. The sun starts to set behind the Dachstein Mountains, which tower over Obertraun. Gilbert and new striker Steven Milne, who is nursing a sore hamstring, work with Leigh at the other end of the pitch.
8.00pm: The Argyle players return to their rooms and have the rest of the evening to themselves. Tomorrow, though, the serious business starts.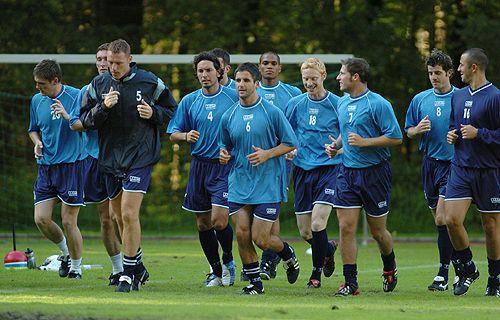 First day training

BATTLE HOTS UP AT ARGYLE
The fight for first team places at Plymouth Argyle for the start of the season is hotting up. The Argyle squad arrived in Austria yesterday for a three-match tour and the pressure is on the players to impress. Manager Bobby Williamson had previously stated he was not concerned about individual performances, only fitness levels. But the former Kilmarnock and Hibernian manager has now admitted he is closely monitoring each of his players. He said: "That has happened from day one actually. There was just a bit of kidology going on there. Every time a player crosses the white lines they are being judged. I haven't come down hard on anybody yet, but as we get closer to the starting day I will be emphasising the fact that I think they could do better, or they are doing well. Some have already impressed me, and others can do more. The players have got to keep working towards their peak fitness and on their performance levels to be in the line-up for the start of the season."
Argyle play the first of their three tour matches tonight, when they take on Austrian part-timers SV Bad Aussee. It means a 10-kilometre coach trip from their training base at Obertraun, surrounded by the towering Dachstein Mountains. Argyle's starting line-up will be similar to the one which finished the 2-1 win over Torquay United on Wednesday in the Dave Smith Testimonial Match at Home Park. Williamson said: "It was difficult for the players who came on in the second half against Torquay because they had to get to speed with the game. The players who started were fortunate they could get into the game right away and build on it. The second half was difficult for the guys who came on so they will start tonight. That's the way we will try to alternate it through the pre-season matches."
Meanwhile, Argyle midfielder David Friio believes the tour to Austria will be invaluable for building team spirit among the players. Williamson made five summer signings - Stevie Crawford, Mathias Doumbe, Keith Lasley, Lee Makel and Steven Milne. They will get to know their new team-mates much better during the 10-day stay in Obertraun. "Most of the players have been here for a long time now," said Friio. "It's the first time we have brought in five new signings. That's a bit unusual for us in the last few years, but they are doing well. All of them are good lads. I think they were a bit surprised by the team spirit down here and I think they are enjoying it. They are like us. They are training hard and we can see on the pitch they are doing really well. We had a good squad last season but we needed more quality for the First Division." The arrival of Doumbe means there are now three Frenchmen at Home Park. It's good to speak French with him, but he speaks good English as well so it's not a problem for the lads," said Friio. "Whatever the nationality, it's on the pitch that you show what you can do. I think he's one of the quickest centre-backs I have even seen. During pre-season he was in the top three in the running, which is unusual for a defender, but that's good. He's a really fit lad."
Friio was part of the Argyle squad who stayed at the same sports training camp in Obertraun last July and he was pleased to be back this year. "The training facilities are great, the food is good and we sleep well," said the French ace. "It's quite far away from anywhere else so we have to stay all together, and that's good for the team spirit. When you go on tour it's a chance to gel together, and it was perfect last year." Friio added: "We have trained really hard in the past two weeks. Now we are going to get match fitness. It's going to be a rotation because we have got a big squad and at the end of pre-season everybody will have played their part.

PILGRIMS PREPARE FOR PART-TIMERS WITH TRAINING AND A DIP IN ICE-COLD RIVER CURRENTS
Saturday
8.30am: Argyle will play the first match of their Austrian tour tonight when they play local part-timers SV Bad Aussee. At breakfast there are a selection of cereals and fruit, as well as toast.
10.00am: There are clear blue skies and the temperatures are already soaring as the Pilgrims' squad start their first full training session. After a short warm-up, they begin with a series of short passing drills, working in pairs. Defender Peter Gilbert and striker Steven Milne take part after shaking off their injury problems. Gerry McCabe takes charge of the first part of the session, while manager Bobby Williamson and John Blackley watch from the small stand next to training pitch number one. Williamson and Blackley saw Paul Sturrock's Southampton beat BW Linz 2-0 in Gmunden last night, along with chairman Paul Stapleton. Meanwhile, Romain Larrieu and Luke McCormick are put through their paces by Willy Lackner, Argyle's host at the training camp. Larrieu and McCormick worked with Lackner when Argyle visited Obertraun last July and found his coaching enjoyable but very exhausting. "Good luck Ro," shouts club captain Paul Wotton to Larrieu, as the French keeper prepares for his first session under a blazing hot sun. Lackner soon has Larrieu and McCormick hurling themselves first one way and then the other in a series of agility tests.
10.30: McCabe is joined on the pitch by Williamson and Blackley and together they put on a varied session, covering defensive and attacking play. It includes shooting practice for the strikers and midfielders, and heading for the defenders.
11.30am: After a 90-minute session, the Argyle squad are told to cool off in the nearby River Traun, opposite the training camp. However, the river is fast-flowing after the recent heavy rainfall in the area, and very cold so only a couple of players brave it. One of them, defender David Worrell, describes the river as "absolutely Baltic" and, instead, the players take a dip in the outdoor swimming pool as the temperature rises to 28 degrees centigrade. Wotton and midfielder David Friio are the last ones on the training pitch as they practice free-kicks. They, too, then make their way to the swimming pool. "Put money on me scoring tonight," says Wotton, who will captain the Pilgrims against Bad Aussee. There is only one injury during the morning - to club photographer Dave Rowntree, who is covering the tour for Herald Sport. Dave stumbles as he carries his camera gear (in a totally sober state it should be said, Mrs Rowntree) and has some small cuts on the outside of one his ankles. True professional that he is, Dave carries on regardless and, at one stage, even manages a sprint when Williamson shouts 'get off the pitch!'
12.30pm: Lunch-time for the players, followed by an afternoon of resting in their rooms. Some of them have brought Play Stations to keep themselves entertained, while others sleep before tonight's game.
4.00pm: All the squad have a pre-match meal in the restaurant. The skies have darkened and there are rumbles of thunder.
5.30pm: The team coach to Bad Aussee leaves the training camp. Peter Gilbert has passed a fitness test on his leg injury during the afternoon and will be one of the substitutes. Bad Aussee is only 12 kilometres from Obertraun, but it means leaving the Upper Austria province and crossing into Styria. The bus crawls up a winding, 23 per cent mountain climb, which is the second steepest road in Austria according to Willy Lackner.
5.50pm: The Pilgrims' squad arrive at the Stadion Stuberl. Torrential rain starts falling and there are large bolts of lightning.
6.25pm: The thunder storm has passed and there is now warm sunshine and cloudless skies, making for some stunning views of the surrounding mountains. Gerry McCabe takes the players for their pre-match warm-up.
There is only one stand at the Stadion Stuberl but it was built last summer and has won awards for its stylish design. The pitch is immaculate - Bad Aussee are not allowed to train on it to keep it in tip-top condition - and the dressing rooms would shame many in the Coca-Cola League.
7.05pm: Paul Wotton presents a club pennant to Bad Aussee captain Agron Nikmengjaj before kick-off. There are around 100-150 Argyle supporters at the game, many who have travelled from England to Austria today, including Pilgrims' director Nic Warren.
8.47pm: Full-time: SV Bad Aussee 0 Argyle 4.
9.15pm: Bobby Williamson is one of the last on the Argyle team coach after carrying out his post-match interviews. It takes 20 minutes to return to Obertraun, this time down the steep sloping mountain road.
9.45pm: A fish and pasta dinner has been cooked for players and management staff at the training camp. Striker Nathan Lowndes has his head bandaged after a challenge from Bad Aussee defender Pavol Pavlus left him needing two stitches at a local hospital, while midfielder Lee Makel is hobbling around with an ankle injury.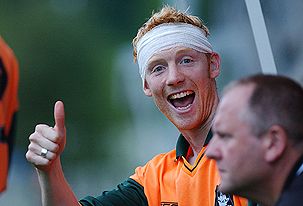 Nathan seems pleased with his injury

SUPER ARGYLE LOOK GOOD IN BAD OPENER
Argyle made a confident start to their pre-season tour of Austria with a convincing victory over SV Bad Aussee on Saturday. Striker Marino Keith grabbed two goals - one of them taking a deflection off defender Pavol Pavlus - to put the Pilgrims 2-0 ahead at half-time. Substitute Steven Milne added the third goal before midfielder Keith Lasley completed the scoring in 88th minute. Bad Aussee play in one of Austria's regional leagues, one division above SV Bad Ischl, who held Argyle to a 1-1 draw in the last match of their 2003 summer trip. This time the Pilgrims were far too strong for their opponents, even though Bad Aussee were a better team than Bad Ischl. There was a fierce thunderstorm about an hour before the 7pm kick-off, but despite the torrential rain the pitch was in immaculate condition, and perfect for passing football. Argyle's starting line-up included four former players from Scottish Premier League club Livingston - Graham Coughlan, Keith, Nathan Lowndes and Lee Makel.
Coughlan renewed his successful partnership with Paul Wotton in central defence, with Keith and Lowndes leading the attack and Makel in midfield. Lowndes only lasted seven minutes, though, because of a head wound and Makel soon followed with an injury injury. Romain Larrieu was chosen as Argyle's goalkeeper, but he was rarely troubled by Bad Aussee, who tackled strongly but lacked the creativity to open up their opponents. Their only shot on target came in the 60th minute, when Larrieu made a smart low save from Gerhard Weissenbacher, one of 11 substitutes used by both sides. David Worrell was tried out at left-back again, after playing there in the 2-1 defeat of Torquay United at Home Park last Wednesday, and put in another steady performance. Worrell returned to his favoured right-back role in the 58th minute when Paul Connolly was substituted by Peter Gilbert, who was making his first pre-season appearance after injury. The match was a perfect opportunity for manager Bobby Williamson to experiment with players in different positions and in different combinations. In that sense, it proved a very useful exercise before the two more demanding games later in the week.
Williamson named seven substitutes, but he only used five of them, which meant Tony Capaldi, Stevie Crawford, Mathias Doumbe, Mickey Evans and David Norris were not involved at all. They will almost certainly start against Wacker Burghausen in Eben-im-Pongau on Tuesday night. Argyle, who were playing in last season's tangerine and green away kit, took the lead at the Stadion Stuberl after 16 minutes. Keith escaped Bad Aussee's offside trap as he chased after a quickly-taken free-kick by Lee Hodges. His powerful angled drive deflected off the outstretched leg of Pavlus and the ball looped over goalkeeper Hansi Lampl and into the net. The stadium announcer gave it as an own goal, but Argyle's Scottish striker told Herald Sport after the match he was claiming it. Lowndes will not have felt too much sympathy for Pavlus, because he was the player who clattered into him and left him needing two stitches in his head wound.
Keith netted for the second time, and in more conventional fashion, after 33 minutes. Hodges made good ground down the left and delivered a superb cross for Keith to score with a neat sidefoot volley from eight yards out. It was his fifth goal of Argyle's pre-season campaign, following a hat-trick against St Blazey in Cornwall the previous Saturday. Worrell hit the crossbar with a terrific 25-yard shot, which had Lampl groping at thin air, as the English tourists continued to outplay their Austrian hosts up until half-time. It was the same story after the restart, although the regular introduction of susbtitutes by both sides disrupted the flow of the game. Milne came off the bench for Argyle in the 63rd minute as Argyle went with a 4-3-3 formation for the closing stages. Ian Stonebridge and Blair Sturrock played either side of Milne in attack, with Hodges, Lasley and David Friio the midfield trio. Within three minutes of his entrance, Milne was celebrating his fourth goal of pre-season. The summer signing from Dundee was put clear of the Bad Aussee defence by a precise pass from Friio and Milne finished very clinically, shooting low past Lampl from 18 yards. Bad Aussee's substitute goalkeeper Wolfgang Leitgeb made a fine diving save from Hodges in the 84th minute. But there was still enough time for the Pilgrims to complete a successful night, with plenty of promising performances, by getting a fourth goal. Lasley, one of the players to really catch the eye with his endeavour and skill, played a slick one-two with Friio and then took the ball past Leitgeb and slotted into net from close range. Soon after, the final whistle was blown and the Argyle players had good reason to feel satisfied with themselves. Much sterner tests await them, not only in Austria but on their return to England next week, but this was a good morale booster.
WILLIAMSON ANNOYED AT INJURY TO LOWNDES
Argyle striker Nathan Lowndes was taken to hospital in Bad Aussee for two stitches to a head wound during the game. Manager Bobby Williamson was distinctly unimpressed with the challenge on Lowndes by defender Pavol Pavlus and he was also annoyed there was no doctor on duty at the Stadion Stuberl. It was in only the seventh minute of the match when Pavlus crashed into Lowndes as they challenged for a bouncing ball. The Pilgrims' striker left the pitch with blood visible on his neck and he was soon on his way to hospital, with Ian Stonebridge taking over as his replacement. Lowndes returned later on and sat on the Argyle bench, still in his playing strip but with a bandage around his head. Williamson said: "Nathan took a knock to the back of the head. It was a ridiculous attempt by the boy (Pavlus). He had no intention of trying to get the ball and it could have been a lot worse. "Another disappointing factor was there wasn't a doctor on hand. Although the hospital is close by, I don't think it's close enough. There should be a doctor at every game, and that wasn't the case. But Nathan is fine. He has had a couple of stitches in the back of his head. It will give him a bit of discomfort tonight. He's going to be laying on his face as usual!"
Williamson was more concerned about summer signing Lee Makel, who limped off with an ankle injury in the 24th minute and was substituted by David Friio. Makel had started the match in central midfield alongside Steve Adams. Williamson said: "Lee Makel has got a bit of bruising and we will see how he is over the next couple of days. He indicated he couldn't go through the pain barrier so we took him off. We aren't going to push guys through the pain barrier in these types of games and they can suffer longer term damage." One boost for Williamson was the earlier-than-expected return from a leg injury of defender Peter Gilbert, who came on as a 58th-minute substitute for his first appearance of pre-season. It was feared last week the 21-year-old might not even make the trip to Austria, but he made an excellent recovery. "It was good to see Gilly getting a run-out at last," said the Pilgrims' boss. "I'm pleased about that. He trained this morning and then we thought we would give him some running in the afternoon. He did a few 100-yarders - 15, I would think - and we thought 'well, we will push him again later on this evening and see how he comes through it.' Hopefully he's okay."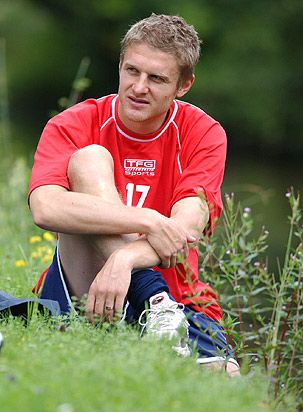 Lee Makel sits out training

Williamson tried out a 4-3-3 formation for the last half-an-hour, with Stonebridge, Steven Milne and Blair Sturrock up front and Friio, Lee Hodges and Keith Lasley in midfield. We changed the shape of the team to accommodate our strikers and we left three in the middle of the park, which made it harder for those guys," said Williamson. "But they showed a good attitude and good temperament for the game. That will augur well for them, and us.." Williamson also tried out the 4-3-3 system in the closing stages of the 2-1 win over Torquay United at Home Park, and he admitted he would be ready to use it in the Coca-Cola Championship this season. "I wouldn't have any hesitation if I felt it was the best formation for us to get a result," he said. "It's just giving them our ideas of how we want them to play. Keith Lasley came in and played central and Hodgie played to the right, where he can open up and play diagonal balls with his left foot, which he's very good at. We want to get Friio a wee bit further forward, between their midfield and the defence, so he can link up and create, as he did with Keith Lasley's goal." David Worrell started the match at left-back before returning to his more usual right-back role when Gilbert came off the bench. Williamson said: "David can play either full-back position. We will maybe try Paul Connolly at left-back as well and see how he adapts to that."

LASLEY'S HAPPY WITH BAD START
Midfielder Keith Lasley continued the impressive start to his Plymouth Argyle career by scoring one of the goals in the 4-0 win over SV Bad Aussee on Saturday. The 24-year-old, signed from Scottish Premier League club Motherwell earlier this summer, was outstanding in the opening match of the Pilgrims' pre-season tour to Austria. Lasley also caught the eye when he played in the 2-1 defeat of Torquay United at Home Park last Wednesday. "It's all about fitness at this stage of the year and I think most of the boys got a good work-out on Saturday," he said. "That's the main thing. We are still aiming for that first league game against Millwall."
There was torrential rain an hour before kick-off against Bad Aussee, who play in one of the Austrian regional leagues, but the playing surface was still in good condition for the game. "Pitches in pre-season are normally quite sticky, but that one wasn't," said Lasley. "It was slick on the top and you could move the ball around well, and that definitely helps us because we like to get the ball down and pass it. It was really warm in the first half and I was sweating quite a lot. I just tried to take as much water on board as I could. Fortunately, it cooled down a wee bit after half-time and the boys felt better." Lasley completed the scoring for Argyle in the 88th minute after playing a neat one-two with David Friio and then taking the ball past goalkeeper Wolfgang Leitgeb and slotting into the empty net.
Marino Keith had netted twice before half-time to put the Pilgrims 2-0 up, and Steven Milne added a third goal in the 66th minute. Lasley is making his first visit to Argyle's training camp at Obertraun and has been very impressed by what he has seen since the Pilgrims' squad arrived on Friday afternoon. He said: "The facilities are excellent and what a beautiful place as well. The scenery is breath-taking. "I'm looking forward to the rest of the trip and the games we have got coming up." Argyle will play German Bundesliga 2 club SV Wacker Burghausen in Eben-im-Pongau tomorrow night and then face Ceske Budejovice, from the Czech Republic, in Bad Goisern on Friday. Lasley said: "I don't know much about them but I have heard they are good teams and we can test ourselves against them."
Manager Bobby Williamson has been pushing his players to the limit during the opening two weeks of pre-season and Lasley admitted it had been very physically demanding. "It has been hard, but that's pre-season," he said. "You need to get it in the bank and it sets you up for the season well. Touch wood, I have had no injuries and I'm just looking forward to the season." Lasley was one of five summer signings made by Williamson, along with Stevie Crawford, Mathias Doumbe, Lee Makel and Steven Milne, and they all seem to be enjoying life at their new club. "I was told before I came down they were a good bunch of boys here, and I'm starting to settle in really well," said Lasley. "I'm looking forward to moving into the area and getting myself really settled, but so far it has been excellent. The boys have been first class." Lasley started on the right-side of midfield against Bad Aussee but later played a central role in a 4-3-3 formation. He also showed his versatility when he had a run-out on the left-side of midfield against Carlsberg South Western League champions St Blazey last Saturday. Lasley said: "At the end of the day, it's about getting games and getting as many minutes as you can under your belt. "I'm happy to play anywhere. I will play where the manager wants me to play. It's down to him."
BOBBY MAKES SURE HIS PLAYERS ARE ON THE BALL WITH POST-MATCH TRAINING
Sunday
8.45am: There are clear blue skies above Obertraun as the Argyle squad and management team arrive for breakfast.
10am: Pilgrims' boss Bobby Williamson has a surprise in store for his players. Despite the game last night, when they beat Austrian regional league club SV Bad Aussee 4-0, they have a strenuous 90-minute session. Williamson wants to make sure they are at peak fitness for the start of the Coca-Cola Championship on August 7. Striker Nathan Lowndes, who had two stitches in a head wound last night, and midfielder Lee Makel, who limped off with an ankle injury, sit out the session on training pitch number one. Lowndes and Makel spend the morning with physio Ian Leigh, while their team-mates are made to run, and run, and run. The squad then move onto some ball work as the temperature reaches 28 degrees centigrade by the time they finish.
1pm: The highlight of lunch is a refreshing strawberry ice cream, with strawberries and cream. The players then return to their rooms to rest before the second session of the day. The training camp is very quiet. Wigan Athletic's youth academy squad left Obertraun yesterday afternoon and there have been no new arrivals. Williamson and chairman Paul Stapleton play table tennis during the afternoon, with the Argyle manager winning four games to nil. "I had to let Bobby win because I beat him 3-0 yesterday and he was a little bit upset," was Stapleton's excuse for the resounding defeat.
4pm: Argyle's second training session starts with a series of loosening exercises, with Williamson barking out the instructions. Goalkeepers Romain Larrieu and Luke McCormick have more specialist coaching from Willy Lackner, Argyle's host at the training camp. The two shot-stoppers look like they are practising to be circus acrobats as they take it in turns to leap over each other and catch balls thrown in the air by Lackner. The rest of the players split into two groups - one with John Blackley and the other with Gerry McCabe. Williamson keeps a close eye on both groups as they practice their passing and close control in two circles marked out by small cones on training pitch number two.
4.40pm: Larrieu and McCormick, both with muddied shirts and shorts, rejoin the squad for a small-sided practice match. Players are taken in and out of the action at regular intervals, which means there is a very fast pace to the game. McCabe takes part and certainly does not look out of place. Lowndes and Makel have been absentees again, but they arrive on two of the mountain bikes which are readily available around the training camp to watch the closing minutes of the session. Makel admits his ankle is feeling slightly better. "It's just so frustrating because I have come out here to get fit and then this happens," he says. The former Livingston midfielder adds: "I have spent most of the day with my foot in the river (across the road). It went red because the water was so cold."
5.20pm: McCabe takes the players for a warm-down, which includes sit ups, abdominal stretches and press ups, and does them all himself. Makel slowly cycles back to the accommodation block for some ultrasound treatment on his ankle from Ian Leigh.
5.35pm: The players return to the small wooden stand beside training pitch number two and take some swigs of water from bottles before making their way to nearby River Traun to cool off. In total, they have trained for almost three hours, in temperatures close to 30 degrees centigrade. Williamson raises their spirits when he announces: "We have got a couple of Swedish girls coming in to do massages tonight. Put your names on the list." There is a short pause and then the Argyle manager starts laughing. How cruel!
7.00pm: Dinner in the restaurant. After their long, hard day, the weary players have a relaxing evening before bedtime, with many phoning home to family and friends. Lowndes no longer has the bandage around his head but Makel has some strapping on his ankle.

PILGRIMS FIT IN A SPOT OF TENNIS AFTER EARLY RAIN
Monday
8.45am: Breakfast. The early morning heavy rain has eased but the mountains surrounding Obertraun are almost completely obscured by low cloud.
10am: The two training pitches are saturated and out of use. Striker Mickey Evans has a swollen left eye from an insect bite but does not get much sympathy from his team-mates. Coach Gerry McCabe takes the Argyle squad on a woodland run alongside the River Traun. It is now dry but very humid. Midfielder Lee Makel is still nursing an ankle injury so, instead, he goes for a cycle ride around the local lanes with physio Ian Leigh.
10.30am: The players return to the training camp after completing their run. Goalkeepers Romain Larrieu and Luke McCormick start working with Willy Lackner, Argyle's tour host at Obertraun, and the rest of the players make their way to the tennis courts. They split into five teams of four and play seven-minute games of head tennis against each other. Defender Graham Coughlan sits it out and is the referee on one of the courts, with manager Bobby Williamson and coach John Blackley taking it in turns on the other. The teams are: Steve Adams, Mickey Evans, David Worrell and Paul Wotton; Stevie Crawford, Mathias Doumbe, David Friio and Keith Lasley; Tony Capaldi, Peter Gilbert, Lee Hodges and Marino Keith; Hasney Aljofree, Paul Connolly, Steven Milne and David Norris; Nathan Lowndes, Gerry McCabe, Ian Stonebridge and Blair Sturrock. Before each of their games, Aljofree, Connolly, Milne and Norris have a huddle, copying the first team before kick-off on matchdays. The head tennis is very competitive and has many disputed points, with plenty of banter between the players.

11.30am: Williamson sends the players to the gym at the opposite end of the training camp where they use the weights equipment.
11.35am: Larrieu and McCormick return to the accommodation block to shower after another gruelling, muddy session with Lackner, which included throwing a five-kilogramme medicine ball at each other.
12.20am: Williamson, Blackley and McCabe check the three training pitches around the camp. They are all still waterlogged in parts. The Argyle manager is worried he might have to abandon his plans for a training session this afternoon.
1pm: Lunch.
4pm: The Argyle squad train for the first time this week on pitch number three, which is across the River Traun from the camp. After a warm and humid afternoon, the playing surface has dried out enough for them to use it. Makel is a lonely figure as he sits on the bank of a stream with his left foot in the icy water while the rest of the players begin their warm-up with McCabe. The midfielder watches some of the two-hour session before he and Leigh cycle off to the gym to do some upper body weights.
4.20pm: The players start off with a series of sprints behind one of the goals before moving onto agility drills using speed ladders. The session ends with an 11-a-side practice match, with Blackley as the referee and Williamson watching closely from the sidelines. By now the sun is shining fiercely.
6.00pm: One of the Argyle supporters staying in Obertraun is celebrating her 21st birthday today. Annabel Banbury, a student from Barnstaple, is presented with a bottle of champagne by her favourite players, Peter Gilbert and McCormick, before the squad return to the camp to shower.
7.00pm: Dinner.

WACKER WOE FOR MAKEL
Midfielder Lee Makel has been ruled out of Plymouth Argyle's Anglo-German clash against SV Wacker Burghausen tonight because of an ankle ligament injury. Makel has not taken part in any of the Pilgrims' training sessions since he limped out of the 4-0 win over Austrian part-timers Bad Aussee on Saturday. His activity has been restricted to cycling around Argyle's training camp in Obertraun and doing some weights exercises in the gym. The 31-year-old has spent a lot of time with his left foot in the icy water of a fast-flowing river across the road to try to speed up the recovery process. Manager Bobby Williamson is hopeful, however, Makel could be fit for the third and final match of the pre-season tour to Austria. The Pilgrims will take on top Czech Republic club Ceske Budejovice in Bad Goisern on Friday evening.
Makel was the only one of Argyle's 23-strong squad who sat out their two-hour training session yesterday afternoon. Williamson said: "He's coming along but tonight is too soon for him. Hopefully, he will be able to feature in the last game. "It's frustrating for him, especially as it's pre-season and he will miss a lot of the hard work. "Players hate it, but they know it's necessary. They pull each other through it and that's important. It's great for team bonding and gets the spirit going. It's difficult for injured players, especially if it's just the one guy. I think there were a couple of them working the other day but now he's on his own. He has been doing a lot of cycling and he has been in and out of that river, which is doing his head in, I would imagine."
Makel's injury has added to the frustration of finding out last week he will be suspended for the opening two matches of the Coca-Cola Championship season next month. He picked up 11 yellow cards playing for Livingston in the Scottish Premier League last term. Striker Nathan Lowndes has resumed training after he suffered a head wound during the game against Bad Aussee, which needed two stitches, and could play at some stage tonight.
"I haven't spoken to the physio (Ian Leigh) but he has been running about and taking part so I presume he's fit enough for selection," said Williamson.
Tonight's game is being played in Eben-im-Pongau, 60 kilometres from Obertraun, and the Pilgrims' boss is likely to pair Stevie Crawford and Mickey Evans in attack. Williamson is also expected to start with Hasney Aljofree and Mathias Doumbe in central defence. None of the four players were selected for the victory over Bad Aussee. Wacker Burghausen, who finished 10th in Germany's Bundesliga 2 last season, will undoubtedly provide Argyle with their toughest test of the pre-season so far. They beat the Pilgrims 1-0 in a friendly in Pettenbach on last summer's tour to Austria. Williamson said: "The games coming up are going to be a wee bit harder for us and it will be interesting to see how our fitness is shaping up, but it's looking good just now." He added: "We want to be tested. There is no point us playing against so-called easier opposition and running away with it. We want to see where our frailties are and we want to be able to work on them. That's the aim, and I'm sure we will be getting tested in the next few weeks."
CONNOLLY: I'LL KEEP MY 'HAUS IN ORDER
Paul Connolly is determined history will not repeat itself tonight when Plymouth Argyle play SV Wacker Burghausen in the second match of their tour to Austria. The teams faced each other in pre-season last July and Connolly was sent-off for two bookable offences. That led to a dressing room rebuke for the young defender from former Argyle manager Paul Sturrock after the 1-0 defeat in Pettenbach. Connolly put all that behind him, though, as he ousted David Worrell from the right-back role last season. The highly-promising defender was one of the Pilgrims' most consistent performers in their Nationwide League Division Two title success.
Connolly still vividly remembers his emotions after his red card against Wacker Burghausen, and his team-mates have not forgotten either. "I keep getting reminded about it by the boys all the time," said the 20-year-old. "It was a bad time, plus Paul Sturrock just laid into me in the changing room afterwards and made me feel the size of a pea. I had a nightmare in the other two games as well because my confidence was completely gone. If you look at the pre-season I had, I think I did well to bounce back after that. It has made me a better person and I'm more experienced now. There's no chance I will be diving in tonight and getting a red card again. Hopefully, I have learned from that."

Argyle will travel 60 kilometres from their training camp in Obertraun to Eben-im-Pongau, the venue for tonight's rematch with Wacker Burghausen. Connolly said: "I know it was stupid of me to get sent off the last time we played them, but I remember they were very niggly. It was a sort of Germany against England type of thing and I got sucked into that. I would like to have a good, solid performance tonight and come through the 90 minutes injury-free and get another game under my belt." Connolly's impressive displays last season saw him rewarded with a new three-year contract, along with goalkeeper Luke McCormick. "It's nice to have our futures secured for a few years but I can guarantee we will not be sitting back now," said Connolly. "We will both be working hard. There are a lot of players up and down the country who would think 'I'm happy now' but there is no chance of me and Luke doing that. We have got some great games this season and there is no worse place than sitting on the sidelines watching."
Connolly played for 58 minutes of Argyle's 4-0 win over Austrian part-timers SV Bad Aussee on Saturday, in the opening match of their tour. He has been enjoying the Pilgrims' second visit to the training camp in Obertraun, even though the players have been worked very hard by manager Bobby Williamson. Connolly said: "It's great to be back out in Austria again. It's class. You have only got to look around you. It's unbelievable. It's a very nice place. The games are good, the weather is good and the food is good. I can't speak too highly about it."

WATCH OUT ARGYLE - WACKER HAVE GOT JESUS ON THEIR SIDE
Argyle are one of two English teams SV Wacker Burghausen will be playing as part of their pre-season preparations. The German Bundesliga 2 club will take on the Pilgrims' Coca-Cola Championship rivals Burnley in Gmunden next Tuesday night. New coach Markus Schupp, a 36-year-old former Bayern Munich midfielder, has made several signings over the summer. They include Brazilian midfielder Jesus Junior, Croatian centre-back Hrvoje Vukovic and Serbian forward Veselin Popovic, as well as German-born brothers Danny and Nico Herzig. Wacker Burghausen have already had one impressive result in pre-season, beating Bundesliga club Borussia Monchengladbach 3-2 in a friendly last Wednesday. The match was staged as part of the transfer deal that took midfielder Thomas Brioch to Monchengladbach last season. Striker Stefan Reisinger grabbed two of the goals and midfielder Rolan Bonimeier was also on the scoresheet for the home side. Schupp will be hoping Wacker Burghausen can improve on their 10th position in Bundesliga 2 last season. They were facing relegation to the German regional league system until they picked up 13 points from their final five games.
Wacker Burghausen start their league campaign away to Karlsruhe on August 7 - the same day as Argyle. Argyle's Coca-Cola Championship rivals Stoke City arrived in Austria yesterday to start a two-match pre-season tour. Stoke are based at a castle called Schloss Pichlarn, a 40-minute drive from Obertraun. They will be playing two matches during their stay, against Italian Serie A club AS Roma and Levski Sofia of Bulgaria. Real Madrid stayed at Schloss Pichlarn in the summer of 2002. It is an expensive place, but has training facilities to match the cost. Two Stoke fans were at Argyle's win over SV Bad Aussee on Saturday after arriving early in Austria for their club's trip
PILGRIMS PREPARE FOR WACKER TEST IN THE AUSTRIAN HEAT
Tuesday
8.45am: Breakfast. It is a glorious sunny morning and the local radio station is forecasting temperatures in the mid-to-low 30 degrees centigrade.
10am: The Argyle squad start their training session on pitch one, in the centre of the Obertraun camp. Skipper Paul Wotton leads the players on some gentle jogging. Coach Gerry McCabe then has them doing some sprinting drills, with manager Bobby Williamson studying them closely. Romain Larrieu and Luke McCormick are put to the test by goalkeeping coach Willy Lackner. A group of youngsters staying at the camp stand behind the goal and watch the two Argyle shot-stoppers hard at work. The session is not as strenuous as previous ones this week because Argyle have the second game of their Austrian tour against SV Wacker Burghausen tonight. Midfielder Lee Makel sits out training for the third successive day because of the ankle ligament injury he suffered in the 4-0 win over Bad Aussee. Makel and physio Ian Leigh cycle around the local countryside, stopping off at the river on the other side of the road from the camp. The fast-flo wing water around Makel's ankle should speed up the healing process.
10.30am: Cones are marked out in three circles in the centre of the pitch for the next part of the session. Seven players are inside each of the circles and the aim is for two of them to try to get a touch on the ball while the other five pass it to each other. When one of the two players does get a touch they change over with the person who has had his pass intercepted.
11.00am: The session ends with half-an-hour of crossing and finishing, with Larrieu and McCormick taking it in turns between the posts, followed by shooting practice into an empty net.
11.30am: The players start making their way to the river to cool off as the temperature continues to climb.
2.00pm: Time for a pre-match meal in the restaurant.
3.30pm: The Argyle team coach leaves for the 60-kilometre trip to Eben-im-Pongau, the venue for tonight's match and the hometown of former Olympic downhill skiing champion Franz Klammer. Wacker Burghausen are staying a short drive south of Eben-im-Pongau in the village of Flachau. The German Bundesliga 2 club had wanted to be based at Obertraun for their pre-season training camp this week but Argyle beat them to it.
4.35pm: The Argyle squad arrive in Eben-im-Pongau to find the playing surface is only 60 yards wide. Midfielder Tony Capaldi could easily reach the far post with one of his long throws. There is also a small trough through the centre of the pitch, from one end to the other. Manager Bobby Williamson is none too impressed. There are no stands and the only seating is some wooden benches, which are claimed by the early arrivals among the Pilgrims' supporters.
5.05pm: Wacker Burghausen arrive in two minibuses after travelling from their hotel in Flachau. The two changing rooms at the ground are tiny and Argyle use both of them because their German opponents are already in their kit.
6.04pm: The two teams walk out to the centre circle and the players shake hands with each other before the kick-off. It is a sunny evening but not as warm or humid as it was on Saturday, when Argyle played Bad Aussee. Only three of Argyle's line-up started the game against Wacker Burghausen last summer - McCormick, midfielder Steve Adams and striker Mickey Evans.
8.15pm: The Pilgrims' players board their bus after the 3-1 defeat and are taken to Wacker Burghausen's hotel, where they eat a meal before returning to Obertraun later in the evening.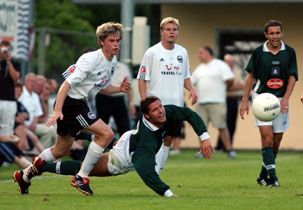 Action from Argyle v Wacker

WILLIAMSON MADE TO TASTE FIRST LOSS
Bobby Williamson tasted defeat as Plymouth Argyle manager for the first time when they lost their Anglo-German clash in Eben-im-Pongau last night. The Pilgrims won all three of their league matches at the end of the 2003/04 championship campaign after the former Hibernian boss was appointed at Home Park. They had also enjoyed victories over Torquay United and Austrian part-timers SV Bad Aussee this pre-season. The game against Wacker Burghausen was always going to be a step-up in class for Argyle as they prepare for the start of the Coca-Cola Championship next month, and so it proved. The German side beat Argyle 1-0 when they met previously in a pre-season friendly last July. But this time they opened up a three-goal lead by half-time before the Pilgrims put in a much-improved performance after the interval.
The Argyle squad had trained for an hour-and-a-half hour earlier in the day and maybe that was behind their slow start. Whatever the reason, Wacker Burghausen showed more sharpness than their opponents and caused the Pilgrims' defence all sorts of trouble. Strikers Stefan Reisinger and Veselin Popovic both got on the scoresheet and were a constant threat in the first period. But Argyle centre-backs Hasney Aljofree and Mathias Doumbe got to grips with them better after words from Williamson at half-time. The ridiculously narrow pitch did not suit the Pilgrims' attacking style of putting in crosses from wide positions. Wacker Burghausen defended with typical German efficiency and when they broke they did so with pace and creativity, as Argyle discovered to their cost. They also displayed some less appealing traits, with their repeated time-wasting tactics and diving at any opportunity.
Argyle started the match strongly, with Scotland international striker Stevie Crawford volleying a dropping ball over the crossbar inside the first minute. Midfielder Steve Adams also shot too high after Aljofree's far post header from a Tony Capaldi corner had been blocked. But Wacker Burghausen, who beat top Bundesliga club Borussia Monchengladbach 3-2 in a pre-season game last Wednesday, soon took control. A clumsy tackle by Argyle left-back Peter Gilbert on Reisinger, close to the Germans' dug-out, seemed to rouse them. Reisinger received treatment before play continued and, seconds later, he put Wacker Burghausen into an 11th minute lead.
The strong-running striker cut inside Gilbert and beat goalkeeper Luke McCormick at his near post with a fierce drive.
Argyle fell further behind in the 19th minute when Wacker Burghausen skipper Martin Forkel delivered a deep cross from close to the right touchline and midfielder Tom Geissler powerfully headed home. Geissler was only six yards out and McCormick had no chance of keeping the ball out of the net. Wacker Burghausen had penalty appeals waved away for a challenge on Popovic by Doumbe in the 22nd minute before Crawford forced a good reaction save from goalkeeper Kay Wehner. It was 3-0 to the Germans' in the 32nd minute after Doumbe failed to cut out a long, diagonal pass from midfielder Michael Wiesinger. The ball may have sat up perfectly for Popovic but his unstoppable 30-yard shot was still a fantastic finish, and even some of the Argyle supporters at the game applauded in admiration.
Tempers flared two minutes later when Friio fouled Reisinger close to the Wacker Burghausen dug-out. Capaldi kicked the ball into the 22-year-old when he fell to the ground and he was confronted by one of the Germans' non-playing squad members, Mouhani Younga. The Congo-born striker had been involved in a couple of off-the-ball incidents when the teams met in Pettenbach last summer. Players rushed to the scene from all over the pitch and Friio was the peacemaker as he led away first Younga and then Capaldi, who received a yellow card.
It stayed 3-0 until half-time, and Argyle came out with more determination and energy for the second period. Friio had a shot deflected behind for a corner almost straight from the restart but he was not to be denied a goal and the French midfielder netted in the 51st minute. Capaldi's free-kick to the far post was nodded inside by striker Mickey Evans and Friio scored with a stooping header. Wacker Burghausen midfielder Roland Bonimeier hit the bar with a 20-yard free-kick in the 57th minute but, other than that, Argyle were in the ascendancy. Friio did exactly the same in the 64th minute before Argyle were denied a second goal by a hotly-disputed refereeing decision. Aljofree curled a superb 25-yard free-kick into the top left corner of the net, with Wehner nowhere near the ball, after a foul on one of his team-mates. But the referee ruled it should have been taken indirect and as no-one else had touched the ball before Aljofree he disallowed it.
Substitute Steven Milne could also have made it 3-2 in a one-on-one with Wehner, but play was called back because the referee had awarded Argyle a free-kick for a foul on Marino Keith, who had also come off the bench. Keith had a chance, too, when he headed straight at Wehner from Capaldi's long throw in the second minute of stoppage time. Although the game ended in defeat, Williamson will have learned a lot more about his players than in the previous two pre-season friendlies so it was still a useful exercise.

REF LEAVES BOBBY BOILING
Manager Bobby Williamson was left fuming by the referee as Plymouth Argyle were beaten 3-1 by SV Wacker Burghausen in Eben-im-Pongau last night. The Pilgrims' defeat in the second game of their pre-season tour to Austria was overshadowed by some controversial decisions by the local match official. They had trailed 3-0 at half-time to their German Bundesliga 2 opponents but captain for the night David Friio cut the deficit in the 51st minute. Argyle thought they had scored a second goal when defender Hasney Aljofree curled a 25-yard free-kick into the top corner of the net, only for the referee to disallow it. He claimed it should have been taken indirect, but did not signal this to the players.
The referee also angered Williamson with his poor use of the advantage rule when Argyle were on the attack on several occasions. Williamson and Aljofree both approached him in the centre circle after the final whistle and made their feelings known. "I thought the referee was shocking," said the Pilgrims' boss. "If I could report him I would, but it's only a friendly match. It's disappointing when the boys have given everything they have got to get back in the game, with a good goal from Friio, that he disallows a direct free-kick. He never had his hand up to signal it was indirect. Hasney puts it in the back of the net and then the referee says it was indirect. I don't see why it should have been indirect in the first place. It was a foul outside the box. It's a direct free-kick. Hasney stuck it away well and that would have made it 3-2."
The referee further infuriated Argyle later on when substitute Steven Milne had a one-on-one with Wacker Burghausen goalkeeper Kay Wehner. Williamson said: "Savo was running right through the middle and he pulls it back for a free-kick, for us." The Argyle manager was equally scathing about the width of the playing surface, although he did not use it as an excuse for the defeat. "This pitch is not good enough for professional football," claimed Williamson. You are talking about eight yards from corner flag to penalty box, which gives you 60 yards across. It's just not good enough, especially in these pre-season matches where people are going to get close to each other and make tackles. That's why it gets rough at times. If the park is bigger it's harder for players to get close to each other and it opens up more."
Argyle midfielder Tony Capaldi was booked in the 34th minute after kicking the ball into striker Stefan Reisinger when he fell to the ground near the touchline following a challenge from behind by Friio. That incensed the Wacker Burghausen bench, who were close to the incident, and Capaldi was confronted by one of the non-playing substitutes, Congo-born Mouhani Younga. Wacker Burghausen took a 3-0 lead inside the opening 32 minutes with goals from Reisinger, Tom Geissler and Veselin Popovic. Williamson said: "We felt the players let themselves down in the first half. Defensively we were poor, but you learn more when you get a game like this. We have learned a lot of lessons tonight and, hopefully, the players will take that on board as well. I felt we competed better in the second half and didn't show them as much respect as we did in the first half." Williamson added: "There are no excuses. They are a good team and took their goals well, although we know the reasons why we conceded them."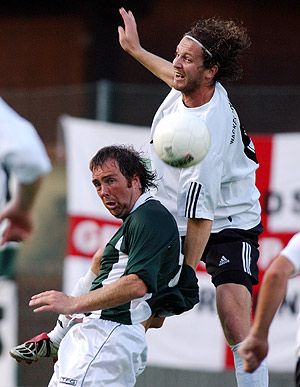 Trigger in action against Wacker Burghausen

NO TIME TO DWELL ON LOSS FOR WILLIAMSON'S MEN
Wednesday
8.45am: Breakfast. Low cloud covering the Dachstein mountains soon burns away at the start of another hot and sunny day.
10am: The planned training session for 5pm has been brought forward by manager Bobby Williamson so the players can have the afternoon off. There is a subdued atmosphere and tired bodies after the 3-1 defeat by Wacker Burghausen. The session takes place on pitch number two at the Obertraun camp, but Argyle cannot use one of the goalmouths because it is waterlogged after a fierce thunderstorm last night. Music fills the mountain air as a brass band practice nearby while a lone athlete trains for the 110 metres hurdles on the running track. There were no injuries from the game against Wacker Burghausen so 22 players take part in the session, with midfielder Lee Makel still an absentee because of his ankle ligament problem. They split into four groups and start with some gentle jogging, with the pace gradually increasing as the minutes tick by.
10.40am: Romain Larrieu and Luke McCormick begin working with goalkeeping coach Willy Lackner while their team-mates carry out a variety of passing drills across the width of the pitch. On the neighbouring tennis courts, Argyle chairman Paul Stapleton beats his son, Oliver, 7-6 in a tie-break. "Make sure you put that in the Herald diary" says Stapleton senior. "But he still hasn't beaten me at table tennis yet," adds Olly. The chairman's son then goes off to fetch more bottled water for the players, who are feeling the heat.
11.25am: Williamson gets all the players together in the centre of the pitch and tells them their options for the afternoon. They can either play golf at a course in Bad Aussee, take a trip on a cable car to the top of the 2,108-metre Krippenstein mountain or relax at the training camp. Most decide on the latter option.
12.30pm: Lunch. Roast chicken and pasta is a popular choice, followed by apple strudel.
1.15pm: Five of the players - Marino Keith, Nathan Lowndes, Makel, Ian Stonebridge and David Worrell - set off for the cable railway station, along with Williamson, coach Gerry McCabe, physio Ian Leigh and Stapleton. On the way out of the training camp they pass striker Mickey Evans and McCormick sheltering from the sunshine under an umbrella outside one of the local bars.
2.10pm: The Argyle party reach the top of the Krippenstein mountain, where the temperature is 17 degrees centigrade. They make the 15-minute walk to the spectacular viewpoint overlooking Obertraun and Lake Hallstatt. In the opposite direction is the 2,996-metre Hoher Dachstein, which is covered in snow even in mid-summer.
3.30pm: The Argyle group start the descent from Krippenstein to the first level of the cable railway, only to realise Makel has been left behind. They wait for him to arrive on the next cable car before walking up a steep slope to the Dachstein ice caves. There is a 50-minute guided tour inside the vast caves, where there are some incredible ice formations and the temperature drops to minus two degrees centigrade.
5.30pm: The Argyle party leave on one of the last cable cars of the day and return to the station.
5.50pm: As they walk past the bar where Evans and McCormick had been earlier they spot Pilgrims' director Phill Gill, who has flown out to Austria for the final four days of the club's tour. Meanwhile, striker Blair Sturrock came out on top when five of the Argyle players went off to the golf course. Sturrock is a talented low-handicap golfer and he carded a one-over-par 71. Also out on the fairways with him were Steve Adams, Stevie Crawford, Lee Hodges and Keith Lasley.
7.00pm: Striker Steven Milne proudly wears a Scotland football shirt to dinner. There are two training sessions planned for tomorrow, at 10am and 4pm, so the hard work will soon start again.
8.00pm: Paul Connolly, Evans, David Friio, Larrieu, McCormick and Wotton take part in a skittles tournament staged by Argyle supporters staying in Obertraun.

GREENS HAVE THEIR HEAD IN THE CLOUDS
Five Argyle players were on top of the world after a trip into the Dachstein Mountains in Austria yesterday. Marino Keith, Nathan Lowndes, Lee Makel, Ian Stonebridge and David Worrell were taken by cable railway to the 2,108-metre summit of Krippenstein. They were accompanied by manager Bobby Williamson, coach Gerry McCabe and chairman Paul Stapleton as the Pilgrims' squad enjoyed an afternoon off from their pre-season training. On reaching the top of the mountain, the players made a 15-minute walk to a viewpoint overlooking their training camp in Obertraun and Lake Hallstatt. They stopped off at the spectacular Dachstein ice caves on their descent and were given a 50-minute guided tour before completing the return journey.


PILGRIMS TRAINING IS LIKE WATCHING RIVERDANCE FOR BOSS BOBBY
Thursday
8.45am: Breakfast. It is very humid and there have been heavy downpours of rain all night
10.00am: The Argyle squad make their way to pitch number two for the first of two training sessions today. "I hope you all enjoyed your afternoon off yesterday," says manager Bobby Williamson. Coach Gerry McCabe takes the players for a 30-minute warm-up. Midfielder Lee Makel misses another session following his ankle ligament injury but he does some light running on the athletics track surrounding the pitch
10.35am: Romain Larrieu and Luke McCormick start work with goalkeeping coach Willy Lackner. One of the exercises sees them leaping over a bar and then catching a ball thrown by Argyles tour host. Physio Ian Leigh takes the rest of the players through a series of sprint and co-ordination drills using speed ladders positioned on the grass. The sun is now shining. Williamson and coach John Blackley stand in the shade of some trees and shout encouragement. "It's just like watching Riverdance," says the Pigrims' boss
11.00am: The players then move onto a series of short sprints, racing against each other in pairs. The mood is more light-hearted than for the session yesterday morning. There is plenty of banter but they also work very hard, to the evident satisfaction of Williamson
11.20am: The Argyle manager starts an 11-a-side practice match, stopping it at intervals to make a point or explain what he wants. One team is: Luke McCormick, Paul Connolly, Paul Wotton, Graham Coughlan, Peter Gilbert, Steven Milne, Lee Hodges, Keith Lasley, Blair Sturrock, Mickey Evans and Nathan Lowndes. The other side is: Romain Larrieu, David Worrell, Mathias Doumbe, Hasney Aljofree, Tony Capaldi, David Norris, David Friio, Steve Adams, Ian Stonebridge, Marino Keith and Steve Crawford
11.40am: Williamson gathers the players together for a talk in the centre of the pitch and they then finish the session with some stretching exercises supervise by McCabe
12.00noon: Most of the Argyle squad return to their rooms, although Wotton stays behind to practice his shooting with McCabe. Footballs are placed across the top of the penalty area and the club captain drills them into the empty net
1.00pm: Lunch. With a thunderstorm forecast for later in the day, the second training session of the day has been moved forward from 4pm to 2.30pm. It will also give Williamson the chance to see Coca-Cola championship rivals Stoke City play Italian Serie A club AS Roma in a friendly played in Erdning, a 45-minute drive from Obertraun
2.30pm: Makel pulls on his football boots for the first time since Saturday. He does some running and ballwork with Leigh before walking to the gym to do some weights. Ninety minutes after the first session ends the second one starts with a gentle jog around pitch number two. Evans wears an Austrian hat he won as a draw prize at an Argyle supporters skittles night in Obertraun last night
3.15pm: The temperature has risen to over 30 degrees centigrade as the Argyle squad play another 11-a-side practice match in three 10-minute stints, using the same teams as this morning. It is very competitive and fast-paced
3.50pm: The afternoon session ends and Larrieu cycles off to the river across the road to cool down before watching the end of today's stage in the Tour de France on the TV in his room. Some of the players stay behind for shooting practice. McCormick goes between the posts, but he soon leaves after hurting his knee. Others read copies of the Evening Herald, which have been sent out to their Obertraun training camp
6.30pm: Dinner. There is talk of a possible game against Austrian part-timers BW Linz IN Vocklabruck on Saturday night, although no decision is taken as Williamson is in Erdning. McCormick arrives for his meal on crutches with a strapping on his right knee. He has suspected ligament damage
8.00pm: The Argyle squad take part in a general knowledge quiz, along with the supporters who have stayed with them at the training camp this week. Chairman Paul Stapleton is the question master.

PLAYERS FELT WACKE-D BEFORE BURG DEFEAT
Manager Bobby Williamson admitted fatigue had been a factor in Argyle's 3-1 defeat by SV Wacker Burghausen on Tuesday night. The Pilgrims had a 90-minute training session in the morning before the match, and then a one-hour coach trip to the ground in Eben-im-Pongau. They seemed out-of-sorts as the German Bundesliga 2 club raced into a three-goal lead inside the opening 32 minutes, but put in a much-improved display after the interval.
Williamson said: "I thought we competed better in the second half and we didn't show them as much respect. The players all felt better as the game went on and that shows it probably was down to the training this morning, but we have got to do this. This is why we are here. We have got to get the sessions in and we have got to try to get guys on the park. Mickey (Evans) got another hour on Tuesday and so did (Stevie) Crawford as well, so we are getting these guys' fitness levels up."
Crawford played for 61 minutes before he was substituted for Marino Keith. Crawford said: "German sides are always well organised and we probably didn't play to the standard the manager is wanting us to in the first half. We were sloppy, we didn't hold up the ball up front very well and we got punished at the back, but there were some quality finishes as well. Having said that, it was a tight, narrow park and it maybe didn't suit the style of play we are looking to do. The boys finished strong, which was a plus point, and there were a couple of dodgy decisions that went against us, when on another day they might have gone for us. Hasney (Aljofree) out in a great free-kick to make it 3-2 when the referee never had his arm up for it to be indirect. It's still early days. As long as we are match-fit for Millwall (the first game of the Coca-Cola Championship season) that's the main thing, but it's never nice losing games."
I'LL FIGHT FOR MY PLACE
Steven Milne is undaunted by the prospect of fighting for a first-team spot at Plymouth Argyle this season. The summer signing from Scottish Premier League club Dundee is one of seven forwards in the Pilgrims squad, leaving manager Bobby Williamson spoilt for choice. Milne has scored four goals in the pre-season friendlies so far, including one in the 4-0 win over Austrian part-timers SV Bad Aussee on Saturday. But should he not be selected for the opening game of the Coca-Cola Championship season, at home to Millwall on August 7, he is ready to wait for his chance to come along. "There are a lot of strikers here but I think you are going to have competition wherever you go," said the 24-year-old. "It's good for the club and it probably makes you try that bit harder. But I'm going to be right behind whoever plays. I'm not going to be thinking 'I'm not playing so I don't want them to score.' The team always comes first. I'm sure the manager will pick who deserves to be in the team."
Scotland international forward Stevie Crawford also arrived at Home Park this summer from SPL club Dunfermline Athletic and Milne rates him very highly. "I have played against Stevie a good few times up in Scotland and he's a good striker," he said. "I'm looking forward to training with him and playing with him. I'm sure we could do well if we play together and, also, he will do well for the team." Milne has been striving to impress Williamson during Argyle's pre-season training camp in Obertraun this week. "I have enjoyed it a lot," said Milne. "It has been good to spend time with all the boys because I don't know them that well. It has been a good experience to be out here. There are good facilities and it's a nice place all round. It has been hard training but it's pre-season and we have still got to get some fitness. We have double sessions most days and three games to play, so it's all going to be for our own good."
Milne admitted he was beginning to feel the benefits of the training in Austria. "The first game I played (against Plymouth Parkway) I didn't feel sharp at all but you just gradually get more and more into it," he said. "I have scored four goals, but these kind of games are for sharpness and match fitness. That's the main thing." He added: "The team is just getting to know each other. There are a lot of new signings and we need to know how each other plays." Milne is convinced Argyle can more than hold their own in the Coca-Cola Championship this season. After winning two league titles in three seasons the Pilgrims are now faced with the prospect of playing some of England's biggest clubs, such as Leeds United, West Ham United and Wolves. "There are a lot of good teams and a lot of good grounds we are going to be visiting," said Milne. "I'm not too sure of the standard because I have been in Scotland all my career. Some of the other boys will know more about that. "I think we should be aiming as high up as possible. I'm sure we can do that. Me personally, I'm not thinking of relegation. I'm thinking more along the lines of getting into mid-table if we can. There are a lot of strong squads but we have strengthened ours and we are looking quite good. I'm confident about the season ahead."
Milne believes some of the teams they will play could under-estimate them and come unstuck. He said: "It's the first time the club have been in this division for a long while. People will see the name Plymouth and think 'they were in the Third Division a few years ago'. "They might under-estimate us, which is good for us I suppose. We will take any advantage we can and do as well as we can." Argyle end their Austrian tour with a game against Ceske Budejovice, from the Czech Republic, in Bad Goisern tomorrow night.
SUPER LUKE FACING LAY-OFF
Goalkeeper McCormick is rocked by knee injury
Plymouth Argyle's highly promising young goalkeeper Luke McCormick has suffered a suspected medial knee ligament injury. The 20-year-old was hurt near the end of training yesterday afternoon when he fell awkwardly during shooting practice. McCormick was being checked over by physio Ian Leigh this morning but the initial indications were that he could be sidelined for two to three weeks. That would rule him out of the start of the Coca-Cola Championship season, at home to Millwall on Saturday, August 7. It also opens the way for Romain Larrieu to return to the starting line-up, after playing only six league games last term before a cruciate knee ligament injury. Argyle manager Bobby Williamson was facing a difficult choice between the two of them before McCormick's setback, after the young keeper deputised superbly for Larrieu last season. Williamson said this morning: "He (McCormick) is away having treatment today, and we're just hoping it's not too serious - but time will tell."
Meanwhile, strikers Steven Milne and Blair Sturrock are set to start for Argyle in the third game of their Austrian pre-season tour tonight. But both will play wide midfield roles, and not in attack, when the Pilgrims take on Czech Republic top-flight club Ceske Budejovic. Mickey Evans and Nathan Lowndes will probably be the two forwards for the friendly in Bad Goisern. Williamson believes it is important Milne, one of the club's five summer signings, and Sturrock get more match practice. He said: "I have been alternating the defenders and getting them to work in partnerships because there are four of them. "At the moment we have got seven strikers and it's difficult to give them all the time on the park they need to get their general fitness, to be perfectly honest. We are trying to give them as much time on the park as possible and that will continue tonight." Milne has played as a substitute in both of Argyle's tour games this week, and Sturrock has come off the bench once. Williamson said: "These are the two I'm thinking about. They will need to play in a wide area.

NO LACK OF RESPECT SHOWN BY HARD-WORKING KEEPERS
Obertraun coach believes Luke and Larrieu show will be good for the Pilgrims
All the Argyle players have been pushed to the limits of their stamina during the stay in Obertraun, but none more so than goalkeepers Romain Larrieu and Luke McCormick. They have had specialist coaching sessions each day from Willy Lackner, Argyle's tour host, as they did on last summer's tour to Austria. This time, at least, they knew what to expect, and they have not been surprised by the gruelling exercises, often in hot and humid conditions.
Now, though, McCormick will have to watch from the sidelines because of the knee injury he suffered at the end of training yesterday afternoon. "We have been working hard, especially at diving, handling the ball and one-to-one situations," said Lackner. "We had a different situation last year where Romain was by far the number one. But Luke has improved so much during last season, and now Romain has to fight back after his injury, but I think it's an advantage if you have 46 league games to have two very good goalkeepers."
Lackner has been impressed with the mutual respect between Larrieu and McCormick, even though they are fighting for a first-team spot. He said: "They are in a great competition but they are still motivating each other. It's important because the exercises are very demanding and they push each other on. Of course, you can only play one goalkeeper but they are ready to help each other, which is good for Plymouth Argyle I think."
Lackner closely followed Argyle's fortunes in the Nationwide League Second Division last term after their pre-season stay in Obertraun. He was thrilled when they won their second championship title in only three years. "Every Tuesday I bought the sports newspapers where I could find the results of Plymouth," said Lackner. "The start to the season was not that perfect but then they had some wins in a row and it was great to see it."
Lackner often acts as a goalkeeping coach for clubs who visit the Obertraun training camp. "I was a sweeper when I played, but I started doing this in the early 1990s, when we had the first foreign youth sides here," he said. "Stuttgart did not have a goalkeeping coach and they asked me to do it. The first session was just shooting from me, but I realised I could not do only that. I read a lot and watched some goalkeeping sessions abroad - in Brazil, Italy and so on - and this is the outcome."
THE PASSING ATTRACTION OF ARGYLE'S NEXT OPPONENTS
Ceske Budejovice have been staying in the state of Salzberg this week as they prepare for the start of the Gambrinus Liga on August 7. They will be aiming to improve on their eighth place finish in the Czech Republic's top flight in 2003/04. Ceske Budejovice, who drew 1-1 with top Polish club Legia Warsaw on Tuesday, are very highly-rated by Willy Lackner, Argyle's tour host in Obertraun. "They are a very good footballing side," said Lackner. "They pass the ball very quickly and this is a superb team. "They just missed a spot in the UEFA Cup and it will be very diffferent to the style of, for example, Wacker Burghausen. This is a passing team so don't expect too many long balls from them. They have had a five-day training camp and this is their last match before they go back to the Czech Republic."

GREENS BOUNCE BACK AFTER CZECHS' FLYING START
Argyle were beaten but not disgraced by one of the Czech Republic's top clubs in the third game of their pre-season tour to Austria last night. The Pilgrims made a dreadful start to the match in Bad Goisern, conceding a goal after only 71 seconds. From then on, though, they dominated for long spells and had it not been for some wasteful finishing and good saves from Ceske Budejovice's Jakub Kafka they could easily have taken the lead before half-time. Argyle continued to pose problems for their classy opponents after the interval, but the Czechs grabbed another goal in the 60th minute.
Ceske Budejovice made seven substitutions during the game, compared to none by Argyle, so it was no surprise they finished the stronger side, but the Pilgrims dug deep to keep the score 2-0 until full-time. Midfielder Keith Lasley had another impressive game for the Pilgrims in central midfield, along with Lee Hodges. Striker Mickey Evans battled away tirelessly against an uncompromising Czech defence and Steven Milne showed promise when he moved from the right-side of midfield to the forward line after half-time. Argyle manager Bobby Williamson chose not to make any substitutions because of a game arranged at short notice in Wels tonight. All those who sat out the match in Bad Goisern will play against Austrian part-timers Blau Weiss Linz, who were beaten 2-0 by Paul Sturrock's Southampton last Friday.
Ceske Budejovice finished eighth in the Gambrinus Liga - the Czech Republic's equivalent of the Premiership - last season. Their technical ability was obvious but on a pitch saturated by torrential rain earlier in the day before drying out in hot afternoon sunshine, they found it difficult to play with much fluency. Argyle deserve a lot of credit for that as they battled away and put in a better overall performance than in the 3-1 defeat by SV Wacker Burghausen on Tuesday. On that night, the German Bundesliga 2 club were leading by three goals inside 32 minutes and the Pilgrims had another poor start against Ceske Budejovice. Czech skipper Martin Vozabal beat the Argyle offside trap with a precise pass into the path of Ales Matousek. The 24-year-old striker took the ball past goalkeeper Romain Larrieu as he raced off his line and then, from a tight angle, fired into the empty net for a superb finish.
Argyle were unfortunate not to score in the 10th minute when they had three clear-cut chances inside 60 seconds. The first came when Blair Sturrock put in a good cross for Evans and his powerful header was clawed away by Kafka, who then stopped the follow-up attempt from midfielder Lee Hodges. Moments later, Steven Milne was holding his head in his hands after his glancing header went narrowly wide. Any trepidation Argyle might have felt after conceding the early goal was soon dispelled as they took the fight to the Czechs and put together some neat passing moves. Evans headed wide from a Paul Connolly right-wing cross and Lasley fired a snap-shot over the crossbar from 20 yards before striker Nathan Lowndes went close in the 21st minute. Milne had a powerful shot parried away by Kafka and the ball broke to Lowndes, whose angled drive hit the outside of the left post.
The hot and humid conditions made it hard going for both teams and when Ceske Budejovice midfielder Jaroslav Chlebek was injured in the 35th minute both sets of players went to their own dug-outs for bottles of water. Lowndes volleyed one shot over the bar but, in the 44th minute, the Czechs almost doubled their lead when Matousek cut into the penalty area and Larrieu made a fine diving save to his left. Ceske Budejovice made four substitutions at half-time, including Matousek, and one of the replacements, striker Martin Smisek, was booked for a late tackle on Argyle skipper Paul Wotton in the 53rd minute. Wotton's centre-back partner Graham Coughlan and Evans were also shown yellow cards in the second period, for dissent and a challenge on Kafka respectively.
Evans almost set up Sturrock for an equaliser in the 59th minute but the young Scot's shot deflected off a defender and over the bar for a corner. Ceske Budejovice made it 2-0 from their next attack when Lubos Mysak raced clear of the Pilgrims' defence after Wotton and Smisek both went for a header. Mysak cut inside the Argyle penalty area and managed to elude the lunging Larrieu before Vozabal swept the ball home from 12 yards. Evans headed wide of the near post from another good Connolly cross as the Pilgrims continued to test the Czechs. Fatigue started to become a factor in the closing 20 minutes and Ceske Budejovice almost added a third goal when striker Ivo Svoboda shot across the face of goal. Sturrock could have cut the deficit, though, when he blazed over the bar after a clever touch-on from Milne. The closing stages of the match were uneventful, but it was still a useful work-out for the two teams, who both start their league seasons on August 7.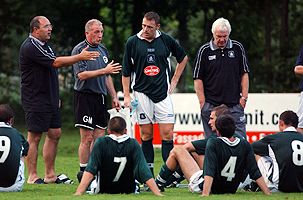 Bobby, Gerry and Sloop giving the half-time team-talk during the Ceske Budejovice game

IT'S LOOKING UP FOR LUKE
Plymouth Argyle goalkeeper Luke McCormick could resume training by the end of next week. It had been feared McCormick would be sidelined for the start of the Coca-Cola Championship season a fortnight today after he suffered a knee injury in training on Thursday, during the club's tour to Austria. McCormick was put on crutches and had the knee heavily strapped, but today he was walking much more comfortably. Romain Larrieu will almost certainly be Argyle's goalkeeper against Portsmouth at Home Park next Wednesday but McCormick could be fit for the visit of Paul Sturrock's Southampton next Saturday. The 20-year-old has not had any scans or X-rays on his knee and there are no immediate plans to do so as long as the injury continues to heal.
Argyle manager Bobby Williamson said: "We will see how he goes over the weekend and then if he's still feeling it we will get it sorted out in Plymouth. "Hopefully, it's a good sign there is an improvement in the injury and we are keeping our fingers crossed it's not such a serious one." McCormick travelled with the rest of the squad to Bad Goisern last night, where Argyle lost 2-0 to top Czech Republic club Ceske Budejovice in their third tour game. The Pilgrims gave a good account of themselves against classy opponents after conceding the first goal in only 71 seconds.
Williamson said: "I thought we played well in patches. They are a very good team. There are no mugs in Czech Republic football, I have witnessed that. They know when to step up the tempo and they got their goals at important times for them, and poor for us. We never got started and we were a goal down. Then you are chasing the game and they were quite comfortable leaving us with the ball and falling back behind it. It's very difficult to break a team down when they sit in like that, and then they go for it again. They got their second goal from just a hopeful punt up the park and we haven't dealt with the situation, although they got a wee break with it. We created good chances in the first half and we should have scored today, but unfortunately we haven't done that. The most important thing is that 11 players got the 90 minutes their belts and that will hold them in good stead this season."
Striker Steven Milne started the match on the right-side of midfield, but swapped over with Nathan Lowndes at half-time. Blair Sturrock also played the whole game out-of-position on the left-side of midfield as Williamson tried to ensure they all topped up their fitness levels. "They have got to try to impress me up front," said Williamson. "None of them are comfortable playing in the wide areas. But it's important they get the 90 minutes because you get your match fitness in the last five or 10 minutes, when you are pushing yourself. You could hear the skipper (Paul Wotton) out there shouting 'dig deep' and 'keep pushing' and that's what they did."
Williamson did not make any substitutions because Argyle have arranged another tour game for tonight, before returning to Plymouth tomorrow. They will play Austrian regional league club Blau Weiss Linz in Wels, about 70 kilometres from their training camp. All of the Pilgrims' players not in action last night will be involved in that match, and Argyle are also planning to borrow a goalkeeper from their opponents to cover for the injured McCormick so Larrieu does not have to play back-to-back matches. Williamson consulted with his squad before accepting the offer of the game against BW Linz. "I spoke to the players and they feel they get more benefit out of 90 minutes rather than 50 or 60 minutes at a time," he said. "You have really got to listen to your players and gauge their fitness from them. "We have got a lof of experienced pros who have been about a bit and they know what they need to do to get themselves to peak fitness. We could have taken on four games at the start of the tour, and then found we had a few injuries and we could have struggled trying to keep to that programme." Midfielder Lee Makel will probably play for 45 minutes against BW Linz after recovering from an ankle ligament injury in the 4-0 win over Bad Aussee last Saturday. Argyle team to play BW Linz: AN Other; David Worrell, Mathias Doumbe, Hasney Aljofree, Tony Capaldi; David Norris, Steve Adams, David Friio, Ian Stonebridge; Stevie Crawford, Marino Keith.
A WEEK'S A LONG TIME IN FOOTBALL AS TOUR REACHES FINAL WEEKEND
Friday
8.45am: Breakfast. This time last week the Argyle squad were on the way to Birmingham International Airport for their flight to Salzburg.
10.00am: Goalkeeper Luke McCormick is having a new strapping put around his injured right knee in the accommodation block as the rest of the players report for training. "We are just hoping it's not too serious, but time will tell," says manager Bobby Williamson, who watched Italian Serie A club AS Roma beat Stoke City 2-0 in Erdning last night. Stoke will have covered the cost of their pre-season trip to Austria with their share of the money from Italian TV for screening the match live. Midfielder Lee Makel does the 30-minute warm-up after recovering from the ankle ligament injury he suffered in the 4-0 win over SV Bad Aussee on Saturday. McCormick hobbles over to the training pitch with physio Ian Leigh and sits in the small stand beside the athletics track.
10.30am: The players split into four groups for a series of passing and one-touch relays, and there is plenty of good-natured rivalry between the teams. For one of the drills, they have to throw the ball up in the air and do a forward roll before catching it and then passing it to the next one in the line. Striker Mickey Evans, it should be said, would never have made it as an Olympic gymnast. There is a lot of laughter among the players and the session is not too strenuous, with the game against Ceske Budejovice taking place in Bad Goisern tonight. McCormick watches on as Romain Larrieu is given a work-out by goalkeeping coach Willy Lackner.
11.00am: Makel does some mobility exercises with Leigh to test the strength of his ankle and seems to have no problems. One of them involves hopping backwards and forwards on his left foot around some cones on the grass.
12.00 noon: After a sunny morning the skies suddenly darken and a fierce thunderstorm hits the training camp in Obertraun. There are gusting gale-force winds and torrential rain, sprinkled with hailstones. Lightning flashes around the Dachstein Mountains.
2.00pm: There is a pre-match meal in the restaurant while outside the storm has passed and there is now hot sunshine.
4.40pm: The Argyle squad set off on the 16-kilometre coach trip to Bad Goisern. The players have changed into their playing kit because the dressing rooms at tonight's venue are being used by their Czech Republic opponents.
5.10pm: The team bus is held up by a parked car partially blocking the narrow lane leading to the ground. Eventually, the owner is found and it is moved out of the way. In the queue that has formed during the wait are several vehicles, including the Ceske Budejovice team coach.
5.20pm: Argyle are out on the pitch first to warm up and they make their way to the far end, where there is some shade from the fierce sun. There is archery practice going on behind the one small stand at the ground.
6.02pm: Kick-off in the Pilgrims' third game of their Austrian tour.
6.50pm: It is 1-0 to the Czechs at half-time. Several of the Argyle players have sweated so much they wring out their kit.
7.45pm: The final whistle and Argyle are beaten 2-0. Williamson talks to the players on the pitch before they have a short warm down with coach Gerry McCabe and then board the bus, still in their kit. A carload of five Pilgrims' fans set off on the long overnight drive home to Plymouth, via Calais.
8.35pm: The Argyle squad return to their training camp in Obertraun.
ALL'S NOT WELL THAT ENDS IN WELS
Saturday
8.45am: It is cool and cloudy as the Argyle squad have breakfast on their penultimate day in Austria.
10.00am: The players start their 12th and last training session of the week on pitch number one. Striker Mickey Evans sits on the sidelines because of a sore foot. It is a problem Evans originally suffered in the pre-season friendly against Torquay United, but not a serious one. An open day for Argyle supporters at the Obertraun training camp has been scrapped because of the Pilgrims' game against Blau Weiss Linz tonight. The match will take place at a neutral venue in Wels, the second largest town in the state of Upper Austria. Linz is only a short distance away.
10.15am: Goalkeeper Luke McCormick arrives with physio Ian Leigh. The 20-year-old suffered a knee injury in training on Thursday afternoon but is now walking without a limp. McCormick still has his right knee bandaged but it is only a precautionary measure. He passes the time by taking some pictures of his team-mates using club photographer Dave Rowntree's camera. The verdict from the professional? "Don't give up your day job," says Dave.
10.40am: The 21 players split into two groups. Those who were on duty for the 2-0 defeat by Ceske Budejovice last night carry out some stretching exercises with Leigh. Later they take a dip in the outdoor swimming pool before returning to their rooms. The others will make up the team against BW Linz and they do a series of passing drills, watched by manager Bobby Williamson and coaches John Blackley and Gerry McCabe. The players then work on waves on attack, with the seven midfielders and strikers putting the four defenders to the test.
2.00pm: Lunch. Williamson has decided not to risk Romain Larrieu in back-to-back matches and will borrow a goalkeeper from BW Linz tonight.
2.45pm: The Argyle team coach leaves for the 110-kilometre trip to Wels, arriving at the Union Stadion two hours later.
4.45pm: There is a shock in store for the Pilgrims when they see the pitch for the first time. It is in a terrible condition with large divots dotted all over the playing surface. Williamson is far from impressed and talks to chairman Paul Stapleton and director Phill Gill.
5.00pm: To make matters worse, torrential rain starts to fall and the pitch is soon waterlogged. BW Linz are keen to play, though, and begin their warm-up in the deluge. Defender Hasney Aljofree and midfielder David Friio have changed into their kit and take to the pitch, but they soon return to the dressing room. Friio is convinced the game cannot go-ahead and Aljofree agrees, saying "there are rivers everywhere".
5.15pm: BW Linz want to wait a further 15 minutes, until the scheduled kick-off time of 5.30pm, to see whether the rain relents. Aljofree has his team-mates in laughter as he slides head first through one of the largest puddles on the pitch. He is followed by Steve Adams, David Norris and Friio, but the players cannot persude the popular McCabe to copy their example.
5.30pm: After talks between Williamson, BW Linz's player-manager and the referee the match is postponed. The players have already changed and soon they are on board the bus and setting off on the return trip to Obertraun. Arond 100 Argyle fans are inside the Union Stadion and they get refunds on their five euro (£3.50) admission.
7.25pm: The Argyle squad return to the training camp earlier than expected but dinner has been cooked for them. Thick dark clouds hang over the Dachstein Mountains.
Sunday
11.00am: Italian Serie C club AC Pro Sesto have arrived at the sports training camp in Obertraun, the base for Argyle for the past nine days. All three football pitches are waterlogged after heavy rain over the past 24 hours so the Italian players are running around the footpaths. There is a late breakfast/early lunch for the Argyle squad after they were invited to the centenary celebrations of Obertraun's fire service last night. The Pilgrims have one new fan after their trip to Austria - Brit-abroad Darron Day, who owns the Hotel Seerose in the village. Several Argyle supporters, as well as Herald Sport's Chris Errington and club photographer Dave Rowntree, stayed at his excellent establishment. Day collects an Argyle shirt which has been signed by the players and promises to put it on display in the bar at his hotel.
12.00: The team bus sets off on the 90-kilometre trip to Salzburg, arriving an hour-and-a-half later.
1.40pm: Willy Lackner, Argyle's tour host during their stay at Obertraun, says his goodbyes to the players and management staff. He wishes goalkeepers Romain Larrieu and Luke McCormick well for the forthcoming season after all his coaching with them this week.
2.40pm: The incoming flight from Birmingham to Salzburg Airport lands and among the passengers are Argyle's Coca-Cola Championship rivals Burnley. They will be staying at the sports training camp in Obertraun this week and have a game against German Bundesliga 2 club SV Wacker Burghausen on Tuesday.
3.36pm: FlyBe flight BE1876 takes off from a sunny and warm Salzburg for a two-hour return flight to Birmingham. Midfielder Tony Capaldi passes some of the time by reading a copy of Paul Gascoigne's autobiography. Many of the players have bought gifts for their family and friends while waiting in the departures lounge at Salzburg Airport.
5.43pm (4.43pm BST): Touch-down at an overcast Birmingham International Airport.
5.25pm: After a lengthy wait at the luggage carousel, the Argyle players are greeted outside by their Ginsters-sponsored team coach and driver Malcolm Miller. Many of them buy sandwiches, sweets and drinks from a shop at the airport for the final leg of their journey home to Plymouth. There is heavy traffic on the M42 because of the British MotoGP at nearby Donington Park, but it gradually starts to ease up.
7.10pm: The team bus has to take a detour off the M5 because the motorway has been shut by a serious accident near Michael Wood services.
10.00pm: The Argyle squad finally arrive at Home Park to bring an end to their Austrian pre-season tour, but the hard work is not over for them. They will report for training on Monday afternoon and have two prestige pre-season friendlies this week, against Portsmouth and Paul Sturrock's Southampton.

PITCH BATTLES WON'T STOP TOURS
Plymouth Argyle will not be put off future pre-season tours to Europe despite the problems they encountered with pitches in Austria last week. The Pilgrims returned to Plymouth last night after spending 10 days at a training camp in Obertraun. They played three matches while they were away from Home Park, winning once and losing twice, as they continued to prepare for the start of the Coca-Cola Championship season on August 7. Argyle should have had a fourth game on Saturday, against Austrian regional league club Blau Weiss Linz, but it was postponed because of a waterlogged pitch. But even before the torrential rain started, 30 minutes before the 5.30pm kick-off, there was doubt whether the friendly, which was only finalised on Friday, would go ahead. The pitch at the Union Stadion in Wels, 30 kilometres south west from Linz, was uneven and dotted with large divots.
Argyle were reluctant to play the game because of the risk of injury to the players and the rain put paid to any ideas it would take place. The Pilgrims were also unhappy with the narrow pitch in Eben-im-Pongau on Tuesday, when they lost 3-1 to SV Wacker Burghausen. Chairman Paul Stapleton will talk to Glasgow-based Libero International, the sports tours company who planned their Austrian trip, to put the club's views across. Stapleton admitted the state of the pitches were the only problem during an otherwise successful week. "I don't feel very happy about it," he said. "Tuesday more so than on Saturday, because that was a last minute thing. Nevertheless, we have got to have words with the tour people about this. We are a professional football team. You should not have to do this, but it may be that when we arrive in places like this in the future we check the pitches on the first day. Then if they are not up to our standard, at least they have got time to rearrange it. There are lessons to be learned from this."
Argyle have now stayed at the sports training centre in Obertraun for two successive pre-seasons, first when Paul Sturrock was manager last July and now with Bobby Williamson. Stapleton added: "I think the key things about this tour were fitness and team bonding. You have always got to look economically at it and the benefit you get, and this is the first time we have come with Bobby Williamson. If Bobby says to us 'it's a great exercise, I would like to go somewhere next year' then we would have a look at it." Argyle are now preparing for two high-profile pre-season friendlies against Premiership clubs at Home Park this week. They will play Portsmouth on Wednesday and Sturrock's current club Southampton are the visitors on Saturday.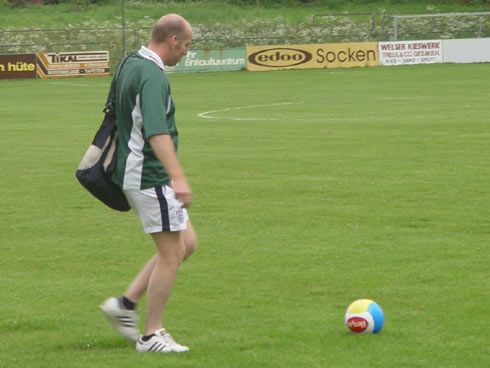 An Argyle fan tests the pitch at Wels

PILGRIMS BOSS BOBBY OPTS FOR SAFETY-FIRST POLICY
Plymouth Argyle manager Bobby Williamson put the safety of his players first when the last match of their pre-season tour to Austria was postponed on Saturday because of a waterlogged pitch. Williamson feared there could have been a serious injury had the game against Blau Weiss Linz gone ahead. It meant the Argyle squad made a wasted 220-kilometre round trip from their training camp in Obertraun, and frustration for around 100 supporters who had travelled to the Union Stadion in Wels, close to the city of Linz, at short notice. The fixture against the Austrian regional league club was not finalised until Friday and many of the fans had to alter their travel plans.
Williamson sympathised with the supporters for the inconvenience but insisted there was no other option but to call off the match. The Pilgrims' boss had been dismayed with the pot-holed condition of the pitch when he arrived at the dilapidated ground. The large divots all over the playing surface were soon filled with water as torrential rain swept across the town of Wels and sent players and supporters dashing for cover. The decision to postpone the match came at 5.30pm, the scheduled kick-off time, and Williamson soon had his players back on the team coach.
"We came a long way for the game and when I saw the state of the pitch in the first place I wasn't best pleased," he said. "But the deluge we have had has made the pitch unplayable and I'm not prepared to risk anybody in those conditions. I think they (BW Linz) wanted to leave it a bit longer to see if they could get it played but our guys have been stripped and been changed and then been stripped again. It's not going to get any better and the puddles on the park are not going to clear up, and I don't think that pitch was playable before the rain came."
Argyle lost 2-0 to top Czech Republic club Ceske Budejovice in Bad Goisern on Friday night and Williamson used only 11 players in that match. He had planned to play the rest of the squad against BW Linz, who lost 2-0 to Southampton in Gmunden eight days earlier. Williamson said: "It's disappointing because the fans have turned up and we are here. We wanted to play the game but we are not prepared to risk players in these conditions. "The ball was never going to run properly on that park and there were a lot of bare patches before it started to rain. It wasn't just divots, there were holes."

BW Linz offered Argyle the opportunity of the game but were reluctant to travel too far, leading to the Pilgrims making their long trip to Wels, only to find the pitch in such a poor state. Williamson admitted the postponement had disrupted his plans for the start of the Coca-Cola Championship season on August 7. They have only two more first first-team friendlies, against Portsmouth on Wednesday and Southampton next Saturday before the big kick-off. "We could have prepared for a fortnight today by playing these next two games with the team taking shape, but that has not been allowed to us, which is disappointing. We would have started looking to get partnerships all through the team. I may have still changed it about but it would have given me a better idea of what we are going to do for the first game against Millwall."
The postponement meant midfielder Lee Makel will have to wait until Wednesday to make his comeback from an ankle injury. Makel, a summer signing from Livingston, had been set to play 45 minutes against BW Linz, exactly a week after limping off in the 4-0 victory over SV Bad Aussee. He had trained with the rest of the squad on Saturday morning before they left for Wels in the early afternoon. Argyle also had a pre-season friendly postponed because of a waterlogged pitch on their tour to Scotland in July 2002. The Pilgrims were scheduled to play Brechin City on the first Saturday of the trip until the weather intervened, but the game did take place the next day.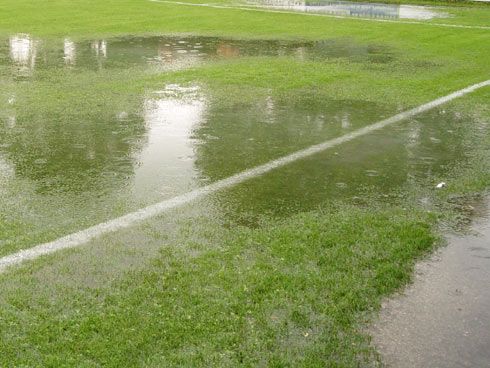 Puddles at Wels