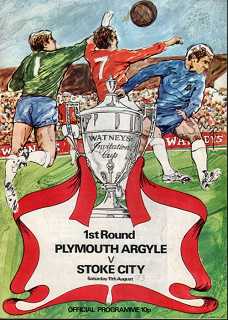 The Watney Cup was a short-lived pre-season tournament sponsored by the brewers of the same name. The teams scoring the most goals in each of the four divisions in the previous season were invited to take part. The introduction of the penalty shoot-out was its lasting innovation.
This video clip is owned by The South West Film & Television Archive, and reproduced with its kind permission:

(30 secs, 412K, no sound)
Jimmy Hinch trying his best - didn't he always, bless him. The first chance is set up by Johnny Hore, and the second, a cross from Colin Sullivan. Also have a look out for Alan Welsh, Steve Davey, Ernie Machin and Derek Rickard.
Argyle's team: Furnell, Provan, Sullivan, Hore, Saxton, Hague, Welsh, Davey, Hinch (Rogers), Machin, Rickard
Stoke's goal: Hurst (yes, Sir Geoff)
Attendance: 17,501
Anything to say about this page? Please drop me a line