FA Cup Round 2
December 7th 2002
Stockport 0
Argyle 3
Attendance: 3,571
---
MATCH REPORTS
LAST VISIT
to Edgeley Park
in the Cup:
11 January 1936
(anyone remember this one?!!)
Stockport 2 Argyle 3
(S. Black, Eggleston, Sloan)
Argyle: Cann, Roberts, Rae, Mitcheson, Gorman, T. Black, Oxley, Sloan, Vidler, Eggleston, S. Black
Attendance: 3,585
To display an image, position mouse over a camera icon

, but do not click
(on most browsers, a pop-up caption will also appear).
For a larger version, click on the camera; use your back button to return.
For sound, click on a microphone icon

; for video clips, click on a movie camera

.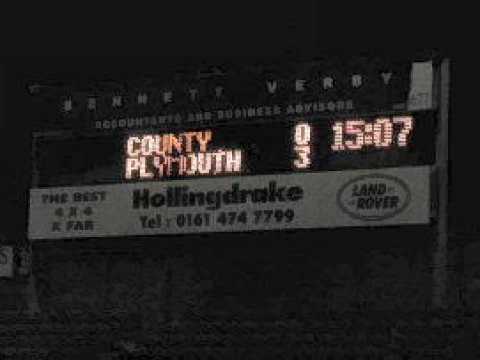 SUNDAY SUPPLEMENT

Thanks to Colin Carr for the first two clips, the first (packed into very few seconds!) captures the scene before and after Paul Wotton's penalty, and the second, the celebrations at the end of the game. In the third clip, thanks to the BBC, Argyle come out of the proverbial hat.
PICTURES FROM
EDGELEY PARK

Thanks as ever to Dan Maddock for these photos and mini-video (no sound with the video clip).
SPARKSY'S
ARGYLE LIVE ON 855

Commentators: Gordon Sparks & Chris Errington

Intro & line-up

0-1 Stonebridge (9)

0-2 Friio (14)

0-3 Wotton (72)

Errington's analysis

Sparksy's summary

Luggy's reaction

All copyright BBC Radio Devon. Grateful thanks to Gordon Sparks and BBC Radio Devon for their permission to use programme extracts.