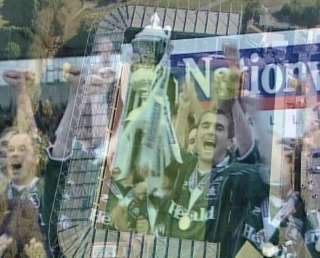 Chatting to Peter Jones a year ago was when the idea of the club making a new wave of its own videos came up. Peter is an old school friend and he asked me to use my 26 years in sports broadcasting to get things going, he didnít have to ask twice.
The club have their own Media Department now so it was important that it revolved around them and I just acted as the father figure and production organiser. Clubs can be picked off by outside production companies so the future really is Argyle people doing things for Argyle direct and nobody else getting percentages on the actual production work.
So much for production, then there are the rights issues. Much of the material needed for The Dream Season video and PAFC100 was from 1961-1992, a period when the ITV franchise holders in Plymouth were Westward and TSW.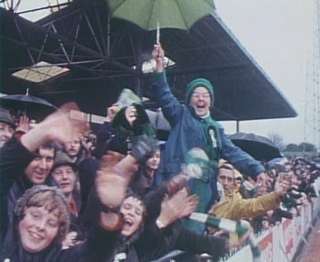 West Country or Carlton never bought the actual film and tapes from that previous era when they took over and it went into the care of a charity called The South West Film and Television Archive who have a huge building full of the regionís history. They have been great throughout the project and Automatic Productions on The Hoe were super hosts of the actual editing and technical work.
Everybody agreed to co-operate with the club, so did the BBC and West Country and so we started The Dream Season. Of course 1974-75 was before the days of domestic video so even Paul Mariner and Billy Rafferty did not have any examples of their heroics to show their grandchildren. When Steve Hill and I visited Billy in Carlisle he was quite taken aback by seeing himself in his prime from those days as we took him some rushes on VHS.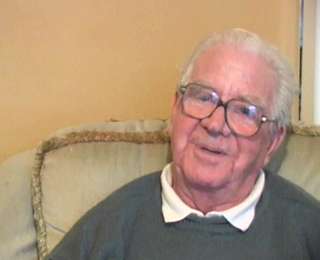 I was just starting work on my first newspaper in South Wales in 74 so I had to travel to Argyle games when my sports reporting duties allowed. Hereford away was the nearest to me, three mates came up for the weekend and that 5-2 win is one of the best memories of that campaign.
That hour long video has sold 500 copies already and is well on its way to making a profit, it will never date so the main aim now is to make sure all the fans of that era know it is available. Tell your friends as there were more than 500 of us at Hereford.
The two hour project on PAFC100 Ė the whole 100 years -was a bigger fish to fry and we have only just got it available for the Christmas market. We had great fun interviewing people like Alex Govan from the fifties and Mike Bickle from the sixties, both had detailed recall of individual games and goals which is remarkable after forty or fifty years.
One example Ė and I was at that game aged 13 Ė was Mikeís heroics against Swindon the week after they had trounced Arsenal at Wembley to win the League Cup. ďIn the dressing room Johnny Newman said weíll clap them onto the field and then play them off it ď, remembered Mike. And they did, the video shows Argyle applauding Don Rogers and Company onto the pitch and Bicks scores twice, 2-1 to Argyle.
That is not a promotion winning game but it is a great memory for many, I mentioned it to my brother who lives in California now and he remembers it and heís just a baby, six years younger than me! Guess what he wants for Christmas?
The obvious games are all on PAFC100, Colchester, Burnley, Bristol City, Derby, Darlington Ė you only have to say the team name and you recall when and why it was important. Iíve only got three disappointments, I couldnít find anywhere in the archives the 6-0 Boxing Day victory over Torquay and the Leeds winner at Elland Road in the FA Cup. But weíre going to keep looking and together with another ex-Westward veteran called Roger Charlesworth I hope to find them one day.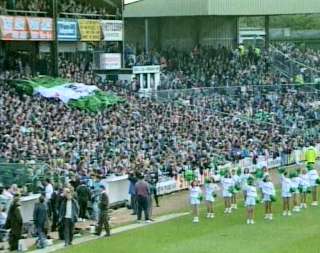 The only other negative was the mix up between me and the duplication company that led to the order for DVDs not being exactly what we thought it was. They have said it was partly their fault and Iíll take the rest of the blame, nobody at the club was at fault. Rick Cowdery has said I have to watch Luton for a season as my punishment.
The club shop have had to replace some copies as fans have returned discs that won't play but replacements are on their way and it should be sorted in a week or so. Shame because the same duplication company have provided thousands of perfect copies on VHS.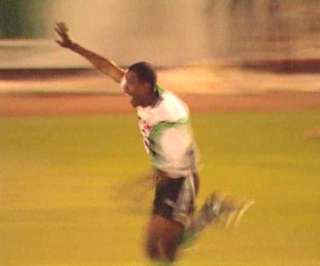 But overall this boy from a council flat in Crownhill has really enjoyed seeing again games and players that were part of my growing up. No Premier League then, no live games, just Argyle, The Herald and The Independent. The current team is fantastic and relegation at Burnley was a footballing disaster but QPR in 1973 and getting relegated in the mid sixties were similar highs and lows for me.
Sometimes the games you couldnít get to provide the strangest recollections. After 18 years with ITV I spent five years in Paris with Eurosport and the night we reached Wembley against Colchester I was left straining to get a Radio 5 signal in my apartment there, I would have been seen running and screaming up and down the hallway when we won, fortunately I was alone at the time.
Next August Iím working for the Olympics in Athens and I just pray that the kind of games I will be missing will be Leeds and Forest at home and West Ham and Pompey away. Fingers crossed.
What PAFC100 shows is how the fans have had to ride the green roller coaster, for many of us itís a lifetime in two hours on VHS or DVD. So Argyle fans, buy the two offerings or there may not be more productions like them in the future. Argyle Media may have had a great time producing them but they have to make a profit so letís see less ManYoo Goal rubbish in stockings around the world, Buy Green this Centenary Christmas. Please.
Gary Lovejoy,
Executive Producer, PAFC100 Video/DVD