The following article is an extract from Harley Lawer's excellent book: "Argyle Classics" published by Green Books, Plymouth (ISBN: 0951381709), and is reproduced with his kind permission.
Sunday Independent:
A few mistimed cues and late entrances weren't embarrassing enough to prevent Dave Smith's show-stoppers from turning on a Royal Command performance of sufficient quality to send the Second Division leaders tumbling.
Defensive lines may have been forgotten at critical moments and there was some awkward prompting as the midfield and attack struggled to get their popular act together.
But no one was asking for their money back at the finish. Over 17,000 Argyle fans (allowing for just 200 from Oldham) were leaping in the air and laughing at the dancing figure of Smith celebrating another box office hit.
Most of the entertainment value was packed into the goals that took Argyle one big step closer to the top of the Second Division.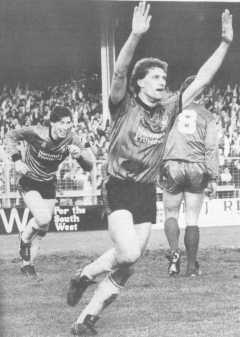 All three reflected great credit on their creators and scorers. It would be difficult to highlight one at the expense of the other two. The trio together were a rich package worthy of a team seeking the prize of First Division soccer.
One of Argyle's greatest strengths is the ability of more than one player to snatch important goals. And here we had three shining examples with John Clayton, Adrian Burrows and Tommy Tynan each striking with superb timing and accuracy.
Clayton left Oldham's creaking defence reeling after only 10 minutes. Argyle hadn't aimed a single shot until Tynan and Kevin Hodges exposed Andy Linighan on the right touchline.
When Tynan's cross arrived in the middle Linighan failed again to clear the danger. Clayton, seizing his chance, rifled the ball home from an angle that should have made it more difficult than his precise finishing shot suggested.
Burrows celebrated his rare appearance by heading a second from Russell Coughlin's cross. So far there hadn't been a single threat from Oldham and little evidence either of why they had scored 17 goals and won six matches away from home.
But they weren't ready to look a gift horse in the mouth, as Geoff Crudgington and two defenders discovered when they failed to cut out a 35th minute centre from Tommy Wright. Mike Milligan helped himself with a simple header .
The Argyle crowd is so committed to their team these days, however, that they rarely vented their frustration. Often they applauded the errors in the hope of encouraging the guilty to do better next time!
Their hopes finally materialised with a goal in the 71st minute. Clayton's long centre was flicked over the top of the nearest defender by Hodges for Tynan to finish off in great style with a plunging header.
Argyle - Crudgington; Nisbet, L. Cooper, Goodyear, Burrows, Matthews, Hodges, Coughlin (Rowbotham), Tynan, Clayton, Summerfield.
Oldham - Goram; Irwin, Donachie (Callaghan), Hoolickin, Linighan, Williams, Palmer, Henry, Wright, Futcher, Milligan.
Scorers: Argyle - Clayton, Burrows, Tynan; Oldham - Milligan, Futcher.
Referee: Mr. R. Groves (Weston-super-Mare).
Attendance: 17,265.