Football League Div 2
February 8th 2003
Oldham 0
Argyle 1
Attendance: 6,657
Argyle fans: 506
---
MATCH REPORTS
LAST VISIT to
Boundary Park
Division 2
4 April 1998
Oldham 2 Argyle 0
(Littlejohn 2)
Argyle: Sheffield, Woods, Williams, Saunders, Heathcote, Wotton (Currie), Barlow, Starbuck (Jean), Conlon (Phillips), Corazzin, Collins.
Attendance: 4,244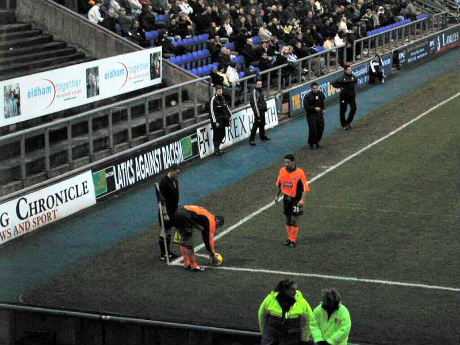 To display an image, position mouse over a camera icon

, but do not click. On most browsers, a pop-up caption will also appear. For a larger version, click on the camera; use your back button to return. For sound, click on a microphone icon

; for video clips, click on a movie camera

.
PICTURES FROM
BOUNDARY PARK

Photos and mini-videos (no sound) thanks as ever to Dan Maddock.
SPARKSY'S
ARGYLE LIVE ON 855

Commentators: Gordon Sparks & Chris Errington

0 - 1 Evans (39)

Rupert at half-time

Sparksy's summary

Luggy's reaction

All copyright BBC Radio Devon. Grateful thanks to Gordon Sparks and BBC Radio Devon for their permission to use programme extracts.