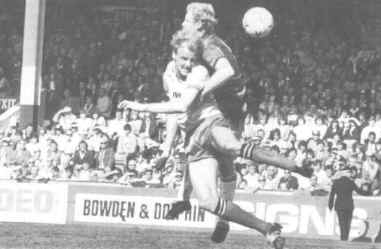 The goal that ended the dream: 6 ft 4 in George Reilly beats Lindsay Smith to force home an unstoppable header
The cruel dip and curve of a shot, missing its target by inches, deprived Plymouth Argyle of the chance to extend their fantastic FA Cup run for another tormenting half-hour in the sunshine at Villa Park.
The last pulsating seconds of the Pilgrims' courageous semi-final challenge were ticking away when nearly 44,000 totally absorbed soccer fans gasped as Plymouth's two Gordons - Nisbet and Staniforth - created havoc in the heart of Watford's defence.
Staniforth cheekily wriggled out of a corner on the right-hand side of the box, planted the ball in and Kevin Hodges, with a first-time blow with the outside of his left boot, plunged 'keeper Steve Sherwood into total confusion.
The shot - destined for the inside of Sherwood's right-hand post - went as straight as an arrow. But the moment it touched the ground, it swerved just enough on the bounce to finish up outside the woodwork.
"I was convinced it was going in," reflected Hodges later. It only took a slight deflection but it was enough to send the ball spinning away from the post. "I still can't believe it happened".
Success, even at that late stage, would certainly have been the perfect reward for Argyle's valiant refusal to yield to their First Division opponents.
Argyle just couldn't afford to make mistakes against a side capable of punishing them whenever chinks were pierced in their green-coated armoury. By the finish, however, just one little slip had proved enough.
Leigh Cooper's stray pass was picked up by John Barnes and Nisbet was caught out of position as the England winger sped away down the left.
The 6ft 4in George Reilly towering high above every player in sight, was just far enough ahead of Lindsay Smith to stretch his massive frame to connect with Barnes' spot-on cross.
Argyle rarely allowed Barnes or Reilly to inflict that type of damage again. Nor were they intimidated or overawed by Watford's unique attacking style.
They once again raised their performance to their accepted FA Cup level and contested every ball with all their familiar enthusiasm and skill.
They were never outplayed - apart from one spell midway through the second half when they found it difficult to get players forward. But for all Watford's superior show of strength at that stage Argyle refused to wilt.
Nisbet closed in and cornered Barnes as bravely and as expertly as he could, while the battle between Smith and Reilly developed into the key confrontation of the whole game.
It was crunch-time whenever these former Cambridge United team-mates clashed and Smith, apart from the one moment that produced the goal, didn't lose out in the air or on the ground where the pair finished up so often after tangling together in fierce combat.
These two campaigners pitched into each other like old-time wrestlers permitted only to use their feet and heads to win points. They went for each other almost from the first bell and finished up as they started - the best of pals and the first to shake hands when the final whistle sounded.
Fears that Argyle players would freeze in the opening stages were soon dispelled.
It would have been understandable if the Third Division underdogs had been unnerved by the tumultuous welcome they received from virtually three sides of the ground when they appeared on the pitch.
The stadium - lit up in brilliant sunshine - was a kaleidoscope of colour, with the green and white of Plymouth Argyle fans emblazoned vividly against the red and gold of Watford.
The colour scheme alone made this semi-final something apart from the rest. And afterwards many experts agreed that the quality of the game itself produced one of the best ties they had witnessed for many years.
Geoff Crudgington made a vital 18th-minute save to thwart Reilly. A second goal then and the Pilgrims could have waved Wembley goodbye.
Instead Tommy Tynan and Staniforth kept beavering away through the middle while Andy Rogers, with his tantalising ball skills and incisive running, threatened to overshadow the menace of Barnes and Nigel Callaghan on the Watford flanks.
Tynan shot over; Cooper charged through and had his effort diverted for a corner and Hodges flashed a header only inches over the top. John Uzzell also caused panic in the Watford ranks when he glanced a header across the goalmouth. Rogers let fly, minutes later, but had his shot charged down.
Argyle desperately needed the incentive of an early second-half breakthrough to keep their enthusiasm stoked up. It almost came when Rogers, proving as elusive as ever, crossed; Tynan dummied and Staniforth drove the ball into Sherwood's arms.
Neil Price, the full back who recently spent a month on loan to Home Park, made Watford hearts miss a beat when he headed the ball only inches past his own goal to clear a centre from Staniforth.
The quality of Argyle's passing deteriorated as Watford hit their best spell. It seemed like an eternity before Argyle moved into gear again. Nisbet crash-tackled Barnes, and was also cautioned.
Watford were forced to reshuffle their side when central defender Steve Terry was hurt in a clash with Cooper. With ten minutes to go he was replaced by Richard Johnson and Reilly surprisingly switched to the middle of the back four.
Argyle found the strength and stamina to mount a final assault. They drove forward, working on the theory that they now had nothing to lose, and hemmed Watford into their own half.
They won a couple of corners and a free kick and everything pointed to a dramatic late equaliser that came so fractionally close to reality when Hodges' stabbing drive inched past the post.
When the referee blew for the last time Argyle players immediately shook hands with the victors and gathered together to parade in front of their supporters in a moving and sincere tribute of gratitude for their unprecedented show of loyalty on the long trail from Southend in November to Villa Park in April.
Watford – Sherwood, Bardsley, Price, Taylor, Terry (Jobson), Sinnott, Callaghan, Johnston, ReiIly, Rostron, Barnes.
Argyle – Crudgington, Nisbet, Uzzell, Harrison, Smith, Cooper, Hodges, Phillips, Tynan, Staniforth, Rogers. Sub: Rowe.
Scorer: Watford - Reilly.
Referee: Mr. J. Worrall (Warrington)
Attendance: 43,858.
---
ARGYLE MAKE FRIENDS BUT WATFORD MAKE HISTORY
Country folk wandered around in fancy dress, a rainbow of balloons filled the sky, ice-melted in the sunshine and a cricket match built up a gentle finish nearby. Rather than FA CUP semi-final day, often darkened by fears, it was an afternoon of smiles out on one Birmingham's village greens.
Even the main fairground at Villa Park echoed a delightful spirit of long ago. The referee's decision, some of them curious, were accepted without argument, offenders collect the ball and return it to the appropriate spot amid respectful applause and scarcely an obscene chant was to be heard from an audience of almost 44 000.
Reilly, as lean and tall as a circus tent's circular pole, won a place in history for Watford but Plymouth Argyle, expected to be little more than a side-show, won everybody's respect. They have already surpassed their hopes and, with luck, might have travelled beyond their dreams.
Two years ago Plymouth, who were 10 minutes away from bankruptcy and football's Elysian fields. Had Smith not wasted a clear opportunity at the beginning and had Hodges not seen his attempt curl away and brush a post at the end, they could by now be preparing to visit Wembley's turf.
So unlikely was the prospect of Plymouth reaching this season's final that any discussion of bonuses was considered "a waste of time" in Plymouth back in August. On the other hand, the Watford manager, Graham Taylor, was so convinced that this was going to be Watford's year that in December he advised the chairman, Elton John, to keep May 19 free in his diary.
Despite being without the injured Jackett. Watford were the favourites, but they dominated the tie for merely a quarter of an hour. Barnes began, in an otherwise surprisingly lethargic display, by gliding down the left and crossing for Reilly to stoop and head clearly home. Only 13 minutes had passed.
After Crudgington had blocked Reilly's crisp drive and Johnston had nodded narrowly over the bar, Callaghan signalled the end of Barne's brief period of domination, by claiming another "goal" from an offside position. Plymouth, combating Watford's clear superiority in the air by keeping the game glued to the ground, then belied their position as underdogs.
Tynan, the leading scorer in the country last season. Staniforth. Cooper and Hodges all threatened to catch more than the eye, particularly as Sherwood threatened to drop more than the occasional high ball. Watford's manager admitted that he was relieved the match did not go into extra time.
Plymouth, who tonight return to more mundane affairs in Bolton, have taken an estimated, and welcome, £80 000 from their Cup run. Losing semi-finalists are not often remembered, but their followers, so warm and generous in defeat, will not forget the club's contribution to the Cup success of the third division this season.
---
GOODBYE PLYMOUTH, DON'T BE RELEGATED
I suppose that if you were forced to pick the side best able to carry the romantic's banner onward to Wembley you couldn't have a better second choice than Watford, but for all that my heart bleeds for Plymouth Argyle after following the third division side from the third round.
From the moment that the enormous Reilly, looking like an adult in a kid's kick-about, headed Watford's goal in the thirteenth minute, it looked as if Plymouth were going to get their come-upance at last, and that Watford would bad a hatful. But not a bit of it.
"I knew Plymouth would come at us in the first 10 minutes", Watford's winger, Barnes, said, "and they did. What surprised me was the way they kept coming at us for the rest of the match." John Hore, the Plymouth manager, looking brave and Byronic after the match, said his side had had more of the ball, that it was a tremendous game.
Hore speaks no word of a lie. It was a terrific game, played with three real, running, dribbling winders and two sides vulnerable to attack on the flanks, or anywhere else for that matter. Rogers, or Plymouth, had a game his grandchildren will love, while Callaghan and Barnes were splendid going the other way. Barnes, who made the goal, has the winger's ability to make the molecules of his body disperse at will, so that he can run straight through people without deviating and reassemble on the other side.
The match was played in a party atmosphere, with balloons and confetti, and supporters unused to triumph decked out in colours that made Hore's lucky purple track suit look tasteful, two opposed Sargasso Seas of custard yellow and angelica green that made you thank your stars you were not at Highbury. This semi-final at Villa Park reminded you that football, amazingly, can still be fun. And Plymouth gave it all they had.
They had Rodgers running round and round and round like Dougal in The Magic Roundabout, Tynan and Staniforth busting a gut to score, while Sherwood in the Watford goal kept turning to stone, or dropping the ball, or sometimes confusing everyone by making saves. At the other end Smith was sitting on Reilly's shoulders like the old man of the sea, determined to allow no further goals.
It was Hodges who had the last try for Plymouth and he certainly gave the ball a decent clout. But he had reckoned without the psychokinetic power of the Watford thousands behind the goal; their mental forces made the ball curl fractionally wide, and that was that.
Goodnight Plymouth. It's been real, lads. Tonight they play Bolton in a league match, and I hope they don't get relegated. That wouldn't be funny.