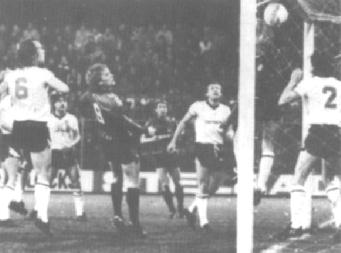 Andy Rogers' winner, direct from a corner.
All the fans had gone home. Only a pair of moving eyes betrayed that the crumpled, shaggy heap still tethered to the railings wasn't a stuffed and discarded Derby mascot.
Two-horned William the ram was real enough but stood forlorn and forgotten in the cold, empty Baseball Stadium.
Across the pitch a single arc light shone through the darkness like a halo on John Hore's head before the BBC cameras.
"There is just one more question", said Barrie Davies when the recording stopped. "Any chance of travelling on your bus on Cup Final day?"
"It's OK, Barrie, we've already asked him," shouted a voice from the gantry above.
Hore smiled apologetically and had to admit that the other side had already popped the same question.
Back in the corridors of the stadium the emotional scenes in and around the Argyle dressing room were unforgettable.
Players embraced the manager, directors embraced the players and their eyes were filled with tears.
Some were too choked to speak. So much happiness and joy and yet they didn't know how to express the feeling in words.
For three days and four nights hundreds of Argyle fans with video gadgets had been fiddling with the freeze frame trying to force Gordon Staniforth's shot over the line off the posts.
The ball still wouldn't go in. Now, only 17 minutes into the replay, and Argyle's first corner was swinging up over Steve Cherry's head and into the net for eternity.
Justice. Poetic and so perfect. "An absolute fluke," Andy Rogers beamed at the cameras after being virtually dragged from the dressing room to talk through his goal in the time-honoured fashion.
"But why me"?" he protested. "Because you scored the bloody goal, you daft sod . . ." screamed a team mate.
As Peter Taylor put it: "These Plymouth lads are so honest I can't believe it."
Mrs Rogers, watching at home, couldn't believe it either when Andy revealed his new telly image.
A lot of wives were surprised. Mrs. Harrison was flabbergasted when Chris, the quiet, reserved one, was the first to race over to the ecstatic Green Army singing and leaping up and down like demented monkeys in a cage.
With one leap Harrison was up on the fence, clinging to the bars and precariously raising one arm in triumph.
Lindsay Smith stood with a clenched fist salute. What a great Viking warrior to have on your side. Put a helmet on his head, a shield in his hand and he looks as if he's prepared to smash and pillage his way across Britain to win the Cup.
Hore, his face almost hidden in the dug-out minutes before, appeared, slowly at first, then running to his players and on into the penalty area to the goal where the fans had their close-up view of Rogers' fantastic fluke.
"I'll never forget that moment for as long as I live," Hore reflected. "To think that my team had made all those fans so happy. It couldn't be better at Wembley . . ."
A few yards down the corridor, Derby players were making almost as quick an exit as Mr Taylor.
John Robertson, who had been the victim of the most personal abuse I've ever heard at any football match, brushed past, his eyes bleary red with the tears of a loser.
Archie Gemmill, head bowed, strode away - a sad figure whose vast experience had not been enough in two matches to curb or counteract the faster, fitter and more organised approach of players he had never heard of until a week ago.
Kenny Burns, another seasoned professional, had done more in both games than most of his team mates together to deserve a shred of sympathy.
Sportingly, as Hore moved away from the scene of Argyle's wonderful triumph, Burns wished him luck.
Only three weeks earlier Nobby Stiles and Norman Hunter had made a similar gesture, taking a hand each to congratulate the Cornishman on the touchline at The Hawthorns.
"I was surprised they even knew me," Hore joked afterwards. "I certainly knew who they were and felt really chuffed when they suddenly appeared on either side of me. I didn't know what no say, except thanks."
But Hore is not slow to speak when the Press inquisition begins. For a manager of such limited experience he rolls out his china clay country lingo and they listen.
A week ago he sat on the edge of the main stand at Home Park and spoke up loud and clear to a directors' box gallery filled with journalists.
"I'm far from despondent," he told them. "We didn't get our breaks today but we might on Wednesday and we'll give in all we've got up there . . ."
And so they did. It wasn't the superior attacking soccer that clinched the West Brom victory on merit; it wasn't the fast-flowing machine that almost swept Derby out past the Breakwater at the first attempt in Plymouth.
It was the Three G's this time - grit, graft and guts. Put them together and you have a vision of only one player who has worn the green shirt of Argyle during the last 15 years.
Now he's in charge and is enjoying every second of it. He knows you need more than the Three G's to win prizes. But, without them, you haven't got a prayer.
Curiously on Cup days Argyle can produce the quality stuff as well. Put it all together and the formula is working a charm on the Wembley trail.
And, if you've already got two television channels fighting to get on the bus, Hore just can't help sharing the Green Army's dream that they could all be staging another whopping knees-up on May 19.
Derby – Cherry; Barton, Buckley, Gemmill, Burns, Powell, Futcher, Davison (Watson), Wilson, Plummer, Robertson.
Argyle – Crudgington; Nisbet, Uzzell, Harrison, Smith, Cooper, Hodges, Phillips, Tynan, Staniforth, Rogers. Sub: Rowe.
Scorer: Argyle - Rogers.
Referee: Mr. B. T. Stevens (Stonehouse, Glos).
Attendance: 26,906