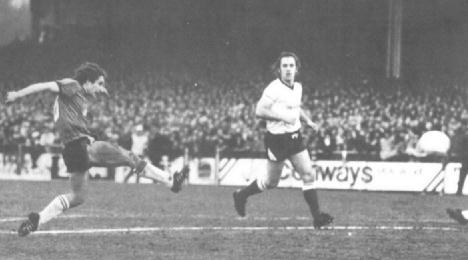 Derby's great escape as Gordon Staniforth achieved the almost impossible feat of smashing a drive so hard that it rebounded off two uprights.
Another 80 years on in the Plymouth Argyle story and small boys wearing green and white scarves at this historic game may be telling their grandchildren of the only occasion they saw one shot crash against the width of two upright timbers.
They will never forget the sudden rush of elation as Gordon Staniforth's soaring drive inched towards the top corner of the net off the straining fingers of Derby goalkeeper Steve Cherry.
And, sadly perhaps, they will always remember how the ball curved in flight to shudder against the inside of the far upright, bounce down and along the line to rebound back off the inside of the other post.
Thousands of fans in the near-capacity crowd leapt into the air in premature celebration, only to sink back down refusing to believe what they had just seen.
Credit Cherry for a wonderful last-ditch save but the pain and anguish of that incredible double strike on to the woodwork were felt in the hearts of every Argyle supporter in the ground.
It's so rare for that to happen in a League game, let alone at the quarter-final stage of the FA Cup when there is so much at stake.
Only seven minutes remained plus a couple of minutes injury-time. A goal at that moment would have been the crowning glory to reward all Argyle's marvellous attacking play that almost but not quite overwhelmed this subdued Derby County team.
Argyle were again superb. They did everything right up to the penalty area. The shots rained in frequently enough. All the ideas were good. Most of the execution of forward planning was spot on. They just needed that one little break that can make all the difference .
You couldn't fault a single green shirted player. Each, in his way, did his work as capably as in the previous round at The Hawthorns. No one was overawed or below par. They again played magnificently as a team.
Only Geoff Crudgington had an off day — but only in the sense that he had so little to do. As Staniforth cracked afterwards: 'He had such an easy match that he should be coming in tomorrow to do some light training!'
Derby expected a tough contest from the Third Division side but were as startled as West Brom by the way Plymouth seized command from the start, went on the offensive and virtually stayed in charge for almost the whole game.
Fears that Derby just might sneak one on the rebound slowly receded in the second-half. They just didn't look capable of springing a single surprise.
John Robertson. the winger who can be a match-winner, disappeared into Gordon Nisbet's pocket and was seldom seen again.
Archie Gemmill, always busy, spent most of his time patrolling in front of his defence. He rarely got the chance to dissect Argyle's cool, resourceful defence with a searching pass.
Argyle's own hungry midfield operators were the engine drivers in this game. Leigh Cooper, David Phillips and Kevin Hodges ran and ran, covering for each other and probing relentlessly to exploit gaps.
They all made their quota of mistakes but recovered with such speed to atone for them that Derby just weren't allowed to go forward as an attacking unit.
Phillips, charging into spaces spraying passes and demanding the ball back to keep the pressure on, was quite the complete player. He will find it hard to play better.
Derby fans packed into the Devonport End were muted until the 67th minute when a sudden break by Bobby Davison and a cross-shot into the keeper's arms brought them to life.
But for the rest of the game they had to watch the backs of their Derby defence working desperately to keep the Argyle aggressors out.
The pressure just wouldn't go away. The final shots were fewer but there was still Staniforth's agonising moment to come.
On numerous occasions a ball striking the inside of an upright finishes up in the net. But here — twice in a split-second — the law of averages worked cruelly against Argyle and so perhaps we must reluctantly accept that John Hore has finally exhausted his supply of Comish pixie luck.
Argyle - Crudgington: Nisbet, Uzzell, Harrison, Smith, Cooper, Hodges, Phillips, Tynan, Staniforth, Rogers. Sub: Rowe.
Derby - Cherry: Barton, Buckley, Gemmill, Burns, Powell, Furcher, Davison, Wilson, Hooks, Robertson. Sub: Watson.
Referee: Mr. B. T. Stevens (Stonehouse, Glos)
Attendance: 34,365
---
OLD RAMS ARE LUCKY
Derby County go into tomorrow's semi-final draw after the greatest, luckiest Cup escape I've ever seen.
The ageing Rams – six of them are over 30 and two are 37 – seemed to have been knocked out in the 82nd minute by a thundering shot from Staniforth.
Everyone in the sellout crowd at Home Park saw it. Or thought they did.
But they reckoned without Cherry the 23 year-old keeper rated among England's best by Derby manager Peter Taylor.
Cherry flew horizontally and got a finger touch. Then the marvels started. For he touched the ball against his left-hand post and the thousands on the terraces behind him rose to salut a goal.
But no! The ball rocketed straight back and hit the right-hand post. Then it dropped almost on the line.
They gave a goal to Geoff Hurst in a World Cup Final for one no closer than this. But plymouth were not blessed with that sort of fortune.
They always say that you'll win the Cup if your names on it. And Derby must be thinking now that they can go on to Wembley.
Yet for nearly all this match they seemed to have no greater ambition that prolonging this tie until Wednesday and so providing further argument against being wound up tomorrow in the High Court.
Plymouth attacked them with pace and movement, extracting the last dram of their home advantage. But they couldn't beat Cherry or blond centre-backs Burns and Futcher.
Cherry save from Staniforth in the 26th minute and Burns blocked a Hodges shot on the half hour.
Hodges, roaming down the right, was a continual worry to a Derby midfield that lacked the legs to go back and catch him.
Big defender Smith, who spent nearly as much time in Derby's box as his own, was another problem.
But derby, usually accurate with the ball and up to all the time-wasting tricks, kept trying to lower the tempo.
They suffocated Plymouth's attack for a spell in the second half and made them ragged with frustration.
And when Watson, the old England centre-half, came on as a substitute centre-forward, thoughts turned from a replay to a possible Derby win.
Watson's appearance immediately prevented Smith's advances into attack and livened up the Cerby line.
But then everything changed in the 82nd minute – or so we thought when Staniforth shot. And 27000 West Countrymen went home still not believing it.
---
GRIEF FOR GORDON
Derby are in court tomorrow, but yesterday in Devon they got out of jail.
It was an audacious escape operation hatched by their old guard at Home Park.
But it was young 23-year-old goalkeeper, Steve Cherry, who emerged the leader of the pack which keeps them in the FA Cup.
He was instrumental in frustrating Third Division Plymouth, who have never been this way before in the famous trophy and who are hoping to become only the sixth side from their rank to make the semi-finals.
Derby go happily into Wednesday's replay, not least because they need the money.
They must go before the High Court first because of a PAYE debt of £129 000. They'll be taking with them a package deal underwritten by millionaire Robert Maxwell to keep them alive.
The Second Devision relegation strugglers mustered only one shot of note yesterday – and that was weak. It came after six minutes, when Paul Hooks might have done better than shoot straight at geoff Crudgington.
Gorden Staniforth did far better with his efforts, but had the tough efforts, but had the tough luck to come across competent Cherry.
This competence grew into spectacular form eight minutes from time when the little Plymouth striker weaved his way cleverly to a spot 20 yards from goal and smacked a smashing shot.
Cherry, superbly stretched to get fingertips to the ball, diverting it onto a post, turning round to see it roll back across the line before being finally cleared.
Plymouth striker Staniforth said: "I was convinced I'd scored. It takes some doing to hit both posts with an effort but the keeper made an brilliant save. What a great time it would have been as well so near the end.
Plymouth manager, John Hore, who was in charge of a Western League side only four months ago, said: "I've been called Cornish lucky, but not today. The three of us in the dug-out were up out of our seats for the Staniforth effort.
"I'm disappointed, naturally, because I thought we did enough to win it".